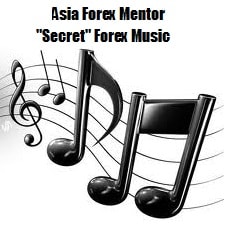 Asia Forex Mentor "Secret" Forex Music (Forex Psychology)
Forex Music
I have a gift for all of you followers of Asia Forex Mentor blog. Thank you all for your support all these years.
I would like to share my "secret" to success.
Undying focus
Focus comes from the ability to remove distractions.
And i do understand that we are all humans and is definitely bound to distractions.
Distractions removes the power of concentration and may be the cause of the failure to read a certain thing that made us entered a trade wrongly.
Which is why when we are trading or working, irregardless of nature. As long as you want to get things done right.
You have to remove all the distractions that is surrounding you to allow you to concentrate totally on whatever you are working on.
Asia Forex Mentor "Secret" Forex Music (Forex Psychology)
This is where my gift to you comes in.
My "Secret" Forex Music.
I use this music all the time, especially while i'm working and even while i'm writing this post right now.
It is so soothing and calming. It allows you to totally focus on the thing you want to accomplish right away.
My advice to you when listening to this: Put on a headphone or an earpiece
When the music ends, just keep repeating it. The music never stop until you have completed what you've set to accomplish.
For forex trading, it calms your nerves and gives you the ability to read the clearer picture.
Click here to play: Forex Music
Or use this link: www.asiaforexmentor.com/hypmusic.mp3
I hope you like it as much as i do and let me know your thoughts.
Check out our online forex trading AFM winning Forex Price Action Forex Trading Course where i teach you the exact FULL Forex Trading Strategies | system that i personally use to be consistently profitable.
See you on the other side my friend,
Asia Forex Mentor
Ezekiel Chew
Asia #1 Forex Mentor
www.asiaforexmentor.com
Do "like", "comment" and "share" this if you find this forex article helpful. =)
Next Intermediate Article: Forex Market Hours