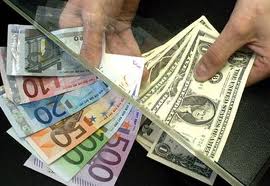 EUR/USD Rallies After Smooth Spain and Italy Auctions
Eur Usd
Forex market continues to be stable during the Asian session today despite the mixed news that has emerged over the past 24 hours. Even though the latest report showed that eurozone industrial output fell in November on weakening consumer spending capability, lower Italian and Spanish borrowing costs boosted forex investors' optimism. Investors expect to see a similarly positive result when Italy sells up to €4.75 billion of longer dated bonds today. EUR/USD is trading at 1.2819 by the time of writing.
The successful debt auctions, moderating inflation in China and positive news from the ECB eased fears of an impending meltdown in the financial system. The European Central Bank kept interest rates unchanged at 1% as widely expected. European Central Bank President Mario Draghi said "Uncertainty is very high. The monetary stance is and will remain accommodative. We will monitor all developments and stand ready to act. There are tentative signs of stabilization of economic activity at low levels. It was rather comforting to see that some opening of the unsecured bond market is actually taking place, but we really are at the beginning of this process. Let's hope it will continue". EUR/USD rose after Draghi's comments.
EUR/USD Rallies After Smooth Spain and Italy Auctions
The European bond sales went smoothly but we believe that EUR/USD gains will be limited. There is still uncertainty ahead because of rating firms' possible credit review actions and worries about the eurozone's sovereign debt problems won't fade away overnight. We see that the forex market participants will be keeping their focus on eurozone as the lack of agreement by European leaders on how to implement fiscal reforms to prevent contagion puts the region at risk. But for now the focus shifted to the other side of the Atlantic. The latest data showed that U.S. retail sales rose at the weakest pace in seven months. Weaker economic data that reminded investors of the fragility of the U.S. recovery even if the country is on the right track.
EUR/USD Rallies After Smooth Spain and Italy Auctions
Today forex market investors will be watching the news closely. U.S Trade balance and University of Michigan Consumer Sentiment reports will be released today and will affect the Eur Usd Pair.
Nevertheless, we do not trade the news. But it is always important to stay away 30min-2hrs before news as there will be tendency to see spikes in the market which may trigger your stoploss.
Check out our online forex trading AFM winning Forex Price Action Forex Course where i teach you the exact FULL Forex Trading Strategies and forex trading system that i personally use to be consistently profitable.
See you on the other side my friend,
Asia Forex Mentor
Ezekiel Chew
Asia #1 Forex Mentor
www.asiaforexmentor.com