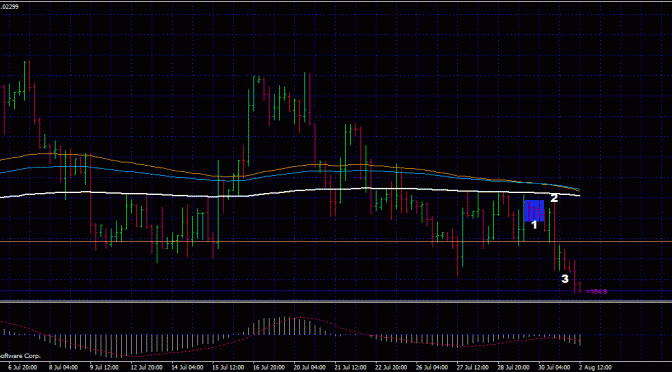 Forex Price Action – Usd Cad
As seen in the chart above,
In the highlighted box 1. – It shows a consolidation of Price action – inside bars.
When we see that, we know that price is going to break out. Either up or down.
Therefore we would have played a pending entry on both side of the inside bars.
It eventually went down which we knew it would, and we took profit at the horizontal line, which you can see why in the bar on the left. It is hitting a support level – a price pivot.
Therefore no wonder, once it hit the support level, it went up and guess what took it down.
Picture 2. – A price action – Bearish outside bar
With the bearish outside bar in place, we knew price is going down further.
Therefore, what came after the bearish outside bars in picture 3. are more inside bars.
The bearish outside bar tell us that the inside bars are going down. Therefore, we would have played a pending sell order on the break of the inside bar and caught the next downward move.
You see, once you understand price action – reading the chart is like reading a book. =)
Next Intermediate Article: Price action pin bar