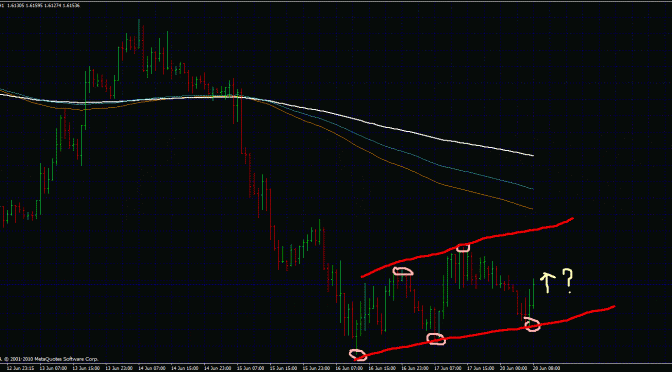 Forex Strategies: Picking the Right Entry
In the chart above – Forex trading pair: Gbp UsdWe can see that on the left hand side of the chart, the pair is making a down trend.However when it hit the bottom and started making "Higher Highs and Higher Lows" (marked by the pink circles).It is an indication that the trend has possibly changed into a uptrend.And you can see that price is making a channel upwards (marked by the red lines)
Therefore in this scenario. Most newbies will still presume that the trend is down, but however with our knowledge gathered above.We know that the trend is changing and is possibly making it's way up.Therefore we will now take trades that are going UP and not trades that are going DOWN.As taking trades that are going down would mean that we are trading against the trend.
Forex Strategies

: Picking the Right Entry

So at the final circle that i marked on the right hand side.It indicates a possibly good entry for us to enter long.
Forex Strategies Reason 1 – It is in an uptrend
Forex Strategies Reason 2 – It is at the bottom of the channel
Forex Strategies Reason 3 – There is a price action – bullish outside bar which indicates a bullish movement up.
Therefore, it will make sense to us to take this trade and it has a winning probability of higher than 50% with the reasons backing the trade.
Lets look at what happened next.
Forex Strategies: Picking the Right Entry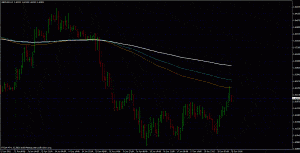 Price indeed made its way up to the top of the channel and beyond.In fact it went all the way up to the 150 moving average.So what you can learn from this simple trade example is:
– How to determine a trend change
– Drawing channels
– Entering at the low of the channel with price action entry
– Taking your final profits at the top of the channel.
So in this scenario even though that it went beyond the top of the channel and to the 150 moving.We will still only take profits at the top of the channel as we do not know that if once price eventually hit the top of the channel – Will it turn back down? or head further up?So that is a question mark and when we trade we do not want to take the risk of earning more profits BUT to eventually lose it all.
I hope you have gain something from this quick forex strategies trade example, Check out our AFM winning Price Action Forex Trading Course where i teach you the exact FULL Forex Trading System that i personally use to be consistently profitable.
See you on the other side my friend,
Asia Forex Mentor
Ezekiel Chew
Asia #1 Forex Mentor
www.asiaforexmentor.com
Next Beginner Article: What is Price Action?