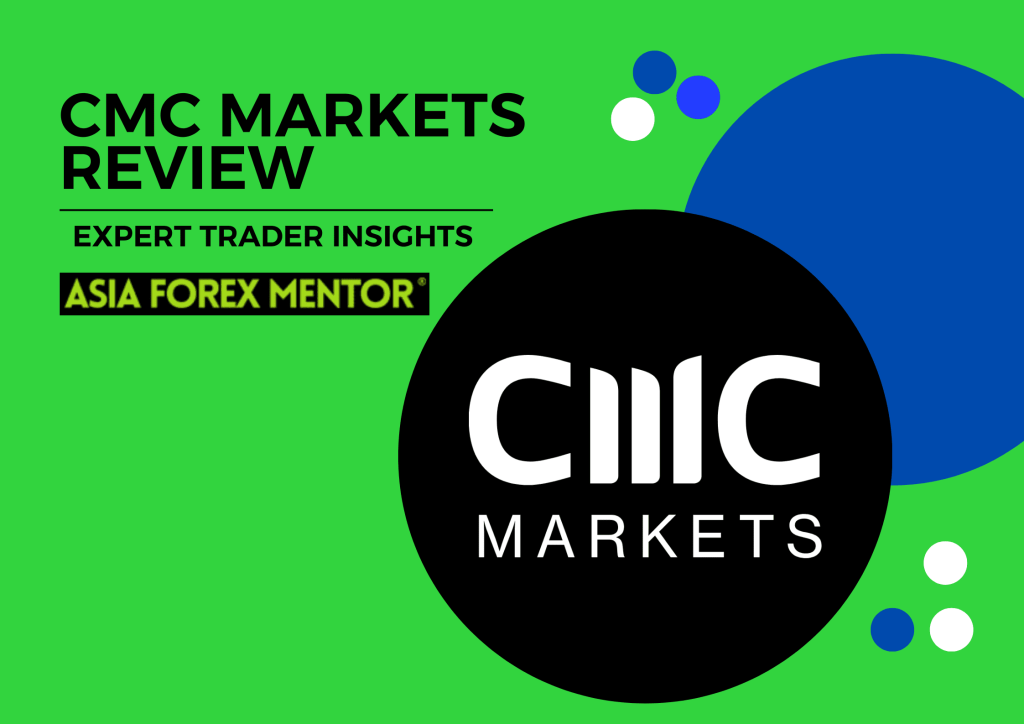 CMC Markets Review
Are you looking for a well-reputed broker that is packed with enticing features and offers stress-free trading globally, then look no further. CMC Markets is a trusted platform that allows users to start trading CFDs, make a spread betting account, and indulge in hassle-free forex trading.
Investors can sign up for a CMC markets account or retail investor accounts to start forex and CFD trading. The quirky trading platform has an impressive collection of trading and financial instruments. CFDs enable traders to speculate on fluctuations in the financial markets, while forex trading refers to trading in currencies.
However, before trading assets, we will conduct an extensive technical analysis to ensure it meets our standard evaluation criteria and help you decide if it is a viable option.
Continue reading to find out more about CMC Markets. This article sheds light on CMC markets' origins, pros, and cons and provides a comprehensive breakdown of its advanced features and user feedback.
Asia Forex Mentor Evaluation Criteria
A Forex broker is integral to the success of retail traders and trading platforms. By employing the ideal broker, users can save considerable CMC markets fees and dramatically lower trading costs. An online broker is an incredibly important tool for successfully indulging in cryptocurrency trading and trading forex.
Therefore a retail trader must gauge and monitor this broker through several criteria while using a proprietary platform before settling on one. This enables novice traders from incurring losses by making uninformed decisions and choosing the wrong platform.
To ensure that you never lose your invested money when trading CFDs, our team at Asia forex mentor evaluates various brokers on more than 70 criteria to determine their effectiveness and reliability.
Our professional experts rely upon the following points to formulate the standard criteria:
Affordability: Comparing and Analyzing spreads, commission fees, and any additional/hidden charges enable you to determine the affordability.
Broker Efficiency: This involves reviewing or verifying available trading instruments, the number of available tools, customer services, and other platforms.
Security: This is ensured by extensive background checks, required minimum deposit, trading account types, and thorough examination of fund rules and regulations.
Technical Performance: Study and assess the net reliability by scrutinizing performance, order types, accounts of slippage, and execution accuracy.
User Interface: Verify whether the broker offers mobile trading services, MetaTrader 4/5, and other advanced state-of-the-art features.We base our evaluation criteria on the four core tenants: Efficiency, competence, customer feedback, and credibility. According to a rigorous review of the platform, CMC Markets has passed the Asia Forex Mentor Assessment Criteria and is a trustworthy broker.The CMC markets website can considerably help forex brokers craft trading strategies that allow traders to slash trading costs while dramatically maximizing profits.
What is CMC Markets?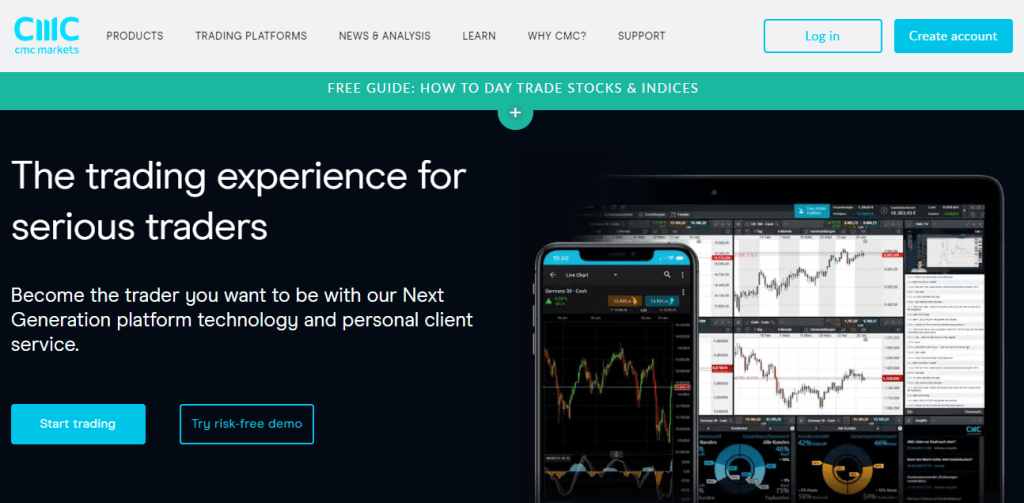 CMC markets is a renowned online trading platform based in London. It has operated since 1989, making it one of the industry's most reliable and well-established web trading platforms.
Over the passage of time, CMC markets have become the ideal trading platform for forex and CFD traders and forex traders due to the availability of diverse financial instruments and outstanding customer support.
Novice traders can easily lose money when trading with retail CFD accounts. CMC markets aim to streamline the process of creating a CFD trading account for CFD traders.
In addition, CMC markets seek to eliminate the additional hassle of bank transfer,asset classes, and technical analysis by providing innovative trading tools. CMC markets is a reliable broker regulated strictly by (FCA) in the UK and can play a significant role in your journey of becoming a successful forex trader.
Advantages and Disadvantages of Trading with CMC Markets
  Advantages
  Disadvantages

Availability of a vast array of trading instruments, including CFDs, indices, forex, shares, and cryptocurrency
Readily available educational resources and webinars for traders
Tight Spreads and low trading fees
State-of-the-art charting and analysis tools are available

Limited Market analysis and research tools compared to the competition
Limited deposit and withdrawal options to withdraw money
The trading platform charges inactivity fees if no trades are made for 12 months
Benefits of Trading with CMC Markets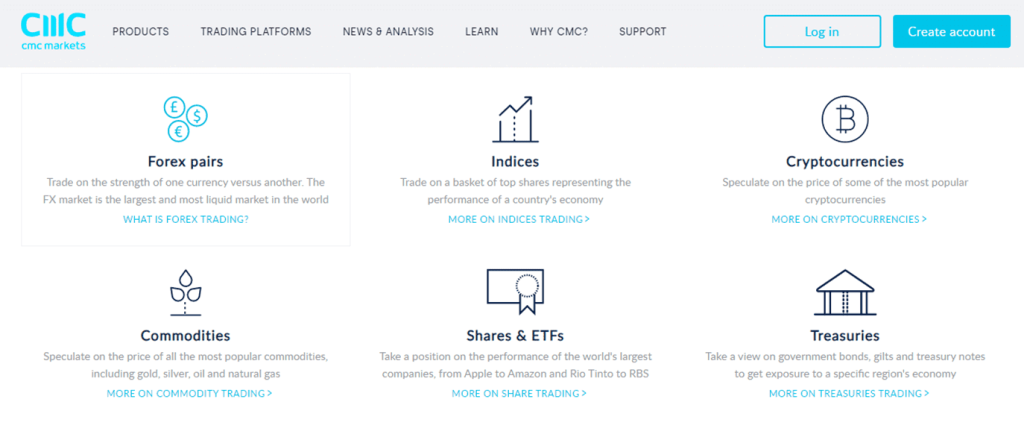 Sometimes it's a hassle to devise effective trading strategies to begin CFD trading in the financial sector.
There are numerous benefits to trading with CMC markets. It is a next-generation platform for forex and CFD traders. Some of the many benefits are enlisted below:
Wide Assortment of Asset Classes: CMC Markets offers a wide range of asset classes to trade, including forex pairs, indices, commodities, shares, and cryptocurrencies. This enables traders to expand their portfolios and exploit opportunities in various markets.
Next-generation Trading Platforms: CMC Markets' proprietary Next Generation trading platform provides advanced risk management tools, intuitive charting, and diverse trading tools. CMC Markets also offers a state-of-the-art mobile trading app allowing traders to access their accounts and trade globally easily.
FCA-regulated and client money rules: CMC Markets is strictly regulated by the UK Financial Conduct Authority (FCA) and complies with client money rules, ensuring that traders' funds are safe and protected from fraud.
Spread betting: CMC Markets offers spread betting, a tax-efficient way to trade in the UK. Traders can exploit this opportunity to earn profits without paying capital gains tax.
Low minimum deposit: CMC Markets has a minimum deposit requirement of just £100, making it accessible to traders looking to make the trade on a budget.
London and Sydney Stock Exchanges: CMC Markets allows users to trade on the London and Sydney Stock Exchanges, providing traders with opportunities to trade global equities with ease.
Advanced traders: CMC Markets offers various account types that cater to advanced traders, including a CFD account and a spread betting account. These accounts offer advanced features and tools to help traders execute their strategies while minimizing losses and maximizing gains.
Advanced risk management tools: CMC Markets' trading platforms offer advanced risk management tools, including guaranteed stop-loss orders and price alerts, which help traders analyze, evaluate and manage their risks effectively.
CMC Markets Pros and Cons

Pros
Competitive Pricing
Safe and Secure
Regulated Broker
User-Friendly Mobile App
Cons
The compulsion of having a minimum deposit
Limited Customer Service Hours
CMC Markets Customer Reviews
CMC markets is a well-regulated platform with positive reviews in the overwhelming majority, with 66% of users giving 5 stars and 18% rating the platform at 4 stars on Trustpilot. After 4-5 years of using CMC markets, one user proclaims that the platform is "amazing" and works seamlessly when he carries out trade, but he complains that he cannot open his account on multiple devices simultaneously due to no API access to platforms.
Another user is highly dissatisfied with CMC markets' services, complaining that the platform becomes so slow that it is "impossible to trade". The user further claims that the unreliable platform tricks investors into investing their money and then running away. However, another customer thinks completely opposite and proclaims that the platform is "amazing and up to standard". He ends his review by saying he is highly satisfied with CMC markets' transparency, including extensive information about the activity, account balance, and transactions.
In a nutshell, the stats, coupled with customer feedback, suggest that CMC markets is a viable option for the target demographic of seasoned and active traders who are well acquainted with the intricacies of online trading. However, it is imperative to keep in mind that trading carries inherent risks, and it is crucial for you to evaluate and reflect upon your risk tolerance and investment goals before proceeding with CMC Markets.
CMC Markets Spreads, Fees, and Commissions

As a trader, it is imperative to consider the trading costs, spreads, fees, and commissions when choosing a broker. Spreads are the difference between an asset's buy and sell value. CMC markets offer competitive spreads starting from 0.3 pips, varying according to the chosen asset class, trading platform, and prevalent market conditions. For instance, CMC Markets' proprietary platform: The next-generation platform, offers tighter spreads than the MT4 platform. In short, CMC market spreads are competitive and are regularly reviewed and updated to remain competitive.
CMC markets charge various fees and commissions in addition to spreads. However, the good news is that the platform operates on a transparent pricing model with no hidden or extra charges. Traders can enjoy various account types with commissions but no deposit or withdrawal fees. The commission depends on the trader's account type; for instance, the Standard Account levies a commission of 0.1 % for share trades, while the Active Trader Account offers fewer commissions for high-volume traders.
CMC markets primarily levy four types of fees:
The Overnight Financing Charges are imposed on traders who hold positions overnight. These rates vary depending on the asset class being traded and are calculated based on the interest rate differential between the two currencies.
Guaranteed Stop-Loss Order Fees are charged to consumers who sign up for a guaranteed stop-loss order. These orders ensure the closing price of trade despite market gaps or slippage, this fee varies according to the asset class being traded and the trade size.
Deposit and Withdrawal Fees are not charged when using most payment methods. But these fees are levied when a user might use a payment method such as a credit card.
Inactivity Fees are charged to traders who do not indulge in trade for a certain period of time. these fees vary according to the account type and the length of the inactivity period.
IMPORTANT!
For high net worth investors seeking to make investments over $10,000, we invite you to reach out to us at Vip-invest@asiaforexmentor.com. Our team of seasoned professionals is well-equipped to provide comprehensive guidance on the intricacies of the investment process, including steps ranging from initial sign-up to successful profit withdrawal.
Account Types
CMC markets offer five different account types designed to cater to the needs of different traders. The platform offers the following accounts.
#1. CFD Account
CFD account is a standard account offered by CMC markets that enables traders to trade on various asset classes, including forex, shares, indices, commodities, and cryptocurrencies. The good news is that this account offers competitive spreads and does not charge any commission on trades.
#2. Spread Betting Account
This account is a tax-efficient way of trading on financial markets. This enables traders to speculate price fluctuations of various asset classes without owning them. This account offers no commission, tight spreads, and is only available to British and Irish residents.
#3. Corporate Account
This account is designed for seasoned traders and investors who meet the eligibility criteria of CMC markets. The account offers highly advanced, state-of-the-art features, including reduced margin requirements and access to greater leverage.
#4. Active Trader Account
The active trader account is designed and customized for high-volume traders requiring enhanced features and benefits. This account features customizable margin rates, reduced commission rates, and a dedicated account manager just for the trader.
#5. Institutional Account
This account is designed with financial institutions and professional investors in mind. It features a variety of enticing perks, such as access to deep liquidity, customizable pricing, and a dedicated account manager.
How To Open Your Account?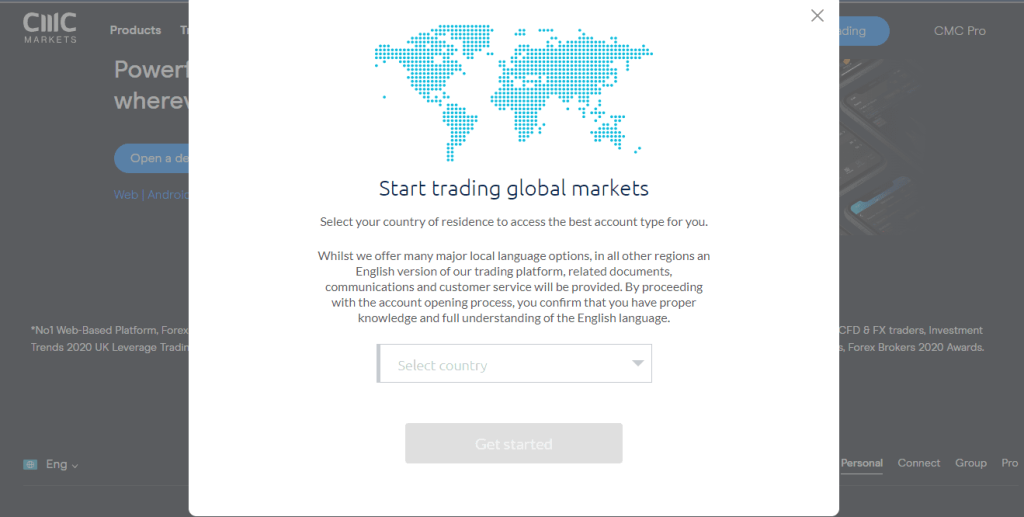 Opening an account on CMC markets is a free and simple process. The process is effortless since the platform guides the user throughout the account creation process. Before we begin, there are some prerequisites that you need to keep in mind. Opening a CMC Markets account is subject to certain eligibility requirements, such as being over 18 years old and meet minimum income and investment thresholds.
Simply follow the steps below to get your CMC markets to account up and running:
Head over to CMC Markets Website and click on the "Create Account" button in the top right corner of the homepage
Fill in the required details and then choose the type of account you want to open. CMC markets offer either a demo account, which allows you to trade with virtual funds or a live account which requires you to deposit real funds
The platform will ask you for additional information, such as your address, financial status, and employment status. Make sure to fill out and complete your application form.
Once you have submitted the completed application, CMC markets will verify your identity and review your application
Once your submitted application is approved, you will be allowed to trade by signing in to your CMC markets account
You can always contact customer support if you encounter any trouble or issues while signing up for an account. After creating your account, deposit funds and start trading.
What Can You Trade on CMC Markets
CMC markets is a multi-asset platform where traders can trade various financial instruments across multiple asset classes. There are numerous instruments available grouped into the following categories:
Shares: Users can trade shares from major global stock exchanges, including US, UK, and Asia
Indices: CMC markets provide various indices such as the UK 100, Germany 30, and Japan 225
Forex: Consumers can trade a wide range of major, minor, or exotic currency pairs like GBP/USD, AUD/CAD, EUR/USD, and USD/JPY.
Commodities: CMC markets offer various commodity markets, including valuable metals like gold and silver, energy products like gas and oil, and agricultural produce like wheat and soybeans
Cryptocurrencies: Users can trade popular cryptocurrencies such as Bitcoin, Ethereum,Litecoin, and Ripple.
Treasuries: Users also have the option to trade government bonds from major economies like the UK, the US, Germany, and Japan.
CMC Markets Customer Support
CMC markets is renowned for its excellent and supportive customer support team. Those who want to talk with an agent can request phone support by going to the platform website and finding the phone number for their specific country.
CMC Markets also offers email support you can contact them using the email address of your particular region, which is available on their website.
For general issues, CMC markets clients can email clientmanagement@cmcmarkets.co.uk or contact +44 (0)20 7170 8200.
In addition, CMC markets have a detailed FAQ section, a community forum, and live chat functionality where experts help resolve the issues that traders face regularly.
Advantages and Disadvantages of CMC Markets Customer Support
  Advantages

  Disadvantage

Multiple Contact Channels
Multi-lingual Support
Availability of Educational Resources
24/7 Support

No Live Chat Support for Demo Account
Delayed Responses
Limited Scope of Support in some countries
Security for Investors
  Advantages
  Disadvantages

Regulated Brokerage
Segregated Client Funds
Two-Factor Authentication
Insurance Coverage

Phishing Risk
Limited Liability
Withdrawal Options and Fees
After successfully carrying out trade, most traders want to withdraw their profits from the CMC markets account. The platform offers several options for consumers to withdraw their funds. The fees levied vary according to the chosen payment method.
Users can opt for direct bank transfers; the fee varies depending on the chosen currency. For instance, there is no fee for withdrawal in GBP, but there is €10 fee for withdrawal in EUR. Consumers can also withdraw their earnings with Debit/Credit Cards; no fees are associated with this option.
Additionally, CMC markets provide the option to withdraw money by both Skrill and PayPal, there are no fees associated with this medium. It is crucial to note that CMC markets may not charge withdrawal fees, but your payment provider can levy a charge therefore, it is advisable to check with your bank for their fees and processing times.
CMC Markets Vs Other Brokers
Traders must compare CMC markets with other leading brokers to make an informed decision.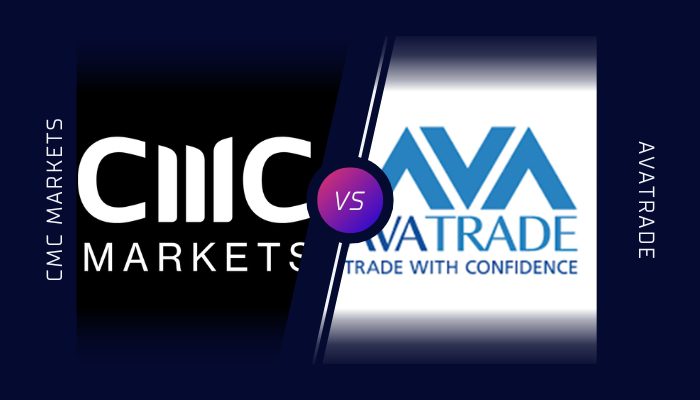 Both CMC markets and Avatrade are reputable brokers, but traders must evaluate them based on their performance and qualities to see the best fit for them. Comparing CMC markets with Avatrade, the former offers a wider range of instruments. While Avatrade offers almost 1250 trading instruments, CMC markets offer up to 10,000 trading instruments such as forex, indices, shares, and cryptocurrencies.
Both brokers offer diverse trading platforms, including their proprietary and MT4 and MT5 platforms. CMC markets have the additional benefit because it offers its Next generation platform, renowned for customization options and advanced charting tools.
Comparing the spreads and fees of both platforms, CMC markets offer lower spreads than Avatrade. The fees usually vary according to the chosen account type and instrument, but Avatrade charges a minimum of 0.9 pips for EUR/USD, while CMC markets charge 0.3 pips for the same currency pair. Our extensive analysis shows that CMC markets drastically outperform Avatrade, particularly in the trading instruments and cost efficiency sector.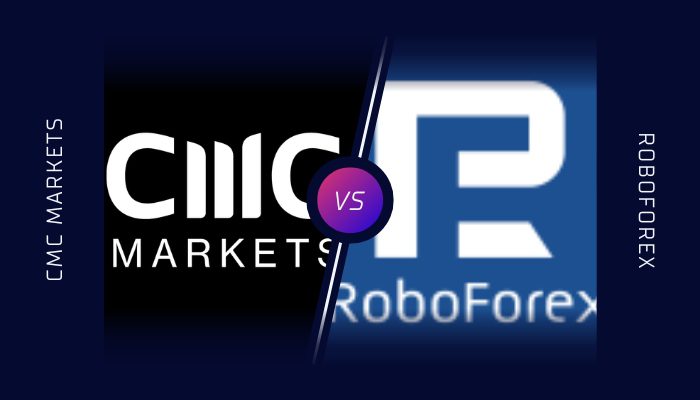 CMC markets and Roboforex allows traders to trade with hundred of financial instruments. Comparing both platforms, Roboforex has an advantage over CMC markets because it offers competitive trading conditions with low commissions and tight spreads and provides traders access to the interbank market, leading to a greater likelihood of profitable trade.
RoboForex offers a wider range of cryptocurrency trading options compared to CMC Markets. They allow traders to trade Bitcoin, Litecoin,Ethereum, and Ripple. Although both brokers provide various trading platforms like MT4 and MT5, CMC markets have the additional advantage of having their proprietary platform. This platform has won several awards and is well-reputed for being highly customizable and user-friendly.
CMC markets provide traders with more comprehensive research and analysis tools to make informed trading. Their educational material is also quite extensive compared to Roboforex. Upon careful analysis, we have determined that CMC markets slightly outperform Roboforex.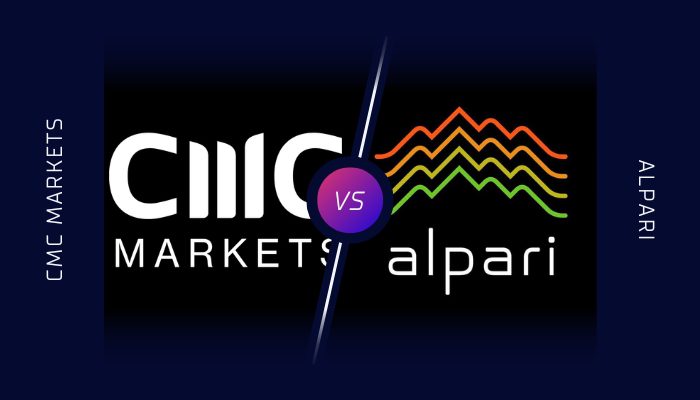 CMC markets offer a wider range of products and markets when compared to Alpari. The former offers products such s ETFs, commodities, shares, cryptocurrencies, and treasuries. Alpari primarily focuses on forex and precious metal trading therefore, CMC markets can be a viable option for those looking to expand their investment portfolios.
CMC markets generally offer lower spreads and commissions when compared to Alpari, especially for trading forex pairs. It is important to note that Alpari does not charge an inactivity fee, while CMC markets charge inactivity fees if you don't trade for 12 months.
Both platforms provide customer support via email, phone, and live chat, but CMC Markets has more localized support in different regions and languages. This platform also offers a greater variety of educational and training material for traders to make informed decisions. Our thorough analysis reveals that CMC markets outperform Alpari in all areas except cost efficiency.
Conclusion: CMC Markets Review
CMC markets is an excellent platform designed to make trading fast, secure, and friendly. The platform is available in most major countries around the globe and has garnered an immense amount of positive reviews.
Extensive feedback analysis shows that most clients prefer CMC markets because it offers a greater diversity of trading instruments, low spreads and commissions, and high customizability. Their well-crafted educational programs and research material enables traders to make informed decisions.
Overall, CMC markets might be ideal for novice and seasoned traders looking for diverse trading options. It is packed with practical solutions and numerous educational resources. CMC markets is a safe, secure, and reliable broker, meaning investors' capital is safe.
CMC Markets Review FAQs
Is CMC Markets regulated?
Yes, CMC markets is strictly regulated by financial authorities like the FCA in the UK, the ASIC in Australia, and the MAS in Singapore.
What is CMC Markets minimum deposit?
The minimum deposit requirement may vary according to your location and account type. Generally, CMC markets' next-generation platform does not have a minimum deposit limit, while the MT4 and MT5 accounts in Australia have a requirement of AUD 200 and AUD 1000, respectively.
Is CMC Markets a reliable broker?
Yes, CMC markets is considered a well-reputed and reliable broker, operating for over 30 years in the financial industry. Reputable financial authorities heavily regulate it around the globe, such as FCA in the UK.