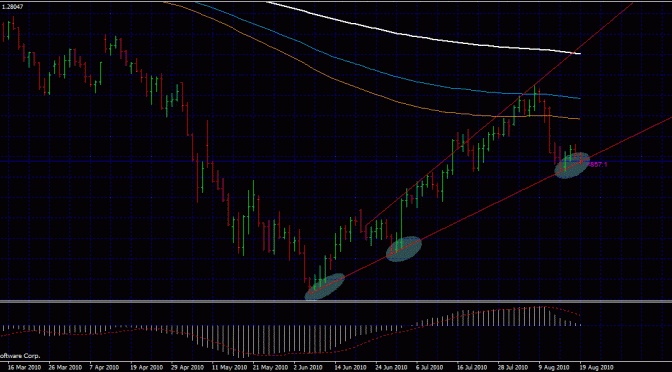 Eur Usd Trend Bouncing – Forex Trading Strategies
Lets look at why the Eur Usd took a little small bounce in the recent days.In the chart above, there is a trend line formed since june 2010. That was the period when the eur usd took a reversal from a long down-trending move since nov 2009.
Therefore it rode the trend line up and came back to the trend line on the 2nd time in the end of june 2010. With the back test of the trend line, it is proven that the trend line drawn is reliable.
The Eur Usd took a 3rd back test to the trend line in recent days. And we could still see the trendline holding well.
And if it is strong enough, it should ride itself back up the upwards channel.
This is from another perspective that we use to look at the trade. Meanwhile, we have not used other forex trading strategies eg. Fibonacci, price pivots, price action etc to enter on the trade.
As Always -Trade with knowledge and understanding.
Cheers, Ezekiel
Next Advanced Article: How to draw fibonacci