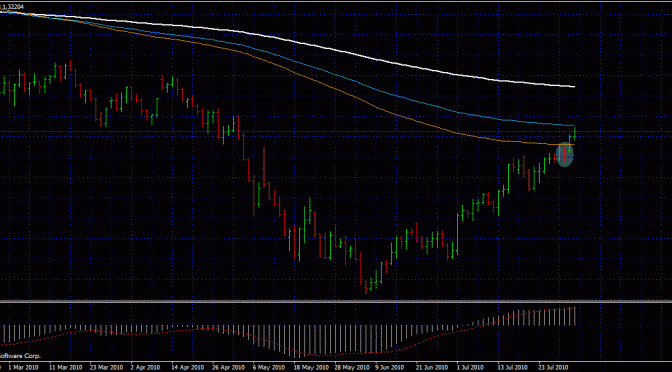 Forex Trading: Updates on Eur Usd
In the previous post on eur usd, we spotted that the eur usd may be stalling or turn for a temporary down turn at the confluence of the 150 and the 365 moving average.
We waited for price action confirmation to enter. Remember price action is king.
No reversal price action confirmation came. Therefore we never took the down trade.
Lets look at what that kept it going up.
In the chart above, (highlighted oval) – we see price stalling at the 150 moving average which is no surprise.
However, the red bar – which is a pin bar / inside bar. This indicates that price is heading up – to break through the 150 moving average.
True enough it did, and it broke up with a nice long bullish bar. And price now is temporarily stalling at the 200 moving average.
Lets watch further.
Remember, although we did not entered this trade. In our group, we look and trade 20 Forex Pairs. Therefore eur usd is only 1 of the 20 forex pairs which we look at. Therefore, from our price action analysis we will be able to select the best of the best trades from the 20 pairs to pick the consistent winning trades.
If you are still not seeing success in forex trading, Join our group today! And I will show you how!
– Click on the link below to join our group.