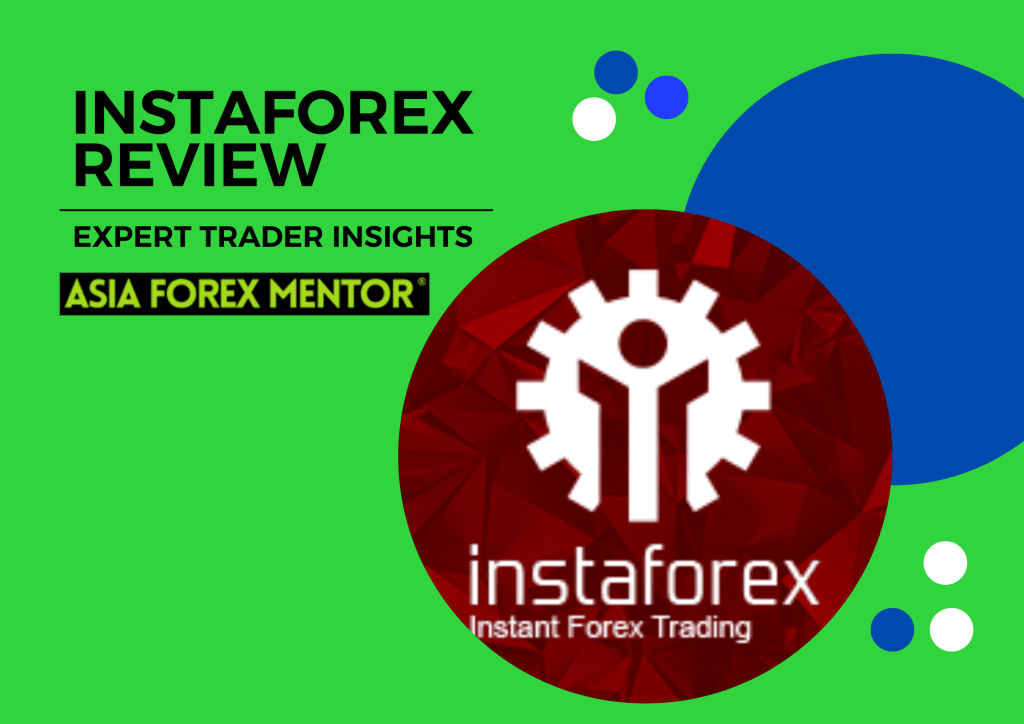 InstaForex Review
This InstaForex review is designed for folks who are either new to forex trading or those who have been doing this for years. The forex market is a $6 trillion-a-day industry. There is so much money to be made there, but sadly, not all people get to enjoy this experience.
Well, there are many factors that will typically determine how successful your trading account will be in forex trading. However, it is always best to get the basics right. This includes picking the right brokerage that can facilitate your trading.
The forex trading market is filled with so many brokerage firms, each with something to offer. However, InstaForex is actually one of the few forex market brokers that truly stand out.
Instaforex will be the focus of this review. We take a deep dive into what it is, what it has to offer, and some of the unique features that make it tick. There will also be a few FAQs and informational sections on forex trading, including how to use trading platforms and so much more.
Asia Forex Mentor Evaluation Criteria
Before we dive into the overall InstaForex review, it is important to give you a sneak peek of the criteria we are using to gauge and analyze this firm. Now, please note that these criteria are commonly used in most of our forex trading reviews.
The first thing the team looks at is the credibility or trust score. So many traders out there have lost money by simply choosing unscrupulous brokers with questionable track records in trading. You don't want to fall into that, which is why this review focuses on regulated broker InstaForex with a track record of excellence in the forex industry.
The evaluation team also looked at security for traders here. Safety of funds, in particular, was given high priority in evaluating this broker, including safety in transferring funds and withdrawing them from your trading account. Additionally, spreads were also assessed and factored into the review. Spreads determine the ultimate trading fees.
Thirdly, ease of use is a key factor. Here, two considerations are made. First, how easy is it to open a trading account with a broker? Although different brokerage firms have different account types, choosing a brokerage with relatively easier requirements for opening a trading account is always important. In addition to this, ease of use also applies to the trading platform.
Firms that have simple and robust trading platforms that beginners can easily use are highly recommended. Also, the team looked at the nature of customer support service. After all, trading platforms can get very complicated at times.
You need a customer support service team that can get in there and help. The team also looks at trading fees, user reviews, availability of a wide range of assets, accessibility, and more.
What is InstaForex?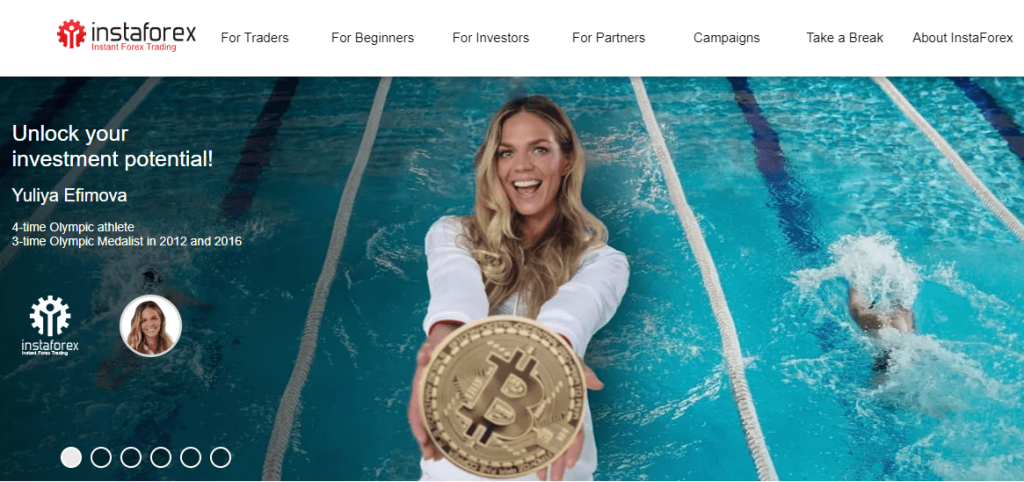 Instaforex is a leading forex broker that offers international traders access to the global forex market. The firm has been in business for the last 15 years. It offers a wide range of financial trading instruments, including currency pairs, commodities, stocks, and so much more.
The firm is registered in many high-tier jurisdictions for trust and safety. Also known as instant trading EU ltd, the goal of the firm is to give retail investor accounts access to leading financial instruments using some of the best trading platforms.
And just to add to the credibility and trust rating, Instaforex is actually registered and regulated by BVI FSC in the British Virgin Islands. The firm is registered under the license number SIBA/L/14/1082.
For now, there are over 300 tradable assets. Once you get the trading account number, you access the trading platform through your retail investor accounts. Also, since InstaForex is an international trading platform, it has strived to deliver a multilingual customer support team. This means that you can always count on the support service to get you to help regardless of where you are.
Nonetheless, perhaps one thing that makes Instaforex stand out is the social trading aspect. Copy trading is now a major part of online trading. It gives beginners a chance to replicate the trading moves of major investors.
InstaForex offers all that. You will also be happy to know that the brokerage has top trading platform options. However, this does not include a proprietary trading platform.
Advantages and Disadvantages of Trading with InstaForex
As one of the leading forex brokers in the world, the InstaForex broker has so much to offer for any trading style. But there are also some cons as well. Here are some advantages and disadvantages of working with the broker:
  Advantages
  Disadvantages

InstaForex offers a wide variety of trading accounts, including a demo account to hone your skills
There are over 300 trading assets and financial instruments
So many beginner trading tools, including market analysis tools, signals, and daily briefs for professional traders too
State-of-the-art trading platform for online trading and market execution

There have been complaints that customer support sometimes takes too long to respond
Only the Meta trader 4 trading platform is available from this reliable broker
Benefits of Trading with InstaForex

As noted above, instant trading ltd has been offering brokerage services for the best part of 15 years now. Such an experienced entity has so much to offer for both experienced traders and the average joe starting out with demo accounts or some simple trading conditions. Here are some of the benefits to expect when you trade currency pairs with Instaforex:
Low Trading Fees
The last thing you need as a trader is to pay so much in fees. The best traders with the best trading skills often work on small margins. They will open and close positions at small profits. This strategy becomes useless if you have to pay so much in trading fees. The good news is that InstaForex has done very well in keeping trading fees reasonably low.
State-of-the-Art Trading Platform
Trade execution is also an integral part of success in trading currency pairs. The nature of execution typically depends on the trading platform. While different brokers use unique proprietary trading software, the meta trader is a good third-party option.
Instaforex will give you access to meta trader 4, one of the most modern trading platforms for the superior forex desk. The InstaForex trading platform also incorporates trading signals, research from the finance department, and a series of risk management tools.
Versatility in Trading
InstaForex traders can also enjoy immense versatility when working with this broker. As you know, most brokers offer derivatives trading these days. But derivatives are very risky and are often suited for short-term speculative trading.
But what if you wanted to invest long-term? If the answer is yes, no need to worry because Instaforex offers you that option. The platform offers an array of trading instruments and strategies that can suit both short-term speculative traders and long-term investors as well.
Huge Variety of Trading Instruments
Instaforex is a top-rated derivatives broker. The firm offers over 300 financial instruments to trade in some of the leading financial markets around the world.
Whether you are thinking of trading stocks, commodities like oil and gas, precious metals like gold and silver, or even popular currency pairs, you will have access to these assets in your account once the minimum deposit is in.
Investor Education
Trading for most beginners can often feel like a daunting task. But InstaForex has invested heavily in creating robust resources that will give you the basics you need to develop trading experience.
Besides, you also get demo accounts where you can trade with virtual money. This allows you to get a feel of the trading platform and how everything works. The free demo account also allows you to create unique trading strategies and test them out before you jump into the real market.
InstaForex Pros and Cons

The InstaForex legitimate trading services have had lots of positive feedback from users. But there are also a few cons here and there. The following is a breakdown of both, starting with the pros:
Pros
Regulated in the British Virgin Islands and other higher-tier jurisdictions.
Offers some of the lowest fees in the market and a very minimal withdrawal fee.
You get to use the meta trader 4, one of the market's most advanced live trading tools.
Incredible multilingual customer support team to help you in trading CFDs.
Free trading using a demo account plus additional beginner education.
Cons
Some users have reported downtimes in the trading platforms
It takes a bit longer than we expected to get help from the support
Not available in top-tier regulatory jurisdictions like New York, London, Cyprus, and others.
Analysis of the Main Features of InstaForex
3.9 Investment Instruments
3.9 Variety of Instruments
InstaForex Customer Reviews
One thing that often defines a broker's quality is the perception of users. Customer feedback can make or break a broker. Well, for InstaForex, there is no doubt that many satisfied customers are out there.
From what we can gather in these reviews, most users seem to truly appreciate the beginner education and advanced analytics that the broker offers. Additionally, some users are also very upbeat about the several trading contests that InstaForex offers.
These contests are very ideal for those of you who are starting out. You can, in fact, win a lot of trading capital and expand your account even further. With everything said and done, it is safe to say that a majority of people who have used this service have had a remarkable trading experience. It's exactly what you would expect from such a top-rated brokerage.
InstaForex Spreads, Fees, and Commissions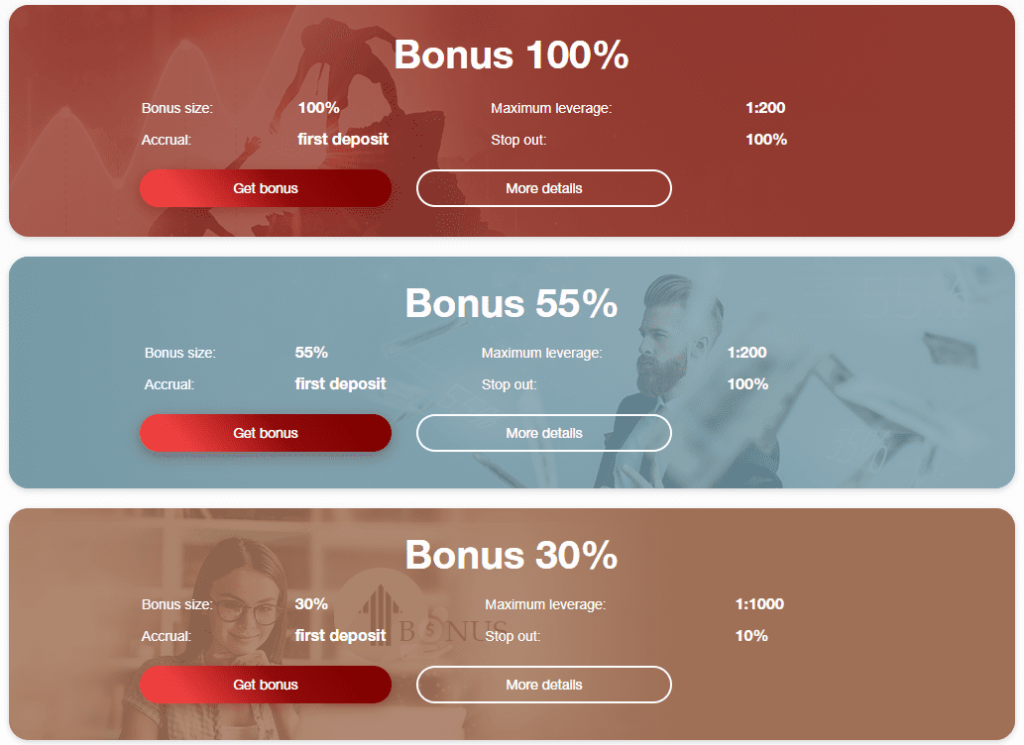 As noted above, InstaForex strives to offer some of the lowest fees in the market. Now, please note that fees on this broker are not standard. how much you pay for currency trading will typically depend on the type of account that you are using.
Also, it is important to note that InstaForex uses both a spread-based fee and a fixed system. Again, the extent of the spread will depend on the type of account that you are using and, of course, the type of asset.
Now, if you decide to choose the Insta Standard, the most basic account on InstaForex, you will pay zero fixed fees. For standard accounts, trading fees are spread-based. The spread, in fact, ranges from 3 – 7 depending on the type of asset you are trading. The Insta Standard account is highly recommended for folks who trade marginally.
Secondly, if, for any reason, you want an intermediate trading account, Insta Eurica should be perfect for you. Unlike in the Insta Standard account, fees for Eurica account holders are fixed at 0.03% – 0.07% of the total trade value. The spread, on the other hand, is zero.
There is also the Cent Standard account on Instaforex. This one is also designed for beginner traders, and the fee structure is the same as that of the Insta Standard account. The InstaForex brand has always worked hard to give users value, which often means keeping fees as low as possible.
Compared to other brokers, the firm is highly recommended for those who want lower trading fees. And besides, you can always get a deposit bonus to expand your trading capital.
How InstaForex Fees Compare to other Brokers
| Broker | | | | |
| --- | --- | --- | --- | --- |
| Min Deposit | 100 | 100 | 1 | 1 |
| Withdrawal Fees | Varies | No | Yes | Yes |
| Inactivity Fees | Yes | No | No | No |
| Deposit Fees | Yes | No | No | Yes |
| CFD Commission Fees | Yes | No | No | Yes |
| | | | | |
Account Types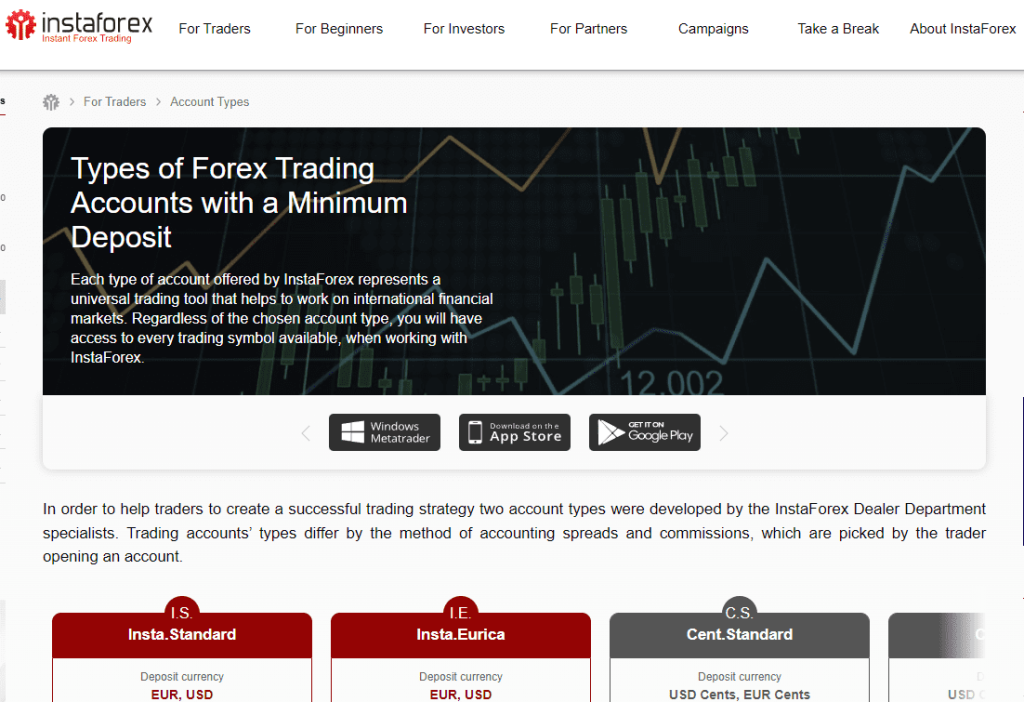 InstaForex offers three types of accounts. Two of these are generally designed for the retail investor while the other one is suited for large-scale institutional investors or traders who do this daily on a relatively larger scope. The first beginner-friendly account for retail investors is called Insta Standard.
It comes with a minimum deposit of just $1, and there is no limit in terms of the maximum deposit. In addition to this, the Insta Standard account charges zero fees. However, it comes with a spread-based system where spreads range from 3-7. For a retail investor account, this is actually very low. On top of that, you get 1:1000 leverage.
Nonetheless, in case you are a seasoned institutional trader, then the second account type at InstaForex will be ideal. This one is called Insta Eurica. The biggest difference between this account and the Insta Standard is actually the fee structure. In Eurica accounts, there is no spread. Instead, you pay a fee of between 0.03% and 0.07% of the total trade value. Also, you get a maximum of up to 10,000 lots per trade, leverage of about 1:1000, and dedicated customer support.
The third and final option is the Cent Standard account. This one is more like a micro version of Insta Standard. It is perfect for micro traders who are not necessarily willing to trade large amounts of money.
How To Open Your Account?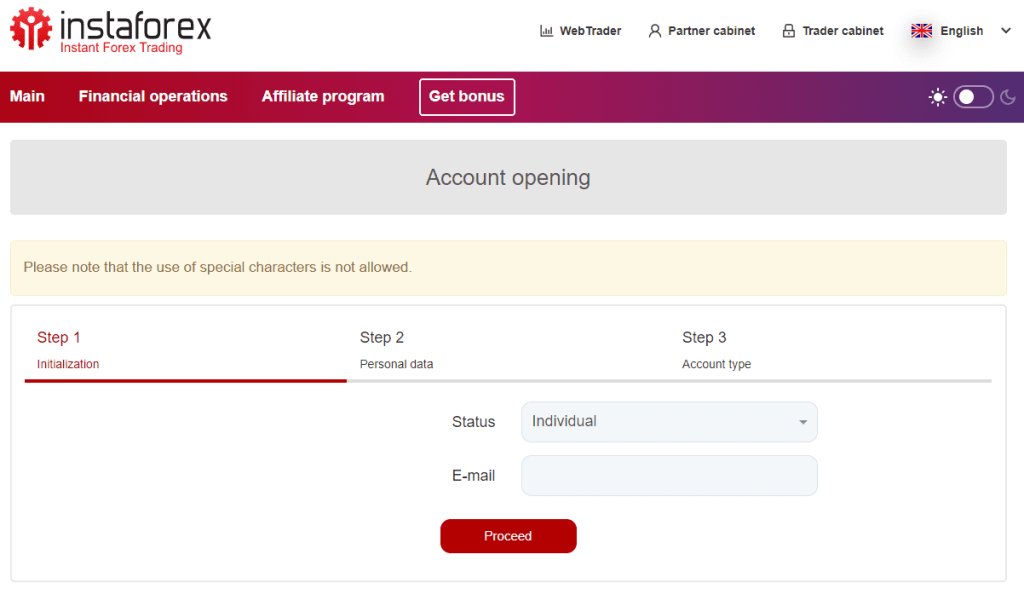 InstaForex also offers a very simple and straightforward account opening process. In fact, there are four main steps that you will need to take. First, head over to the InstaForex website. Once you are there, click on the "For Traders" button at the top menu of the screen. You will be redirected to a page that will ask you to open a trading account. Click the button.
The next step is to fill in your details. Unlike other brokers that ask to many personal details, Instaforex will only need your name, email, country of residence, and phone number. As soon as these details are in, the second step would be to verify your email. This one is a bit straightforward, so no need to explain it further.
Now that the email is verified, it's time to upload your documents. These documents are used to verify your identity and, of course, your residence. The Instaforex team will also give you additional details on what needs to be uploaded and how to do it.
Finally, once the team receives the required document, they will look at them carefully, and if everything checks out, your account will be approved. It takes less than 24 hours for this process to complete. But as a general rule of thumb, it is always a good idea to open a demo account before trading forex in the real market.
What Can You Trade on InstaForex
Instaforex bills itself as a forex trading broker. But do not let this fool you. The firm is actually a full-service brokerage that offers over 300 assets to trade and an investor compensation fund. Before we get to the specific details of these assets, keep in mind that Instaforex is a CFD provider.
CFDs are contracts for Differences. They are a type of financial derivative whose value moves in tandem with the value of the underlying assets. So, if, for example, you decide to trade the EUR/USD currency pair, you are not actually trading real EUR for USD. You are basically trading a derivative of these currency assets.
The good news is that Instaforex offers a huge variety of financial derivatives. From the massive collection of currency pairs to the more stable commodities like gold and silver. You will also be able to trade oil CFDs as well as indices of some of the leading financial assets in the world. Ultimately, there will always be something to trade at Instaforex.
InstaForex Customer Support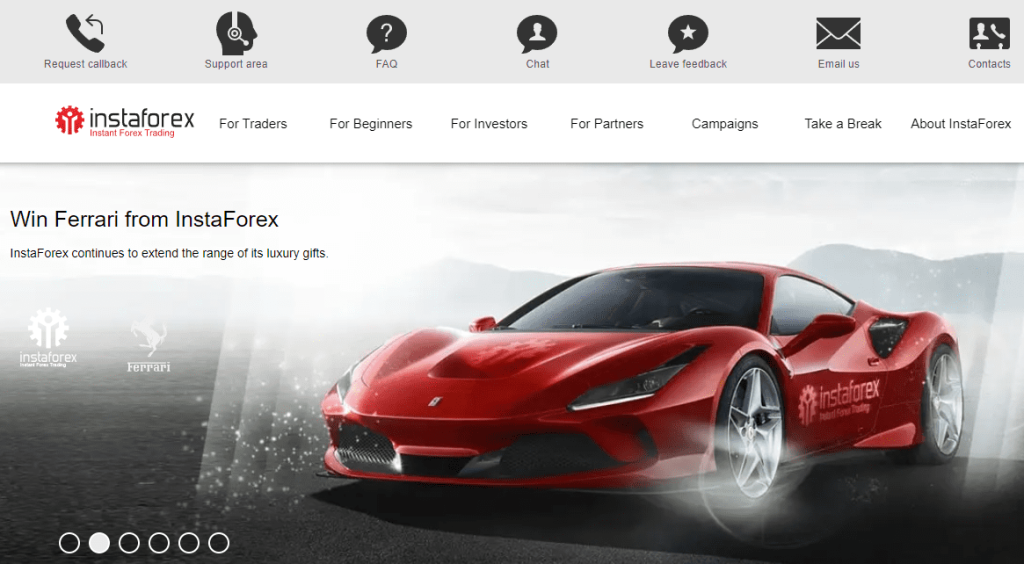 A key feature that has often made InstaForex a firm favorite for most traders is the superb support team. Like most other modern-day online broker firms, InstaForex has invested in creating a multilingual support team.
This means that the customer support rep will be able to engage users in the most comfortable language they can use. In addition to this, users also get multiple ways to reach out to the support team.
For example, if you have an urgent matter with your bank transfer or you're fixed or floating leverage, you can always use the live chat feature on the InstaForex website and get the redress that you are looking for.
But for folks who want to call, the support team at InstaForex allows you to use a popular call-back feature. Here, you only need to leave your phone number, and someone from the team will be in touch with you in no time.
The Instaforex support team, like any other broker, will also offer assistance through Telegram, WhatsApp, social media, and also through email.
InstaForex Customer Support Advantages and Disadvantages
Overall, Instaforex customer support is way above the standard required. But there are, of course, some areas where the team could do better moving forward. Here are some of the advantages and disadvantages of the support:
  Advantages

  Disadvantage

Multilingual support team designed to offer help in many different languages
You get a call-back feature and live chat support for urgent matters
One of the best-trained customer support teams in the forex market right now
Support reps also appear to have deep knowledge of the firm, how it works, and the overall ecosystem

There have been complaints that the support team sometimes takes too long to respond
We also noticed some problems in connecting with the live chat support
Although the support is multilingual, the language options are still relatively limited
Contacts Table
Contacts
Foundation Date

2008

Registration Address

Shamrock Lodge, Nurray Road, Kingstown, St. Vincent

Contacts
Email: support@instaforex.com
Phone: +443 300 102 315
Security for Investors
Security is also key in determining the broker you will work with. For InstaForex, security is broad-based and cuts across all its services. Here are some of this broker's security pros and cons, starting with the advantages.
  Advantages
  Disadvantages

All customer funds are kept in segregated accounts to ensure they are safe
Instaforex runs some of the most advanced security software with additional support from industry leaders in the cybersecurity space
The broker also conducts regular audits each day to ensure it stays up to date with the most emerging threats
Privacy is the number one priority here. Your information will not be shared with any third parties for any purpose
Also, InstaForex does not request lots of personal info from you, and all payments are processed through secure and encrypted channels

The broker is not regulated in many tier 1 jurisdictions like New York, London, and others
Some users may not be able to access the broker due to geographical restrictions in their countries
InstaForex Vs Other Brokers
As one of the best brokerage firms in the world, Instaforex has built a reputation of reliability and trust. But how does the firm actually compare to the other top brokers in the market?
Well, we have actually done a very detailed comparison below between Instaforex and some of the leading brokerages out there: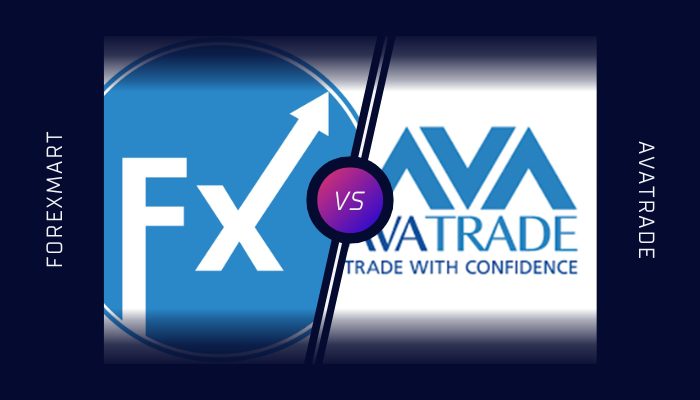 AvaTrade is undoubtedly one of the most notable names in Forex and CFD trading. The firm is based in Ireland and is regulated by British financial authorities t00. This gives it a much bigger trust score compared to Instaforex.
Nonetheless, there are still so many areas of similarity between these two. First, both offer professional and beginner accounts, each tailored to the needs of different people. Also, just like Instaforex, Avatrade also does well with low fees and very tight spreads.
However, there are two areas where Instoforex does much better. For example, it offers leverage of 1:1000 compared to just 1:500, which is offered by AvaTrade. But when it comes to the variety of tradable assets, AvaTrade wins it by a mile.
The Irish broker offers well over 3000 financial instruments, while Instaforex stands at about 300. Regardless of these differences, it is clear that both of these firms are solid, reliable brokers that can help anyone trade forex and earn some decent returns.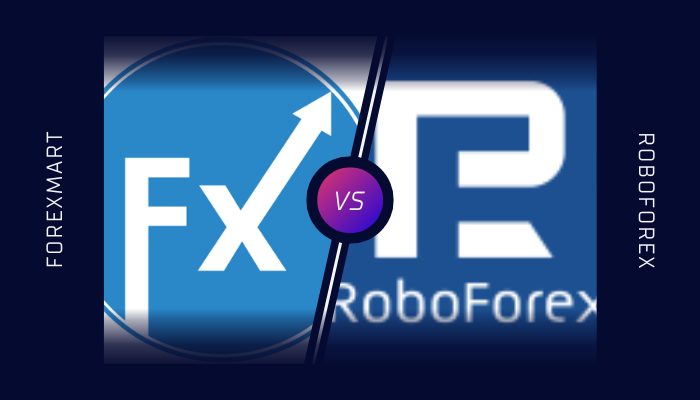 The similarities between Instaforex and Roboforex are quite striking. In fact, the two are much more alike than they are different. For starters, both of these firms give their users access to the state-of-the-art meta trader 4 platform.
This powerful tool makes trade execution and tracking very easy. Interestingly enough, Roboforex and InstaForex do not also have their own internal trading software. The variety of assets available in both firms is also relatively similar.
As for the fees, there is not really that much difference either. Although Roboforex charges a minimum deposit on certain accounts, the figures for spreads and fixed fees are quite similar. You will also be happy to know that these firms charge small withdrawal fees.
However, one area that InstaForex wins is education. As we have explained, the broker is among the few out there offering personalized and individual trading for forex traders. While Roboforex still has some robust training material, they fall a bit short of the ones offered by InstaForex.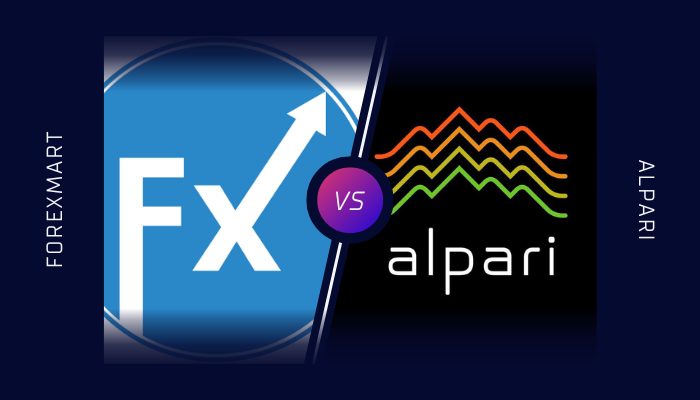 In case you are looking for a more experienced broker that offers almost the same standard of trading as Instaforex, then Alpari will be a good bet. The track record that the firm has in this space is simply remarkable.
For instance, Alpari has been in the forex and CFD trading space for 20 years. This is five years more than Instaforex. Additionally, Alpari has managed to attract over 2 million traders spread all over the world. It features an internal trading system and the Meta trader 4 and 5.
In addition to this, you will also get some robust and reliable automated trading tools from Alpari. These are typically designed for the most advanced traders, but even beginners can get this done.
Nonetheless, for all its pedigree in the market. Alpari falls short in some areas compared to Instaforex. For example, while Instaforex offers well over 300 tradable assets, Alpari has about 250.
Please also note that the fees at Instaforex are relatively less compared to Alpari. However, the difference is not that big. In any case, both of these firms are proven forex brokers that have a superb track record of excellence in the market. You should be happy using any of the two to trade currency pairs.
How InstaForex Trading Options Compare against other Brokers
| Broker | | | | |
| --- | --- | --- | --- | --- |
| Instruments Available | 144 | 1250 | 100 | 50 |
| Platforms | MT4 | Web Trader, MT4, MT5, AvatradeGo, AvaOptions, DupliTrade, ZuluTrade, Mobile Apps, ZuluTrade, DupliTrade, MQL5 | MT4, MT5, Mac, Web Trader, cTrader, Tablet & Mobile Apps | MT4, MT5, Web Trader, Binary, Tablet & Mobile Apps |
| FX / Currencies | | | | |
| Forex pairs offered | Yes | 61 | 35 | 50 |
| Major Forex pairs | Yes | Yes | Yes | Yes |
| Minor Forex pairs | No | Yes | Yes | Yes |
| Exotic Forex pairs | No | Yes | Yes | Yes |
| Cryptocurrencies (availability subject to regulation) | No | No | Yes | Yes |
| Commodity CFDs | | | | |
| Commodities Offered | 0 | 17 | 21 | 3 |
| Metals | Yes | Yes | Yes | Yes |
| Energies | Yes | Yes | No | No |
| Agricultural | Yes | Yes | No | No |
| Indiced & Stock CFDs | | | | |
| Stocks Offered | Yes | 1000 | 0 | 0 |
| UK Shares | Yes | Yes | Yes | No |
| US Shares | No | Yes | Yes | No |
| German Shares | No | Yes | Yes | No |
| Japanese Shares | No | Yes | Yes | No |
Conclusion: InstaForex Review
Finding the ultimate broker for trading forex is the first step towards success in this $6 trillion-a-day market. There are many factors, of course, that determine a good broker. However, as a trader, you want someone trustworthy with a proven record of serving customers with excellence.
Well, Instaforex fits this description very well. Having been offering forex trading services for over 15 years, the company has earned the respect and the experience needed to serve you. Besides, Instaforex has also done well to invest in some key features of its services.
Copy trading, in particular, is one area that should catch the eye of anyone. Social or copy trading allows users to directly copy trades from some of the more successful traders.
The meta trader 4 trading platform on offer here will also be a big plus for those who are looking for advanced trading and market execution. In fact, meta trader 4 is used by some of the leading brokers in the world.
Also, InstaForex has a superb support team. Although we found some complaints about how responsive the team is, overall, it is reliable enough to assist you. And besides, this is a multilingual support team with all the expertise and experience you need.
So, to put it in a nutshell, Instaforex is, of course, recommended. When you compare it to other top brokers out there, it is a bit better or on the same level.
InstaForex Review FAQs
Can InstaForex be trusted?
Yes, InstaForex is actually a very trustworthy broker. This is because of two main factors. First, the broker is regulated in the British virgin islands. This is one of the leading financial hubs in the world.
Secondly, Instaforex has been in the market for 15 years. During this period, the firm has earned raving reviews for its reliability, trust, and customer service.
Can you withdraw money from InstaForex?
Of course, you can. There are no conditions for withdrawing money. Once you have closed all your trades and earned a profit, you can withdraw that money as soon as possible. Besides, InstaForex also offers a superb variety of withdrawal options. You will, however, pay a small fee to withdraw funds.
How much is InstaForex Bonus?
InstaForex offers two types of bonuses. The first one is the first deposit bonus. Here, the firm will match 100% of whatever you deposit. So, if you deposit $100, you will get an extra $100 to trade.
The second bonus is the fixed bonus. This one is designed for those who replenish their accounts for trades. Every time you do this, the InstaForex team will add 30% of the total deposit to your existing balance.