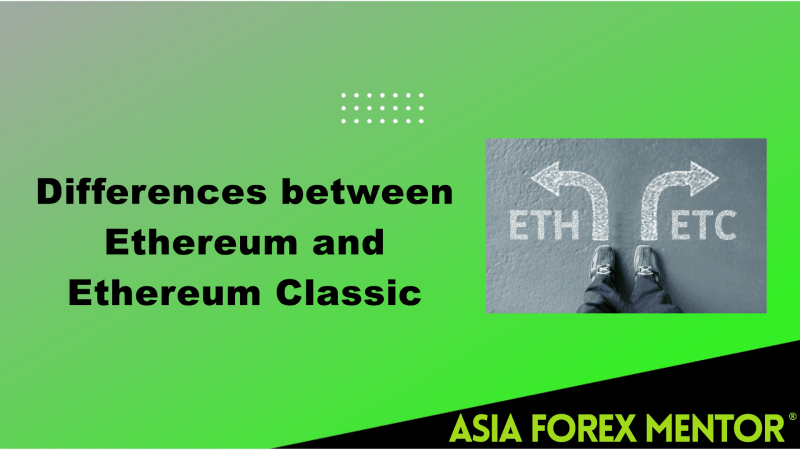 Until 2016, there was only one Ethereum, but a major hack on June 17, 2016, led to the creation of a new Ethereum, and the previous Ethereum was called "Ethereum Classic." Ethereum and Ethereum Classic are two cryptocurrencies that are often used interchangeably. Knowing their differences allows you to separate them and make a safer investment. This article reviews the creation of Ethereum Classic and its differences from Ethereum.
Also Read: How to Mine Ethereum: The Full Walkthrough
Contents
The Story of the Creation of the Ethereum Blockchain Technology and the Challenges It Faces
The original Ethereum blockchain is the brainchild of Vitalik Buterin, a Russian programmer and genius. He was among the first developers to move towards Bitcoin and blockchain technology. Vitalik introduced Ethereum in late 2013 because Bitcoin could not handle some tasks.
What is Ethereum?
Ethereum is a public, open-source software platform built to support Ethereum's smart contracts functionality. The network uses Ether (ETH) as its proprietary currency to process transactions. Developers can build decentralized smart contract applications on top of the Ethereum blockchain.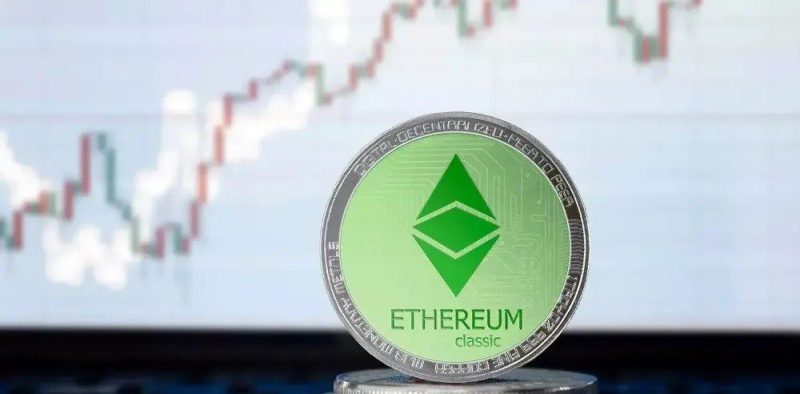 DAO Hacking and the Challenge Facing Ethereum blockchain
On June 17, 2016, an unknown hacker was able to exploit a security bug in the DAO code and transfer more than $50 million worth of Ethereum to himself. The Ethereum price went from $20 to $12 in less than a few days, and everyone was shocked. The hacking of the DAO somehow tarnished the name of Ethereum and its platform. What should they do?
The Decision of Ethereum community
According to one of the conditions in the DAO contract, the Ethereum transfer request was made after 28 days. The hacker could not withdraw the funds for 28 days, so the original developers had about a month to find a solution. In general, there were three ways forward for the Ethereum community:
They did nothing (which was natural in the decentralized nature of blockchain)
Soft fork to return assets
Hard fork to return assets
Most of the community decided not to let Ethereum's validity be questioned and returned the funds using a soft fork.
The Birth of the New Ethereum
Doing a hard fork and changing the rules of Ethereum created much controversy among developers. Opponents considered the change of laws against the ideals of decentralization. But with a wide difference, the hard fork led to the new blockchain network and cryptocurrencies in such a way that the opposing community was still looking for their old version.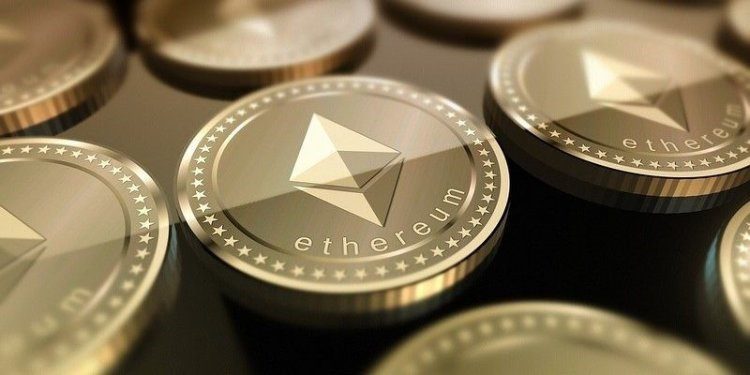 Due to the widespread support of the new hard fork and the support of original developers such as Vitalik Buterin, the first Ethereum was renamed Ethereum Classic with the symbol ETC on the exchanges new Ethereum was called Ethereum itself. Like Ethereum, the Ethereum Classic blockchain is based on a decentralized blockchain, has decentralized exchanges and applications, works based on smart contracts, and its contract programming language is Solidity.
Ethereum Classic is the same as Ethereum, but it is implemented on the old blockchain. Since then, users have done different things about these two blockchains, but the differences between the two versions have increased over time.
Pros and Cons of Original Ethereum Blockchain
Pros
Staying on the philosophy of immutability of blockchains
Gaining the support of several powerful people
Cons
Not having access to new ETH chain updates
Migration of all Ethereum holders to ETH
Being perceived as an insult and an attack on the Ethereum community
Known as a system full of scammers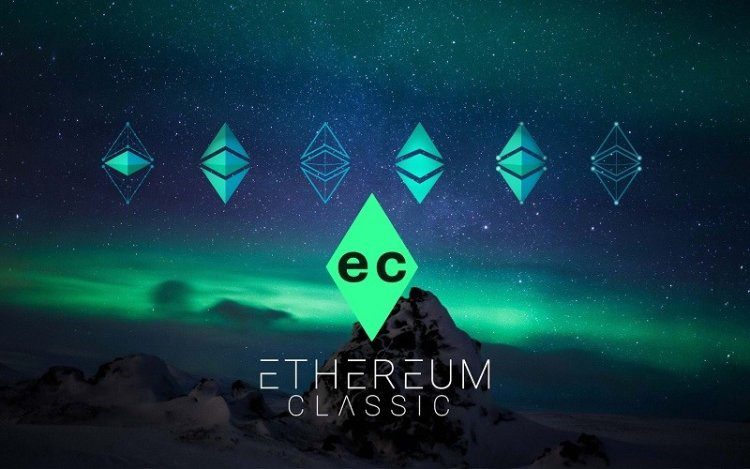 Pros and Cons of Ethereum
Pros
High-speed growth
Having strong supporters
Recovering the stolen funds and returning them to the owners of DAOs
It can be used with the latest changes and updates
Hash rate higher than Ethereum Classic etc..
Cons
Insistence against the law of immutability
Difference between Ethereum and Ethereum Classic
Ethereum Classic is a spin-off of Ethereum. Ethereum Classic was created due to a decentralized Autonomous organization (DAO) hacking Ethereum. Launched in 2016 on the Ethereum blockchain, The DAO was a project that worked like a venture capital fund for the crypto space.
Due to many developers and activists going to Ethereum, the power and influence of the Ethereum network were greatly higher than that of the classic Ethereum. In this section, the most important differences between Ethereum and Ethereum Classic are mentioned: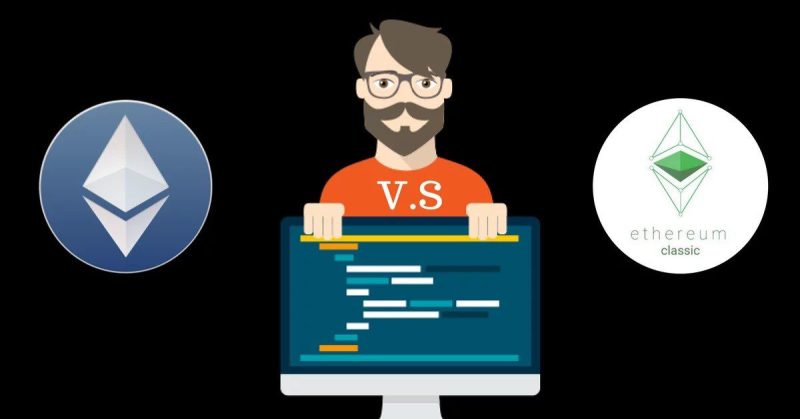 Decentralized Applications
After the fork, about 90% of developers and Decentralized Applications (DApps) moved to Ethereum. There are far more decentralized applications on Ethereum than on Ethereum Classic etc., so the number of active DApps on Ethereum Classic is very limited. On the other hand, there are few development tools on Ethereum Classic.
Mining method
Both Ethereum use the same mining algorithm, Ethash, and therefore the same mining hardware can be used for both. While Ethereum seeks to prevent mining with special devices, ASICs, using the ProgPow algorithm, Ethereum Classic still needs to adopt this procedure. With ProgPow running on Ethereum, it will only be possible to mine with a graphics card (GPU), but classic Ethereum can be easily mined with an ASIC.
Consensus algorithm
Most importantly, Ethereum seeks to move from Proof of Work (PoW) to Proof of Stake (PoS), where transactions do not need to consume electricity or use hardware, and people can buy Ethereum and allocate it to the network to earn money. At the same time, Ethereum Classic does not have such a program.
Hash rate and number of units
While the number of Ethereum units does not yet have a specific limit, and annual inflation will be considered, the number of Ethereum Classic units is limited, and only up to 210 million units will be mined. Also, the network hash rate that miners have assigned to the Ethereum Classic network is much lower than that of Ethereum, so the security of Ethereum Classic is lower than that of Ethereum.
Security
Experts believe Ethereum Classic could be more secure, but Ethereum is more popular and has the Enterprise Ethereum Alliance business support. The company launched a slew of ICOs in 2017 and is supported by virtually all cryptocurrency exchanges.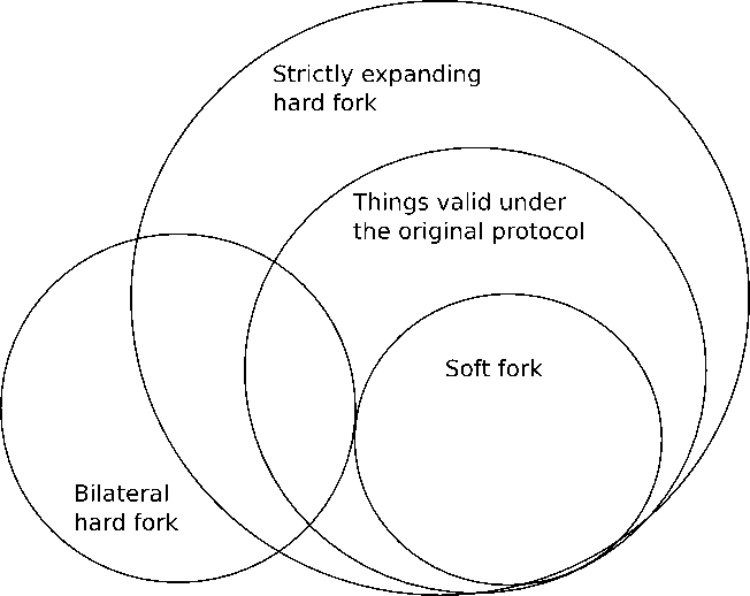 Market value
While the supply of both is almost the same, the market for Ethereum Classic is much more limited than Ethereum. Ethereum has been in second place for a long time, but Ethereum Classic emerged in a very bad position after the fork and kept falling to the lower ranks of the market. As of September 2021, Ethereum Classic's market cap is around $2.7 billion, a fraction of Ethereum's $160 billion cap. This partly depends on how Ethereum Classic decided to go Bitcoin's way by capping its token supply at around 140 million.
Future perspective
The future of Ethereum Classic is less bright and promising than Ethereum. After a series of 51% attacks, many developers lost faith in the network, and analysts stated that Ethereum Classic should become a PoS consensus mechanism to prevent future hacks.
Functions
Ethereum is a cryptocurrency platform on which users can earn money by creating various projects. But the same cannot be said about Ethereum Classic because investors need to trust this cryptocurrency, and if its demand is low, its price will decrease.
Comparison of mining profitability
The profitability of mining in both is almost the same. When the profitability of one increases, miners flock to it, which creates a relative balance between the two. But currently, Ethereum classic mining gives about 84% of Ethereum mining profit, which is a relatively acceptable number.
Lack of access to updates in Ethereum Classic
The main problem of Ethereum Classic is the lack of compatibility with the hard fork of Ethereum. All the important people in the Ethereum community have moved to the new chain, which means that anyone who is part of Ethereum Classic will not be able to access any of the updates made by Ethereum.
Also Read: Cardano vs Ethereum: Who Holds the Advantage?
Conclusion
In this article, we looked at Ethereum and Ethereum Classic and discussed them comprehensively. Ethereum has all the main developers on its side and will become more powerful day by day, and this is a major difference between Ethereum and Ethereum Classic. But the same cannot be said about Ethereum Classic.
But Ethereum Classic is still valuable and will be around for a while. Rather, Ethereum Classic decided to maintain its chain independently and move forward. Ethereum is now a platform where people can key their projects and dictate the future. ETH has all the main developers and is getting more powerful daily. The validity and price of a monetary unit depend on people's trust, and because of these factors, trust in ETH increases daily.
Unfortunately, this is not the case with ETC. ETC is known as a platform full of scammers, has made people's trust in them less day by day. A bright future awaits ETH, and it is set to grow much more. The old and original version of Ethereum is Ethereum Classic, and investors and traders in this field believe that both coins while considering their differences, can be equally sought after in terms of profitability.
FAQ
What Are the Most Important Pros of Ethereum Classic?
Staying on the philosophy of the immutability of blockchains and getting the support of powerful people are among the most important pros of classic Ethereum.
What Are the Most Important Pros of Ethereum?
High-speed growth and having strong and usable backups with the latest changes and updates are among the most important pros of Ethereum.
What Are the Most Important Differences between Ethereum and Ethereum Classic?
The possibility of using decentralized programs, market size, and mining methods are among the most important differences between these two cryptocurrencies.
Is Ethereum Better or Ethereum Classic?
Each of these two currencies has special features, but in general, Ethereum Classic is weaker than the Ethereum community, and this caused updates after the Ethereum hard fork to not be implemented. Also, this currency has a history of being attacked by hackers, and its hash power is much lower than Ethereum.
Can We Consider Ethereum Classic as a Competitor to Ethereum?
Yes. ETC is designed to compete directly with the Ethereum network. ETC is trying to compete seriously by following a different development path.
Is It Worth Investing in Ethereum Classic?
The answer to this question depends only on the risk level of the investors' portfolios. Ethereum Classic has been attacked several times by 51%, which makes this currency very risky. But Ethereum has many advantages and is a safer cryptocurrency for investment purposes.