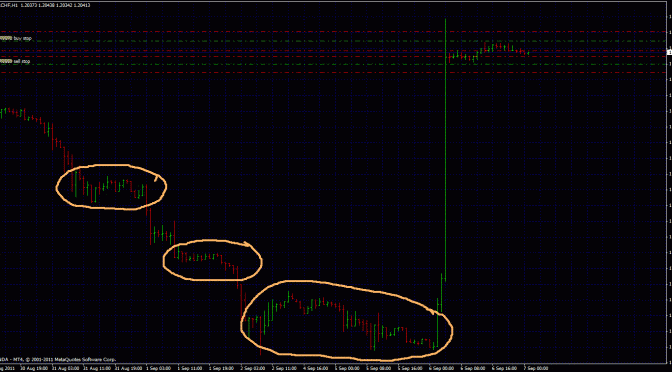 Forex Breakout System – Live Eur Chf Trade
What we are looking at now is a Live Forex breakout system trade.
Forex Pair: Eur Chf
Time Frame: 1hr
If you look at the chart above.
The pair has a nice history of consolidating bars and then to eventually breakout. (look at the 3 circles drawn on the chart)
Each time it broke, it went to a new level to consolidate again.
So what we have at the current forex market is a probable repeat of its history.
But the question for this trade would be:
Which side will it break to? Up or Down?
The answer: It doesn't matter!
Forex Breakout System – Live Eur Chf Trade
We will place a pending buy order and sell order as seen in the chart above.
So whichever side it goes to, we are in the trade.
The two red lines in between the buy and sell orders are the stop loss for each trade.
And the 2 red lines away from the buy and sell orders are the 1st take profit target.
We will then set the 2nd take profit target using a trailing stop (to catch a bigger move if there is one)
Forex Breakout System

– Live Eur Chf Trade

With this forex breakout system / strategy – we will be able to capture the move once it eventually breakout.
The possible loss we could make for this trade is that, it may spike up/down – triggering our pending order and then to go back into its consolidation (possibly triggering our stoploss)
To reduce the chances of it happening, we have placed our pending orders above/below the highs/lows of the consolidation.
We will see how this goes and keep you updated.

Check out our online forex trading AFM winning Forex Price Action Forex Trading Course where i teach you the exact FULL Forex Trading Strategies | system (Forex Breakout System) that i personally use to be consistently profitable.

See you on the other side my friend,
Asia Forex Mentor
Ezekiel Chew
Asia #1 Forex Mentor
www.asiaforexmentor.com
Next Advanced Article: forex breakout system (part 2)