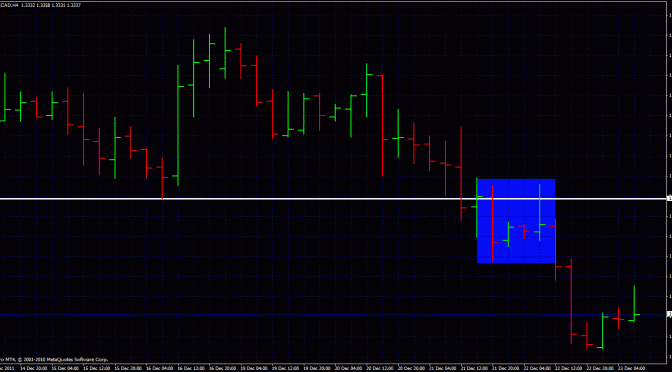 Forex Mentor Tips – A Good Forex Trade Setup
Forex Trade Setup – Example: Eur Cad
I'm going to show you a forex good setup that you should keep in your records for your future forex trades.
In the Forex chart above. We have a highlighted blue box.
It compromises of a:
– long bearish red bar
– Some small bars after the red bar (not bigger than the red bar)
– Followed by a price pin bar (long green color)
This is fact is a very good forex setup alone.
What we have here is a good selling momentum as seen by the bearish red bar.
Then price consolidates for a little while, making small bars inside the previous red bar.
They are preparing for the big move.
And as you should already know if you have been reading my forex trading strategies.
For price to go further down or up, it needs to take a "breather" first.
Then after, we see a forex price action pin bar. This is our signal for an entry.
And we will take a sell position here.
Forex Mentor Tips – A Good Forex Setup
Forex setups
To further affirm our entry, we want to find more confluence.
More factors to support our sell movement.
If you look at the chart, you will see that i drew a White line.
This white line is a previous strong support – supporting previous lows.
And now price has broken the support to make it a new resistance.
And so we have our forex setup at a strong resistance!
Which is a very good forex signal with confluence.
Forex Tips – A Good Forex Setup
As you can see, forex trading is not difficult once you understand price action in detail with combination of our forex trading strategies and system.
Check out our online forex trading AFM winning Forex Price Action Forex Course where i teach you the exact FULL Forex Trading Strategies and forex trading system that i personally use to be consistently profitable.
See you on the other side my friend,
Asia Forex Mentor
Ezekiel Chew
Asia #1 Forex Mentor
www.asiaforexmentor.com
P.S: Do "Like" the post and share it if you find it useful!