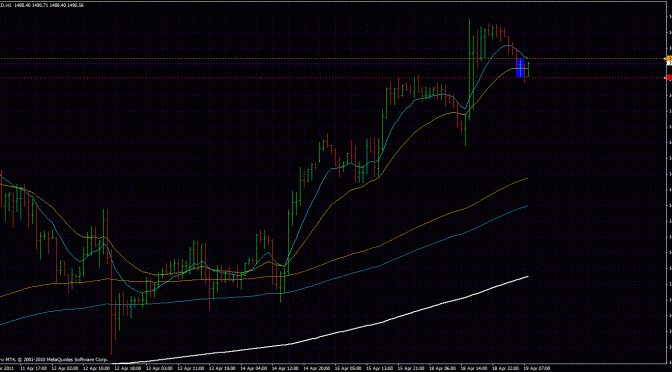 Forex Trading Course – How to take this Price Action Pin Bar
Forex trading pair: Gold (Xau usd)
A forex price action pin bar formed as showed in the blue highlighted box.
Lets Analyze this price action pin bar:
1) Pin bar formed off the 25 moving average (yellow line)
2) Pin bar protrudes out from surrounding prices. But the nose could be longer.
v>
3) The past few bars before the pin were all bearish bars. Which would make me doubt on whether the small pin has the strength to take on the previous bearish bars
4) The over trend is in an uptrend
Forex Trading Course – How to take this Price Action Pin Bar
So this is a retracement pin bar. To play this pair, i would have placed a pending buy order on the break of the pin. (marked by the dotted orange line)
Stoploss would be below the pin (marked by the dotted red line)
As we can see the next bar would have triggered our stoploss had we entered the trade right at the close of the pin. This is the power of pending orders.
So by placing pending orders in such a scenario. We would not miss out on trades that go our way, and we will miss taking trades that didn't go our way.As always – Trade with a plan and if there isn't a plan. Skip the trade.
Check out our Winning Asia Forex Mentor Price Action Forex Course where i teach you the exact FULL Forex Trading Systems that i personally use.
See you on the other side my friend,
Asia Forex Mentor
Ezekiel Chew
Asia #1 Forex Mentor
www.asiaforexmentor.com
Next Intermediate Article: How to take this price action pin bar (part 2)