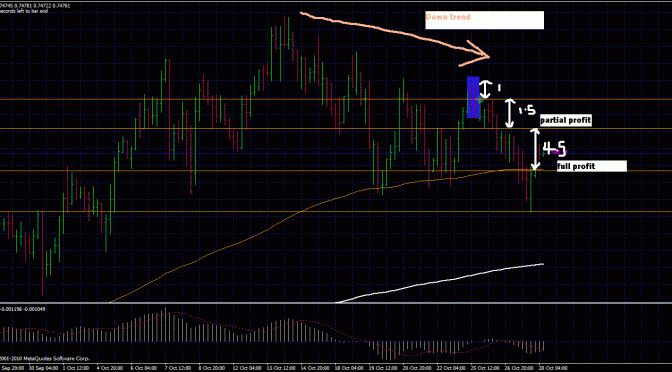 Here is a trade which we took this week in our private group.
Forex Trading Pair: Nzd Usd
This pair is heading a nice downtrend with significant retracement every time. Therefore we were waiting for a retracement with price action confirmation and confluence.
Pin bar formed in the highlighted blue box. And the second bar forms a double bar high lower close. This is a good confirmation that price is heading down.
This is also in confluence with a price pivot which i did not draw at the level of 0.75645.
Therefore we entered at the retracement of the double bar high lower close at the level 0.75420.
By doing this way, we have significantly reduced our stop loss and increased our risk reward ratio.
Our first partial profit target was at the price pivot 0.75065. It is a risk reward ratio of 1 : 1.5. By taking a mini partial profit, we have bagged in some profits and shifted our stop loss to break even for the rest of the trade. Now we are in a FREE TRADE.
Our Final profit target was an obvious one at the 150 moving average at the 0.74550 level. This closed the trade with a risk reward ratio of 1 : 4.5
Most of our members took this trade with Profits!
To find out more about our group. Click on the link below.
Asia Forex Mentor Price Action Forex Course
To an awesome trading as always, Ezekiel Chew
Next Advanced Article: How does different time frame interlink