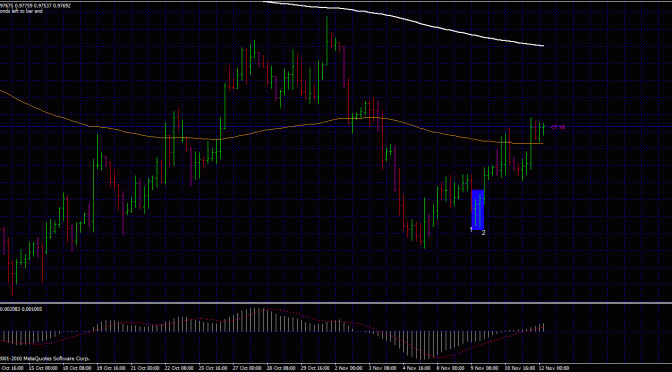 Forex Trading: Usd Chf pair
In the chart above shows 2 highlighted pin bars.
If a trader took the first price action pin bar (marked as 1) and placed his stop loss right at the bottom of the pin -He would get stopped out and would have possibly missed the winning move upwards.
How can we improve this? – This is the reason why i always recommend traders to place their stoploss 10 pips below the edge of the pin. By doing so you would still be in the trade and not get stopped out by the next bar.
– If you did get stopped out by the next bar. You would have gotten back your pips in this trade as the next bar formed another pin bar (marked as 2). This forms a double pin bar. A setup that shows that price is indeed going up.
Therefore you would still get back into the trade on this pin bar and took it right up.
Alot of traders when got stopped out by at the first pin would not have taken the 2nd pin due to the fact that they had made a loss in this pair, and they "feel" that this pair is no longer reliable. And they "feel" that since the first pin has been stopped out, the trend is no longer heading the direction they wanted.
This is a common syndrome by most traders – Dwelling on the PAST Trades Remember – every trade you take is a new trade. And is a fresh beginning. Forget what happened on the last trade, regardless of whether that is a winning or losing trade.
Focus on seeing what is right in the new trade. And not let PAST perceptions affect your judgement.
Therefore in this trade, had you not dwell on the first pin that had been stopped out. You would have seen that it formed a double pin bar! And this double pin bar is in the right upward trend movement. You would have taken this trade without hesitation.
If you liked this post, what we teach in our course is the full forex trading system.
I will talk to you soon in our group,
Asia Forex Mentor
Ezekiel Chew
Here is the video version:
Prevent a failing pin bar
Next Intermediate Article: Importance of stoploss placement