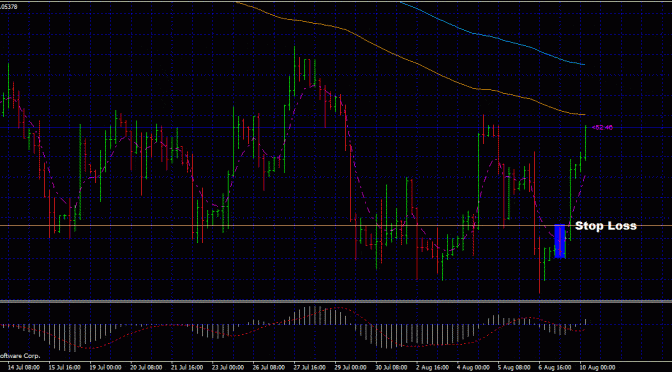 Forex Trading: Importance of Stop Loss Placement
A lot of traders do not believe in stop loss placement.
Some believe in mental stop loss placement. meaning that when they feel that a trade is not going their way, they will then cut it off.
That is so terribly wrong. Stop loss placement is one of the most crucial key if you want to make forex trading profitable.
Another mistake traders make is that they shift their stop loss. They shift it backwards, thinking that the trade will just go back a little more and will come back their way. And sure enough, most of the time, they took more losses than they would have if they stayed on their initial stop loss.
In the chart above, is an example of the importance of stop loss placement.
Usd chf h4
In the highlighted box, thats a pin bar. When some guys see this pin, they will naturally take it down and the ideal place for their stop loss is the horizontal line in orange that is drawn.
Scenario A) if the trader did not place a stop loss, or a mental stop loss – look at how high the usd chf pair went upwards. Their account will be blown or had a huge huge loss.
Scenario B) Trader shifted their stop loss backwards from the initial orange line thinking that the trade will go back down. They would have taken a huge loss as the move went up terribly fast and would have gotten a big blow to their account
Scenario C) Trader sticked to their initial stop loss, they would have just gotten a standard loss of the % risked in their account, based on their money management. And this is just one of the trades among the plenty, therefore this loss is not a big deal.
I hope you guys can see the importance of placing and sticking to your stop loss. Or else your account will be blown before you know it.
Next Intermediate Article: Gaps in forex trading