Kraken staking, a method of earning passive income, has quickly gained popularity among cryptocurrency holders due to its high yields.
Staking is the process by which nodes stake their tokens and create blocks to contribute to the upkeep of the blockchain network.
Furthermore, the network rewards a node are frequently proportional to the amount of cryptocurrency staked.
PoS blockchains, such as CSC, allow anyone to join this process. Participants on such chains can stake using on-chain validators as long as they have enough funds.
If you're a newcomer to this exchange, please note that the two most popular cryptocurrencies in the market, Bitcoin and Ethereum, can be purchased, sold, and exchanged quickly on the prominent cryptocurrency exchange Kraken.
Kraken allows customers to trade futures and margin accounts, riskier commodities beneficial for specific trading tactics, and buy/sell cryptocurrency at market rates.
The central Kraken platform is the best place for new cryptocurrency investors to start in the Kraken ecosystem.
More experienced traders, even outside of cryptocurrencies, may favor the lower-cost active trading platform Kraken Pro.
Also Read: How To Short Crypto
Contents
What is Kraken Staking?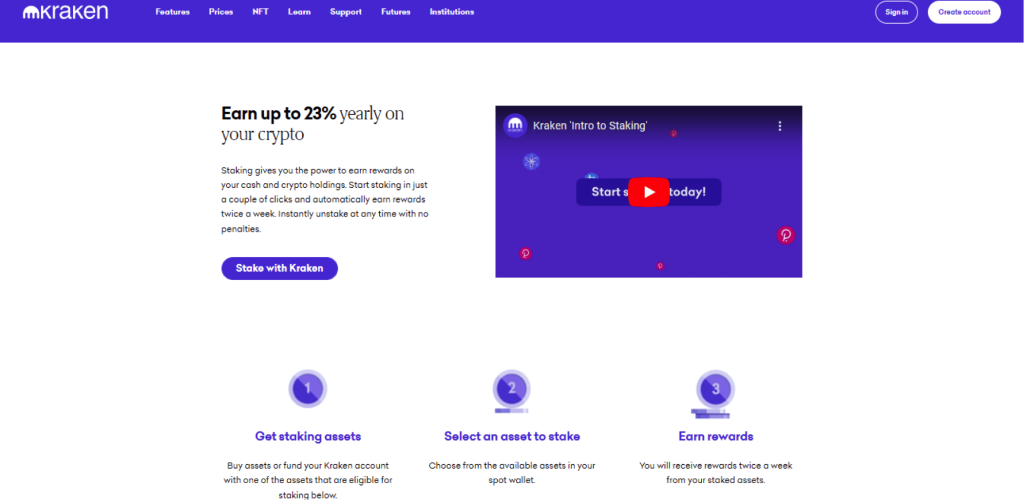 Kraken staking allows you to earn rewards on your cash and cryptocurrency holdings. Begin staking in just a few clicks and automatically earn rewards twice a week. Besides, you can unstack the asset at any time without paying any penalties.
You may put your coins to work and start earning rewards immediately with only a few clicks. The broker pays out staking rewards twice a week. You can continue to add these to your stake, compounding the number of coins you hold and earn.
With Kraken's unique approach to staking, you are free to stake and unstake your coins as you please. You earn high fixed rewards and get payouts twice per week.
In short, it is an opportunity to start staking with one of the world's most trusted and secure exchanges and earn your rewards simultaneously.
Besides staking rewards, Kraken is also an excellent choice for new and experienced cryptocurrency investors and traders seeking low trading fees with access to a diverse range of coins.
How to Create a Kraken Account
Creating a Kraken account is easy, and it takes only a few steps to complete the registration process:
Visit the official website of Kraken

2. Click "create account" at the top-right of the homepage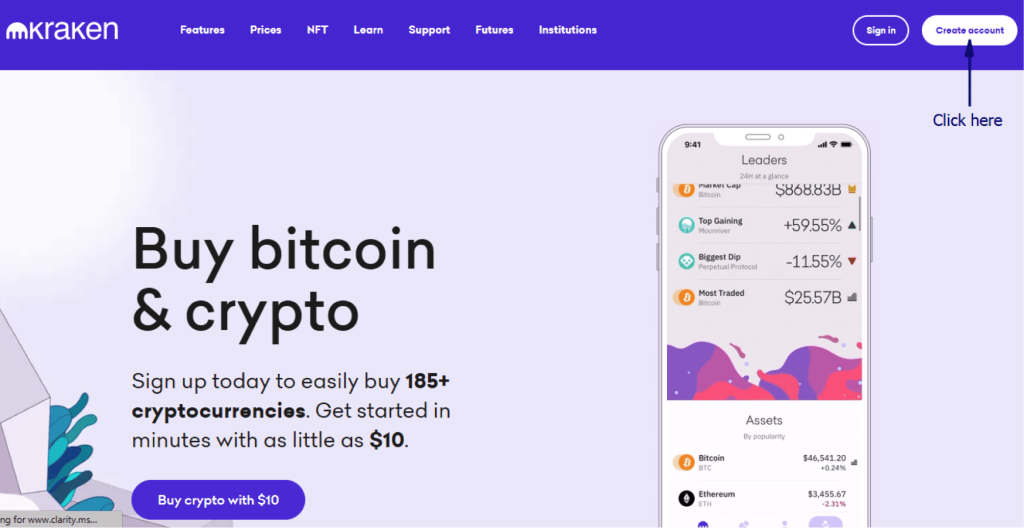 3. Enter your email address, username, and password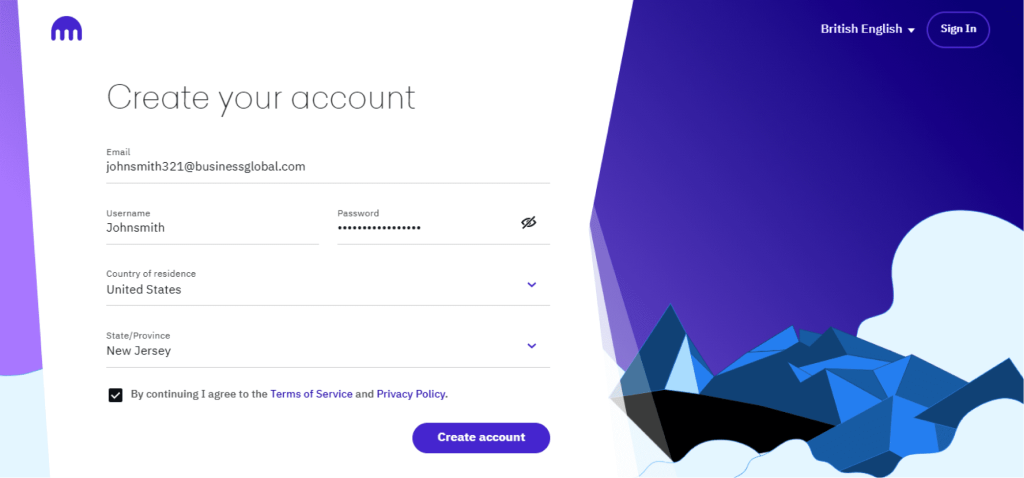 4. Read through the terms of service and privacy policy, check the box if you agree, and click the create account button
5. Kraken will send you an email containing an activation key for the verification
6. Enter the key at the account activation form, or verify your email by following the activation link
7. Confirm the password, enter a captcha if required, and you get your new Kraken account
Understand the Staking rewards
How it started
Investors constantly search for innovative ways to generate passive income outside the established financial system. They began seeking alternative earning options in crypto markets following the collapse of the US dollar index in 2020.
You start to see that it is impossible to tackle the problem using the same way of thinking caused in a world where the government can print trillions of dollars at once.
Therefore, staking may appear to be a better new alternative than conventional instruments.
The staking rewards concept
Kraken staking yields may appear to a traditional finance investor similar to interest earned on a bank account. However, there is one key difference: investors who stake assets are being compensated for providing a service to the network. Several cryptocurrencies offer stake rewards to investors who want to help secure the network.
Proof of stake
Proof-of-stake is a consensus algorithm used by cryptocurrencies to process transactions and add new blocks to a blockchain. A consensus mechanism is a technique for approving entries into a distributed database and maintaining the security of the database.
A blockchain is a term used to describe the database in the context of cryptocurrencies, and the consensus mechanism protects the blockchain.
The "nothing-at-stake" problem is a significant challenge for proof-of-stake chains. Early proof-of-stake implementations, such as Peercoin, did not adequately account for this issue.
Mining vs. staking rewards
Miners are economically incentivized to mine on the chain that they believe will remain valid in the future in "proof of work."
Mining on a stale block reduces overall expected mining revenue because the miner's hash rate was split across the different forks.
In contrast, validators in proof-of-stake could theoretically put up their stake for multiple forks at no cost because their stake is present in each fork. This ensures they are validated on the surviving chain, defeating the purpose of putting a stake in a specific chain.
Staking: an alternative to traditional investments
The returns on traditional investments are no longer as tempting. Additionally, national currencies may depreciate in the face of a potential global catastrophe, while cryptocurrencies are growing in popularity.
As a result, even the most cautious investors may begin to see digital assets as a fantastic substitute for what the established financial system has to offer. For these investors, staking can be a terrific entry point.
Kraken staking is not just motivated by high returns. People believe that their participation in staking advances the growth of the blockchain. Users from communities around the product where they put their trust and money.
If you make the wrong prediction or the price moves in the opposite direction, you can lose all your money in trading. Staking digital assets appears to be far less risky.
Also Read: Everything About Staking In Crypto
Claim benefits from holding digital assets
Staking cryptos is now as simple as creating wallets: users can begin staking by simply one or two clicks after depositing the necessary cryptos into a wallet.
Users will receive regular rewards proportional to their staking amount after completing the staking settings. In Kraken staking, you can claim weekly, monthly, and yearly rewards.
The crypto exchange firm Kraken staking allows you to claim both on-chain and off-chain staking rewards using your crypto wallet.
On-chain staking rewards
On-chain staking generates rewards using the blockchain Proof-of-Stake protocol, sometimes called "staking."
To distinguish this conventional kind of staking from a different "Off-chain" staking service Kraken offer in select geographic areas by utilizing the Proof-of-Stake protocol. Staking on-chain empowers you to stake cryptocurrencies using blockchain Proof of Stake protocols like Tezos.
Benefits of on-chain staking on Kraken
Start earning rewards instantly without experiencing waiting or bonding periods (except for Etherium 2.0)
Payouts twice a week
Highest returns compared to other competitors
Stake on-chain assets swiftly to your Kraken account
Un-stake assets instantly
Staking period
Kraken does not require a minimum amount to collect rewards when you're on-chain. As soon as the crypto exchange processes your stake instructions, you receive prorated payouts straight to your staking wallet.
Available assets for on-chain Kraken staking
Kraken offer On-chain staking for Algorand (ALGO), Cardano (ADA), Cosmos (ATOM), Ethereum (ETH), Flow (FLOW), Kava (KAVA), Kusama (KSM), Polygon (MATIC), Mina (MINA), Polkadot (DOT), Solana (SOL), Secret (SCRT), Tezos (XTZ) and Tron (TRX). After you log in to your Kraken account, navigate to the "Earn Section."
Off-chain staking rewards
Off-chain staking enables you to stake your assets using Kraken's internal programs. Only eligible countries can participate in off-chain staking.
You have the choice to earn rewards on available and unused account balances that you would otherwise keep in your Kraken trading account by engaging in off-chain staking.
At present, the Bitcoin (BTC), Euro (EUR), and US Dollar (USD) balances in your Kraken account can be staked off-chain. Rewards for off-chain staking are typically distributed every Tuesday and Friday.
Based on the asset staked, an investment will be awarded. For instance, you will receive BTC as payment for your Bitcoin stake.
Benefits of off-chain staking on Kraken
Receive rewards every Tuesday and Friday
Un-stake off-chain stakes anytime you wish
Staking off-chain is completely free
The payouts are instantly credited to your Kraken account
It doesn't require any miner or participant to validate the off-chain transaction
Available assets for off-chain Kraken staking
Bitcoin (BTC)
Euro (EUR)
US Dollar (USD)
Geographic Limitation
You may not be able to stake assets off-chain if you're a resident of Australia, Canada, Denmark, Finland, France, Germany, Hing Kong, Italy, Japan, Luxembourg, Netherlands, Singapore, Sweden, United Arab Emirates, United Kingdom, and the United States.
Summary of Kraken Staking
Kraken has acquired the non-custodial staking platform Staked to provide an alternative to the crypto exchange's custodial staking service.
The crypto exchange described the transaction as "one of the largest crypto industry acquisitions to date" but did not specify how much was paid.
The non-custodial staking service provided by stake allows users to earn yield from staking without giving up custody of their assets. This is in addition to Kraken's existing custodial staking service.
The acquisition is Kraken's fifth of 2021, a year in which the company's staking business has grown by nearly 950% to nearly $16 billion.
Bottomline
The cryptocurrency exchange Kraken was established in San Francisco in 2011 and had offices worldwide. Customers from most nations, including the United States, are supported. Kraken offers competitively priced bitcoin trading to help both individual and institutional clients.
Apart from buying and selling, you may deposit your digital assets for staking and, depending on the currency, earn up to 23% interest. The exchange allows its clients to claim rewards on and off-chain staking.
The standard Kraken platform is appropriate for beginners, but Kraken Pro and its advanced margin and future capabilities may appeal to advanced and professional crypto fans. Through Kraken staking, users of all skill levels can also receive interest incentives. Given its platforms and services, Kraken can probably meet your cryptocurrency needs.