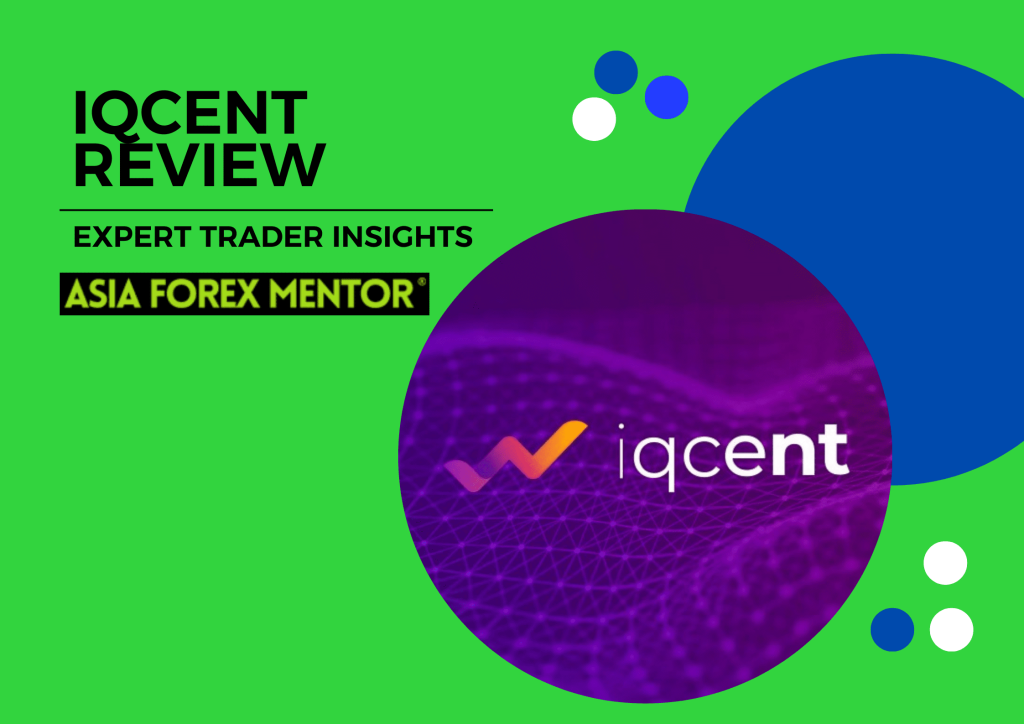 IQCent Review
Traders always look for new and innovative ways to maximize their profits in different markets. And IQCent is one of the best platforms, especially if they are looking for the best binary options broker.  It is well-known for providing the ultimate trading experience to its users with its state-of-the-art technologies and robust trading tools.
With IQCent, traders can trade several instruments like binary options, forex, cryptocurrencies, and commodities. The platform is easy to use, with an intuitive interface and a wide range of features that make it ideal for new and experienced traders. With a leverage of up to 1:500 and tight spreads, IQCent provides a great environment for traders to take advantage of the markets.
In this detailed review, our team of experts at AFM will go over all aspects of this platform, from its fees and trading platforms to customer service and more. In addition, we will look at the account types, fees and commissions, customer reviews, and more so you know exactly what you're getting when you sign up with IQCent. So, let's get started.
Asia Forex Mentor Evaluation Criteria
IQCent has been in the trading game for years now and has a very solid reputation because of its own proprietary trading platform. Still, it is important to consider some important criteria before deciding to invest your funds with this broker.
At AFM, we have a stringent evaluation process to determine the best trading broker. Our expert reviewers strive to provide our readers with an honest and objective assessment of a trading platform. The AFM evaluation has set a benchmark for analyzing online brokers, providing an objective and fair system of evaluation. Here are the criteria we consider when evaluating IQCent:
Affordability: We assess each broker's fees, commissions, and other costs associated with trading.
Broker Efficiency: We review the broker efficiency they offer to ensure they are reliable and offer a wide range of features.
Security: We ensure the broker is regulated and complies with all industry standards for protecting your funds and data.
Technical Performance: We evaluate the broker's performance, such as order execution speed, customer support, and more.
User Interface: We also consider the user interface, ensuring it is easy for both new and experienced traders.
After considering these criteria, we can confidently say that IQCent is a great broker for traders of all levels, providing excellent trading features and a secure environment to ensure your funds are safe.
So, let's get into the details and find out why IQCent is one of the best brokers on the market.
What is IQCent?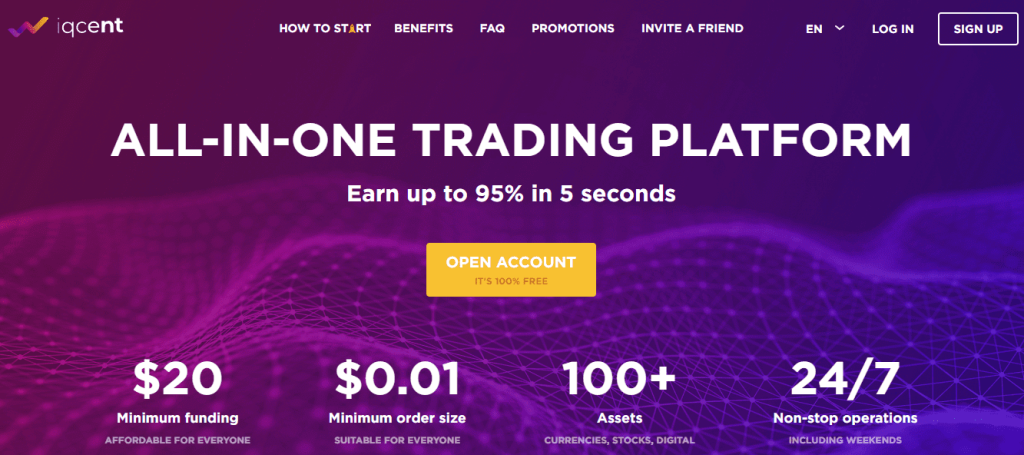 IQCent is the revolutionary binary options broker that has taken the world by storm since its launch in 2017. With this breakthrough platform, you can start trading financial instruments with as little as $0.01. Imagine having access to CFD trading from your own home for pennies — IQCent made it possible when they started their online CFD trading service in 2020.
Established in Majuro, Marshall Islands, the platform has already gained immense traction over a short time — quickly establishing itself as one of the most reputable brokers. On top of that, they provide traders with incredible features such as leverage trading and tight spreads — not forgetting their exceptional customer service.
What's more, IQCent is a Forex and binary options broker that provides trading from its own platform with tight spreads and leverages up to 1:500. To become an international intermediary for entering the financial markets; their website has been translated into 3 languages.
After a $20 credit to your account, you can begin trading with the company. There is one caveat: clients must fund their accounts with additional money within 90 days of opening them; otherwise, the broker will cancel these accounts.
Advantages and Disadvantages of Trading with IQCent
  Advantages
  Disadvantages

Offers a leverage of up to 1:500
Web trading option, so there is no hassle of downloading anything
Bronze account has just the minimum deposit of $20
Withdraw processing time is just one hour after a trade
Copy trading feature to copy professional trading strategies
More than 100 financial instruments, including forex, gold, silver, currency pairs, crypto, etc.

No MetaTrader terminals
No available in the USA
Not licensed or regulated
Benefits of Trading with IQCent
IQCent is a platform designed to offer traders all the resources they need in one easy package. With support for stocks, indexes, commodities, options trading, and cryptocurrency, this account can prove beneficial for investors who want to maximize their financial opportunities with more than 100 unique assets at their fingertips. This makes IQcent the go-to choice if you're looking for an all-inclusive investment experience.
In addition to that, the financial leverage offered by IQCent can help you increase your potential profits, while the tight spreads and fast order execution guarantee that you won't miss out on any of the actions. And with the ability to trade in multiple currencies, you can get access to markets all around the world.
The most impressive aspect of IQCent is the small minimum order size of just $0.01. This can be advantageous for traders who prefer investing in lower-value assets (such as certain digital currencies) and occasional investors who only want to undertake a few small trades. Moreover, multiple and instant funding options allow traders to transfer funds from their preferred payment processor securely.
Furthermore, new investors can take advantage of the copy trading feature offered by IQCent to replicate other users' successful strategies. This allows traders to learn from experienced traders without taking risks.
IQCent Pros and Cons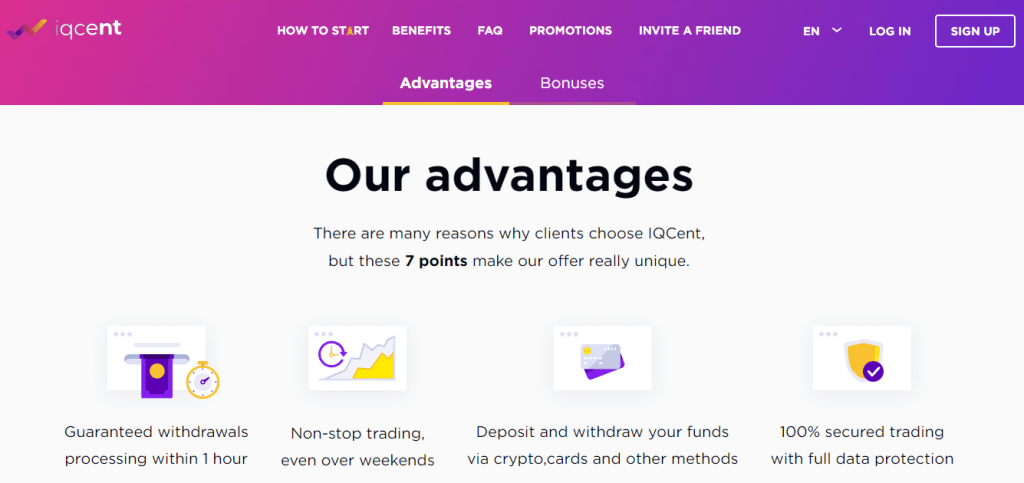 Pros
Copy trading options
Cryptocurrency deposits
$0.01 minimum trade size
Double-up, rollover, and sell-out features
Turbo, intra-day, and long-term binary options
100+ assets trading instruments
Cons
The minimum deposit fee is higher, up to $250
No MetaTrader 4 integration
Limited educational content and tutorials
IQCent Customer Reviews
Our team has collected many customer reviews from around the web. Overall, traders seem to be very satisfied with the trading environment provided by IQCent, praising their broker's reliable, fast and secure service.
Most traders who trade with IQCent have reported that they receive their withdrawals within a few days, with some reporting that they got their money the same day. This is a huge plus point for any broker, especially in binary options and forex trading.
Other traders who have used IQCent have reported that their customer service is very helpful and attentive. Some traders have complained about the withdrawals needing to be done in an hour. However, most of the traders are very pleased with the services provided by IQCent.
IQCent Spreads, Fees, and Commissions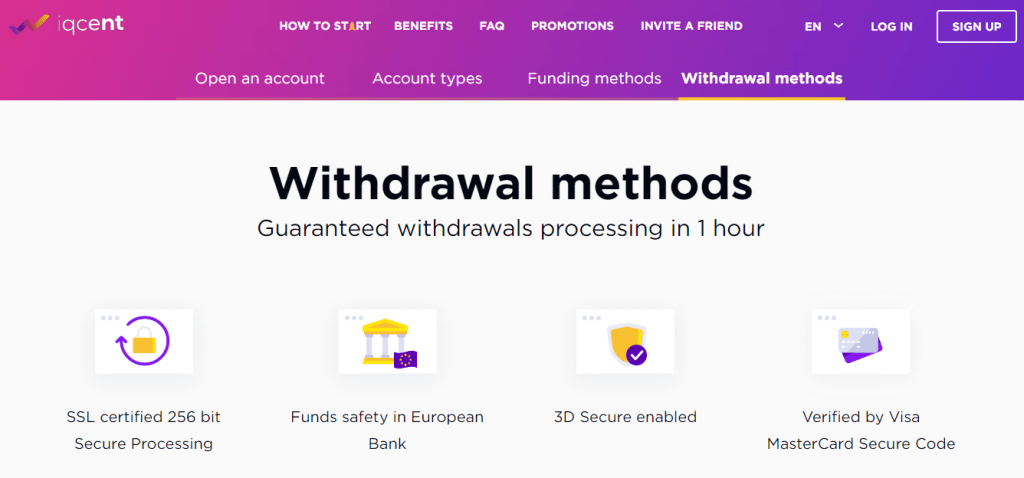 Here are the details of the IQCent spreads, fees, and commissions:
Spreads
IQCent offers 3 account types with varying conditions and spreads starting at 0.7 pips.
Minimum Deposit Fee
To start trading with IQCent, the minimum deposit is just $20. Traders can easily fund your account using debit/credit cards (Visa/Mastercard), wire transfers, or cryptocurrencies such as Bitcoin and Ethereum. However, the minimum deposit fee varies according to the different regions and goes as high as $250.
For credit/debit card payments, you can expect instant account funding; however, due to blockchain confirmation times, crypto deposits may experience delays. Fortunately for traders, the broker does not include payment fees – third-party costs are possible.
Withdrawal Fee
According to IQCent's withdrawal regulations, payouts are returned to the same deposit method. The average processing time is an hour; however, it may take longer for these funds to reflect in your account.
At IQCent, withdrawals can be made for a minimum of $20, with an additional 5% fee applied to credit and debit card transactions.
Inactivity Fee
A $10 is charged as an inactivity fee after 90 days of no trading.
Commissions
IQCent doesn't charge any commissions on withdrawals and deposits. However, there is a commission fee for rolling over positions to the following day.
Account Types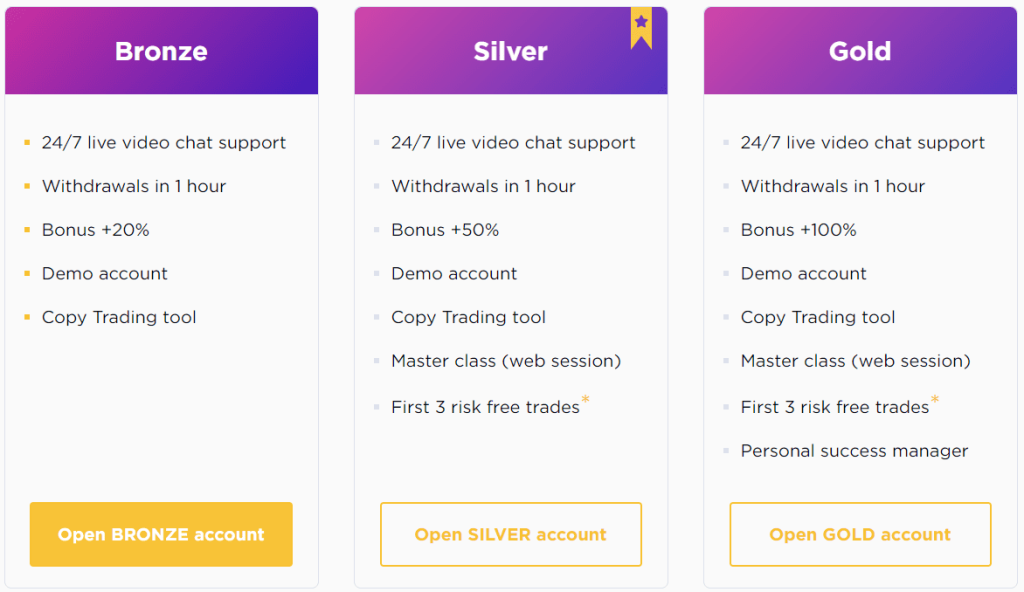 IQCent offers three different accounts that even beginners can start trading with minimum deposits. Let's look at these accounts in-depth and select the one for your professional trading. 
Bronze Account
The bronze account type is perfect for beginners because it facilitates minimum deposit trading. This account brings 24/7 live chat support, a copy trading tool, as well as a demo account. You can withdraw your revenue in just sixty minutes.
Here are some of the key features of a bronze account:
Minimum deposit: $10
Maximum deposit: $1000
Bonus: 20%
Demo account
Copy trading tool
Withdrawal in 1 hour
24 hours Video Chat support
Silver Account
The Silver account of IQCent is a master-class trading account. By registering into this account type of IQCent broker, you can earn a profit of 50 percent. It offers three risk-free trades, a personal manager, and a web session. You can compensate for your losses with the trading bonus of this broker.
Let's explore the key features of this account:
Minimum Deposit: $1000
Maximum Deposit: $3000
Bonus: 50%
Master class
Copy trading tool
Demo account
24 hours chat support
Withdrawals in 60 minutes
Gold Account
Gold account is an account type perfect for professional traders. The specialty of this account is that gold account holders can enjoy a 100 percent bonus. Along with providing a web session, it facilitates traders with the first three risk-free trades. Feel free to use a demo account to evaluate your trading skills.
Following are some of the main features of a gold account:
Minimum Deposit: $3000
Bonus: 100%
Master class
24/7 live video chat support
Demo account
Copy trading tool
Withdrawals in 60 minutes
First three risk-free trades
Personal success manager
How To Open Your Account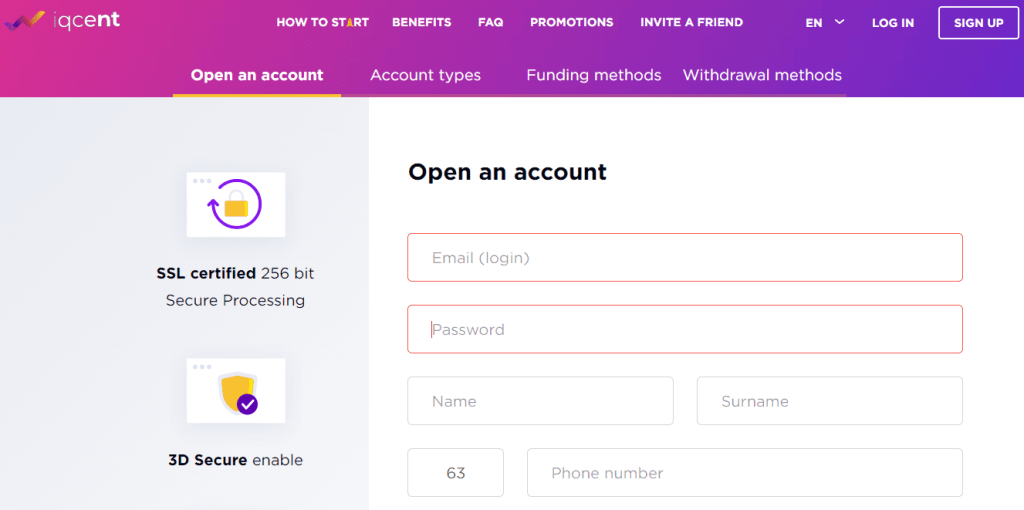 Here is a step-by-step guide to opening an account on IQCent:
Go to the official website and click on 'Open an account
In the next screen, fill in the form details like email, password, name, phone number, and currency account you want.
Your account will be created.
Afterward, go to your email, click to get your bonuses according to your deposit, and start trading.
What Can You Trade on IQCent?
At IQCent, there are almost 100 tradable instruments that you can access, including:
Forex
When price differences from currency to currency fluctuate, the Forex market provides a platform for investors of all types – individuals, corporations, and financial institutions alike – to exchange currencies. Moreover, the swaying rates on the global scale make this an attractive opportunity for those looking to maximize their returns.
Commodities
IQCent offers different commodities, such as gold, silver, oil, and more. These commodities usually have futures contracts attached to them, which correlate with the commodity's spot price.
Cryptocurrencies
Several popular cryptocurrencies are available, including Bitcoin, Ethereum, and Ripple. Each has its own unique characteristics and offers different trading opportunities compared to traditional markets.
Energy
IQCent also provides energy-focused commodities such as natural gas, heating oil, and Brent crude. Global events heavily influence these markets and can provide attractive opportunities for investors.
Indices
IQCent offers access to various global stock indices, including S&P 500, Dow Jones, Nasdaq, and more. These indices track the performance of certain stocks in an index, and investors can use them to gain exposure to various markets without buying multiple assets.
Binary Options
Binary options offer high returns for investors who correctly predict the direction of an asset. IQCent offers many binary options pairs, allowing traders to make a prediction and reap the rewards.
IQCent Customer Support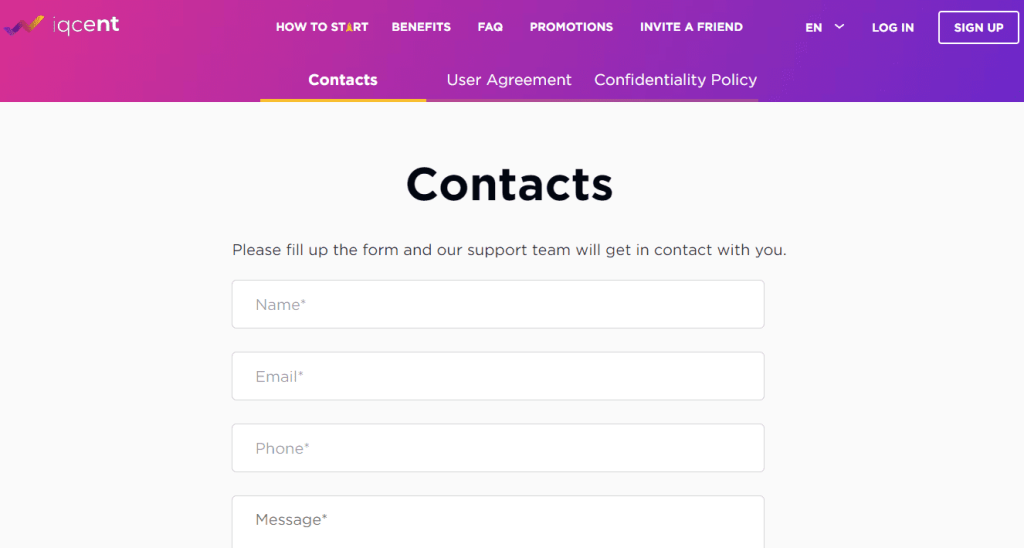 To guarantee the success of their trading journey, potential traders must be sure that they have chosen a broker company with round-the-clock support whenever they need it.
IQCent is a reliable option; their customer service team can be contacted anytime via phone, email, live chat, or even a return call from the website. With this reassuring 24/7 access to assistance on offer, you can feel confident in your choice when selecting IQCent for all your needs as a trader.
Furthermore, the website offers an FAQ section with basic solutions to common inquiries, such as how to trade on the platform and verify your IQCent account.
Advantages and Disadvantages of IQCent Customer Support
  Advantages

  Disadvantage

Chat support is provided in multiple languages
24/7 Online chat support
Build-in translator in chat
Quick chat response

Chat operators provide answers to general queries only
Contacts Table
Contacts
Foundation Date

2020

Registration Address
Trust Company Complex, Ajeltake Road, Ajeltake Island, Majuro, Marshall Islands MH96960
Contacts
Email: support@iqcent.pro
Phone: +1-8299476383
Security for Investors
The company utilizes cutting-edge technologies to guarantee the security of users' financial resources and personal and payment details.
For example, two-factor authentication is a security measure that only allows you to log in after providing credentials from another account. This additional layer of protection provides enhanced safety and peace of mind when accessing your accounts online. Traders need to verify their identity using an email or text message code before being allowed to make trades. IQCent strongly recommends leaving 2FA enabled for maximum security.
In addition, IQCent also uses high-level encryption services as their data is protected with 256-bit encryption and stored off-site in dedicated servers. This ensures that your information is always kept safe and secure.
IQCent seeks to resolve any disputes that may arise within ten business days after receiving a formal complaint from a trader. All complaints are reviewed by the support department and can be resolved quickly. This ensures that traders always feel protected when trading with IQCent.
  Advantages
  Disadvantages

Crypto funds can easily be withdrawn from wallets
Funds of traders are held in EU banks separately
256-bit SSL encryption
3D secure enable
Secure code on Visa and Mastercard

No financial report of company performance
Doesn't hold a license with top-tier regulators
Withdrawal Options and Fees
Withdrawals at IQCent are promptly processed within the hour. However, if the trader has yet to supply all necessary paperwork, authentication may take up to 10 business days. Once their finance department approves everything, your funds will be transferred into your preferred electronic system in a timely manner – usually between 1-5 business days.
IQCent lets you quickly make deposits and withdrawals using popular payment methods, such as credit cards (VISA and MasterCard), Skrill, Ethereum, Perfect Money, Litecoin, Bitcoin, Altcoins, Neteller, and Bank Wire Transfer.
Depending on your country, various withdrawal methods may be available. For example, if you have deposited funds using Bank Transfer, then withdrawing money via this same method is possible – however, card deposits do not allow money to be withdrawn back onto them. All withdrawals, in these cases, must go directly into your crypto wallets.
Moreover, the minimum amount that can be withdrawn from IQCent is just $10, though there are no upper limits. Traders don't have to pay any commission on IQCent when they withdraw funds into your crypto wallets. Depending on the country of residence, traders can incur a 5% fee or $50 for withdrawals via bank transfer.
Regardless of the amount, all withdrawals are subject to verification. However, if the requested sum exceeds 1,800 EUR/USD, then for it to be received by the client, certified copies of identity documents must first be provided and notarized or given at a post office.
IQCent Vs Other Brokers
Here is a complete comparison between IQCent and some other popular brokers.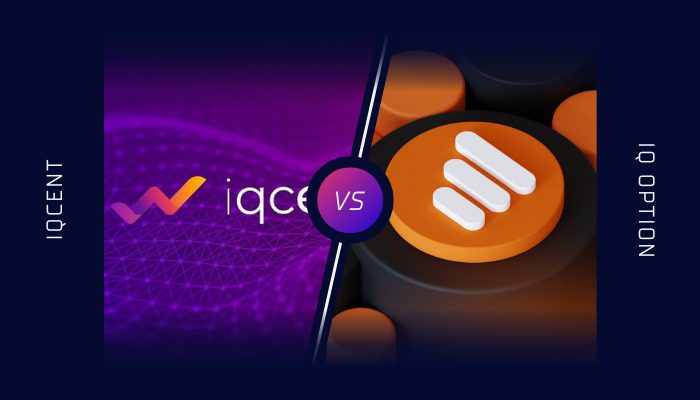 IQ Option is a popular CFD broker having offshore binary options. This trading platform is easy to use due to its wide range of currencies and forex trading. Using this platform for short-term trades is commendable. 
With only $10, you can open your broker trading account on IQ Option. This user-friendly interface is directly affiliated with more than 14 cryptocurrencies. Earn a minimum lot of 0.001 with the minimum deposit on this broker. 
IQCent is also a famous offshore CFD trading platform that facilitates new traders with a welcome bonus. It benefits traders with in-depth market analysis and copy trading tools. You can trade on this account with a minimum cash deposit of $250 through over 10 payment methods. 
When both brokers are compared, it comes to know that both are reliable as they offer crypto trading, forex trading, as well as CFD with the leverage of 1:500. Due to the presence of digital trading options, CFD, Forex, Stocks, and Crypto, IQ Option stands one step ahead in the financial market. 
IQ Options is on the horizon of the trading market due to its minimum trading deposit facility. Though IQ cents generate more bonuses per trade, its minimum deposit is still higher. Overall, both brokers are perfect for trading. So, it's up to you which one you choose for making your financial investments. 
#2. IQCent vs Deriv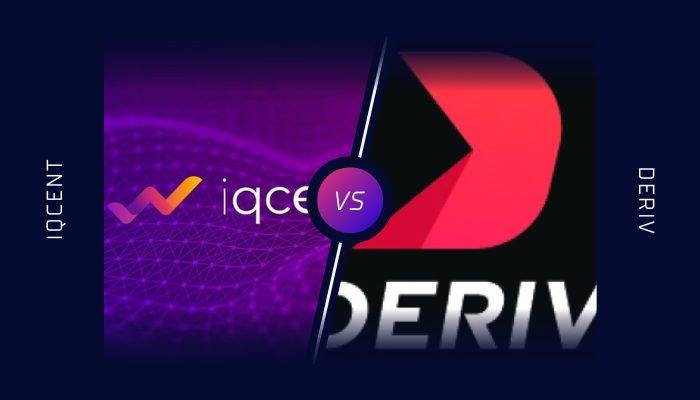 Deriv is an amazing online broker developed and supported by binary.com. It delivers various trading options, including forex, and CFDs, through an MT5 terminal, an automatic trading bot (Dbot), and a web-based trader. Among 100+ CFDs of this platform, some are commodities, stock indices, forex, synthetic indices, and bitcoin crypto trading.
IQ Cent is also a remarkable trading platform for those who want to exchange binary options and CFDs. This broker is suitable for both beginners and professional traders. It enables traders to use more than 100 trading instruments via over 10 payment methods. In addition, traders can get a 100 percent bonus by depositing $1000 in this broker. 
When compared, it is not wrong to say that IQCent has the upper hand. It enables traders to trade with great leverage and crypto trading tools. Moreover, due to low trading and non-trading fees, it has become the favorite broker of all traders. Whereas, Deriv doesn't offer copy trading tools. But it's up to traders which broker suits them best according to their needs.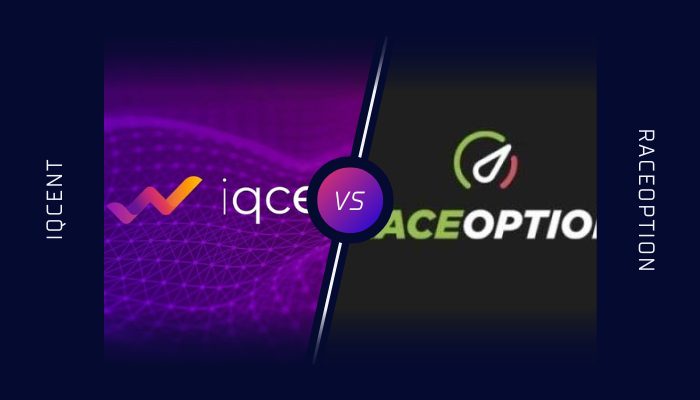 RaceOption is a trustworthy broker for experienced trading to exchange Forex, CFD, and binary options. It enables investors to make both long-term and short-term investments. In addition, this offshore broker provides trading opportunities in various languages and 24/7 customer support. 
With RaceOption, traders can earn more than regular trading because of its affiliate programs, bonus program, and trading contests. This broker has trading opportunities across the globe for passive income generation. Traders are not obliged to pay any commission for account maintenance and non-trading activities.
IQCent is a reliable broker that facilitates maximum revenue generation through trading and bonuses. It is compatible with various devices due to its functional and simple web trading terminal. Moreover, it also provides 24 hours video chat support to its customers. 
When IQCent is compared with RaceOption, RaceOption has highly competitive trading. In addition, it enables the exchange of more than 150 assets through mobile trading. On the other hand, IQCent is a suitable broker due to low trading, non-trading, and commissions. Both of these brokers are sufficient for trading at their place, but you can choose the one suitable for you.
Conclusion: IQCent Review
IQCent is an incredible online trading broker that allows traders to make huge profits. It is suitable for beginners and professionals due to its easy-to-use web trading terminal and various payment methods. For frequent traders who want to trade using different assets, IQCent is worth considering, as the broker has more than 100 trading instruments.
IQCent's offerings are sure to please any investor due to their minimal account balances starting at $20 and minimum trade values beginning at just a penny.  Furthermore, traders can also get a 100 percent bonus by depositing $1000 in this broker. These features make IQCent an ideal choice for investors and traders alike. 
IQCent has a generous bonus policy and regularly runs trading competitions, awarding prizes and cash rewards. When the total losses in an account exceed their deposits or the balance during CFD trading drops to the level of any bonuses accrued, all open trades are automatically closed (margin call). This prevents clients from experiencing further financial loss on CFDs.
All in all, IQCent is a great platform for trading CFDs and binary options. The combination of numerous opportunities for earning through various assets, low trading fees, and powerful tools for analysis make it a top choice for investors. Its customer support is also highly reliable and assists traders from all over the world. Therefore, we recommend IQCent as a reliable and trustworthy broker for traders.
IQCent Review FAQs
Is IQCent legit?
IQCent is a legitimate company with a reliable trading platform and excellent customer service. In addition, the company has earned a reputation for its secure encryption systems and various customer protection measures.
Users' personal and financial data is protected by the latest encryption technology, while all withdrawals are subject to strict verification processes. IQCent also ensures that all disputes are quickly resolved within ten business days.
How do I withdraw money from my IQCent account?
To withdraw money from the IQCent account, the trader needs to provide certified copies of identity documents (passport, ID, or driver's license). The minimum deposit amount is $20.
To withdraw funds from IQCent, follow the below steps:
Login to your IQCent account.
On the homepage, click on 'Funds,' and in the next window, click on 'Withdrawal.'
Remember to always use the same banking method for both deposits and withdrawals. However, BTC is recommended as there are no commission charges.
Now add the amount you want to withdraw and click on 'Request Withdrawal.'
To confirm, click on 'Withdraw,' and you are all done.
How reliable is IQCent?
IQCent is a reliable broker with an excellent reputation. The trading platform is secure and encrypted, while customer funds are kept in segregated accounts. However, it is not regulated by any of the major regulatory bodies. Nevertheless, IQCent has implemented several key measures to protect its customers' data and financial transactions. All in all, IQCent is a reliable broker for forex, CFD, and crypto trading.