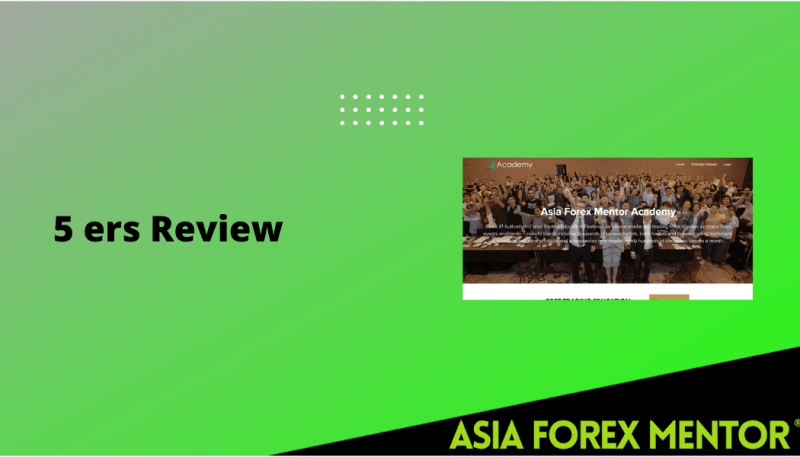 Prop trading firms invest in a particular product to earn profit. Our report will focus on 5% of forex prop traders firms in 2023. Learn how you can make money with a debit or credit card by clicking on the links on this page.
Also Read: Evolution of a Forex Trader
Contents
How it works
Generally, investors can start trading and generate income under the new 5% system. In addition, the customer can develop a real profit during a complete assessment. The various accounts based on capital and risk schemes offer traders all strategies – a detail that later.
When you determine which of the capital and risk levels is best suited for your business, you log into your account, pay your annual participation fee, and trade.
In 2004, MetaTrader4 hosted this software, but it has moved to MetaTrader 5 (MT5), which has become a top-rated forex broker platform and is used by forex traders worldwide.
What are 5 ers?
The trader's growth program was introduced in 2016 by the 5 ers fund and provided full-time traders the ability to access a wide variety of capital. Its founders were Gil Ben Hur and Snir Achiel. The two had skilled trading days and had limited money for significant returns on investment and profits.
Upon finding a way of making profits without investing in capital, they started the Five percenters. The company also lets users demonstrate trade abilities via Level 1 assessment programs. Traders are required to pay one-off membership charges and are given access to funds that are backed by the company's own capital.
For the 5%er users who want full-funded prop trading accounts, the user must create an account at Level 1 based upon first-level results. A trader can access this account by paying a once-in-a-lifetime fee that the 5 ers assesses if the individual he trades for.
Low-risk evaluation requires traders to maintain a 6-7% gain on net profit, while an aggressive high-risk program requires traders to maintain net profit at 12%.
Level 1 solutions demonstrate your ability to maintain profit and minimize risks. Once you achieve Level 1 goals, you get your first payout and 5% of your trading contract.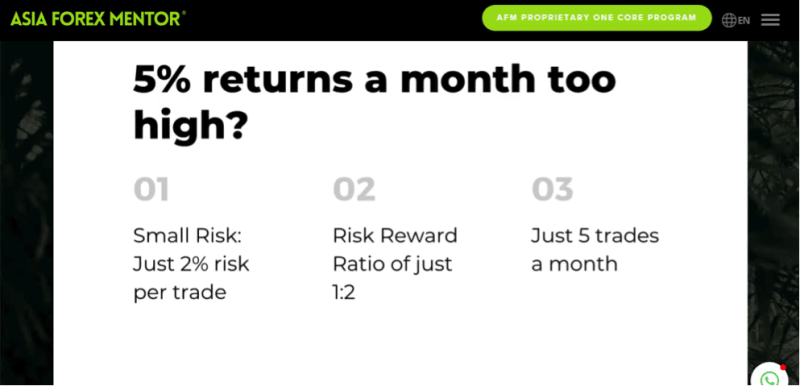 How Asia Forex Mentor can help you pass the 5 ers trading contest?
Ezekiel Chew established Asia Forex Mentor in 2008, with its headquarters in Singapore. Ezekiel began his project gently by showing a few close pals how to trade foreign exchange. The tiny group expanded into a small community, and he improved his methods and style of instruction.
The initiative grew so quickly that he even began holding live lessons in person, and trading companies and banks wanted him to lead their team. Ezekiel Chew has compiled all of the teaching materials into a single offering known as the AFM Proprietary One Core Program.
A professional online course on forex trading
The Once Core Program enables students to build a trading system, accurately analyze the forex market, and steadily manage the trading account. It aids forex traders in gaining in-depth knowledge of trading.
This course comprises 26 complete lessons with more than 60 subtopics, each backed with an internet video of studio quality. Ezekiel's hand-picked examples and interpretations are incorporated into every lecture. It is one of the best beginner-friendly and low-risk programs anyone can join.
Your first step in becoming a profitable forex trader
Ezekiel Chew has influenced the lives of thousands of retail and bank traders, forex traders employed by trading institutions, investment firms, and more. Some of my students transitioned from being total beginners to full-time forex traders. Some of them then went on to work as fund managers.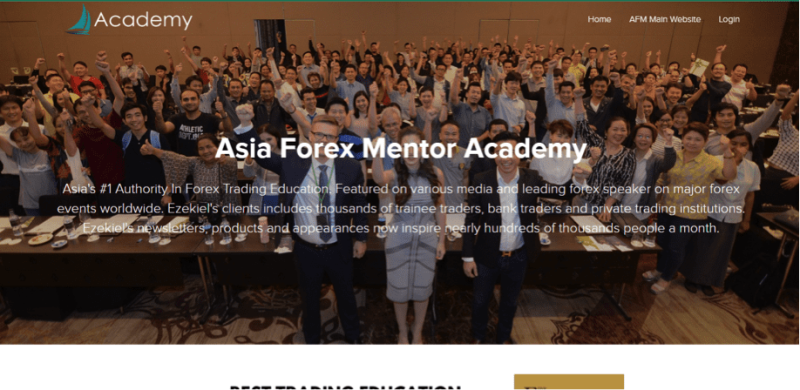 The Asia Forex Mentor One Core Program's final chapters discuss bar-by-bar backtesting's advantages and some aspects of trading psychology. Ezekiel also outlines some thoughts on trading diaries before concluding the session with his understanding of the steps to successful forex trading.
The set-and-forget concept, a proprietary automobile stop-loss tool, a more in-depth discussion of the free trade idea, and an explanation of the distinctions between big and small stop loss levels are all covered in this section of the One Core Program.
The One Core Program has a seven-day free trial period and a one-time participation fee of $997. You can skip the trial and purchase the course for $940 if you're sure you want it.
Also Read: Best Forex Strategy For Consistent Profits
Getting funding from 5 ers
Are there any ways of getting funding?
The team offers four challenging options to raise your funds depending on the type of trader the client is a trader.
First is Risk Management, which was created for traders with firm discipline. This means your investment capital can double more frequently. Secondly, aggressive trading programs should probably be described as self-explanatory.
This challenge is aimed at trading companies with fixed stops and taking on more considerable market risks to make a higher profit target.
Profits & withdrawals
Traders with 85% accounts receive an estimated 50% of all profits from their trading activities. The 50% shares you have received during the initiation period can be credited into a new account. From Level 2, traders can withdraw their profit shares from their funded accounts by clicking the Profit Payment button within the dashboard.
The PayPal system accepts withdrawals of cash of the value of $1,000, and the balance of the amount will be sent via TransferWise. The trader receives a yearly free payment each month with additional deposits billed at a 5% processing fee.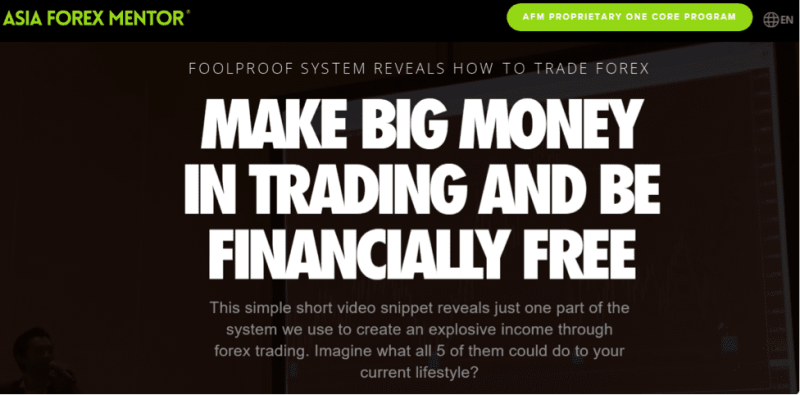 The 5 ers New $100,000 Bootcamp
$100,000 boot camp challenge offers a new model proposed by 5%ers that will revolutionize many active traders. There are just three challenges that have to be completed. Most unprofitable trading firms spend hundreds of millions to avoid problems that will no longer be viable. The challenge costs less than £150 to enroll.
You must provide another £250 cash in your account if you complete all three challenges. The three stages will take 12 months to complete so traders can use the various market conditions and adjust their trading style.
The 5 ers Accounts
The 5 ers accounts can be sorted according to capital risk. After successfully finishing the initial level, a trader can raise his/her investment capital by x4.
In each one, the capital levels double. The risk schemes are designed for a diverse group of investors: 5%ers.com offers four types of funds, of which each account can be used on low-risk or aggressive programs: 5%ers provides the funding for your level 1 program, and most of the participant fees will be paid for a minimum The maximum amount of the 5% is 1.25.
Withdrawal Proof from the 5 ers
It is essential to check out withdrawal records of various prop suppliers online. Having an unsatisfactory number of withdrawal screenshots available on your computer can make your withdrawal process much easier.
In any event, the decision to leave the 5 ers was very easy! I contacted the staff there in a hurry, and the refund came within two days. There is absolutely no reason why it took so much time, and there are zero fees. Ultimately, it has been a quick and easy withdrawal from the pro companies.
You are free to sell in your style for no price. Trade at a high leverage level without requiring a stop. The 5 ers are low-risk investors. Profit refers to all realized and unrealized positions with compensation and exchange charges.
Once an objective has been reached, trade-makers are asked to close all transactions and report on the success of the trade to the fund. The profit targets were only lower at the beginning phase: 6-7% for low-risk plans and 12% for aggressive programs.
Is the 5 ers Challenge Realistic?
I'm sure you can't believe that prop companies offer perks. Low-risk and freestyle packages offer the best pass rate in the industry, and some competitor rates are around 2 percent.
It's not a reflection on the company, although, despite its long-term and relatively modest income goals, the 5%ers challenge has been the easiest way for me to get funding.
Most traders cannot make any kind of profit over the long term as they don't have enough discipline or consistency to achieve this goal.
The prop company is a great tool to improve exposure in the market. It might seem appropriate if you are looking for an investment in 5 ers. 5 ers investors can buy and sell stocks for a total of $20 million, which is the biggest investor in the sector.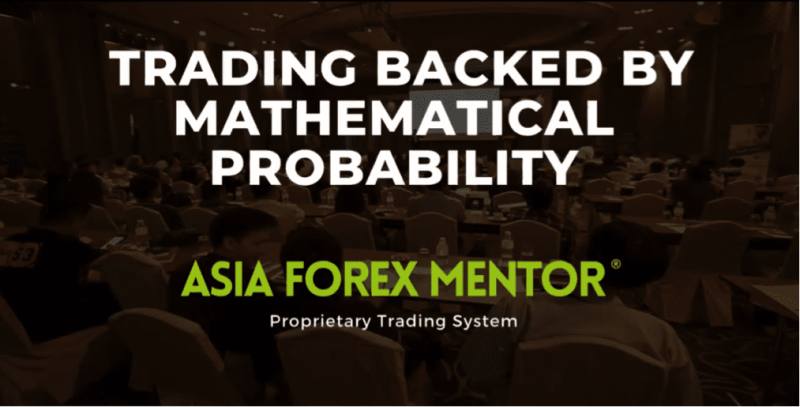 Security
This fund consists of private funds and no governmental institution, so regulation is limited. A foreign exchange account is owned through authorized brokers in a foreign exchange fund.
The 5%ers use several online brokers while avoiding any disclosure of the name of these brokers to protect confidentiality. 5% is an independent broker and not an agent. As service contractors, traders are provided greater protection as they avoid losing their own money.
How 5 ers support traders?
Retail forex investors love our brokerage companies and their investment firms, and we like them offering us some advice and educational advice. Knowing if the company provides trading advice and support to aspiring traders is helpful.
There are several articles about trading pivot points, trading psychology, and risk management. The calendar also contains forex e-trade and details the most influential events to affect the markets for the next week.
Final words on the 5 ers
Prop Trades with a 5%er are a fantastic opportunity to attract experienced investors. 5%ers.com offers 5% off all trading account fees. This account is entirely funded. It has a good reputation on the web and provides several educational materials.
The leverage options provided by the 5% investors may differ slightly from those of FTMO or CTI, although successful investors can trade for up to $1 million based on the target's target.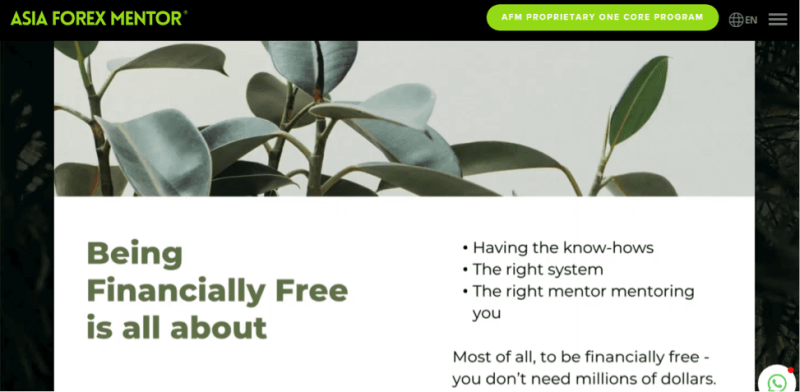 Who can trade with 5 ers?
If you were at least 18 years old, it was possible to trade for The 5 %ers regardless of your place in the country. Nevertheless, you have to demonstrate your ability to access massive capital.
How much money do I need to trade with the 5 ers?
Once you decide what type of investment and risk you require, you will be charged a yearly membership. They are between $25 and $275 on $24,000 accounts and $875 on $80,000 accounts.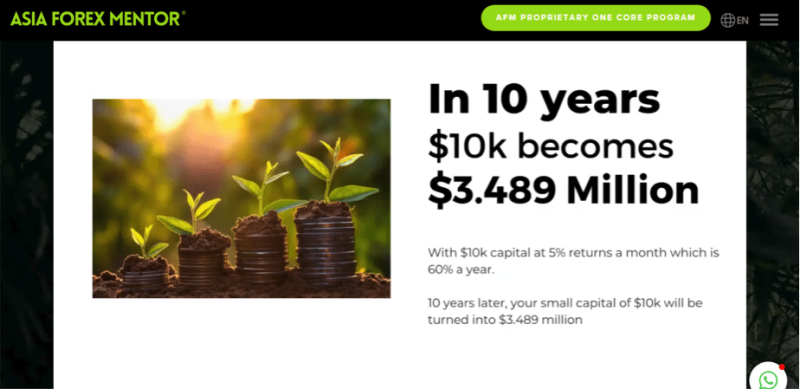 Is 5 ers regulated?
A group of 5 ers had forex accounts at regulatory brokers. Nonetheless, it is not necessary to regulate these as private funds.
The5er is an Israeli Forex broker that specializes in prop trade. The company provides a trading securities capital of up to $4,000,000 for traders willing to meet performance-based challenges. It's pretty simple. It's easy. The company seeks investors capable of consistently making profitable market returns and will fund and share the profits with you.
Other features
The 5 ers achieve the same aim in education and promote trader connections. The site features a comprehensive blog for all the latest news from forex trading psychology and indices. It offers free trade workshops, webinars, live events, or a supply/demand workshop that describes fundamental trading principles and methods.
Trade Forex with Freedom
The 5% investors offer the following trades: Spreads for major currencies, including USD/USD, EUR/USD, GBP, USD/PY, and 0.1pips. During typical market conditions, the commission rate for this transaction is 4. The overnight exchange fees will be refunded, collected, or billed every night.
What's the difference between the 5 ers and FTMO? Which Property Firm Should I Choose?
You can use the 5 ers program to increase your performance in a low-risk competitive environment. FTMO the largest prop firm in the industry is regarded as very popular with trading companies. Several commonly known features are discussed.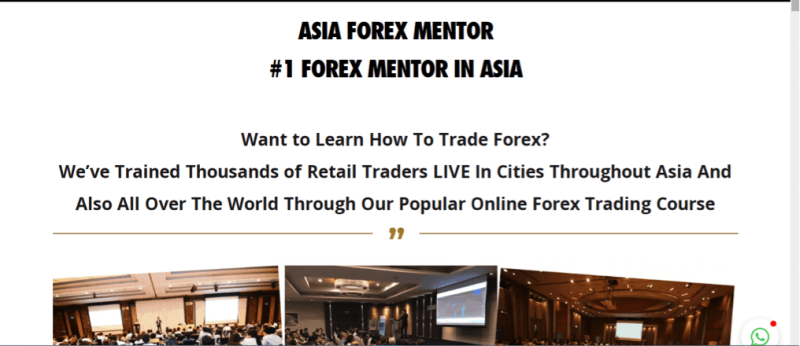 Challenge. Duration
FTMOs may be more suitable for trading in a lower time frame strategy. In the long run, you can earn more cash with The Fiveers thanks to their faster scaling program. It's possible if you don't think you will be fully funded to start with 5 ers because it takes longer for you to pass than FTMO (which allows no time for error).
The difference between the 5 ers and any other funding firm
These 5 ers work very differently from other big prop firms like FTMO and Aegon. The principal difference is:
High-quality resources
Compared to many competitors in the industry, there have been more available resources that were offered. Obviously more. Working for a firm or investing in this sector is unnecessary if you have mastered forex.
However, it is good to see companies who invest in making a profit. All of this depends on how the 5 ers operate. It gives trading professionals real accounts on which to trade and sincerely wants traders to be successful. They need profitable traders, and the evidence is there.
Increased time duration for the challenges
In addition to the option to hold longer trades, it gives you more time to complete the Level 1 competition at the firm. The low-risk account offers 180 days with an additional 60 days for aggressive traders. Besides allowing a slight increase in the time, it is possible to reach the profit targets at the end of your period if it's not a big one. This helps us to raise funds much quicker than many of our other Forex Prop Firms. List.
Huge Account Scaling Opportunity
Fiveers offers what it calls hyper-growth. The system increases account balances for each milestone you achieve. That will make the expansion process exponentially faster.
A higher volume of trading helps traders increase their profits. Even if acquiring funding from an instant funding fund like MyForexFund is a good strategy, scaling opportunities make a lot of money worth trading with the 5 ers.
Weekend trading
All trading firms have many benefits; however, 5%ers are suited mainly for long-term traders who work on weekly, daily, and monthly charts. Tell me the reason for it.
Many prop trading course companies refuse to permit weekend trading. So swing traders or day traders can't be funded in most cases. Moreover, The5 ers allows trading to be conducted during business hours and on weekends.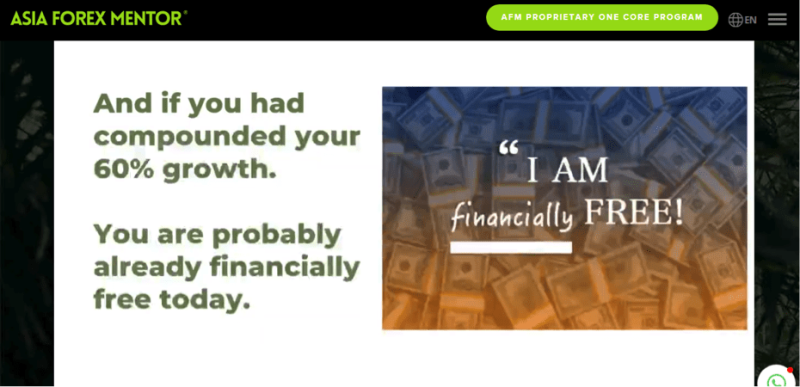 The Freestyle Challenge
The freestyle competition has become the first competition of this type in its field. It eliminates traders' pressure by imposing fixed limits and time constraints. It is much simpler to manage emotions and focus solely if the traders are struggling with the emotions during the trade.
Payouts Whenever You Need
The 5 ers is one of a handful of prop companies offering payouts at any given hour! This can be done quickly as you can manage your schedule. It is better if you set your monthly withdrawal deadline. It is easy for the user to make a payment request.
Bottomline
One way one can determine if a particular firm has genuine intentions is by looking at its profile in the business industry. This site has more than 500 reviews, with 83% of them perfect. The number of reviews is increasing rapidly, and the standards remain the same, so traders receive fair treatment, which is an excellent reason for the company to continue its growth.