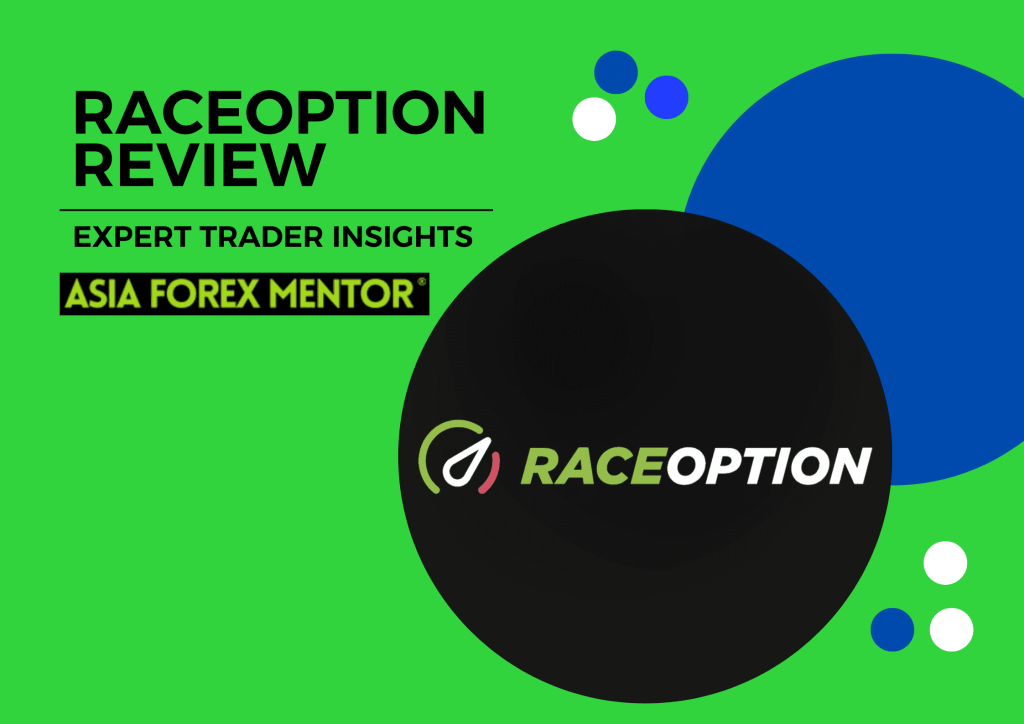 RaceOption Review
Trading binary options is a high-risk and high-reward strategy that has become quite attractive for traders out there. But just like all trading, success with binary options trading often comes down to the kind of broker you are using. Well, there are actually many binary options trading brokers, but despite this, raceoption is rated highly in the list.
From its quality trading platform and wide range of CFD trading instruments, there is just so much the firm offers. Well, RaceOption is the focus of this review. We take a deep look at its service, the RaceOption platform, trading fees and commissions, and some additional info that will make it easier for you to trade with this broker.
Asia Forex Mentor Evaluation Criteria
Before we give you the details on Raceoption, let's highlight some of the criteria the team has used in this review. Here are some of the critical factors that we consider:
Affordability: This is the measure of how expensive the raceoption trading platform is in terms of fees and commissions.
Security - This criterion measures customer funds' safety and the binary options broker's overall strategy to secure customer data, trading, and privacy.
Broker Efficiency: This measure relates more to the technology available, including trade execution, reliability, and the advanced nature of the trading platforms.
User Interface: The team also looks at how easy it is to trade binary options with a given broker. This involves looking through the trading platforms, account opening procedures, and funding methods.
Technical Performance: Finally, the team also assesses the technical aspects of this broker including technical analysis, trading tools, and overall the success of traders.
What is RaceOption?

Raceoption is a binary options trading broker owned and operated by Finance group corp. The broker offers several RaceOption account types, risk-free trades, and a multiplatform trading approach where users get access to both a mobile trading platform and a web platform as well.
According to the raceoption website, the broker also has well over 2000 active daily traders, and it's own proprietary platform where users can place and execute binary trades in minutes. The platform also offers a copy trading tool suited for people new to the binary options market.
The tools allow novices to copy experienced traders, and besides, you can still explore some of the trading contests offered here to hone your skill. Nonetheless, Raceoption is highly rated and ranks third in our list of the best binary options brokers.
Advantages and Disadvantages of Trading with RaceOption
  Advantages
  Disadvantages

You can earn profits of over 95% for every single trade you make
Users also get a demo account raceoption to hone their skills before trading with real money
The proprietary platform offered by the broker is so easy to use and get started
You don't need too many personal documents to open a trading account immediately
Offers a wide range of financial instruments to trade

You will pay very high fees every time you enter a binary trade with this provider
Raceoption offers minimal training and orientation materials for beginner traders
There is no info on the website about possible broker regulation and security
We have seen some complaints about the customer support raceoption
Benefits of Trading with RaceOption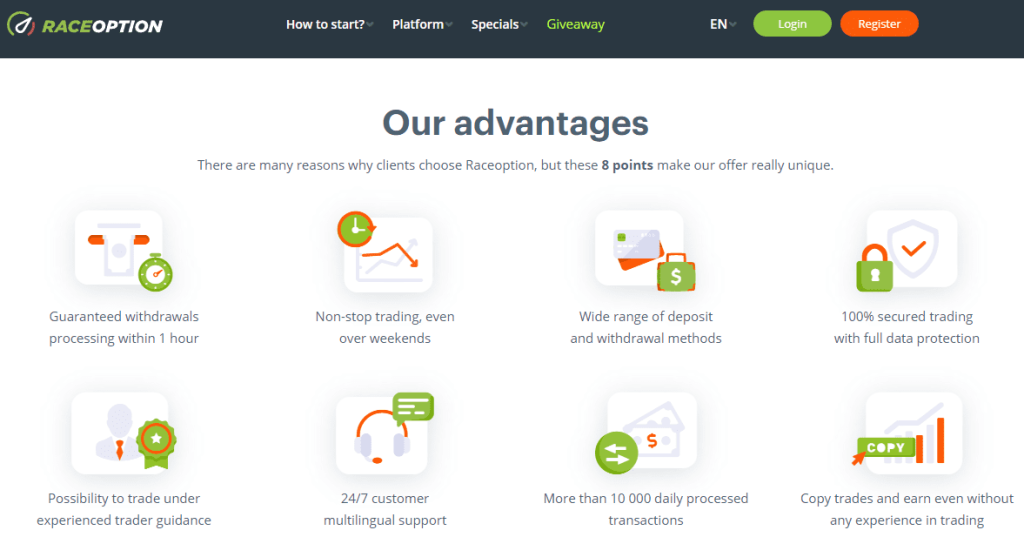 If you decide to trade with raceoption, then there are, of course, some incredible benefits you should expect. Here they are:
Fast Trade Execution
Raceoption offers advanced trading technology for both professional traders and new ones. You can place trades, choose the conditions, and track your progress in just one window without any problems.
Wide Jurisdiction
Although Raceoption is not available in the US, it is available in so many other countries worldwide. The firm, in fact, targets underserved markets and offers a very simple and straightforward way to open a trading account.
Besides, several account types are available here, including a gold account with a relatively low minimum initial deposit and integrated technical analysis for international clients.
Copy Trading Tools
If you are unsure about binary options or assume it's a complete scam, don't worry because raceoption has your back. The firm features a copy trading tool where you can mimic what other top traders are doing and earn profits. You can try copy trading with demo accounts or start with a minimum trade for the proper outcomes.
Other notable benefits to note include fast withdrawal requests, practice trading tools, low minimum deposit requirements, reputation in the binary trading industry, and so much more.
RaceOption Pros and Cons

Raceoption has its share of pros and cons, as with any other broker. Here are some of the most common ones:
Pros
State-of-the-art trading platform with fast execution, copy trading, and tracking
There is a wide variety of underlying assets to trade, including currency pairs, commodities, precious metals, crypto, and others.
Its also very easy and fast to open an account with raceoption
There is a great list of incredible bonuses as part of the key features of this broker.
Cons
There is no info for folks who want to know more about the regulation raceoption status.
The risks associated with binary options are not adequately explained here.
When you contact raceoption you may have to wait for long to get a response.
RaceOption Customer Reviews
The reviews we have seen from Raceoption are quite mixed. First, there seems to be an issue with the withdrawals. Users seem to have a lot of trouble withdrawing money. In fact, one user even said that it took a month to get his withdrawal requests approved.
Now, there are, of course, some internal processes that have to be taken before a withdrawal request is granted. But it shouldn't take a month to get this done. However, some users appear to suggest that there are many RaceOption fake websites out there. Just to make sure you are not falling into a scam, make sure you are using the main Raceoption website or app. But despite this, the reviews we have seen are not encouraging.
RaceOption Spreads, Fees, and Commissions

Sadly, there is very little info about the fees that are charged here. We tried to even look at several social media channels, but there is no specific info. However, it is safe to assume that, like other binary options brokers for experienced investors, variable spreads will be charged based on the type of asset you are about to buy.
We also know that there will be a fee every time you open a trade. This fee is also not standard and will depend on the type of asset you are trading. It is also important to note that you may be charged when you deposit money. In fact, a 5% charge is imposed on all credit card deposits on the raceoption's platform. Some other payment methods often attract zero deposit fees, so be sure to use them if you can.
Account Types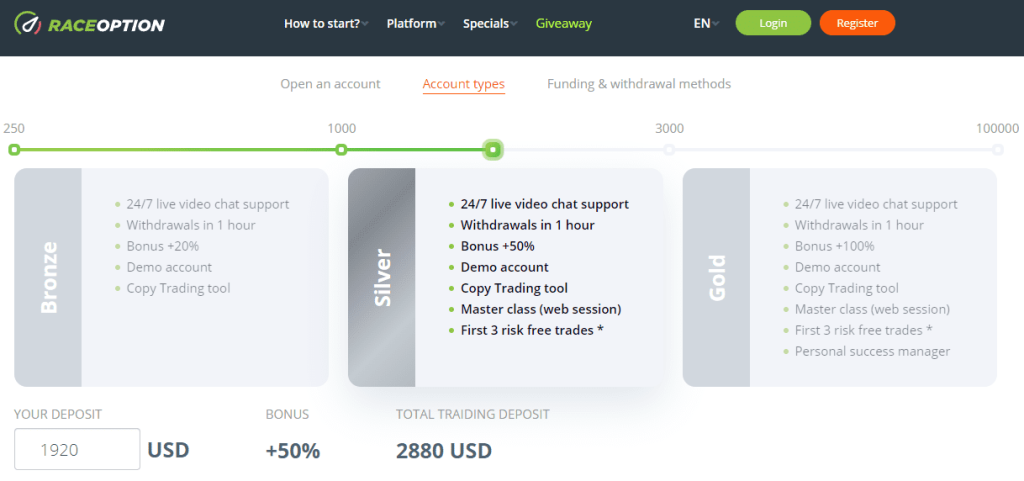 Three types of accounts are available at raceoption, and this broker review won't be complete if we don't look at them. Here they are:
Bronze Account: This is the most basic account type at raceoption. You need a minimum deposit of $250 to open it, but you get 24/7 customer support, copy trading, a demo account with virtual money, and of course, 20% in raceoption bonuses.
Silver Account: The Silver account is the intermediate one. It accepts clients from all over the world, and it features all the perks in the Bronze account. However, you get a 50% deposit bonus, a master class in binary trading, and three risk-free trades. The minimum deposit here is $1000.
Gold Account: This is the most advanced account for binary traders who want to start trading stock indices, commodities, and other assets. It features all the perks of the two accounts above but with three main differences. First, you get a success manager to help with your account. Secondly, the minimum deposit is $3000, and thirdly, you get a 100% welcome bonus,
How To Open Your Account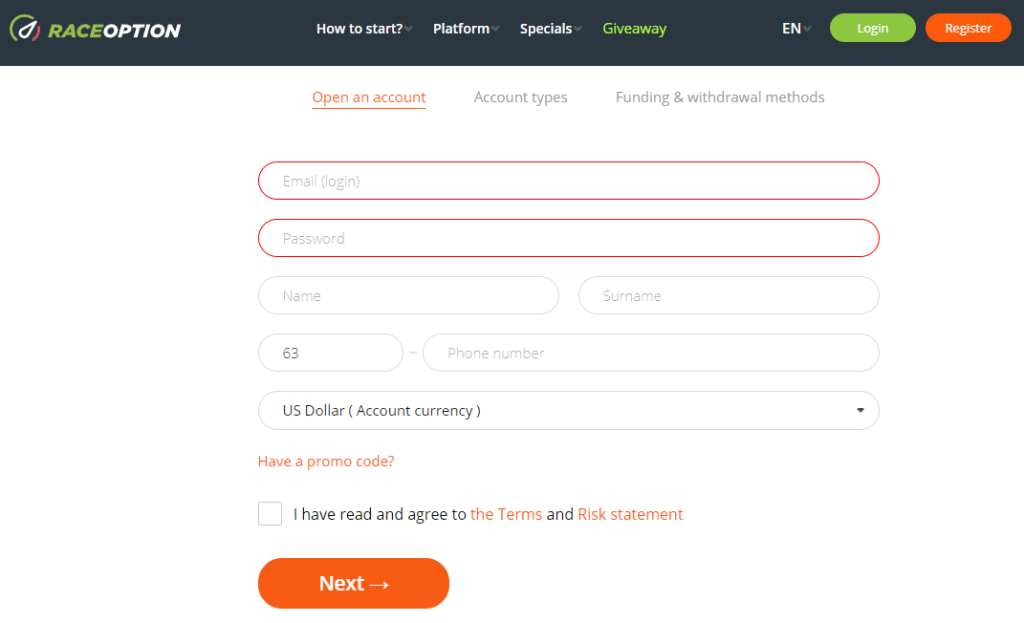 The process of opening an account with this broker is actually very basic. First, head over to the main RaceOption website. On the top left corner of the screen, hit the "register button." You will be redirected to a page where you will key in your personal details.
After that, the broker will ask you to upload identity documents to process your account. This will often take a few days or sometimes even less than 24 hours. You will then get an email notification from the broker that your account is ready. Just go ahead and deposit client funds and start trading the assets that you want.
What Can You Trade on RaceOption
RaceOption is a binary options broker. Now, these are basically some types of financial derivatives where traders predict if the price direction of a given asset will end up above or below the strike price after the expiry time.
Think of them as normal options only that they are super short-term, and the outcome can only be up or down. Because of the high-risk nature of these assets, they offer huge profit potential. However, binary options will always be underpinned by a traditional asset. In the case of raceoption, these assets include stock indices, commodities, currency pairs, and others.
RaceOption Customer Support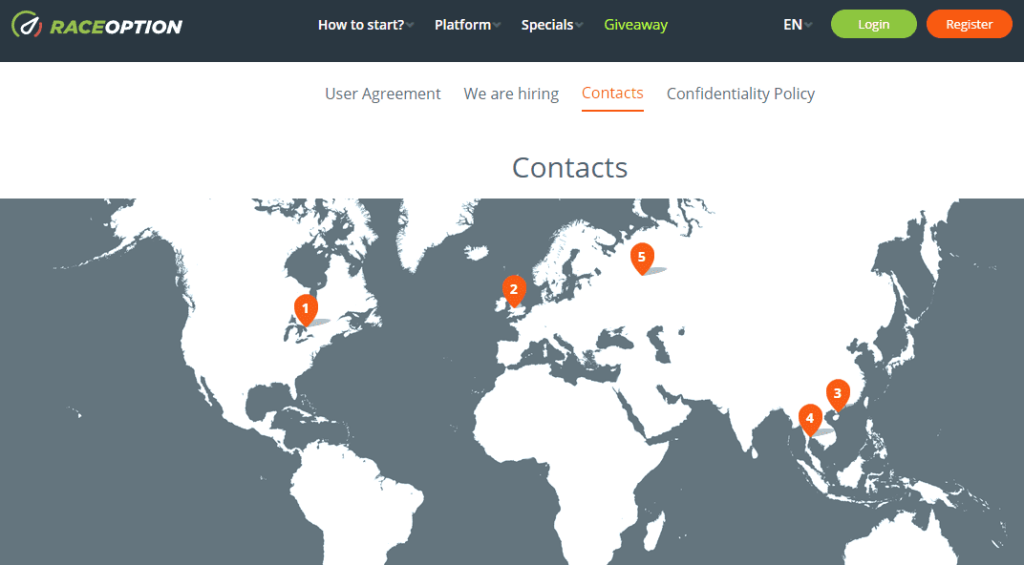 Every broker needs proper customer support. After all, trading binary options using some of these advanced technologies is not simple and may require some assistance at some point. Well, raceoption has, in fact, invested in building a strong and reliable customer support department.
The support reps who work here seem to be well-trained, focused, and ready to assist when they are called upon. Besides, the broker offers multiple options to talk to the support department, including phone, email, and live chat. This is designed to enhance the trading experience as much as possible.
Advantages and Disadvantages of RaceOption Customer Support
  Advantages

  Disadvantage

There are several ways to contact the support team and get help
The good broker has also invested in multilingual customer support as well
The website has a live chat feature for people who want immediate help
You can get support from the team 24/7

The response time, as we have seen in several reviews, is very low
Reviews also show that the support team has a lot of problems trying to resolve withdrawal issues
Contacts Table
Contacts
Foundation Date

2017

Registration Address

Trust Company Complex, Ajeltake Road, Ajeltake Island, Majuro, Marshall Islands MH96960

Contacts
Email: support@raceoption.com
Phone:

+18299476393
Security for Investors
Security is very important when you are choosing a broker. So, how does raceoption fair in this regard? Here are some of the security advantages and disadvantages of this provider:
  Advantages
  Disadvantages

Users get a secure socket layer when doing transactions to ensure that no breaches are there
The privacy protection measures taken by this broker are pretty effective as well
Raceoption does not share your personal data with any third party
Deposits and withdrawals are processed through highly secure encrypted channels

The website has no information about storing and separating client money from company accounts
Raceoption is not regulated in any known jurisdictions, which can be a problem for some people
Withdrawal Options and Fees
Raceoption offers two main withdrawal and deposit options. This includes credit cards and crypto. If you decide to withdraw or deposit money using a card, you will be charged a 5% fee for the amount you have decided to deposit or withdraw.
There may also be a currency conversion fee if you are not withdrawing or depositing money using dollars. The good thing is that card transactions are available in all jurisdictions. Finally, you can also make withdrawals and deposits using bitcoin or Ethereum.
There are no fees here, but you will be limited in terms of the jurisdictions. Besides, you must have a verified crypto wallet to be able to use bitcoin or Ethereum for your withdrawals. But it's still a great option for people who want to avoid hefty fees,
RaceOption Vs Other Brokers
As the third-ranked binary options trader in our list, RaceOption has several amazing features. But how does it compare with other brokers out there? Here is a breakdown of comparisons between three of the main binary options brokers.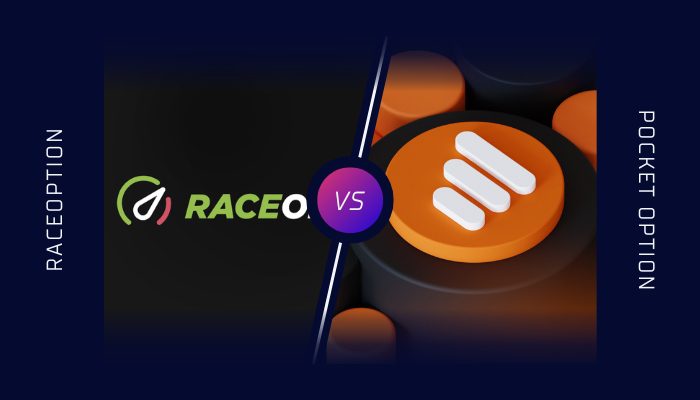 Pocket Option and RaceOption are very similar in how they are structured and operate. First, both firms give users an array of assets to trade. Even if you want to trade currencies or crypto as the underlying asset of the binary, you will have options to do so.
In addition, users can get fantastic trading tech, fast execution, and proper deposit and withdrawal methods. Despite this, RaceOption offers better bonuses, and its account types also have better features compared to Pocket Option. But on the other hand, Pocket Option has more experience in the market and it's a bit open about fees and commissions.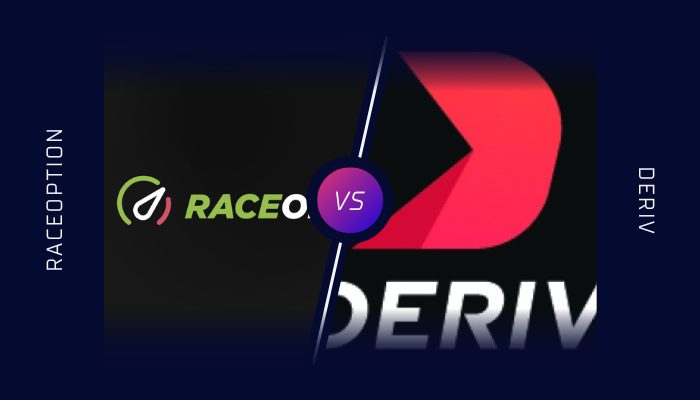 Raceoption is entirely different from Deriv in several ways. First, while RaceOption focuses solely on the binaries, Deriv, on the other hand, is a much-integrated brokerage. It offers so many financial assets, including forex, commodities, and more.
Deriv offers these assets as CFDs which are very different from binary. The regulatory status of Deriv is also much more open and transparent compared to RaceOption. But there are some areas where these two firms are similar.
They have both done well to offer users the best trading technologies. Also, each is an offshore broker. Both have some degree of good customer support too but RaceOption still has a bit to do to catch up.
IQ option is by far one of the most notable binary options brokers in the market right now. It has been here for a while, and it has earned some reputation for reliability and sucess. Unlike RaceOption, which charges a minimum deposit of $250 for its basic account, the minimum deposit at IQ option is actually around $10.
You will also get a more transparent and open fee structure from the IQ option team and besides, the platform also has a better variety of tradable assets. However, the two firms are similar in some ways.
Both, for example, offer a free demo trading account with $10,000 in virtual money to start with. You will also get a personal success manager when you open an advanced account from any of these brokerages.
Conclusion: RaceOption Review
Finding a top binary options broker is more complicated than you think. What makes things worse here is that the market is filled with so many scams. It can therefore be a tricky thing to know which broker you can trust.
Well, Raceoption is a decent place to start. We have ranked the firm third in our list, and it's not hard to see why. There is an incredible variety of assets to buy and sell here, better trade execution, and advanced trading technology. The broker also gives you access to its copy trading tool, and besides, it takes less than 24 hours to open your account.
But there are also some shortcomings. For example, there are some complaints about withdrawals, with some users claiming it takes more than a month for withdrawals to be processed. Also, the firm does not offer any info on security and how client funds are separated. It is also not regulated in any notable jurisdiction, but this is the same for most binary options brokers.
RaceOption Review FAQs
Is RaceOption legit?
Yes, raceoption is legit, but please be aware of so many fake websites out there claiming to be raceoption.
Does RaceOption have a demo account?
Yes, you will be able to get a demo account with raceoption across all account types that you decide to open.
How long does it take to withdraw money from RaceOption?
Based on reviews, different people have different experiences. While others have been able to get withdrawals processed in hours, others have had to wait months to complete these transactions.