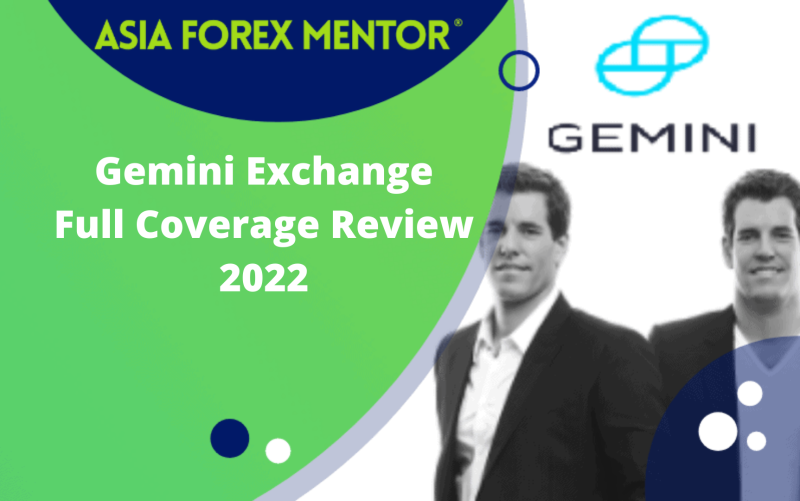 Gemini Exchange Review
Gemini is among the latest exchange platform that allows crypto investors to buy, store, and sell cryptocurrencies. The exchange is popular because it offers more than 24 cryptocurrencies and also possesses some very unique features. Launched in 2015 by Taylor Winklevoss and Cameron, it has tiered services for newbies and dexterous traders. Since its launch, the platform has been growing exponentially, including an app and interest-paying savings account. In this Gemini Exchange Review 2022, we will dig through Gemini Exchange and give you a comprehensive facet of how the exchange works.
Content
What are the Pros and Cons of Gemini Exchange?
According to PR Newswire, The crypto exchange is termed the "Samsung Blockchain Wallet" and is suitable for investors, newbies and experienced traders. The following are some of the features of Gemini Exchange that contribute to its perks.
Wide Variety of Cryptocurrencies
On the Gemini cryptocurrency exchange platform, there are more than 24 cryptocurrencies where you can invest, trade, and stake. Gemini allows you to choose from the many cryptocurrencies available, meaning you are not tied to one. All these cryptocurrencies are vetted to ensure their authenticity and whether they follow the decentralized criteria of Gemini.
Low Minimums
There is a low minimum order amount set for the transactions made, but they are cheap. Every digital token has a minimum for instance that of bitcoin is 0.00001 BTC and other tokens have similar requirements for investment.
New User Bonus
Every new Gemini user gets a bonus of $150 in bitcoin if they invest a minimum of $1000 within 30 days of entry. Other crypto exchange rarely gives bonuses and when they do it is never as much as the one given on Gemini.
Gemini Mobile App
The Gemini mobile app has excellent features that enable users to buy, sell and convert digital currencies using their smartphones or tablets. The app allows users to set price alerts for new information in cryptocurrencies and has received positive comments on the Gemini review 2020 forum and the Gemini review Reddit. The general Gemini reviews are encouraging because people love the app and the whole crypto exchange platform.
Advanced Trading Platform
The Gemini trading platform is one of the best and easily comprehendible exchanges there is. It offers a lot of features for cryptocurrency buyers, sellers and investors. Everything about Gemini offers the best user experience compared to other platforms that offer the same services. For instance, it is easy to sign up to be a user and also simple to purchase cryptocurrencies on the website. You wouldn't need a guide to familiarize yourself with the platform because everything is simple and direct.
The company also provides the Gemini Active Trader platform that is specifically created for professional-quality trading. With the active trader platform, you can make several orders simultaneously, gaining access to advanced features and charting tools. You can also use the Active trader from anywhere you are as long as you have your phone because it is mobile-optimized.
Gemini Earn
The Gemini earns how you can differentiate between Gemini and its competitors because it allows customers to earn interest on their idle cryptocurrency funds. This is unlike other exchange platforms that do not earn you any interest, especially if you are not in a savings plan with the exchange. Interest rates usually change from time to time but as of March 2021, customers can earn an interest of 3% on all bitcoin deposits, which is even more than the interest paid by most online saving accounts.
Gemini Pay
The Gemini pay feature is one that you can access from the Gemini mobile app. It enables users to purchase goods and services with their cryptocurrencies at various retail locations in the US using QR code technology. Users are allowed to choose the cryptocurrency coins to use, for example, you can use Bitcoin to pay for your shopping and Ethereum to buy gifts.
Educational Resources
Gemini is concerned about users' knowledge of cryptocurrency, which is why it has a Cryptopedia educational library where cryptocurrency learning content is available. If you are a beginner on the cryptocurrency market, the information provided on Cryptopedia will help you grow your knowledge and soon enough, you will become a guru.
The Downsides of Gemini Exchange
Not All Tokens Are Included
On average, there are 4500 cryptocurrencies globally, and only 26 of them are available on Gemini today. Many of these cryptocurrencies are small, unclear and have not earned a place on such a major platform as Gemini. However, some are more advanced and should be included in the Gemini list because they deserve a position on the platform.
There Are No Credit Cards Linked to Accounts
No one can argue that Gemini Pay is a wonderful feature that allows cryptocurrency to be used as a form of payment. Unfortunately, cryptocurrency is not accepted in all places like Visa-branded credit cards offered by Gemini's competitors. This is a feature that Gemini should consider because most retailers accept visa payments.
Costly for Small Traders
Gemini exchange fees are competitive and favor large traders as there is a 1.49% transaction fee on orders over 200. This, however is not the same for small traders as the charges for smaller transactions are more expensive.
Also read: Is cryptocurrency a good investment
Gemini Exchange Crypto List
"Does Gemini have dogecoin?" is a question most people ask and to be precise, it does. As mentioned earlier, there are about 26 cryptocurrencies on the Gemini list and they are as follows;
Bitcoin
Ethereum
Litecoin
Bitcoin Cash
Basic Attention Token
Dai
orchid
Chainlink
Zcash
Compound
AMP
PAX Gold
Balancer
Curve Dao Token
Decentraland
Maker
Kyber Network
Ren
Synthetix
Storj Labs
Universal Market Access
Uniswap
Skale
Yearn Finance
Filecoin
Aeve
The Graph
1 inch
Bancor
Enjin
The Sandbox
Loopring
BarnBridge
Somnium Space
Livepeer
Injection Protocol
Polygon
Dogecoin
Sushiswap
Gemini vs. Coinbase
As crypto trading becomes more popular, exchange platforms like Gemini and Coinbase can make it easy and safe to trade cryptocurrency. Both exchanges are well-known for their wonderful features and services, as well as the security they provide to their users. Even though exchanges offer the same services more or less, there are differences.
Also read: Crypto market vs Stock market
Earning Interest
The feature in interest-earning is becoming a major concern for most Exchanges because users are getting more knowledgeable. Both Gemini and Coinbase have put the thought into consideration and have a few options for their customers. In The Gemini Exchange platform, users earn up to 7.4% interest on their idle cryptocurrencies and more than 25 assets are eligible for this feature. The interest is paid daily and normally starts at 4 pm EST on business days after customers have transferred funds to Gemini Earn.
On the other hand, Coinbase has no offer on the traditional interest program. Instead, the exchange offers staking rewards on each select group of assets, including Dai, USD Coin, Algorand, Tezos, Cosmos, and Ethereum 2.0. As demonstrated, Gemini operates on passive interest just like banks, but the Coinbase staking option is also beneficial. Note that there is a difference between interest-earning and staking as both have different rules and benefits.
Measures on Security
Coinbase is considered the most secure exchange platform because of the strict measure it applies. While Federal Deposit Insurance Corporate does not protect most cryptocurrency exchanges, Coinbase declares that all the digital currency in its possession is insured. Less than 2% of the customer funds are held online, while the rest are stored safely in offline cold storage to prevent hacking cases. Nonetheless, if the company were to suffer an online breach, the insurance policy would pay to recover any customer funds lost.
Coinbase mobile app for iOS and Android is also well secured and highly rated by users for the wonderful service providence. Note that the company's insurance policy only covers losses incurred after a cybersecurity incidence or employee theft. If any loss occurs to individual Coinbase accounts like a compromised password, the insurance policy will not compensate.
On the other hand, Gemini declares that it protects its users from external threats and human error. Most of the user assets are stored offline in highly secured facilities to prevent cyber breaches. There is a two-factor authentication in place, password encryption and address safe listing used by Gemini exchange to counter attacks from malicious people. Gemini also provides insurance against theft from hot wallets, something that most exchanges ignore.
Also read: Binance Review 2022
Exchange Fees
Coinbase fees are a bit expensive especially for beginners who can only use the standard version. For advanced users who have the pro version, exchange fees are a bit lower and some services are even free. The fees highly depend on the maker/taker status.
Gemini's trading fees depend on how the trade is operated. Traders who use the Gemini API pay different fees from those who use mobile and web-based trades. If you compare the Gemini Active Trader fees to Coinbase pro fees, Gemini will undoubtedly win because its charges are lower and better.
Final Thoughts
Coinbase and Gemini are at per on many features which makes it challenging to separate the two. However, one thing easily noticeable is that Coinbase trading fees are expensive compared to Gemini, making Gemini more favored. Bottom-line is, Gemini is an exchange platform worth giving a try because it is secure, affordable and offers terrific features. I hope that this Gemini exchange review was of assistance to you and that it expanded your knowledge.