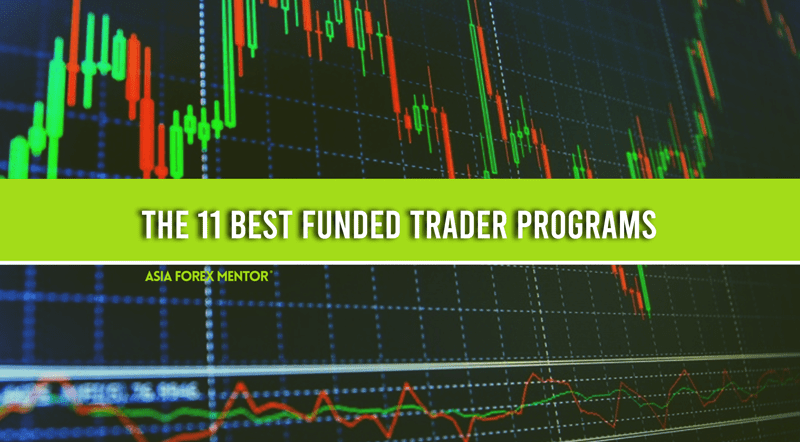 Financial trading has always been an occupational interest of people to earn massive profits. However, lack of capital for investment usually hinders the traders from earning as much as their capabilities. As a result, the Best Funded trader programs provide tremendous opportunities for competent traders to earn profits in trading without putting their own capital at risk.
Not all the Proprietary trading firms that claim to provide funded trader programs are as effective and authentic as some. In fact, a common understanding about prop firms is that they are fraudulent companies that deceive traders by promising funded accounts for big subscription fees. However, this is not the case with all prop firms. There are legit prop firms that provide real-time massive funds to skilled and qualified traders worldwide.
However, finding the Best funded trader program is easier said than done. The financial markets are booming, with companies claiming to provide a maximum funded trading account on easy terms and conditions. However, this is not the case. There are many options to choose from, some with unrealistic challenges, and not all are genuine. Therefore, as intriguing as a funded trader program sounds, it is essential to choose the right one.
This review presents solutions to traders' hindrances while choosing the best-funded trader program. Here readers can examine the advantages and flaws of different proprietary trading companies, along with relevant information regarding their evaluation criteria. Hence, after reading this review, a trader will be better positioned to choose the most appropriate funded trader program for themself.
How to Choose the Best Funded Trader Programs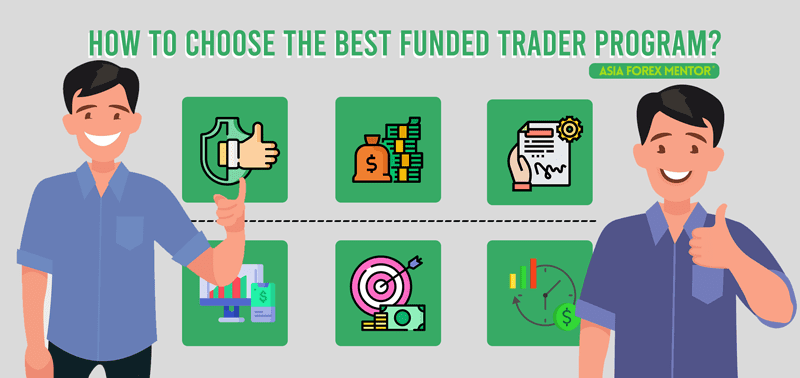 With numerous options available, it is a tedious job to find the funded trader program that best suits the financial needs of the trader. Therefore, it is important to follow a step-by-step procedure and choose the firm which best fits the evaluating criteria.
The first step is to look for a Prop trading firm that is legit. To measure the legitimacy, it is essential to check if the firm holds a license, is regulated in the OTC market, or is affiliated with a regulated broker. It is true that Proprietary firms are not liable to be regulated by any financial commission as they do not use the client's funds. However, genuine firms either hold a license in their country or partner with a regulated brokerage firm.
The second step is to look for an achievable evaluation criterion for the funded trader program. As these firms do not hand overfunded accounts to anyone, there is always an evaluation phase with trading challenges that traders go through to prove their worth. However, some platforms have challenges that are so unrealistic and demanding that it becomes almost impossible to achieve these targets, even for professional traders.
The third step is to go for prop firms that offer trading education. Many good funded programs also encourage new traders to learn trading skills through their online academies or trading courses. After acquiring the right skills, these traders can apply for the funded accounts and earn through their skills. Moreover, the evaluation phase is also a great learning opportunity for traders to polish their trading skills through the trading challenges before diving into the live trading accounts.
Other than these critical points, there are also other features that should be kept in mind while choosing the best-funded trader program. This includes high liquidity, fast scaling plans, advanced trading platforms, technical assistance, prompt customer support, easy withdrawals, and a sizeable profit split.
What is a Funded Trader Program?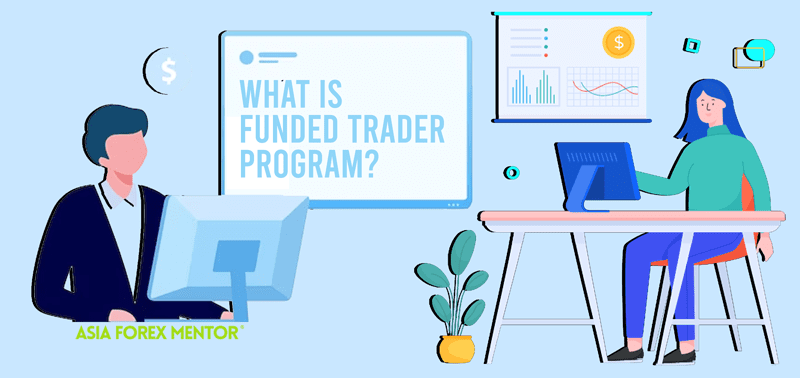 A proprietary trading firm initiates a funded trader program that aims to provide funded accounts to competent traders who can manage funds to earn profit for the company and themselves. Massive funded accounts are offered to proficient and skilled traders who pass through the evaluation phase of the firm. It is an excellent opportunity for those competent traders who lack the capital to earn massive profits.
Each firm offers a different type of funded trader program; some have two-phase evaluation criteria based on rigid trading rules. While others have a more straightforward approach with single-phase assessments. No matter the strategy, any prop firm's goal is to help traders to trade successfully and get a heavy profit split.
The best part about a funded trader program is that there is minimal risk involved for the trader. Firstly, the trader's funds are not at risk, and on top of that, the trader can get hold of a vast funded account by paying a small subscription fee. Moreover, the traders also get the advantage of up to 80 to 90% profit splits in some funded trader programs.
In contrast, some companies are just scams and frauds who allure customers through their offers of huge funds without any evaluation process. These companies are there to deceive and acquire the subscription fee. Therefore, people must thoroughly research before investing in any prop trading firm.
Funded Trader Program Pros and Cons
Pros
Risk-free trading
High Liquidity
Increased Profits
Multiple trading platforms
Cons
Unregulated
Possibility of Scams and frauds
11 Best Funded Trader Programs
Best Funded Trader Programs
Anyone who is looking for a funded trader program will find tons of proprietary trading platforms online offering large funded trader accounts to deserving traders. Moreover, each funded trader is different from others in terms of its evaluation process as well as its advantages and disadvantages.
With so many options and questions, it becomes a tedious job for traders to do thorough research to find out the best-funded trader program for themselves. For this reason, we have compiled a list of the 11 best-funded trader programs will all the relevant information regarding their trading conditions, evaluation system, and finally about, the withdrawal process.
This list would narrow down the choices to 11 so that traders can learn about each of them in detail and then make an informed decision regarding selecting the best firm that would suit their trading needs.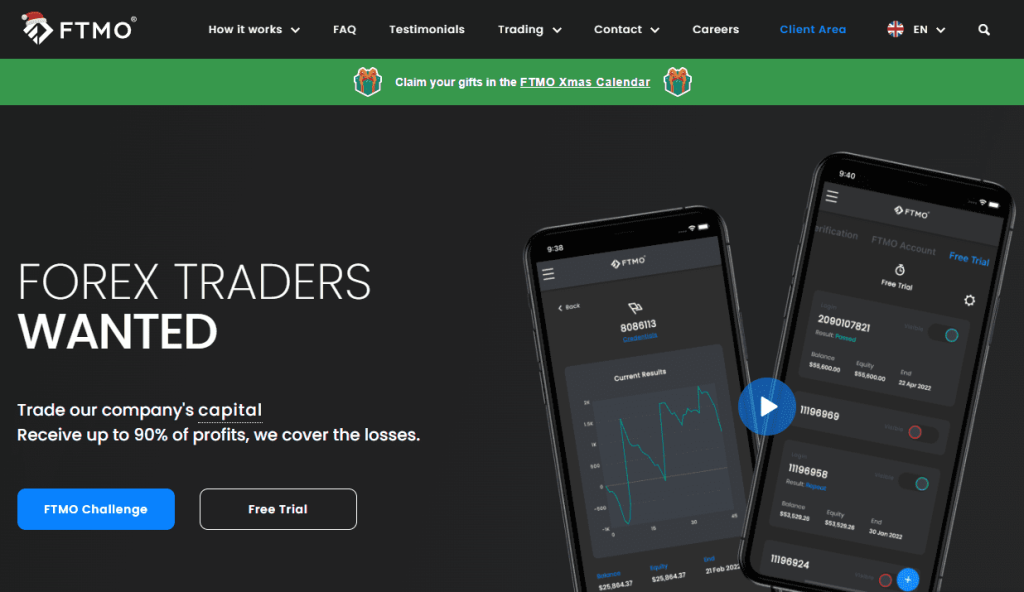 What is FTMO?
FTMO is among the most popular and reliable prop trading firms that have been offering their trading services since the year 2014. FTMO provides funded trader accounts to competent traders with funds up to $1 million. However, before the traders could receive the funds, they had to go through a two-phase evaluation process, including trading challenges and an account verification process.
The FTMO platform itself claims that its evaluation process is challenging and is designed to bring out the best traders among the lot. Moreover, FTMO also claims that consistent traders can also become successful at FTMO even if they lack the proper trading skills, as the platform provides a performance coach, account analysis, and many other helpful trading tools to guide inexperienced traders.
Moreover, the profit split ratio at FTMO is also high than many other platforms at 80: 20%, and the trading challenges are also achievable. Moreover, the traders also have the advantage of getting high leverage with reliable customer service. In terms of trading instruments, there are 44 forex trading pairs and 10 cryptocurrencies. Therefore, FTMO is considered best for Forex traders. However, traders can also trade in indices, commodities, and stock CFDs.
Advantages
High-profit splits
Maximum currency pairs
High leverage
Effective trading tools
Disadvantages
Source of funds is unknown
Lack of technical assistance
What is FidelCrest?
Among some of the best-funded trader programs, Fidelcrest has also made its place through its exceptional trading services. Founded in 2018, Fidelcrest is among the few prop firms that cater to citizen in the US, Canada, Australia, and other developed countries.
Fidelcrest provides a funded trading account of up to $2 Million to traders who pass its 2-phase evaluation challenge. The trading rules in Fidelcrest are competitive and require the traders to show effective trading strategies and consistency to achieve their targets. Moreover, at Fidelcrest, traders can get an affordable trading account with the most advanced trading platform and proficient customer service.
Fidelcrest is affiliated with a reliable and regulated broker. Therefore, the firm is trustworthy. Fidelcrest also offers multiple rewards and bonuses to its customers, such as acceleration plan and plan double, etc., which gives added value to the overall trading experience.
In contrast, traders are not allowed to use copy trading or EAs during the evaluation phase of Fidlecrest. This is a big disadvantage especially for new traders who rely on the strategies of other successful traders. Hence, this shows that the company's aim is to generate maximum profits through competent traders and not provide opportunities to new traders in the market.
Advantages
Partnered with a related broker
Low subscription fee
Rewards and Bonuses
Advanced trading platform MT4, MT5, C Trader
Disadvantages
No Copy trading
Rigorous evaluation process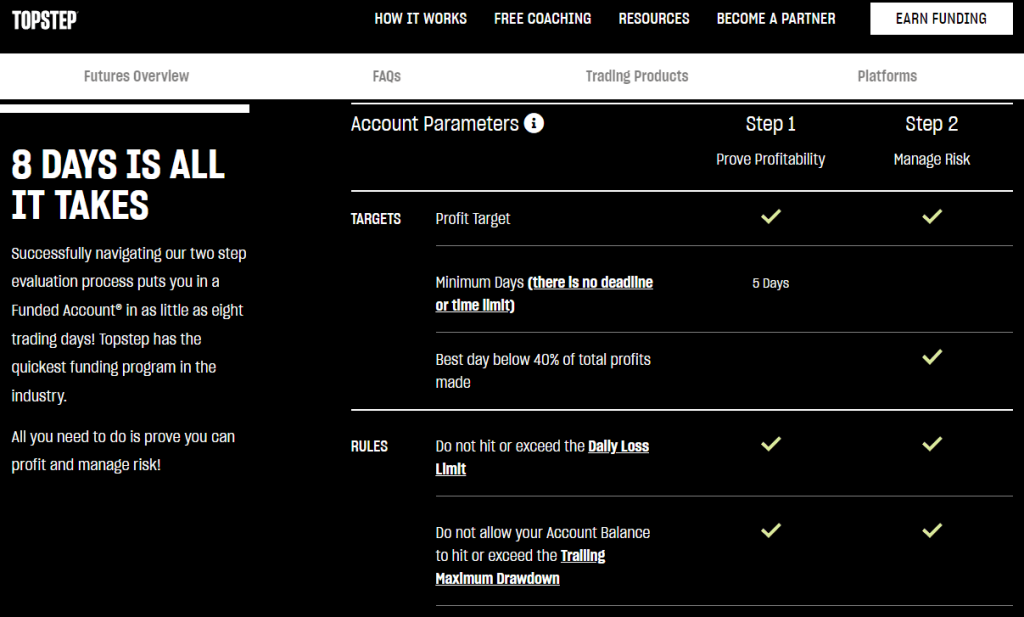 What is TopStep?
Topstep is another proprietary firm that holds the position of a top brand in the financial markets. Traders can sign up for a futures trading account on Topstep by agreeing to participate in the Traders combine funded account program. Traders who pass the trader combine challenge can earn up to $ 300K in real-time funds in their funded futures account.
There are many advantages to trading with Topstep, which is why it is also considered the best prop trading firm in the financial market. There are countless courses, quizzes, and other coaching programs that provide technical assistance to traders. Moreover, Topstep's trader communities and forums are also the talk of the town among traders.
Tostep is also popular among traders due to its fast and easy payout process and a 14 days free trial account. The firm claims to process the withdrawal request within the same day. Moreover, the profit split ratio of Topstep is also phenomenal, up to 100%, which is higher than many other prop firms. In addition, traders get the chance to trade on a variety of trading platforms such as TS Trader, Trading view, R Trader, and many more.
Topstep offers three different account sizes ranging from $50k, $100k, and $150k, with a subscription fees of $165, $325, and $375 per month. This is a monthly recurring fee and not a one-time subscription fee like other platforms. The profit target of each account is $3,000, $6,000, and $9, 000 respectively, with a daily drawdown of $1000, $2000, and $3000 and a total drawdown of $2000, $3000, and $4000. The targets are not in percentages but in a specific amounts, making it clearer for the traders to calculate and set goals.
Advantages
Free trial account
100% first $ 5000 profit
Easy one-step evaluation
Funded trading coach
Disadvantages
Limited trading instruments
No customer service on weekends

What is Audacity Capital?
Audacity Capital is a UK-based prop firm that has been providing funded accounts to customers globally since 2012. Traders affiliated with this firm can trade in forex trading, indices, and commodities on the trading platform of MT4. Like all other funded trading programs, Audacity capital also provides funds to experienced and talented traders who would earn profits for the company.
However, to become funded traders, individuals will have to follow a different selection process, unlike other firms' standard evaluation phases. At Audacity Capital, traders have to fill out a registration form and can apply for a funded account after passing the online or face-to-face interview session. Successful candidates are offered account sizes from $15,000 to $480,000 at a 50% profit split.
The funded trader at Audacity capital has to go through six stages to reach the maximum funds of $480 000. The lot size also increases with the capital starting from 0.5 to 16 at the last level. Moreover, at the initial levels, trader can only trade forex, but after the third stage, trader can include indices and commodities as well. There are no time restrictions or minimum trading days requirements at this prop firm.
Advantages
Achievable he funded traders at Audacity Capital have to go through six stages to reach the maximum funds of $480, opp profit targets
Multiple educational resources
Zero commission
Easy payouts
Disadvantages
No room for inexperienced traders
One trading platform MT4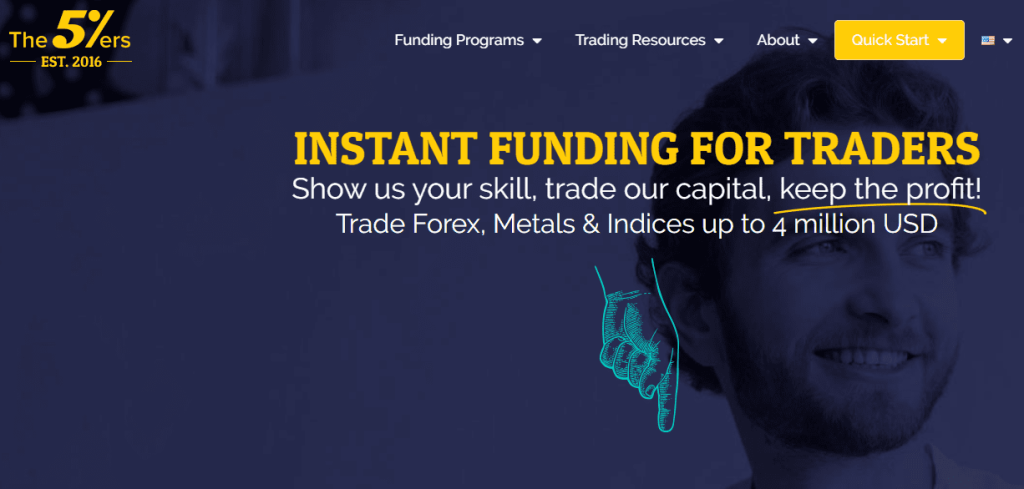 What is The 5ers?
The 5ers does not just come with a unique name, but this firm also has a different approach to funded trader programs. Unlike other firms, 5ers not only have a challenge phase for assessing funded traders, but also gives the option of instant funding accounts of up to $4 Million. Here traders can start a live trading account with real money without any evaluation. The procedure is also very simple to achieve the profit target and get to the next level of the funded trading account.
Traders can apply for three options of instant funding programs. The first starts with an initial capital of $24,000, the next at $40,000, and the last starts at $80 000. All these options have both normal as well as aggressive risk modes. Moreover, the profit target at normal is 6%, whereas in aggressive mode is 12%. Maximum trading time at low risk is 180 days, and for aggressive mode is 60 days. The subscription fee for each account type is €235, €385, and €745.
The best part about 5ers is that inexperienced traders can also subscribe to their funded accounts since there are no evaluation criteria. However, traders would have to achieve the profit target to scale up their funds. All it requires to get a funded account on the 5ers is to be able to do trading successfully without being pressured by time constraints. However, the 5ers do not provide the same profits to traders as other funded programs and give 50% to traders and keep the other 50%.
Advantages
Instant funding program
Fast Scaling Plan
No Time Constraints
Weeking holdings of trade
Disadvantages
Low leverage
Lower profit split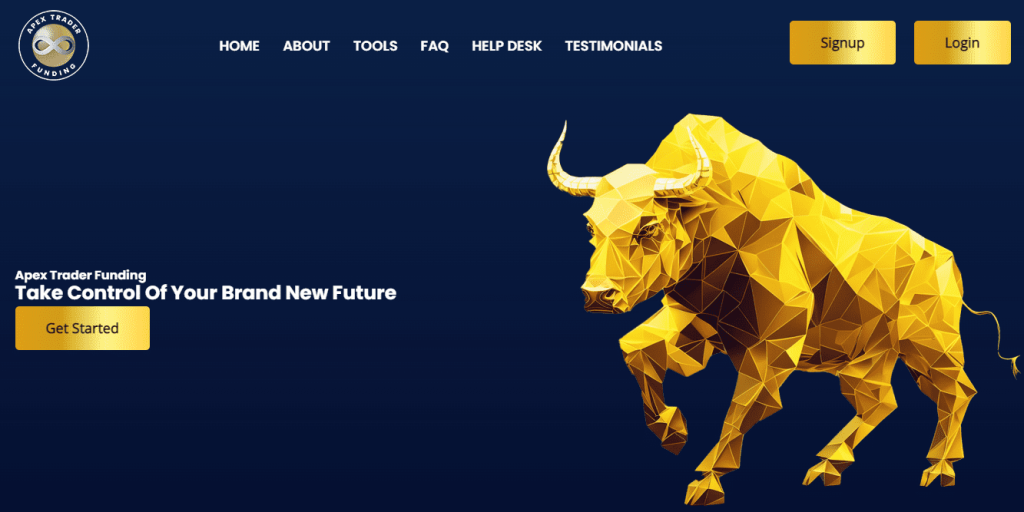 What is Apex Trader Funding?
Apex trader funding is another proprietary platform that offers funded accounts of up to $300,000 to deserving traders. Apex trader has a one-step evaluation where traders have to reach the profit target, avoid drawdown, and trade for at least 10 days to start earning the profits. There are no daily drawdown requirements at Apex trader, which minimizes the pressure on the traders.
There are 9 options of trading challenges to choose from ot the Apex platform.These plans range from starting capital of $25k up to $300k with a subscription fee of $147 to $657 per month. There are multiple advantages for trading futures at Apex trader, like getting 100% cashback of the first $25000 and up to 90% profit splits from second withdrawals. Moreover, there are also no restrictions on the number of accounts opened by a trader.
Some of the drawbacks of the Apex funded traders firm is that it has a live trailing drawdown during the evaluation phase, which is difficult to manage for inexperienced traders. Secondly, there is an amount limitation on the first three withdrawals, and finally, while many firms have a one-time subscription fee, Apex trader has monthly charges and not one-time sufbscription fee. Moreover, this fee is not refundable like in other prop firms.
Advantages
No daily drawdown in the evaluation period
Trading with multiple accounts
Trade during holidays is allowed
100% of First $ 25000 withdrawal
Disadvantages
Monthly account charges
Amount restrictions in first three withdrawals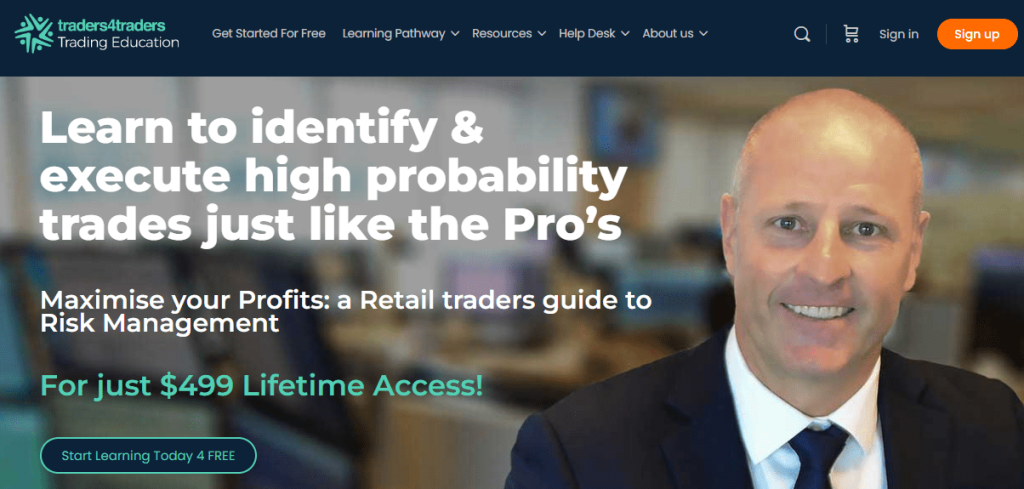 What is Traders4Traders?
Traders4Traders is not just a proprietary trading platform that provides funds to skilled traders, but it is also an educational platform that guides and trains individuals to become successful traders. There are numerous online courses that are offered to forex traders who become affiliated with the T4T platform and then also get the opportunity to do funded trading up to $1000,000 and earn massive profits.
To start trading with a fully funded account, Professional and newly trained traders all have to go through a practical assessment demo account. The trading rules of this demo account involve traders to a maintain 5% daily drawdown as well as achieving the 10% profit target. However, a plus for the trader is that there are no time constraints, and they can achieve this target as fast or as slow as they want.
There are other rules also at the traders4traders capital prop firm, which is apart from the trading conditions in the evaluation phase. For instance, traders should have a stop loss at every trader that they open at the market. Trades that do not have a set stop loss will face a trade closure automatically from the server, and the account will be closed after the due notice. Moreover, there are also rules regarding trading hours, as no trades can be conducted during the weekends.
T4T is ideal for both new traders as well as experienced traders and investors. The amateur traders can first learn trading through the T4T trading education platform and then start low by opting for the initial level trading amount. On the other hand, professionals are not required to go through the whole process and can simply subscribe for the larger trading account.
Advantages
Trading Education Platform
Fast Scaling plan
Unlimited Trading Time
One Time Subscription Fee
Disadvantages
Multiple level evaluation process
Low Leverage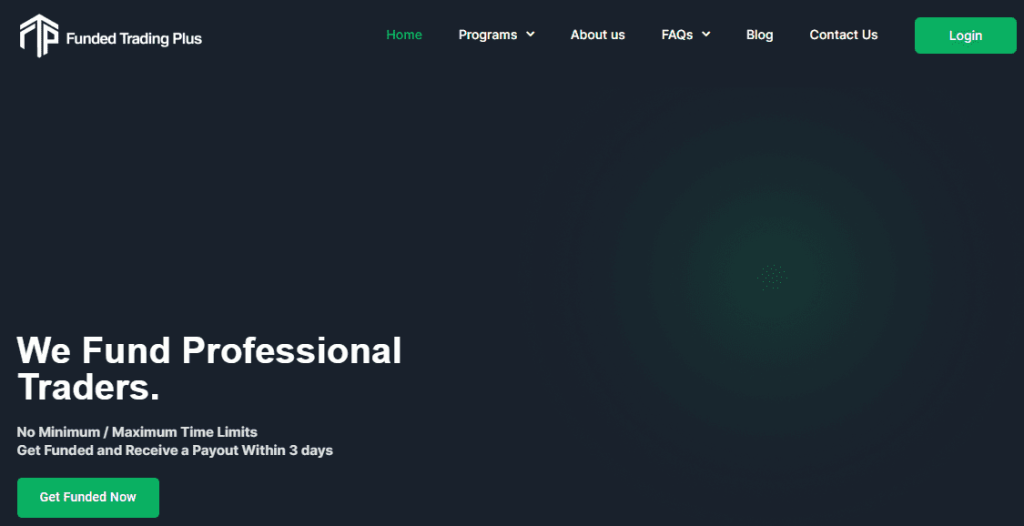 What is Funded Trading Plus?
The funded trading plus is recently founded a prop trading platform that grants funded accounts starting from $12,500 with a scaling plan up to $2,500,000. The funded trading plus account is also popular among traders worldwide for its easy trading rule, 90% profit splits, and affordable subscription fees. Moreover, funded trader plus also offers maximum crypto pairs for trading other than forex, indices, and commodities.
Another facility that funded trader plus provides is that the traders have the liberty to choose from one step evaluation program, 2 step evaluation program, or immediate funded accounts. The evaluation phases have easy trading rules with a 10% profit target, 3% daily, and 6% total drawdown and there is no time limit for reaching the goal.
Moreover, the subscription fee for the one and two-step evaluation accounts starts from as low as $199 and reaches to $999, which is also refundable. Whereas for the instant funding program, the one-time non-refundable fee at level 1 is $225 and goes up to $4500. In addition to this, there are no restrictions on copy trading or using EAs. Similarly, traders can hold trade overnight and can also trade over weekends.
Advantages
No trading restrictions of Overnight, weekend holdings
No time limitation
Direct Funded Programs
90% profit split
Disadvantages
Drawdown limitations
Low leverage of 1:30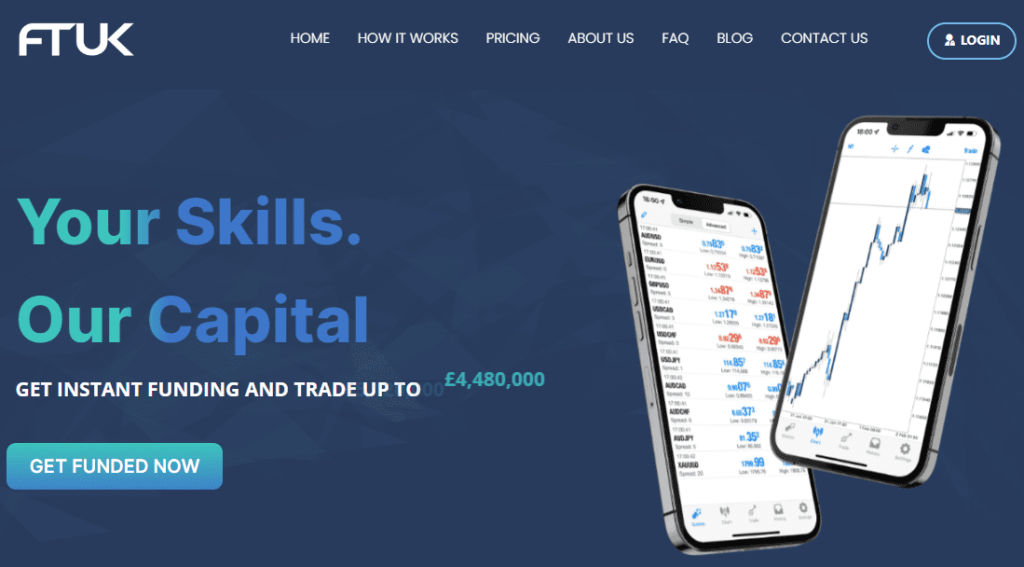 What is FTUK?
Forex Trader UK is a platform that provides funded trader accounts to capable traders and investors in the financial markets. FTUK is not a very popular name among the prop firms as it was founded recently in the year 2021. However, even within a very short time, FTUK has been able to fund traders in many countries worldwide.
FTK claims to provide funded stock trading accounts of up to $5,760,000 to competent traders who can earn profits for themselves and the firm. FTUK has a one-step evaluation process where risk management rules are applied to assess capable traders. Moreover, there is also an option of instant funded accounts for those who don't want to go through the evaluation process.
As there are multiple levels to reach the $5,760,000 funded account, traders do not have to wait till all the trading rules are followed in fact FTUK has a fast pace scaling plan. In this plan traders just have to reach their profit target to scale up their accounts. Moreover, FTUK provides a varied choice of trading instruments for its customers. Therefore, FTUK is a reliable portfolio manager partner for traders worldwide.
Advantages
Immediate Funding Program
One Step Evaluation
Fast Scaling Plan
Multiple Trading Instruments
Disadvantages
50% Profit Split at first level
No hedging allowed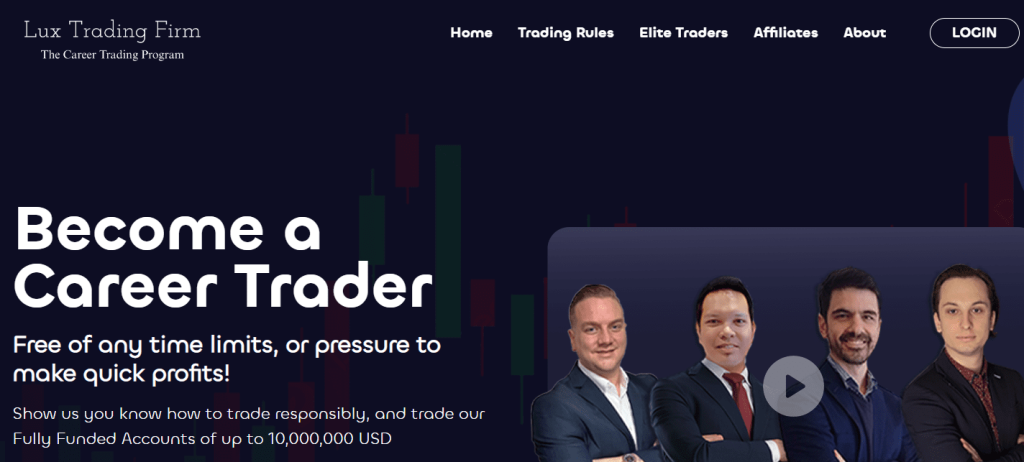 What is Lux Trading Firm?
Lux Trading Firm is among the many elite trader funding programs that provide an initial of $150,000 and a massive scaling program of up to $10,000,000 for forex-funded accounts. Moreover, Lux trading firm is considered to be a well funded trader program as there are no trading time limitations, ongoing monthly fees, and a 75% profit split.
The Lux trading firm has three account types for traders, each with a different initial capital of $50k, $100k and $150k. The one-time subscription fee of these accounts ranges from £329 to £439 and £549, respectively, which is quite low than many other competitive prop firms. After opening one of these accounts, the traders must pass through different levels to prove their worth.
The first level is a demo account with a 6% profit target and 4% drawdown trading rules. Once this level is accomplished, the trader moves up to a smaller funded account and then finally scales up to a fully funded live trading account. A unique trading feature of Lux is that it offers a risk management support desk where expert advisors help traders position themselves appropriately to avoid the 4% drawdown. Moreover, there is an Elite Trader Funding program that provides overall support to traders for a successful trading journey.
In many ways, Lux trading account gives a lot of levy to new traders with their easy trading conditions, excessive technical assistance, and slow funding proedure.
Advantages
Educational Resources and Mentoring
Risk Support Desk
Free 7-Day Trial
Elite Trader funding
Disadvantages
Small drawdown limit
Lower profit splits than other firms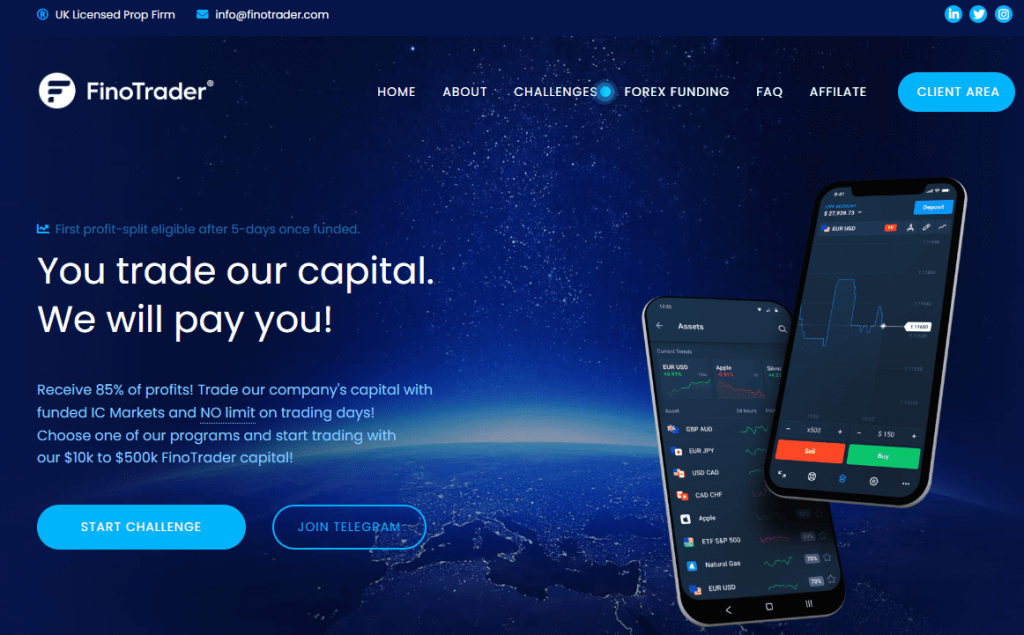 What is Finotrader?
Finotrader is yet another prop trading firm that has made our list of the 11 best-funded trader programs. With Finotrader, traders have various choices in trading instruments, including Forex, Commodities, Indices, Crypto, Stocks, and Bonds, to trade with its affiliate broker IC Markets.
Similarly, just like other trading platforms, Finotrader has a two-phase evaluation challenge in normal and aggressive risk modes with initial capital ranging from $10,000 to $250,000. The subscription fee for each evaluation account starts at $110 to $755 for the normal mode and $225 to $1550 for the aggressive mode.
The best part about the trading rules is that traders have the levy to complete their targets at their own pace as there are no time constraints. Like many other platforms, the maximum daily loss is 5%, and the maximum total loss is 9%. In the first evaluation phase, the profit target is 7%, whereas, in the second phase, the profit target is 5%.
Once the trader passes the evaluation phases, the trader can trade on a live account without any profit target by just managing the risk and earning 85% of the profits. Moreover, another promising approach of Finotrader is that after 5 days of being funded, the trader becomes eligible to withdraw their profits and get their subscription fee refunded.
Advantages
EAs and Hedging allowed
No trading time limitation
7% Profit target lower than others
85% Profit Split
Disadvantages
No Demo or Trial accounts
Poor Customer Service
How We Rank the Best Funded Trader Programs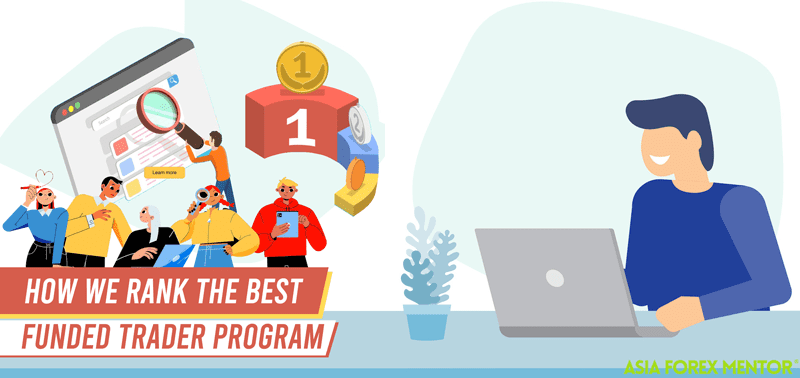 The above mentioned are or list of the best-funded trader programs. As there are countless prop firms available online in the financial market, it is very difficult to research on each and every firm and then select the best ones. Therefore, we have made this job easier for you by narrowing the list to the 11 best prop firms.
Now the question arises of how we rank the best-funded trader programs. So at Asia Forex Mentor Evaluation, we aim to provide the readers with unbiased and objective reviews. Therefore, we follow a rigorous process of evaluation based on strict and standardized criteria where each firm is assessed equally without any discretion. The standardized criteria of AFM include the following evaluation points :
1. Reliability/Legitimacy
Our team of Financial experts assessed the reliability and legitimacy of all the prop firms by running background checks, doing thorough research, and also by creating accounts on these prop firms to validate the reviews given on these firms. By practically trading on any firm, the analysts are in a better position to provide authentic feedback as they get an insight into the firm's trading conditions.
2. Value For Money
As most prop firms have evaluation programs or demo accounts, traders must either pay subscription fees or monthly charges in some cases. Therefore, knowing whether the time and money you invest are worth it is crucial. For this reason, we have chosen the firms that offer the best trading conditions and funded accounts at affordable prices or have refundable fee options.
3. Realistic Trading Rules
Some prop firms entice traders with amazing funding offers. However, the trading rules are not realistic, and the chances of ever getting a funded account are almost zero. For this reason, we made efforts to assess the trading features of the prop firm to rank it in a higher position on the best prop firm list. These features include rules for trailing drawdown, profit target, and other eligibility conditions and analyzed whether they are achievable or not.
4. Assessing Live Trading Conditions
After the evaluation period, all prop firms provide real-time funded accounts to traders for live trading. At this stage, there are many parameters for withdrawals of funds, withdrawal speed, and limitations, profit splits and funds scaling, etc. Here our analysts explore and evaluate all these conditions so that there are no hidden charges and complete transparency of funds from the firm.
5. Customer Reviews
The last but not the least step in the AFM evaluation process of the best-funded trader programs, we examined the numerous customer review regarding each of the chosen platforms. As customers are the real critics who can provide the most honest analysis, it was inevitable to rank the best-funded trader program without considering these reviews.
Conclusion: Best Funded Trader Programs

Trading in the financial market has become easier and more and more profitable since the beginning of online trading. As a result, each individual is looking to invest in financial trading to generate income. Nevertheless, trading requires much more than just the desire to trade. A successful trader is one who has proficient trading skills, a supportive trading partner/broker, and, most importantly, capital for investments.
Many traders have the right set of trading skills and strategies; however; they lack the capital to reach success. However, the good news is that for such traders there are proprietary trading firms that provides massive funds to competent traders. The aim of these prop firm is to invest their funds in the financial markets through skilled traders to earn profit for themselves as well as for the trader.
With this concept, many prop firms have appeared, claiming to provide Millions of dollars to capable traders. However, among these countless firms, there is always a threat of scams and fraudulent companies trying to manipulate traders. Regardless of such firms, there are also credible prop firms that genuinely provide funded accounts after evaluating traders through their one or sometimes two-phase evaluation programs.
To differentiate between the right prop firms from the wrong ones, we have compiled a list of the best funded trader programs that are offered by various prop firms. This review presents all the relevant information regarding each prop firm regarding their evaluation process and procedures of getting a live funded account.
The list of best-funded programs is assembled after collecting data from various authentic sources, and our team of analysts assessed each of the firms through a systemized process of evaluation. Therefore, traders can rely on this information and can make an informed decision regarding choosing the best funded trader program for themselves
Best Funded Trader Programs FAQs
How Much Money Can I Make?
By choosing the right funded trader program with a prop firm, a trader can make massive profits. As prop trading firms allow funded accounts of thousands of dollars with fast scaling plans, there is no limit to making money.
Moreover, the amount of money that a trader can make also depends on the profit split policies of a prop trading firm. Some firm offers high-profit splits of 90%, whereas others have a 50-50% profit split rule. Therefore, it is wise to go for a company that offers high profit splits to earn more out of each profitable trade.
What is the best-funded trading program in 2023?
FTMO and Topstep are two of the best funded trader program in 2023. FTMO is considered to be the best platform for forex traders with realistic evaluation criteria, high profit splits with covered losses and funded accounts of up to $ 400,000.
Topstep on the other hand is equally profitable for futures trading and provides the highest profit split in the market with up to $ 150, 000 capital power. Moreover, Topstep comes with a free 14-day trial account which is a facility that is not available on most trading platforms.
Are Funded Trading Programs Trustworthy?
The answer to this question is Yes and No. As there are numerous prop trading firms available in the financial market, it is difficult to know which ones are credible and which is a scams. Since prop trading firms use their own funds for trading, they are not bound to be regulated by any financial commission.
Therefore, many fraudulent companies also take advantage of this lack of regulatory rules and break the customer's trust. However, this is not the case with all the prop firms. There are many genuine and trustworthy prop firms out there that provide massive funding to competent traders who, in turn, earn huge profits for the firm as well as for themselves.