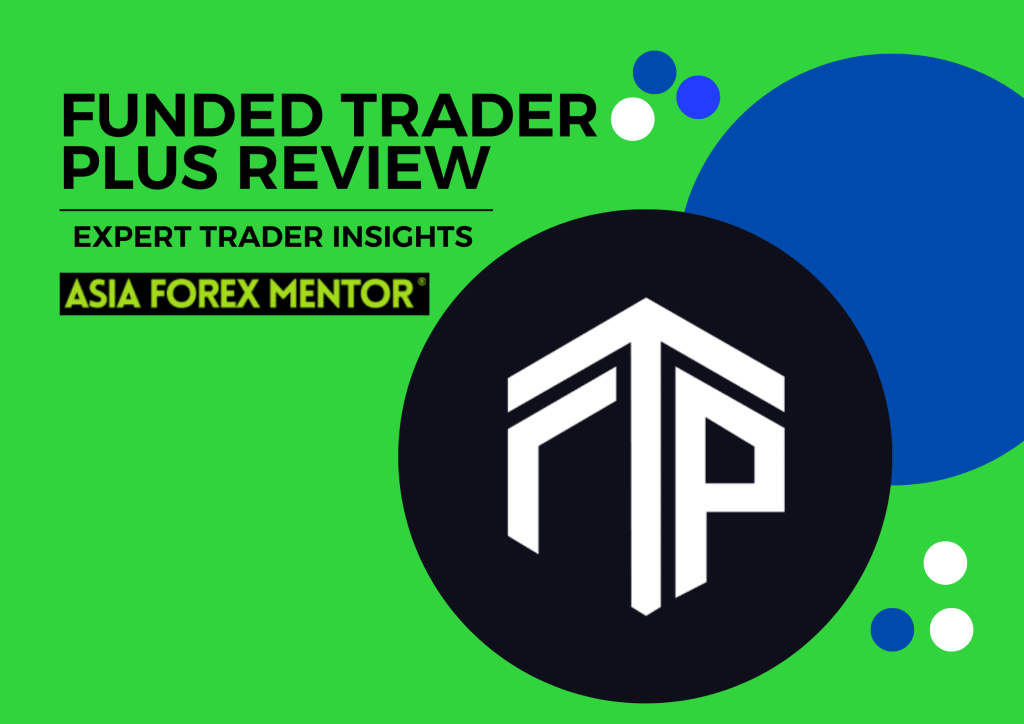 Funded Trading Plus Review
There are several proprietary trading firms out there that offer their traders the opportunity to trade with their own funds. One such platform is Funded Trading Plus, which allows traders to participate in various markets with their own capital.
Funded Trading Plus is perfect for those who want to break into the world of professional trading without having to worry about risking huge amounts of capital. This prop trading firm offers straightforward regulations, guarantee up to 90% of the profits, and has attractive prices. Traders can begin with their entry-level program for $12,500, but if you are ambitious enough, you may trade for a whopping sum of $2,500,000.
In addition, this prop firm offers several trading instruments, such as forex pairs, indices, cryptocurrencies, and commodities. The user interface is simple to navigate, and its dashboard offers well-detailed analysis and stats to manage risk.
In this detailed review, we will look at the features and advantages of Funded Trading Plus and help you decide if they are the right choice for you. Our team of experts will review the platform from the ground up and provide you with an unbiased opinion on this prop trading firm.
So buckle up, traders!
Asia Forex Mentor Evaluation Criteria
Making smart market decisions becomes much simpler with the help of Asia Forex Mentor's reviews and evaluations. Our teams conduct extensive analysis to ensure all financial threats are reduced, so you can have peace of mind when trading or investing in any brokerage or prop trading platform.
At Asia Forex Mentor, we select and evaluate brokerages based on consistent criteria. Also, we use an array of indicators to assess the proficiency of each brokerage and guarantee our evaluations. This method ensures that every prop firm is evaluated with impartiality throughout the assessment procedure.
Our expert researchers conduct a deep-dive analysis and assess all the trading parameters. After that, we then rate the platform based on our criteria and in comparison with other brokerage platforms. This way, investors can be confident that the data is dependable and trustworthy.
We use an extensive set of criteria to assess the quality of a particular brokerage service. We primarily measure performance by analysing these key elements:
Trading Mechanism
Realistic trading challenges
Security of funds and data
Customer Assistance
Easy Payouts
Sizeable Profit Split
Based on the above criteria, we can confidently say that Funded Trading Plus is one of the best prop firms for any level of trader. It is reliable and secure and offers great customer service. The platform is simple, with a clean interface and efficient trading options.
What is Funded Trading Plus?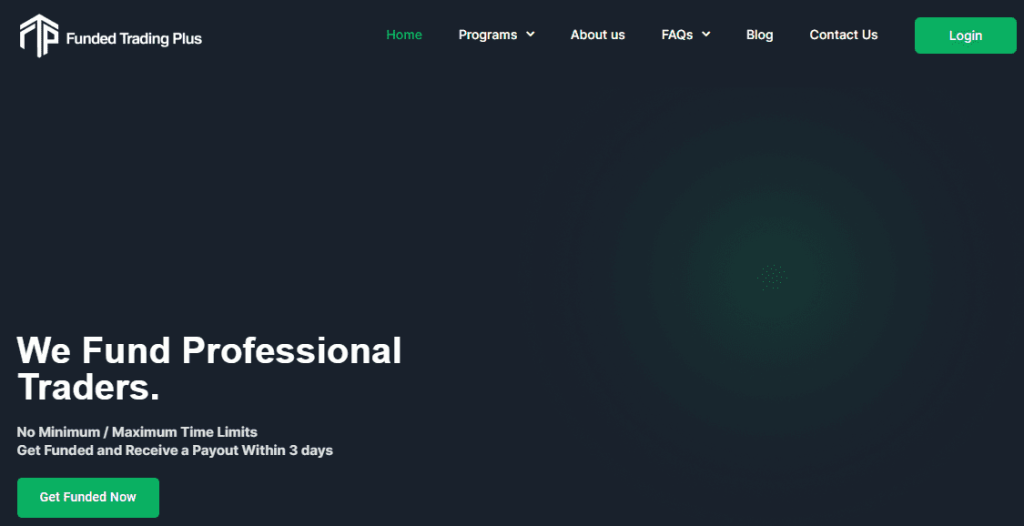 Funded Trading Plus allows forex traders to take their assets and capital to the next level. It is a UK-based prop trading tool, launching novel forex trading evaluation models for traders. With this platform, you can earn 90% of your profit once you qualify for your profitability test. 
Established in 2013, Funded Trading Plus has become the most popular live trade room for retailers across the globe. This is a prop trading firm through which you can use trading to meet your living expenditures. 
However, retail dealers may feel they need help accessing large assets or capital. Through even tiny investments, traders can gain returns. You can upscale your trading amount from $200,000 to $2,500,000. Using this simple, easy-to-use interface with fair rules is trustworthy and reliable for traders. 
With this platform, investors and traders can withdraw their weekly profit. There are no drawdown limitations on your trading account. Every trader can earn bonuses of $20,000 which can be cashed out. Get this advanced trading account to make a profit and revenue without any time restriction.
Moreover, traders made an account to access all trading materials, such as EAs, trade copiers, news trading, and indicators. Our services are loyal and durable for active investors, so they can easily grab more opportunities to invest their assets and generate huge revenue.
Advantages and Disadvantages of Trading with Funded Trading Plus
  Advantages
  Disadvantages

Traders have the opportunity to trade capital of up to $2,500,000
Allows news trading and trade copying
More trading opportunities with a wide range of EAs and indicators
The profit share split is 90%, and weekly profits withdrawals
With overnight trading and holding, traders can make a good profit
Offers a large array of trading instruments, including cryptocurrencies, indices, and commodities
There are no minimum trading days

Maximum leverage is only up to 30:1
Expensive no-evaluation program
Drawdown of 55 for master traders and 3% for experienced ones
Benefits of Trading with Funded Trading Plus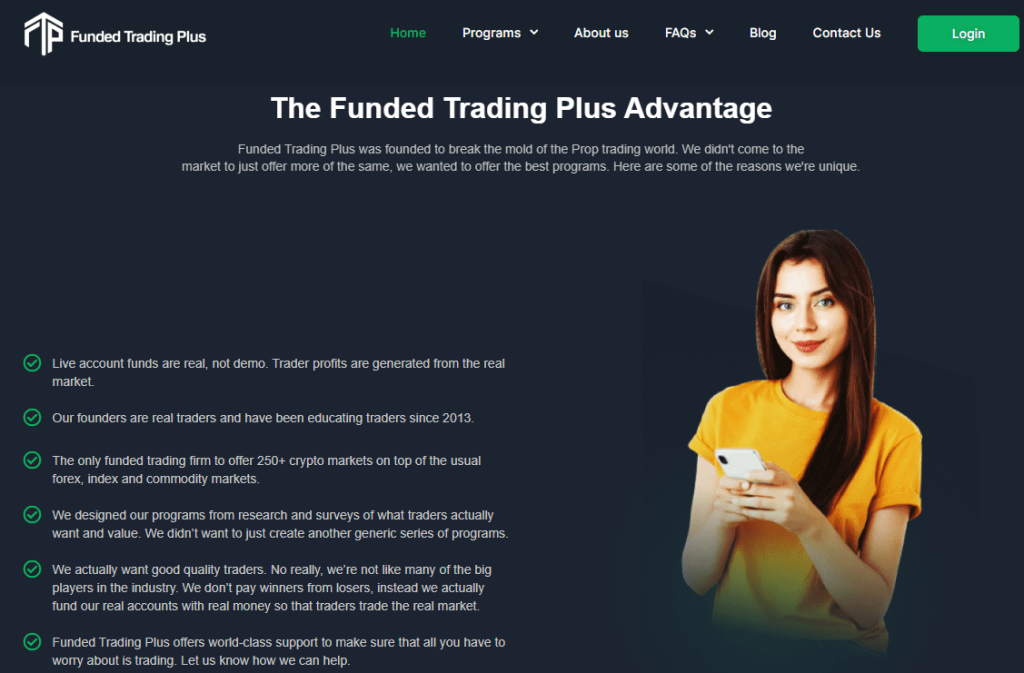 Funded Trading Plus stands out from most industry-leading prop firms as it offers 3 different funding programs i-e, Experienced, Advanced, and Master. Additionally, traders are given almost complete freedom regarding their trading style, with no limits on news trading, overnight positions, or weekend trades (except for the advanced and master programs).
For example, the experienced trader program is an assessment program with a 10% profit target. This can be achieved by following their 3% maximum daily loss and 6% trailing drawdown rules. To access the payouts, you must complete one phase of this program first.
Compared to leading prop firms, the experienced trader program accounts offer unparalleled flexibility and freedom. No more worrying about meeting daily trading quotas; traders can develop their skill set while progressing in pace with their interests.
With this prop firm, traders can trade different instruments, including cryptocurrency, forex, index, and commodity markets. This can expand your trading strategies and allow you to diversify your portfolio with more trading options while evaluating the different markets and their performance.
In addition, its simple and fair rules make it easy and trustworthy for traders to access large-scale assets. Moreover, funded trading plus has an MT4 and MT5 trading platform with direct market access.
Funded Trading Plus Pros and Cons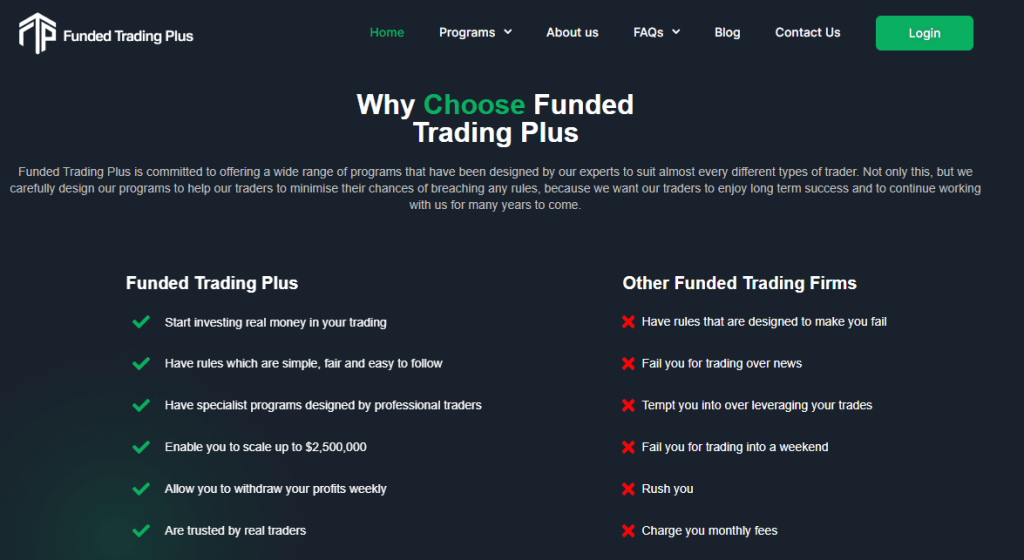 Below are a few of the pros and cons of funded trading plus:
Pros
Profit splits up to 90%
No minimum or maximum trading days
Mandatory risk management systems
Offers EA's, algorithms, trading bots, and trade copy
No time limit for evaluation news trading
Cons
Complicated Drawdown Rules
Withdrawal is Affected by Drawdown Rules
Difficulties Met By The Traders Who Participated in The Brokers Challenge
#1. The Daily Drawdown of 3 to 5%
Drawdown is an important metric in trading, as it shows the amount of risk a trader takes. Unfortunately, this funded trading plus has a drawdown limit of 3 to 5% (depending on account type), which is quite strict for even experienced traders.
How to Overcome Difficulty
To overcome this difficulty, traders must have a well-planned risk management strategy. This includes setting realistic goals and profits that they hope to achieve, as well as a proper risk/reward ratio. Additionally, they must have a backup plan should their trades go wrong.
#2. Profit Target of 5 to 10%
The profit target of 5% to 10% set by funded trading plus is very demanding for inexperienced traders. This can be difficult to achieve, even for experienced traders, as markets are always fluctuating and unpredictable.
How to Overcome Difficulty
The best way to tackle this difficulty is by combining fundamental and technical analysis. Fundamental analysis helps traders identify long-term trends, while technical analysis enables them to spot short-term ones. With this knowledge, traders can adjust their strategy and make more accurate predictions of the markets' movements.
#3. Lack of Trading Experience
Trading with funded trading plus requires knowledge of different trading strategies, instruments, and risk management. Without the right trading experience, it might be easier for traders to make profits and progress in the challenge.
How to Overcome Difficulty
The best way to combat this is by researching, reading tutorials and guides, and practising on a demo account. Additionally, they can also join forums and trading groups to learn more about the industry. This will help them gain knowledge and understand the different aspects of trading, allowing them to make more informed decisions.
Funded Trading Plus Customer Reviews
We have scoured numerous customer reviews of Funded Trading Plus to give our readers a comprehensive overview of what others are saying about this platform.
The majority of reviews were overwhelmingly positive, as traders claimed that the platform was incredibly generous and allowed them to access large amounts of capital with far fewer restrictions than other prop firms. Many traders were also impressed with the customer service, as the team responded quickly to queries. Additionally, traders praised the platform for its low fees and competitive profit share splits.
However, a few traders complained about the difficulty of meeting the drawdown rules. They also found that the challenge of meeting their daily drawdown could be too much for inexperienced traders.
Funded Trading Plus Fees and Commissions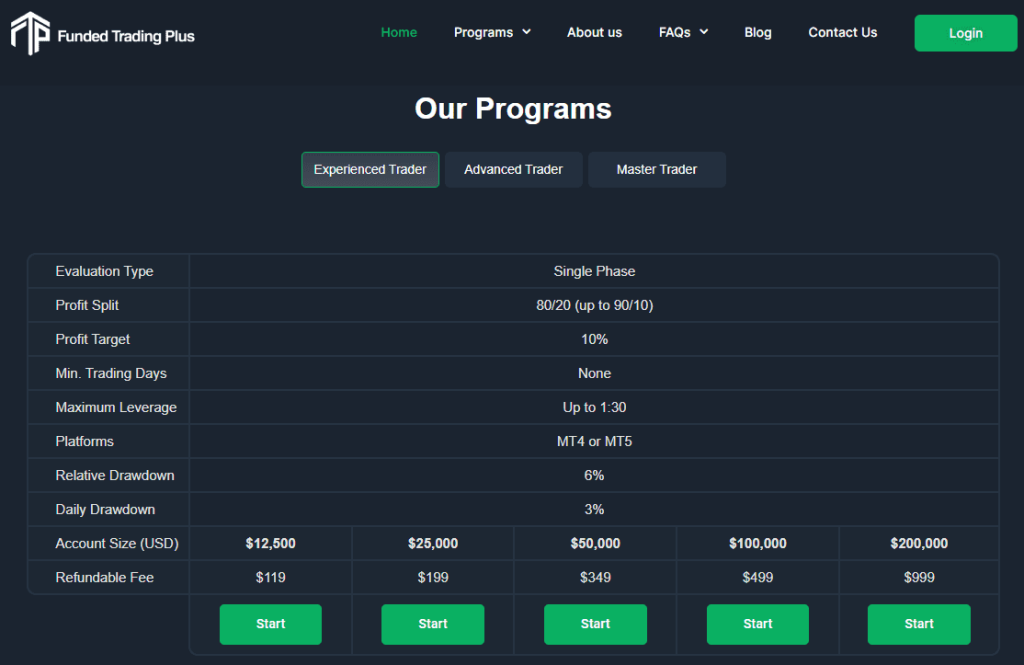 Here is a brief overview of Funded Trading Plus spreads, fees, and commissions:
Spreads
A Funded Trading Plus account offers spreads similar to their competitor broker EightCap. Due to gaining liquidity from the EightCap, it also offers different spreads depending upon the account type and instruments used for trading. 
Trading Fee
Trading with Funded Trading Plus is easy because it only requires an initial cost. On paying the one-time account opening fee, traders can trade live money using any account on Funded trading plus. You will not have to pay any service charges. This fee is different for different trading plans. The most affordable is the Experienced trading plan, in which traders are bound to pay $119 to $999. 
However, if you want to get an instant funding account with no evaluation, you need to pay a $225 or more fee. But this account brings more profitability and revenue generation. Traders can get their free refund in the Experienced and Advanced Trader Program. However, the fee of the Master Trading Program is non-refundable. 
Funded Trading Plus Non-Trading Fee
Besides trading fees, every broker charges additional fees for non-trading activities, including cash withdrawals and deposits. Funded trading Plus charges a commission of $3.5 per standard trading lot. This prop firm has negotiated various fees and does not demand any withdrawal fee. 
Account Types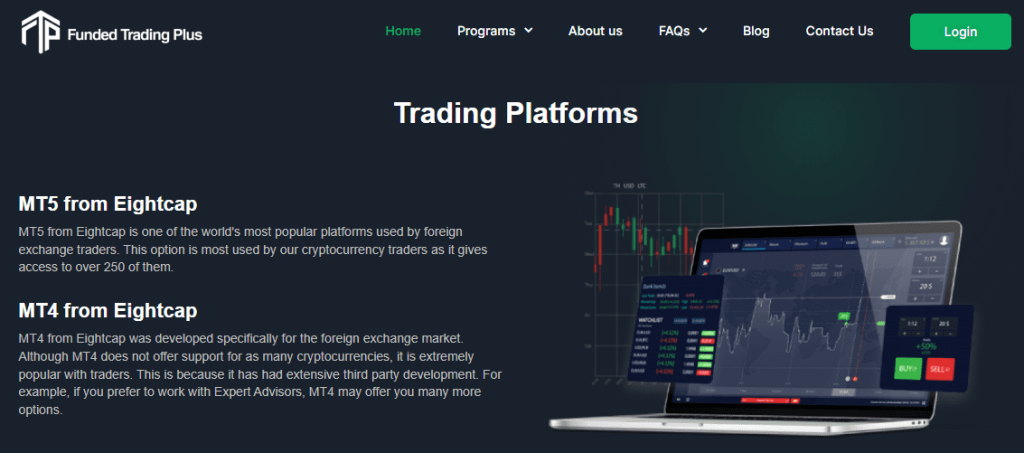 Funded Trading Plus offers three distinct trading programs, and below are a few details about each of them:
#1. Experienced Trader Program (ETP)
This program is tailored to experienced traders and allows for an efficient single-step evaluation process before funding. Traders can take as much time as they need to progress through the assessment phase. They are also allowed to use any strategies of their choice — including expert advisors — as long as arbitrage methods are not used.
Moreover, traders can reach their account balance 10% at a time until they reach an unbelievable $2.5 million! Furthermore, this proprietary trading firm won't apply any deadlines or charge additional fees for this program – so you can rest assured that it's worth your while.
Evaluation Type: Single Phase
Profit Split: 80/20 (up to 90/10)
Account Size: $12,500 – $200,000
Relative Drawdown: 6%
Daily Drawdown: 3%
Profit Target: 10%
#2. Advanced Trader Program
The advanced trader program offers a higher maximum drawdown than the experienced trader program yet still adheres to just as much simplicity in its rules. After successfully completing the second round of your Evaluation process, traders will gain access to an actual funded trading account.
However, this account doesn't allow traders to hold trade on weekends and ends on Friday at 4:30 p.m. EST. Furthermore, traders must always set a Stop Loss order before entering any trade; otherwise, the transaction will be closed without input.
Evaluation Type: 2 Phases
Profit Split: 80/20 (up to 90/10)
Account Size: $25,000 – $200,000
Relative Drawdown: 10%
Daily Drawdown: 5%
Profit Target Phase 1 | 2: 10% | 5%
#3. Master Trader Program
The Master Trader Program has specific regulations compared to the assessment accounts. While there's no predefined profit objective, traders must stay within their entire drawdown boundary of 5%. This hard rule will result in account termination.
With this account, traders can immediately enjoy the rewards of profitable trading and be eligible for profit splits ranging from 70% up to 90%, depending on their success with 1:30 leverage. Also, there is no need to go through the evaluation process to start making a profit.
Moreover, this proprietary trading firm allows its traders substantial freedom by allowing overnight trading and holding and permitting all strategies (except those involving arbitraging methods) — even Expert Advisors.
Evaluation Type: No Evaluation
Profit Split: 70/30 (up to 90/10)
Account Size: $5,000 – $100,000
Relative Drawdown: 5% of starting balance
Profit Target: None
How To Open Your Account?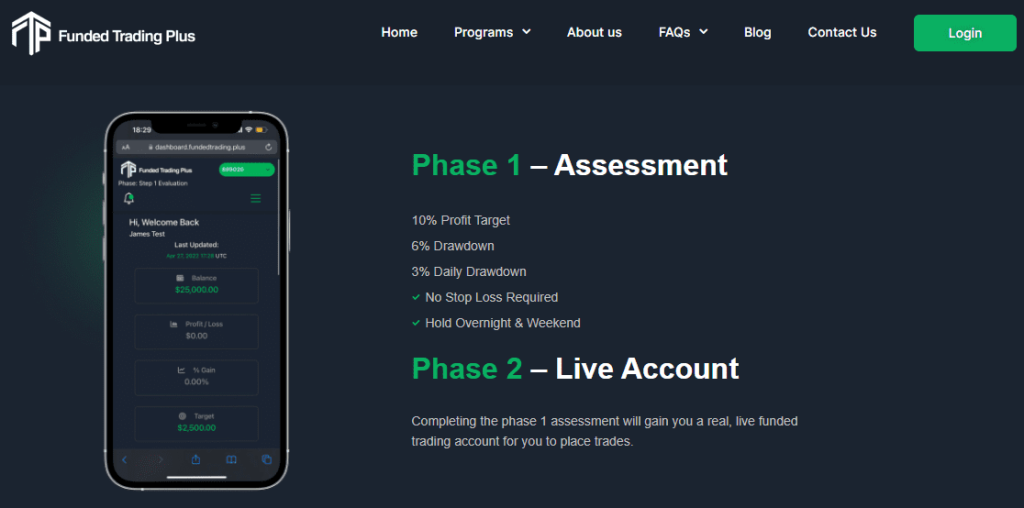 To start trading with Funded Trading Plus, you need to follow the below steps:
Go to the official website and click on 'Get Funded Now
Now choose between the three different programs experienced, advanced, and master trading programs.
Now add the Account Size (USD) in your cart and click on 'Start Now'.
Choose between MT4 and MT5 trading platforms and click on 'Start Now' again.
Add your billing details and click on 'Place order
You will receive an acknowledgement email, followed by a welcome mail.
After that, you can sign up for Funded Trading Plus and start trading.
Funded Trading Plus Customer Support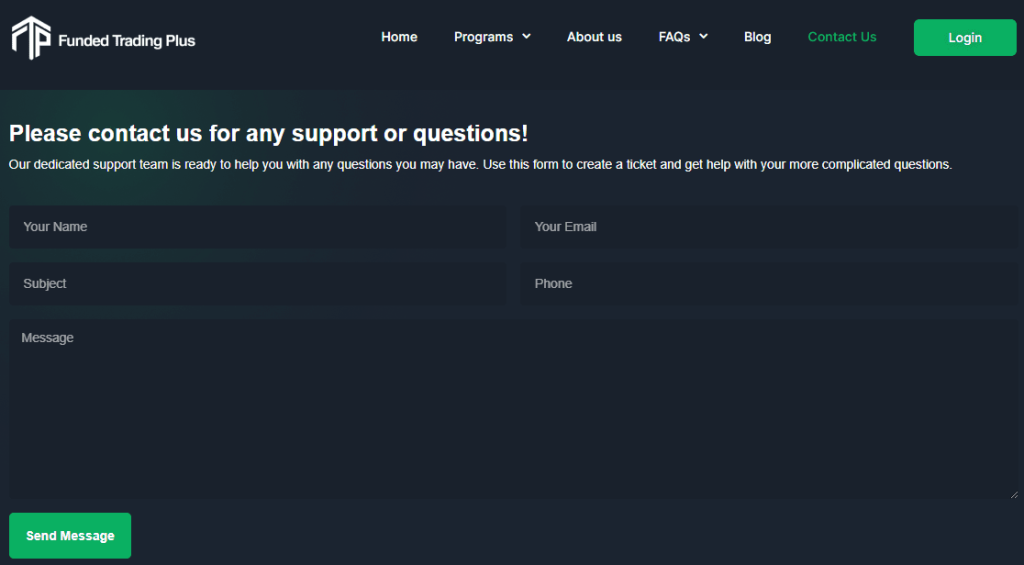 Funded Trading Plus knowledgeable support team is available 24/7 to assist with any questions or queries the traders may have. Whether it be inquiries regarding our platform, funding options, or the account setup process, you can get support via phone (+44 333 090 9800) or email (info@fundedtradingplus.com).
In addition, their support is available on social media, including Facebook, Instagram, and Twitter. You can also find the missing information on the FAQ page to answer any queries. Moreover, if you need any assistance or have questions about technical issues, their Discord channel is the perfect place for help. The support team and community are quick to respond with helpful advice.
All in all, Funded Trading Plus takes customer service seriously and makes sure that its traders get the best customer support experience.
Advantages and Disadvantages of Funded Trading Plus Customer Support
  Advantages

  Disadvantage

24/7 support phone and email support
FAQ section to find answers to questions
Social media support
Discord community
Contacts Table
Contacts
Foundation Date


2013

Registration Address
Bell Yard, London, WC2A 2JR
Contacts
Email: info@fundedtradingplus.com
Phone: +44 333 090 9800
Security for Investors
Funded Trading Plus is a highly secure platform for investors. The best part is that traders can keep their profit up to 90%. In addition, traders can trade their capital with leverage, increasing their profits.
Moreover, it is a proprietary trading firm; these firms don't have to be regulated as they don't hold money. Also, they are not brokers, so that no funds will be processed through the company. This makes it secure for investors as no one is holding funds on their behalf.
Furthermore, Eightcap broker is regulated by ASIC- holds all of their traders' funded accounts. Funded Trading Plus is a brand from FTP London Ltd brand registered in the United Kingdom.
Withdrawal Spreads, Options, and Fees
Withdrawing and depositing cash through Funded Trading Plus have become convenient due to flexible trading options. With this prop firm, there is no need to wait till retailers' investment hits the profit target. Traders are free to withdraw amounts even below the profit target. 
In addition, Funded Trading Plus allows traders to withdraw their revenue at any time in a week. This withdrawal process is also easy. Traders only need to press the "withdrawal request button". Within 48 hours of the request, an invoice will be sent to the broker automatically, and they will be able to get their payment in the Deel account. 
No worries if a trader doesn't want to avoid getting payment in the Deel account. Funded Trading Plus can also transfer your profit directly into his bank account. Also, we offer a cryptocurrency payment mode for investors. Once investors receive their amount in a Deel account, they can transfer it into any wallet, bank account, or reliable payment mode. 
What makes Funded Trading Plus different from other Prop Firms
Here is what makes funded trading plus different from the other firms:
#1. Weekly Withdrawals
Most prop trading firms have a minimum withdrawal threshold, usually one month or more. Usually, they try to make minimum profit targets making it difficult for traders to withdraw their money every week. Funded Trading Plus is different. It allows traders to withdraw their profits weekly as long as they meet the minimum account balance requirement of $500.
#2. Time Limits are Flexible
Most prop firms have a time limit for traders to be active and make a profit. It pressures the traders to be active and complete their trades in that timeline. Funded Trading Plus has no time limits. Traders can take their time to open and close positions. They can be active and take advantage of opportunities.
#3. Traders are not in Live Market
Many prop firms have a flawed business model where traders are placed in the demo market on their 'live accounts'; this practice is extremely risky and often leads to these firms going bust and not being able to pay out their traders. Funded Trading Plus differs as its traders are not in the demo market and use their capital to trade. This means that all profits are real, and traders can be sure they'll get paid out their profits.
#4. Excellent Customer Support
Funded Trading Plus has ensured its traders get the best customer support via phone and email. Also, there is an FAQ section to get the answers to common questions that traders may have. There is also a Discord community for traders to discuss their trading strategies and the platform's features. The only disadvantage is there is no live chat support.
Conclusion: Funded Trading Plus Review
Funded Trading Plus is an officially registered business based in the United Kingdom that provides traders globally with capital and education. With up to $500,000 available for funding and their one-of-a-kind challenge model, this new concept could be a superb opportunity for day traders or intraday forex traders looking to get funded while taking home 80% of profits earned.
In addition, their customer support is excellent, with a 24/7 phone and email service, FAQs, and Discord support. They also provide secure trading options with up to 90% profits. Finally, their withdrawal process is straightforward and fast, with options for bank transfers or crypto payments.
Moreover, it has three different account types with different features and perks according to the preferences and needs of traders. Funded Trading Plus is a great choice for experienced traders and those starting with funded trading.
Funded Trading Plus Review FAQs
Is Funded Trading Plus regulated?
No, Funded Trading Plus is not regulated. However, the prop firm uses an Australian-based financial services provider Eightcap, which ASIC regulates.
Is Copy Trading allowed in Funded Trading Plus?
Yes, copy trading is allowed in Funded Trading Plus. You can copy your account across to one of the Funded trading plus accounts, but you cannot copy to multiple Funded trading plus accounts. However, they do not fund one account that is trading the same strategy.
Is Funded Trading Plus legit?
Yes, Funded Trading Plus is a legitimate trading platform. They offer secure and reliable services to help traders earn profitable returns.