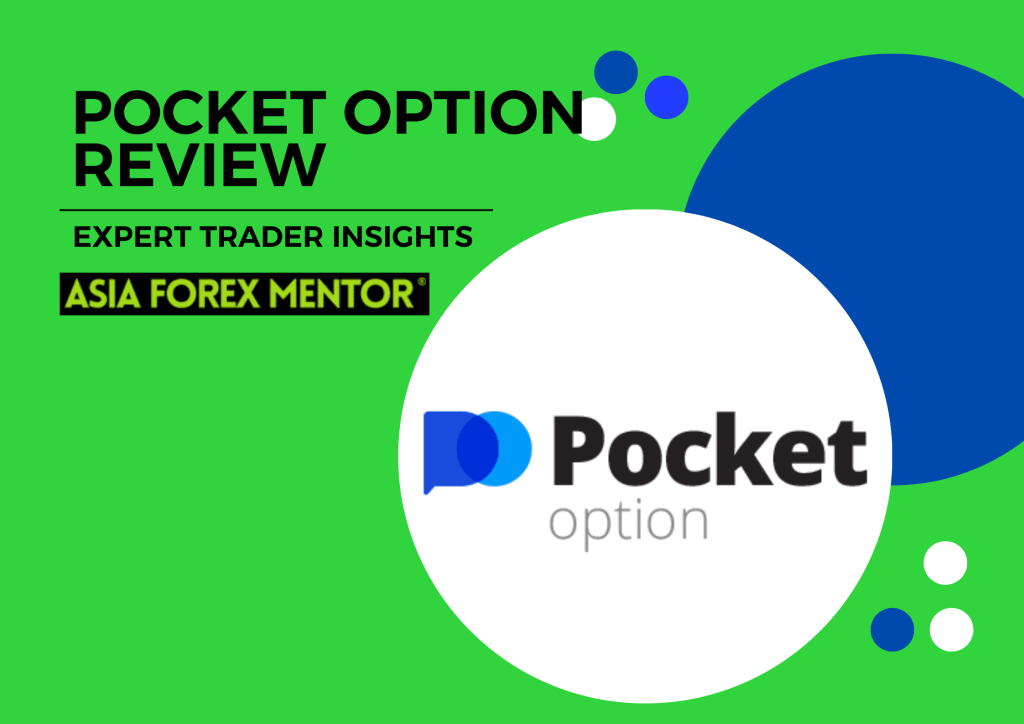 Pocket Option Review
Investment markets have introduced newer assets to assist traders' profitability. Options and derivative securities present a fantastic opportunity to make profits, albeit with additional volatility. Pocket Option has risen in popularity since its inception; its 100+ global offerings allow traders to invest in changing asset markets.
The broker also is appreciated for its social trading platforms that allow traders to earn a passive income by selecting their preferred portfolio. The trading platform has over 4 million users that are vocal about its reviews and offerings.
An options broker needs to be efficient, quick, and supportive for traders' profitability; you must analyze a broker comprehensively before siding with them. Luckily, you don't have to look any further; in this blog, we will take you through a detailed pocket option review, including their benefits, disadvantages, features, pricing, and many more. Let's go!
Asia Forex Mentor Evaluation Criteria
We have been teaching forex markets to traders for several years. Over time, we've realized a trader's profits are as good as their broker. You can only make great profits if your broker has good services. To assist our students, we rank different brokers based on strict criteria to provide valuable suggestions for beginner traders.
Affordability: trading profits are highly dependent on low rates; affordability doesn't only include spreads or commissions, but it also includes withdrawal, deposit, and other fees.
Broker's Efficiency: investment markets are highly volatile, and a good execution rate is a must to score consistent profits. We rate a broker's efficiency on their trading platforms, offerings, execution, and related stats.
Security: licenses and compensation funds provide a good view of a broker's security. It lets you trade in a reliable atmosphere where your funds won't be scammed.
Technical Performance: We review the tools, charts, and indicators available to traders on the platform in order to determine their efficiency
User Interface: Educational resources, videos, and customer support services enable traders to avoid trading complexity and focus their efforts on trading profits. We rate the access to resources and trading platforms to evaluate a trader's overall compatibility.
Our Pocket option review takes you through a detailed analysis of the broker's services and pricing to predict their applicability for you. Our experts have evaluated it in changing market dynamics and use customer reviews to reach a reliable conclusion. You should read the remaining sections to find out more.
What is Pocket Option?

Over time, we have seen friends collaborating to produce the best products; the Gembell group was founded by three friends with a passion for investment and financial markets. The group has been involved in multiple investment endeavors, and PO trade is one of them. It was founded in 2017, and Pocket Option have advanced in multiple markets.
Their primary market includes Indonesia, India, Russia, Ukraine, and Belarus; they haven't ventured into American markets aggressively, but they have a few hundred traders operating from the region. However, as per the website, PO trade doesn't offer its services to EEA countries, including Israel, Uk, the USA, and Japan.
It is essential for traders to select reliable brokers; over the last few years, we have seen various new investors getting scammed at the hands of shady brokers, who complicate the withdrawal process. Therefore, we pay utmost importance to licenses in our evaluation process.
Fortunately, Pocket Option can be trusted for its services; they have obtained several licenses that make them a good option. The company is registered in Saint Vincent and Grenadines and St. Lucia. FMRRC regulates them in Russia and MISA in the middle eastern region; Pocket Option hasn't published substantial information about European licenses.
Pocket Option is involved in the latest financial assets, and their offerings include binary options with different underlying assets. Instead, traders can buy and sell derivative assets, such as CFDs and options based on stocks, crypto, and Forex.
The broker offers over 100 different trading assets, allowing traders to diversify their portfolios. Traders can also start trading with them through a demo account; it comes with over $10000 in virtual currency that can be traded in real-time markets.
For experienced traders, Pocket Option offers trading with low barriers, and traders can enter the markets with as low as $5- each trade must have a minimum value of $1.
Advantages and Disadvantages of Trading with Pocket Option
  Advantages
  Disadvantages

Over 100+ different assets for effective diversification
regulated by MISA and FMRRC
Trade with only $5
50+ payment methods for deposits and withdrawals

No regulations in the European region
Withdrawing funds is complicated
Benefits of Trading with Pocket Option

Every trader enters the market hoping for high profits, and a broker's efficacy is determined by average returns obtained by its traders. Pocket Option has been a user favorite due to its asset assortments; users can trade in over 100 different derivative assets, which helps them make more profits.
The user-intuitive interface lets traders monitor changes in their asset values on their main dashboard; it enables them to determine profitable positions and make higher profits. However, volatility isn't a beginner's friend, and rapid fluctuations cause assets to lose value.
Nonetheless, experienced traders can still use the technical tools to predict changes accurately, while beginners can train to perfection using their demo accounts. Unlike other brokers, Pocket option has a free demo account that can be signed up within a few minutes.
It offers the same trading tools, costs, and profits as a real-time account and helps traders practice their strategies on virtual money before putting their real funds at stake. We always advise professional and new traders to use the demo account to familiarize themselves with the trading platform and adjust to the tools.
Pocket Option's existing users have shown a preference for their social trading tool. The broker has also publicized it actively for its benefits. The social trading tool is helpful for traders who can't invest time in finding the right deals and changing positions.
The social trading feature lets them attach their portfolio to an active trader's strategy and enables changes as per the expert's insights. It helps them generate consistent profits without spending their precious time hunting for good deals. Although we like the social trading feature for passive traders, it comes with risks. You must evaluate the market before signing up for them.
Pocket Option Pros and Cons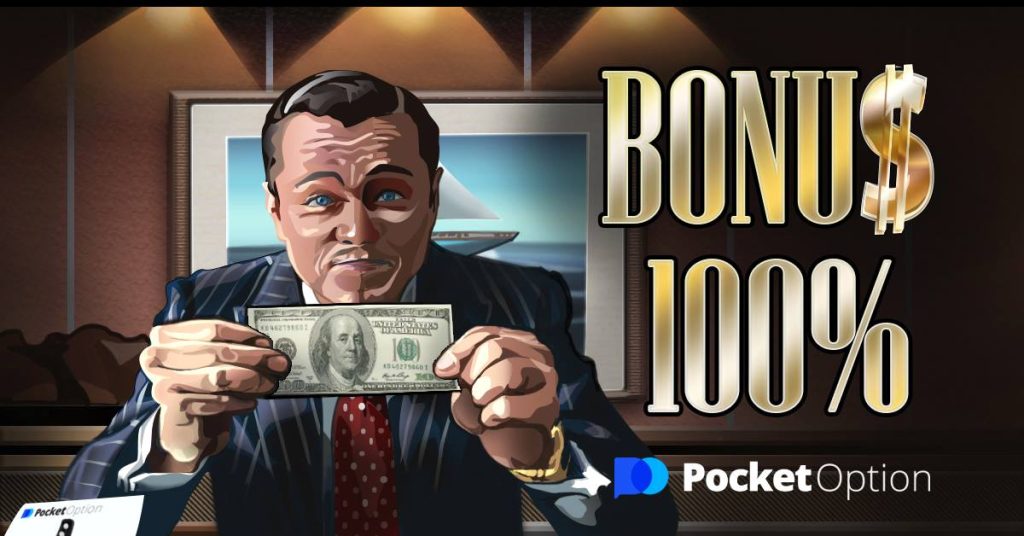 Pros
Intuitive platform for active trader
No commission on deposits and withdrawals
Top-tier trading experience with active tools and indicators
Cashbacks and bonuses for new traders
Cons
complex sign-up procedure and verification
Lack of comprehensive educational resources
Pocket Option Customer Reviews
Customer reviews play a fundamental role in determining a broker's legitimacy, and we ensure to get an objective view regarding a broker before commenting on their efficiency. Overall, Pocket Option has a preferred market position and has achieved market trust over the last few years.
Pocket Option has a 4.1-star rating on Trustpilot with over 85% positive rating. Non-native speakers have preferred Pocket Option due to its excellent customer support system offering services in over 22 languages. They are also commendable in their market news and information that can assist traders in achieving outstanding results.
Pocket option has helped traders achieve great results, and customers appreciate their binary options trading platform in increasing their money.
Some customers also praise pocket options for their reward system; they have numerous schemes for different regional traders that help them make more than their profits. The cashback mechanism is also a great motivator that enhances traders' motivation.
Traders have also received help from Pocket Option's online communities; it engages experts and new traders in the same platform, allowing them to interact and improve their strategies.
However, as for all brokers, Pocket Option isn't perfect. We have received reports regarding their shady withdrawal process, making them an unfavorable option. Users have struggled with receiving their withdrawal, and the process can often extend over 14 days.
Nonetheless, the problems may be regional and subjective to users with authentication barriers. Another problem with Pocket option was its sales representation; some users reportedly received over six daily calls until they signed up. Pocket option must fix these problems to carry a likable position in the industry.
Pocket Option Spreads, Fees, and Commissions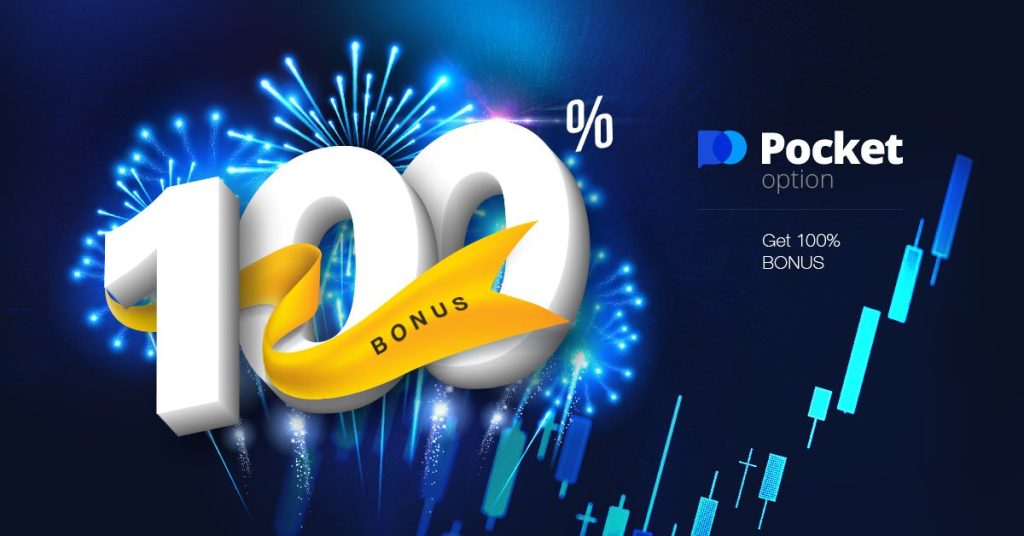 Pocket Option is a binary options trader, and traders can opt for different categories, including stocks, Forex, and crypto. Users don't have to pay a fee upfront for the deposit; instead, they can get up to a 50% welcome bonus after their first investment. Once a trader starts trading, they don't have to pay individual spreads or commissions.
Users get a minimum 50% payout for the trade, but it is in the worst-case scenario. Fortunate traders can enjoy a 218% payout on good trades; on average, you can make between 80 to 100% of your payout.
Their trading conditions are highly favorable, and equivalent trades with other binary options brokers may pay significantly less. The broker claims its withdrawals are also zero-commission; however, traders usually pay about 0.5% of their withdrawal during signing out.
You may wonder how Pocket options make money without any visible transfer. A binary option broker trades against the trader; they bet against a trader's position, and if they win, a trader loses and vice versa. A binary options broker's revenue consists primarily of the difference between what they collect on losing trades and what they give on winning trades.
However, the Pocket Option also offers an MT5 forex trading account; it requires a high minimum deposit but allows you to access the currency exchange market. An MT5 forex market has a floating spread, starting from 1.1 pips, and traders can leverage up to 1: 1000.
Account Types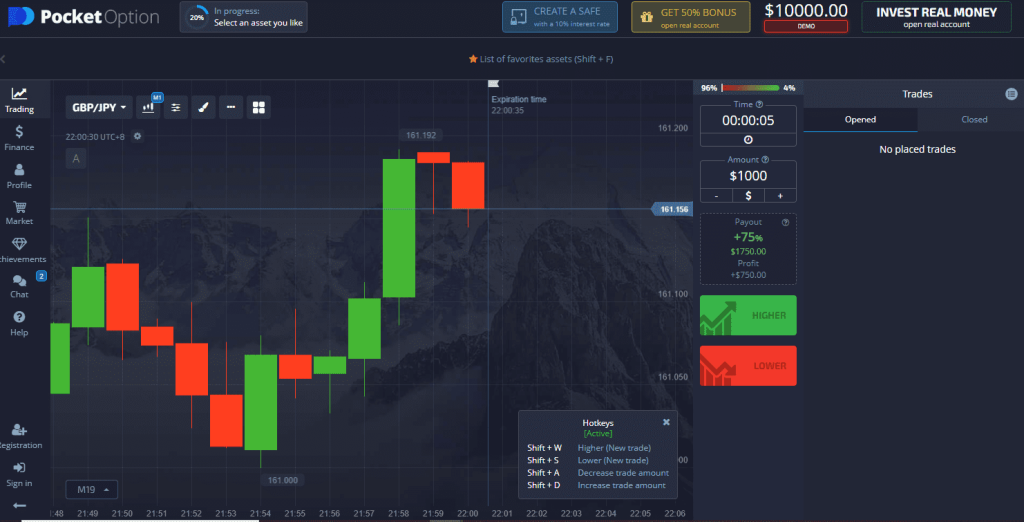 There is no one fit-for-all regarding account types, and Pocket Option has catered to broad audiences with its ingenious account types. Pocket Option offers seven different account types that are designed for different level traders.
Novice
you can open the novice account for $5, and it can only hold a balance of up to $100. It's for new traders who are switching from a demo account.
Beginners
traders usually start with a beginner account with a minimum deposit of $100. The account lets you choose different asset categories for your binary options.
Experienced
the account type requires a minimum deposit of $1000 and provides a 2% higher return on trades. Experienced account holders can also trade with varying positions to benefit from volatility.
Master
it requires a minimum deposit of $5000, and the minimum trade amount is $2000. It raises the profitability by 4% for standard trades, and master accounts get a preference for withdrawals.
Professional
you will need a minimum deposit of $15000 for a professional account; however, it entitles you to a 6% increase in profitability, a personal funds manager, and faster withdrawal speeds than usual. It is suitable for large-capital investors, who require a manager to accommodate their funds.
Expert
the account type comes with a minimum deposit of $50000, and the maximum trade amount is $5000. The expert account provides faster processing speed, exclusive gifts, and binary options market discounts for higher profitability. The account is designed for high-end investors with in-depth knowledge of binary options.
MT5 Forex
it is an extension to an experienced/professional/master/ expert account; the account lets you deal with currency pairs with a leverage of upto 1:1000. It's the only pocket option account to trade in Forex and can be availed with a minimum deposit of $1000.
Apart from the above accounts, Pocket Option also has a demo account. Unlike other brokers, you don't need to sign up before using the demo account; instead, you can simply click on 'free demo' from the main window to experience it. However, you may have to sign up to retain your progress for later.
How To Open Your Account

Pocket option has convincing features, and they can be convincing to sign up with them. Fortunately, the sign-up procedure is smooth, and you can complete it in less than an hour.
You can start by heading to the website; the right window presents a form to register your account. It'll require your email, name, and password to proceed.
Once your account is set up, you'll be directed to the demo account. If ready, you can sign up for a real-time account from the top menu.
You will be asked to select an option from the account types. Once you've selected the type, select your transfer method and proceed.
Next, you will be required to add additional legal information to proceed with the verification process. It'll take about 48 hours to get access to your account.
The process is relatively simple, and we like how pocket options lets traders manage their expectations about the platform before investing real money. It has technical tools and indicators to help you in your journey. The Pocket Option mobile app is also a decent choice to trade on the go, but you should monitor real-time changes on a desktop with indicators.
What Can You Trade on Pocket Option
Pocket option is a trustworthy binary options broker, and its services range across varying underlying assets. The company has over 130 underlying assets that are spread across four categories. It includes Forex, crypto, stocks, and other commodities. The forex portfolio includes popular pairs such as EURUSD, AUDCAD, and EURAUD.
The stock options include Apple, Boeing Company, McDonald's, and Microsoft. The traders can invest in binary options and profit by placing correct trades; Pocket Option offers a base asset (MT5 forex) account. Instead of trading options, the account lets you trade in forex markets with a low spread, starting from 1.1 pips.
The offerings may vary based on your region. We advise traders to evaluate a binary options broker across various aspects before finalizing their selection. You should analyze their regional offerings through customer reviews to better evaluate their services.
Pocket Option Customer Support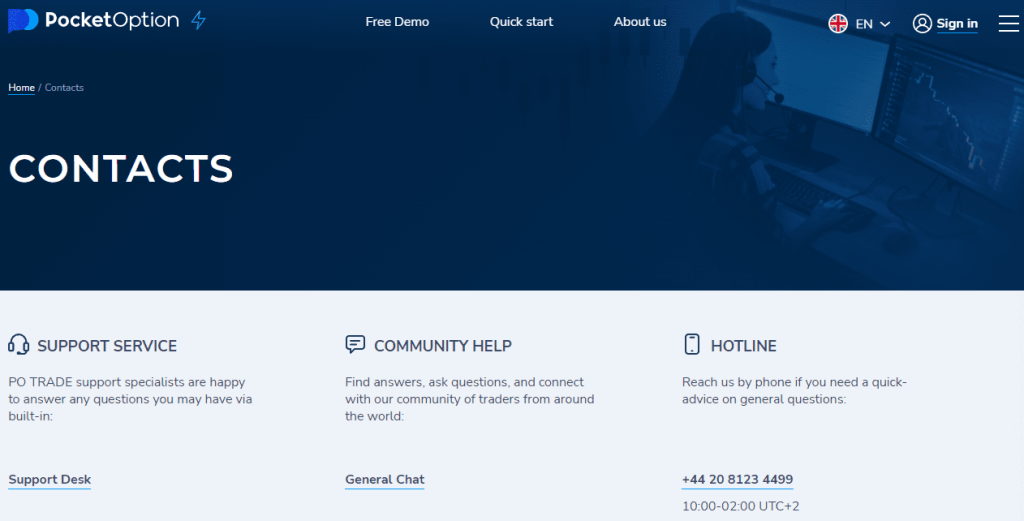 Commendable customer support is one of the many trading advantages gained by pocket option traders. Customer support has received heaps of praise from different users worldwide; trading agents show a commendable grasp of the trading subject, their platforms, and the trading community.
Users can communicate with them through four different mediums; you can access the live chat support through the website, email, call, and social media platforms. Most users have reported a remarkable experience on all social media platforms. We also found their services praise-worthy; the agents have good knowledge of the trading world and can provide actionable insights for quick solutions.
Live chat and phone are the quickest methods to reach the pocket option; it is an excellent tool for receiving a quick response to your query. However, we always advise traders to send an email for a more serious problem; it lets you connect with the concerned person and seek the desired answer. The time delay for an email is usually 2 days, but some receivers may get a prompt reply.
You should also engage on their social media platforms, as they are filled with announcements about modifications to the pocket option platform. They also connect you with existing traders who can provide first-hand information about the broker.
Advantages and Disadvantages of Pocket Option Customer Support
  Advantages

  Disadvantage

Over 22 languages for customer support
Knowledgeable sales staff
Quick response on phone and live chat
72% positive rating amongst existing users

Not available after 6:00 pm on weekdays
service isn't available on weekends
Contacts Table
Contacts
Foundation Date

2017

Registration Address

Ajeltake Road, Ajeltake Island, Majuro, Republic of the Marshall Islands MH 96960

Contacts
Email: support@pocketoption.com
Phone:

+44 20 8123 4499
Security for Investors
  Advantages
  Disadvantages

Regulated by FMRRC and MISA license
Over 1 million users are already affiliated with them
Existing customers rate it 4.1 stars out of 5
A compensation fund is maintained
Upto 10% cashback for customer losses

No credible licenses in Europe
No negative balance protection
Withdrawal Options and Fees
A broker's reliability is determined by the smoothness of the withdrawal process; we have seen many brokers promise unrealistic returns, but the bubble bursts for investors when they fail to withdraw their investments.
Fortunately, we have all the prerequisite information about Pocket option's withdrawal policy, so we can reliably comment on its legitimacy.
The broker offers over 50 withdrawal methods, including Paypal, Binance, Visa, and other popular banks and e-wallets. The broker mentions that it doesn't charge any commission for its withdrawals; however, traders may have to pay taxes deducted upon withdrawal.
Once the withdrawal application is processed, the amount is credited to the receiver's account instantly for e-wallets, but it may take up to 2 days for banks.
Pocket Option publicizes about 1-3 days for a withdrawal to complete; however, the customer experience differs. Usually, the withdrawal procedure takes up to 1 week to complete, which is significantly higher than other brokers.
Some users accuse pocket option of using jargon demands as 'legal requirements' to delay their withdrawals; they were asked to re-submit their documents after they were already verified.
The transfer is made in USD, and banks may provide the exchange rate based on the region. We advise traders to check the exchange rates with their banks, as some banks may provide significantly lower rates than others.
Pocket Option Vs Other Brokers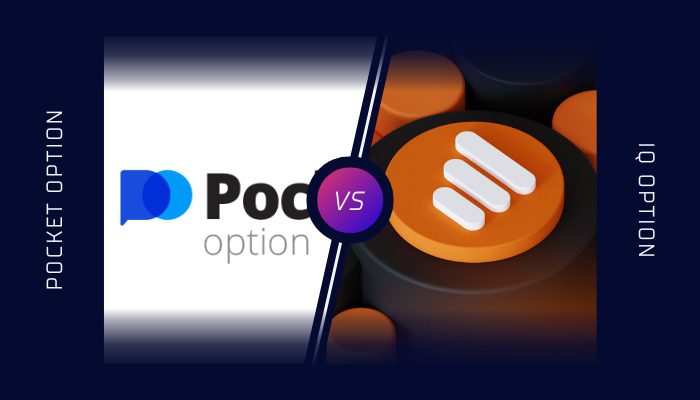 IQ Option is one of the most popular binary options brokers, and they have spread across 130+ countries. They are a direct candidate for traders' selection criteria. Let's start the comparison by their security; the IQ option was launched in 2013 and is located in SVG.
It hasn't obtained any regulatory licenses, but its massive customer base and positive reviews compensate for it. On the contrary, the Pocket option has licenses from FMRRC and MISA that puts them in a better position than the IQ option.
Regarding profitability, the IQ option has the highest payout of 95%, and traders, on average, receive up to 70% in payouts. Comparatively, Pocket option offers a high of 218% payouts that drops to 80% on average trades.
Nonetheless, the IQ option compensates for its lower payout by offering comprehensive educational resources and expert communities that educate traders.
If we look at the trading platforms, the IQ option has a more advanced platform than Pocket Option. Although Pocket Option's trading platform offers all necessary features, the IQ option's platform is suited to more modern needs by accommodating market news, research, and indicators under a single dashboard.
You can open a standard account with IQ option for only $10; although Pocket option's novice account can be opened for $5 only, the account has limited functionality, and traders have to invest at least $100 to access necessary features.
IQ option also takes the lead in asset offerings; they offer over 300+ global assets for their binary options, which is significantly higher than the 130 offered by pocket option. After considering all aspects, we can reliably suggest that the IQ option is more beneficial for traders to achieve long-term profitability.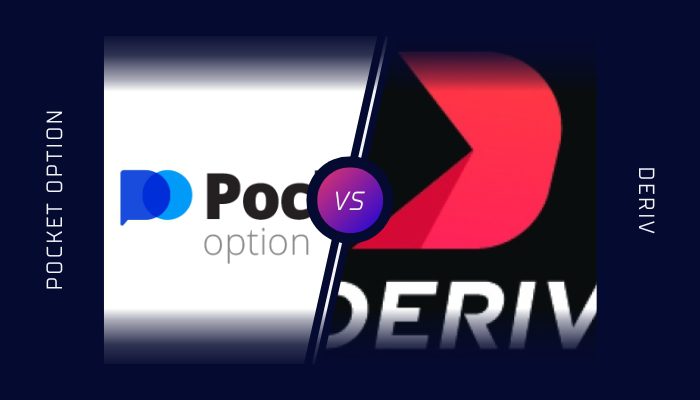 Another close contestant in binary options trading is Deriv, and traders often have difficulty selecting between the two. Let's start the comparison with their most important factor- security. Deriv has over 18 registered locations, and the VFSC and FSA regulate them. Their customer reviews are primarily positive, suggesting a legitimate service.
In comparison, Pocket Option's licenses aren't as accredited as Deriv, and the latter gets an edge in security. However, Pocket option covers back by offering considerable profitability. There aren't many binary options brokers who match pocket option's payout ratio. Deriv's average payouts are 55%, with a high of 100%, significantly less than Pocket option.
We should also compare their asset offerings for a clearer insight. Pocket option offers about 130+ securities as underlying assets, while derivative offers slightly lower at 100+. Deriv's offerings include Forex, stocks, indices, and cryptocurrencies. The categories are ingeniously divided to produce consistent results for the binary options.
The central differential between Pocket option and Deriv is their social trading feature; Pocket Option has attained customer trust by offering a remarkable passive income stream for its investors, where they can simply select multiple portfolios and generate results. In comparison, Deriv's copy trade feature has limited functionality, and traders can't alter it to suit their trading needs.
Overall, we can suggest Pocket Option as a better broker than Deriv; however, Deriv is a good option if Pocket Option isn't available. You should check regional reviews and compatibility before signing up with a broker. A very good trading platform may only be beneficial if a trader is allowed to operate in your region.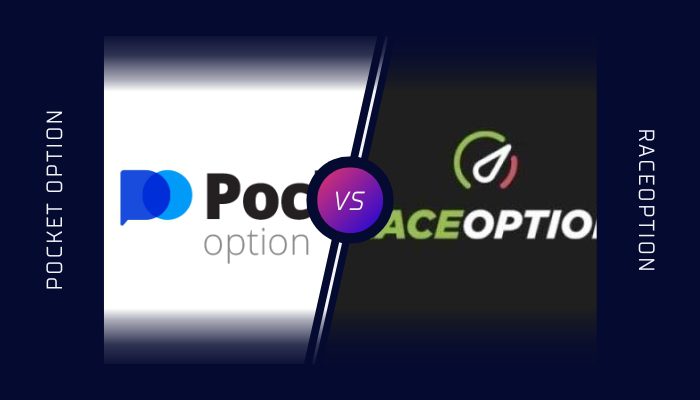 RaceOption is another possible option for a trader, and their growth has been similar to pocket option. They were founded in 2017 and have rapidly expanded into newer markets on African and European continents.
Pocket Option has focused more on the Asian region; hence, traders in respective regions have to check their nation's compatibility before signing up for either. RaceOption hasn't published any information about their licenses or compensation funds, making them a risky alternative for traders. Pocket option is comparatively reliable, and their licenses give them an edge against RaceOption.
From a profit viewpoint, the trading fees for Reception are high. The company charges a 5% commission on withdrawals, and users usually pay up to $10 on every withdrawal. The payouts are set at a maximum of 100%, while they have a mean of 60%.
On the contrary, Pocket Option charges no withdrawal commission, and their payouts are relatively better as well.
RaceOption hasn't received positive remarks regarding their trading platform; many users have commented regarding the rigid interface of the application and lack of functionality.
Users must switch to third-party applications to analyze different trading positions through relevant indicators. Contrarily, Pocket Option has a user-friendly trading platform with the necessary features for hassle-free trading experiences.
However, RaceOption takes the lead against Pocket Option due to its good withdrawal policy. The company offers three accounts, and they have a remarkable withdrawal processing time that pleases investors. PocketOption doesn't have a similar system, and their withdrawals are their only apparent weakness.
Nonetheless, if we take a cumulative view, it can be inferred that Pocket Option is a better option in terms of security, profitability, and tools. Therefore, you should opt for Pocket Option ahead of the RaceOption if the former has a good network in your region.
Conclusion: Pocket Option Review
Pocket Option has made a name for its services over the last few years, and they have risen in our rankings too. We like their asset offerings, customer support services, and high payouts. It is an ideal combination for good profits; the 100+ global asset offerings ensure that the market's volatility can be controlled and traders can enjoy better returns.
Their existing users have also praised the customer service, and it's an essential factor in our favorable view of the broker. Good customer support solves half of the trading problems for a trader and helps them in pursuit of success. Similarly, they offer up to 10% cashback on your losses to reduce the damage.
Nonetheless, it isn't perfect like most other brokers. The withdrawal reviews have been concerning for us. We would appreciate it if the Pocket Option could update the process to speed it up. Similarly, they can also work around their cold-calling strategy to avoid offending uninterested customers.
From our view, Pocket Option is a good choice in terms of ascertaining your profitability and controlling your losses. However, their lack of license in the European region may pose a threat to traders in the region. It is also unavailable in the UK, US, and Japan, so traders from the respective countries should refrain from signing up with them.
Pocket Option Review FAQs
Is Pocket Option legit?
Pocket option is one of the trustworthy binary options brokers; it started its operation in 2017 and catered to over a million customers in 95 different regions. They have amassed a 4.1-star rating on Trustpilot, which speaks volumes for its reliable trading platform and services.
However, we have viewed some complaints regarding their withdrawal procedure that puts a dent in their legitimacy.
Is Pocket Option regulated?
Pocket option website includes detailed information about their licenses to trade binary options. They are registered in Saint Vincent and grenadines; they have obtained trading licenses from FMRRC in Russia and MISA in Saudi Arabia.
However, their services in the European region aren't regulated by a credible body that may act as a threat to existing users from respective regions. The Pocket-option legal debate may continue in the EU for longer.
How reliable is Pocket option?
Pocket option was founded in 2017 and has emerged as a reliable company with no hidden trading fees and charges. The trading signals are fairly reliable, but they may counteract your prediction. Pocket option also has a seamless interface for its application with one of the best trading platforms in the industry.
However, the only con about their reliability is the recent accusations of 'delayed withdrawals.' If the accusations are true, they must be sorted with urgency; if they aren't, Pocket option should come to the public to explain their claims.