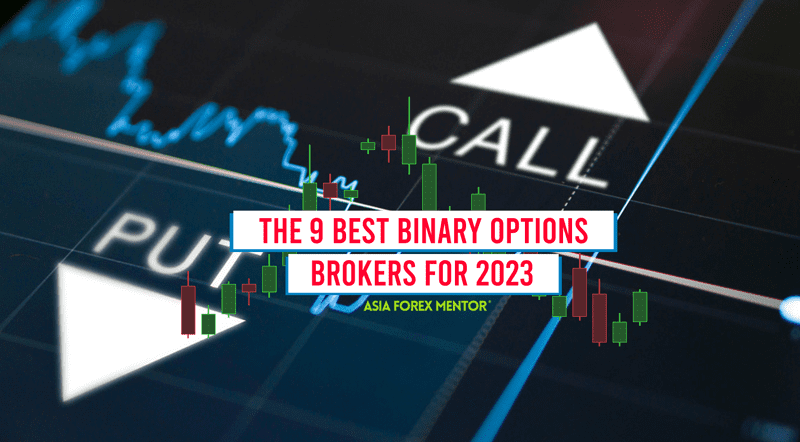 A binary option is considered a derivative financial instrument in which traders do not actually buy or sell an asset but only speculate the future price movement of an underlying asset with a "yes or no" for a fixed price. Consequently, Traders rely on a proficient trading platform for binary options trading. As most of these platforms are not regulated, it is essential to choose the Best Binary Options Brokers to do successful binary options trading.
As unregulated online brokers for binary options are not restricted to following any rules and regulations, there are bound to be fraudulent companies that try to manipulate the traders. In such a scenario, it is vital to critically evaluate any trading platform before making investment decisions. Thus, one should keep in mind that the right binary options broker will go great in the way of making trading favorable and practical.
In this review, we have compiled a list with relevant information on the best binary options brokers to assist traders and investors in choosing the most appropriate and effective broker for themselves. Moreover, each broker is evaluated based on standardized criteria, customer reviews, and other additional characteristics to provide an unbiased analysis for the users.
Best Binary Options Brokers: What are Binary Options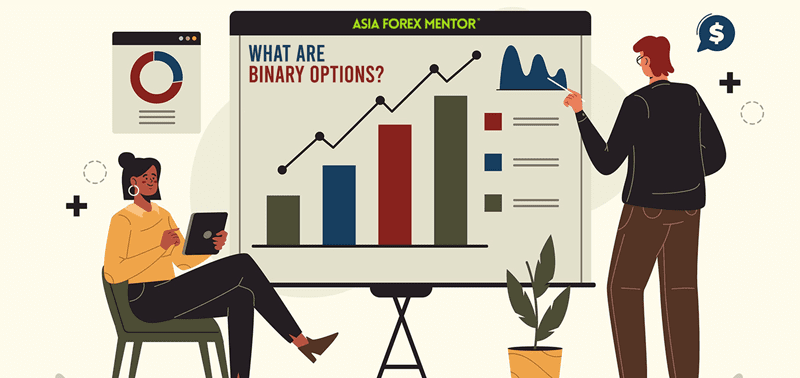 In Binary options trading, the traders have no power to buy or sell an asset, but they only have to place a bet on the price movement of their chosen underlying asset. Since the term "Binary" is used, it indicates that the trader only has two choices: putting money on the fall of price in the near future or on the price hikes.
Consequently, if the trader is correct in his speculation and the price movement goes in favor of the trader's bet, they will earn the fixed amount for successfully trading the binary options. In contrast, if the price movement is against the trader's bet, the invested money will be lost.
A prerequisite of Binary options is that it always comes with an expiration. If the price moves in favor of the trader, it should be on the right end of the strike price at the expiry. Only then will the trader earn profits. If the price moves in the opposite direction during the expiry, the trader will lose money that was invested in the binary option. In any case, the trader has to wait till the expiration date to use the binary option.
As trading Binary options is comparatively uncomplicated and straightforward trading where the trader only has to place a bet. However, all the emphasis of this trading process is laid on the correct price speculation of the trader. For this reason, an effective binary option broker is essential for trading binary options effectively.
Moreover, it is also a fact that binary options brokers are not regulated; therefore, there are more instances of fraud and scams. As a result, choosing the right binary options broker is a difficult task. Nonetheless, we have made this job easier for you by narrowing down the list of the best binary options brokers and evaluating them rigorously to compile the top-tier brokers to choose from.
9 Best Binary Options Brokers
Best Binary Options Brokers

In our list of Best Binary brokers, IQ option is placed in the first spot due to many advantages; however, its main advantage is its versatility as a binary options broker. Traders and investors who are trading with IQ option is not restricted to just trading binary options. Still, there is also excess to more than 200 assets in different financial markets like CFDs, stocks, indices, cryptocurrencies, and even commodities. Such a wide range of trading instruments are not available on other trading platforms. Therefore, we rate IQ option as our top pick.
In the trading process, financial experts always advise you not to put all your eggs in one basket. This means that a trader should have a diversified portfolio with investments in multiple underlying assets, which can be done conveniently through the IQ option platform.
Another characteristic of IQ option that keeps it apart from its counterparts is its affiliation with more than 40 million customers worldwide and regulation under CySEC. Moreover, all the required features of an effective binary options trading platform are also present in IQ option, including affordability, variety of assets, trading platform, order execution, customer support, risk management, and trading tools.
Be it features like negative balance protection, stop loss, or technical indicators and widgets, IQ Option has got you covered. In addition to this, the IQ option platform is user-friendly so that even novice traders can be comfortable while trading on this platform. Consequently, it's a win-win situation for everyone.
Pros
Optimization of customer portfolio
Low minimum deposit rate
24/7 customer support
Appropriate tools and educational material
Cons
High commission rates
Regional limitations for specific countries
IQ Option Customer Reviews
The reviews of IQ option is also positive from most customers. The feedback includes appreciation for the IQ option platform in terms of its withdrawal process, user-friendly interface, prompt customer service, and, most importantly, tight spreads with high leverage.
Nonetheless, there was also a negative response from the customers regarding the platform, such as high commission rate, prolonged verification, and withdrawal process. In any case, it is important to note that all binary options trading platforms will have some flaws as they are not regulated by any financial services board. Therefore, the competition between these binary options brokers is between the better service providers, as there is no such thing as a perfect binary options broker.
IQ Option Commission & Fees
IQ option do not charge any commission specifically on binary options trading and on digital options. Even when any competitors of IQ option charge a handful fee, this broker has other means to earn income. Thus, we can claim IQ option as a cost-effective broker.
Moreover, there is no deposit fee on IQ option; however, customers are bound to pay the minimum deposit amount of $10 before doing any binary options trading on this platform. Similarly, users can also skip withdrawal charges if they use e-wallets and other online payment methods such as Advcash, Perfectmoney, master, and visa cards.
As far as other fees are concerned, an account inactivity fee is charged for users who keep their accounts dormant for ninety days. The inactivity fee is $10, which is charged each month during the inactive account duration.

The Pocket Option is an equally effective binary options trading platform as IQ option with productive trading tools, a wide range of trading instruments, multilingual customer support, an advanced trading platform, and a simple and user-friendly interface. Along with these features, the cost-effective trading services and regulation from the International Financial Market Relations Regulation Center (IFMRRC) make Pocket Option the second-best binary options broker in our list.
The Pocket Option lacks from IQ options because it requires a higher minimum deposit of $50 compared to the four times lower requirement of $10. Similarly, Pocket Option also provide a lower leverage rate of 1:100 whereas IQ option customers get a 1:500 leverage. Moreover, the minimum investment amount for IQ option is $1 and thee is no withdrawal limit, whereas for the Pocket option, minium investment is $5 and minimum withdrawal is $10.
Another trading feature of Pocket Options is that users have access to social trading through which they can copy the trading strategies of other successful traders. This is also ideal for passive traders who want to earn easy money by copying the most profitable trades. Moreover, traders can also benefit through the bonus and replenishment programs that are offered by this Pocket Option, only at a minimal deposit of $5 and zero commission policy.
Pros
Affordable Binary options trading
Easy sign-up process
Popular widgets, indicators, and trading signals
cashbacks and bonuses
Cons
High deposit on MT5
lower leverage
Pocket Option Customer Reviews
When we analyzed the reviews of the customers, we found some mixed perspectives. However, the positive feedback overall had more weightage than the negative one. On the bright side, customers appreciated the multi-lingual supported platform, promo customer service, reliability, and protection of funds. In addition to this, most commonly, users applauded the Pocket option's cashback and bonus offers which helped them to cover any losses.
Counter to this, there was some negative feedback also regarding the customer sales representatives of Pocket option, who are supposedly quite insistent on opening an account on their platform. This can be troublesome for customers. However, we cannot degrade the entire platform and its trading services based on this review.
Pocket Option Commission & Fees
Pocket Option does not charge any commission on trading Binary options on their platform. The only spread that is charged is at 1.1 pips on MT5 accounts. Other than this, there are no additional commissions or charges on Pocket options, making it a low-cost platform.
As far as deposit and withdrawal charges are concerned, there are also no charges for these transactions. However, bank transfers and Perfect money has an additional charge of 0.5%, Similarly, unlike many other brokers, Pocket option also provide swap-free accounts for all users without making any changes to their account or paying any extra fee.
All in all, the factor of affordability also makes Pocket option a good choice for customers, and it is also one of the reasons for picking it in the list of the best Binary trading platforms.

RaceOption is yet another binary options platform that has made its way into our best binary broker list due to its effective trading services in both the classic trading of instruments and binary options trading. As a result, customers of RaceOption can have a balanced portfolio to manage their investments efficiently. Nonetheless, this broker is not regulated by any known financial regulatory authority.
Moreover, the highlight of RaceOption is its inducement offers which make the broker more enticing for the traders. There are multiple bonus and reward offers for first-timers and regular customers of RaceOption, which encourages the customers to make investments and supports them in covering their losses to a certain extent.
Just like IQ options and Pocket option, RaceOption also has copy trading accessibility for its customers. This enables new traders who are untrained to earn by copying the successful trading strategies of their peers and also allows users to earn passive income without much effort. In addition, RaceOption is also known for its round-the-clock customer support, which is also available during the weekends. Moreover, it also claims to process fast withdrawals within 60 minutes.
Pros
Contests, bonuses, Cashbacks
First three risk-free trades
Zero account maintenance commission
24/7 customer support
Cons
5% on credit and debit cards
Unregulated broker
RaceOption Customer Reviews
The reviews from the customers depict a rough picture of RaceOption. According to some users, the withdrawal process of Raceoption is not as fast and smooth as the broker claims on its website. In fact, some customers even complained about not reviewing their payouts even after 2 months without any support team feedback.
Moreover, one customer also claimed that the broker is offering a 100% bonus rather than letting him cash out his profits. In any case, the reviews certainly put a question mark on the withdrawal process of RaceOption.
However, it should also be kept in mind that these reviews are not totally trustworthy, as some are also biased and made up. There were also positive reviews that encouraged other users to invest with RaceOption and also suggested trying the broker before making any assumptions regarding this platform.
RaceOption Commission & Fees
Just like its competitors in the financial market, RaceOption also provides commendable trading services to its customers on a zero-commission policy. Therefore, there is no commission on maintenance and trading services on this platform. However, the initial deposit requirement on this platform is $ 250.
Other than this, there are no additional charges for withdrawals and deposits. All online payments and e-wallet payment options are free of charge; however, there is a 5% commission on visa and master card transactions.
The swap or overnight charges of RaceOption are 0.7%. Other than this, there are no hidden or additional charges for binary options trading. Traders who trade crypto CFDs on leverage amount are charged 5%, whereas, on other funds, there is a commission of 1% to 2.5%.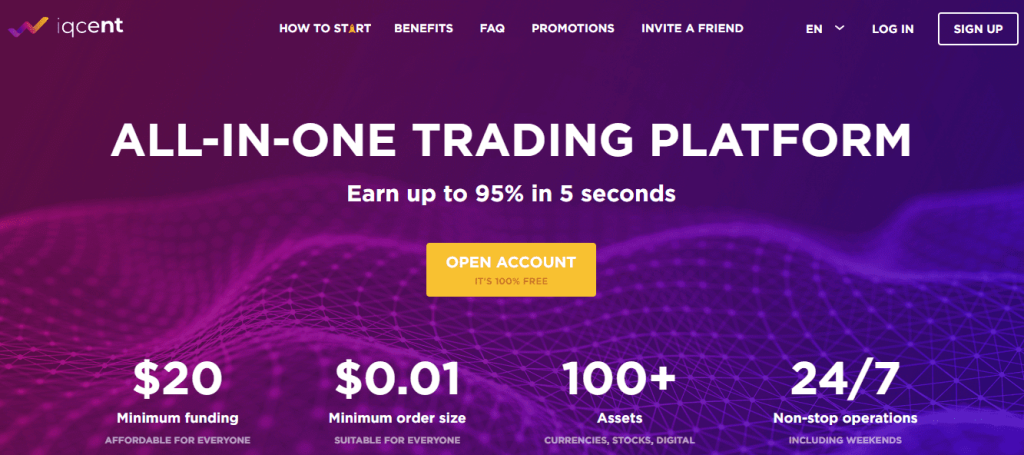 IQCent is another binary trading platform that offers around 100 asset classes to customers for trading, including binary options trade. IQCent became part of our Best binary broker list with its trading features of segregated fund accounts and withdrawal options in crypto-wallets.
IQCent is not among the regulated binary options brokers; therefore, we cannot be sure of its overall performance as a trading platform. However, from the analysis of its website, customer reviews, and platform layout, we can gauge that there are customers who are affiliated with this broker and are also making profits.
IQCent's strength is its 24/7 customer support, which is also available at the weekends. Moreover, IQCent offers services to customers across the globe; therefore, there are in-built translators even in the live chat box for the convenience of the users. Furthermore, this trading platform also offers multiple bonuses, contests, and attractive rewards to tempt customers into opening an account on the IQCent platform.
Traders can choose from three account types on the IQCent platform by depositing a minimal amount of $20. The leverage that this binary options broker provide is of 1:500 with a zero commission rate. On the downside, there are no educational materials available on this platform. Similarly, the advanced trading terminals of MT4 and MT5 are also not offered.
Pros
100 plus trading assets
24/7 customer support
Bonuses and rewards
Copy trading
Cons
Metatrader not available
Not a regulated broker
IQCent Customer Reviews
Even when IQCent is among the regulated binary options brokers, the reviews of the customers are categorically favorable for this firm. The most common comment among all the reviews was the commendable customer service of this trading platform. The fast and detailed reply to emails, 24/7 live chat box, and responsive customer service are appreciated by even those customers who had problems with the firm. Similarly, the simple and uncomplicated user interface was also liked by new traders.
In contrast, the slow withdrawal process, even after the claims of a 60-minute withdrawal process, was criticized by most traders on board. Additionally, some new customers struggled with a lack of a platform guide regarding how to trade binary options.
IQCent Commission & Fees
Like all binary options brokers in our list, IQCent does not have any account maintenance commission, withdrawal, or deposit fees. However, the minimum deposit amount is slightly higher than some brokers that is $ 20 with a minimum trade size of 0.01%
There is no commission for binary options trading; however, for Crypto CFDs, there is a carrying commission from 1% to 2.5 % on own funds and 5% from leverage funds with floating spreads. Other than this, no hidden or additional charges were observed on the IQCent platform.
There are no withdrawal or deposit charges; however, a 5% fee is charged on transactions made from VISA and Mastercards. Moreover, there are no broker charges in bank transfers, but third-party fees may apply for up to 5%.
#5. Deriv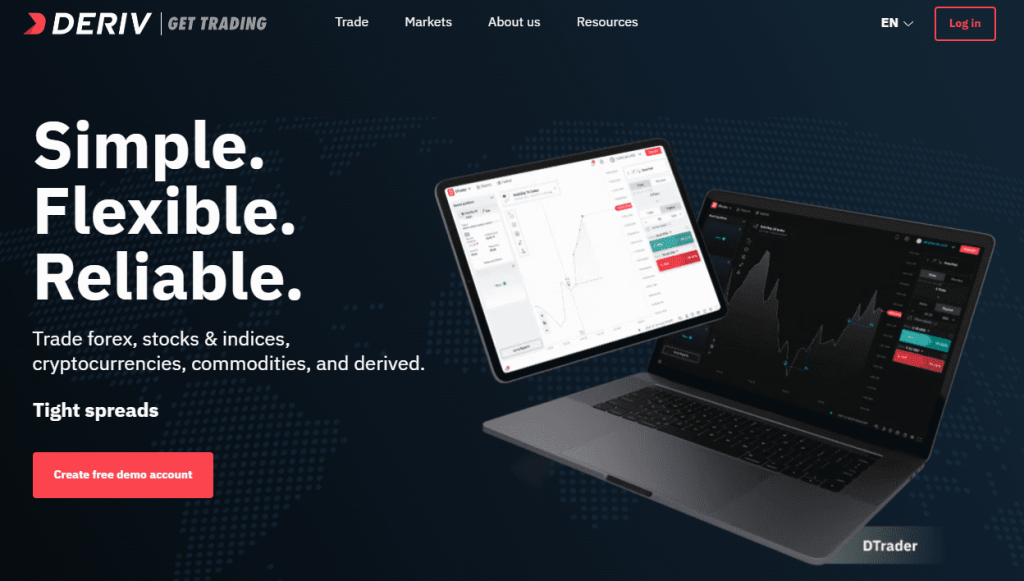 Deriv is another Binary options trading platform that provides all the essential trading features and services. However, the main characteristic of Deriv is its wide range of 8 different trading platforms, including Deriv GO, Deriv MT5, D Trader, Deriv X, D Bot, Smart Trader, Binary Bot, and API. This feature allows traders to choose the platform best suited to their trading needs. As a result, we have included Deriv in our best binary brokers list.
Deriv has been providing trading services since 2000, and the objective of Deriv is to provide the best trading experience to customers at reasonable rates. Therefore, Deriv also provides the highest leverage in the market of 1:100 with zero account maintenance charges. On the downside, not all customers can trade with this platform as many countries, including the US, Malaysia, Hong Kong, Israel, and others, are exclusive to these services.
Like all the platforms in this list, Deriv also provides trading services in more than 100 asset classes, including Forex trading, indices, commodities, and binary trading. Moreover, Deriv is also a regulated broker holding license from UK Financial Conduct Authority (FCA), Vanuatu Financial Services Commission (VFSC), Malta, and Labuan Financial Services Authority (MFSA and Labuan FSA).
Pros
Experienced Broker
Regulated and Licensed
Multiple trading terminals
Affordable
Cons
Restricted to limited regions
Poor Customer Support
Deriv Customer Reviews
The customer reviews of Deriv have been mostly positive, as the users have liked this platform's simple and easy-to-use interface. However, these reviews surfaced some issues that we face with the clients. For instance, some clients complained about the absence of a swap-free or Islamic account, which many customers require.
Moreover, one review also mentioned that even though Deriv offers multiple payment options, there are technical flaws as the payment process for withdrawal is slower than expected. All in all, there are no major concerns of customers regarding this binary trading platform, and the performance of the broker is satisfactory
Deriv Commission & Fees
As Deriv has a low-cost trading approach, the minimum deposit amount for opening an account is not fixed and can be as low as zero, up to $5, depending on the deposit method. Moreover, there are no maintenance charges for the account or any additional fees on deposits or withdrawals.
There is a fee of $25 on inactive accounts for more than a year, and $1 will be deducted from accounts that are dormant for a month on a monthly basis. Other than this, there are no other fee or charges that the broker applies.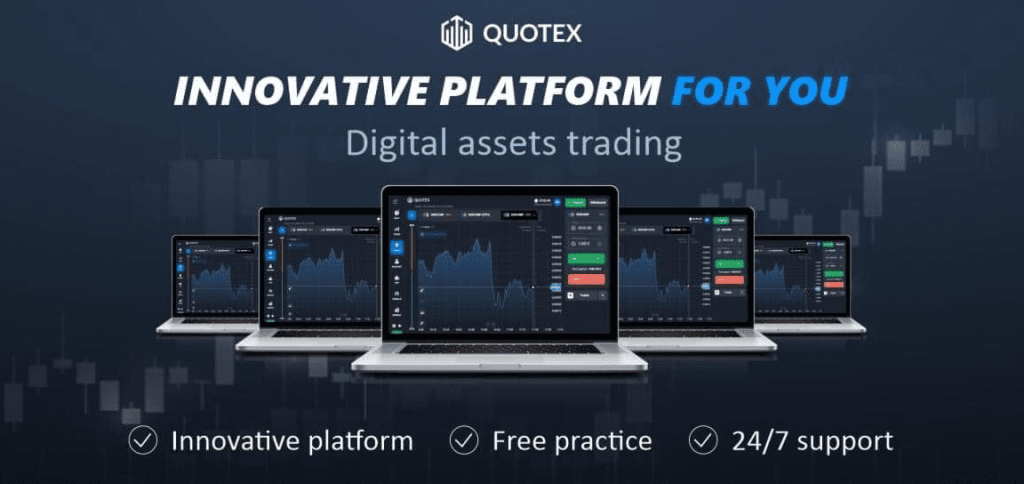 Quotex also shares the space of the best binary options brokers as it provides cost-effective trading services in 40 asset classes, including forex, indices, commodities, cryptocurrencies, and binary options. The user interface of Quotex is simple, with multiple market indicators. Similarly, Quotex with all its features, bonuses, rewards, and a maximum payout of 90%, becomes a part of our best binary trading platform list.
Quotex is a newly established brokerage platform that also allows customers to trade in binary options. Quotex was a regulated platform by IFMRCC (International Financial Market Relations Regulation Center); however, its license expired in 2021. The performance of this firm can be calculated by the fact that it already has 2.8 million registered traders, even though it has been a new firm operating since 2020.
Quotex offers its trading services in more than 20 languages to connect customers worldwide. Moreover, the customer support of Quotex is available 24/7, even on weekends, with chat, email, and social media options. In addition, a two-step verification process is followed for the safety and protection of user funds.
Pros
Low-cost trading
Multilingual customer support
Low minimum trade size
Two-step verification
Cons
Quotex Customer Reviews
The positive customer reviews of Quotex included fast order executions, bonuses, quick payouts, and, most importantly, a responsive customer support team. Moreover, the clients praised the demo account with virtual currency for new traders to practice and familiarize themselves with the platform.
On the flip side, some traders and investors found it disturbing for a binary options broker to not provide leverage to its customers when all other binary trading firms have this feature. Similarly, the range of assets is also 40, which is considered limited by customers compared to other brokers who offer at least 100 plus trading instruments to clients.
Quotex Commission & Fees
Quotex is quite competitive when it comes to commission and fees with other brokers. The minimum initial deposit requirement is $10, and the minimum investment is as low as $1. The maximum trade amount is $1000 with up to 95% yield. Moreover, there is no commission fee for trading, withdrawal, deposit, and account maintenance.
There are multiple withdrawal methods, and the broker charges no extra fee for withdrawals; however, third-party charges may apply. Along with this, like another broker, there is also no inactivity fee, overnight fee, etc., that is mentioned on the website. Moreover, this binary trading platform has no hidden or additional charges.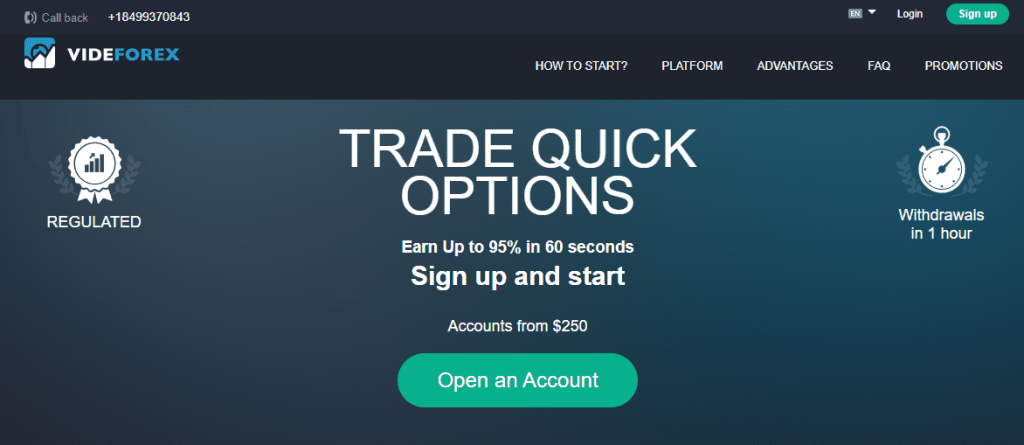 VideForex is a relatively new brokerage platform offering services in more than 100 trading instruments, including forex and binary options trading. The best part about VideForex is that it is a broker that caters to both new and experienced traders. With its copy trading features and demo account, even novice customers can easily start trading binary options. Also, incentives like the first three risk-free trade encourage reluctant traders. All of this makes VideForex our choice among the leading binary options brokers.
Any international security commission does not regulate VideForex. Still, it holds a license from The Financial Group Corporation (FGC), which is a private regulatory company and does not hold much reputation. Moreover, VideForex offers trading facilities in forex, indices, metals, commodities, and Binary options. Also, there are some welcome bonuses, rewards, and contests for traders to earn extra profits.
Other features of VideForex include a high leverage of 1:500, round-the-clock customer service even on weekends, and fast order executions. Moreover, the users also have the facility of multiple funding methods, be it online payment methods or digital currencies. All in all, almost all relevant trading features are available on the VideForx platform.
Pros
Low minimum investment requirement
Trading bonuses and contests
Fast order execution
24/7 customer support
Cons
Lack of trading tools
No educational resources
VideForex Customer Reviews
There are mixed opinions about VideForex as far as customer reviews are concerned. Customers who are affiliated with this broker affirm that they had a good experience, including effective trading services and fast withdrawals, and never faced any real issues. Similarly, the reviews also suggested that their past experience with the firm was great; however, they are currently struggling with withdrawal problems.
On the negative side, the clients claim that the customer service team of this broker is unprofessional and sometimes also misleads the customers. Moreover, they also faced difficulties in cashing out their profits. Overall, no negative reviews were observed regarding the trading services or the platform.
VideForex Commission & Fees
The commission rates of VideForex are ambiguous as there is no clear cut-down of prices on their website. The only mention is that they charge a low commission fee through floating spreads which varies according to the assets traded. In this regard, it is unclear if the commission rates are high or low compared to other online binary options brokers.
Other than this, the minimum deposit amount of $250 at VideForex is also quite high than many other brokers. Such an amount makes inexperienced and low-budget traders reluctant to invest with this broker. Therefore we can say that VideForex is not a cost-effective platform.
Besides the high initial rate, this platform has no other fees or charges. Also, there is no extra withdrawal or funding fee; however, the broker charges a 5% transfer fee on visa and master cards; therefore, traders would prefer other online payment options and e-wallets for deposits and withdrawals of funds.

Binarycent is an average broker which has been providing services in the financial market since 2015. The major advantage of Binarycent is that it offers a zero minimum investment requirement on a high-profit margin of 80 to 90%. This is an ideal trading condition for any kind of trader or investor, so we have rated Binarycent among the leading binary options brokers.
Even when this broker is not regulated by any financial commission, the trading features and services of Binarycent are quite satisfactory. Furthermore, when it comes to affordability, we can say that Binarycent is not for low-budget traders, as the minimum deposit requirement of this platform is $250. However, this flaw is compensated by a no-limit minimum investment feature which is alluring for traders.
Another drawback for Binarycent is the platform's lack of educational resources and training materials. This makes the trading path of binary options traders more troublesome. Regardless of this, the broker has a very simple and user-friendly interface that is not complicated to understand.
Pros
High returns
No minimum investment requirement
user-friendly interface
Copy trading
Cons
High initial deposit
No educational resources
BinaryCent Customer Reviews
The customer reviews of Binarycent are all favorable for the firm. The feedback suggests that the client enjoys the bonuses and rewards offered by the platform, and the firm has successfully tempted the customer with these incentives. Moreover, the first three risks of free trade are also something that traders highly appreciate.
Along with this, the customer support team of Binarycent is also rated as responsive and prompt in its services. Similarly, the traders also acknowledged the significance of charts and other trading tools which are available on the Binarycent platform.
In contrast, some binary options traders complained about delayed withdrawals, which is a common issue among most brokers. However, the clients claim that there are no other major issues with the trading services of this broker.
BinaryCent Commission & Fees
The commission applied by the Binarycent platform on the trading services is not fixed and varies according to the trading instrument. However, it is observed that Binarycent has a higher commission rate compared to other binary options platforms.
During withdrawals and deposits of funds, Binarycent does not charge any commissions. However, traders using master and VISA cards would have to pay an additional fee of 5%. Moreover, the broker's commission on swap trades is 0.7%. Other than this, there are also no inactivity charges or any other hidden charges on this platform.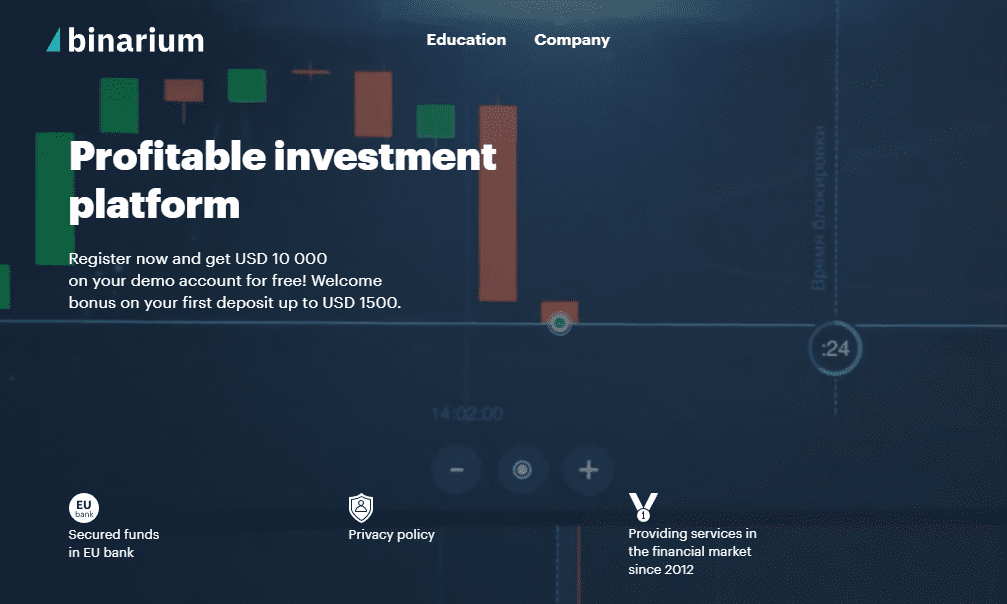 Binarium is a decent brokerage platform for Binary options trade. Mostly, all brokers aim to put up all the trading features on their platform to make it a one-stop shop for all the customers' trading needs. However, Binarium has a different approach, and it seems to target novice traders with its simple interface, limited features, no leverage, copy trading options, and minimal trading cost. Hence, due to its straightforward trading approach, we have included Binarium in our Best Binary Brokers list.
Binarium was introduced in the year 2012 as a brokerage platform and has made its place in the financial market even when it is not a regulated firm. However, the client's funds are kept in segregated accounts, indicating the protection and security of the trader's investments. Also, the verification process of funds transfer also has a strong protocol that is in favor of their clients.
Since the main focus of the broker is on the new trader, Binarium offers a limited selection of trading instruments and risk-free trading options. These include promos for initial risk-free trades, trade insurance with full or partial funds compensations, copy trading without additional charges, no leverage, and, most importantly, low-cost trading.
Pros
Segregated fund accounts
Risk-free trading options
Low minimum deposits
Trade insurance
Cons
Not regulated
Limited trading assets
Binarium Customer Reviews
The customer reviews of Binarium are good as well as bad. Some feedback suggested that Binarium is a good platform for those who know how to trade, speculate on market conditions, and place their bets successfully. However, the platform does not provide any resources to help the clients in meeting their targets.
The worst feedback was that the users couldn't retrieve their money from the platform and had to refer to a recovery expert to withdraw money. Similarly, the negative comments also included people criticizing the requirement of showing passports for verification.
Binarium Commission & Fees
Binarium is a low-cost trading platform; therefore, this broker's commissions are also minimal, with a minimum deposit requirement of $10. The spreads range from 1% and vary depending on the trading instrument; however, overall, the commission rate of Binarium is low.
On withdrawals and deposits, there are no additional fees or charges on any payment methods; however, third-party charges will be applied. However, if the withdrawal amount is very low, then the broker holds the right not to pay the withdrawal commission of the trader and charge a small fee. Other than this, this platform has no hidden or additional charges.
How to Choose the Best Binary Options Broker?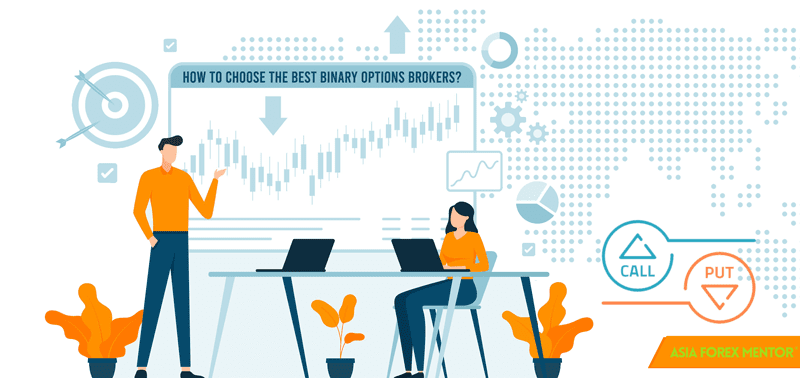 Binary Options trading is not a common form of online trading because it is considered to be risky. Therefore, to trade binary options, one has to be ready for both profits as well as major losses. For this reason, it is vital for traders to have the support of a reliable binary options trading broker. However, choosing the best proprietary trading platform is a tough job keeping in mind the countless options available online, each claiming to be the best.
Some important points to keep in mind before choosing a binary options platform are the security of funds, affordability, the efficiency of the trading platform, technical assistance, and, most importantly, customer service. It is possible that one broker may not have all of these elements. However, traders should try not to compromise on these characteristics.
Another way of making sure to choose the best binary options broker is to look for brokers that are regulated by international financial regulatory authorities. However, very few brokers are regulated by Commodity Futures Trading Commission CFTC and so the second option is to go for regulated brokers by private financial commissions. These regulatory bodies ensures and scrutinizes the quality of services and protects the data and funds of users and the brokers are bound to comply.
How Do We Rank the Best Binary Options?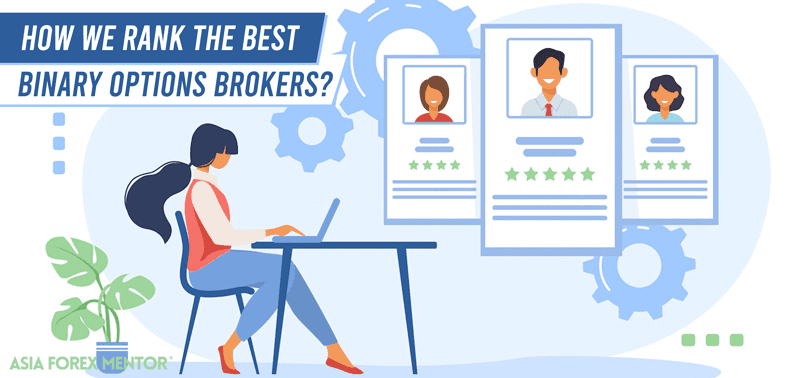 We have provided you with all the relevant information related to the Best Binary Brokers that are available in the online financial market. However, the question arises of how we gathered this information and ranked the brokers.
The answer to this question is that we at Asia Forex Mentor as only one objective to provide a credible source of information to all traders and investors so that they can make their investment decisions effectively.
For this reason, we evaluate each broker through various sources separately and then come up with conclusions after thoroughly examining the firm. Moreover, we also have set criteria of evaluation, where each broker is assessed through the parameters of the standard criteria including the following points
a. Affordability
b. Broker Efficiency
c. Security
d. Technical Performance
e. User Interface
After studying each broker based on these criteria, we ranked the brokers in order of the top broker meeting the most points of the above-mentioned criteria and the 9th broker reaching the least to the criterion. Therefore, traders can undoubtedly rely on this information and make informed trading decisions themselves.
Conclusion: Best Binary Options Broker
Binary Options trading is simple as it involves a yes or no decision from the trader keeping in mind the market volatility and price action of any underlying asset. Simultaneously, Binary options are also the riskiest trading asset in the financial market, as one wrong move of the trader can cost a fortune of a lifetime. Fo this reason, it is significant for individuals who want to trade Binary options to look for the best binary options brokers.
As not all trading platforms provide brokerage services in Binary options, therefore, traders are left with brokers who have binary options trading platforms. On top of this, most of these binary options are not regulated by reputable international regulatory authorities such as the Commodity Futures Trading Commission (CFTC). In fact, there are only four to five such brokers who work under the CFTC, whereas others are either unregulated or licensed through some private financial commission companies.
The major drawback of unregulated firms is that they are not answerable to anyone for their services and many platforms are just scammers and fraudulent companies. In such a scenario, traders need to be extra careful regarding their selection of a broker.
The important things to consider while choosing a reliable binary options broker are cost-efficiency, security, technical assistance, effective trading tools, and, most importantly, prompt customer service. Not all these factors will be present in one broker; however, the compilation of the best binary options brokers that we have provided above is a reliable source to initiate your binary options journey.
Best Binary Options Brokers FAQs

Are Binary Options Regulated?
Four to five authentically regulated firms in the U.S. are regulated by the Commodity Futures Trading Commission (CFTC). Other than this, all binary options brokers are either licensed by private financial industry regulatory authorities such as Cyprus Securities and Exchange Commission (CySEC), Financial Conduct Authority (FCA), The Financial Group Corporation (FGC), International Financial Market Relations Regulation Center(IFMRRC), etc. In contrast, others are not regulated at all.
Is Binary option Risky?
Yes, Binary options are considered to be the riskiest trading instruments as the traders have to bet on either a yes or a no contract on whether or not the price of a particular underlying asset will increase or decrease within the set expiration date. As a result, traders have to be good at market speculation and can predict future prices. Any wrong calculation can lead to massive financial losses.
How do Binary Options Brokers Make Money?
Traders and investors make money in Binary options by using technical and analytical tools to evaluate the accurate price movement of any underlying asset. When a trader makes the correct analysis, they are in a position to place a bet with the assurance of whether the price will rise or fall from the strike rate at the time of expiration. This accurate estimation results in massive profits for the trader.
However, it should also be kept in mind that any wrong calculations of the price action can also lead to major losses.