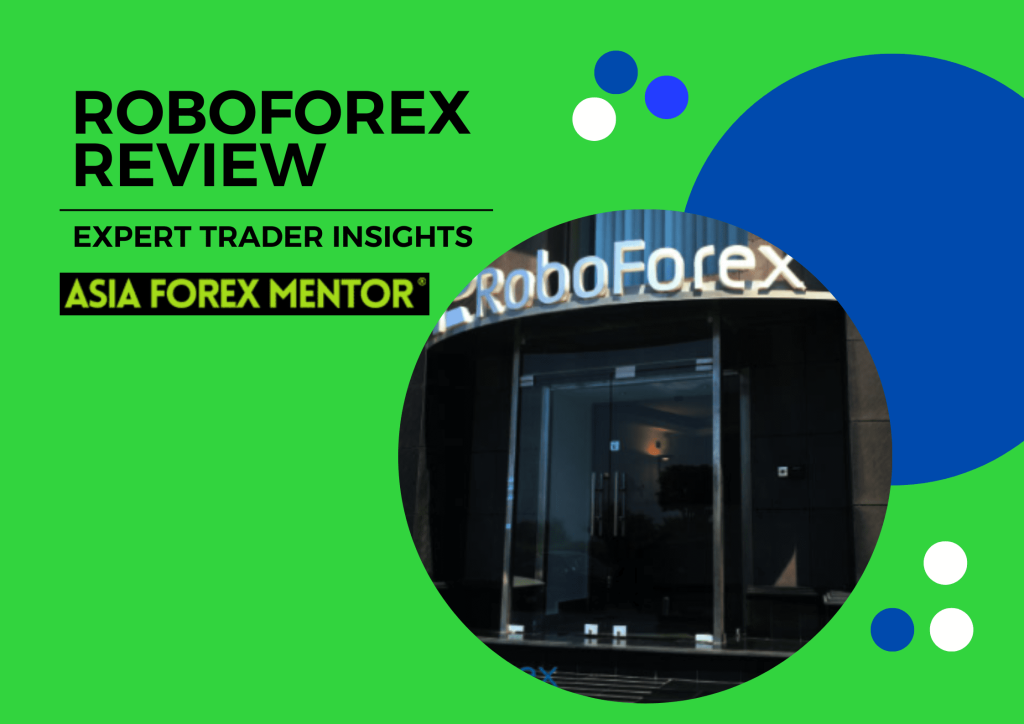 RoboForex Review
If you are not new to trading, you already know the importance and role of a broker and, more importantly, how to choose the right broker. A forex broker gives traders access to a market where they can buy and sell foreign currency as well as financial services. Let's talk about RoboForex, an international Forex and CFD broker with its main office in Belize.
Forex stands for foreign exchange. In every foreign exchange market transaction, two different currencies are involved. Roboforex is reported to be one of the leading brokers worldwide with amazing products.
They provide attractive services to subscribers. However, they are not without downsides too. Everything you need to know about RoboForex is included in this article, from the benefits, disadvantages, charges, account type, customer support, regulations, comparison with other brokers, and my expert perspective. In the end, you can make an informed decision about whether you want to use Roboforex or not.
Asia Forex Mentor Evaluation Criteria
At Asia Forex Mentor, our evaluation criteria for any forex broker are simple yet effective. Our analysis experts examine different aspects of the brokers, and we take different features into account while judging them. Our experts go above and beyond to only work with the best by fully understanding what the broker offers.
The main criteria we focus on are:
Cost Efficiency by comparing commission fees, spreads, and other additional/hidden charges.

Broker's competency by verifying the tools, customer services, trading instruments, and other platforms.

Reliability by analyzing the margin requirements, account types, background checks, leverage, and minimum deposit to open an account.

Profitability by testing and reviewing the success rate, platforms, signal services, and other resources.

Convenience by checking if the broker offers mobile trading, MetaTrader 4/5, and other advanced features.
After a complete evaluation of Roboforex, our experts discovered that it is a decent broker with a low cost of trading and some advanced features. They are considered one of the best brokers for forex and CFD trading. Moreover, it is user-friendly and offers good customer support.
Roboforex is considered one of the top-notch and cost-effective brokers in the industry. Its spreads float from 0 pips, and you can gain the leverage of 1:2000. Besides, there are different account types for traders to choose from that best suit their trading style. The broker's method of trade execution is both fast and reliable.
What is RoboForex?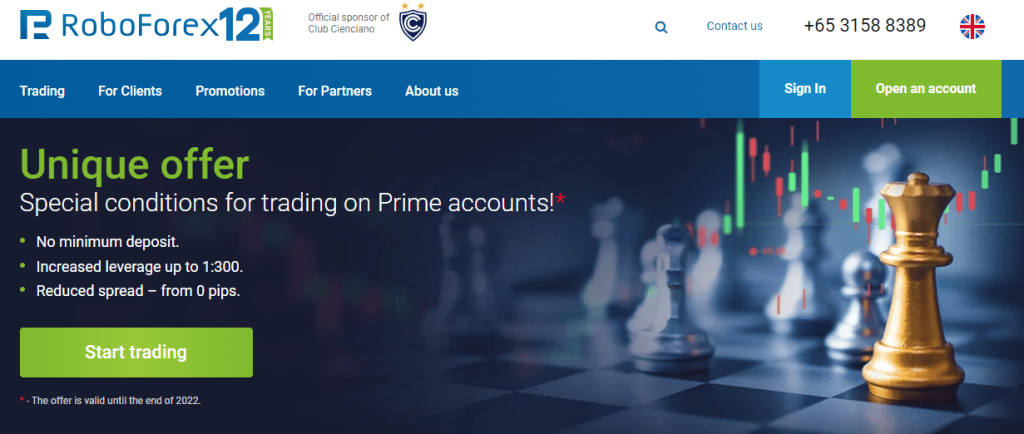 Since its inception, RoboForex has strongly emphasized offering superb trading conditions through cutting-edge technologies and years of expertise. With license number 000138/333, RoboForex has been operating since 2009 and is subject to FSC regulation. RoboForex is a global broker with more than 12,000 trading options and eight asset classes.
They are proud to provide various services of the same high caliber to all partners and clients, regardless of their experience or investment level. Roboforex has served many clients worldwide throughout its operations and earned some notoriety for its sophisticated trading offering and personalized terms ideal for traders of different styles, trading volumes, and portfolios.
Another excellent feature of the RoboForex proposition is its wide selection of trading platforms, from which you can choose the strong MetaTrader, cTrader, or RTrader.
Along with the many technologies created that provide solutions through trading, RoboForex also conducts ContestFX, a brand-new kind of contest project. Where weekly and monthly contests on demo accounts are held, winnings are paid into real trading accounts to help you launch a successful trading career.
Advantages and Disadvantages of Trading with RoboForex
  Advantages
  Disadvantages

Wide range of account types for users to choose from
There are large categories of trade assets, up to nine
Traders have access to the analytics database on the Roboforex website
They have an Affiliate offer, a generous bonus program, and immediate/instance withdrawals

Trading cryptocurrency on the R Trader platform is lacking in cryptocurrency features.
Poor regulation, license in an offshore territory
Lack of risk-hedging tools like options
For typical types of accounts, there is a limited selection of markets and instruments
Benefits of Trading with RoboForex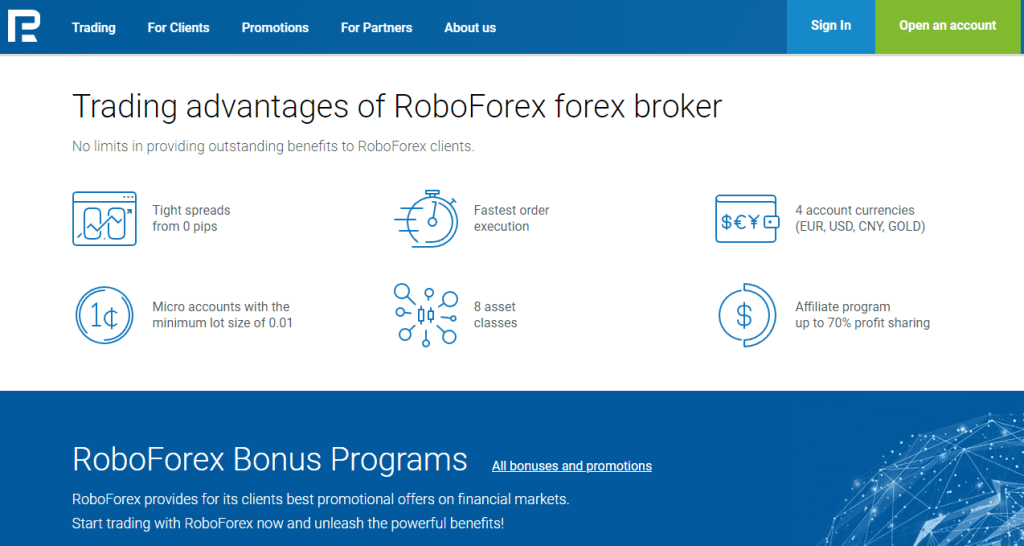 In our opinion, one of the top brokers currently in operation is RoboForex, where trade execution is consistently excellent. One of the most user-friendly proprietary web-based trading platforms, with complete support for algorithmic trading, can be found at RoboForex. It has a strategy builder that enables users to create automatic trading programs without writing any code.
The possibility of fraud and malpractice will be reduced when trading with a regulated broker. We usually advise traders to look for regulation and confirm it with the regulator by cross-referencing the given license with their database. Customers are granted access to one well-regulated firm by RoboForex.
RoboForex has investment programs for investors, such as RoboForex CopyFX, which is particularly noteworthy and enables you to earn passive Money without working. Over time, the broker has established a reputation as a dependable and trustworthy partner. Customers receive the best conditions from RoboForex, including narrow spreads starting at 0 pip, the fastest execution speed, and micro-accounts with lots starting at 0.01.
With the fantastic RoboForex reviews available online, rapid money withdrawals, and operational assistance from actual traders, both starters and seasoned investors can benefit from the brokerage firm's high-quality services. RoboForex has been a broker for many years, and We haven't heard of any substantial claims against it.
You can access instructional materials, webinars, and courses on the company's website. Roboforex provides a demo account to develop excellent trading skills, allowing you to trade without fear of losing Money.
RoboForex Pros and Cons
Pros
On all accounts, RoboForex provides negative balance protection
Services for customer assistance are offered 24/7
$10 is the minimum deposit amount
Good trading conditions and a minimum deposit are also available
Cons
Many regulatory documents must be read before working with RoboForex.
Trading cryptocurrency on the RTrader platform is lacking in tools.
RoboForex Main Features Analysis
4.5 Investment Instruments
4.5 Variety of Instruments
Roboforex Customer Reviews
Most customers seem to be quite happy with RoboForex as a Forex broker. The main benefits include a wide range of account types, excellent trade execution, low spreads, and fast withdrawals. Customers also appreciate the fast withdrawals, superb customer support team, and educational materials on their website. There are a few complaints about the lack of certain features when trading cryptocurrencies. Overall, however, the majority of reviews are positive.
RoboForex Spreads, Fees, and Commissions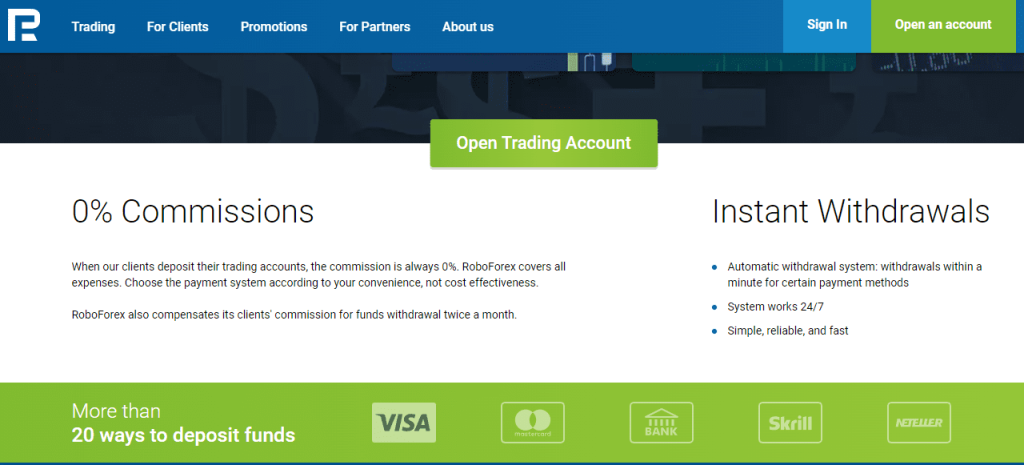 RoboForex Spreads
RoboForex offers some of the most competitive spreads in the industry. For example, their EUR/USD spread starts at just 0.0 pips. Below are the RoboForex spread details depending on different account levels.
Pro-Standard Account: Variable spreads from 1.3 pips, no commissions
ECN Pro Account: Variable spreads from 0.0 pips, $20 commission per 1 million USD trade
Prime Account: Variable spreads from 0.0 pips, $15 per 1 million USD trade
Pro-Cent Account: Variable spreads from 1.3 pips, no commission
R Trader Account: Variable spread from 0.01 pips, $1.5 minimum commission
RoboForex trading costs are established on tight institutional spreads from 0 pips; they also have the best spread. Traders can harness that through quick order execution created by the technology, six account currencies together with micro accounts, and various investment programs.
Brokers usually charge two types of commissions: trading commissions and non-trading ones.
Forex Trading Fees
The fees for forex trading typically comprise the spread or the discrepancy between the bid and ask prices of a particular currency pair. Also, some brokers might charge a commission fee for each trade that's carried out. The magnitude of these charges will differ from one broker to another and depends on which currency pair is being traded.
Although forex trading can be expensive, RoboForex provides low commission fees to make it more affordable for traders. Furthermore, the RoboForex Standard Account has no monthly fee.
ECN account fees are middle-of-the-road at $2 per lot, notably lower than the industry average of competitors such as Exness ($3.5/lot) and Forex4You ($8/lot). The ECN account's average spread is a reasonable 0.1 pip–on par with many other brokerages, including Exness.
RoboForex Commissions
Depending on which broker you pick, the commission fees can either be a fixed amount or a percentage of the trade's total worth. If we use EUR/USD as an example with a 2 pip commission, your full cost would be 4 pips (2 for the bid and 2 more for the ask).
RoboForex Inactivity Fee
RoboForex does not charge an inactivity fee, nor will it write off any funds from your account — even if inactive.
RoboForex Withdrawal Fee
RoboForex's withdrawal fees fluctuate depending on the method you use. For example, if you choose to take money out of your account through a credit/debit card, there is only a 2% fee. On the other hand, an e-wallet like PayPal or Skrill has different policies when it comes to withdrawal fees. However, this broker doesn't charge any commission on withdrawals.
How RoboForex Fees Compare to other Brokers
| Broker | | | | |
| --- | --- | --- | --- | --- |
| Min Deposit | 1 | 100 | 200 | 1 |
| Withdrawal Fees | Yes | No | No | Yes |
| Inactivity Fees | No | No | No | No |
| Deposit Fees | No | No | No | Yes |
| CFD Commission Fees | No | No | No | No |
| | | | | |
Account Types

RoboForex modeled six types of accounts to match their clients' various needs and conditions; you can also use a national currency as your account ground currency, which comprises USD, EUR, RUB, CNY, GOLD, BTC, and facilitates your investment.
RoboForex Account Types;
1. RoboForex Cent Account
Also known as the RoboForex PRO-Cent account, it was developed for beginners. The main characteristic of the RoboForex Cent account is that it utilizes cents as its base currency. Hence, it is a good Forex trading account for small-scale traders and can also be used by professionals to test trading strategies.
2. RoboForex Pro Standard Account
The Pro-Standard is one of the prominent RoboForex account types. It is prominent because its characteristics are well-balanced, matching beginners and skilled traders. Even if you start as a beginner with a Pro-Standard account, you can still boost your capital and widen your trading region without altering your account.
3. RoboForex ECN Account
The primary characteristic of the ECN account is its tighter spreads, which start from as low as 0 pips. It furthermore procures high-speed order performances. The RoboForex ECN account is modeled primarily for professionals; because of the tightest spreads and immediate execution capabilities, the ECN account makes an ideal trading environment for skilled forex traders.
4. RoboForex Prime Account
A trading account with multiple functions is RoboForex Prime. where USD, EUR, RUB, and Gold can be used as your ground currency. This account is also a perfect home for long-term, experienced specialists.
5. RoboForex R Trader Account
This account is an individual trading account that enables you to use the multi-asset web platform RTrader. You may access all the major financial markets from the sole trading platform offered by the R Trader account.
6. Demo Account
The RoboForex demo gives an exceptional opportunity to professional traders who wish to review their skills and trading strategies on the live markets without losing money. The demo traders obtain access to a broad range of trading assets. A RoboForex Demo account can be opened or accessed by anyone by just simply filling out a form with your name and contacts.
How to open your account
Before you open a trading account and begin your path to the financial markets, you have to select a trader's primary instrument, a trading terminal like metaTrader4, 5, etc. The first trading account will automatically open when a client enrolls in the Members Area.
To gain mastery of trading, We strongly advise testing your abilities on a demo account before using a real account. Trading there uses virtual funds, which means you have nothing to lose. If you decide to trade via the MT4 and MT5 platforms, you have two options: Demo ECN or Demo Pro.
Nevertheless, let us suppose you wish to open a real extra account but are not ready to trade big Money yet. In that case, you should start with a ProCent account accessible on MT4 and MT5 platforms.
We checked out, and it also contains popular currency pairs. After acquiring adequate trading experience, you can choose another ground currency for your current trading account, such as USD or EUR.
What can you trade on RoboForex
RoboForex clients can select desired instruments from a vast range of trading investments. Currency pairs, oil, etc. The market span comprises the world's major markets with eight investment categories which are;
1. Forex
Forex is one of the most significant trading investments at RoboForex. Its market operates 24 hours a day, five days a week, with a daily turnover of 5 trillion USD.
2. Stocks
Fund in stocks of Google, Netflix, Amazon, and other world-class prominent organizations.
3. Indices
Indices indicate instabilities in the prices of a group of stocks, procuring a more extensive glimpse of the world stock market.
4. ETF
An ETF is an instrument that enables you to trade numerous assets as one stock. Funding in the ETF will help you modify your portfolio with little expense.
5. Commodities
The trading of commodities has been in great demand for many thousands of years.
6. Metals
Funding in metals is a way to safeguard your capital from the adverse effect of inflation.
7. Energy commodities
Funding in ETFs and CFDs for energy resources is available through MetaTrader 4 and R StocksTrader.
8. Cryptocurrencies
Invest in guaranteed digital currencies like Bitcoin, Solana, etc., with RoboForex.
RoboForex Customer Support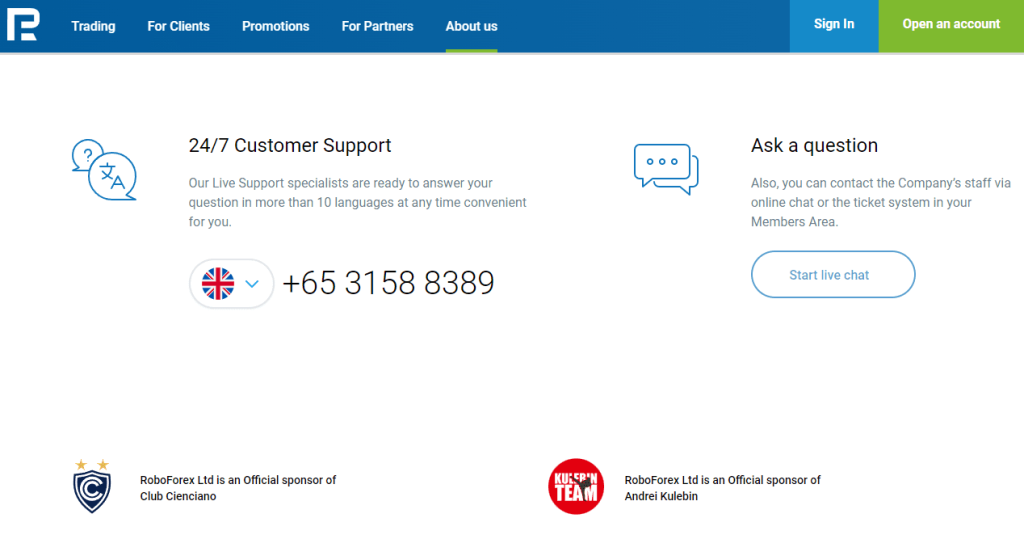 The broker offers round-the-clock client care via emails, international phone lines, and calling back services in many languages. English, Chinese Simplified, Chinese Traditional, Indonesian, Malaysian, Portuguese, Spanish, Italian, Polish, Arabic, Thai, Russian, and Ukrainian are languages that RoboForex supports.
Because Roboforex provides live chat and email assistance in various languages, Roboforex has a double AA support rating.
Live Chat: RoboForex's 24/7 live chat feature on its official website allows for immediate communication with customer service representatives. Through the live chat window, we asked several questions, and the executives provided us with several pertinent but concise answers.
Email: You can also send questions to info@roboforex.com. They responded to our email within three hours on business days with a helpful solution.
Social Media: Facebook, Telegram, WhatsApp, Line, Skype, and Viber are just a few messaging services you can use to get in touch with the support staff at RoboForex. These apps' services resemble those of the live chat window.
RoboForex Customer Service Advantages and Disadvantages
  Advantages

  Disadvantage

They work round the clock to provide answers to users' query
The quick response from the support team gives more credibility to the broker
Customers can be attended to in at least 13 different languages. That's highly impressive

The call option is not available in some countries.
The response is a bit delayed outside of working hours
Contacts
Contacts
Foundation Date

2009

Registration Address

2118 Guava Street, Belama Phase 1, Belize City, Belize

Regulation

Belize International Financial Services Commission (IFSC)
License number: IFSC / 000138/333

Official site
roboforex.com
Contacts
Email: info@roboforex.com
Phone: +65 3158 8389
Security for Investors
  Advantages
  Disadvantages

Clearly defined rules apply to trading operations.
Regulates the interaction between a trader and a broker
Possibility to make claims in the event of a disagreement

Many regulatory documents must be read before working with RoboForex
Withdrawal Options and Fees
RoboForex offers commission-free, immediate withdrawals. RoboForex accepts bank transfers (SEPA), WebMoney, Fasapay, AstroPay, Skrill, Neteller, AdvCash, Perfect Money, and VISA and Mastercard bank cards.
The RoboForex back office processes each withdrawal request immediately after placing the bid. When withdrawing to EPS, it may take up to a day for the money to arrive, and when withdrawing to bank cards, it may take up to ten days.
At RoboForex, you can withdraw money in the following currencies: USD, EUR, and GBP. RoboForex withdrawals start at one cent and are only available to confirmed customers. Depending on your withdrawal option, there may be fees of between 0.5 USD and 2.6 USD.
RoboForex Vs Other Brokers
The competition between the best online brokers is very tough. Each trading platform puts its efforts to attract customers and reach the top position in its field. This sort of competition is healthy as it pushes brokers to give their best services to stay in the financial market.
For this reason, to evaluate the performance of Roboforex it is crucial to analyze the services offered by other brokers. Moreover, the comparisons made between different brokerage companies would also assist the traders to opt for the best trading platforms.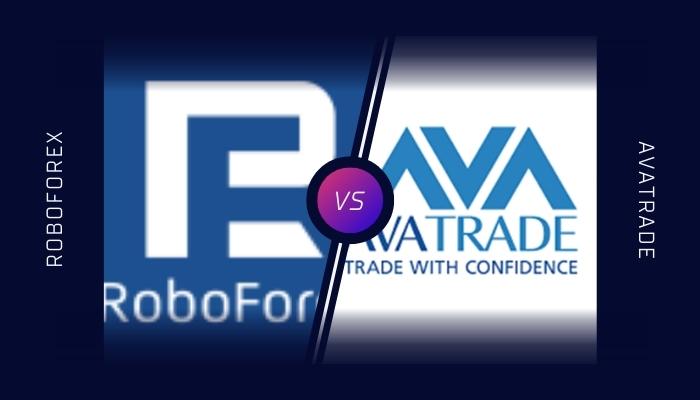 Avatrade is a renowned name among both novice and professional traders in the financial market. Avatrade entered the trading market in 2006 and ever since there was no turning back. The customers of Avatrade have reached a remarkable number and are continuously growing each day.
When compared with Roboforex we can observe that Avatrade outperforms Roboforex in many ways. Firstly, Avatrade is regulated by four international financial service commissions which makes it a safer and more secure platform. Whereas Roboforex is licensed by only one regulator making it vulnerable for clients.
Secondly, AvaTrade provides many advanced features on its website such as superior trading tools experience, advanced platforms like MT4 and MT5, and educational resources for inexperienced traders. Whereas Roboforex provides basic tools and resources that are not as effective and condescending as Avatrade.
Finally, when we talk about trading instruments, even here Avatrade has an upper hand over Roboforex. AvaTrade provides access to almost 55 currency pairs for trading, and RoboForex allows only 36 currency pairs to its customers. This difference is not just in the currency pairs but also in other trading instruments. For instance, RoboForex gives traders access to 12000 CFDs, compared to AvaTrade's 1260 which makes a major difference of 10740.
AvaTrade is a reputable international business that is best recognized for providing a wide range of FX and CFD trading platforms and outstanding educational resources, which helped it earn a Best in Class rating for Beginners for 2023.
However, one cannot underestimate the credibility of Roboforex as a reputed trading firm. Moreover, its unique investment program Copy Fx is also benefitting many traders. Roboforex has a wide range of retail investor accounts across the world and is providing the best trading services to millions of customers from 169 countries.
#2. RoboForex vs Pepperstone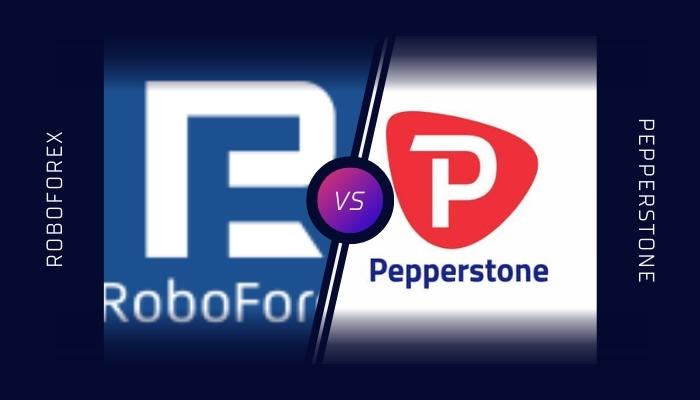 Pepperstone is an online broker that has made its place in the financial market among customers. With many advantages such as low commissions and no additional charges, Pepperstone provides access to more than 1200 trading instruments. However, there are also quite a few drawbacks when we compare Pepperstone with other online brokers.
A close analysis of Roboforex and Pepperstone tells us that both these firms are similar in many ways. For instance, both brokers provide the most advanced trading platforms MT4 and MT5 leading to a user-friendly interface for their clients. Moreover, both Pepperstone and Roboforex are regulated by two-tier financial commissions, making them trustworthy and reliable online brokers. Both platforms also provide copy trading.
Other than these similarities there are also some differences that make Roboforex a better option than Pepperstone. The first difference is that Pepperstone requires a minimum deposit of $200 and in comparison, Roboforex has a minimum deposit of $10. This makes Roboforex more economical for all types of traders.
In terms of trading instruments also Roboforexx is ahead of Pepperstone, RoboForex provides traders with access to 12000 CFDs, whereas Pepperstone only has 1200 CFDs available. As far as research material and trading tools are concerned Pepperstone provides better options to its customers.
All in all, we can say that in all the relevant trading features, Roboforex can be graded higher than Pepperstone. Nevertheless, the difference is slight and does overlap in many areas. Therefore, both brokers are a good option for traders.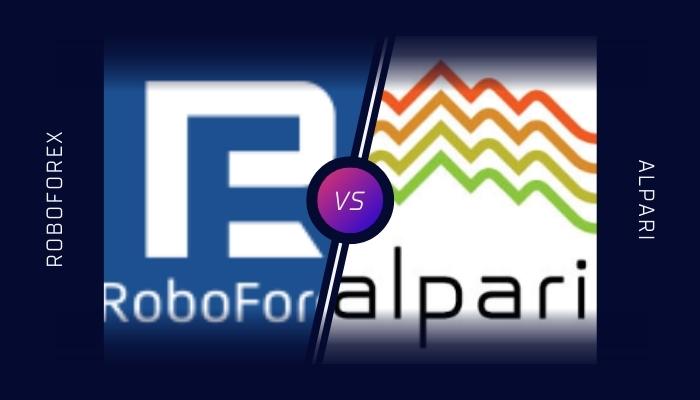 The popularity of Alpari is due to many aspects including its provision of security, low commission, advanced trading interface, and most importantly accessibility to a range of trading instruments. According to our comprehensive annual evaluation, Alpari provides traders with better pricing overall.
Both Alpari and RoboForex provide MetaTrader 4 (MT4) and Meta Trader 5 (MT5) trading platforms. Similarly, Alpari and RoboForex have the option of copy trading for their clients. Another common feature between both brokers is that they offer very tight spreads between 0.0 to 0.2 pips which makes the trading experience profitable for the traders.
When it comes to the differences between the two online platforms, it is very important to highlight a few major distinctions. First, Roboforex provides a wide range of trading instruments to its customers including Forex, Stocks, Indices, ETFs, Groceries, Energy commodities, and Metals. Alpari on the other hand offers to trade in Currency pairs, metals, CFDs.
In addition, Roboforex stands in a better position in terms of its legitimacy as it is regulated by a two-tier security commission whereas Alpari is not regulated by any central or private regulatory body. However, Alpari has a $ 1 minimum deposit requirement varying from Roboforex demand of $10.
Although Alpari has more experience in the financial industry than Roboforex, yet there are some aspects where Roboforex is ahead of Alpari. Although Alpari is best known in Eastern Europe, it lacks regulatory licenses in top-tier jurisdictions despite providing a limited but expanding array of CFD markets and platform features. Nonetheless, Alpari remains to be the original MetaTrader broker and a forerunner in social copy trading.
How RoboForex Trading Options Compare against other Brokers
| Broker | | | | |
| --- | --- | --- | --- | --- |
| Instruments Available | 100 | 1250 | 1200 | 50 |
| Platforms | MT4, MT5, Mac, Web Trader, cTrader, Tablet & Mobile Apps | Web Trader, MT4, MT5, AvatradeGo, AvaOptions, DupliTrade, ZuluTrade, Mobile Apps, ZuluTrade, DupliTrade, MQL5 | MT4, MT5, TradingView, DupliTrade, myFXbook, Mac, Web Trader, cTrader, Tablet & Mobile Apps | MT4, MT5, Web Trader, Binary, Tablet & Mobile Apps |
| FX / Currencies | | | | |
| Forex pairs offered | 35 | 61 | 50 | 57 |
| Major Forex pairs | Yes | Yes | Yes | Yes |
| Minor Forex pairs | Yes | Yes | Yes | Yes |
| Exotic Forex pairs | Yes | Yes | Yes | Yes |
| Cryptocurrencies (availability subject to regulation) | No | Yes | Yes | Yes |
| Commodity CFDs | | | | |
| Commodities Offered | 21 | 17 | 16 | 3 |
| Metals | Yes | Yes | Yes | Yes |
| Energies | No | Yes | Yes | No |
| Agricultural | No | Yes | Yes | No |
| Indiced & Stock CFDs | | | | |
| Stocks Offered | 0 | 1000 | 1100 | 0 |
| UK Shares | Yes | Yes | Yes | No |
| US Shares | Yes | Yes | Yes | No |
| German Shares | Yes | Yes | Yes | No |
| Japanese Shares | Yes | Yes | Yes | No |
Conclusion: RoboForex Review
Asia Forex Mentor appreciates the trading environment at RoboForex. The major focus of RoboForex is still algorithmic trading, and the company provides a proprietary trading platform that enables users to develop automatic trading strategies without writing any code.
The RoboForex review reveals a highly-regulated broker with a broad range of technological options that enable traders of any size or strategy, even beginners, to engage in trading. Good platforms, a wide range of assets and accounts, and several choices for investing and trading using established instruments are available.
Additionally, RoboForex uses its own copy trading platform, has the most fabulous pricing conditions, and offers traders the best protection in the market. RoboForex offers top-notch research and instruction to novice traders and maintains a robust incentive and reward system. I consider RoboForex one of the top three brokers in the market, with a product and service portfolio that is difficult for most rivals to match.
RoboForex Review FAQs
Is Roboforex safe and legit?
RoboForex is a valid broker, as European CySEC operates it. So it is deemed a low-risk trading domain; it is solely an offshore firm to stay away from, as the stakes are high.
Is RoboForex a good broker?
Although we do not suggest using foreign brokers for trading because of their lack of regulatory constraints, additional authorization from a reliable jurisdiction makes things decent. It enables us to deem RoboForex a safe broker to trade with.
Is RoboForex regulated?
Yes, it is,
There are various rules that the broker executes due to regulatory ordinances that provide a safe and favorable trading environment. It is also audited regularly; the entire company can be fined if there is any case of fraud or breach.