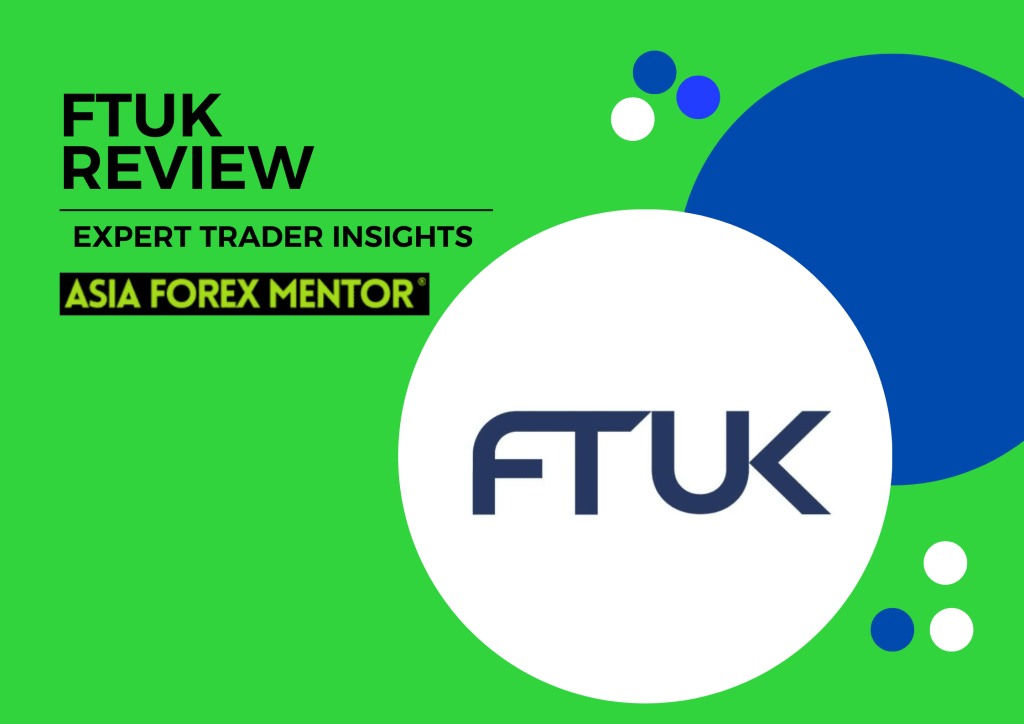 FTUK Review
For many years traders and investors were bound to invest through a dealing desk or an online broker to enter the financial markets. Consequently, skilled and successful traders were dependent on brokers and the availability of funds to earn much more than what they were getting. However, with the advent of a Proprietary trading firm, this scenario changed completely. Now prop trading firms like FTUK capital are providing trading assistance as well as instant funding to traders worldwide.
Prop trading firm like FTUK uses their own trading capital and provide these funds to capable forex traders and investors to gain profit targets for themselves and the company as well. Even though the prop firms are affiliated with a broker, the traders have to deal more with the prop firm than the broker. Each Prop firm has a different evaluation program to test skilled traders and choose the best candidates for a funded account.
This FTUK review is written with the sole purpose of putting forward all relevant information regarding this proprietary trading firm. Readers of this review will learn about the reliability, legitimacy, advantages, flaws, and trading procedures of this firm. Moreover, one can also figure out how realistic is the evaluation program of FTUK and what are trading targets are to be achieved to get funded accounts.
Asia Forex Mentor Evaluation Criteria
Asia Forex Mentor Evaluation is a process in which we examine all the Proprietary trading firms for their reliability, legitimacy, and overall trading performance. The reason behind investigating these firms is to provide accurate and relevant information to traders and investors who are in search of a genuine prop trading firm.
To compile accurate data, it is essential to assess each of the firms under standardized criteria and avoid any bias against any firm. Therefore, at Asia Forex Mentor, we evaluate each firm on the basis of some parameters so that an objective analysis of any prop firm can be presented. Moreover, as intended, this analysis would benefit traders and investors in making an informed decision regarding any firm. The criteria of our evaluation are as follows:
Trading Mechanism
Realistic trading challenges
Security of funds and data
Customer Assistance
Easy Payouts
Sizeable Profit Split
After evaluating FTUK capital on these guidelines, it was observed that FTUK is a genuine prop trading firm that provides funded accounts to selected traders. Moreover, FTUK has some funding features which are not available at other Prop trading platforms, such as instant funding accounts, 25% of the live account size than the demo account, etc. However, there are also many flaws of this firm that were discovered during the analysis, which will be discussed further.
What is FTUK?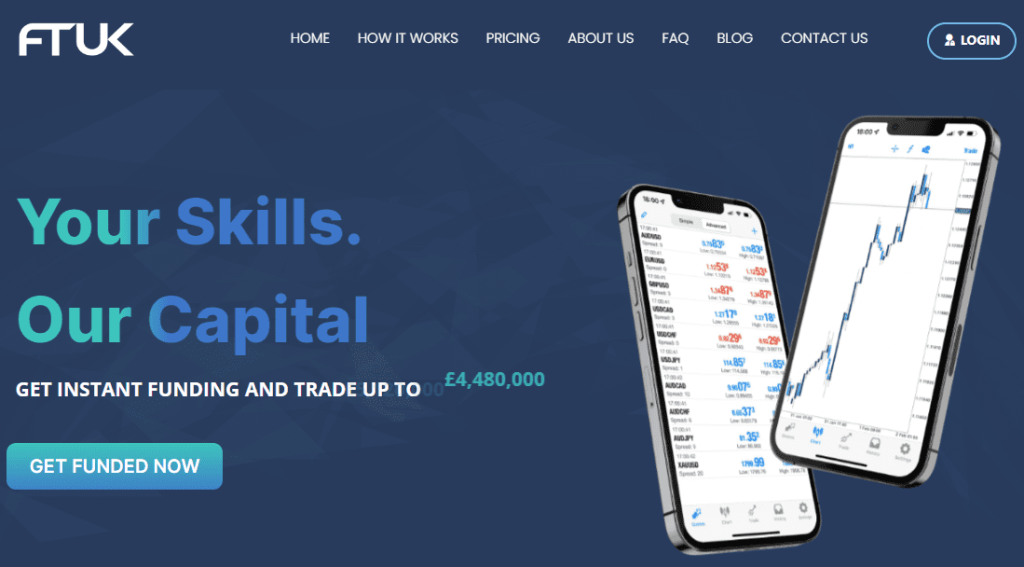 Forex Traders UK (FTUK) is a UK-based Proprietary trading firm that facilitates skilled and competent forex traders and investors with funded trading accounts. FTUK is a new prop firm that was founded in the financial markets in the year 2021. Therefore, the overall performance of this prop firm is yet to be known.
FTUK claims to provide funds up to £1,000,000 or $5,760,000 to all traders and investors who are capable of profitable trading. The firm has a one-phase evaluation process where traders are given targets to achieve within realistic trading parameters. Those who succeed in attaining these targets following the rules within the given time limit become eligible for funded trading capital for trading.
Moreover, FTUK also has a unique specification where they also offer an instant funding program for those who don't want to pass the evaluation process. Through the instant funding account, traders have to just hit the required profit targets, and are given their shared profits.
As FTUK claims to be the best prop trading platform, just like every other firm, there are also some flaws of the firm down the way. For instance, the firm offers a 50% profit split on initial levels, which comparatively is very low than other prop firms. Similarly, FTUK also provides very low leverage to its customers.
Advantages and Disadvantages of Trading with FTUK
  Advantages
  Disadvantages

Licensed Firm
Multiple asset options
Up to $5,760,000 Funding
Overnight Trade Holdings

Low Leverage
Low-Profit Split
Benefits of Trading with FTUK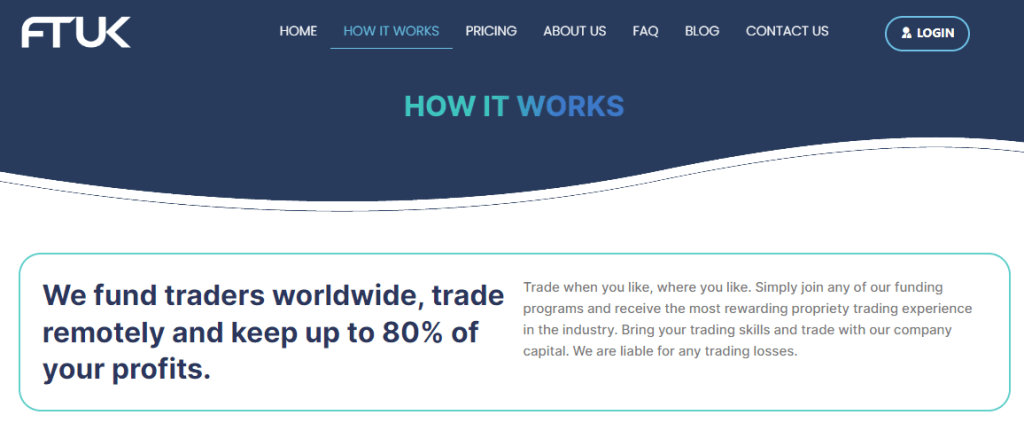 The first benefit of trading with FTUK is its one-phase evaluation program. Usually, more competitive prop trading firms have challenging criteria where traders have to go through 2 or more evaluation stages, each tougher than the first. Under such conditions, traders are more likely to get frustrated and pressured and might also give up trading for good. However, at FTUK, there is an advantage of a quick evaluation program to encourage traders.
In addition to this, the instant funding program makes it even easier and faster to get your hands on a funded account. Professional traders who trust their trading skills can subscribe to the instant funding account and earn profits from day one rather than waiting days to pass the evaluation phase.
Another advantage of FTUK is its fast scaling plan. There are no liabilities for the trader to follow all the rules for the scaling plan. In fact, in both types of accounts, evaluation programs and instant funding programs, traders have to reach their required profit targets to scale up to the next level of funds. Moreover, even withdrawals from the account do not affect the scaling plan, which is an added benefit for traders.
FTUK Pros and Cons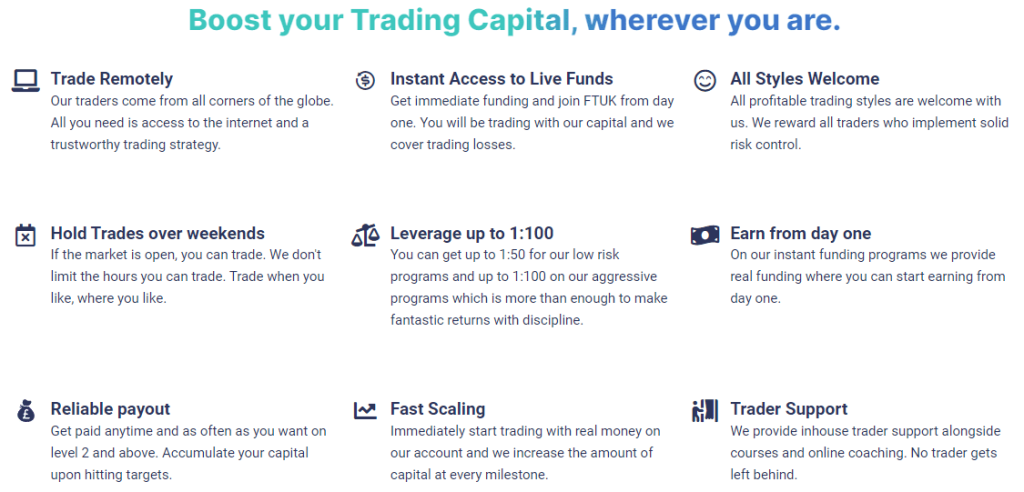 PROS
One Phase Evaluation
Instant Funding Program
Fast Scaling plan
One-time subscription fee
CONS
Low Stop Loss Risk Limit
No Hedging Allowed
Difficulties Met By The Traders Who Participated in The Brokers Challenge
#1. Lot Size Consistency
One of the rules in the evaluation program of FTUK is to maintain lot size consistency which means that traders are not given the freedom to choose their lot size and will have to keep the same lot size as when they opened to trade. Usually, it is specified through a set percentage of how much the lot size can vary from one another.
How To Overcome This Difficulty
Even when adjusting the lot size can be tempting; however, it can lead to inconsistency and sometimes losses. Therefore, rather than perceiving rigid lot sizes as a drawback, traders should focus on effective trading strategies rather than the lot size. Moreover, with consistency of lot size, traders will also be able to find out the success or failure probability of any trading strategy.
#2. 5% Fixed Stop Loss
In the evaluation and instant funding programs, there is a restriction of a 5% stop loss level. As soon as the account balance reaches below this level, the training activities are stopped, and the account becomes deactivated for violation of rules.
How To Overcome This Difficulty
Many traders believe that a fixed stop loss limits their profits, as any temporary market fluctuation would activate the stop loss function. However that is not the case. A fixed stop-loss can work as a great strategy to reduce losses which will eventually help traders in generating more profits in the long run. Traders should use the delay strategy where they should wait and observe the market price movement from going low to high price of the day's session before trading, as this would also adjust the 5% stop loss with the price movement.
FTUK Customer Reviews
The review regarding FTUK are mixed. Some customers appreciated the support they reviewed from the customer service of FTK when they faced trouble. While others blames FTUK for conflict of interest where the firm only facilitates traders who mae profits. Moreover, there were customers who seemed satisfied with the FTUK trading services and gave five stars to over all performance of this Prop firm.
There were also customers who claimed that FTUK had high commission rate than other platforms while others praise the easy-to-use interface and simple dashboard with all tools. All in all, the reviews did not give us a conclusive. image of FTUK's services.
FTUK Fees and Commissions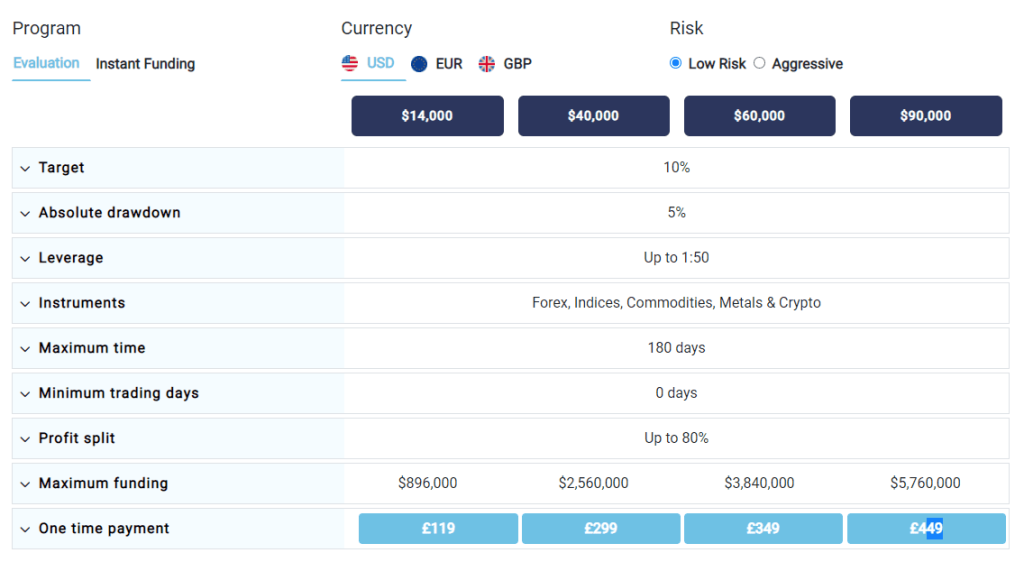 FTUK is a proprietary firm that earns through the profile split that's is made between the trader and the firm. Therefore, there is no commission fee or swap fee on trading. The firm provides funded accounts to skilled and competent traders so that they can earn for the firm. Moreover, FTUK also charges a one time account subscription fee which also generates income for the firm.
Other than the profit split and subscription fees, there are no other hidden fees of additional charges on the FTUK firm. Moreover, there are also recurring monthly charges at FTUK like other firms. Overall, FTUK is a low cost prop trading firm however, the 50% profit split at the first level is lower than other firms.
Account Types

There are two account types at FTUK with two types of risk mode. The first is the evalauation program with low risk and aggressive risk mode. The second is the instant funding program with the low risk and aggresive risk mode.
Evaluation Program
The evaluation program low risk account starts funding capital from $14000, $40,000 $60,000 and $90,000. The subscription fee for each level is £119, £299, £349, £449 respectively. All of these levels comes with trading rules of 10% profit target, 5% daily drawdown, 180 maximum trading days. In the aggressive accounts the profit target is 25%, total drawdown 5% and 90 days of maximum trading time and a maximum stop loss percentage of 1.5% per position.
Instant Funding Program
The instant funding program low risk account starts funding capital from $14000, $40,000 $60,000 and $90,000. The subscription fee for each level is higher than the evaluation program, £150, £410, £550, £950 respectively. All of these levels comes with trading rules of 10% profit target, 5% daily drawdown, 180 maximum trading days. In the aggressive accounts the profit target is 25%, total drawdown 5% and 90 days of maximum trading time.
How To Open Your Account?

Opening an account on FTUK is as easy as it gets. The first step is to go on the official website of the firm. Here users can either scroll through all the information regarding the platform or if made the decision can click on the "Get Funded Now" button on the landing page of the website.
After clicking this button the user will be redirected to the "Choose your Program" section. Here the users are expected to choose their desired program from either the evalatin program or the instant funding program. Here the user can click on the subscription fee tab of their selected program. For instance, if the trader wants a $14 000 low risk evaluation program then they can click on the "£119.00" price tab and the user will be taken to the next step.
In this step, the user will be asked to select a platform of wither MT4 or MT5 from the affiliated broker Eightcap, and can also choose from the variety of add ons such as double max trading days, evaluation retake, etc, for extra payment.
After choosing these categories the user will be asked to make the online payment. Here the user will have to enter their email address, First name, last name, residential address, and phone number. Finaly after selecting the preferred payment method the user can pay the fee.
Once the payment is made, the user will get the log in details with user name and password on the user's email address. From here the user can log in to their dashboards and can start their trading programs sccessfully.
FTUK Customer Support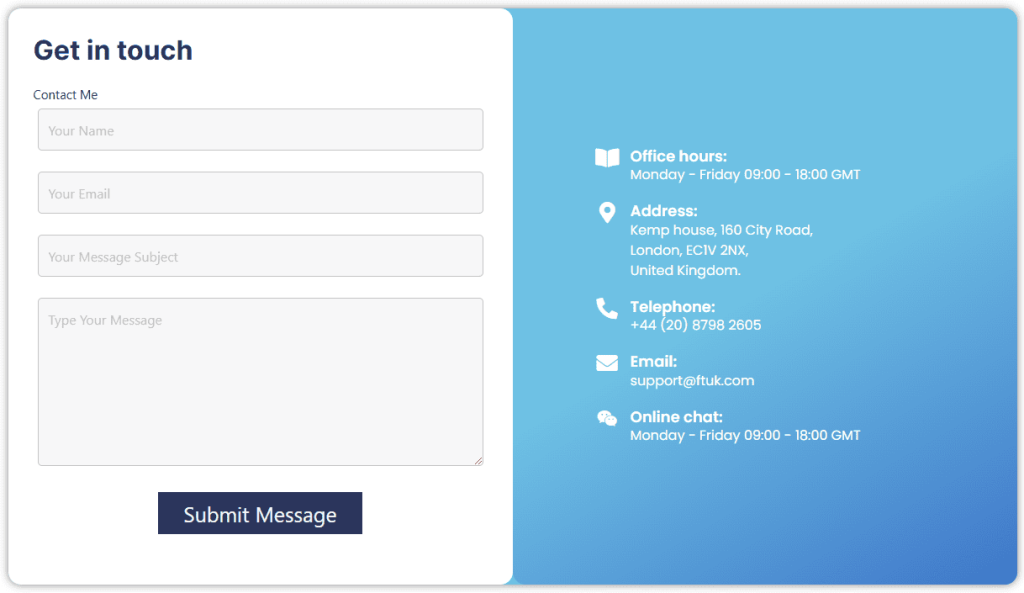 The customer support team of FTUK is quite competent and the overall service is exemplary. Unike many other platform FTUK do no one or two virtual methods of communication. In fact, there is an address of the physical office of this firm available the website which is operative 9 am to 6 pm every day except weekends. Moreover, there is also an office phone number to contact the firm directly without delays.
Other than the traditional methods FTUK also have an online chat box option available on their website. This allows users and guests of their website to contact support ay time they want. In addition to this, FTUK news and updates are also available on their official social media platforms such as Twitter, Facebook, Instagram, Linkedin etc,.
The customer reviews of the FTUK prop firm also suggest that the firm has a good customer service where customers are provided with technical assistance. So we can say that FTUK has a good reputation through its customer support team.
Advantages and Disadvantages of FTUK Customer Support
  Advantages

  Disadvantage

Phone Number
Prompt responses
Social media updates
Live chat box

No weekend service
Multilingual service not available
Contacts Table
Contacts
Foundation Date


2021

Registration Address
Kemp house, 160 City Road, London, EC1V 2NX, United Kingdom
Contacts
Email: support@ftuk.com
Phone: +44 (20) 8798 2605
Security For Investors
  Advantages
  Disadvantages

Affiliated with FCA approved Broker
Licensed as a UK company
Trading losses compenstated
No payout restictions

Newly founded platform
Registered users unknown
Withdrawal Options, Spreads and Fees
There are multiple wtihdawal option at the FTUK platform, as the firm is affiliated with the broker Eightcaps, traders can withdraw their funds through many methods. Traders can withdraw through bank wire transfers which is free of charges from the broker bt standard bank charges may apply. Moreover, there are multiple other options such as credit and debit cards, online payment options like Neteller, Skrill, Poli and Bpay. All these methods have zero commission withdrawal option.
In spreads the traders have tight pips of zero spreads at forex and commodities on a maximum $3.5 commission. Similarly, the spreads of indices starts at 0.5 pips with a $ 3.5 commission. Morever, for shares the commission rate if same $ 3.5 per trader however the spreads are 1.0 pips per trade.
There are no monthly account maintenance fees, or other additional charges than the one time subscription fee. Moreover, swap fees are also waived off for customers.
What makes FTUK Different from other Prop Firms
FTUK is a newly founded Prprietary trading firm that has been providing funded accounts to traders globally. Even when the FTUK is a prop firm like many others available in the financial market however, there are a few trading features which makes this firmunique from other trading firms.
The first difference is that FTUK does not providethe same method of evaluation and funding as other firms. FTUK does not have a demo account where traders are evaluated thoroughly and then after passing through many evaluation phases get funded. In fact, FTUK offers fast track service by providing a one phase evaluation program with realistic challenges. Furthermore, the instant funding program feature has the simple rule of reaching the profit target and getting instant funds.
Another specialiaty of FTUK isits high scaling plan which allows traders to increase their funds faster. Traders can scale their funds up to $5,760,000 in 8 levels by achieving the target milestones at each level. Moreover, the 5% stop loss rule on each trade also ensures protection from fund losses.
Conclusion: FTUK Review
Forex Traders UK FTUK, is a licensed prop trading firm which was founded recently in the year 2021. FTUK allows traders to trade in multiple trading instruments including forex trading, indices, commodities and shares. Moreover, FTUK provides funded accounts to profitable traders across the globe with a simple and fast evaluation criteria.
FTUK has a different approach for providing funds to the competent traders. There are two types of evaluation programs including the one phase evaluation program and the instant funding program with low risk and aggressive ris mode. The instant funding feature is a next level funding program where traders can get access to funded accounts faster and do not have to wait for passing the evaluation phase.
The challenges of the evaluation program and instant funding program consists of realistic trading rules Similarly, FTUK allows traders to hold trades overnight and provides the best customer support service to resolve their issues. For the scaling program the traders have to achieve the profit target of 10% in low risk mode and 25% in aggressive mode. Once the profit targets are reached the user can go to the next level and even fund withdrawal wont count.
The instant funding program is also a great option for professional traders who are ace in their game and do want to go through the time demanding evualtion program. In this program the traders start trading on a live accont from the very start and skip the evaluation period with virtual trading.
On the downside, FTUK do not offer a free trial or demo account. Similarly, the firm has a low profit split strategy at the initial levels of 50% and also do not have the most advanced trading platform like many other competing prop firms. Moreover, traders also get low leverage at FTUK of 1:50 in comparison to other firms. Other than this FTUK also lack the experience of providing services in the financial markets and is relatively a new firm to trust.
FTUK Review FAQs
Is FTUK regulated?
FTUK is proprietary trading firm which do not deal with customer funds and therefore prop firms are not required to be regulated under any finanacial commission. FTUK uses their own funds and provide customers funded accounts for trading. However, the sources of these funds are not own.
Can you get a Free Trial in FTUK?
No FTUK do not provide a free trial to their customers. Moreover, there are also no demo accounts on this platform. Traders can either subscribe to the evaluation program or the instant funding program after paying the one time subscription fee to get access to to the funded accounts.
Is FTUK legit?
Yes FTUK is a legit proprietary firm that provides funded accounts to skilled traders globally. The legitmacy of this firm can aslo be determined through its being an officially licensed company in the UK and also affiliated with an FCA approved broker in the finanacial market.