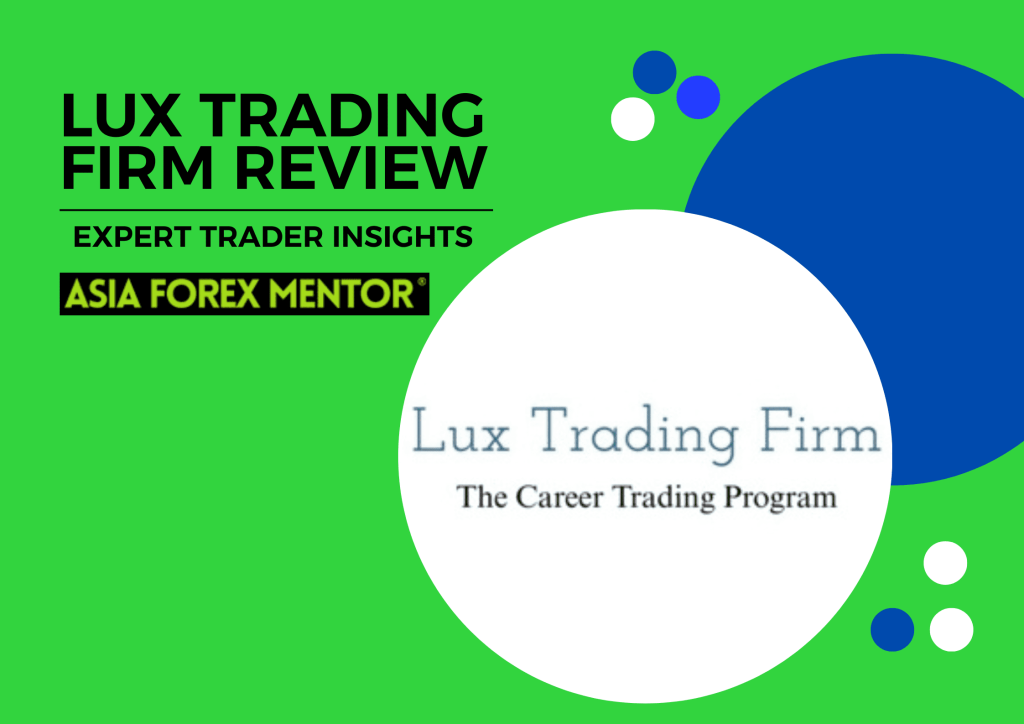 Lux Trading Firm Review
There are a lot of traders out there who have the skills, temperament, and ability to make money in the market but lack the capital needed to scale. However, you can deal with this by signing up with a proprietary trading firm like the Lux trading firm.
Working with a prop firm allows you to access a huge pool of capital where you can trade within certain conditions and parameters. The good news is that as long as you follow the trading rules, you get to keep a substantial amount of the profit, and you don't pay for a loss if trades go haywire.
If you are considering trying out a prop firm, this lux trading firm review is ideal for you. We will take a deeper look at how the firm works, why you should consider it as a proprietary trading firm, the pros, and cons associated with its service, and whether it's a good choice for swing traders.
Asia Forex Mentor Evaluation Criteria
As with all other reviews we do here at Asia Forex Mentor, we always try to give you the criteria that we use to analyze and rank these firms. For this Lux Trading Firm review, the team focused on the following key metrics:
Trading Mechanism: The measure looks at how trading is done at the prop firm, the profit targets, and the risk management desk or technology offered for forex traders.
Realistic trading challenges: The review also looks at how realistic the trading challenge is and if you can hit your profit target with proper risk management.
Security of funds and data: It is also important to know that your data and your money are safe when you trade using this prop firm.
Customer Assistance: Customer support is indeed an important pillar of the trading experience for swing traders. We, therefore, look at how organized it is and what works best.
Easy Payouts: Since you will split the profit target you hit with the prop firm, it is also crucial that the firm pays out what they owe you as fast as humanly possible.
Sizeable Profit Split: Finally, the team also looks at how the profit is split between the traders and the firm. Prop firms that offer a bigger cut to their traders are ranked higher in our reviews.
What is Lux Trading Firm?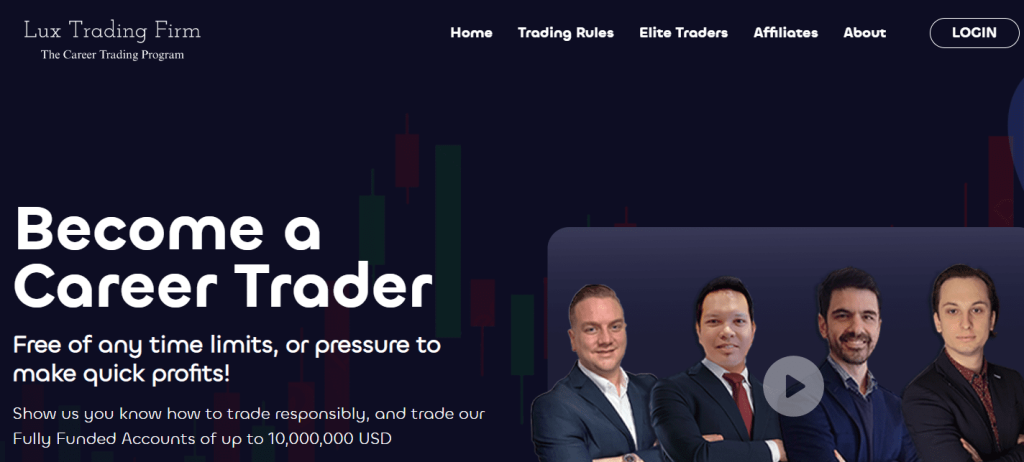 Lux is a proprietary trading firm that empowers experienced traders with the funding, trading platforms, tools, and education they need to make money in the financial markets. The firm has a series of trading challenges where talented traders sign up, get access to capital, and trade within set trading rules.
It only takes two steps to use the capital provided by Lux. First, you must prove you can profit and regularly hit your profit targets. Secondly, you must also show that you can do proper risk management and follow the simple rules set out when you start to trade.
Lux Trading offers three account types, each with a certain amount of capital on offer. The primary account starts with $50,000 available to trade, while the intermediate one offers $100,000 worth of trading capital. The third and final account is the advanced one, and users here get access to $150,000 for trading.
Advantages and Disadvantages of Trading with Lux Trading Firm
If you decide to start trading forex pairs with lux or any other asset classes that you deem fit, there are some advantages and disadvantages to remember. Here they are:
  Advantages
  Disadvantages

Gives you access to a wide range of trading and investment opportunities
You also get to explore very simple trading rules with relatively comfortable trading conditions
The prop trading firm also sets reasonably achievable profit targets with very comfortable minimum trading days
You get started with up to $50,000 in trading capital, one of the highest you can get in any firm

You must undergo a rigorous screening process where trader evolution will be monitored and evaluated before getting an account
The evaluation process can be long, even for the most experienced swing traders
The monthly fees charged are relatively higher compared to other prop trading firms
The relative drawdown requirements are also a bit higher than other firms
Benefits of Trading with Lux Trading Firm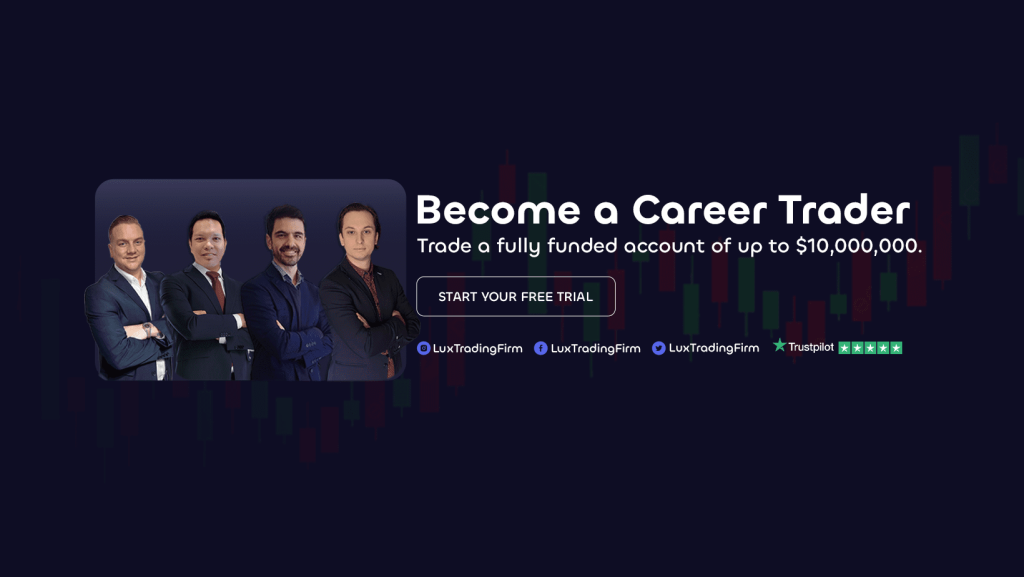 There are some incredible benefits that, as a trader, you will get once you sign up with Lux and its trading firm. Here is a breakdown of some of these benefits:
Low-Profit Target
One thing that can often limit a trader when using a prop firm is the often high-profit target that you must hit within a short period of time. For lux, the targets are somewhat reasonable and within reach of most traders. For instance, for the basic $50,000 account, the profit target is less than 6%. This is relatively achievable in any market condition.
Minimum trading days for assessment
Before you get a live account with the capital to trade, you will first have to be assessed for your trading skills. For the starter account, Lux requires only 29 days of assessment. Basically, in less than a month, you should be able to get access to the financial trading account with the capital you need as long as you have met the standards set by the trading firm.
Options for Elite Traders
The Lux trading firm offers some great programs for elite traders. In fact, the firm has special challenges for these traders that can easily allow you to access well over $150,000 in trading capital. In addition, the folks at Lux trading firm offer the trading tools you need to make it as a global prime trader.
Better variety of Accounts to Work With
As noted above, there are three main types of funded accounts that you can use to trade forex pairs with Lux. If you are still starting out, you can go for the $50k account. The good news is that there are so many opportunities for growth with Lux as long as you put your trading strategies to success within the provided time limit.
Lux Trading Firm Pros and Cons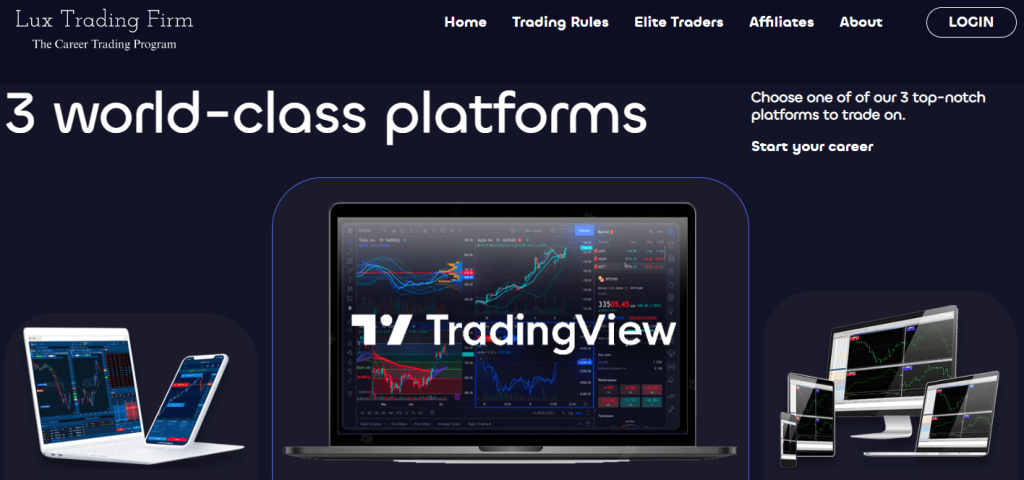 As with any trading firm out there, Lux has its own fair share of pros and cons that may limit your trading objectives in the trading industry. Here is a breakdown of some of them:
Pros
You get a very low-profit target compared to other trading firms
Lux offers superb opportunities for evolving and growing as a pro trader.
The London-based prop firm also brings a decent reputation in the market that most prop firms don't have.
It will only take you less than a month to get evaluated before you get live accounts with the firm.
Cons
The monthly fees charged for live accounts can be a bit high for the average trader.
The daily drawdown is also a bit higher and can be problematic for any trading strategy
The evaluation criteria are very rigorous, and only elite and experienced traders make the cut.
Difficulties Met By The Traders Who Participated in The Brokers Challenge
Trading real capital with Lux trading firm is not simple, and there are some difficulties that you will encounter here. However, we have highlighted some of these issues and the solutions that you can use below.
#1. High Daily Drawdown
As of now, the daily drawdown for the lux live trading room is 4%. Although there are some firms that ask for higher than that, the 4% is still a problem as it will limit your ability to take a loss when the market is very volatile.
How to Overcome This Difficulty
There are two solutions here. First, avoid trading during volatile days when so much news is coming out. In addition to this, make sure you use stop losses more effectively to cut out losing trades as soon as possible.
#2. Hitting Profit Targets
Your success as a trader with lux will be determined by how often you are able to make money and hit your profit target. But since the market is very volatile at times, you may not be in a position to do this all the time.
How to Overcome This Difficulty
The best way is to focus on low-risk trades that offer consistent returns and build from there. Even if you are not making a lot of money, you are better off than losing it. And one thing you learn when you discover trading is that you always have a chance as long as you protect your capital.
Lux Trading Firm Customer Reviews
The reviews that we have managed to look at from Lux trading seem to suggest that indeed the company knows what it's doing. As an online business, Lux has managed to build trust with a seamless experience for all its traders.
The trading platform on offer and the demo accounts are all working in tandem to give all traders exactly what they are looking for. There are also users that commend the profit split as fair and quite reasonable as well.
However, there are complaints that the support team is not as efficient as it should be. One user, in fact, notes that they could not get assistance from the firm even after making several follow-ups with them on an issue with lot sizes and trading. But despite this, the general feeling is that the firm is indeed reliable.
Lux Trading Firm Fees and Commissions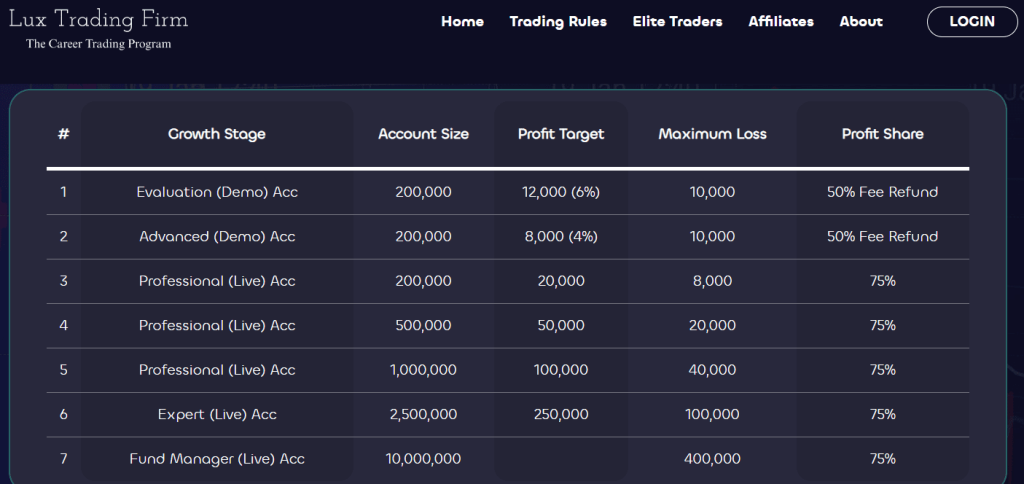 Like any other prop firm, the folks at lux trading firm use two avenues to make money. First, they will charge you a monthly fee to use their accounts, and secondly, they will take a small cut from all the profits that you generate working with their capital. So, the monthly fees all depend on the account type.
The starter $50,000 account will cost you £299 a month to access. As for those of you who want a more intermediate account, the $100k account is a great option. To access this capital, you are required to pay £399 each month.
The advanced accounts, on the other hand, which will give you $150,000 in trading capital, will require £499 a month. There is also the issue of the profit split. Lux will take 25% of all the money that you make while you get to keep the other 75%.
Account Types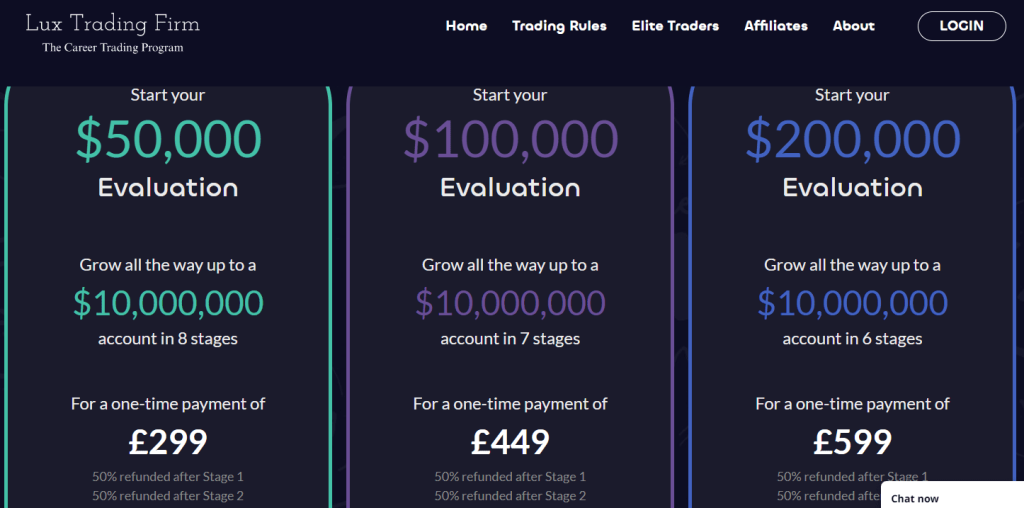 There are three account types on offer at lux. The account types are basically differentiated by the available trading capital and what it would take for the average person to access trading. Here they are:
$50K Professional Accounts: As the name suggests, this account has up to $50K available for trading. You will also get a $5k demo account that will be used in the evaluation process. Many traders typically start with this starter pack, which costs £ 299 a month.
$100K Pro Account: This one is seen as the most intermediate-funded trader account. It will come with up to $100,000 in trading capital with a maximum relative drawdown of about 4%. You will also get an evaluation demo account worth $10,000. To get access to this account, you will have to pay £399 a month.
$150K Pro Account: For elite swing traders looking for ultimate trader's success, the $150k advanced pro account is perfect. It costs £499 a month but also comes with a fund manager and other additional tools that will help you grow. You can also get a personal mentor from the lux firm team as well. The account is ideal for the most consistent traders.
How To Open Your Account?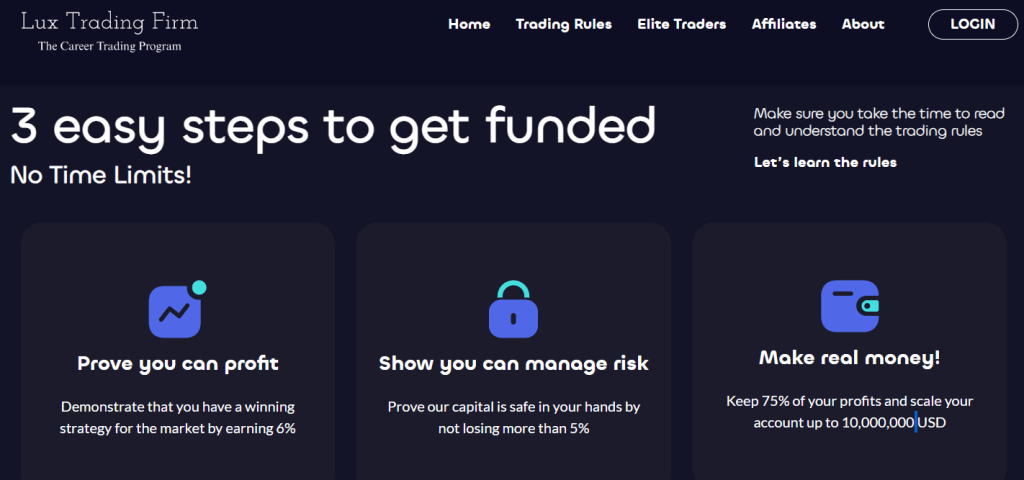 It is very easy to open a trading account at Lux. Whether you want an advanced account to hold trades or just a simple one for a beginner, the simple steps we are going to explain here will allow you to start trading. So, the first thing to do is to head over to the official Lux website.
Once you are there, scroll down until you see the three main account types on offer. Choose the account type that you want and click "Start Now." You will be redirected to a package where you will fill in your details and verify your account.
Keep following the prompts until you are in the dashboard area. Alternatively, if you are not sure about joining yet, instead of clicking the start now, you can actually click on "Trial" and try out the various tools before you get into real money.
Lux Trading Firm Customer Support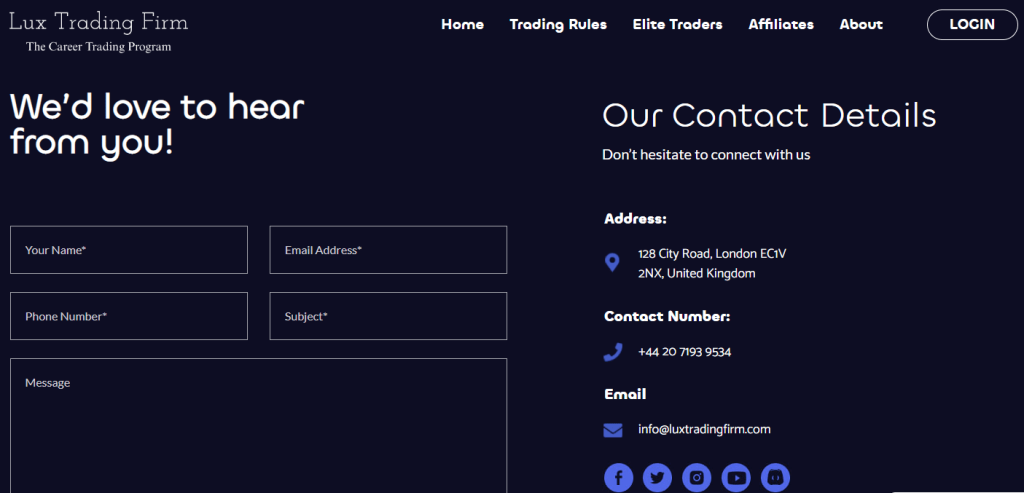 Fast and reliable support is, of course, an important part of any online business, and Lux is not any different. Access to this award-winning platform is impossible without the right support team.
Well, to be fair, Lux has invested in creating a decent support department. Right from the start, you will be able to contact the team using an array of tools, including a live chatbot that pops up once you visit the website. But that is not all. You will also have email support and phone support options as well.
Advantages and Disadvantages of Lux Trading Firm Customer Support
The customer support on offer at Lux has its pros and cons, and as a trader, these are some of the things you need to know. Here is the full info:
  Advantages

  Disadvantage

There are so many options to get in touch with the support team, including a live chat
The firm has invested in some of the best communication tech for the support team
There seems to be a lot of top-class training for the folks who work here
You can reach the customer support team 24/7, and someone will be there to help

There are some user complaints that the support team takes very long to respond to user concerns
Some users have also expressed disappointment that the help they receive from the team is not good enough
Contacts Table
Contacts
Registration Address
128 City Road, London EC1V 2NX, United Kingdom
Contacts
Email:

info@luxtradingfirm.com


Phone:

+44 20 7193 9534
Security for Investors
Security is also an important aspect for any trader. Here are some of the advantages and disadvantages of the security at Lux:
  Advantages
  Disadvantages

The firm is based in London, where there is a lot of scrutiny and regulation
There are regular audits to ensure that your data is not compromised
Lux uses some of the most advanced security systems out there to secure your info
All funds are kept in top European banks for better safety

There is no info on the website about the regulation of this firm
Lux does not provide any details of whether or not it collects private user data
Withdrawal Spreads, Options, and Fees
As explained above, the fees this firm charges come from the profit split and the monthly fees you pay for different accounts. You will, however, be happy to know that there are no withdrawal fees.
However, please be aware of the possibility of currency conversion fees that may arise therein depending on your withdrawal method. As for the withdrawal options, the bank transfer is often the most common one. But you can also use credit and debit cards as you see fit. Since lux is not a broker per see, it does not charge any spreads.
What makes Lux Trading Firm different from other Prop Firms
There are several key factors that make lux trading a bit different from other prop trading firms. First, the firm has invested in the best technology and tools to help you succeed as a trader.
You will also have access to technical analysis and other data for your trade. The minimum trading days are also quite good, and besides, the profit target you get from the provider is not as hectic as with other firms. This creates the ideal trading conditions that will ultimately allow you to leverage the real capital offered here for success.
Conclusion: Lux Trading Firm Review
Prop firms are designed to solve one of the most difficult problems in trading, and that is access to capital. While there are several firms out there, the fact is Lux stands out, and there are good reasons for this.
For starters, the firm has shown that it can create the right trading conditions for the trader. It's not just about making money for this firm. It's making sure that, as a trader, you have the tools needed to make it. The firm also has very minimal daily drawdowns and offers one of the most advanced trading platforms.
The profit target looks quite reasonable too. But there are some issues as well. For starters, there are some complaints about customer support. In addition to this, The evaluation criteria used to bring in traders are very rigorous. But other than that, this decent prop firm should be a great option for you.
Lux Trading Firm Review FAQs
Is Lux Trading Firm regulated?
Lux Trading is not a broker, so it does not need to be regulated by some of the authorities in the UK.
Can you get Free Trial in Lux Trading Firm?
Yes, users can be able to get a free trial for every account type that they want to use at no extra cost.
Is Lux Trading Firm legit?
Yes, Lux is one of the market's most legit prop trading firms right now, with a very good record of success.