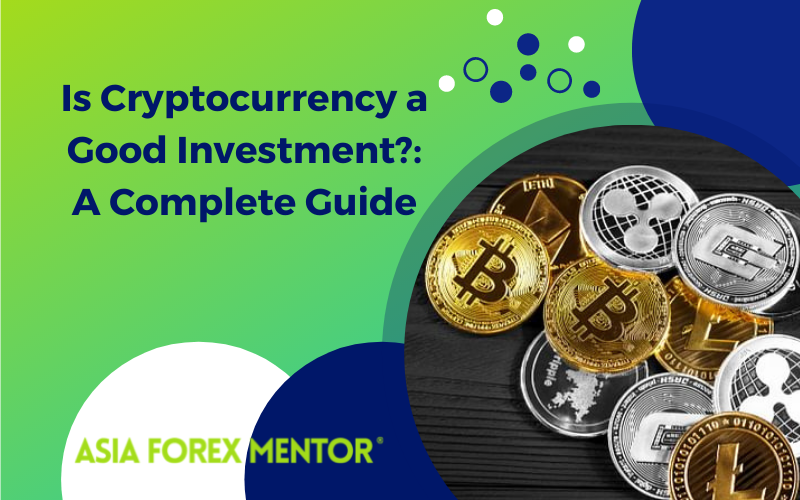 Is Cryptocurrency a Good Investment?
Maybe you have heard the news about the latest crypto boom, and you start to think about investing in cryptocurrency and see where the wind takes you. Given how shaky the economy looks right now, you might consider expanding your investment portfolio, especially toward the crypto frontier. In this article, we will attempt to answer the question: Is cryptocurrency a good investment?
Content
Is Cryptocurrency a Good Investment – 2021 and Future Projection

It might seem like a good idea to invest in Bitcoin. The price makes a noticeable peak and valley every four years or so. Despite the price movements, even some skeptics are starting to view the crypto market favorably.
To be clear, we will assume that you want to invest long-term in cryptocurrency. If you want to know whether you can day trade a crypto token, it is one of the best and worst markets to do so. That is because of the infamous volatility associated with cryptocurrency. If you play your cards right, you can make a fair bit of money quickly. If not, this is also a fast way to lose money.
As you might expect, the answer would not be a clear "yes" or "no", as with anything in life, especially finance. Here are a couple of reasons why you should and should not invest in cryptocurrency. You can then decide whether the reward is worth the risks.
In Defense of Cryptocurrency
What crypto supports would say is that it could be the next big thing, and they have a reason. The biggest advantage for cryptocurrencies is that you can send and receive them with minimal fees and waiting time. This alone could revolutionize the banking and financial service industry.
This is all thanks to the underlying blockchain technology, which operates on a peer-to-peer network. In other words, its strength relies on the number of users in the network. Some major cryptocurrencies, such as Bitcoin, are virtually bulletproof since there are so many users. Without going into the technicality, a cyberattack would only be possible if they manage to take control over a majority of the network, which is an impossible task. Every transaction on the blockchain network is recorded in a public ledger as well, so it is equally difficult to alter the records. This allows for a great level of transparency and ease of audit.
To add to that, blockchain technology allows for the creation of decentralized apps and smart contracts. Smart contracts execute certain clauses once certain conditions are met, therefore eliminating an intermediary. To sum up, blockchain technology has potential. Even if crypto were to fade into obscurity, there is use for its underlying technology. And maybe the value of crypto would be tied to this technology, meaning that it could be a good idea to buy some crypto tokens while they are cheap.
But maybe you are not savvy about the whole crypto world and want to view it from an investor's perspective. In that case, crypto might not be a bad investment either. That is, assuming that you want to diversify your portfolio.
It might motivate you to understand crypto and how it works. After all, you may be incentivized to study unfamiliar topics if your money depends on it. The more you know about crypto, the better decisions you can make.
Again, the number one rule for investing is to do so with the money you can afford and are willing to lose. Sometimes, the market goes against you and your investment can go down the drain in an instant. That said, some cryptocurrencies are better than others. So, do your research and see what crypto tokens you want to invest in.
Also read: How to trade crypto
The Argument Against Cryptocurrency
The biggest argument against cryptocurrency would be its volatility. There have been cases where the value dropped by 80%. Aside from that heart-stopping moments, the price is usually turbulent. In other words, if you dislike the idea of seeing your investment going up and down in rapid succession, investing in crypto could be quite stressful. It is not a viable asset for the faint of hearts. Even if these digital tokens can succeed in the long run, many investors just could not withstand the frequent short-term ups and downs. After all, it is not like crypto is the only market they can invest in. The sea looks a lot smoother in the stock market compared to the crypto market.
Another argument against crypto lies in its uncertain future. To be frank, no one knows how this virtual currency would perform in the future. Experts are divided on the issue and no one can seem to agree on whether it is worth investing in crypto. In other words, there is a high degree of speculation in that market.
To be fair there is always some level of speculation in any market. Even if you are considering investing in safe stocks from well-known companies, there is no way to tell if those stocks would still be going strong over the long run.
What makes crypto extra risky is that it is a new market. This is uncharted territory. There is no telling whether cryptocurrencies will eventually find a place in society or fade into obscurity in the future. Again, some say they are here to stay. Others do not agree with this assessment. What is certain is that this uncertainty makes crypto a high-risk investment.
Finally, there is a risk in holding onto the crypto long-term. Keep in mind that cryptocurrencies are digital assets independent from major financial institutions and governments. You are going to acquire most crypto tokens via crypto exchanges, which are privately managed. You also need a crypto wallet.
Although the blockchain network of the major cryptocurrencies is virtually bulletproof, that does not mean you are safe. Crypto wallets and exchanges form part of the ecosystem and they are not immune to hackers. There were cases where crypto exchanges would be hacked and all coins siphoned away with no way of recovery. We are talking about millions of dollars in cryptocurrency vanishing into thin air. So, you want to make sure that the crypto exchange and wallet you use have top-notch security, while also practising vigilance on the internet. If you somehow forget your wallet's password or send your coins to the wrong person, there is no way to get your money back either.
Also read: Crypto market vs stock market
Best Cryptocurrency 2021
If you decide that investing in crypto is worth the risk, you have to ask yourself another question. Which cryptocurrency should you invest in?
You might ask: Is Bitcoin a good investment 2021? You could be right. Bitcoin is considered to be digital gold. But to tell the truth, there is little utility in Bitcoin or its blockchain network. Alternative coins (Altcoins) or other cryptocurrencies provide more utility.
The best cryptocurrency to invest today would be Ether (Ethereum). Some say that this is the next cryptocurrency to explode 2021. Why? Its blockchain network provides a ton of utility.
As mentioned before, smart contracts allow parties to execute certain clauses when the right data is fed into the network. Digital tokens used by startups and various projects allow investors to access exclusive features or become a shareholder. Decentralized apps act as an access point into the blockchain network securely. Most of these operate on the Ethereum blockchain network, especially digital tokens.
As more and more applications are introduced into the Ethereum blockchain, it is not hard to see why Ethereum would be the best cryptocurrency to buy 2021 and onward. In short, there is a lot of potential for growth for Ethereum. If Ethereum came before Bitcoin, it could very well be the dominant cryptocurrency.
Although Ethereum is a close second, its value does not come even close to Bitcoin at the moment of writing. Its value is also steadily falling because all cryptocurrencies' values follow that of Bitcoin. But if Ethereum is still too expensive for you and you want to buy penny crypto, there is one more thing to consider.
Penny cryptocurrencies go for under $1 each for a couple of reasons. Most of the time, they have an unlimited supply and they lack utility. Therefore, 99% of cryptocurrencies trade under this value. They have no real-world use. However, if you want to know what is the best penny cryptocurrency to invest in 2021, a few names come to mind. They are Ripple XRP, Stellar XLM, TRON, and OmiseGo.
Also read: How to use Binance
Is Cryptocurrency a Good Investment – Going Forward
As mentioned before, you do not have to think too much about this if you are here to trade cryptocurrency. If you are more interested in day trading crypto, then you are at the right place. At AsiaForexMentor, our One Core program will equip you with the skillset necessary to be an effective trader. Our ROI-focused trading system is compatible with any market so long as it has a chart. If you are not interested in enrolling in a trading course right now, don't forget to grab our free course on the way out. 
If you are reading this way after the day this post goes up, chances are that most of the information is out of date. The question "is cryptocurrency a good investment" does not have a clear answer and no one knows what is going to happen. But if you have to know what cryptocurrency to invest in 2021 or in the future, go to CoinBase or Binance and look at the top ten cryptocurrencies. They are the safest investment options.