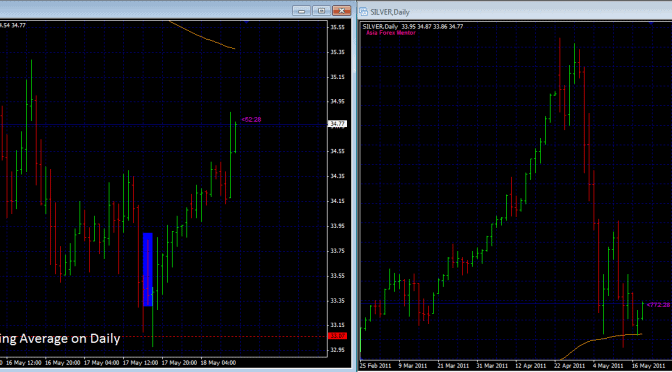 Forex Trading Strategies – Forex Trading Pair: Silver ( Xag Usd )
Most traders may not realise but the reason why they are probably failing is because they are not looking at the BIG picture. What i meant is that, when traders look at the charts. And if they spot a good entry based on their forex trading strategies; they would then jump in straight away. And if they made a loss on that trade, they would then lose confidence in their system or on forex trading totally. The reason why they failed on that trade is probably that they did not look at the BIG picture.
Here's what i mean.
Big Picture Trading – Why you need to look at the big picture
Forex Trading Strategies – Look at the forex chart above.
This is something that i discussed with my one on one coaching client last night and i thought its worth sharing here.
In the highlighted blue box, its a pin bar pointing down.
The pin bar is in line with the main trend which is down as you can see on the left hand side (trend slopping down)
So we know we are on the right side of the trend. And its a good looking pin.
Had we jump right in the trade to sell, we may have gotten stopped out if we had not taken profit as you can see the pair went up afterwhich.
WHY?
If you had look at the big picture, and if you look at the daily chart on the right. You will see that price is heading into the 150 moving average. Which is a very strong resistance/support especially on the daily time frame.
So when we see the daily 150 moving average (marked by the orange line), I have drawn the red dotted line in the 1hr chart which indicates the exact position of the moving average. So now we can see the bigger picture. Price is heading towards the strong resistance/support. And there is not much room for price to head further down at the moment.
Therefore by looking at this, we would then skip this trade as it will not make any sense to us to trade moreover the risk reward ratio for this trade would be bad.
Big Picture Trading

– Why you need to look at the big picture

Forex Trading Strategies – Forex Pair: Silver

So from this quick example, you can see that had we not looked at the big picture. We would have missed out on an important detail. So traders, next time before you enter a trade.

REMEMBER to look at the Big picture.
Check out our AFM winning Price Action Forex Trading Course where i teach you the exact FULL Forex Trading System that i personally use to be consistently profitable.

See you on the other side my friend,
Asia Forex Mentor
Ezekiel Chew
Asia #1 Forex Mentor
www.asiaforexmentor.com

Next Intermediate Article: How to trade the news