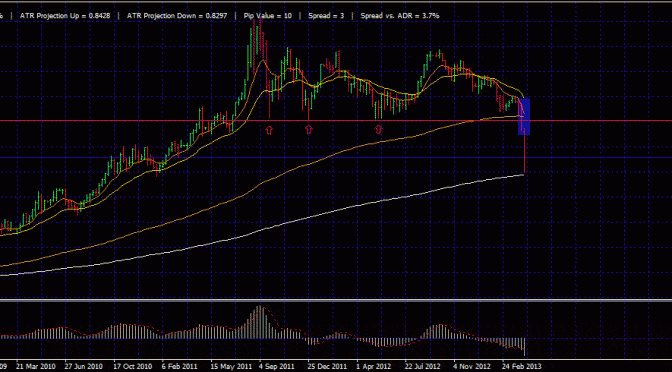 Many people are asking now. With the recent gold drop.
Should i buy gold?
Being a forex trader for many years. Gold is one of the pairs that i do trade with.
Let's have a look at the chart above. click on the image to enlarge the chart.
If you do not already know. Gold is marked as the symbol XAUUSD in forex.
I have drawn a red line at the 1523 level.
This is a very significant level for Gold.
If you look at the left hand side, you can see that the level is a strong support level and it has rejected the price 3 times in the last few years.
When such a significant level happens, and if there's a break in the support line.
It shows that the market has taken a downturn and is no longer in an uptrend.
Gold Drop – Should i Buy Gold?
This is what exactly happened to Gold – XAUUSD
Just days back, gold closed below the red line.
When that happens, you will know that the uptrend era for gold is over.
Right after it closes below the red line, the next bar drove it all the way down.
With gold now at 2011 prices. Is it a good time to buy gold?
Be it physical gold or forex trading?
My answer will be no. (now note that i may be wrong here, just posting my opinions on what i see in the charts)
When price has broken the red line. The bull run for gold is over. And we should not expect gold to rise up sharply within the next few months.
At it's best, it will be in a side ways trend.
Look at the weekly chart above. Gold stop right close to the 365 moving average (depicted by the white line)
That is what's holding it back. And it should hold it for a while.
And if it does break below the white line.
BYE BYE gold! (this may be bad news for people holding gold. But you got to face the fact my friends)
Gold Drop – Should i Buy Gold?
That being said, it is not wise to buy gold at this moment in time.
Wait to see what the market will do.
A good place to stock up gold is when it goes to the 800-1000 level mark. (if it does go there)
In the long run, gold is STILL a solid asset. But if you buy it now and if it plunges to the 800-1000 mark.
You've got to hold your gold for quite a number of years before you breakeven.
Talk Soon,
Ezekiel Chew