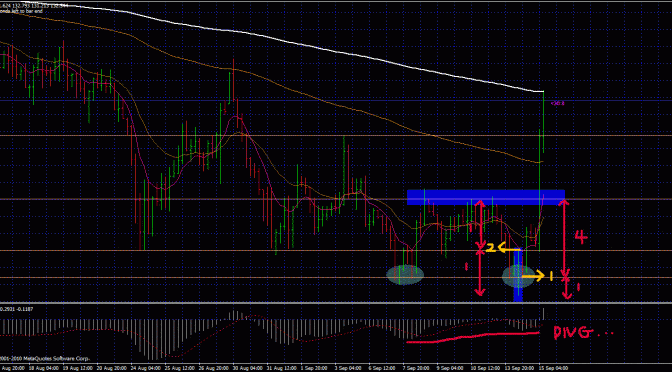 Forex Trading Strategies that work
Forex Trading Pair: Gbp Jpy h4
In the chart above, we can see that the Gbp Jpy is at its all-time low. In the highlighted circle, price has reached the area before in the first highlighted circle and thus we drew the price pivot in that area.
Price went back to the price pivot area on the second time, marked by the 2nd highlighted circle.
It formed a nice long nose price action pin bar.
We always love pin bars coming at the all-time low and at the same time with is a price pivot area.
What can we add to our confirmation is the divergence shown by the MACD too.
Therefore we have 4 confirmation.
1) All-time low
2) Long nose pin bar
3) Price pivot area
4) Divergence
In the chart, I have indicated 2 points at which we could enter. Looking at the chart – yellow line number 2
That is entering on the break of the pin. Our conservative stop loss would be below the pin and our take profit target would be the long highlighted blue box which is a price pivot area.
Therefore if we entered on point 2. Our risk reward ratio is 1:1.
Another way we could have entered is – yellow line number 1. We would have placed a pending buy order at the price pivot area and our stop loss will be below the pin bar. This reduces our stop loss level and thus increases our risk reward ratio which is shown in the chart of 1:4
The set back of this entry method is the pin bar could have gone off without backtesting the price pivot and thus Not triggering our buy order.
However in this scenario, as the pin bar has such a long nose. MOST, of the time – price will usually backtest to 50% level of the pin. And that happens to be our price pivot area. Which gave us a higher probability of triggering the buy order.
Sure enough, at the end of the day. Price shot through our take profit area and went up to the 365 moving average.
But these are the market sentiments which we could not foresee.
We will be pleased with our trade with a risk reward ratio of 1:4 and if you trade this way. Your account size is sure to grow.
Cheers, Ezekiel
Next Expert Article: Comprehensive forex trading strategy – risk reward 10:1