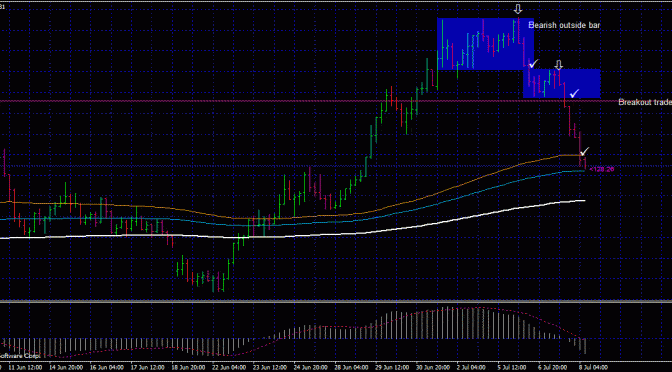 This is our previous post evaluation on the forex pair: Gbp Aud
Price has today broken the 365 moving average in the 4hr time frame and formed a price action pin bar (highlighted blue box) as seen in the chart below. With such scenario, good chance that price will continue its move up.
Just wanted to point our how we entered and exited on this trade.


We entered on the orange line (marked as entry). Our reason for entry was the forex price action pin bar off the 365 moving average and in confluence with the up trend as mentioned on the previous post.
Therefore we placed our stoploss below the pin bar marked as the red line. The stoploss is around 60 pips.
If you had taken the trade, we would have taken either full or partial profit right at the blue line 1.606. The reason for taking profit at that area was that it was a previous support/resistance area. Therefore our take profit target was triggered with a gain of 180 pips.
Hope the above quick example explains we trade price action with confluence, coupled with a good risk reward ratio of 1:3.
In our forex trading price action course, we teach the full forex system and strategies that allows traders to be consistently successful and profitable in forex trading. See you on the other side.
Asia Forex Mentor,Ezekiel Chew
ps: Click the "like" button and drop a comment below. =)
Next Expert Article: Why not to trade without confluence