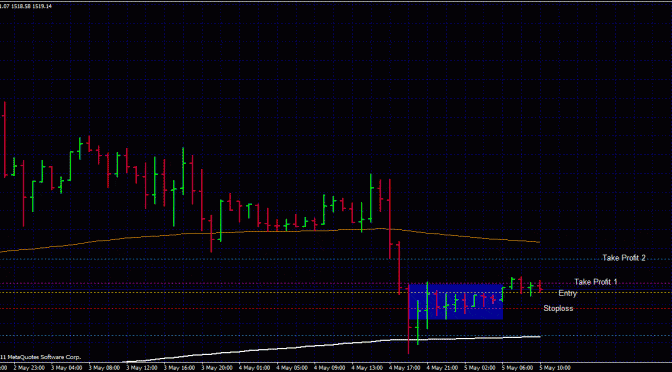 Forex Trading Strategies – How I Turned a Losing Trade to a Winning Trade
Forex trading pair: GOLD = XAU USD This is an interesting trade on the forex pair XAU USD.
In the chart above, we see a series of forex price action inside bars. (Highlighted in the blue box)
Meaning bars that are smaller than the previous bars.When a series of inside bars like the above happen. It means that price is having an indecision of where to go.
It's like it is gathering momentum, for a burst out of either side. Which could either be up or down. What happened in this scenario is that we placed 2 pending orders. A buy and a sell.
These 2 orders are marked by the gold line (entry) and the red line (stoploss). The buy order triggered. (Gold line -Entry) and we got in on a buy trade. With that, I deleted the pending order for the sell trade and made it a stoploss for the buy order.
Forex Trading Strategies – How I Turned a Losing Trade to a Winning Trade
When I trade, I would usually have 2 take profit targets.
So that when take profit 1 is hit. Which is marked by the purple line. I would have taken my first profit off and shifted my stoploss for position 2 to break even.
By doing so, I am also on the "SAFE" side. As price may hit Take profit 1 and reverse back down. And as I have taken profit a TP1, my 2nd position's stoploss is shifted to breakeven.
Meaning… I am in a FREE trade, whether or not it may hit TP2. I have already gotten profits. In this scenario, I have taken profit at TP1 and my 2nd position has hit my stoploss for breakeven.
Therefore I'm out for this trade.
From this scenario, you can see that I am not always perfect.
No one is.
But by trading on the above method, we are sure that our account size will grow consistently.
Forex Trading Strategies – How I Turned a Losing Trade to a Winning Trade
Let us look at what happened next.
Price went right down after which. So if I hadn't had a TP 1 and TP2 method. I would have kept my stop loss at the red line. And made a loss on this trade.
BUT By doing playing the above method. Instead, i have gotten profits… I hope you gain something from this post. Let me know if you did.
This is just one of the ways on how to trade, Check out our Winning Asia Forex Mentor Price Action Forex Course where i teach you the exact FULL Forex Trading System that i personally use.
See you on the other side my friend,
Asia Forex Mentor
Ezekiel Chew
Asia #1 Forex Mentor
www.asiaforexmentor.com
Next Expert Article: Forex trading strategy – range | consolidation trading