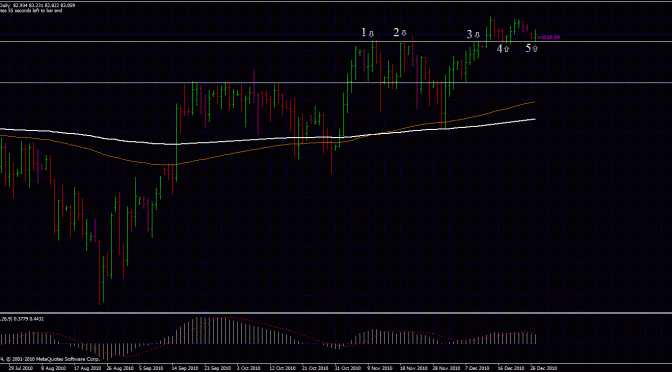 How a simple price pivot work wonders in forex trading?!
In the pair above: Aud Jpy (Daily chart)
The white lines in the chart above are support and resistance levels which we call the price pivot.
On 1st Nov, price broke the 81.350 price pivot to move to new heights and stalling at the 82.800 level. Marked as (1).
When that happens, and with price entering a new high which it had not done so before. We mark the 82.8 level as a new resistance zone. But not a price pivot yet.
When price tested the 82.8 level for the 2nd time and got rejected. This time we placed a price pivot at the level on seeing that the 82.800 level stood strong on both occasions.
On the (3rd) try, price got rejected initially as expected but we mentioned in our group that we will expect price to break the price pivot level which it did.
Now that price has broken through the price pivot level on the (3rd) try. We will expect price to come back again at the 82.8 level to back test it.
Price indeed came back to the 82.8 level on the (4th) try and got rejected by it to now turn the resistance area into a support area. This is what we call a price pivot.And it comes down once again to the 82.8 level on the (5th) try to get itself rejected again.
Now you see the powers of a simple yet effective price pivot.
Forex trading need not be complicated, professional forex traders clear the clutter of indicators on their screen so as not to be confused by them.
Forex trading is to be Clean and Simple. Just like our chart template we use.So if you ask how do we trade the price pivot like the above?
Its simple and there are a few ways to do it.
1) Enter right on the touch of the price pivot. You can place a pending order at the price pivot level and wait for it to trigger.
You would have gotten yourself right on 5 occasion in the example mentioned above.
2) If you wanted to play safe, we will wait for price action confirmation at the price pivot levels.
Be it on the daily, 4hr, or 1hr time frame. Price action entries are strong and reliable at the price pivot areas.
These are 2 ways to enter and we have more ways to enter on such scenario which we teach in our group.
If you have seen the powers of a simple price pivot, i will teach you how to place them properly and how to use it to great heights.
This is all taught in our price action online forex trading course.
See you on the other side, Ezekiel
Here's the video version:
ps: If you like this post, do click the "like" button and drop a comment below. =)
Next Intermediate Article: Lessons from a live forex trade