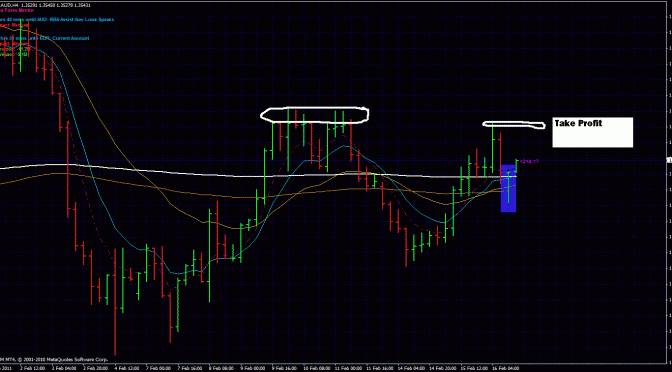 Forex Trading Pair: Eur Aud
A forex price action long tail pin bar (highlighted in blue) formed off the series of moving average confluence as shown by the:White, blue, gold, orange lines.
What is so important about this. The stronger the confluence, meaning the stronger the things that are backing up a price action bar.The higher the chance of price heading your way.
Therefore in this scenario, there are a tons of confluence underneath the price action pin bar.
And those are just moving averages.
We have not included price pivots (support & resistance) etc.So we enter right at the close on the pin bar. And our target profit area would be the previous high (marked by the white circle).
Do note that the previous highs formed a strong resistance area which price had problems breaking through it in the past few situations.Here's what happened next.
Price shot right up to our take profit area in just 1 bar. Price then got rejected by the strong area of resistance as mentioned earlier and headed back down right after.We got our profit.
A Very Important Lesson that we can learn from this very scenario:
Always set your take profit area
Had we not set a take profit area because we expected price to head right up. We would have gotten ourself a lost and not a profit.
Remember this, the market moves up and down 90% of the time. Only in 10%, the market moves in a nice smooth upwards or downwards trend.But thats only 10%!
Had we betted that this scenario would be the 10%, we would have gotten killed on a profitable trade.I hope you have gotten something from this little forex trading scenario.
We teach the full forex price action trading system in our course, its the full package for traders who wants to be consistently profitable in forex trading, to learn more and sign up; Click here – AFM Winning Forex Trading Course
See you on the other side!
Asia Forex Mentor
Ezekiel Chew
Asia #1 Forex Mentor
www.asiaforexmentor.com
Next Intermediate Article: What happens when 1 pin fails to break + placing stoploss