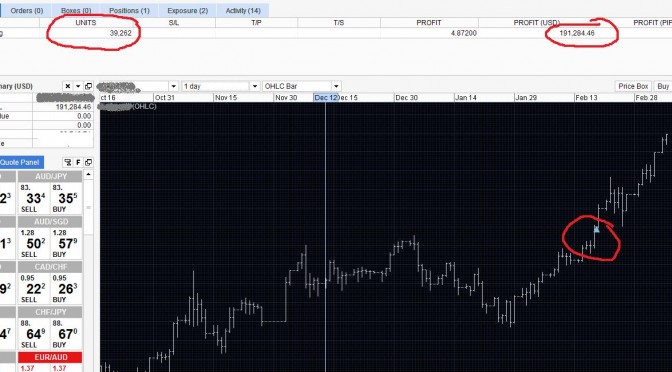 FREAKING 950% GROWTH IN 2 WEEKS!
This is one of the fantastic forex trades that i took recently.
Capital Risked for the trade $24k
Profits to date $190K!
950% Growth in 2 WEEKS and GROWING!
This is one of the reasons why i LOVE forex trading so much. A downpayment for another house? a flashy car? or a good meal with the family and friends
I'll be keeping the trade and trailing it to see if i could make a million dollars out of this single trade.
Just a crazy thought, but a nice one!
And if there is the last bit of thing that you need to give you a kick in the butt for you to enter forex trading, i hope this is it!
I'm not implementing that forex is a get rich quick scheme.but if you know the how's, it is very much possible and realistic.
Next Beginner Article: 950% Growth in 2 weeks example – Why Trade Forex (Part 2)