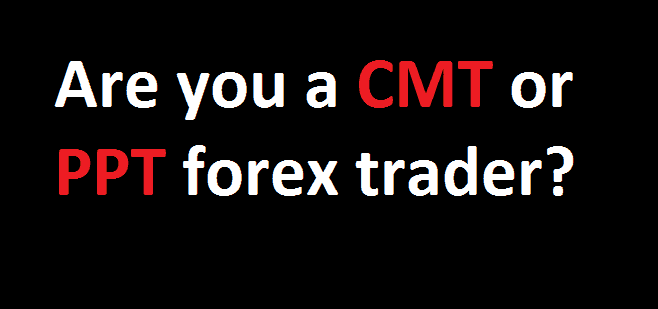 2 Main Types of Forex trading methods
In this forex trading article, I'm going to talk about 2 main types of forex trading methodology.
Yes, I do know that there are thousands and if not millions of forex trading strategies out there. And these forex trading strategies are also categorized into these 2 main types of trading methodology.
Which are:
1. Current Market Trades (CMT)
2. Pre Planned Trades (PPT)
Now note that in these 2 categories, there are also many forex trading strategies built among it. However, most strategies are built on current market trades (CMT).
Let's elaborate:
Current Market Trades (CMT)
Current market trades are the most common trading strategies taught in the market. Which could include:
Example-
1) Crossing of moving average – when a certain moving average crosses another moving average. It is an indication to sell or buy.
2) Indicators that are over bought or over sold and combined with another indicator to confirm a "Sell or Buy trade"
And of course many more.
The 2 examples above are CMT. Which means, they are formed when the market is moving and you've to be there when it happens. To put it in another way, these trades setups are not planned. For example, you cannot plan when the moving average will cross. They are formed by the market as the market moves.
Now let's talk about what are pre-planned trades before we discuss further.
Pre-Planned Trades (PPT)
What exactly are Pre-Planned trades. PPT are essentially trade setups that you have planned and waiting for them to reach your desired location.
Let's use a basic example: Eg. you have decided that eg. the 1.500 level is a strong level of support and resistance. And thats because the forex market has been respecting the level alot and there's always a rejection when price reaches that area.
Now this can now be considered a Pre-Planned Trade. Meaning we are now waiting for the market to reach the 1.5 level. And when it reaches the level, together with price action and other confluence. We can take the trade.
Let's talk about about PPT
Professional forex traders who trade for a living would have a similar trait. They do their analysis before a trade. And they will usually do a weekly round up and setup Pre-Planned trades for the coming week.
This is what we do. So when we trade for the new week. We already know what pairs we are trading, where to trade them, how to trade them as we had already evaluated them before hand. So there will be little surprise and little emotion going on when we take out trades.
It's because everything is PRE PLANNED!
In comparison to Current Market Trades (CMT), there will be lots of deviation in the market and lots of discretion. These aren't pre-planned and they usually require a fast analysis (as the market moves fast at times) and also a thorough analysis before taking the trade.
Now the question is, which side are you on currently?
PPT, CMT or a combination?
Remember, forex trading is a career. And since we are trading for a long time, would you want to trade with higher certainty and lesser surprises and emotions?
If it is, then PPT is the way.
Now with that said, I will say most who starts learning about forex and starts trading in the early stages will be in the CMT category.
And as their trading journey goes, the ones's that are still continuing trading, some will move over and starts trading the PPT way.
In my opinion, PPT is the way to trade. Lesser stress, lesser discretion. Higher probability of winning.
So if you are still trading the CMT way, you can now look into the new area – PPT and do a combination of both!
Your friend and forex trading mentor,
Ezekiel Chew