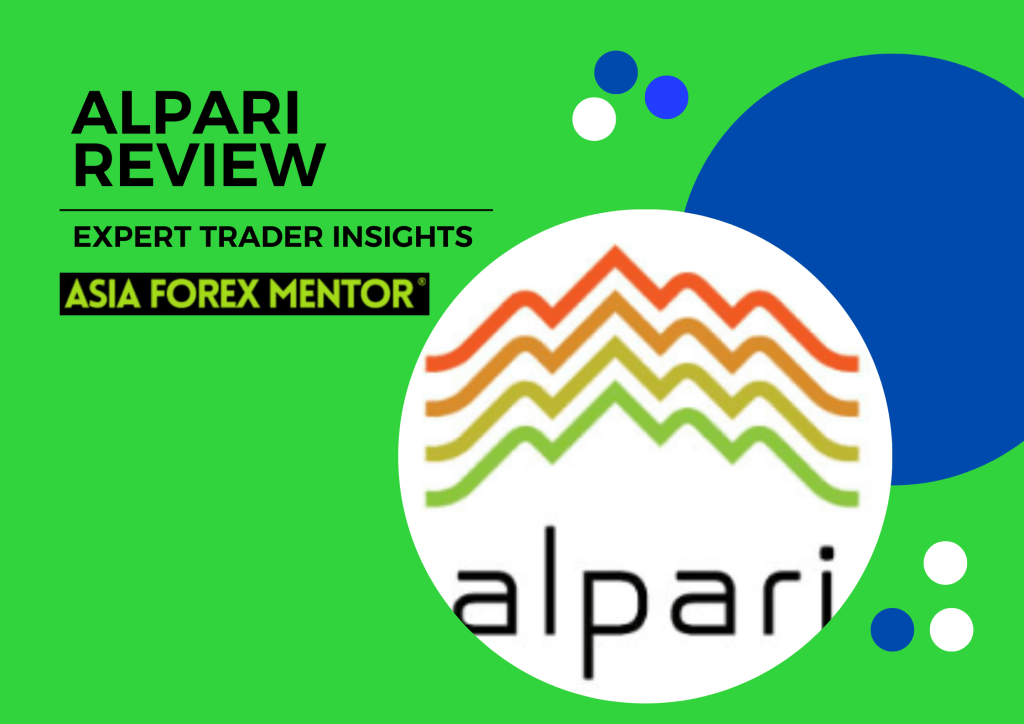 Alpari Review
A forex broker secures traders' access to a forum for trading various currencies, provides financial services, and is an intermediary between buyers and the market. If you are experienced in trading, you'll understand the value and function of a broker, as well as how and what to look for in a broker before picking one.
Let's talk about Alpari, a reliable broker with low forex trading commissions (against major currency pairs). However, the largest forex broker, Alpari, provides a wide range of services and has well-known offices in several nations.
In this article, Asia Forex Mentor will review Alpari's fundamental definitions, services offered, benefits, drawbacks, and how they differ from other brokers. After reading through, you will be educated well enough to decide if you need to change your broker soon.
Asia Forex Mentor Evaluation Criteria
Asia Forex Mentor experts have developed a strict set of standards that we use to rate and review different forex brokers. We analyze different aspects of the brokers to evaluate them properly. The aspects we take into consideration are:
The company's regulation and licensing to confirm they are legally allowed to trade
The spreads they offer on major currency pairs.
The types of accounts they have and the minimum deposit requirements for each
The deposit and withdrawal methods they offer
The leverage they provide
Their customer service availability and quality
Our analysis experts compare commission fees, spreads, and other additional fees the broker charges with other brokers in the market. Besides that, we verify tools, trading instruments, platforms, and mobile apps the broker provides to its clients. Moreover, we also consider the user feedback about a certain broker to get an insight into their customer service quality.
After a complete analysis of Alpari, our team has come to the following conclusion:
Alpari is a good forex broker with low fees, a wide range of account types, and good customer service. This broker has been in the industry for a long time and is regulated by multiple financial authorities, which gives traders peace of mind regarding the safety of their funds. Moreover, Alpari provides a wide range of tradable instruments, including forex, CFDs, and futures, and has three different account types with low minimum deposit requirements.
What is Alpari?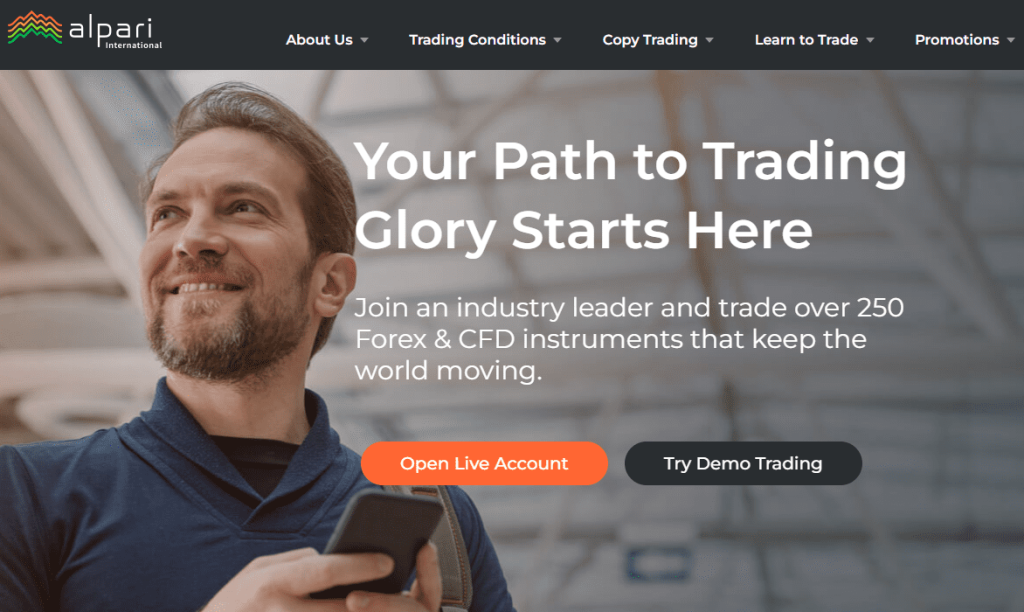 One of the largest brokerage firms is Alpari, which has amassed experience over the years of operation; they are already 24 years old. It was founded in 1998 by three partners in Russia who started from nothing, went through many crises and complications, and struggled to become a global trading company.
Alpari offers a broad range of services for recent internet trading on the foreign exchange currency market, with more than a million clients from 150 countries.
The company's top priorities include offering traders high-quality services and creating welcoming trading environments using cutting-edge technologies. The broker successfully created a cashback program, a mobile app for internet trading, and a philanthropic foundation.
They have offices in Mauritius, Moldova, Belarus, Belize, Ukraine, Russia, Saint Vincent, the Grenadines, Uzbekistan, Kazakhstan, and Georgia.
Advantages and Disadvantages of Trading with Alpari
  Advantages
  Disadvantages

Offers a multitude of account options to suit the needs of any trader, regardless of experience level or investment goals
The customer support service is both high quality and efficient
Several ways to withdraw and deposit funds

Traders may experience delays on withdraws
Some bonuses are only available on VIP status
Swap-free Forex Islamic accounts can only be used with MetaTrader 4
Benefits of Trading with Alpari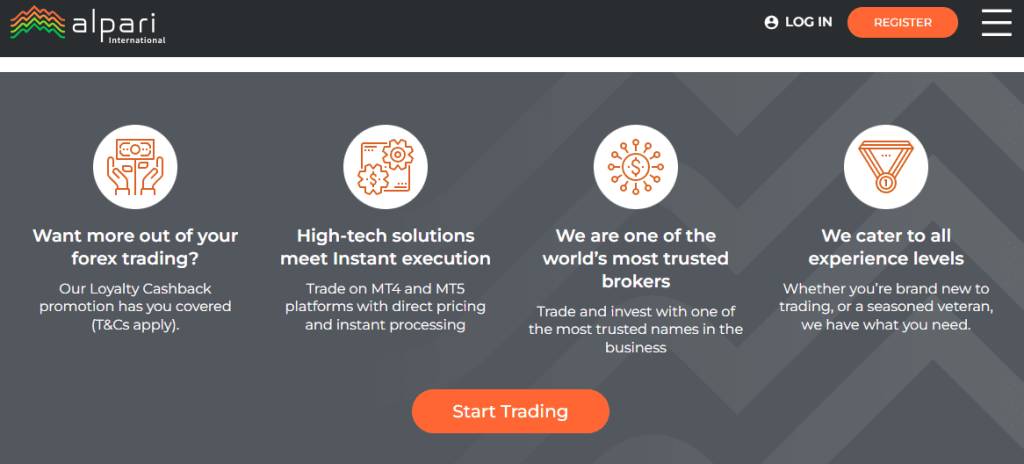 Alpari review reveals that Alpari holds a strong position among online brokers in the financial market. This fact is proven by the evidence has millions of customers across the globe have chosen Alpari as their trading platform. The reason for this choice is certainly the advantages that Alpari provides to its customers.
The first advantage is that Alpari is a broker for all kinds of traders. Whether new or experienced traders everyone can benefit from trading with Alpari. With new traders, the comprehensive educational resources and training from the demo account along with the lowest minimum deposit requirement of $1 is a big plus. Whereas professional traders encourage tight spreads, maximum leverages, and most importantly a wide range of trading instruments.
Another benefit of Alpari is that it provides the most advanced trading platform Meta Trader 4 and Meta Trader 5. This allows users to have a smooth and convenient trading experience without any technical glitches. Hence, as a trading platform, Alpari offers the most prominent and advanced generation user interface. The type of device you own doesn't matter since there are accessible versions for PC, Android, or iOS devices that enable earnings anywhere.
Similarly, trading in the financial market is a challenging task requiring analytics, expertise, and experience, so making huge profit quickly is not viable. For this reason, the prompt customer support and overall services of Alpari make earning considerable returns easier without any issues with withdrawals or account replenishments.
Alpari Pros and Cons
Alpari is a formidable broker due to its strong prominence and long years of operation, but of course, there's nothing without its pros and cons, and some of Alpari's pros and cons are;
Pros
Segregated client funds or money.
No commission is required for trading.
Several trading accounts for traders with varying degrees of experience and objectives.
Superior and compelling work by the customer service team.
Cons
No trading on weekends.
Educational resources are limited.
Analysis of the Main Features of Alpari
4.7 Investment Instruments
4.7 Variety of Instruments
Alpari Customer Reviews
We have reviewed Alpari users' reviews, and most of their customers are quite happy with their services. The main benefits include exceptional customer support, low spreads, and fair commissions. Traders also appreciate excellent trade executions and fast withdrawals without any hurdles. However, very few traders have complained about the broker's withdrawal process, but they have eventually received their money. Overall, the company has a good reputation in the industry, and we can confidently say it is a reliable broker.
Alpari Spreads, Fees, and Commission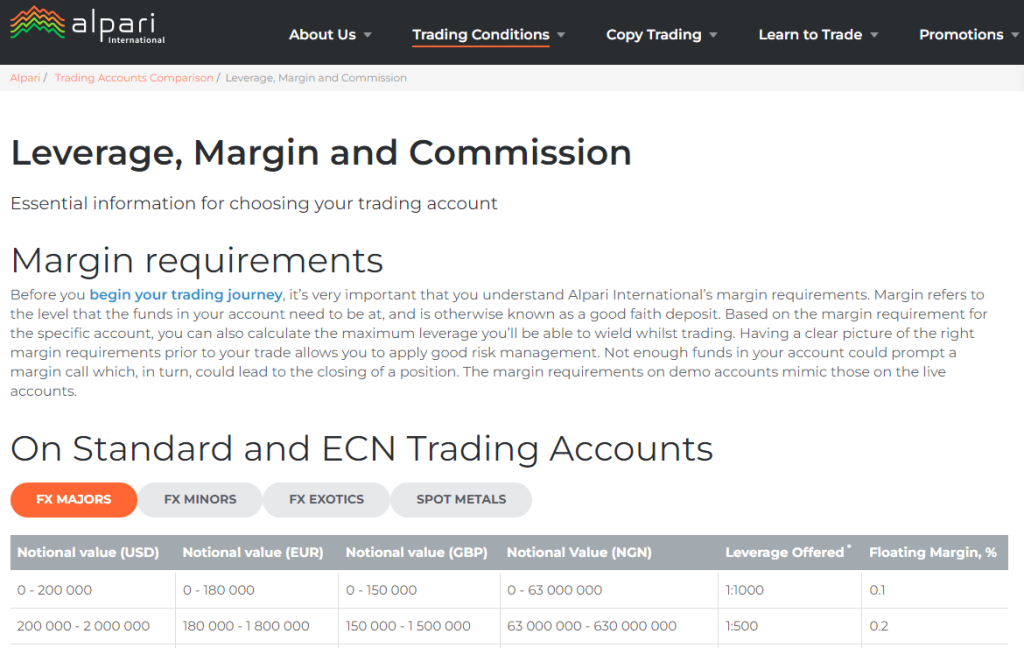 Alpari Spreads
Alpari offers some of the narrowest spreads in the market, with several major currency pairings offering spreads as low as 0.1 pips. Your chosen account type will determine the spreads for each trade.
Below are the details of the minimum spreads for each account type:
Minimum Spreads
Alpari Standard: 0.9
Alpari Micro: 1.2
Alpari ECN: 0.1
Alpari ECN MT5: 0.1
Typical Spreads
Alpari Standard: 1.1
Alpari Micro: 1.7
Alpari ECN: 0.3
Alpari ECN MT5: 0.3
Alpari Fees
Alpari trading fees are straightforward, but there are various charges that traders must be aware of if they plan to trade with Alpari.
Withdrawal Fees
Alpari International's fees depend on the selected payment method for withdrawals. Every broker has its own withdrawal rules that establish how money can be withdrawn from trading accounts. So, various options will have diverse providers, different processing timelines, potential conversion fees, and processing fees. However, the conversion fee is based on the base currency, the payment provider, and the receiving currency.
Deposit Fees
Alpari charges a commission fee for each deposit made on the exchange. All brokers make money by assessing fees for their services from the registered users and taking a cut of their transactions.
The commission fee may differ depending on the financial asset, trading type, and user's trading account level. Also, if the brokerage does not execute the market order, No commission fee will be charged, but If an order is canceled or modified, The brokerage company has the right to charge a commission fee.
Inactivity Fees
A broker-client is charged an inactivity fee when their account goes unused for a set period of time. Alpari exchange users are not subject to this fee. If a trader's account shows no signs of trading, buying, or selling cryptocurrencies for an extended amount of time as specified by the brokerage firm, then that person will be charged with an inactivity fee.
Overnight Fees
Alpari International's trading exchange also charges an overnight fee for orders over 24 hours. For example, if an investor goes short for the EUR/USD currency pair, it may cost him 0.65. A long position of -1.31 would be charged similarly.
Alpari Commission
Alpari is a reputable Forex broker, but that doesn't exempt them from charging commissions. There are several types of charges and fees that traders might have to pay with Alpari.
Unlike other brokers, Alpari's commission starts at a low of $5, 50, or 100 and varies depending on the account type. Some accounts don't incur additional charges; however, all account types have access to broker standard Spreads.
For example, if we take the micro account that functions on MT4, we can see the spread offer with a base rate of 1.7 pips. It is a charge comparable to what other major forex pairs charge.
| Broker | | | | |
| --- | --- | --- | --- | --- |
| Min Deposit | 1 | 100 | 1 | 1 |
| Withdrawal Fees | Yes | No | Yes | Yes |
| Inactivity Fees | No | No | No | No |
| Deposit Fees | Yes | No | No | Yes |
| CFD Commission Fees | Yes | No | No | $10-$30 |
| | | | | |
Account Types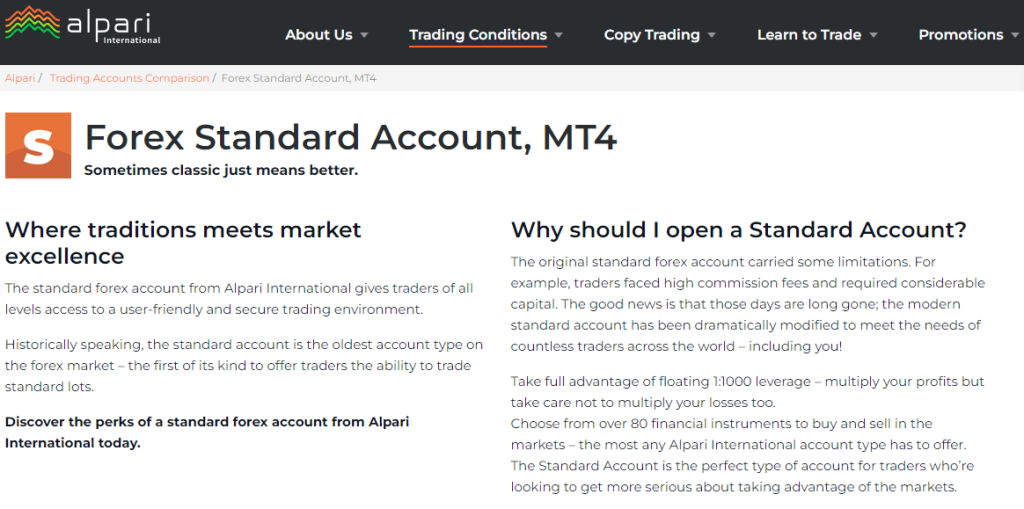 Like most brokers, Alpari offers several accounts, each suitable for inexperienced and seasoned traders. The main differences between the account types are:
The amount of the minimum deposit.
The number of trading platforms available.
The number of trading assets.
The maximum leverage.
The stop-out level.
The manner of order execution.
The maximum trading volume.
These are the primary variations between trading accounts.
Nano.mt4
Unlike conventional lots, made of 100,000 currency units, a nano account has a minimum lot size of 1000 units. Leverage is set at 1:500, and there are no minimum deposit limits, allowing traders to fund their accounts with any amount. Pros can use the platform to test trading methods or new traders to learn how to trade.
Standard.mt4
On the MetaTrader 4 platform is a basic account. Appropriate for traders with a foundation in foreign exchange trading. The minimum deposit is 20 euros or dollars. The trading assets consist of 33 currency pairings and two metals, and the leverage varies from 1:10 to 1:1000, and you can also activate the swap-free function.
Standard.mt5
Standard is the account type I advise for more seasoned traders using the MetaTrader 5 platform. The minimum deposit is 100 EUR/USD, the leverage is adjustable between 1:10 and 1:1000, and the available assets include 33 currency pairs and two metals.
Ecn.mt4
Ecn is a trading account with increased order execution speed and liquidity for experienced traders. The minimum deposit is 300 EUR/USD, the leverage ranges from 1:2 to 1:3000, and the trading instruments include 46 currency pairs, two metals, and 18 CFD contracts.
Pro Ecn.mt4
This a recommended trading account for experienced Forex traders using the MetaTrader 4 platform. The minimum deposit for the account is EUR/USD 500, and there are 18 CFD contracts, 46 currency pairs, with leverage ranging from 1:2 to 1:3000. A commission of $1.6 is charged for an average lot (USD 100,000). The ability to enable swap-free operation;
Special.Ecn.mt4
The terms are identical to those of the Pro Ecn.mt4 account, except for the commission, which is replaced by a $6 trading fee for a standard lot;
Ecn.mt5
This is a suitable account for professionals using the MetaTrader 5 trading platform. Traders can change leverage from 1:2 to 1:3000, and the minimum deposit is 500 EUR or USD. It has two metals, 18 CFD contracts, and 46 currency pairs. A typical lot carries a fee of $1.6.
How To Open Your Account?
It's easy, digital, and takes one to two business days to open an account today.
How to open an account at Alpari:
1. First click on "Register."
2. Fill out your personal information on the Alpari intake form, including name, country of residence, email address, and phone number, in exchange for a verification PIN code.
3. The next step is to fill out the information about your finances, work situation, and trading knowledge.
4. Select your preferred trading account, the currency degree of leverage, and a password for their trading account
5. Accounts are immediately available for trading, and traders can make a deposit
6. Submit a copy of your national ID or passport with the signature page and a copy of proof of residence, which can be a recent utility bill or bank statement.
7. Before you begin trading, we suggest you read Alpari's risk disclosure, client agreement, and business terms.
What Can You Trade On Alpari
Along with its next-generation MT5, Alpari provides the most well-known and popular trading platform, MT4. Any device can be used to earn money because there are versions for PC, Android, and iOS devices that are readily available. Alpari maintains 60 Forex and 33 CFDs across all platforms.
MT4 is famous worldwide, as it is a platform of choice for millions of traders worldwide who can use its robust features and capabilities. Alpari also welcomes traders of all styles and allows EAs without restrictions.
If you choose MT5, the most recent iteration of the prior, more widely used version, the platform will offer more orders and instruments for analysis along with improved features, making trading even more effective.
Binary trading, a platform created by Alpari specifically for binary trading, offers a straightforward but user-friendly platform and the ability to conduct trading via a mobile application. As a result, traders of all levels and sizes may rely on a trading performance supported by a fantastic selection of software that improves tactics and overall possibilities.
Alpari Customer Support
Alpari is a forex broker that offers different ways their investors can contact them. Alpari customer support is available through their website address, alpari.com. There is a number, +442 080 896 850, available on the Alpari website through which investors can directly call customer support whenever they need their help and assistance.
However, Alpari customer support works around the clock, but only 24/5. Customer support operating hours are only available on weekdays, Monday to Friday, while weekends are free days. Another call type on the website is the Skype call type; if Skype is enabled in your country, you can reach Alpari through Skype. Aside from calls, the Alpari email address, customersupport@alpari.org, is also available on the website through which customers can send an email.
As an investor, you can choose a direct message alternative to email: the online chat on the Alpari broker's website. Other communication channels that are available include, Telegram (bot), Facebook Messenger, Viber (chat), VK (chat), Twitter, and finally, the feedback form available on your account.
Alpari Customer Support Advantages and Disadvantages
  Advantages

  Disadvantage

There are several options available to reach the customer support team
Most inquiries are resolved immediately
Efficient and courteous personnel
They provide you with the best guidance for your queries

They don't work on weekends
Contacts Table
Contacts
Foundation Date

1998

Registration Address

Suite 305, Griffith Corporate Centre, Kingstown, Saint Vincent and the Grenadines

Regulation
FSC (Mauritius) / License number: C113012295
Contacts
Email: customersupport@alpari.org
Phone:

+442 080 896 850
Security for Investors
  Advantages
  Disadvantages

Client money is kept secure and separate from corporate money
The International Financial Commission protects the rights of Alpari traders
The official website for the broker displays the rules and services prominently
Provides competitive, trustworthy, and transparent exchange for traders

The broker's official website is silent on the subject of regulators
Withdrawal Options and Fees
Requests to withdraw money are processed by the finance department immediately, without restrictions on the number or amount. The transaction fee charged by your chosen payment system will be the only fee you incur.
This broker offers various deposit and withdrawal methods to a trading account, such as bank transfer and international bank cards, Neteller, Skrill, WebMoney, ADVCash, Vload eVouchers, BitPay Perfect Money APlat TC Wallet Ethereum Litecoin Zcash.
Withdrawal fee structures also depend on the chosen withdrawal method. Methods like e-wallets are free, but for a standard bank transfer, the fees could be almost $30 USD or a percent of the total amount being withdrawn.
The operation is carried out instantly when using electronic payment systems, internet banks, and payment terminals to make a deposit. Besides that, your account need to be fully verified to withdraw funds. Depending on your chosen payment method, your funds will be processed within 1-3 days. Moreover, traders can make deposits and withdrawals in Euros and US dollars.
Alpari Vs. Other Brokers
Aside from Alpari, there are other brokers that more experienced traders can use to execute their trading strategies. Some of the other forex brokers include AvaTrade, RoboForex, and Exness.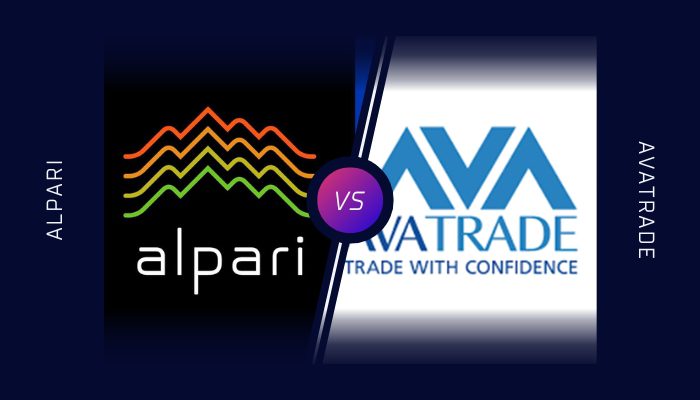 Despite offering traders a slightly pricey trading environment in fixed-spread accounts, AvaTrade is a reliable brokerage. However, compared to Alpari, this broker provides a considerably larger variety of assets, making the somewhat higher fees a modest price to pay if there are assets you want to trade that aren't offered by Alpari. In its current state, AvaTrade can be justified as a reliable option as a component of a well-rounded brokerage approach to trading.
Over the past 20 years, Alpari has developed into a reputable brokerage and produced a great trading environment. This brokerage has expanded and changed due to numerous prior errors and has devotedly serviced over 2,000,000 traders. Alpari, a pioneer in PAMM accounts, is especially pertinent to traders who use automated trading software. A cost-effective trading environment and a maximum leverage of 1:1000 are used to achieve this.
Both brokers have strong products, but AvaTrade prevails over Alpari regarding asset selection, platform options, and level of regulation.
AvaTrade and Alpari provide traders with a dependable trading environment, but Alpari has far more expertise. Compared to AvaTrade, it has served traders since 1998. Based on the online reports, more traders also trust it, having more than 2,000,000 clients compared to AvaTrade's 200,000+ traders.
AvaTrade offers over 1,250 trading assets, including 55 currency pairs, giving it a clear advantage in this area. Although Alpari offers 60 Forex pairs to clients, the entire selection is still somewhat constrained. Only 33 CFDs, far fewer than the 250+ that Alpari touts on its webpage.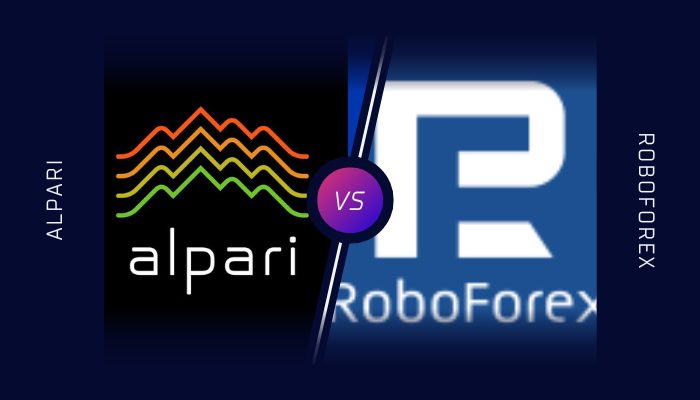 It is challenging to compare the trading expenses of forex and CFDs. Pricing models differ, and only some brokers disclose average spread statistics. According to our comprehensive annual evaluation, Alpari provides traders with better pricing overall.
ForexBrokers.com monitors over 23 foreign regulator databases to determine where each forex and CFD broker is licensed. Here are our results. Both Alpari and RoboForex have no global Tier-1 licenses. Compared to Alpari, RoboForex has one global Tier-2 license. RoboForex outperformed Alpari in our research of 50 brokers and 23 international regulators, earning a higher Trust Score.
We evaluated each broker's trading tools, research capabilities, and mobile apps to compare the trading platforms of RoboForex and Alpari.
RoboForex provides a superior trading experience. RoboForex provides excellent market research. We discovered that RoboForex offers superior mobile trading apps.
Both Alpari and RoboForex provide copy trading. Alpari offers traders 46 currency pairings, as opposed to RoboForex's 36, for example, EUR/USD. Aside from currency pairs, RoboForex provides traders with access to 12000 CFDs, compared to the 105 CFDs offered by Alpari, a difference of 11895.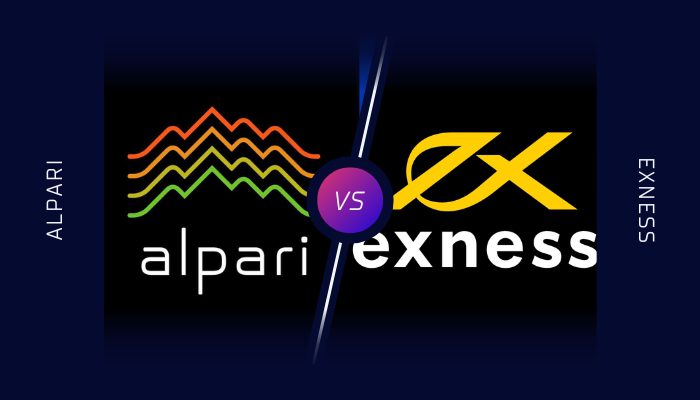 Since 1998, the Alpari broker has offered financial services on the global foreign exchange market, while Exness started operation in 2008. Alpari provides active Forex trading and investment opportunities as part of its services. The Registrar of International Business Companies gave it a license in 2012 with the identification number 20389 IBC. Exness has licenses from the CySEC (Cyprus Securities Commission), FCA (Office of Financial Regulation and Supervision of Great Britain), and FSA (Financial Services Authority) govern the service. 
Alpari is also recognized by the Financial Commission, which manages the resolution of complaints between brokers and their clients worldwide. Alpari has won more than 30 awards, including the FX Empire Awards (2013), International Finance Magazine Awards (2013), and Forex Expo Awards (2011, 2012, 2014). (2017). Exness maintains the top spot in the forex ratings and online reviews. The total monthly trading volume for the corporation is USD 325.8 billion
Exness presently offers CFDs for stocks, energy, metals, more than 120 currency pairings, cryptocurrencies, and stocks. Exness offers traders beneficial working conditions, including cheap commission, immediate order execution, and fund withdrawal. Earnings on tiny deposits up to $999 are attainable thanks to infinite leverage.
How Alpari Trading Options Compare against other Brokers
| Broker | | | | |
| --- | --- | --- | --- | --- |
| Instruments Available | 50 | 1250 | 100 | 100 |
| Platforms | MT4, MT5, Tablet & Mobile apps | Web Trader, MT4, MT5, AvatradeGo, AvaOptions, DupliTrade, ZuluTrade, Mobile Apps, ZuluTrade, DupliTrade, MQL5 | MT4, MT5, Mac, Web Trader, cTrader, Tablet & Mobile Apps | MT4, MT5, Web Trader, Binary, Tablet & Mobile Apps |
| FX / Currencies | | | | |
| Forex pairs offered | 57 | 61 | 35 | 110 |
| Major Forex pairs | Yes | Yes | Yes | Yes |
| Minor Forex pairs | Yes | Yes | Yes | Yes |
| Exotic Forex pairs | Yes | Yes | Yes | Yes |
| Cryptocurrencies (availability subject to regulation) | Yes | No | Yes | No |
| Commodity CFDs | | | | |
| Commodities Offered | 3 | 17 | 21 | 0 |
| Metals | Yes | Yes | Yes | No |
| Energies | No | Yes | No | Yes |
| Agricultural | No | Yes | No | Yes |
| Indiced & Stock CFDs | | | | |
| Stocks Offered | 0 | 1000 | 0 | 0 |
| UK Shares | No | Yes | Yes | No |
| US Shares | No | Yes | Yes | No |
| German Shares | No | Yes | Yes | No |
| Japanese Shares | No | Yes | Yes | No |
Conclusion: Alpari Review
To wrap up the Alpari Review, Alpari is a legit, safe, secure, and reliable broker that is still functioning after several years. It has been considered one of the best forex brokers. Alpari supports the core Meta trader 4 and 5 trading platforms, offering four account types. The broker has downsides, too, as mentioned earlier.
Alpari International is a strictly regulated platform with a minimum deposit of only $5 and $100 for a standard version. Over the years, Alpari has become a market leader in leading and frontier markets. It has a suitable payment method, such as alternative cryptocurrencies like Bitcoin, Ethereum, Ripple, and local fiat currencies.
Alpari International remains a competitive option for retail traders but has more opportunities for other prominent investors. However, these reviews are not to be considered investment advice.
Alpari Review FAQs
Is Alpari safe and legit?
Yes, Alpari is a reasonably safe and legit forex broker that has been in the financial market for over two decades, and so far, it has quite a good reputation. However, Alpari has cons and is also a high-risk forex broker.
Is the minimum deposit for Alpari?
The minimum deposit amount for Alpari is 5 USD, while the minimum deposit amount required to open an Alpari account is 100 USD. However, the deposit can only be made in the name of the Alpari account holder.
Is Alpari regulated by FCA?
Yes, the Financial Conduct Authority (FCA) oversees Alpari to keep the activities of the forex broker in check and ensure that the investors' money is safe.