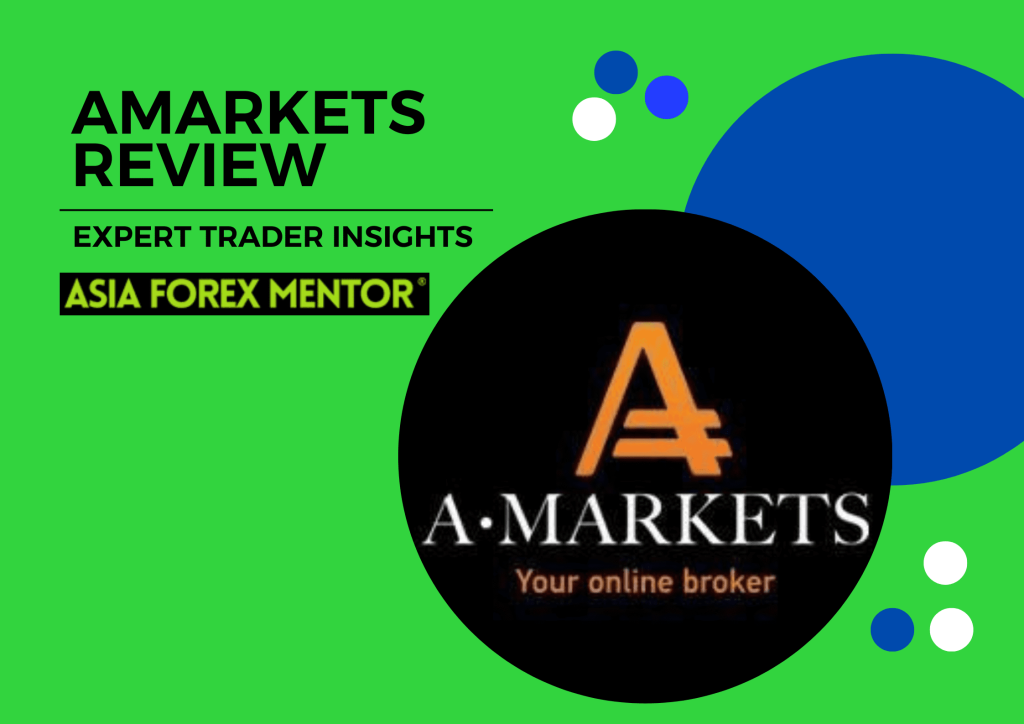 AMarkets Review
There are uncountable online brokerage services available for traders with a click of a button. However, with so many options and such competition, it becomes very difficult for not only a novice trader but also an experienced investor to pick and choose one reliable broker out of many. Nevertheless, AMarkets is one such brokerage platform that has made its mark among others.
AMarkets is not just one of the many brokerage platforms. This broker is specifically known for providing the best trading services to professional traders. Even though the firm has come a long way in offering services to new traders, algorithm trading is considered to be a trademark for AMarkets through its fastest order execution and tightest spreads.
Thus, this AMarkets review is purely intended to highlight the benefits, drawbacks, tools, features, resources, and other facilities of trading with AMarkets as a trading partner. Moreover, the readers can also learn more about this brokerage firm in detail so that they can decide whether or not AMarkets is the best trading option for them.
Asia Forex Mentor Evaluation Criteria
Asia Forex Mentor Evaluation Criteria refers to a standardized procedure where various financial experts analyze and assess numerous brokerage platforms in multiple aspects. This analysis aims to compare and categorize different brokers and examine them carefully for the traders.
Due to the emergence of uncountable online brokers, it is a tough job for any individual to select the best online broker that could fulfill their trading needs. For this reason, the AFM evaluation Criteria take the initiative of listing and describing the most competent, affordable, and trustworthy brokers from the lot for its readers.
The standard indicators for passing an Asia Forex Mentor Evaluation Criteria are the following:
Reliability by doing a background check on regulation, legitimacy, and licensing
Cost efficiency by comparing the spreads, commission fees, and additional and hidden charges.
Competency by verification of the platform interface, features, tools, and customer services
Profitability by observing the minimal investment prerequisites.
After critically analyzing AMarkets for its brokerage services, the AFM evaluation Criteria came up with certain conclusive points. Firstly, AMarkets can be considered the best online broker for professional brokers and algorithm trading mainly due to its fast order execution and tight spreads.
Even though newbies can equally trade through this platform without any issues. However, we can say that the strength of AMarkets is that there are very few online brokers who are ideal for professional traders and seasoned investors, and AMarkets tops this list of brokers.
Secondly, AMarkets is known for its high leverage and instant withdrawals which makes it a good choice for traders and investors who are looking for massive profit-making opportunities. Additionally, an added feature of copy trading for its customers also makes A Market a productive online platform for traders, investors, and financial institutions alike.
Similarly, with a variety of trading instruments offered by AMarkets including Cryptocurrencies. Therefore we can say that there is everything that a trader looks for in this broker.
What is AMarkets?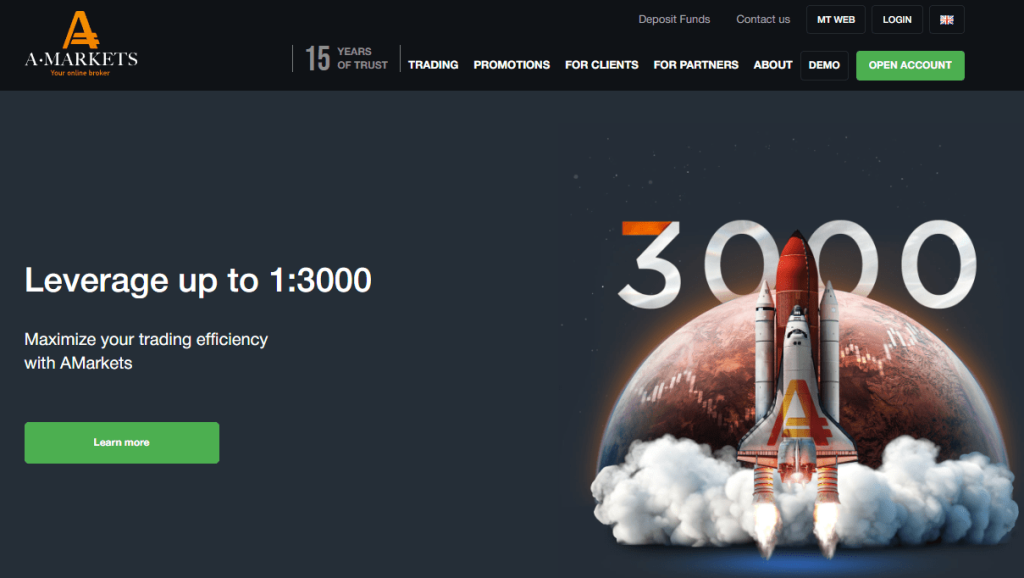 This detailed AMarkets review informs readers regarding the services offered by this broker, its various features, resources, and tools, and most importantly highlights the advantages and flaws of AMarkets as a brokerage service. AMarkets is a safe and reliable brokerage platform for traders and investors who are looking for a trustworthy trading partner.
The value of AMarket's safety and credibility lies in the fact that this broker has received many financial awards and recognition from reputable organizations and platforms. Moreover, AMarkets is also regulated by the financial commission since 2013 and holds a license from the Financial service authority of Saint Vincent and the Grenadines.
Along with this AMarkets is also known for offering a wide range of trading instruments including Forex, Metals, Cryptocurrencies, stocks, indices, etc. Traders have the option of either investing a big chunk of money in any one asset or can also invest in multiple trading instruments simultaneously for the diversification of their portfolio.
In almost all aspects of effective trading, AMarkets is spot on. Therefore, for anyone who is looking for an online brokerage platform that provides compatible services and custom-based trading solutions then AMarkets is the place to look for.
Advantages and Disadvantages of Trading with AMarkets?
  Advantages
  Disadvantages

Professional algorithm trading
Fast order execution
Tight spreads
Advanced MT4 and MT5 trading platforms
Provision of passive income

High minimum deposit requirement
Not regulated by the Financial Services Authority
Customer service unavailable on weekends
Benefits of Trading with AMarkets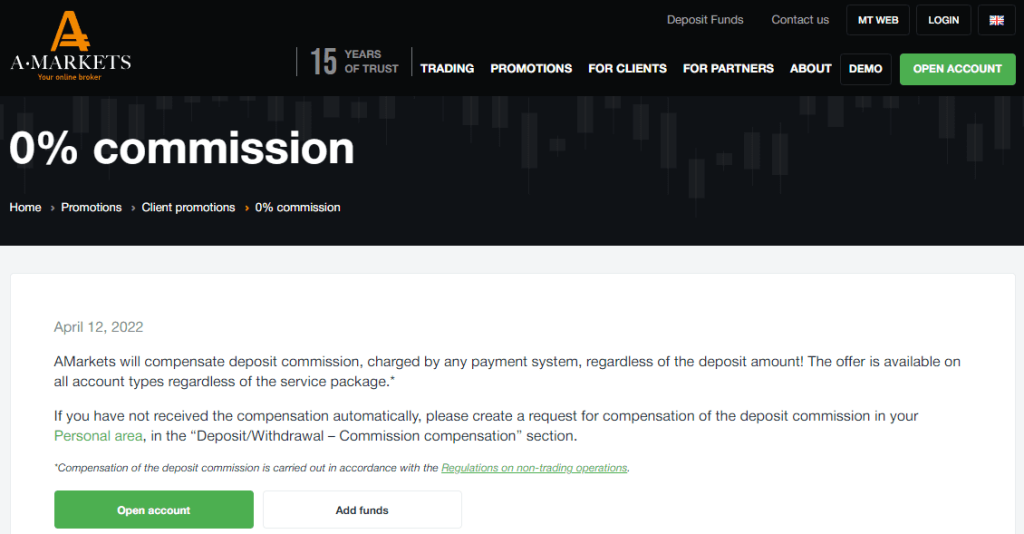 When we evaluate AMarkets in the financial markets we can observe that AMarkets is among the best online brokers in each aspect of a brokerage service provider. The very first aspect is the reliability and legitimacy of a broker.
With fraudulent companies operating everywhere it is unwise to invest in any firm with its background check. Therefore, AMarkets is a name that is recommended not just by Asia Forex Mentor evaluation criteria but is also acknowledged by many critical international awards, Moreover, AMarkets has validated its claim of being a genuine broker by serving almost 1,000,000 clients worldwide in 15 years.
Another benefit of AMarkets is that it offers multiple customized trading accounts to its clients. Unlike other brokers who have a limited range, AMarkets has options for multiple account types including fixed accounts, standard accounts, ECN accounts, and institutional account types. All these trading account types are designed with specific target customers in mind.
Similarly, another advantage of AMarkets is that it is a trading platform that provides services for professional traders and investors as well. With analytical tools, VPN servers, market forecasts, fast order executions, and narrow spreads ranging from 0.1 to 3.0 pips, AMarkets is an ideal platform for seasoned investors and financial institutions.
In addition to this, AMarkets has all the boxes checked in terms of the provision of popular trading instruments, a user-friendly interface with advanced MT4 and MT5 trading platforms, copy trading for passive income, and most importantly security of funds through its compensation fund of up to €20,000 per claim.
AMarkets Pros and Cons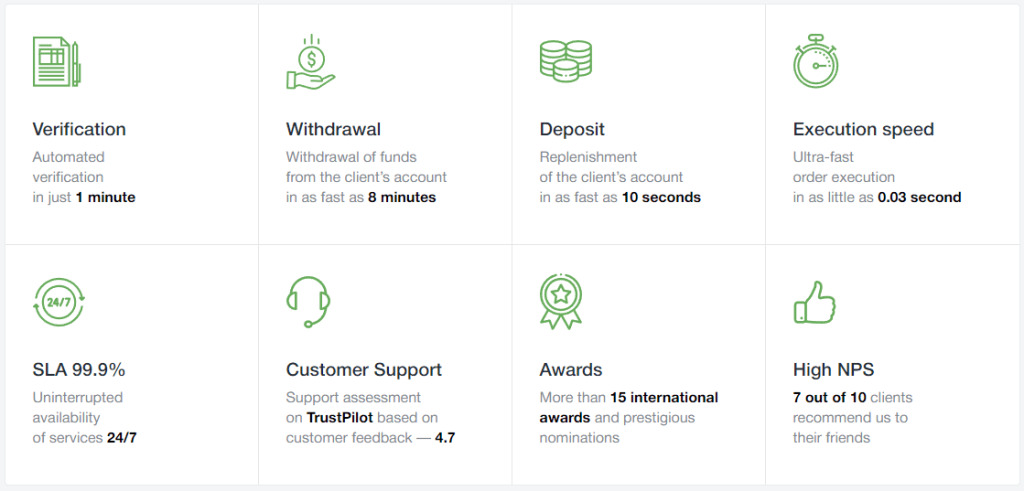 PROS
High Leverage of up to 1:3000
Instant withdrawals
Deposits commission-free
Multi-lingual platform
CONS
Higher commission on ECN accounts
Customer service unavailable on weekends
Analysis of the Main Features of the Forex Broker
4.0 Investment Instruments
4.2 Variety of Instruments
AMarkets Customer Reviews
This AMarkets review also keenly focuses on customer reviews as user evaluation and responses are key to analyzing any online broker services. After a thorough inspection of various positive and negative reviews from the clients, we have gathered integral information regarding AMarkets. However, we can sum up this information in a few points.
The first aspect where AMarkets has been able to grab the attention of its customers is through its regular bonus offers and promotions. According to a majority of customers they were enticed by the offers that AMarkets gave to open an account. However, unlike many platforms that do not live up to expectations, A Markets turn out to be a good investment decision for them.
Similarly, many reviews reflect that AMarkets provides the fastest order execution and the tightest spreads that leads to a profitable trading environment. Specifically, professional investors and institutions appreciate this feature most as speedy execution can lead to many trading opportunities that slow order execution may miss.
Additionally, customers also appreciate the easy withdrawal procedures of AMarkets. With various withdrawal methods at their disposal, it is very convenient for AMarket's users to withdraw funds at any time. Moreover, there are also no additional withdrawal charges from the platform which is an added value to the overall trading experience.
Many other positive features are highlighted by the customers in their reviews like the advanced and user-friendly platform of MT4 and MT5 and the multiple account types and a demo account also offered by the platform. However, to sum up we can say that most of the customers have given a thumbs up to the overall brokerage services of AMarkets.
Regardless of all the optimistic reviews there certainly were some flaws that were mentioned in the customer reviews. These included the high commission rate of AMarkets as compared to other trading platforms and also the minimum deposit amount of $ 100 is deemed as high by the new traders.
AMarkets Spreads, Fees and Commissions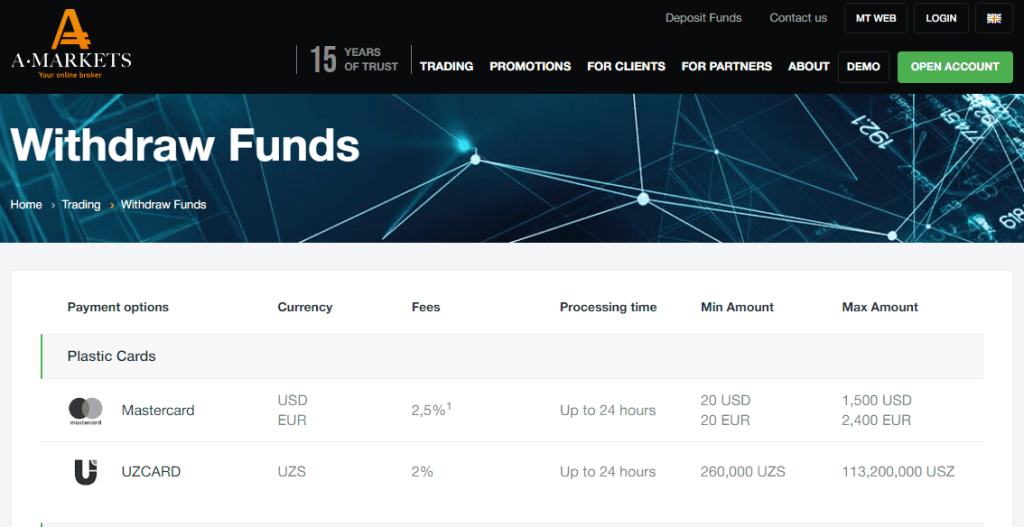 The strength of AMarkets as a trading platform in the financial markets is that it offers the highest spreads. Seasoned traders and financial institutions along with long-term investors all appreciate narrow spreads as it enables them to make more profit due to low market volatility and more price liquidity.
For this reason, the spreads offered by AMarkets of 0.2 pips up to 3.0 pips depending on the instrument is of vital importance for the clients and make this platform a worthy trading partner.
As far as the commission is concerned AMarkets has the impression of taking high commissions from their clients. However, this is not the case. AMarkets offers value for money for the commission it charges as the services it provides are the best features that are required for trading in the financial markets. For instance, the most advanced trading platforms, narrow spreads, high leverage, easy withdrawal, a compensation fund, and overall a legitimate and reliable trading platform.
AMarkets does not charge any hidden or additional fees than the commission that is mentioned to its customers on each account type depending on the trading transactions. AMarkets offers free withdrawals and deposits of funds which is often charged by other brokerage platforms.
How AMarkets Fees Compare to other Brokers
| Broker | | | | |
| --- | --- | --- | --- | --- |
| Min Deposit | 1 | 100 | 1 | 1 |
| Withdrawal Fees | Yes | No | Yes | Yes |
| Inactivity Fees | No | No | No | No |
| Deposit Fees | Yes | No | No | Yes |
| CFD Commission Fees | Yes | No | No | $10-$30 |
| | | | | |
Account Types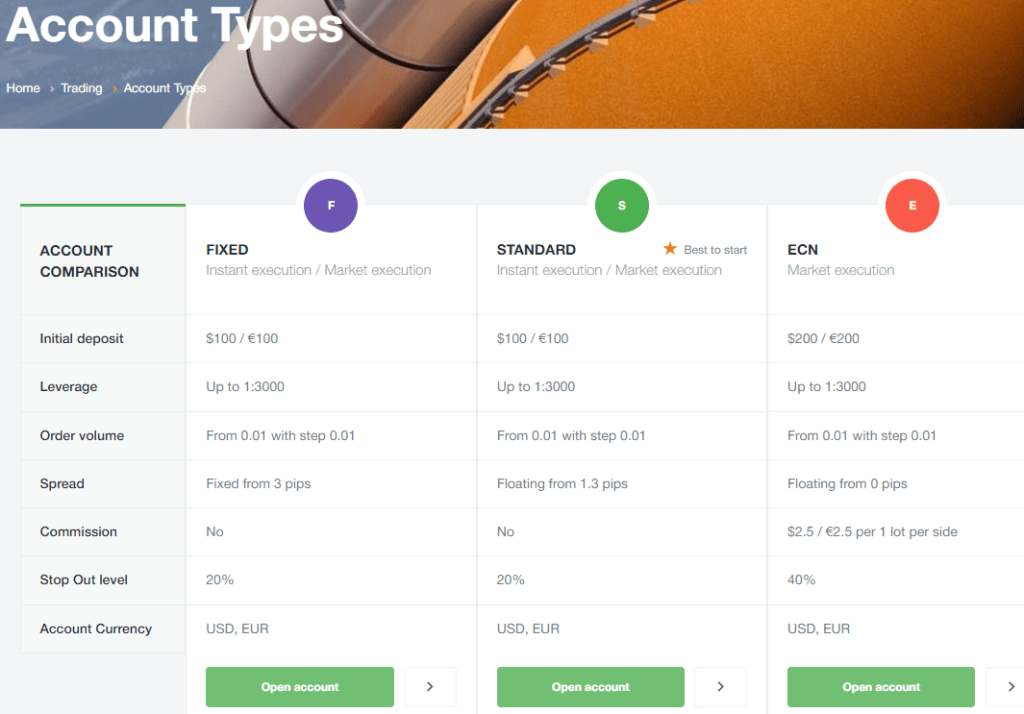 Every brokerage platform offers a different type of account to its customers as the trading accounts are essentially targeted to the type of traders. For instance, brokers who want to entice new trading entrants provide a trading account with minimum or very low deposits so that the trader can take an initiative towards investing a small amount in trading before making a big investment.
Similarly, some brokers have an account specifically for forex trading that has tight spreads and more liquidity. In this way, AMarkets also has three trading account types and each one is dedicated to a different set of traders. Each trading account has a different specification including leverage, spreads, deposit funds, commission, and stop level.
The first trading account type that AMarkets offer is the standard account. For inexperienced and newbies in trading, this account is recommended. The standard account offers fast order execution with tight spreads of floating 1.3 pips. Along with this, there is high leverage and no commission for this account type. The minimum deposit for the standard account is $ 100.
The second account type on the AMarkets platform is the Fixed account. This account also offers the same features as the standard account however the spreads are fixed at 3.0 pips. This fixed price movement of 3 percent can be a profitable number in forex trading, especially for traders and investors who are experienced and well aware of the market conditions.
The third account type is the ECN account. As AMarkets provides the best Electronic Communication Networks (ECN) for forex trading, therefore, it is also considered to be the most professional among all forex brokers. AMarkets has a premium ECN account for traders who deals in their trading investments without any interference from a middle-man, directly with the market through the automated systems.
Since the ECN accounts are targets for big investors and long-term forex traders, the initial deposit is also high which is $ 200. Similarly, the commission rate is also $ 2.5 per lot per side. However, the ECN account offers the fastest market execution and spreads as low as 0 pips.
Along with these account types, AMarkets also has the option of opening an Islamic account for Muslim users. The Islamic account is a swap-free account and does not charge any additional fees or charges from the users.
How to Open Your Account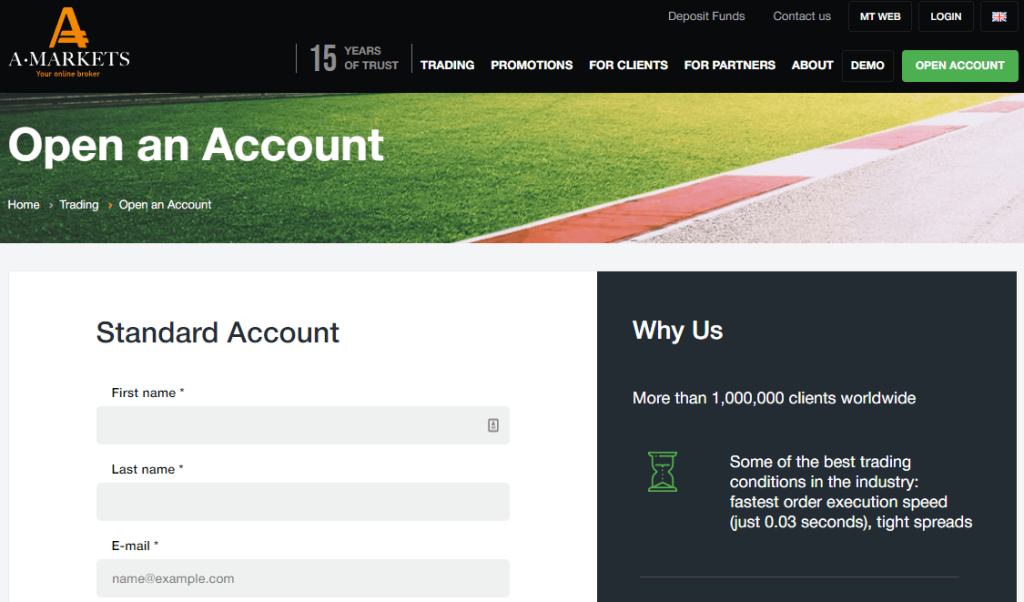 Opening a trading account with AMarkets is as easy as it gets. By following a three-step procedure anyone can open an account with AMarkets. However, before making any investment decision with any broker it is highly suggested to do background research and first open a demo account. The confirmation of authenticity and legitimacy of the broker is of utmost importance before opening an account with any brokerage firm.
After the background check, the user can go to the official website of AMarkets. On the very first landing page, there is an option of "OPEN ACCOUNT". After clicking on this tab the user will be redirected to another page that is required for registration and it is the second step of this procedure.
The registration page requires the users to fill out the form with some basic personal information like name, email, nationality, and phone number. After filling out the form with the correct information and clicking on "SUBMIT" the users will go through the final step.
The last step is the verification process. If the information provided by the user is not verified through the email or phone number then the account will not be activated. However, in the case of correct information, the trading account with AMarkets will be opened successfully.
The same process will be followed for a demo account however, the demo account will not be transferred into a live trading account unless the initial deposit funds are paid by the user.
What Can You Trade on AMarkets
The biggest advantage for an AMarkets customer is that almost all trending trading instruments are available on this platform. From forex trading to stocks, bonds, commodities, metals, indices, and even the popular cryptocurrencies, all these asset classes are offered by A Markets making it an all-inclusive trading platform.
For trading forex, AMarkets is an ideal platform with more than 45 currency pairs for trading. Along with this the fast order execution and tight spreads for buying and selling foreign currencies make AMarkets the best forex broker in the financial market. Moreover, the live customer service feature also provides support to traders and investors for profitable returns.
Many online brokerage platforms do not offer trading in cryptocurrencies as its market is extremely volatile and it is considered to be a risky investment. However, AMarkets provides all the essentials of the best Cryptocurrency broker with low commissions, an easy payment system, no added fees, and most importantly financial security.
Other than these assets, AMarkets is also a valuable broker for trading in commodities, metals, indices, and stocks. Even when Forex and Cryptocurrencies are the most trending instruments among traders these days, however, having a diversified portfolio is ideal for low-risk investments.
AMarkets Customer Support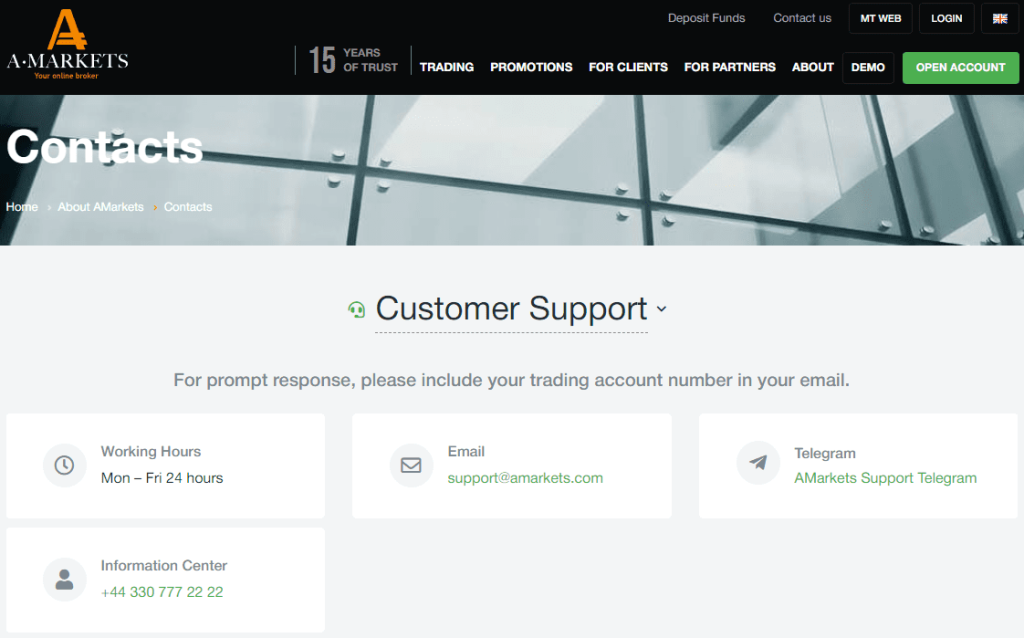 Customer support is the backbone of any brokerage service as it can make or break a deal for the trader. Specifically, in forex trading where order executions are fast and market fluctuations are frequent, it is very important to have a speedy and responsive customer support service.
As far as AMarkets is concerned, customer service is also up-to-the-mark as there are multiple ways to contact and communicate with the support staff. Not just via email or phone but customers can also contact the support team through their trading account via live chat. This sort of immediate response is a requirement of any professional broker and AMarkets lives up to that expectation.
Customer service is available for the users 24 hours a day however, there is only one drawback of this service is that it is not available on weekends. This can be a significant flaw of AMarkets as an online broker because especially forex markets are open even on weekends and so unavailability of customer service during this time can be a big hassle for the traders.
Other than this drawback the customer service of AMarkets can be considered the best service due to its provision of multiple mediums of communication, multi-lingual assistance, and most importantly the fast response to customers' queries.
Advantages and Disadvantages of AMarkets Customer Support
  Advantages

  Disadvantage

24 hours live chat
Multiple communication channels
Fast responses
Multilingual communication

Not available on weekends
Social media platforms not available
AMarkets Contacts Table
Contacts
Foundation Date

2015

Registration Address

Suite 305, Griffith Corporate Centre 1510, Beachmont, Kingstown, Saint Vincent and the Grenadines

Regulation
FSA (Financial Service Authority)
Contacts
Email: info@amarkets.com, support@amarkets.com
Phone:

+44 330 777 22 22
Security for Investors
  Advantages
  Disadvantages

Provision of Compensation Funds
Member of the Financial Commission
Order Execution verified by an independent third party
Registered by the Financial services authority

The License of the Financial Commission Authority is not applied to all account types
Offshore regulation
Withdrawal Options and Fees
Commonly, online brokers are often criticized for their slow withdrawal processes and limited withdrawal methods. Some clients even complain about the long delays in the withdrawal amount and some face withdrawal currency issues. However, this is not the case for this broker. AMarkets is known among customers for its instant withdrawals.
In addition to the speedy withdrawal of funds, there is also a lot of convenience for users when it comes to choosing the best withdrawal method. From bank transfers to credit and debit cards all kinds of primary withdrawal methods are available at AMarkets at the fastest procedure. Along with this, the most trending e-wallet options for withdrawing funds are also offered by AMarkets.
Almost all the popular and widely used online transfer mediums including Web Money, Neteller, Skrill, Jeton Wallet, and many more are accessible through AMarkets. Similarly, all VISA and Master Cards are also accepted by this brokerage platform.
Since AMarkets claims to provide instant withdrawals of funds most of the e-wallet transactions are made immediately. Similarly, all credit and debit card transfers take an average of 1 to 3 hours. On the other hand, bank transfers may take up to 5 days depending on the regional procedures of the banks.
AMarkets Vs Other Brokers
Any critical analysis cannot take place in isolation, therefore it is very important to compare an entity with its counterparts to understand its true value. In the same way, to evaluate AMarkets as the best online brokerage platform it is crucial to make comparisons with other top online brokers available in the financial market.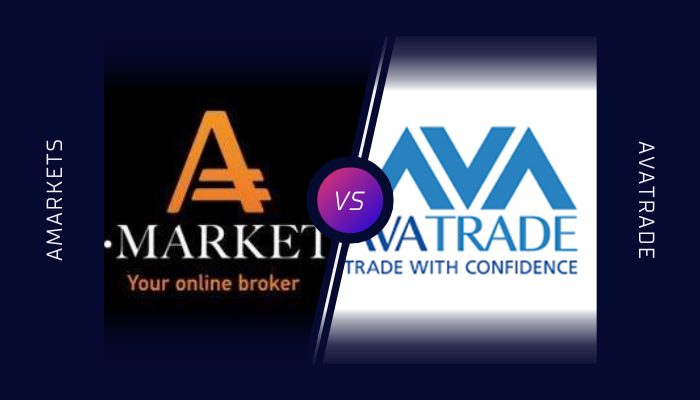 Avatrade is one online broker that has won its customers' trust and outperformed many other brokers with its outstanding trading services. However, when we compare AMarkets with Avatrade, we can clearly see that Avatrade lacks in many ways. Hence this comparison highlights the advantages of A Markets more clearly.
Firstly, AMarkets is a step ahead with its professional algorithm trading services. This means that AMarkets provides the fastest order executions for its customers and even Avatrade cannot beat AMarkets in this. Similarly, AMarkets offer features like copy trading for the customers to enable them to earn passive income along with the profits of live trading of assets.
Contrasting to this, the only aspect in which Avatrade exceeds AMarkets is in its level of regulation. Avatrade is regulated by 7 security commissions of different regions at the same time. This makes Avatrade a more reliable broker and its segregated bank account are trustworthy for traders' investments.
In contrast, AMarkets works only under the license issued by the Financial services authority of Saint Vincent and the Grenadines. This one-tier regulation can lead to one major drawback that AMarkets struggles from.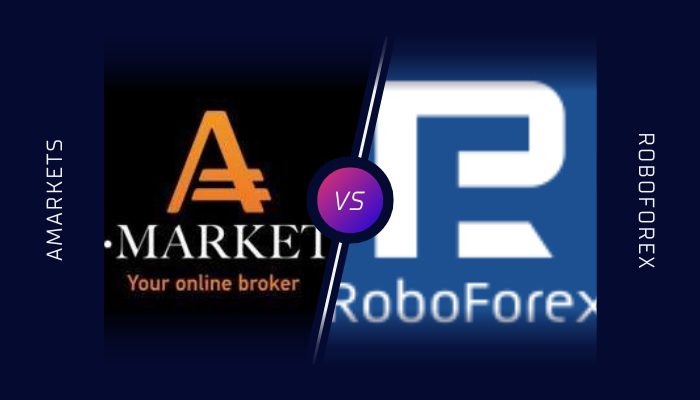 While comparing AMarkets with Roboforex we came across many similarities and some differences. Both these brokers have made their name in the financial market and have a big number of registered clients on their platforms. Moreover, both AMarkets and Roboforex are registered by a single commission of Saint Vincent and the Grenadines, this makes these brokers less secure than others.
In addition to this, the features of AMarkets and Roboforex are also somewhat common. Such as both brokers have the option of copy trading for their customers to hold on to some passive income. Similarly, users can find the latest technology of trading platforms like MT 4 and MT5 with these online brokers
When we talk about the contrasting elements there are a few. However, these differences certainly give an edge to AMarkets over Roboforex. The major benefit of AMarkets is that it is the most professional broker in algorithm trading. This means it provides the fastest market and order execution for traders to perform the most profitable trading transactions. Moreover, the ECN accounts in AMarkets offer the most reliable automated trading network with maximum leverage.
On the other hand, Roboforex has all the features of a basic trading platform that an average trader would require. However, seasoned investors and long-term traders may not find Roboforex as valuable as AMarkets.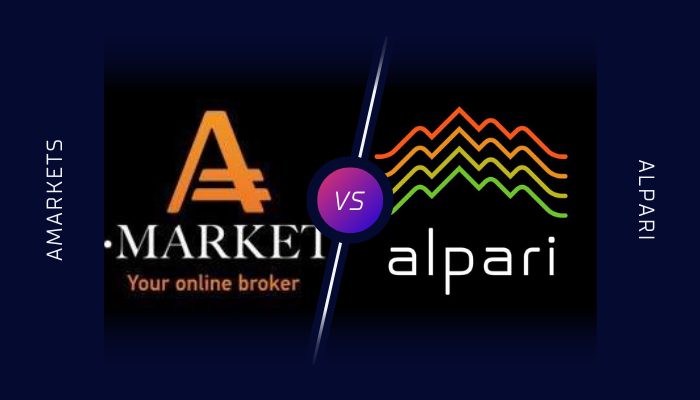 We can say that both AMarkets and Alpari go hand in hand when it comes to online brokerage services. AMarkets and Alpari both offer copy trading services to their customers. Along with this, with this, both these platforms have ECN accounts which help users to trade in an automated trading system. The account types offered by AMarkets and Apari is also not limited and has services for all type of traders.
With regard to the differences between AMarkets and Alpari, we can say that Alpari has more experience as a brokerage service as it stepped into the financial market in 1998 and it has been more than 2 decades since Alpari offered its brokerage services. Whereas AMarkets was established in 2007 giving it less market exposure.
Additionally, Alpari offers other perks to traders such as low commission fees per trade of $ 8 per lot, 24/7 customer service, a $ 1 minimum deposit, international accreditation, security and protection of funds, and advanced trading platforms.
Conversely, AMarkets do have a slightly high commission and more minimal deposit requirement however, it is worth the money in comparison with the services offered. Since the cost of trading with AMarkets is higher it is more suitable for serious traders with considerable investments. Therefore, traders would not mind the cost as the stakes are higher for them.
How AMarkets Trading Options Compare against other Brokers
| Broker | | | | |
| --- | --- | --- | --- | --- |
| Instruments Available | 50 | 1250 | 100 | 100 |
| Platforms | MT4, MT5 | Web Trader, MT4, MT5, AvatradeGo, AvaOptions, DupliTrade, ZuluTrade, Mobile Apps, ZuluTrade, DupliTrade, MQL5 | MT4, MT5, Mac, Web Trader, cTrader, Tablet & Mobile Apps | MT4, MT5, Web Trader, Binary, Tablet & Mobile Apps |
| FX / Currencies | | | | |
| Forex pairs offered | Yes | 61 | 35 | 110 |
| Major Forex pairs | Yes | Yes | Yes | Yes |
| Minor Forex pairs | Yes | Yes | Yes | Yes |
| Exotic Forex pairs | Yes | Yes | Yes | Yes |
| Cryptocurrencies (availability subject to regulation) | Yes | No | Yes | No |
| Commodity CFDs | | | | |
| Commodities Offered | Yes | 17 | 21 | 0 |
| Metals | Yes | Yes | Yes | No |
| Energies | No | Yes | No | Yes |
| Agricultural | No | Yes | No | Yes |
| Indiced & Stock CFDs | | | | |
| Stocks Offered | 0 | 1000 | 0 | 0 |
| UK Shares | No | Yes | Yes | No |
| US Shares | No | Yes | Yes | No |
| German Shares | No | Yes | Yes | No |
| Japanese Shares | No | Yes | Yes | No |
Conclusion: AMarkets Review
Most people who want to make investments to earn quick income are advised to invest in the financial markets. For this reason, many people are turning towards trading underlying assets to gain capital returns. However, trading is one profession that requires the right skills and expertise to achieve successful results. Consequently, more and more individuals search for a reliable brokerage platform for their trading needs.
With the higher demand for online brokers, in response, there is also an adequate number of brokers offering their services. For this reason, there is also healthy competition among brokers to provide the best trading services to their customers in order to survive in the financial markets. Hence, any individual looking for a broker would come across many efficient brokerage platforms in the market.
Among these numerous brokers, AMarkets is one reliable name that has made its mark in the trading domain. AMarkets has 1,000,000 registered users worldwide and offers a variety of asset classes to its customers including, forex, stocks, indices, commodities, metals, and even Cryptocurrencies. Moreover, AMarkets offers leverage as high as 1:3000, zero commission policy for fixed and standard accounts, and spreads as low as 0.2 pips.
Along with these benefits, AMarkets is also known for its algorithm trading. Professional and long-term investors look for brokers that provide fast market executions so that the trading process is not affected by the market volatility and maximum profits can be earned. This is something that very few including AMarkets provide to their customers which are valued the most.
Other advantages of AMarkets include ECN accounts with the tightest spreads and copy trading for passive income. Similarly, instant withdrawals, compensation funds, and responsive customer service are also plus points of this platform.
There are some minor flaws of AMarkets that can be easily overlooked given the outstanding services provided by this broker. These drawbacks include higher commission fees, unavailability of customer service on weekends, and high initial deposit of funds.
To conclude we can say that AMarkets is certainly a brokerage company that is worthy of any trader's investment. Any individual, trader, investor, or financial institution who is looking for a trading platform with the most effective trading features, tools, and requisites would find AMarkets as the best available option in the financial market.
AMarkets Review FAQs
Is AMarkets a trusted broker?
Yes, AMarkets is a trustworthy broker that has made a reliable name in the financial markets. Even when this broker is not protected by a central regulatory authority and is only secured by offshore regulation, the credibility and legitimacy of AMarkets cannot be questioned. The reason for this reliability is it is an international company with acknowledgment through many awards.
Most importantly, the option of compensation of funds and insurance coverage of up to 20,000 EUR per claim by A Markets is also something that makes this broker genuine and dependable as a trading partner.
What is the minimum deposit in AMarkets?
The minimum deposit in the standard and fixed account types on the AMarkets platform is $100. Whereas for ECN accounts the minimum deposit requirement is $200. Even though this amount is higher than many other online brokers, it nonetheless has value for money with the services provided by this broker.
However, those individuals who want to test the services of this broker can open a demo account that does not require any deposit of funds. Nevertheless, the demo account can only be transformed into a live account after the transfer of the minimum initial deposit.
How long does it take to withdraw from AMarkets?
AMarkets is known for its instant withdrawal of funds. Mostly all the withdrawal method offered by AMarkets has the option of instant withdrawals including e-wallets, an online payment system, and also credit and debit card. Moreover, these methods do not only have rapid transfers but also do not have any additional withdrawal charges.
The only withdrawal method which takes time is the bank transfer as it takes 3 to 5 days of standard bank procedures. Similarly, bank transfers also have withdrawal fees which are applied by the bank of the client and not by the trading platform itself.