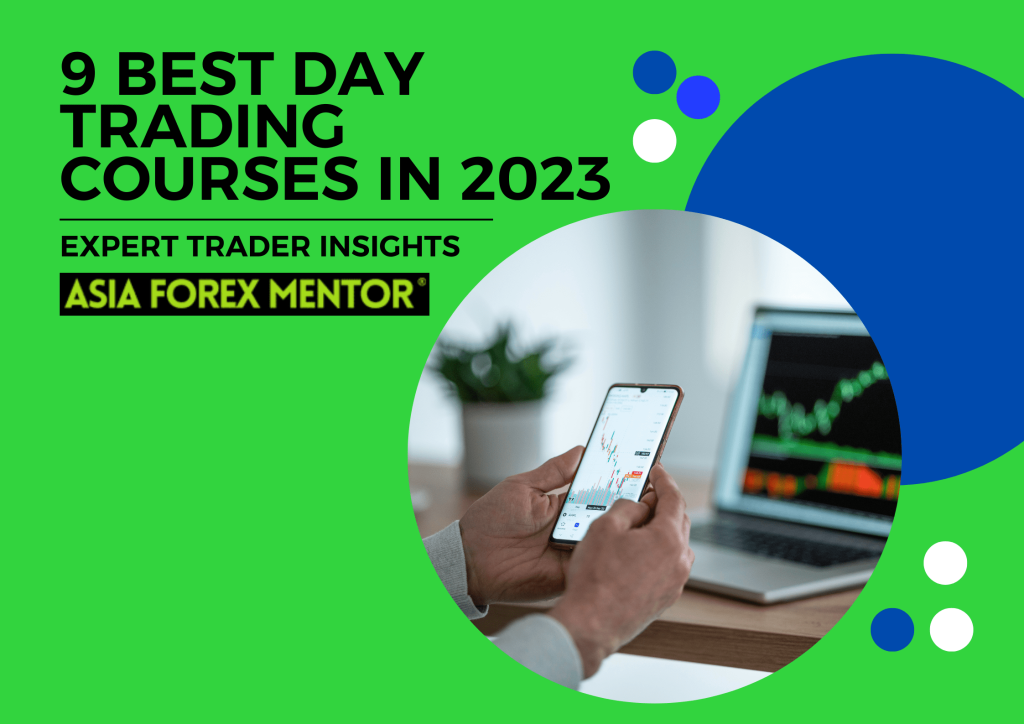 You're not alone if you've ever been tempted by day trading's appeal and the prospect of huge earnings. Day trading is an exciting and dynamic way to interact with the stock market, but it takes a specific set of abilities and information to succeed. Through systematic learning from the best day trading courses available, one of the most efficient approaches to acquire these abilities is.
The top day trading courses in 2023 will be vital tools for traders, giving them the most latest information, cutting-edge approaches, and tried-and-true strategies to assist them navigate the complexities of the financial markets.
We'll examine some of the best day trading courses you can choose in this article if you want to up your trading game. There is a course that is appropriate for you whether you are a novice, intermediate, or experienced trader.
What is Day Trading?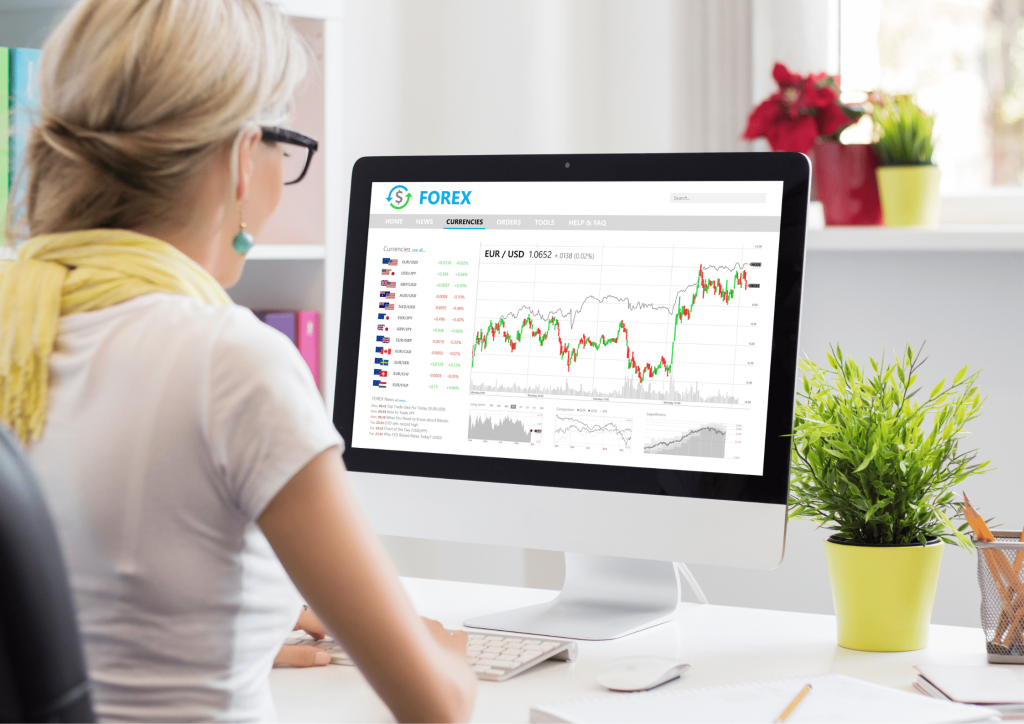 Day trading is a distinctive form of trading in the financial markets. Unlike traditional investment methods, day trading revolves around the rapid buying and selling of securities within a single trading session. To shed more light on the concept:
Quick Turnarounds: Day trading essentially involves purchasing and offloading securities within a day or, in some cases, just a few seconds. This approach primarily seeks to harness the frequent price fluctuations that are a norm during any trading day.
Not Traditional Investing: Contrary to long-term investment strategies, day trading is all about capitalizing on short-lived price movements, rather than the inherent value or potential of an asset.
The Role of a Day Trader: A day trader can be visualized as a highly active market participant. Their trading volume is usually higher, encompassing a mix of both short (selling assets before buying) and long (buying assets to sell at a higher price) trades. Their objective? To profit from quick shifts in prices.
The Double-Edged Sword of Leverage: One tool often at a day trader's disposal is leverage. By borrowing funds to make trades, they can potentially amplify their returns. However, this amplification works both ways: while the potential for profits increases, so does the potential for losses.
Underlying Mechanisms: A day trader's success hinges on their ability to identify temporary supply and demand inefficiencies. These inefficiencies, often resulting from buying and selling actions of other market participants, create opportunities for profit. Crucially, day traders typically avoid holding positions after the market closes, safeguarding themselves from unforeseen events or news that could affect prices after hours or overnight.
Lucrative but Challenging: Day trading holds the potential to yield significant profits, especially for those who've mastered the craft. However, newcomers to the field should tread carefully. The realm of day trading is fraught with challenges, and without a robust strategy, it's easy to go astray. Furthermore, even the most adept traders aren't immune to tough periods or losses.
Why Learn Day Trading?
In recent times, the buzz around day trading has reached a fever pitch. There's no shortage of stories circulating about individuals who've struck it rich through day trading, but conversely, there are equally alarming tales of those who've suffered significant financial losses. The dichotomy of these outcomes brings forth a crucial question: Why should one consider learning about day trading?
First and foremost, if you're considering day trading with the anticipation of quick, easy money, it's time for a reality check. Day trading is not a mere hobby or something to dabble in during your spare time. Especially when it comes to using leveraged investment strategies or dealing in leveraged products, the stakes are significantly high.
Day trading is a difficult field for everyone, whether they are investing newbies or veterans. Day trading is more than just making a profit by buying low and selling high. The ability to think quickly on one's feet, grasp complex market mechanics, and act swiftly under pressure is essential.
Day trading is like walking through a minefield without first familiarizing oneself with the products, tactics, and, most importantly, the hazards involved. Trading on margin or using options are examples of leveraged financial practices that can magnify profits, but also magnify losses. Day trading can be risky if you don't fully understand the tactics involved and the economics behind them.
Although it's tempting to go into day trading after hearing a few success tales, it's important to proceed with caution. Learn as much as you can about day trading, be aware of the high stakes, and make sure you have the resources and expertise to succeed before you go in.
9 Best Day Trading Courses in 2023
At Asia Forex Mentor, our One Core Program stands as one of the most comprehensive offerings available, boasting over 26 meticulously curated courses. This makes our program specially tailored for newcomers eager to dive into the forex trading world. But the depth and breadth of the content also resonate with established gurus, financial institutions, and anyone keen on adopting the strategies I've successfully deployed over the years.
Our founder, Ezekiel Chew, created this program with a reputation as a globally recognized trading authority. Often called "the man behind the gurus," he has had the privilege of speaking at numerous international conferences and panels. His success in the trading world has allowed him a semi-retired lifestyle, where he consistently achieves six-figure sums from transactions. Today, his passion is centered around imparting this knowledge and expertise to the community, which he achieves through the digital format of the One Core Program.
In this curriculum, he has distilled his techniques to guide retail traders on how to navigate the forex market. The modules tackle everything from trade management, the nuances of chart reading, strategy development, and understanding risk-reward dynamics, to insights into my MT4 setup.
What truly sets our course apart is its foundation in mathematical probability. It allows every student to see firsthand that by harnessing my system, profitability isn't just a hope—it's an expected outcome. This unwavering confidence in the program's efficacy is a significant reason why it's lauded as the premier day trading course in the industry.
Priced at $940, the sheer depth and effectiveness of the One Core Program, combined with our hands-on teaching style, undeniably offers unparalleled value. In a world where many charge exorbitant fees for content that might not even stand the test of real-world trading, our program is not just a value proposition—it's a testament to genuine expertise.
Benefits of Learning Day Trading with Us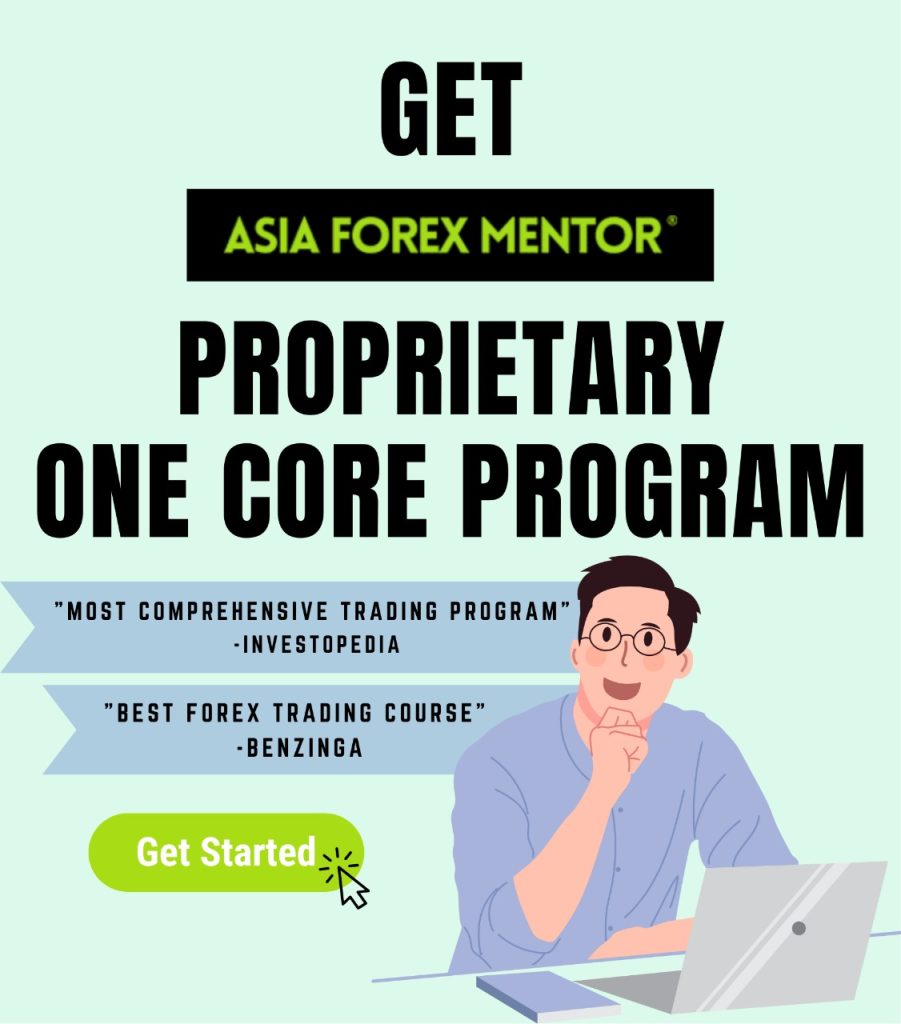 At Asia Forex Mentor, we've established ourselves as a pillar of excellence in the world of day trading. Our founder, Ezekiel Chew, is globally renowned for his deep understanding of forex. His insights have not only been sought after by retail traders worldwide, but he has also successfully mentored countless students, transforming them into professionals in the trading industry.
Developed by Ezekiel himself, our One Core Program stands as a testament to our unwavering commitment to the trading community. Through this program, we proudly train a vast spectrum of traders, from those affiliated with prop trading companies and banks to those in fund management firms.
Our Recognitions
Our commitment to excellence hasn't gone unnoticed. Here are some of the accolades that we, Asia Forex Mentor, are proud of:
Most Comprehensive Course Award bestowed upon us by Investopedia.
Best Forex Trading Course for Beginners title awarded by Benzinga.
Honored as the Best Forex Mentor of 2021 by BestOnlineForexBroker.
Consistent commendations for our top-notch trading strategies and systems.
Why Choose Asia Forex Mentor?
In-depth modules on data analytics and risk containment.
A vast syllabus with our flagship One Core Program.
Direct mentorship opportunities with the illustrious Ezekiel Chew.
An undisputed reputation accentuated by multiple accolades.
And, for those still contemplating, we offer a free trial to experience our offerings firsthand.
With us, at Asia Forex Mentor, you're not just learning the ropes of trading; you're being prepped for a journey of consistent growth, understanding, and profitability in the volatile world of financial markets.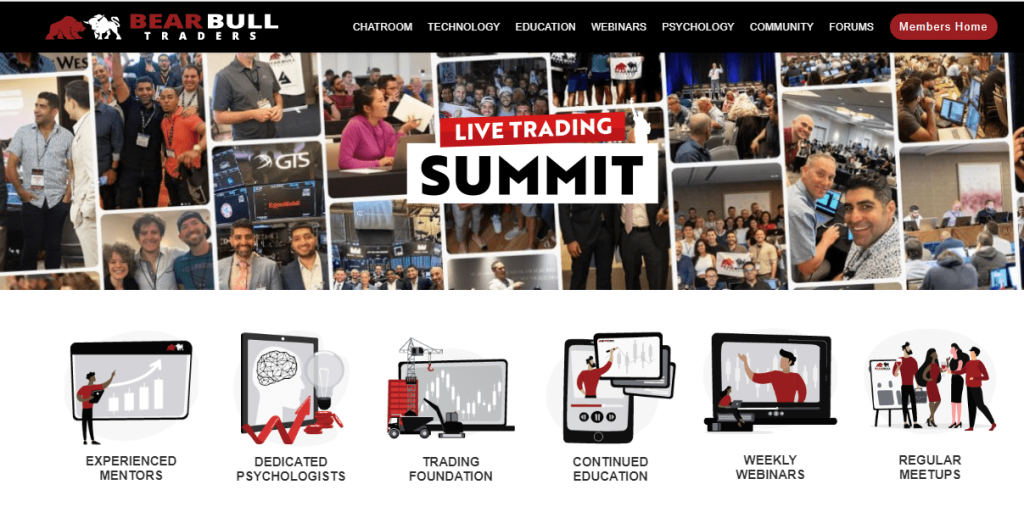 In addition to Asia Forex Mentor, Bear Bull Traders is another top-tier platform that offers a stellar day trading course tailored for beginners, skillfully merging education, live trading, and mentorship.
From 9:15 a.m. to 10:00 a.m., their member chat room buzzes with activity. Each morning, before the market springs to life, Andrew Aziz, the brains behind Bear Bull Traders, collaborates with his team to draft a daily watchlist. This list is meticulously curated by studying pre-market stock movements, coupled with a thorough analysis of current price actions, news, and market sentiments.
Subscribers to Bear Bull Traders have the privilege of watching Andrew's trades unfold live. His trading patterns, especially during the vital initial hour of trading, are displayed vividly, highlighting his strategic entries and exits in sync with the level 2 price movements. Andrew's focus leans towards trading in highly liquid stocks that boast of minimal spreads and robust momentum.
Setting Bear Bull Traders apart from their contemporaries is their exemplary stock chat room. Moderated throughout the trading hours, the chat room consistently radiates positivity. Veteran traders not only moderate this space but also offer real-time commentary on market trends, elucidate their trading decisions, and actively share their screens, offering a transparent view of their current actions and their underlying reasons.
While the chat room offers an immersive introduction to day trading, Bear Bull Traders doesn't stop there. Their expansive education center boasts a library of over 100 premium trading tutorials available exclusively for their members.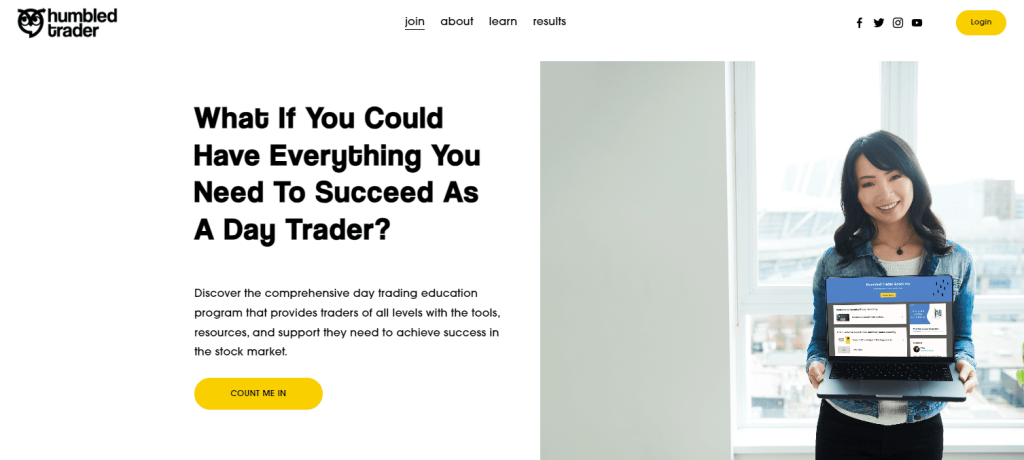 Humbled Trader's subscription options are minimal, consisting of just the Pro tier. All levels of traders, from beginners to pros, can benefit from this premium package's all-inclusive features and expert curation.
Successful trading hinges on making educated choices. If you upgrade to the Pro tier, we'll compile custom watchlists for you, indicating opportunities for profitable trades based on in-depth analysis of the markets.
Members can select between the swing trading and day trading chat rooms to talk with people who have similar interests in their favorite trading strategies. People can communicate in real time in these situations, exchanging ideas and learning from one another.
Weekly live mentorship webinars are offered by Humbled Trader to keep participants informed and current. These gatherings are fantastic places to network, pick up new business advice, and gain firsthand knowledge of market changes.
A human touch can make all the difference in financial guidance. Subscribers to the Pro tier can arrange semi-annual one-on-one coaching sessions with an experienced Humbled Trader coach. These meetings are essential because they offer individualized teaching, constructive criticism, and technique fine-tuning.
The Humbled Trader Academy has more than 12 hours of video content produced by Shay, also known as Humbled Trader in the trading community. These DVDs, which are divided into 17 distinct portions, offer a lot of knowledge and insight into the day trading industry. The school offers additional trading materials to aid you on your journey as well as quizzes to assess your understanding.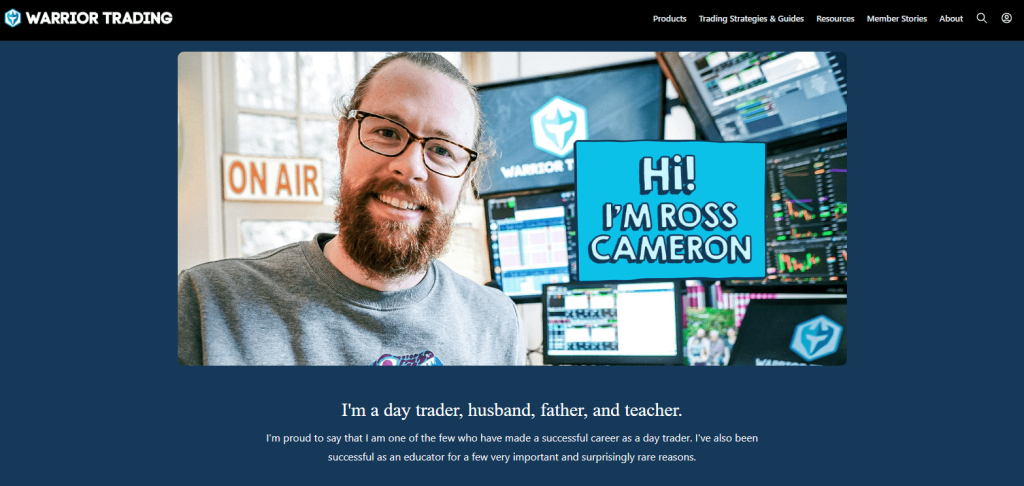 Warrior Trading is a renowned and highly-rated platform with a loyal following. Catering to traders of all abilities, their offerings range from beginner to advanced.
Beginners can opt for the Warrior Starter class, which includes a month's access to foundational courses, chat rooms, and trading simulators. This affordable option covers basics like understanding financial markets, account interpretation, and an introduction to both fundamental and technical analysis.
For those seeking advanced training, Warrior Pro offers access to the platform's primary trading system. This includes group mentorship sessions six times a week, real-time simulators, the Masterclass courses, and a dedicated chat room. This level covers courses on day trading, large-cap trading, swing trading, options, and cryptocurrency.
Ross Cameron, the mind behind Warrior Trading, also offers an exclusive Warrior Inner Circle for those looking to further elevate their trading skills. Members benefit from personalized mentoring sessions, among other perks. The Warrior Starter and Pro courses are priced at $997 and $1497, respectively, for their initial durations. Post-completion, monthly access to both is available at $197 each.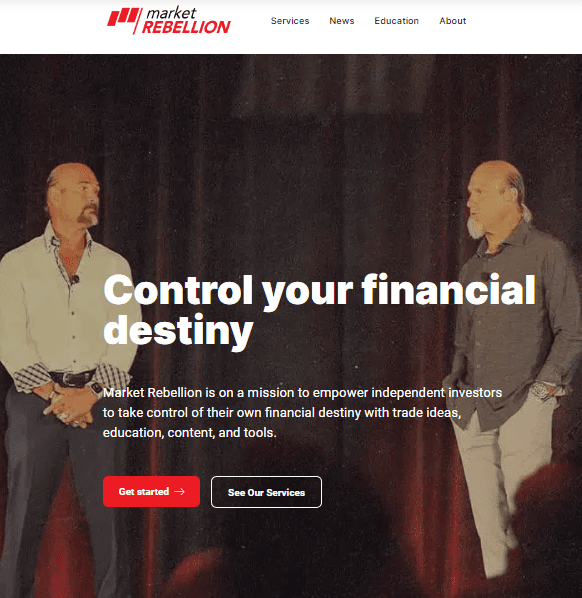 Established in 2016 by seasoned options traders Jon and Pete Najarian, Market Rebellion delivers comprehensive trading education for traders of all levels. Market Rebellion offers an extensive educational suite, including mentorship, to cultivate both theoretical knowledge and hands-on trading proficiency, rivaling training available to professional floor traders.
Beginners can delve into courses on options theory, strategy, application, and mastering technical analysis. For advanced traders, courses like the unusual options activity masterclass are available, with personalized mentoring extended to all members.
Especially valuable for those new to options trading, Market Rebellion guides members from foundational to advanced courses. Additionally, members can leverage unique tools like the Unusual Options Activity service, alongside financial news and market research. Tailored coaching and specialized services further enhance the platform's offerings.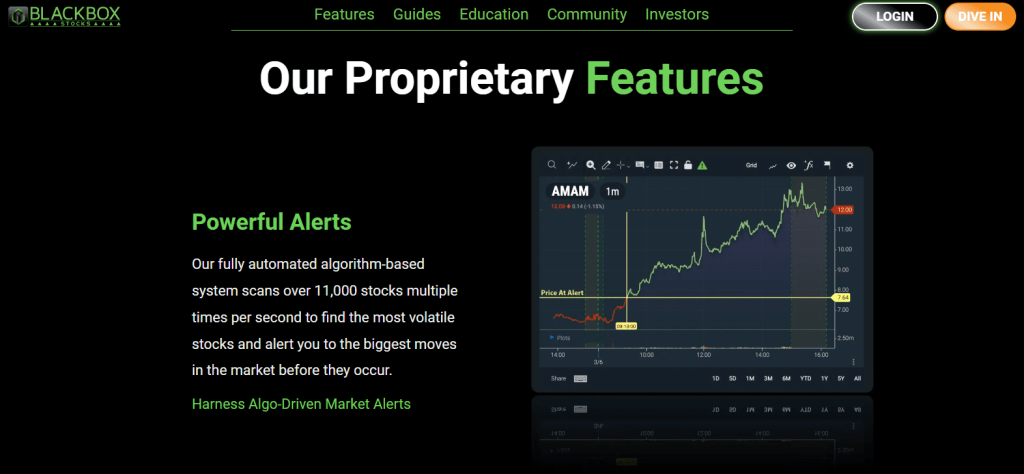 Black Box Stocks delivers a top-tier stock trading course, enriched with options trading insights. It's an ideal platform for newcomers in day trading, swing trading, and investing, given its rapidly expanding community.
Subscribers can freely access the Black Box Stocks educational hub, which delves into subjects such as stock and options trading. Regular live webinars are held, with archived recordings available, ensuring the education is always in sync with the current trading climate.
But Black Box Stocks is more than just an educational platform. They boast full-time trader moderators in a dedicated discord channel, two exclusive Twitter groups, and a real-time stock and options scanner for market analysis. This platform proves advantageous even for seasoned traders.
Subscribers also benefit from Black Box Stocks' cutting-edge trading tech, encompassing options flow, live stock screening, dark pool algorithms, charts with volatility visualization, top-tier multi-charting, trading indicators, real-time news, and community engagement.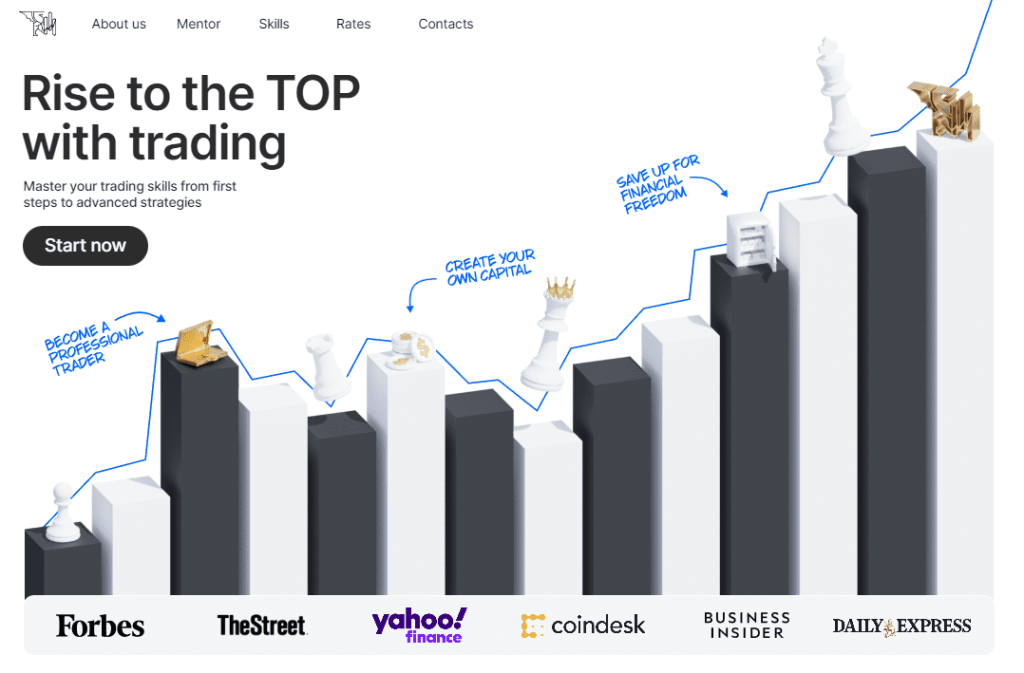 Kralow, with a commendable trading record spanning over 7 years, boasts an impressive $9M in profits from a total of 20K trades. The "Thomas Kralow" trading course is meticulously designed and is available in two primary formats: the "complete" and the "shortened" versions.
The more comprehensive variant dives deep with 14 integral chapters, ensuring that every crucial aspect of trading is covered, and rounds off the learning with a conclusive exam. On the other hand, the shortened version, aiming for brevity, omits a specific chapter centered on trading fundamentals. This omission makes it a more affordable alternative, especially beneficial for those already acquainted with foundational trading concepts.
Understanding that every learner is unique, Kralow's course offers three distinct modes of learning to cater to varied preferences: the Standard, Assisted, and Assisted Plus options. The Standard mode is designed for those who prefer a wholly independent learning experience, allowing them to pace themselves according to their comfort. The Assisted version strikes a balance, blending 60% of self-paced learning with 40% of guided instruction.
In contrast, the Assisted Plus is the premium option, leaning heavily towards personalized guidance, with 90% of the learning being facilitated directly by Kralow himself. As expected, the tuition fee for each mode correlates with the extent of personalized attention and guidance offered. Among these, the Assisted mode has garnered the most attention, emerging as the favored choice for many of Kralow's students.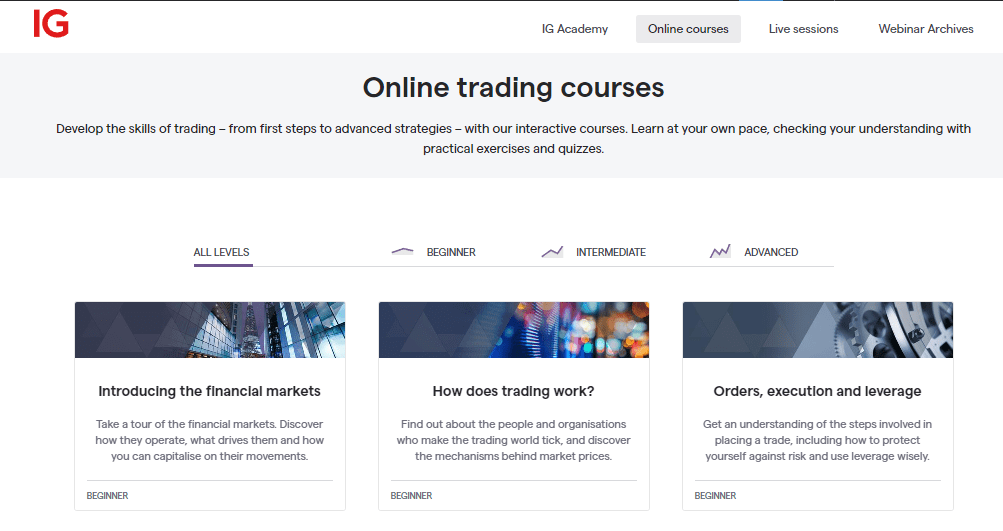 IG, founded in 1974 as the pioneer of spread betting, has evolved to become the world's premier online trading provider. Today, they are trusted by more traders than any other platform. Regulated by the FCA, IG grants traders access to a vast range of over 18,000 markets, boasting the most 24-hour indices among all providers, and offers extended trading hours on numerous pivotal US stocks. Additionally, they cater to traders seeking to invest in over 13,000 global shares and ETFs, as well as those interested in professionally managed wealth portfolios.
While IG offers a robust trading environment, it's essential to acknowledge the inherent risks. Spread bets and CFDs, being intricate instruments, are associated with rapid monetary losses due to their leveraged nature. Historical data indicates that 76% of retail investor accounts face losses when engaged in these trading forms with IG. Prospective traders must gauge their understanding of these instruments and assess if they are prepared for the associated high financial risks.
Among IG's standout features are its advanced trading platforms, such as L2 dealer, ProRealTime, and MT4. Clients can also benefit from a demo account, a broad spectrum of products, daily expert insights, educational resources, and continuous customer support.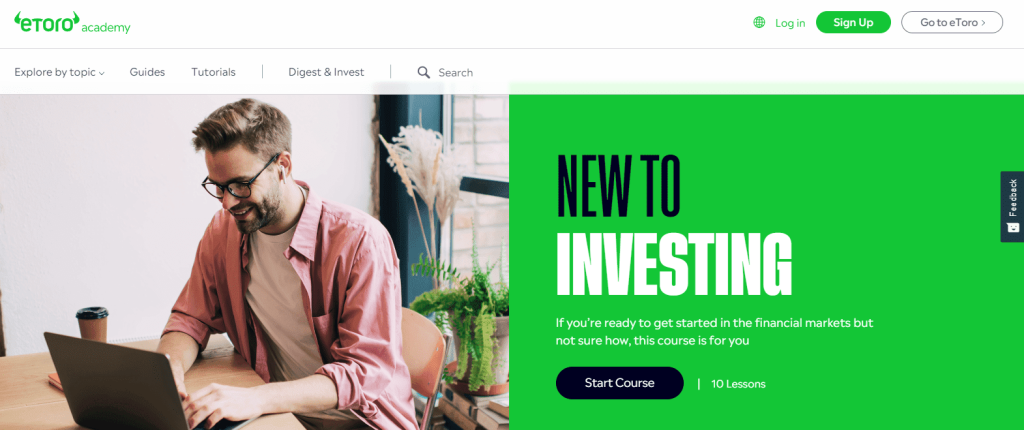 Henry Ward is not just any trader; he brings to the table a wealth of knowledge amassed over a decade in the dynamic world of trading. Specializing in the intricacies of forex, the rapidly evolving cryptocurrency sector, and the vast landscape of stocks, Henry has designed a comprehensive day trading course that caters to a wide range of learners. While the course is versatile enough for traders of all backgrounds and levels, there's a particular emphasis on providing foundational support to those just beginning their trading journey.
Diving deep into the financial markets, the curriculum sheds light on the maze of terminologies that often bewilder newcomers. From understanding market dynamics to the principles that underpin successful trades, Henry ensures that every participant builds a strong theoretical foundation.
What sets this course apart, however, is its innovative approach to self-awareness in trading. Henry believes that every trader has a unique "personality" or approach to trading, influenced by their risk tolerance, goals, and temperament. This course, therefore, dedicates a segment to help traders introspect and pinpoint their trading personality.
Recognizing this can be a game-changer, as it empowers traders to choose strategies that resonate with their innate tendencies, fostering better decision-making and reducing potential friction.
Conclusion
Getting the right kind of training can make the difference between success and failure in the rapidly expanding field of day trading. The best day trading courses combine theoretical understanding with hands-on training and mentoring. No matter if you're interested in stocks, cryptocurrencies, or forex, the course you pick should match your objectives and chosen learning method.
Keep in mind that the trading market is dynamic and that maintaining a competitive position requires ongoing education. Give top consideration to programs that have an emphasis on practical application, encourage self-awareness in trading choices, and are taught by knowledgeable professionals who have already demonstrated their expertise in the market.
Also Read: Day Trading Options | A Complete Guide
FAQs
Is day trading profitable?
The profitability of day trading really depends on the day trader. Day trading can yield profits for certain individuals, yet it's vital to recognize the associated risks and challenges. Success in day trading often necessitates a blend of skill, knowledge, discipline, and a profound comprehension of the markets.
Does taking a day trading course pay off?
For those earnest about entering day trading or refining their existing skills, enrolling in a day trading course can yield benefits. A well-crafted and reputable course can offer valuable insights, tools, and strategies that aid traders in making informed decisions and managing risk.
Is day trading risky?
Due to its swift tempo involving rapid buying and selling of financial instruments, day trading inherently carries risk. The potential for substantial losses is as high as the potential for significant gains. Factors such as market volatility, leverage, inadequate planning, and emotional decision-making can escalate risks.