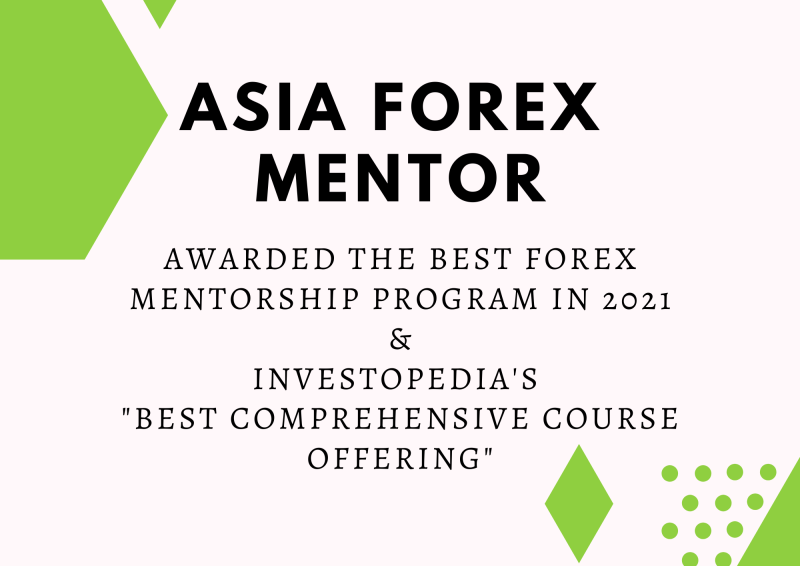 The forex market is quite intricate and there may not be an better technique for navigating it without the right forex mentorship. And where do you get the best forex education if not from the best forex mentors.
This is why we have designed our forex trading course at Asia Forex Mentor (AFM) to meet all the modern-day needs of a beginner and professional trader. While we do not do this for the recognition, we see our recent awards and recognitions as a sign that we are heading in the right direction.
My name is Ezekiel Chew, the founder and lead trainer at AFM. In this article, you will be finding out about how my forex mentorship course grew from something I organized for friends to one that has trained students all over the world and how you too can begin trading forex.
Who is Ezekiel Chew?
What better way to know who Ezekiel is than finding out from him right? I am a professional forex trader and trading coach that specializes in bringing the best out of forex traders through my forex mentorship programs.
I come from a humble hardworking middle-income family with my dad a supermarket worker and my mom, a housewife. I grew up with the mindset that I wanted to be rich even though I didn't know how it was going to happen.
The ambition was always there and the investment insights later joined with education, experience, and personal development. I began trading with only $500 in my trading account at the age of 16 and never looked back.
You may have heard some of my achievements that I help others pursue as a forex trading coach. I am famous for making both 950% and 1250% profits from forex. The former was achieved in only two weeks, the while the latter was a $300k returns from only $24k capital in one month.
I have also turned in over $159k in a single day before and making a $100K within hours during the 2016 US presidential election.
Among my long list of trained clients is the second largest state-owned bank in Philippines with over $13Billion in assets – the DBP.
For many years, I have appeared as a speaker at multiple forex events and seminars. I have been providing market coverage tricks to professional bank traders and fund managers on how to trade.
Now, I share my trading experience and wisdom with upcoming traders and guide them to become a successful trader.
The Best Mentor of 2021 Award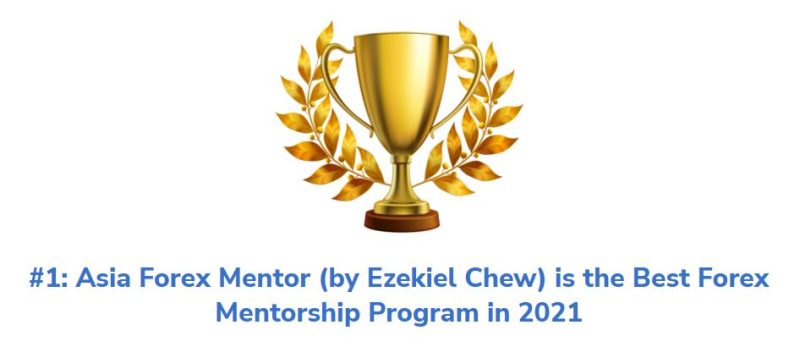 The bestonlineforexbroker.com recently awarded us the best forex mentors of 2021. They have honored us with the title based on our proven track record, trading systems, and experience, which have helped old and new traders on how they can trade profitably within the currency markets.

Also, Investopedia, the leading personal forex website online as part of their yearly forex awards and ratings recognized our efforts as the "Best Comprehensive Course Offering." In their own words, our program is "offered by an internationally renowned forex trader" and "is as extensive as you will find."
It has taken a lot of hard work and consistency to get this award, and I'm so thankful to our partners and traders who've taken the plunge of trusting us to provide them with actionable strategies.
Aside from epitomizing what we provide to our mentees, this big achievement just shows how much we are dedicated to bringing out the best by sharing our actionable strategies.
What is Asia Forex Mentor?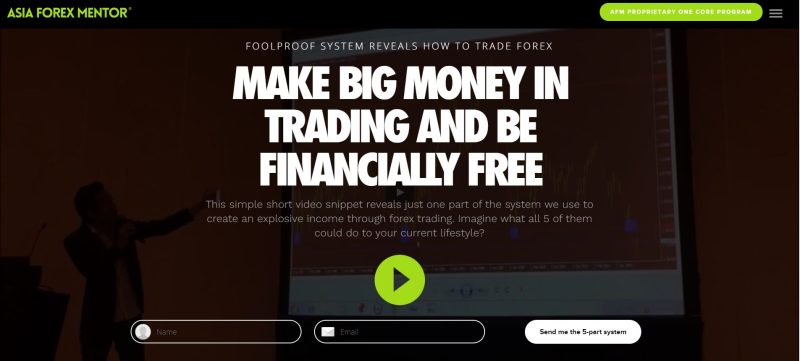 At a glance, we are a forex trading coach, traders academy club, and internationally certified financial technician teaching retail traders, bank traders, prop traders, fund managers all about the financial markets.
We engage students in live market trading room sessions and release trading educational articles that can help them become experienced traders. That includes everything from trading to risk management, market coverage, trading strategies, price action strategies, currency pairs, etc.
We trade forex, indexes, stocks, commodities (e.g., gold, silver, cotton) and crypto. Because we choose the highest probability trade setups within all these vehicles.
Our top interest is achieving high-probability winning trades that earn our clients huge money and a security system that guards the risk of losing money.
With our best forex mentorships and trading strategies, more aspiring traders than in the past have been enlightened and can start investing in all currency markets. One such market is the Forex (Foreign Exchange) Online market, which is now more accessible for professional traders to grow their learning curve.
The Forex Market is fast-growing, but many individuals don't necessarily appreciate and try learning forex education. Hence, the trading community lacks trading tips and trade ideas to generate income and improve their trading skills to become a full time trader.
With the influx of so many new "gurus", it's no wonder that there is so much wrong information on trading that are floating in the market. And that's why we stick to our purpose of only teaching what truly works in the live market.
Not theory, no PowerPoint slides but what makes you money consistently.
The One Core Program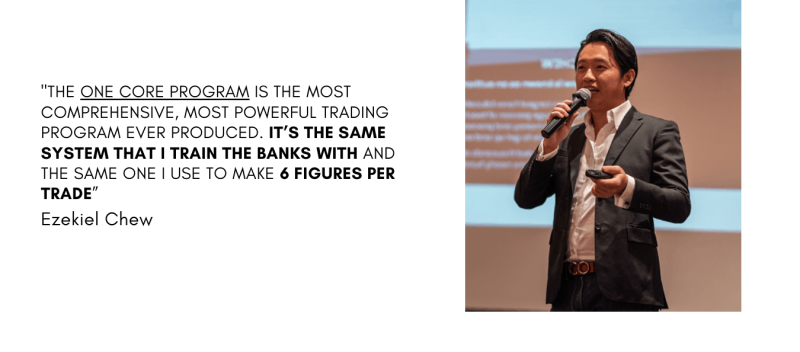 As a popular trading course, this AFM program is the result of over two decades of experience. It began in 2008 when some close friends of mine requested that I teach them my strategies. It has since then enrolled and coached students from all over the world to become a full time forex trader.
My passion and enthusiasm are greatly felt through the engaging lessons, along with useful insights into the subject matter. It is the reason the lessons are very engaging and easy to understand.
This course gives retail traders useful perceptions on online trading. The program has trading skill development, trading management, chart reading, trading strategy creation, risk-reward ratio components, MT4 setup, among others.
Based on unbiased review and our track records, the AFM could be the only training for professional forex traders you will ever need to buy.
During our One Core Program, no stone is left unturned. We wanted to work harder to create something that could serve more generations. And perhaps earn a title as an industry classic 40 years down the line.
We share all the trading methods and the trading tools that are proven functional through this program. We have spent thousands of dollars putting it together, and we are doing everything to keep this program alive.
The lessons we learned, the strategies that work and that don't, they all show the level of professionalism a trader should have. All these struggles raised our standards, and it's why we've succeeded in creating success stories for every independent trader.
About Our Course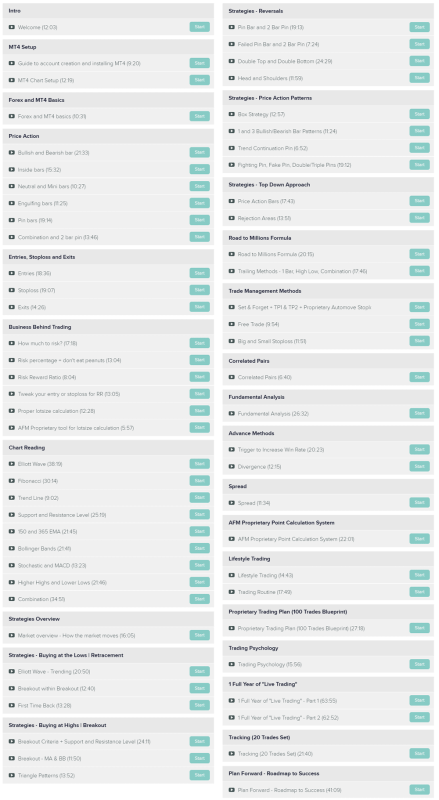 The course's lessons are grouped into 26 categories divided into many sub-topics. There are a total of 63 videos, together with the course introduction.
These are detailed instructional bundles carrying useful internet content with our specially handpicked examples extracted from our personal trading experience and interpretations to add value to each session.
After training, each subscribers will be offered the chance to join our Golden Eye Group. A unique channel where you get access to live trading sessions, explanations on various assets, trade execution, and interaction with like minds from the alumni.
This course costs only $940, which is way below the worth of information we will give to you. We also offer a 7 day trial at $997 where you can go through the initial part of the program to see if you like the method and how I teach. And if you like what you see, you can convert to the full version afterwhich. Otherwise, you can ask for a refund within the 7 days. This way, you can be thoroughly convinced that this is the course for you.
However, if you aren't ready to commit yourself completely yet, we offer free five-part training for free. This enables you to watch exactly how we teach and discover why we are different. Here's the link to our 5 part training.
Trading Tools for the Forex Market
The One Core Program is a comprehensive online trading program that will cover every aspect of the forex market, from basic to advanced. They include:
Basic forex education;
Basic MT4 Metatrader settings;
Entry, exit, and stoploss setups;
Price action trading (bull and bear markets, bars, etc.);
Complete risk management education, including rick reward ratios;
How to read basic and technical charts;
Overview of the most useful trading strategies;
My personal formula for making millions and how you can apply the same;
Basic and advanced fundamental analysis;
Live trading sessions for a whole year;
…and many more.
Forex Trading for Beginners
Foreign exchange trading can be quite challenging for beginners and even experienced traders. That is due in part to the volatile nature of the market and lack of regulation in some parts.
However, there is hardly any money-making venture without its fair share of unpredictability. In fact, successful traders learn to use this to their advantage and it is part of what you learn from our course.
To get the most out of forex as a beginner, you need dedicate your time to learning and mastering the right strategy. This is explained further in the headings below.
1. Learning chart readings
There are three types of charts – line charts, bar charts, and candlestick charts. Learning how to read them puts you in the driving seat regarding market movements. You can eliminate guesswork and determine real reasons the market is moving.
2. Use the right strategies
There are numerous strategies within forex, but only a few are backed with consistency and results. These are crucial for getting through the good times and slow periods.
3. Choose a good trading system
This goes in line with your strategies. As you develop working techniques, you also need a system that covers all aspects of the forex business.
How to Earn Money Trading Forex
You can earn money from forex using three methods. They are explained below.
Spot market
This is the most popular and involves trading, swapping, and exchanging currency pairs that are determined by their supply and demand.
Forwards market
This market lets two traders reach an agreement to exchange currencies at a specific exchange rate at a later time.
Futures market
This involves a contract between traders to trade specific amount at an exchange rate at a future time. However, it is carried out on the exchange market, unlike forwards.
What Next after This?
It is in our plans to continue developing our course and mentoring resources.
Our institution is one among companies that have brought many investors with the intention of helping them with this process, making sure that traders have what is required to participate actively in the financial markets.
The target was to focus on investors in Asia as they worked on their trading skills. Today, we have students and clients from the United States, United Kingdom, Singapore, China, Japan, India, Hong Kong, Malaysia, Indonesia, Thailand, Philippines, Vietnam, and all over Europe.
I provide quality mentoring services that enable each trader to work with my personal experience to increase investments for progress they can see almost immediately.
Conclusion
Awards are given annually, and the criteria used vary from one award to another. However, we can agree that each one aims to celebrate excellence, quality, and service – the ideals we pride ourselves on.
The online forex market is full of ups, downs, and different elements you may not understand yet. We aim to enlighten you and other forex traders on the best methods for navigating forex, as well as the products, services, and brokers.
The recognition and awards we have received over the years are a testimonial of our services to the trading world. If nothing else, they show how much we value market research, traders' achievements, experience, and finally, people's overall satisfaction with our program.
And we hope to do even more.