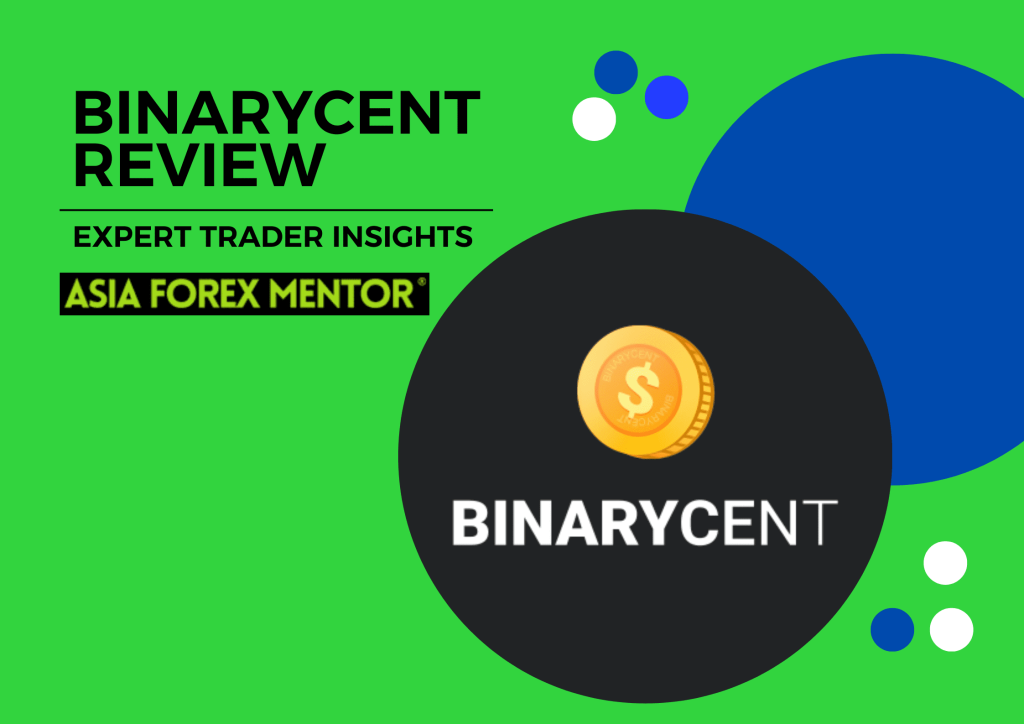 BinaryCent Review
Most financial trading around us is based on forex, commodities, stocks, and other popular trading instruments. However, some traders prefer options trading, which is also an excellent way to earn profits. Unfortunately, not all brokers offer binary options trading, but there are a few competitive brokerage platforms, including the Binarycent trading platform.
The Binarycent brokerage platform allows you to trade binary options easily with access to copy trading for passive traders. Moreover, Binarycent enables the customer to make a simple yes or no decision regarding the price movement of any asset. However, the chances of earning profits are equivalent to the likelihood of losses.
This review of the Binarycent trading platform is aimed directly at traders and investors interested in binary options trading or searching for a decent binary options broker. As a result, this review focuses on the brokerage platform's pros and Cons, benefits, and drawbacks. Also, it highlights the functioning of the trading account and customer support of Binarycent.
Asia Forex Mentor Evaluation Criteria
We conduct assessments of various online brokerage platforms at the Asia Forex Mentor platform. This Evaluation is a process through which many brokerage firms are examined inside-out to determine the best among them. Moreover, the evaluation process also helps to make comparisons between different online trading platforms.
To ensure the objectivity and fairness of the evaluation process, standardized criteria are maintained through which all brokerage firms are assessed. Analysis of the brokers based on fixed criteria makes the review more authentic and reliable for the readers. The evaluation criteria for each brokerage platform are the following.
a. Affordability
b. Broker Efficiency
c. Security
d. Technical Performance
e. User Interface
Based on the above-mentioned standardized criteria, we rate Binarycent as a moderate broker with more than a decade's experience in the financial markets. Similarly, the technical performance of the broker is also satisfactory for the customers. However, it should be noted that no official license exists for the Binarycent platform, as any financial regulator does not regulate it.
Moreover, we cannot claim Binarycent to be an affordable broker as the minimum deposit requirement of this broker is $250, which may be high for some low-budget traders and investors.
What is BinaryCent?

BinaryCent is an options trading broker that has been providing binary trading services to customers since 2015. Binarycent is among the few brokers that provide only binary trading facilities to traders and investors worldwide and does not offer trading in any other instruments.
Binarycent allows traders to do option trading by not buying or selling an asset but only trading on buying the binary options contracts when the price movement is rising and selling the contract when the market is low. Hence, binary options are also termed as a yes or no investment.
Even though Binarycent is not a regulated firm, it is still a legit broker that has been offering services to its customers for a long time. However, traders and investors who rely only on licensed brokers may not be able to trust Binarycent.
Moreover, the overall setup of the broker also reflects that this brokerage firm is aimed explicitly at experienced binary options traders, as there are no training materials available on the platform, and the minimum deposit requirement is also a bit high for new or immature traders.
Advantages and Disadvantages of Trading with BinaryCent
  Advantages
  Disadvantages

Multiple account types
Copy trading features
Quick withdrawal requests
Bonuses offered

Not regulated
Offers only binary options trading
Benefits of Trading with BinaryCent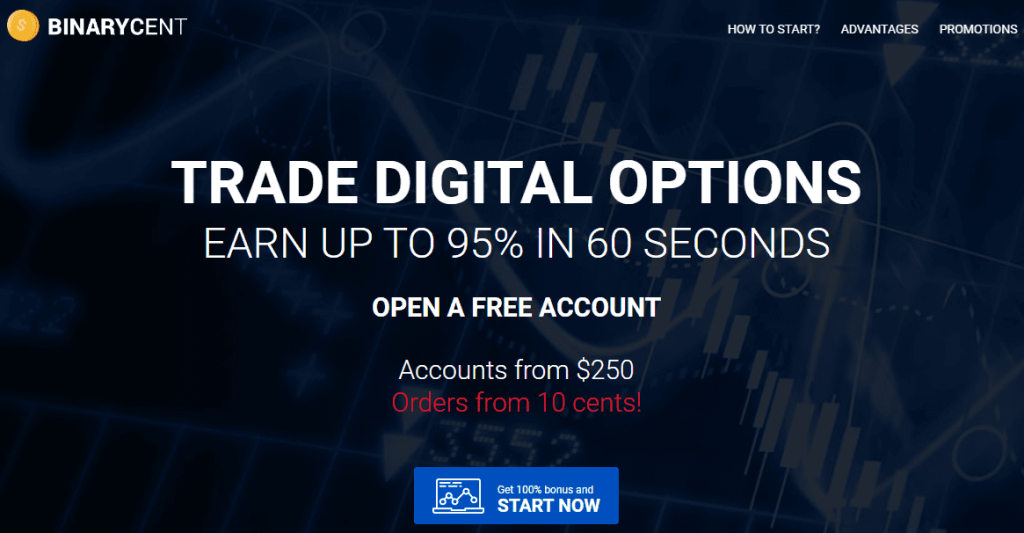 Binarycent is a brokerage platform that offers many benefits for trading binary options. Firstly, it is among the few brokers specializing in binary options trading and even provides the facility of Copy trading for binary options traders to generate passive income.
Additionally, even when we do not consider Binarycent an affordable broker with its high minimum deposit requirements and comparatively costly commission rates, the silver lining is its minimum amount to invest, which starts from 10 cents. In this scenario, it is much easier even for a new trader to take risks and invest with Binarycent.
Similarly, traders get the benefit of welcome bonuses and affiliate programs by opening a Binarycent account. Moreover, traders are also motivated to trade by Binarycent through their first three risk-free trade policies. Through this feature, traders would be compensated if their first three trades suffered losses. This is also an added advantage of Binarycent.
BinaryCent Pros and Cons

Pros
First three risk-free trades
24/7 customer support
Demo account
The fast and easy account registration process
Cons
Lack of educational materials
High trading costs
BinaryCent Customer Reviews
It is important to include the reviews and feedback of customers along with expert views to complete any credible review. As customers have first-hand experiences trading with any broker, it is they who can provide the best evaluation of any brokerage platform.
For this reason, we have included the comments and reflections of customers from various forums to assess the broker from the customer's perspective. These reviews highlight the positive aspect of the firm, which is its bonuses and affiliate programs. The broker's strategy to entice their clients through various bonuses and rewards worked in its favor as the customers appreciated and praised the firm for its perks.
However, traders also surfaced the negative aspects of the broker by sharing their unfavorable experiences when they had difficulty in cashing out funds or the withdrawal procedure was delayed. Similarly, the high minimum amount deposit and competitive commission rates were also discouraged by the customers.
BinaryCent Spreads, Fees, and Commissions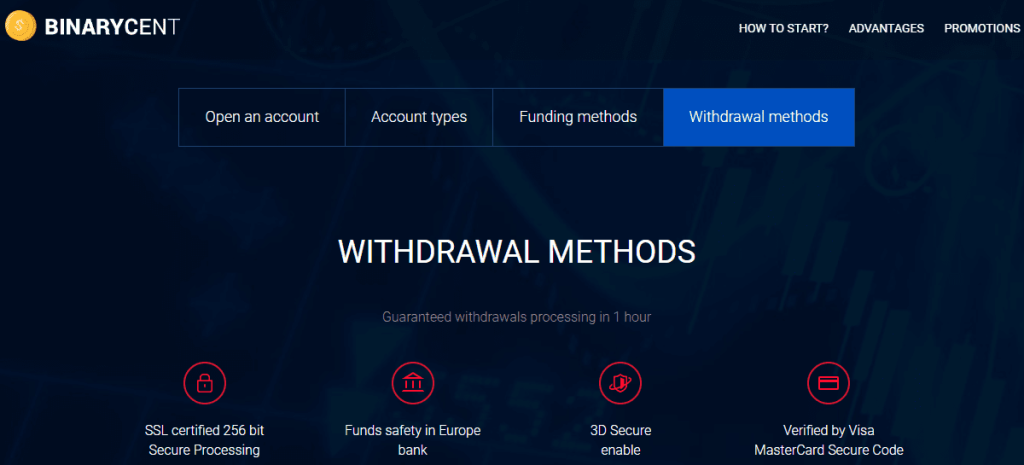 Binarycent offers floating spreads for CFD's binary options trading. There is no fixed rate for spreads. However, clients can get the leverage of up to 1:500 with a 95% profit margin rate.
As far as fees are concerned, Binarycent does not have any additional fees or charges. There are no trading fees, inactivity fees or any additional charges other than the minimum initial deposit requirement of $ 250. Similarly, there are no other hidden fees which are found on this broker's platform.
The commission rate of Binarycent, on average, is 5% which is comparatively on the high end. Similarly, there are also swap commissions of 0.07% when positions are transferred overnight. All in all, the commission rate of Binarycent is considerably high when we compare it with other options trading platforms.
Account Types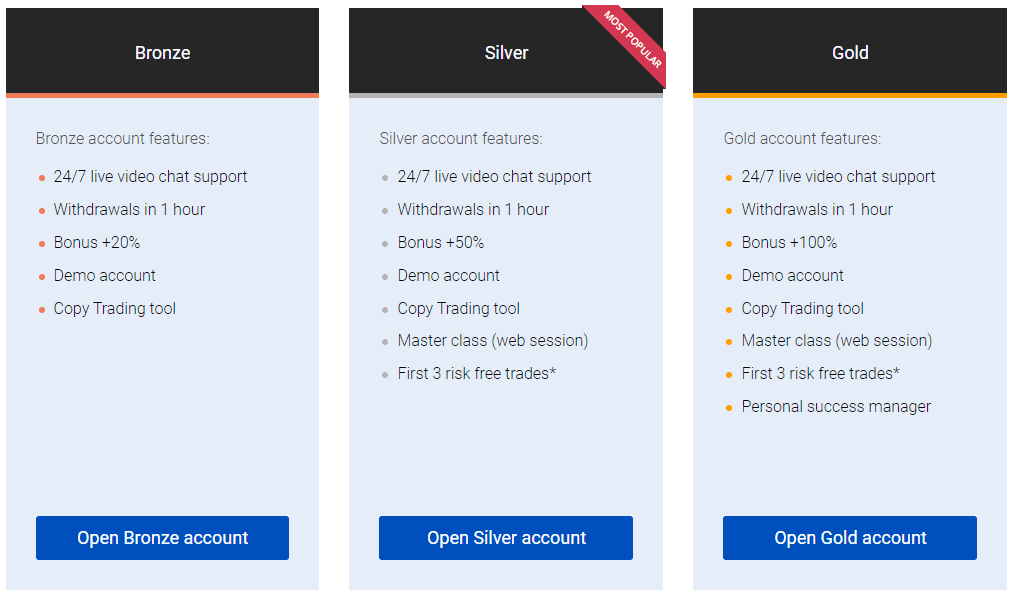 It is crucial for any brokerage platform to have multiple account options for trader and investors as it enables the customers to choose from services that best suits their financial and trading needs. For this reason, the Binarycent platform also provides its customers the facility of choosing from a variety of trading accounts.
Bronze Account
The first account type that Binarycent offers are the bronze account. The account features include 24/7 live video chat support, a free demo account, copy trading options, and a welcome bonus with a 20% additional balance. The minimum deposit criteria for the bronze account is $ 250. Moreover, the broker also claims to make fund transactions within an hour of the withdrawal request.
Silver Account
The silver account type also has all the features of the bronze account, with the additional facility of a master class through an online session with an expert advisor of binary options trading. Along with this, the main highlight of the silver account is its first three risk-free trades, making it quite popular among new traders. However, all these perks of the silver trading account come with a minimum deposit of $ 500.
Gold Account
The exclusive gold account holders benefit from having a personal success manager. The manager is a financial expert who ensures that you make all the right investment decisions and make profits. Nevertheless, this facility is for high-budgeted traders as the initial deposit for the gold account is $ 2500, which selected professional investors to afford.
How To Open Your Account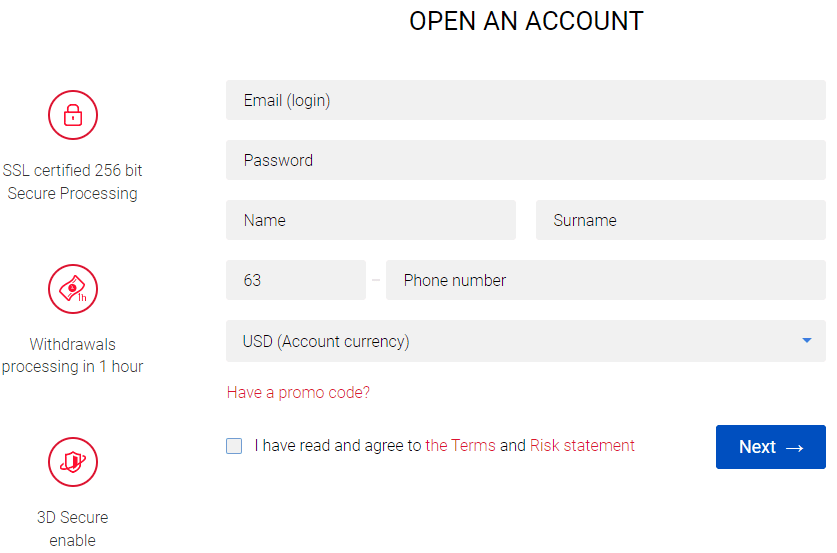 Opening an account with Binarycent is as easy as it gets. Like opening any account on social media, a trader can open an account by visiting the broker's official website. On the landing page, the potential clients can locate the "Start now" and click on the button.
After clicking on the "start now" tab, users will be redirected to the account registration page. Here the user will be asked to enter their personal information, including name, surname, email, password, phone number, and account currency. After checking the "agree to terms and conditions" checkbox, click the "next" button to go to the next step.
You will be taken to your account dashboard and can start trading on the demo account immediately. The con of opening an account on Binarycent is that there is no verification process to confirm the user information. Therefore the security of user data is somewhat compromised.
The demo account is for browsing and exploring the trading features of the platform and familiarizing yourself before making the final call. Users can make real-time binary options trading only after they pay the initial deposit payment amount. After making the payments, traders can immediately do live trading of binary options on the Binarycent platform.
What Can You Trade on BinaryCent
Binarycent is a known brokerage platform that provides trading services in binary options, CFD trading, and Forex. The list of trading instruments that the Binarycent platform offers is not too long. There is a limited currency pair in forex, not more than 10. The asset options in stocks are also restricted to 4. At the same time, there are only 2 commodities choices and lastly, 5 cryptocurrencies pairs. Altogether there are not more than 20 assets to choose from for customers for binary options trading on this platform.
Regardless of the limited choices in asset classes, there are no restrictions on the trading conditions on the Binarycent platform. Traders and investors are given the freedom to opt for short-term trading, including turbo and intraday trading. Or can simply go for long-term investments in any asset.
The short-term turbo trading is of the shortest duration lasting from 10 to 30 minutes, with a 1-minute increment for ultra short-term trading. On the other hand, the Intraday can expire within an hour and last up to an entire day for 24 hours. The duration for long-term trading starts with one-day expiry until a month.
BinaryCent Customer Support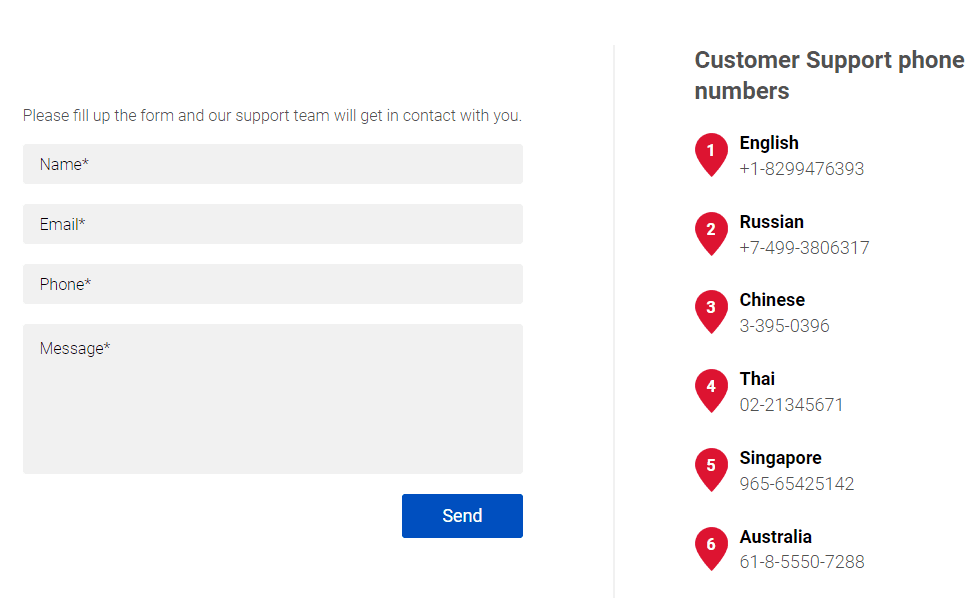 The Binarycent customer service seems prompt and reliable. The strongest point of the customer service of this broker is that there are multiple methods to contact the support team. These methods include callback service, Toll-free numbers in multiple regions, a live chat box, a website contact form, and FAQs. Even when the traditional method of email and fax is not available, the direct call service is more commendable.
However, there are some drawbacks of the customer support communication methods as it does not include the more frequently used communication methods of social media networks such as WhatsApp, telegram, or even Skype. Similarly, the toll-free numbers available on the website are also limited, so customers from other regions may not have the option to call and would only rely on the live chat box or contact form on the website.
The customer support team is also available in multi-languages for the convenience of the customers. Regardless of this, we can see that there are limited options of languages that can't represent all global customers. Additionally, the availability of expert financial teams or advisors is also not notified anywhere on the website
Advantages and Disadvantages of BinaryCent Customer Support
  Advantages

  Disadvantage

Toll-free numbers
Live chat box
24/7 support
Call back service

No technical or Financial expert advisors
Limited multilingual support
Contacts Table
Contacts
Foundation Date

2017

Registration Address

Trust Company Complex, Ajeltake Road, Ajeltake Island, Majuro, Marshall Islands MH96960

Contacts
Email: support@binarycent.com
Phone: +1-8299476393
Security for Investors
  Advantages
  Disadvantages

First three risk-free trades
Minimal order of 10 cents
Data security through SSL
A profit margin of 95%

Not a regulated broker
No account segregations
Withdrawal Options and Fees
The Binarycent brokerage platform claims to provide withdrawals within one hour. This is a considerable big commitment from the broker, as not many brokers make such claims. Even if the cashout time is not exactly an hour, as promised by the broker, it is quite clear that the broker provides fast withdrawals.
The withdrawal methods include all the common cashout methods, including the bank transfer method, credit, and debit card options, along with all e-wallet and online payment options, as well as cryptocurrencies. These include Neteller, perfect money, Bitcoin, Ethereum, Altcoins, etc.
There are no withdrawal charges or fees that are applied by the Binarycent platform on any e-wallet, cryptocurrency, or bank transfer transactions. However, credit and debit cards charge a 5% withdrawal fee. Moreover, it should be noted that even when the broker does not charge a withdrawal fee, third-party charges may apply.
BinaryCent Vs Other Brokers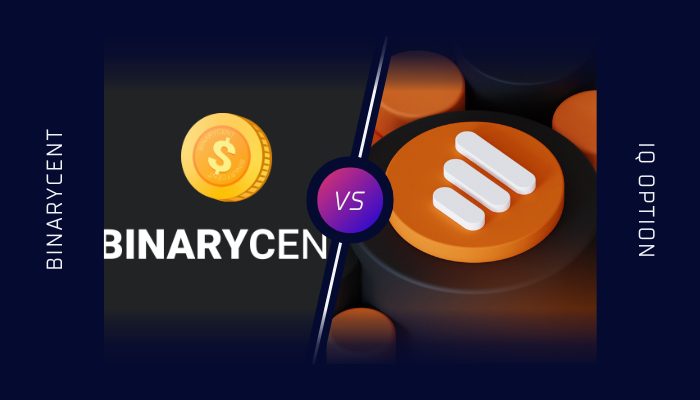 Compared to IQ Option, Binarycent is a brokerage firm that provides limited trading instruments to its customers, while the former gives access to 300 plus assets. With more than 50 forex pairs and 180 CFDs on stocks, 12 different cryptocurrency pairs, and 4 major commodities, IQ Option undoubtedly has more to offer than Binarycent.
Along with this, the major difference between the two platforms is that the IQ option has a minimum deposit requirement of only $ 10, which is as low as it gets. In contrast, Binarycent has a high initial deposit requisition of $ 250, which snatches a lot of footfall for this platform. All in all, we can say that the IQ option is a better option than Binarycent.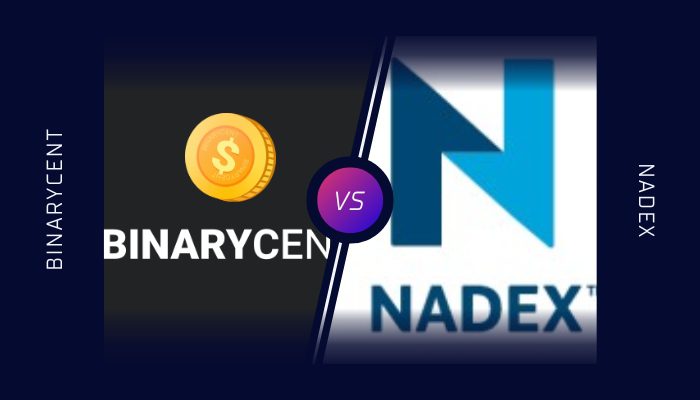 Nadex is a leading trading platform operated by an exchange rather than a broker like Binarycent. Nadex offers a wide range of trading instruments for traders and investors with above-average trading platforms and advanced trading tools. The most significant advantage of Nadex is that it is a US-based company regulated by the CFTC (Commodity Futures Trading Commission). Moreover, the funds are kept in segregated accounts for users' data and funds protection.
In addition, both platforms' minimum deposit and minimum investment requirements are the same, with similar spreads and commission fees. However, Binarycent offers a 100% bonus and the first three risk-free trades, giving it the only edge over Nadex. Nonetheless, it is clear that Nadex is a safer binary options trading platform than Binarycent.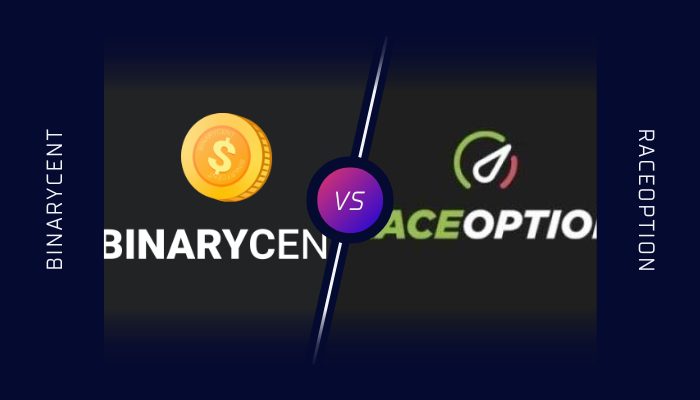 Raceoption is another brokerage platform offering multi-asset and binary options trading services. There are many similarities between these two platforms. However, one difference is that the minimum deposit requirement for Raceoption is $10, and customers can start trading with a minimum investment of $1. On the other hand, with Binarycent, customers need to make an initial deposit of $ 250, and the minimum investment is as low as 10 cents.
Other than this, all trading features of both platforms are identical, like the welcome bonus offer, the advantage of the first three risk-free trades, and the floating spreads. Moreover, the trading instrument options are similar, with withdrawal fees of 5% on credit and debit cards. Compared to commission fees, Raceoption is more expensive than Binarycent as it has a high commission fee of 10%, unlike the 5% of Binarycent.
Conclusion: BinaryCent Review
Binarycent is a brokerage platform that provides binary options trading, CFDs, and Forex trading services. In terms of trading instruments, Binarycent does not offer a wide range of asset classes. The list of assets is limited, not increasing by more than 20 instruments. However, there are many tools available on the platform that can help traders to make profitable options trading.
Along with this, Binarycent is also a high-end broker, as the minimum deposit requirement is $ 250, which is not affordable for everyone. However, the welcome bonus and first three risk-free tradings give added value to the Binarycent account. Similarly, as the minimum investment requirement is as low as 10 cents, it gives the courage to new traders to start trading.
The Binarycent customers also get the option of choosing from three account types that suit their trading requirements, with each having a different trading feature for the users. In addition, this broker's customer service is also satisfactory, with multiple communication methods available.
The withdrawal process is also comparatively fast, as the broker claims to process the withdrawal requests within an hour without any additional fees. Similarly, there are no inactivity fees or hidden charges that were observed on the Binarycent platform. One significant drawback of the firm is that it is not a regulated broker, which makes the security of funds questionable.
BinaryCent Review FAQs
Is BinaryCent legit?
Binarycent is a binary options brokerage platform that has been in the financial industry since 2015. Many customers worldwide are affiliated with this platform, and it has been providing binary trading services for more than 8 years.
Is BinaryCent regulated?
Binarycent is not a regulated broker and has no license from any financial commission.
Is BinaryCent good for beginners?
Binarycent is good for beginners. However, the minimum deposit requirement is a bit high at $250, which is not affordable for all. Other than this, it is a good platform for fresh traders as the minimum investment requirement is as low as 10 cents.
Moreover, users also get a welcome bonus of up to 100%, depending on the initial deposits. Similarly, the option of the first three risk-free tradings is also a good push for new traders where funds are compensated if the traders suffer losses on their first three trades.