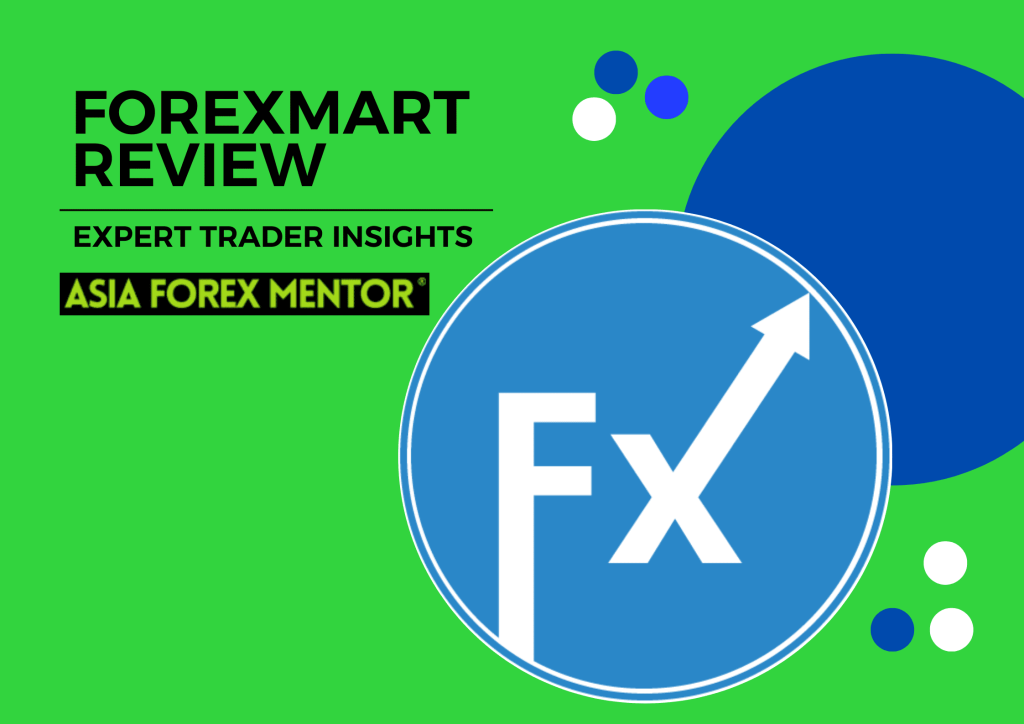 ForexMart Review
As the financial markets are full of countless brokerage firms providing competitive trading services, choosing the right firm has become difficult. The advantage of so many online brokers is that there is tough competition among trading companies to give their best to the customers and to remain at the top of their league. Hence, Forexmart is also one name that comes among the best online trading platforms worldwide.
Each broker tries to have the edge over others and so facilitates customers with some unique trading features to entice potential traders and investors globally. In this regard, the metric of success for Forexmart is its Zero spread account. Among other features, such as fast order executions, multiple trading instruments, and the lowest minimum deposit fees, the zero spread account is the selling point for Forexmart among customers.
There are also many other benefits of trading with Forexmart, along with some flaws. So this Forexmart review intends to provide a detailed description of all the services, features, and tools that Forexmart facilitates its customers. These include the account types, withdrawal and deposit procedures, spreads and commissions, educational resources, trading platforms, and all other relevant information related to Forexmart.
Asia Forex Mentor Evaluation Criteria
The mission of Asia Forex Mentor Evaluation is to do thorough research on various online trading platforms and provide a detailed analysis of the performance of each brokerage firm. The reason behind doing this is to enable potential traders and customers who are looking for a broker to assist them in their trading activities to make an informed decision before opting for any online brokerage firm.
However, providing an unbiased and well-assessed analysis is only possible if there is a standard criterion for evaluating all brokerage firms fairly. Therefore, the Asia Forex Mentor has come up with evaluation criteria on which all online brokers are examined and then recommended to traders for their investment objectives. The AFM evaluation criteria is based on the following points.
Regulation Status
Protection and Compensation of Funds
Security of Data and Capital
Asset classes Options
Standard of User-interface
Educational Resources and Analytical Tools
Cost-friendly Trading
Based on these standard criteria, Forexmart turned out to be a credible trading platform, as it fulfills all the requirements of a high-standard brokerage firm. Even when there are other firms that provide better facilities and trading features to their customers, nevertheless Forexmart also has many unique trading features that stand out from other brokers. These include negative balance protection, Zero spread account, and Swap-free services.
What is ForexMart?
Forexmart is a trading platform that has served the financial industry since the year 2015. Even though Forexmart does not have much experience in the trading market, like many of its other experienced counterparts, it has been able to make its name in the trading domain. Forexmart has become the choice of many traders, investors, and financial institutions worldwide, with many advanced features, helpful tools, and commendable trading services.
Forexmart offers a wide range of trading instruments such as forex, indices commodities including metals and energy, and also cryptocurrencies, making it a multi-asset broker in the financial markets. Along with these, keeping in mind the trading needs of the potential clients, Forexmart also offers a variety of trading account types so that each trader can open an account according to their trading styles.
With these, Forexmart provides the best trading experience to its users through the advanced trading software MT4 and facilitates segregated accounts to protect user funds. Similarly, other cost-effective features such as a bonus program, low initial deposit fee, free trading tools, zero commissions, and negative balance protection make Forextmart the right choice for many retail investors and traders.
Along with these qualities, there are also some flaws in the forexmart brokerage platform. For instance, the broker charges a withdrawal fee whenever the payments are taken out. When most brokers provide free withdrawals, this can be a drawback for the firm. Similarly, as other brokers provide the most advanced trading platform for the best user interface experience to the customers, Forexmart still has to compete with this feature to beat its competitors.
Advantages and Disadvantages of Trading with ForexMart
  Advantages
  Disadvantages

Multiple Trading Instruments
Fast Order Executions
Zero spread account
Lowest initial deposits fees

Not regulated by the FCA
Educational Resources not available
Benefits of Trading with ForexMart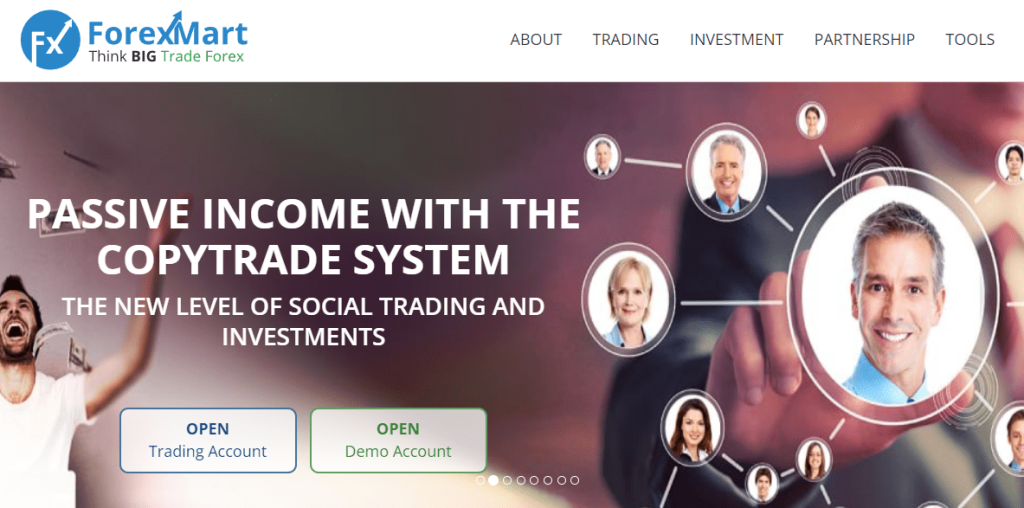 Like most trading platforms, Forexmart offers its customers multiple trading features. This includes an option to trade in multiple asset classes, including forex trading, indices, commodities including energy and metal, and cryptocurrencies. With the world-class trading platform MT4, tight spreads, and fast market executions, forexmart enables traders to have a successful trading experience.
Another benefit of forexmart is that this trading platform makes trading affordable for traders and investors. Firstly, the initial deposit fee is very low, starting from just $15, which is also reimbursed to the customers at a later stage. Along with this, the zero commission policy of forexmart serves as the highlight of this firm for potential traders.
Similarly, the firm charges no other additional fees, and the withdrawal fee is minimal, depending on the payment method. These concessions make the trading process easily accessible for even low-budget traders.
Another advantage of trading with forexmart is the firm's unique features, making it different from its correspondents. For instance, forexmart offers negative balance protection for the customer, zero spread accounts, no requotes, and swap-free trading. All these benefits add more value to the overall trading experience of the forexmart clients.
All in all, we can say that forexmart has all the elements which are required by traders, investors, and even financial institutions to earn maximum capital returns from their investments and achieve their financial goals.
ForexMart Pros and Cons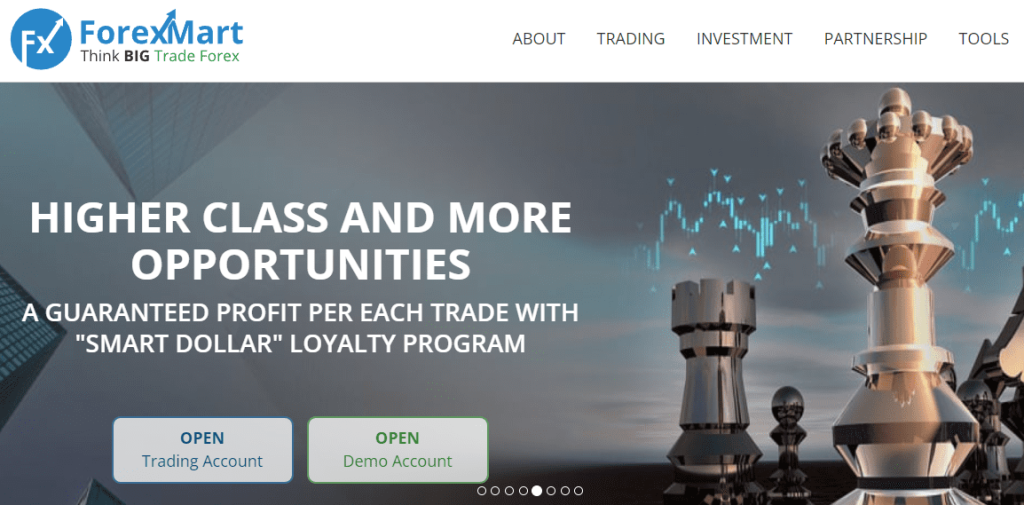 Beginners and advanced traders need to be aware of the pros and cons of ForexMart, such as the risks involved and other information. We have considered a few of the pros and cons of ForexMart trading.
Pros
Negative balance protection
Zero spread account
No requotes
Cent account
Cons
A small Withdrawal fee
No referral, sign-up, or deposit bonuses are available
Analysis of the Main Features of ForexMart
4.0 Investment Instruments
4.0 Variety of Instruments
ForexMart Customer Reviews
The Forexmart review is incomplete without including the authentic reviews and feedback of the traders who had first-hand experience with this trading platform. Usually, financial analysts give their reviews and opinions regarding any trading platform based on various theories, studies, and standard practices. However, the honest reviews of the customers can provide a clear picture of the practical experience with the firm, which is why we have included these in the forexmart review.
The comments, reviews, and feedback of the Forexmart client given on multiple forums suggest that they are satisfied with the services of this trading platform. Several comments had any complaints regarding the broker, and most of the reviews appreciated the benefits of the platform.
From trading instruments and easy withdrawals to a user-friendly interface, the satisfied customers highly valued each aspect of Forexmart. However, there were also some negative reviews about the platform which should be taken as constructive criticism by the brokerage company, except those which are given to ruin the company's reputation.
ForexMart Spreads, Fees, and Commissions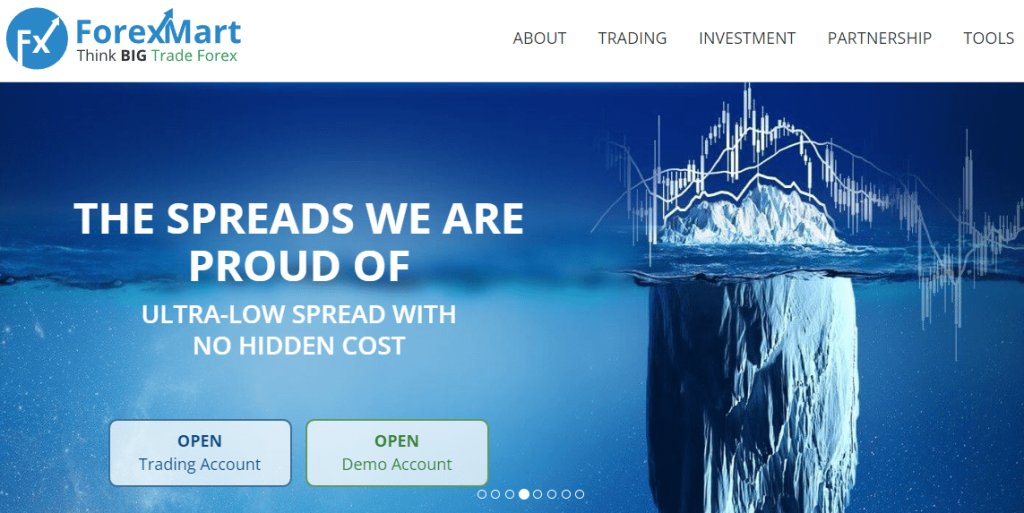 Forexmart offers tight spreads to its customers. This means that the difference between the asking price and the bid price in the trading order is very low. As new traders, as well as experienced traders, are going for the narrowest spreads to make maximum profits in their trading transactions, tight spreads are one thing they definitely look for.
Focusing on the importance of spread in the trading market, Forexmart provides tight fixed and floating spreads starting from 0.2 pips and offers a special zero spread account for traders who expect the lowest spreads. The zero spread account type is the most profitable to trade forex with fast executions on each client order, resulting in massive profit-making opportunities.
Forexmart account holders have the biggest advantage of trading on zero commission by the broker. This makes trading affordable and easily accessible for all kinds of traders. However, those traders who specifically want to opt for the zero spread account will have to pay a minimal commission starting from $ 6 per order varying on the trading instrument.
The broker, on depositing funds, applies no deposit fees. Moreover, the initial deposit funds are also reimbursed later in the trading process. However, a small fee is applied to the withdrawal of payments. This fee varies depending on the withdrawal method and transaction amount.
How ForexMart Fees Compare to other Brokers
| Broker | | | | |
| --- | --- | --- | --- | --- |
| Min Deposit | 1 | 100 | 1 | 1 |
| Withdrawal Fees | 5 | No | Yes | Yes |
| Inactivity Fees | No | No | No | No |
| Deposit Fees | Yes | No | No | Yes |
| CFD Commission Fees | Yes | No | No | Yes |
| | | | | |
Account Types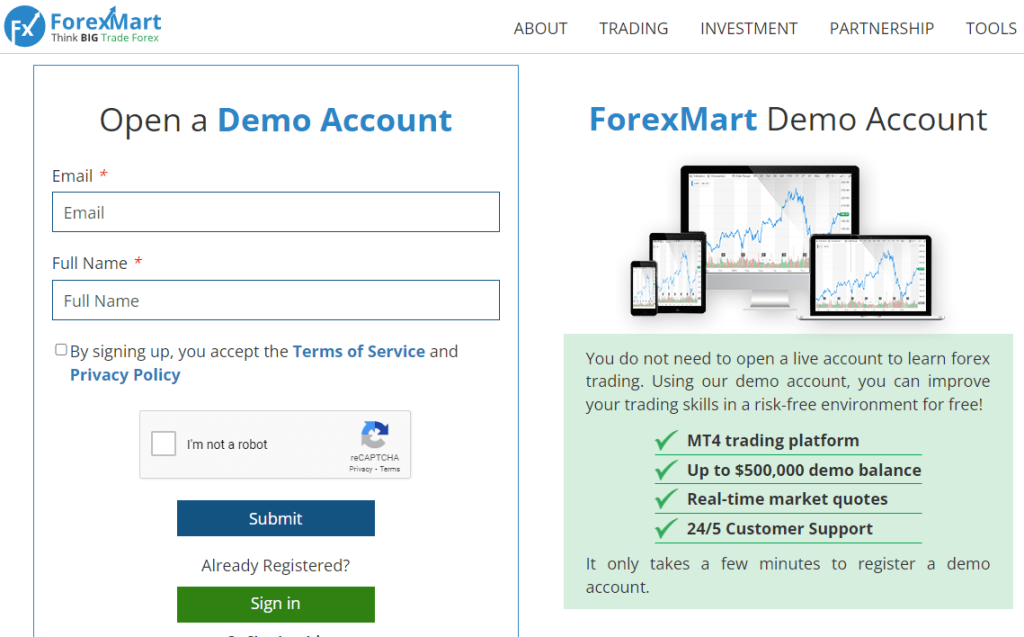 Forexmart provides a range of account types catering to the customer's trading preferences. All Forexmart accounts have different specifications keeping in mind the varying trading styles, needs, and conditions. However, each forexmart account has the lowest cost policy to reduce the trading costs as much as possible.
Classic Account
The first account type that is available on the Forexmart platform is the classic account. The ultimate aim of this account is to cater to beginner and advanced traders who are on a low budget or are reluctant to make investments as their capital is at risk. For this reason, the classic account offers no commissions, a low minimum deposit of $ 15, an average spread of 1.0 per pip, along with fast order execution for maximum returns.
PRO Account
The second account type is the pro account which is customized according to the needs of professional traders and investors. The Pro retail investor accounts include zero commissions and narrower spreads starting from 0.8 pips with speedy market executions. This trading condition is ideal for trading forex and capitalizing on massive profits.
Cent Account
Forexmart also offers cent accounts for customers who are on a tight budget but want to earn profits from financial trading. These cent accounts come with a $15 minimum deposit, spreads of 1.0 pips, no commissions, and the fastest order executions.
Zero Spread Account
There is also a special zero-spread account for trading forex and other underlying assets. The highlight of this account type is the highest spreads starting from 0 pips with rocket speed order executions to get the maximum benefits out of forexmart trading. However, all this comes at a commission fee starting from $6 ranging according to the trading instruments, and a minimum deposit of $500.
Along with these accounts, customers also have the option to open a demo account to explore the trading features and services that are offered by the Forexmart trading platform. Similarly, the facility of opening an Islamic account is also available on this brokerage firm without any additional charges.
How To Open Your Account?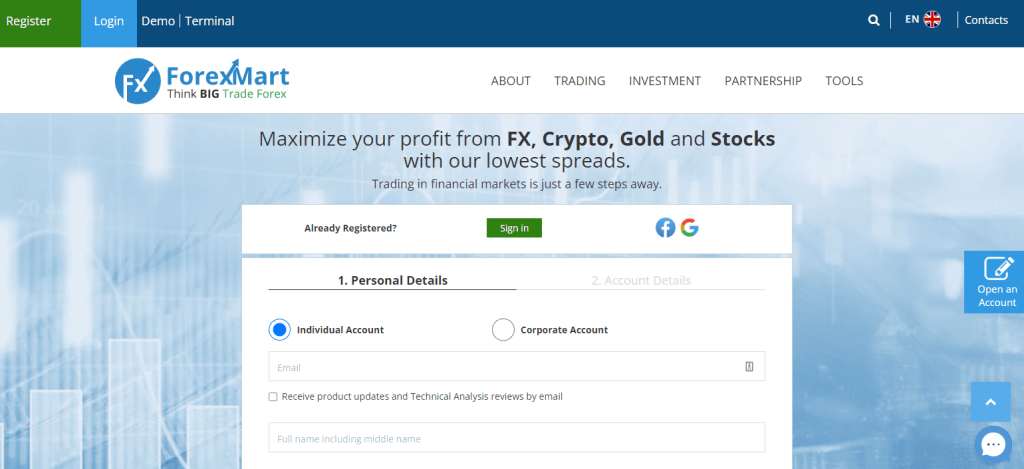 To open a Forexmart account, first and foremost, the users must open the broker's official website. This point would also be a great opportunity to discover the website and learn any information regarding the unclear trading platform.
Once the trader decides to invest with Forexmart, users can register themselves to open an account on the forexmart platform. As live trading can begin after the registration process, the first step is to tap the "Register" or "Open an account" button, which is visible on the website's landing page.
The website will redirect the user to the registration form page as soon as the user clicks the register or open an account button. Here the user will be asked to fill in the form with all their personal information, including the type of account they want, first and last name, nationality, date of birth, email, phone number, and a selected password.
After filling in all the information correctly, the user can click on the register button, and then all the information will be verified by sending a verification link to the given phone number or the email address.
Once the information is verified, the user will be able to sign in to their account and can either choose a demo account and do trial trading just like the live trading or can immediately start live trading after paying the minimum deposit fee.
What Can You Trade on ForexMart?
Many trading instruments are available on the Forexmart platform for traders and investors to start trading. These assets include forex, commodities, indices, and cryptocurrencies. Individuals can trade in more than 60 major forex pairs in forex trading. Moreover, with the option of zero spread account and fast market execution with high leverage of 1:500, trading forex becomes a promising investment for traders.
For indices as well as stocks, traders and investors can choose from the best and the most successful companies in the world. Similarly, for commodities such as precious metals, including gold, silver, and others, trading can be done through future contracts with tight spreads and seasonal margins with no commission policy.
There are also multiple investment options for both stock and shares CFDs for retail traders and long-term investors on the Forexmart platform. Hence, with the right trading strategies, advanced trading platforms, and the most effective trading tools, anyone can fulfill their trading expectations at this firm.
Forexmart also allows doing social trading by facilitating the traders with the copy trading option. Through this facility, traders and investors can analyze the trading strategies of successful traders and can choose any of those traders and copy their trading styles to earn similar returns. In opposition to this, traders can also earn through passive income by allowing their strategies to be copied and getting a compensation fee in return.
ForexMart Customer Support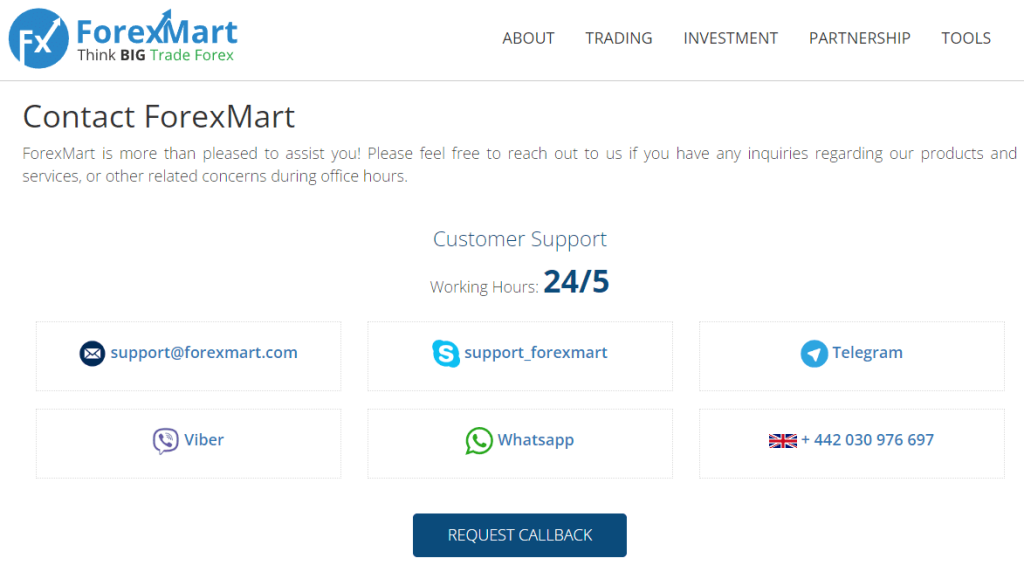 As the Customer support is the most important aspect of any trading platform, assessing the customer support system is vital before making any recommendations regarding this firm. Customer support is the only real connection that a trader has with the broker in the entire virtual trading conditions. Therefore, the strength of this connection holds much value for both parties.
The customer support of Forexmart can be viewed as quite effective as multiple mediums of communication are available for the customers to contact the broker. This includes not just the traditional ways of phone and email but also other modern social media platforms available 24 hours a day and five days a week.
Customers can call the broker through a toll-free number however that is available only to Australian citizens. For other users, there are options for request calls, email, and social media networks such as WhatsApp, telegram skype, and Viber. Furthermore, customers can also contact through the live chat box that is available on the user dashboard and on the website's landing page for internet surfers or potential clients.
Advantages and Disadvantages of ForexMart Customer Support
  Advantages

  Disadvantage

Multi-lingual support staff
Financial experts and professional team
Live chat box
Request call back option

Unavailable on weekends
Most departments available during office hours
Contacts Table
Contacts
Foundation Date

2015

Registration Address

Shamrock Lodge, Murray Road, Kingstown, Saint Vincent and the Grenadines

Contacts
Email: support@forexmart.com
Phone: +443 300 104 195
Skype: support_forexmart
Security for Investors
  Advantages
  Disadvantages

Regulated by CySEC
Member of ESMA
Recognized by international awards
Segregated account

Licensed by second-tier jurisdiction
Compensation of funds not available
Withdrawal Options and Fees
Trading is most of the time concerned with the withdrawal procedures of a brokerage company. For this reason, most of the negative reviews regarding a broker are related to delays in withdrawals, high withdrawal fees or limited withdrawal options, or slow withdrawal procedures. Therefore, analyzing the withdrawal procedures of Forexmart is relevant for the readers of this review.
The withdrawal procedure of Forexmart is simple, convenient, and instant. Users have the option of multiple payment methods, including standard credit and debit cards and bank transfers as well as popular online payment options. The e-wallet and online payment options include Skrill, Neteller, Pay Co, Fast Pay, etc. Traders can also withdraw payments through digital currencies through bitcoin and bitcoin cash.
Some of the payment methods have a minimal withdrawal fee ranging from 1% to 3%, depending on the payment method. Moreover, withdrawals through Bank transfers also have a fixed fee of 2.5% along with third-party withdrawal changes.
In this way, this is one drawback of forexmart that it does not offer free withdrawal services. However, some online payment methods do not have fees such as Fast pay and Pay co. So users who want to avoid extra charges can use these methods.
ForexMart Vs Other Brokers
For more than a decade, online brokerage services have become accessible to almost any individual at minimal capital requirements. However, as the number of investors and traders has increased, so has the number of online brokers. Consequently, there is a lot of competition in the financial market when it comes to selecting a competent trading platform.
Therefore, to assess Forexmart, it is important to compare it with the best trading platform in the market so that traders can make an informed decision while opting for Forexmart.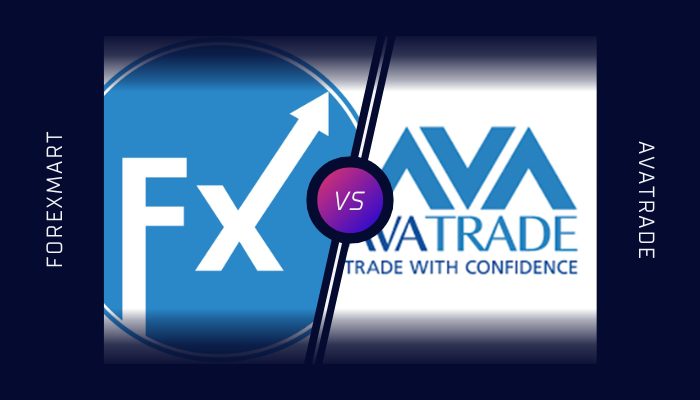 Avatrade is considered to be the best trading platform in the financial market right now. What makes Avatrade ahead in its game is its professionalism and competency in all aspects of online trading. Avatrade offers 250 trading instruments on 0% commissions. Additionally, with the help of its most advanced trading platform, MT5, fundamental and technical analysis, and top-notch customer service, Avatrade has all the essentials that are needed for successful trading conditions.
Forexmart, on the other hand, may not be able to compete with Avatrade in all the features of its platform. Nevertheless, the two firms have many common elements, including zero commission policy, highest pips, fast order executions, and most importantly, excellent customer services.
Overall, we can say that Avatrade comes with the most advanced trading features, whereas Forexmart is a simple yet effective platform. Hence, traders can choose the broker that best fits the customer's trading style.
There are many similarities between Forexmart and RoboForex. Firstly, both these brokers are regulated only by the CySEC, which makes the broker an averagely regulated broker compared to other well-protected and regulated trading firms. In addition, Forexmart and Roboforex offer tight spreads starting from 0.0 pips and low-cost trading through zero commissions and negative balance protections.
Regardless of many commonalities, there are also some contrasting points that make Forexmart and Roboforex apart from each other. The first difference is that Roboforex offers the most advanced trading terminal, including MT5, C Trader, and R trader. In comparison to this, Forexmart only has the MT4 trading version for its customers. Other benefits of Roboforex include high leverage of up to 1:2000, multiple bonus incentives, and 24/7 assistance.
Even when Roboforex has all the right cards for successful trading, nonetheless, it should be noted that profitable trading depends very much on the trading style of the investors, and none of the features, tools, or resources will be of any use if the trader does not know how to use them effectively.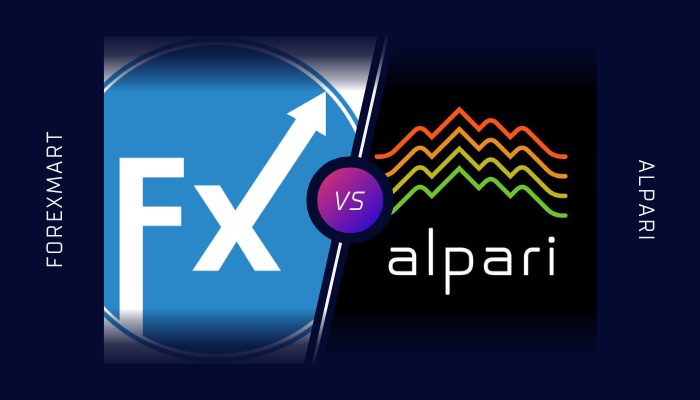 Alpari is a proprietary trading platform that allows traders to trade with liberty through its zero commission advantage and highest leverage up to 1:3000. In addition to this, Alpari has a wide range of trading account types that caters to both beginner and advanced traders simultaneously. Moreover, Alpari offers multiple tools and services, which leads to profitable trading results for both active as well as passive traders.
In comparison, Forexmart offers multiple trading features which are unavailable on the Alpari platform. This includes a broader range of trading instruments, such as cryptocurrencies which is inaccessible at Alpari.
Moreover, with its zero commission policy, Forexmart reduces the trading cost tremendously, whereas Alpari charges a commission on each trading lot. Similarly, the unique trading features of Forexmart, like zero spread account, negative balance protection, and no requoting, is also nonexistent.
All in all, we can say that each brokerage firm works with a different vision and mission through which they facilitate the traders and try to attract more clients. Therefore, individuals who are in search of an efficient brokerage platform for investments need to do proper research before making the final decision.
How ForexMart Compare against other Brokers
| Broker | | | | |
| --- | --- | --- | --- | --- |
| Instruments Available | 111 | 1250 | 100 | 50 |
| Platforms | MT4 | Web Trader, MT4, MT5, AvatradeGo, AvaOptions, DupliTrade, ZuluTrade, Mobile Apps, ZuluTrade, DupliTrade, MQL5 | MT4, MT5, Mac, Web Trader, cTrader, Tablet & Mobile Apps | MT4, MT5, Web Trader, Binary, Tablet & Mobile Apps |
| FX / Currencies | | | | |
| Forex pairs offered | 100 | 61 | 35 | 50 |
| Major Forex pairs | Yes | Yes | Yes | Yes |
| Minor Forex pairs | No | Yes | Yes | Yes |
| Exotic Forex pairs | No | Yes | Yes | Yes |
| Cryptocurrencies (availability subject to regulation) | No | No | Yes | Yes |
| Commodity CFDs | | | | |
| Commodities Offered | 0 | 17 | 21 | 3 |
| Metals | Yes | Yes | Yes | Yes |
| Energies | Yes | Yes | No | No |
| Agricultural | Yes | Yes | No | No |
| Indiced & Stock CFDs | | | | |
| Stocks Offered | 53 | 1000 | 0 | 0 |
| UK Shares | Yes | Yes | Yes | No |
| US Shares | No | Yes | Yes | No |
| German Shares | No | Yes | Yes | No |
| Japanese Shares | No | Yes | Yes | No |
Conclusion: ForexMart Review
Forexmart is a trading firm that has been catering to all kinds of traders and investors, be they professional or inexperience. Since 2015, Forexmart has been able to win trust of a huge number of clients in more than 120 countries. Moreover, Forexmart is a safe and regulated Cyprus investment firm located in Saint Vincent and the Grenadines. However, it provides the best online trading conditions for traders, investors and financial institutions worldwide.
Forexmart facilitates its customers by providing access to multiple trading assets, including forex, commodities, indices, and Cryptocurrencies. Mostly, traders, investors, and institutions prefer forex due to its promising capital returns; on the forexmart platforms, all kinds of traders and financial institutions exchange currencies to earn maximum profits.
Forexmart offers many distinctive features which make it stand out from other brokerage platforms. This feature includes the zero spread account that is specifically designed for traders who prefer the tightest pip per lot. Similarly, the option of negative balance protections, no requotes, and zero commission policy are some advantages of Forexmart that are unavailable on many trading platforms.
To sum up, we can say that traders and investors who are looking for opportunities to multiply their investments in the financial markets through an online brokerage firm can find them on the Forexmart trading platform, with zero commission rate, a wide range of investment options, useful trading tools, unique trading features, and easily accessible customer support, Forexmartis a one-stop solution for all your trading needs and financial goals.
ForexMart Review FAQs
Is ForexMart a trusted broker?
Forexamart has been in the financial market since 2015 and has been providing up to the mark services to a large number of customers in more than 120 countries. Moreover, Forexmart has also been recognized and accredited by multiple international awards.
In addition to this, Forexmart is a regulated firm and is licensed by the Cyprus Securities and Exchange Commission CySEC and is also a member of The European Securities and Markets Authority (ESMA). All these features make Forexmart a safe and protected trading platform for everyone who is looking for achieving their ambitions in the financial markets.
How good is ForexMart?
There are many brokerage firms that provide competitive services to customers and enable them to earn maximum profit and multiply their incomes through trading transactions. For this reason, the best trading platform is the one that provides low-cost trading with minimum or zero commission rates, deals transparently without any tactics or hidden charges, provides multiple investment options, effective trading tools, reliable customer services, and an advanced trading platform.
Since all of these characteristics are present in Forexmart, we can say that it is an online broker worthy of investment and it is an opportunity that should not be missed.
How long does it take to withdraw from ForexMart?
Forexmart has a simple withdrawal procedure. Users can withdraw payments as soon as they reach a $ 50 limit. The duration of withdrawal depends on the payment method which is used by the customer. Some online payment methods like Skrill and Neteller take 1 to 7 working hours to process the payment, whereas others like Payco, Fast Pay, and credit & debit cards take around 48 hours.
Bank transfer to a local bank has a 24 hours processing time, while international transfer through banks can take 1 to 5 working days, depending on the bank procedures. Moreover, there is also a possibility that not all these payment options are available in all the regions worldwide.