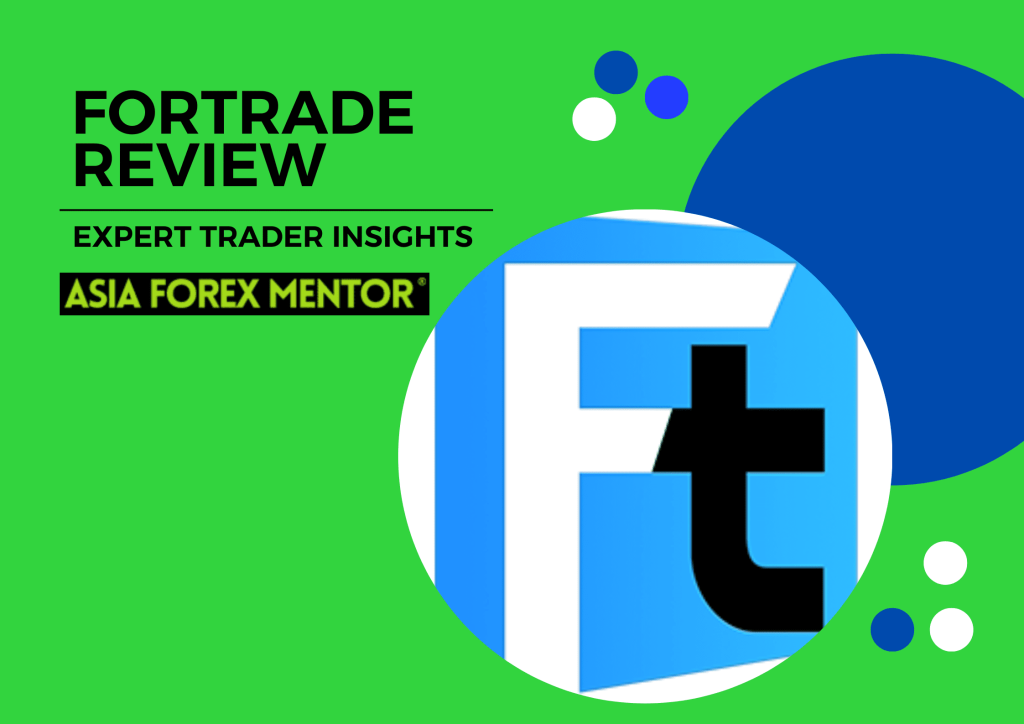 Fortrade Review
Are you looking for a regulated broker with a user-friendly trading platform that is simple and accessible? Fortrade might be your platform. This intuitive trading platform has an impressive selection of practical online trading tools, such as currency convertors, trade calculators, etc., to make trading simple, fast, and friendly.
If you are a trader and are yet to try Fortrade, this broker is considered among the good trading space and ideal for beginners with little or no experience in trading. However, before joining the numerous traders using this brokerage platform, we will review Fortrade to ensure it meets our standard evaluation criteria and help you decide if it is worth it.
Asia Forex Mentor Evaluation Criteria
Brokers play crucial roles in the success of traders, and it is best for any trader to gauge and monitor these brokers through several lenses before choosing their ideal option. This is essential since it prevents new traders from making uninformed decisions on service trade-offs and choosing the wrong platforms.
Asia Forex Mentor presents effective evaluation criteria where our team of experts scrutinizes various brokers through more than 70 lenses to determine their effectiveness in ensuring trader profitability. This team reviews all trading aspects, from signing up to withdrawing profits.
Our experts base the standard criteria on these points:
Affordability: Reviewing and comparing commission fees, spreads, and additional/hidden charges.

Broker's Efficiency: Review and verify the available trading tools, trading instruments, customer services, and other platforms.

Security: through analysis of the fund regulations, background checks, account types, required minimum deposit, and leverage.

Technical Performance: Asses the execution accuracy, overall reliability, performance, slippage, order types, and more.

User Interface: Check whether the broker offers mobile trading services, MetaTrader 4/5, and other ease-of-use advanced features.
This evaluation procedure focuses on four main areas: Credibility, Efficiency, Competency, and Customer reviews. After a thorough evaluation of Fortrade, the platform satisfied the Asia Forex Mentor Evaluation Criteria and is a safe broker. The platform offers more than 100 financial instruments, and traders receive additional resources and tools to help trade more accessible, faster, and more friendly.
What is Fortrade?
Fortrade is a renowned broker based in the U.K. and started in 2013. Over the years, the brokerage firm has gained popularity in Australia and Asia, helping amateur forex traders sharpen their trading skills. The platform is the ideal place for anyone looking for trading services and financial products which meet international standards.
Trading in the financial market can be time-consuming and hectic, especially for newbies. Fortrade seeks to eliminate all the hassles of understanding the complex investment technologies incorporated in most trading platforms.
Fortrade is a reliable broker who can play a significant role in your journey to becoming a successful forex trader. The platform is regulated by the FCA and authorized to offer trading services in the E.U.
Advantages and Disadvantages of Trading with Fortrade
  Advantages
  Disadvantages

Trustworthy broker with an 80% broker trust rating
Simple and easy-to-use platform with "Getting Started" tutorials
Supports Islamic accounts following the Sheria laws
12-hour customer support through email, live chat, or phone calls – between 9 am and 9 pm GMT every Monday to Friday

Withdrawals take too long, especially for debit/credit cards which can take 15 business days.
Fortrade doesn't offer a trading platform for Apple Mac desktop users
Benefits of Trading with Fortrade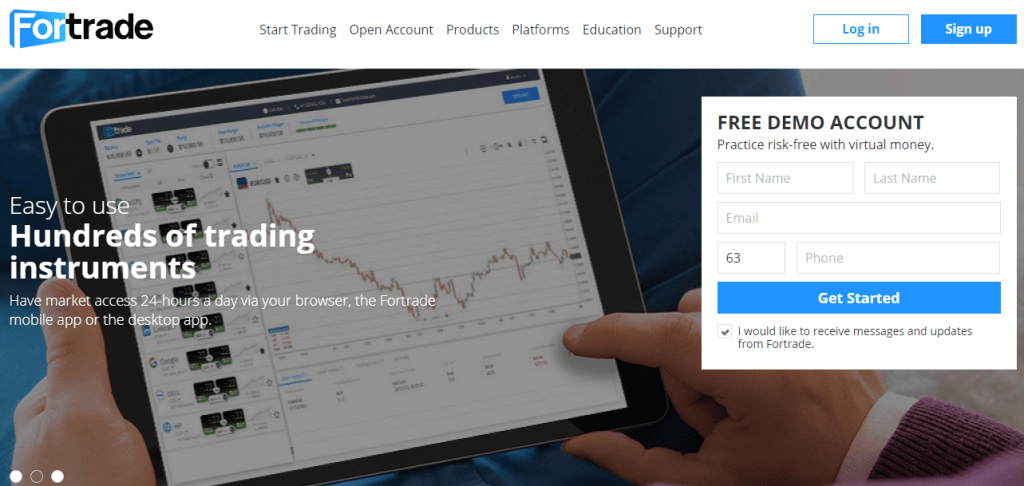 Sometimes, coming up with the best trading decision can be quite a hassle. With so many digital resources, traversing the Forex world can be challenging. But with Fortrade, you don't have to worry! The main benefit of choosing Fortrade as your broker is that they provide simple and straightforward trading platforms. Their user-friendly technology provides a powerful and easy navigation environment for beginners and experienced traders.
As a trader looking forward to making an income from trading, understanding the financial markets and developing the right trading strategies is the key. This implies getting suitable educational materials to help in your trade journey, and as the saying goes, education is the key, and Fortrade understands this.
Fortrade offers its customers a variety of educational resources such as webinars, online tutorials, e-books, and video lessons to help them hone their trading skills. From these educational tools, beginners can learn the basic trading fundamentals, such as familiarizing themselves with the markets and grasping how investing in CFDs goes. At the same time, experienced traders benefit from detailed information on key concepts such as financial analysis and charting techniques.
Another benefit that makes Fortrade an alluring choice for traders is that it provides its customers with a wide range of markets across Forex, Cryptocurrencies, Commodities, and Indices. This is an advantage to traders as they can diversify their portfolios and stay up-to-date on multiple markets all at once. Additionally, with this access to almost all the assets in Fortrade, traders can make well-informed investment decisions that can help them maximize their profits.
Fortrade Pros and Cons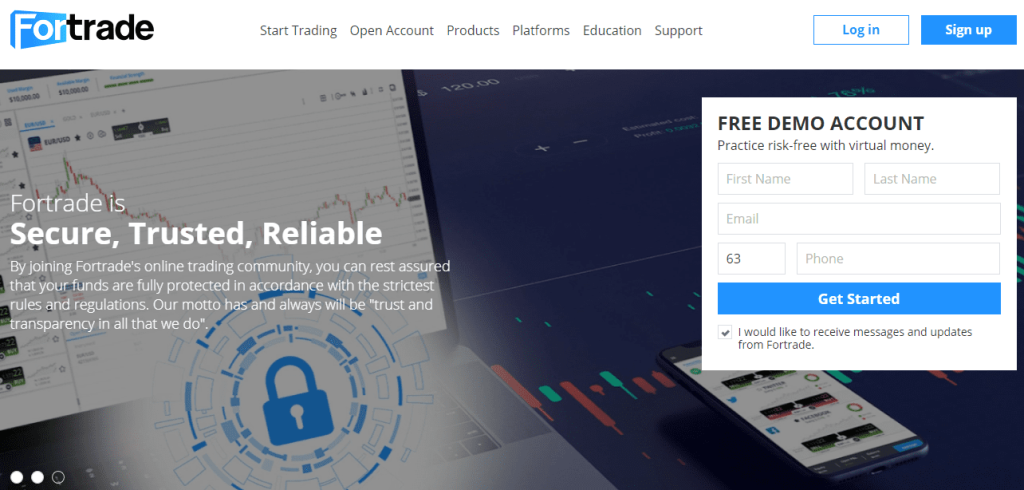 Pros
Allows users to trade various assets in multiple markets.
Additional tools and educational resources are available.
Features Meta Trader 4 and Web-trading facility.
Risk management tools are also available, allowing hedging.
Cons
The platform doesn't offer Stock Trading services.
Fortrade charges inactivity fees.
Analysis of the Main Features of Fortrade
2.7 Investment Instruments
2.6 Variety of Instruments
Fortrade Customer Reviews
There are numerous positive reviews done on Fortrade by satisfied clients, suggesting it is a great investment site. After two months of using Fortrade, one user found the platform more professional than the ones they were used to. Also, they have received excellent trading support, making it easier to profit and supplement their income.
Another user echoed what most users expressed about Fortrade, stating that it is the best platform for anyone. It is easy to open an account and the financial manager assigned is helpful, motivating, and encouraging throughout. The user expressed how the financial manager helped them during trying times, and today, they are making huge profits.
One user, however, expressed their disappointment in Fortrade, terming it a 'skilled liar.' According to their response, the platform offers inaccurate advice and information, and fails to communicate or reply to emails after losing the trades. It is devastating when a broker abandons a trader after losing their money. This is one of the several Fortrade drawbacks which place Fortrade 40th on our list.
Fortrade Spreads, Fees, and Commissions
Fortrade charges some fees and other additional charges which directly affect your trading. The broker's spread begins from 0/2 pips on the EUR/USD. This is the starting point, and no precise spread lists are listed on the site. However, live quotes are available, and you can expect an average floating spread starting from 0.2pips on the retail investor accounts.
This broker needs to clarify whether there are overnight or swap fees for positions held for more than a trading day. Fortrade supports Islamic accounts, and the spreads and commissions charged on these trading accounts are higher. This, however, depends on the trading position and the asset traded.
The good news is Fortrade doesn't charge any commissions on any trading activity done by retail and professional accounts. However, the maximum leverage for retail traders is at 1:30, and for experienced Fortrade traders, it goes to 1:200.
It is essential to mention that Fortrade doesn't offer spread betting; therefore, no spread betting fees. The broker also doesn't charge deposit fees. However, there are withdrawal fees for Telegraphic transfer, which cost about $4.
Fortrade also charges an inactivity fee for trading accounts that stay dormant for more than 180 days. The charge is a $10 fee deducted from the account's balance per month of the dormancy period. Users must also verify and specify their preferred currency conversions, which also attract various fees.
How Fortrade Fees Compare to other Brokers
| Broker | | | | |
| --- | --- | --- | --- | --- |
| Min Deposit | 100 | 100 | 1 | 1 |
| Withdrawal Fees | No | No | Yes | Yes |
| Inactivity Fees | No | No | No | No |
| Deposit Fees | No | No | No | Yes |
| CFD Commission Fees | No | No | No | Yes |
| | | | | |
Account Types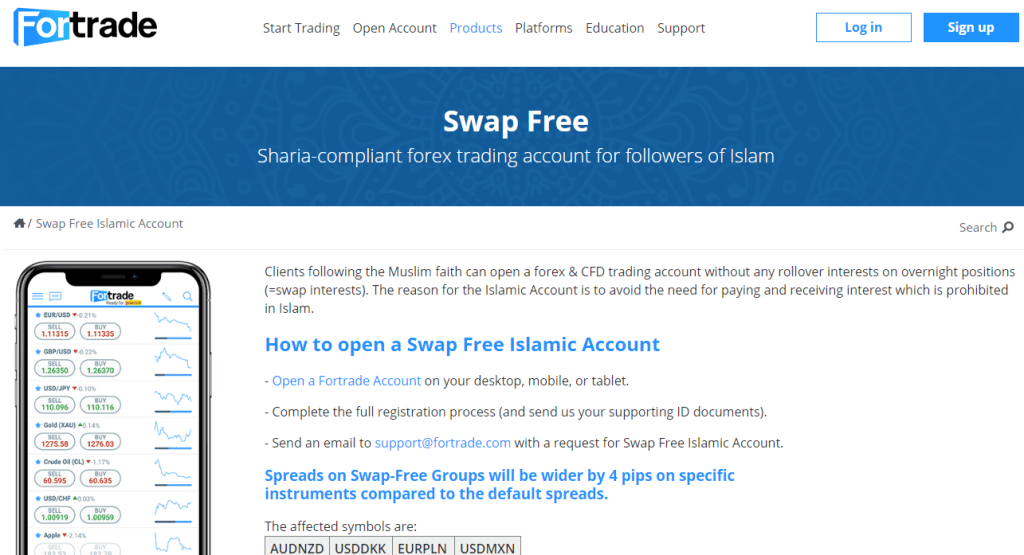 There are four available Fortrade account types:
Demo Account
Fortrade offers newbies the option to open a demo account ideal for practicing and improving their trading skills. The risk-free environment is ideal for testing their trading strategies based on the live trading environment. There is no better way to understand Fortrade than by opening a demo trading account and perfecting your trading strategies.
Retail Account
The Retail account is the primary option available at Fortrade, supports a minimum deposit of $100, and leverages up to 1:30. Its spread starts from 0.2 pips, and users can trade on all tradable assets. Note that the account is commission free, allows trading on MetaTrader 4, and is convertible into an Islamic Account.
Professional Account
The professional account becomes available to traders once they make trades at least ten times in the last four-quarters on trading forex or CFDs. Also, the trader must have a portfolio of more than € 500 000, including cash savings and financial investments. Another requirement is having financial experience gained working in the financial sector for at least one year. The benefit of the professional account is it has a leverage of up to 1:200. This account lacks negative balance protection.
Islamic Account
This is the ideal option for Islamic clients, and the account follows the Sheria law, which prevents them from paying any interest, including overnight fees. These fees, however, get charged if the trader holds positions for more than one trading day. Muslim traders must create a retail or professional account and then transform it into an Islamic one.
How To Open Your Account?

Opening a Fortrade account is free, and there are no commissions charged. It is effortless to create an account since the Fortrade platform guides the users through the entire process. The first step is creating a Fortrade account, and new users must enter their name, email address, and phone number.
There are two trading platforms available: Fortrade and MetaTrader 4. The procedure for opening the two is similar;
Visit Fortrade's official website.
Choose your preferred choice between MT4 and Fortrade, and select Start Trading Free Account.
Finally, follow the well-described procedures. Here, users specify their proffered deposit, withdrawals, and other conditions required by Fortrade.
The good thing is that customer support is available, and clients can reach out anytime between 9 am and 9 pm GMT if they experience any troubles. After creating the account, recharge your balance and begin trading.
What Can You Trade on Fortrade?
Fortrade is a multi-asset platform where traders can trade over 100 tradable assets, including Forex and CFDs. There are over 300 instruments available, grouped into these categories; Forex, Index trading CFDs, stock CFDs, precious metals, agricultural products, energy products, U.S. treasuries, and ETFs.
There are seven major forex pairs available at Fortrade and minor and exotic options. The platform also offers 19 major indices for CFD training. Clients can trade the CFDs on popular shares from limited stock companies in Germany, the UK, France, the US, and many other European countries.
The available precious metal CFDs include Gold, Copper, Silver, Platinum, Palladium, and many others. Fortrade users can trade Energy products such as Brent Oil, Crude oil, Gasoline, Heating Oil, and Natural Gas. Other available tradable commodities include agricultural products such as Soybeans, Sugar, and Wheat.
Fortrade Customer Support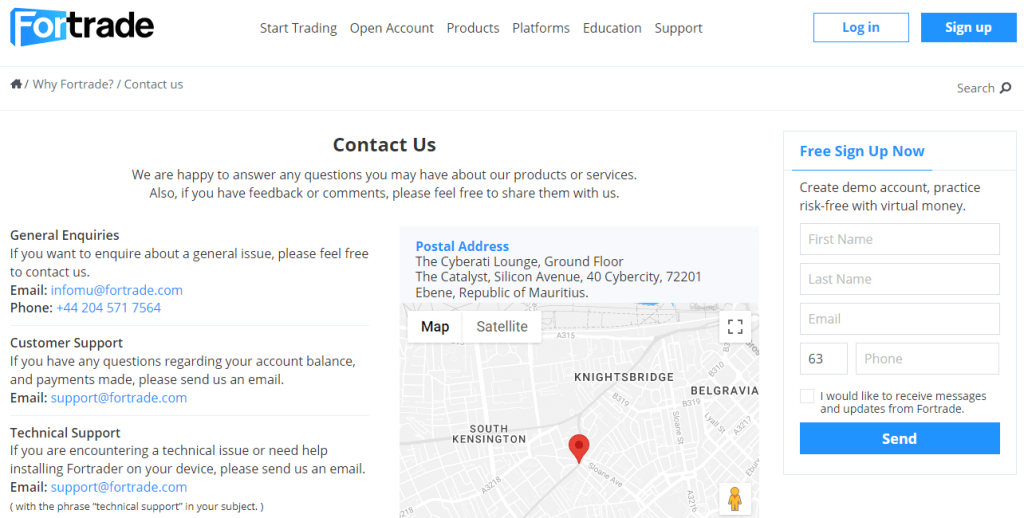 Fortrade, the online currency, and CFD trading platform is known for its supportive customer support team consisting of members willing to find all answers to any questions. For general issues, Fortrade clients can email infomu@fortrade.com or contact +44 204 571 7564.
Those who wish to contact Customer Support can send their questions via email through support@fortrade.com. The technical support team is also available through support@fortrade.com for those experiencing any technical issues.
There are also partnerships and institutional services available, and anyone wishing to join the Partnership programs can do so by emailing partners@fortrade.com.
Advantages and Disadvantages of Fortrade Customer Support
  Advantages

  Disadvantage

Multilingual customer support team
Available through email, online chat, and telephone
The live chat is ideal for international clients
Support chats and pages allow client feedback and comments

Only available 12 hours a day, from 9 am to 9 pm, from Monday to Friday. This means that the time frame is too tight for those with urgent queries
Email responses might fail to address the concerning issue
Security for Investors
  Advantages
  Disadvantages

Fortrade is a regulated brokerage platform, and it is supervised by the Financial Conduct Authority (FCA), the Cyprus Securities and Exchange Commission (CySEC), the National Bank of the Republic of Belarus (NBRB), and the Investment Industry Regulatory Organization of Canada (IIROC)
It is also licensed and regulated by the Australian Securities and Investments Commission, ASIC
The platform is well-regulated and consistently checked to meet all required standards
It is unlikely for such regulated brokers to manipulate market prices. Every trade, deposit, or withdrawal transaction gets monitored to ensure the investor's capital or earnings stay secure

Fortrade has restrictions on how much money a trader can withdraw at a time.
Fortrade offers no refunds or compensations for lost trades.
Withdrawal Options and Fees
After successful trades, most traders will want to withdraw their trading profits from the Fortrade account. The platform offers various withdrawal methods, which take 1 to 10 days to get processed, mainly two business days after the withdrawal request. These withdrawal methods differ depending on the trader's country of residence.
Fortrade withdrawal options include Visa, Neteller, Skrill, MoneyGram, PayPal, and Bitcoin payments, depending on the region. Note that all withdrawal processes are made through the method used to fund the account unless a trader chooses an alternative method.
The good news is that Fortrade charges no extra fees, whether one takes out $100 or $10,000. However, if the country of residence doesn't use the U.S. Dollar as a primary currency, Fortrade performs a currency conversion and displays all the fees incurred during the process. Also, if one chooses to withdraw using a bank account or credit card, they are subject to additional fees, however not charged by Fortrade.
Fortrade Vs Other Brokers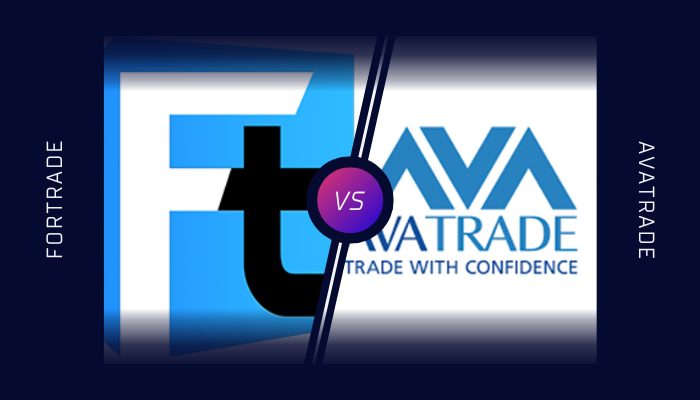 A good trader must always compare various brokerage firms to find one that suits their preferences and trading style. If we were to compare Fortrade with Avatrade, Fortrade has a higher trust rating than Avatrade. Also, Fortrade supports MT4, while Avatrade offers MT4 plus AvaOptions, MT5, and Avatrade Social.
Avatrade offers a greater depth of trading instruments than Fortrade, it provides 5 Forex trading pairs, and Fortrade has 50 pairs. Also, Avatrade offers 20 cryptocurrencies, while Fortrade has 6. Note that both platforms provide educational support for elite traders.
Fortrade is a well-known trading platform compared to Avatrade, with over a million users. This is roughly five times more than Avatrade's customer base. Our comprehensive analysis shows Avatrade slightly outperforms Fortrade, especially in the available investment products and user experience.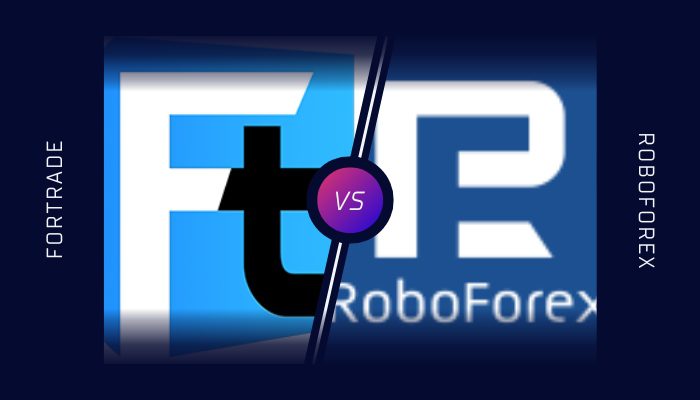 Fortrade and Roboforex allow traders to trade 100 financial instruments on their platforms. However, Roboforex has a lower minimum deposit of 1, while Fortrade allows minimum deposits of $100. Another quick comparison is Fortrade has 190 stocks listed while Roboforex has 0 listed stocks.
With Fortrade, the platform enables traders to trade assets on Binary, MT4, Tablet, and Mobile apps, while Roboforex offers MT4, MT5, Web Trader, Mac, Tablet, and Mobile app trading platforms. Fortrade offers cryptocurrency trading and no withdrawal fees, while Roboforex doesn't offer cryptocurrency options and withdrawal fees.
Fortrade and Roboforex are award-winning platforms, proving they are safe and secure. However, Roboforex outperforms Fortrade in almost all trading aspects, except for Crypto investment.
Fortrade offers 100 financial trading instruments which is more compared to Alpari's 50. The platform also provides 190 stocks listed, while Alpari has no listed stocks. With Alpari, traders can trade assets on Alpari MT4, MT5, Binary, Web Trader, Tablet, and Mobile apps. Fortrade users can use the Fortrade MT4, Binary, Tablet, and mobile apps.
Alpari allows a minimum deposit of $1 and a maximum leverage of 1:1000. In contrast, Fortrade allows a minimum deposit of $100, and its maximum leverage is at 1:30. Both platforms offer the Demo and Islamic accounts. Alpari also has an additional Micro Account.
Fortrade offers slightly more withdrawal methods than Alpari through Neteller, Skrill, and credit cards. Alpari only offers Neteller and credit card options. There are no significant differences between the two; however, Fortrade ticks more boxes than Alpari.
How Fortrade Compare against other Brokers
| Broker | | | | |
| --- | --- | --- | --- | --- |
| Instruments Available | 100 | 1250 | 100 | 50 |
| Platforms | MT4 | Web Trader, MT4, MT5, AvatradeGo, AvaOptions, DupliTrade, ZuluTrade, Mobile Apps, ZuluTrade, DupliTrade, MQL5 | MT4, MT5, Mac, Web Trader, cTrader, Tablet & Mobile Apps | MT4, MT5, Web Trader, Binary, Tablet & Mobile Apps |
| FX / Currencies | | | | |
| Forex pairs offered | 70 | 61 | 35 | 50 |
| Major Forex pairs | Yes | Yes | Yes | Yes |
| Minor Forex pairs | Yes | Yes | Yes | Yes |
| Exotic Forex pairs | Yes | Yes | Yes | Yes |
| Cryptocurrencies (availability subject to regulation) | Yes | No | Yes | Yes |
| Commodity CFDs | | | | |
| Commodities Offered | 0 | 17 | 21 | 3 |
| Metals | Yes | Yes | Yes | Yes |
| Energies | Yes | Yes | No | No |
| Agricultural | Yes | Yes | No | No |
| Indiced & Stock CFDs | | | | |
| Stocks Offered | 190 | 1000 | 0 | 0 |
| UK Shares | Yes | Yes | Yes | No |
| US Shares | Yes | Yes | Yes | No |
| German Shares | No | Yes | Yes | No |
| Japanese Shares | Yes | Yes | Yes | No |
Conclusion: Fortrade Review
Fortrade is a trading platform designed to make trading easier, fast, and more friendly. The platform serves various traders worldwide and has received overwhelmingly positive reviews from its users. Analysis of the feedback shows most clients prefer Fortrade because of the low deposit required to start, the well-crafted educational programs, and the live market information to aid them in making informed decisions.
This might the ideal platform for beginners and elite traders. Many practical Fortrade trading tools and resources are featured to provide traders with numerous solutions. Fortrade is a safe, secure, and regulated broker; all investors' capital is always safe.
Therefore, Fortrade is one of the platforms to consider for any risk-averse trader who wants to hedge their investments. There are 100 financial instruments to trade, offering users the ability to diversify their portfolios and reduce risk.
Fortrade Review FAQs
Is Fortrade legit?
Yes. Fortrade is a registered company broker, licensed and regulated by the strict Financial Conduct Authority body. This governing body guarantees its legitimacy making it 100% legit. All trade, deposit, and withdrawal requests get honored as required.
Is Fortrade regulated?
Yes. Fortrade is licensed and regulated by FCA in the U.K. The multi-asset broker also has all the required licenses and meets the standards necessary to operate in various European and North American countries. For instance, Fortrade is a member of Canada's Investment Industry Regulatory Organization.
What is the minimum deposit for Fortrade?
Fortrade requires all clients to make a minimum deposit of $100 after creating an account. However, there is also the option to sign up for the demo account, which requires no capital and is ideal for learning the various Fortrade operations.