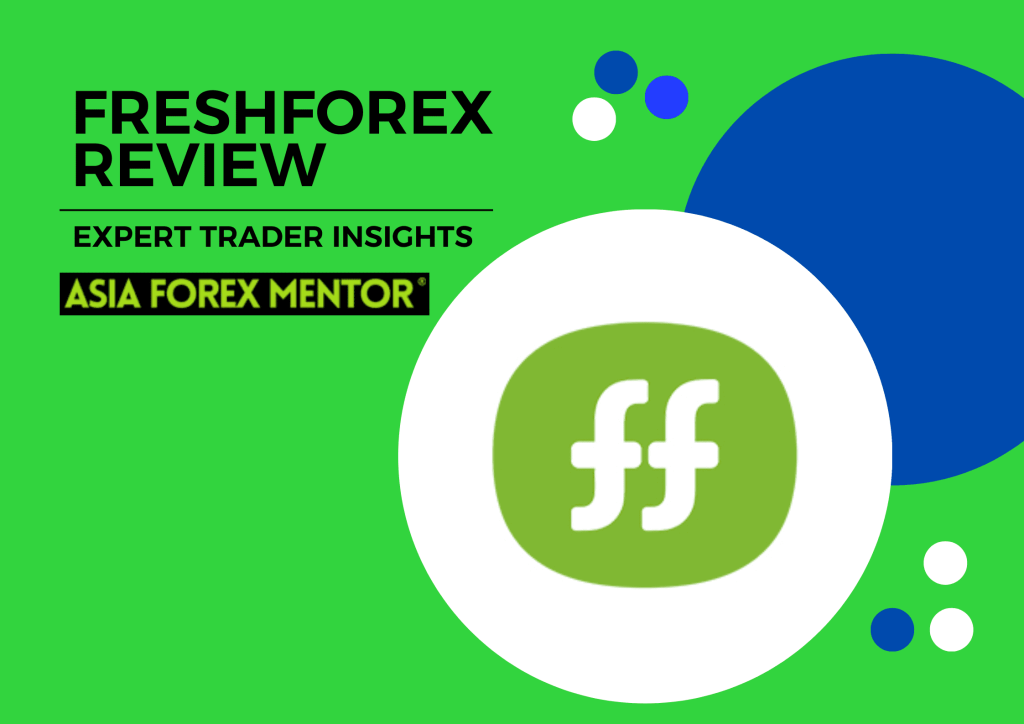 FreshForex Review
Once you start searching for Forex brokers, you'd surely receive thousands of different recommendations, and FreshForex may be one of them. The company has been around since 2004 and provides trading services in over 130 instruments; experienced traders appreciate the diverse asset classes and trading platforms.
FreshForex has amassed more than 100,000 customers over the last decade, and they are expanding rapidly into newer areas. Their services are spread across more than 200 countries, while most of their traders come from South Africa, Nigeria, and Pakistan. However, the company has had several complaints from passive traders due to a lack of investment programs.
Broker search can be complex, but we can simplify it for you. In the later parts of the blog, we will discuss everything you need to know about FreshForex, including their reliability, customer services, account types, and fees. We shall also share customer experiences and insights regarding their offerings and services. Let's go
Asia Forex Mentor Evaluation Criteria
Asia Forex Mentor has played a crucial role in developing modern forex traders; we have been offering comprehensive courses that cater to every trading segment; however, our students can't make a profit if they don't sign up with the right broker. Therefore, we analyze hundreds of brokers on well-defined parameters to determine their efficiency, competency, reliability, and customer service.
Our experts analyze the broker by signing up for their trading accounts and experiencing the trading platform in fluctuating market conditions; the goal is to figure out any hidden charges, frauds, or loopholes that may trouble our traders once they set out on their professional journey. We have divided the evaluation criteria into four sections:
Reliability: A broker's reliability is judged by their licenses and customer reviews; if a broker doesn't have recognizable licenses, it is a red flag and a no-go.
Efficiency: The trading platforms, execution rate, and withdrawal process can significantly impact a trader's ultimate experience.
Competency: we compare a broker's offerings and charges with other leading brokers in the industry to evaluate a trader's future profitability.
Customer reviews: existing users can be the best brand advocates or enemies- they help us identify the best features and worst flaws through first-hand experience.
After a thorough investigation, we can have a reliable say in FreshForex's overall credibility; the company has unique offerings with cheap spreads and diverse account types; their existing customers appreciate the customer service's response to queries, but they can't connect with them on weekends.
The company is fairly reliable with a long history, but we couldn't establish a firm check on its legitimacy due to its weak licenses and multiple scam reports over the last year. If you're looking to invest with FreshForex, you shouldn't miss out on the remaining review; we shall conduct a detailed analysis to affirm your perception.
What is FreshForex?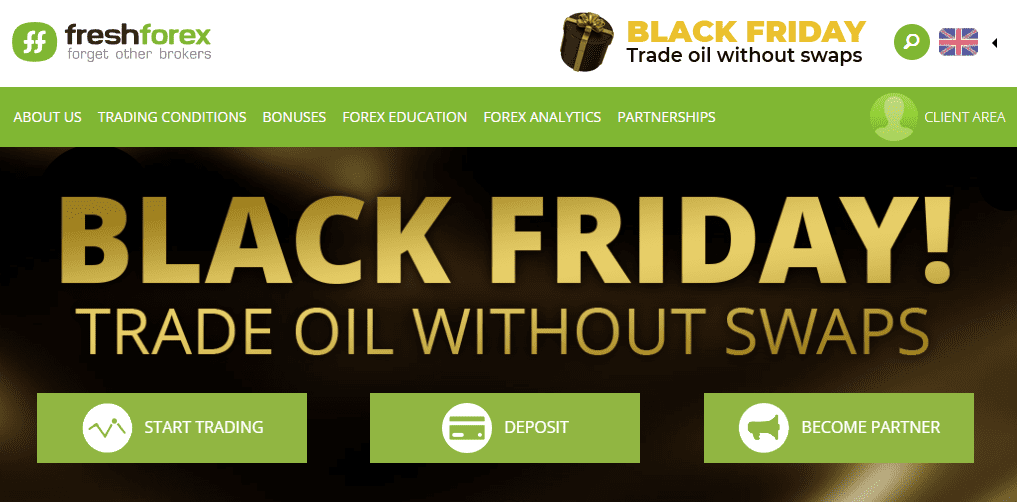 FreshForex is owned by Riston Capital limited company and was founded in 2004; in its 18 years history, the company has spread its services across 200 regions and has amassed over 100 thousand users.
Riston Capital is also involved with various other investment brokerages and financial software. FreshForex is based in Saint Vincent and the Grenadines and is regulated by the financial services authority SVG under registration number 20623.
Over the last few years, we have seen the emergence of various new brokers with SVG licenses, and most of them have shady activities, while some are proven outright scams. The SVG license for FreshForex isn't a rock-solid statement for their legitimacy, and we would prefer brokers with an FCA or SEC US license.
FreshForex offers diverse trading platforms that allow traders to trade over 130 different trading instruments, including forex, CFDs, metals, oils, and other indices.
The company doesn't offer crypto, but some rumors suggest the introduction isn't far. They have affiliations with multiple licensed banks, intermediaries, and liquidity providers that cover their missing licenses.
Although the distinct features have played an important part in retaining old customers, FreshForex attracts customers through their never-ending bonus schemes and rewards; the company conducts regular competitions to reward traders, and new investor sign-ups can get as high as $20 in new-account bonuses.
Advantages and Disadvantages of Trading with FreshForex
  Advantages
  Disadvantages

130 trading instruments
Tight spreads starting with 0 pips
Diverse account types for all traders
Advanced indicators and features for all traders
Interactive tutorials and lectures for novice traders

Doesn't offer crypto
Customer service isn't available on weekends
Benefits of Trading with FreshForex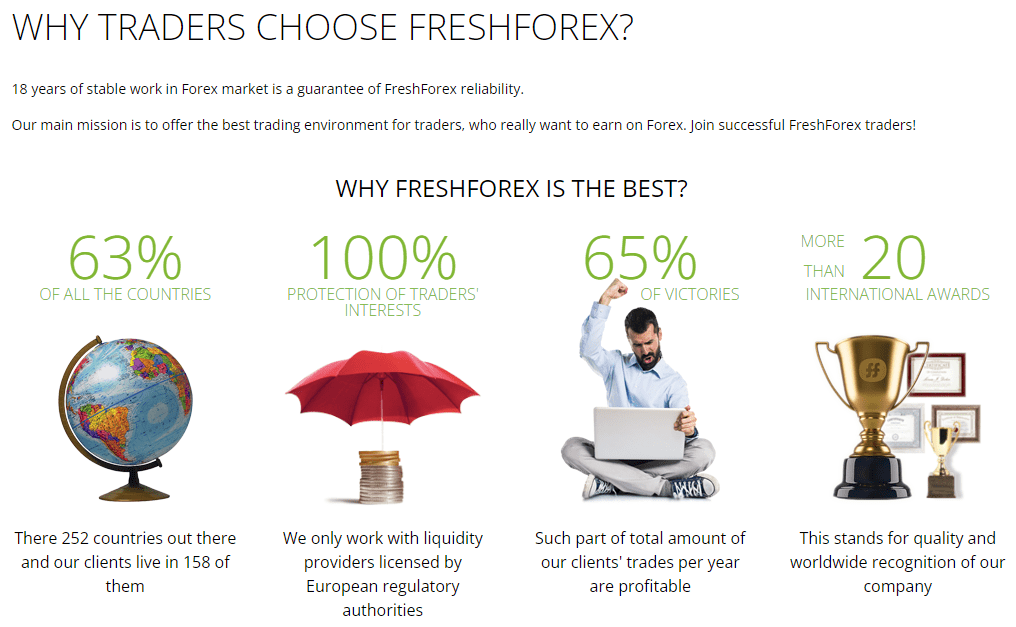 A broker plays a fundamental role in determining your trading profitability; their asset classes, trading platforms, educational resources, and fee structures contribute to your long-run trading experience.
FreshForex stands out from its competition due to its advanced offerings open for all account types; the company offers meta traders 4 and 5, allowing you to access over 190+ technical indicators.
Moreover, the company has come up with unique heatmap propositions for Forex, CFDs, and Stock exchanges; the heat maps show high-interest securities of the market that present a unique opportunity to make more profits.
The heat map identifies common investor interest and possible volatility in security prices; you can choose to go with high-interest security with a high risk-return ratio or opt for more calm securities to avoid risks. We used the heat maps to plan some of our trades, and their insights helped drive predictable profits and minimize risks.
FreshForex also has an intelligently designed account structure that helps them provide the best fit for all trading types; if you are a novice trader, you could sign up for the cent account and play with low investment.
Similarly, if you want an Islamic(swap-free) account, you can sign up through the platform. They also offer a demo account to help you practice your strategies before putting your investment at stake.
However, the main interest for traders lies in the bonus and rewards schemes by FreshForex; the broker usually maintains about five different reward schemes for its traders, and the bonuses are credited into their trading wallets.
The bonus scheme revolves around ongoing events such as Black Friday or the world cup. Although the bonus schemes are a good add-on, we still emphasize traders focus on their trading strategies instead of bonuses.
FreshForex Pros and Cons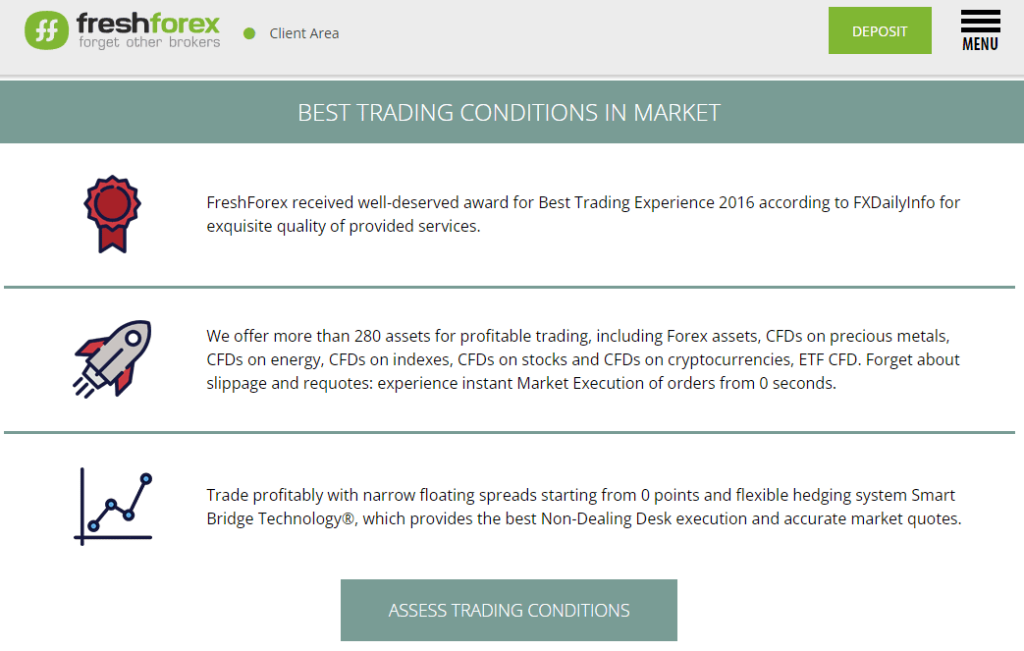 Pros
Multiple withdrawal methods
Up to 1:2000 leverage
Support mobile and web trading
Expert advisors for selective accounts
Cons
Doesn't offer ETFs or options
withdrawal commission is charged
No investment programs
Analysis of the Main Features FreshForex
4.2 Investment Instruments
4.0 Variety of Instruments
FreshForex Customer Reviews
The main determinant of a broker's services is its existing customers, and we ensure their reviews aren't missed in our analysis. FreshForex maintains a 75%+ positive rating on Trustpilot and other similar platforms.
Customers have appreciated their easy-account sign-up process and execution rate; they love how they can sign up for their account for as low as $1 but still access amazing trading facilities.
Similarly, other customers appreciate their withdrawal schemes and charges; customers usually receive their withdrawn amount within 24 hours and minimal deductions. Another customer-favorite feature was high leverage; users enjoy high profits by utilizing leverage properly.
Overall, our insights about the broker were pretty similar; we found their leverage scheme useful in maximizing profits and returns; the educational resources are also well-crafted to suit novice traders, but they may require upgrades as more expert traders come on board.
However, specific-region customers have highlighted problems with the withdrawal procedure; the reps asked the clients to deposit an equal amount to complete the withdrawal as per FreshForex's policy.
We probed into the matter, and the reports mainly arose from Nigeria; the clients were contacted by scammers disguised as FreshForex's representative to loot clients.
FreshForex Spreads, Fees, and Commissions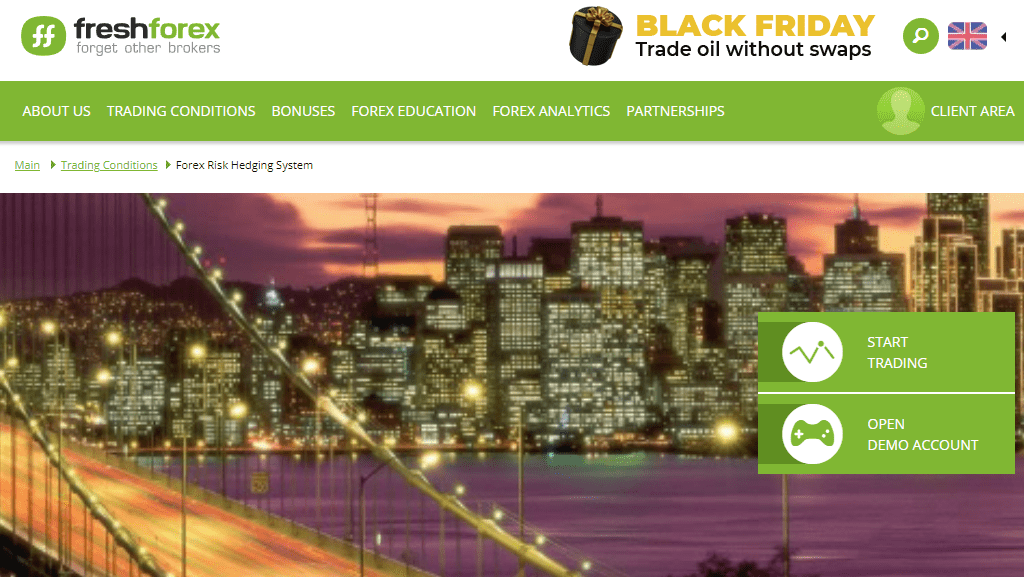 Our analysis emphasizes estimating the probable cost of trading affiliated with each broker; overall, FreshForex can't be regarded as the 'cheapest broker,' but its services and offerings are at par with their costs.
FreshForex charges varying costs and spreads with account types; the classic or real account has a fixed spread starting from 2 pips per lot; the market pro account charges a floating spread with a minimum of 0.9 pips.
The ECN account doesn't charge any spread, but a commission of 0.003% is charged for every trade. The two former accounts don't require a commission.
FreshForex has a typical spread of 1.8 pips for the EUR/USD pair, 1.9 pips for GBP/USD, and about 2.3 pips for AUD/USD. Similarly, it charges a 2.4 spread for the USD CAN pair and 2.8 for the USD JPY pair.
The spreads are slightly higher than industry averages, and traders can find cheaper brokers. For instance, Avatrade- the industry-leading broker- charges a minimal spread of 1.0 pip for popular currency pairs- USD EUR, GBPUSD-, and the rates can rise slightly for other less popular pairs.
FreshForex also charges a swap fee for overnight trades; the fee changes after every interval, and traders must acknowledge the updated cost to make well-informed traders.
The broker doesn't have a minimum deposit requirement, and you can set up your account for as low as $1; however, they have prescribed recommended requirements for each account type to assist traders.
We also think a deposit of less than $100 is highly vulnerable to volatile markets, and you should start with about $200 to make profits in the long run.
How FreshForex Fees Compare to other Brokers
| Broker | | | | |
| --- | --- | --- | --- | --- |
| Min Deposit | 100 | 100 | 1 | 1 |
| Withdrawal Fees | $5 | No | Yes | Yes |
| Inactivity Fees | No | No | No | No |
| Deposit Fees | Yes | No | No | Yes |
| CFD Commission Fees | No | No | No | Yes |
| | | | | |
Account Types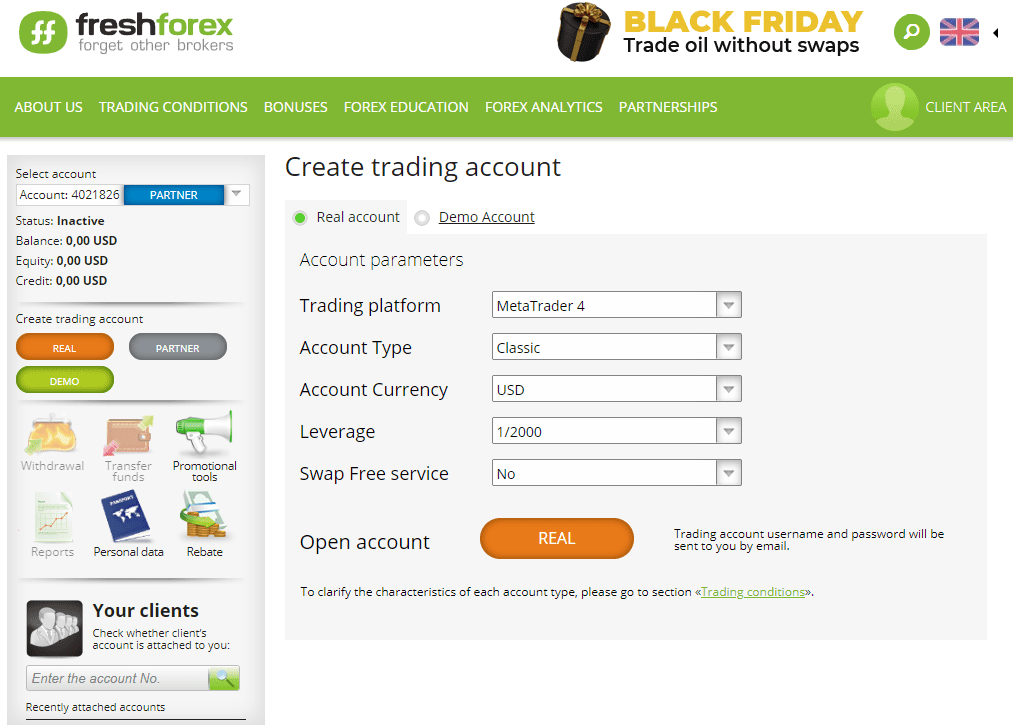 FreshForex has intelligently designed its retail investor accounts to suit traders with varying needs; the broker has divided its seven account types into three major types. New account sign-up has to start with the main account and sign up for the supporting type once the account is set up.
The classic account is designed for regular traders looking to trade at weekly intervals; the account gives you access to MT4/5, and you can trade up to 200 asset classes. The spreads are fixed at 2.0 pips, and you can avail of a leverage up to 1:2000. A commission isn't charged for your trades, and you can deposit and withdraw using four different methods.
Market pro account is designated for expert traders, who can benefit from volatile markets and regular trades; the spreads are floating with a minimum of 0.9 pips per lot; you can trade the same 200 asset classes with the market pro account, but it doesn't provide access to MT5. You can utilize about 1:1000 of leverage with a max order size of 100 lots.
ECN account is developed for expert traders looking to maximize their returns and trade with no spreads. FreshForex is one of the few brokers offering an ECN account with no minimum deposits; you will be charged a commission of 0.003% per trade and can use a leverage of 1:1000. The maximum order size is 10000 lots, and you can use both the MT4/5 to place your trades.
Besides the main accounts, FreshForex also offers cent, swap-free, and partner accounts; you can sign up for a classic account and extend to the subsequent types.
The swap-free accounts generally compensate with higher spreads and additional administrative fees, and we don't recommend them until the relevant profit calculations are calculated.
We also recommend signing up for a FreshForex demo forex trading account to venture into the forex market to manage your expectations and strategies in the area;-time market scenario. It also gives access to the original trading platforms, so you can get used to the trading tools before putting your investment at stake.
How To Open Your Account?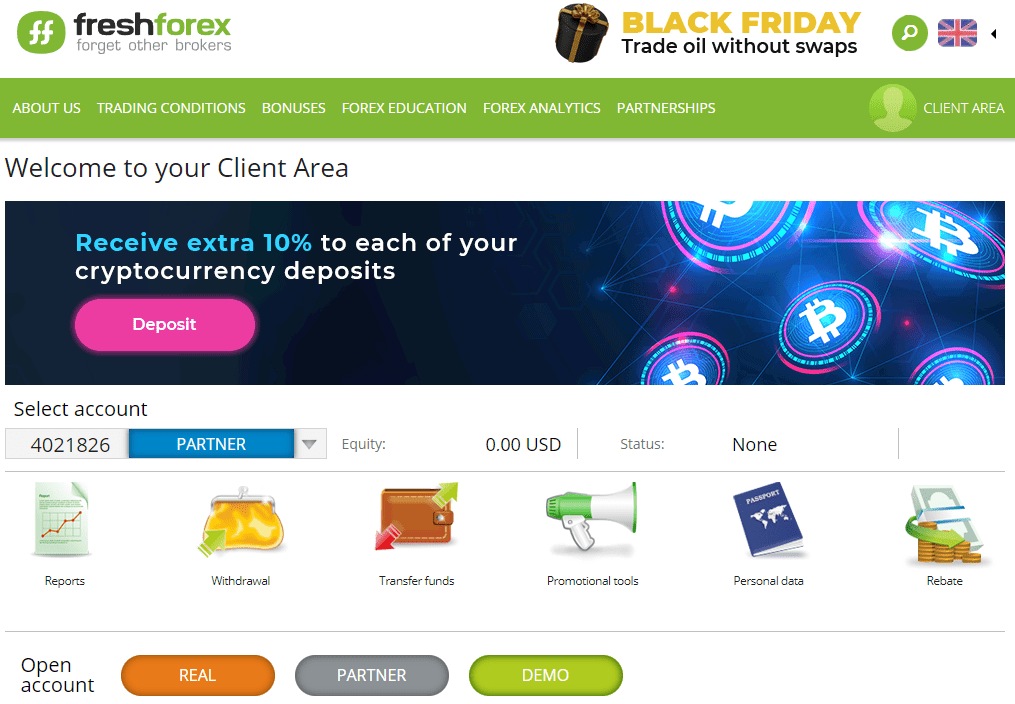 FreshForex has maintained a simple account sign-up procedure that can help you get started quickly. The requirements are simple, and it takes about 1-3 working days to get your account; the payment transfer can be made through e-wallets, bank cards, and crypto-wallets.
You can start the sign-up application with the forex broker by heading to their official website and tapping the 'open trading account' button at the top right.
It will take you to the main application page, where you'd be asked to add your phone number to proceed- FreshForex applications are for adults above 18 years old from countries other than China, Afghanistan, Syria, Yemen, etc.
Once you press next, you'd be presented with a basic form to enter your legal details and documents based on the KYC procedures. You'll also be asked to add an email- your login credentials for fresh forex will be mailed to the account.
Within a few days, the account is live, and you can log into the client cabinet for fund transfer and account selection. The cabinet allows you to monitor your trading history in the foreign exchange market, any deposits, withdrawals, and other important details.
Overall, we found FreshForex sign-up procedure straightforward; it didn't have any troubling requirements that could have caused a problem.
What Can You Trade on FreshForex?
Usually, our primary focus for a broker is on their licenses and costs, but for FreshForex, we were convinced by their promising asset classes and diversification options. FreshForex gives you access to more than 200 different asset classes, including cryptos, CFDs, oils, forex, and stock exchanges.
You can trade any of the security through the assigned platforms; the trading tools can also be used to analyze the forex and CFD markets and predict the movement of your watchlist. We advise traders to be prudent while trading CFDs- they are high-risk-return security and may misfire if due diligence isn't taken.
You can trade more than 150 CFDs in global markets; similarly, you can trade up to 50 forex currency pairs and about 22 other cryptocurrencies.
There are similar options for oils, stocks, and other indices. FreshForex offers traders an incredible opportunity to diversify their portfolios and minimize risks.
Traders must be coherent with portfolio diversification and balancing techniques to avoid losses; once your capital is at risk, any wrong moves can lead to irreversible outcomes.
FreshForex Customer Support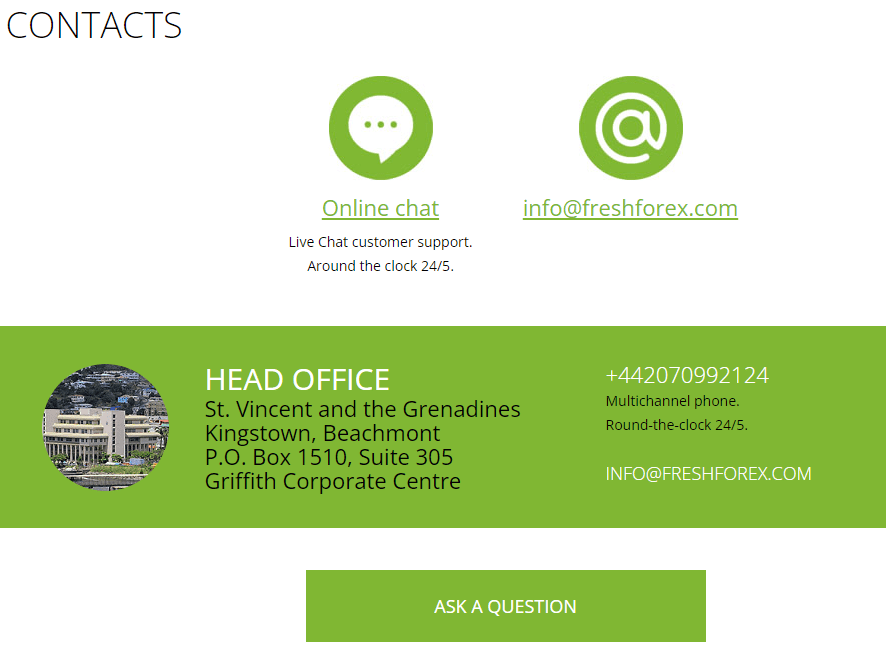 Like other leading industry brokers, FreshForex customer support can be contacted through multiple means; you can contact them at their official number, email, live chat, or social communities to consult for your queries and problems.
The customer sentiment regarding FreshForex's services is largely positive; we found multiple reports praising the prompt and accurate response.
Per our estimate, the waiting time for calls is negligible, and live chat can take about 2-3 minutes to connect you with an agent. The emails are usually responded to within 24-48 hours, but we suggest traders rely more on the phone and live chat for urgent problems.
The social communities are designed to help traders connect with fellow traders and discuss common problems; we usually find communities helpful in learning new strategies and better profit-making techniques.
However, recently we have seen a few reports that accuse Fresh forex reps of misusing their authority to seek customer deposits into personal accounts.
The broker published a report clarifying the matter; as per their statement, no traces of such fraud were found, and consumers were probably contacted by scammers pretending to be FreshForex reps. The investment world is filled with scammers, and things could go wrong if you aren't cautious.
Advantages and Disadvantages of FreshForex Customer Support
  Advantages

  Disadvantage

Multi-lingual support
Different means to contact
Agents are responsive and knowledgeable
Live chat and phone can quickly connect

Email responses could be slow
Recent accusations of fraud
Contacts Table
Contacts
Foundation Date

2004

Registration Address

St. Vincent and the Grenadines, Kingstown, Beachmont, P.O. Box 1510, Suite 305, Griffith Corporate Centre

Contacts
Email: info@freshforex.com
Phone: +442070992124
Security for Investors
  Advantages
  Disadvantages

Licensed by FSA SVG
Affiliated with licensed liquidity providers
History of more than 15+ years
Riston Capital has a renowned reputation

No other reputable license
Some accusations of scams
Withdrawal Options and Fees
FreshForex has identified the varying needs of all traders, and its services are diversified to entertain the largest audience; the withdrawal and deposit methods are nicely distributed across e-wallets, banks, cryptocurrencies, and wire transfers, so everyone can sign up for an account and start trading.
We have found multiple reports praising their withdrawal procedure and system; you can use more than 20 different methods to withdraw your profits. In some ways, the amount is made available instantly.
However, the payment requirements may differ for each method; for instance, a card transfer would require a minimum amount of $50, and for Skrill and Neteller, the amount drops to $30. If you're looking for a crypto wallet transfer, the amount will vary based on your coin.
Usually, a withdrawal to the e-wallet or MasterCard will be transferred instantly, and the amount will be available within an hour. The complete process is autonomous, which helps in it speeding the process for better efficiency.
FreshForex doesn't charge commissions for the amount withdrawn or deposited, but you may need to pay some transactional charges based on the selected mode. Similarly, banks often pay lesser exchange rates, and the amount may drop slightly for international transfers.
Unlike other brokers, we couldn't find an AML policy for Freshforex, meaning you can withdraw your profits to a different account than the one used for the deposit.
FreshForex has designated WebMoney to control the transfer of deposits and withdrawals; the company employs a verification strategy to ensure the funds are transferred to the rightful owners. You may have to confirm several forms before your withdrawal proceeds.
Although the system may take time, we encourage its requisites to protect investors' funds from scams and frauds.
FreshForex Vs Other Brokers
When it comes to trading pioneers in the EU, Avatrade is a popular name. The broker has established a positive reputation amongst traders for a decade and has obtained credible licenses for top regulatory bodies worldwide.
In reliability, Avatrade is significantly ahead of FreshForex, which is yet to obtain any license except the FSA SVG. The second important factor is the cost; Avatrade offers three different accounts with variable spreads and commissions. Typically, the USDEUR pair would have a spread of 1.0 pip on Avatrade, while it could rise to about 1.6 pips on FreshForex.
Similarly, the GBPUSD pair on Avatrade can be traded with a pip of 1.2-1.3, but on FreshForex, the same pair costs more than 1.8 pips. However, FreshForex does have a lesser commission and markup fee per trade than Avatrade.
In terms of trading platforms, both brokers offer a web trader, mobile app, and meta trader; however, Fresh Forex doesn't have automated trading systems for its traders; the traders can access expert advisors, but they have to control the trading procedures by themselves largely.
However, with Avatrade, you can use ZuluTrade to select the best trading strategies and grow your account– it allows you to delegate your trading operations and save more time.
FreshForex will need to improve in multiple departments to compete with Avatrade, but still, we believe its diverse account types, trading classes, and good customer support are standout traits and will help its long-run growth.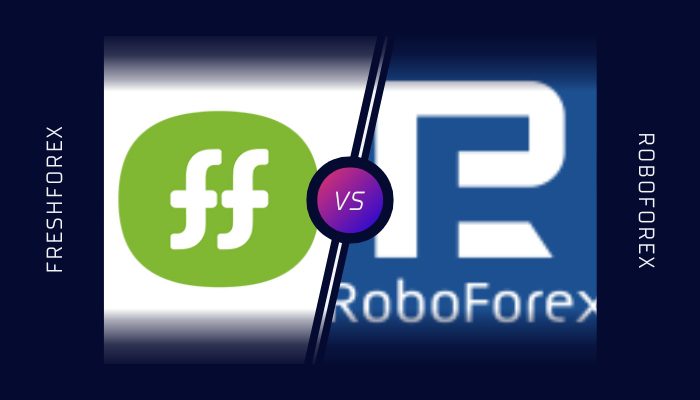 As mentioned, our first emphasis in any comparison is the credibility of the broker, and between FreshForex and RoboForex, we can't decide on a clear winner.
FreshForex has an SVG license with affiliations with licensed liquidity providers, while Roboforex has an FSA Belize license and a history of great customer reputation. If we talk about offerings, Roboforex has a clear lead; its offerings are several times larger than FreshForex.
For instance, you can trade up to 120 CFDs on FreshForex, but with Roboforex, you can trade up to 12000+ CFDs from global markets. Similarly, the range of Oil, metal, and commodity indices is significantly greater on RoboForex than FreshForex.
RoboForex also has an edge in its trading platforms; while a FreshForex broker offers an MT4/5 as its premium platform, RoboForex provides updated trading services with Mt4/5 and Ctrader to complement multiple trading types.
Similarly, RoboForex is famous for its AI traders who can help you trade forex, crypto, stocks, and CFDs without spending hours in technical analysis. However, FreshForex takes the lead against
Roboforex in its account diversity and costs. FreshForex has swap-free, cent, and partner accounts alongside its main account types, but RoboForex doesn't have a similar variety.
Moreover, the pip spreads for the classic/pro account are lesser on FreshForex than on RoboForex. We recommend FreshForex for professional trading with less capital; however, if you want to make money from a side hustle, RoboForex is a better option.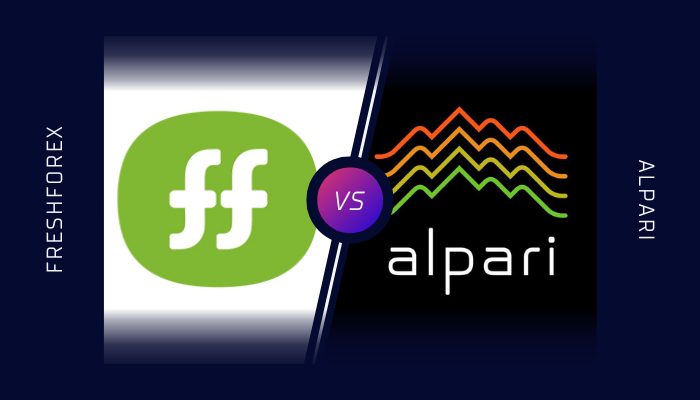 FreshForex and Alpari are located in Saint Vincent and the Grenadines and have more than 15 years of history each.
Their customer bases are loyal, and we found a positive sentiment regarding their credibility and legitimacy in the trading community; hence, we can regard both brokers as legit, but none of them have tier 1 licenses.
Alpari is popular for its cashback schemes; the broker has announced various schemes in the last few months that give traders the added advantage of increasing their profit. Nonetheless, FreshForex is no less famous for its bonuses and rewards; the company maintains at least five bonus competitions throughout the year that have helped beginner traders make some profits.
The two brokers are largely similar, and it's difficult to rate one higher than the other. Like other features, FreshForex and Alpari have similar trading platforms; Freshforex traders can access Mt4/5, web trader, and mobile app, which is the same as Alpari traders.
The account diversity in FreshForex is also visible in Alpari, as both offer Islamic account(s). The cost structure is similar and differs based on your account types and spreads. FreshForex takes a slight lead by offering 0 minimum deposit requirements, which are set at $5 for Alpari.
A deciding factor for novice traders could be the range of educational resources- FreshForex has an 8-step lecture guide to help new traders familiarize themselves with the trading world and affirm their first steps.
However, Alpari lacked meaningful educational resources, and we couldn't find recognizable aids to benefit traders. Ultimately, your decision between the two brokers should be based on your country's eligibility and trading level.
How FreshForex Trading Options Compare against other Brokers
| Broker | | | | |
| --- | --- | --- | --- | --- |
| Instruments Available | 116 | 1250 | 100 | 50 |
| Platforms | MT4, MT5 | Web Trader, MT4, MT5, AvatradeGo, AvaOptions, DupliTrade, ZuluTrade, Mobile Apps, ZuluTrade, DupliTrade, MQL5 | MT4, MT5, Mac, Web Trader, cTrader, Tablet & Mobile Apps | MT4, MT5, Web Trader, Binary, Tablet & Mobile Apps |
| FX / Currencies | | | | |
| Forex pairs offered | Yes | 61 | 35 | 50 |
| Major Forex pairs | Yes | Yes | Yes | Yes |
| Minor Forex pairs | No | Yes | Yes | Yes |
| Exotic Forex pairs | Yes | Yes | Yes | Yes |
| Cryptocurrencies (availability subject to regulation) | No | No | Yes | Yes |
| Commodity CFDs | | | | |
| Commodities Offered | 0 | 17 | 21 | 3 |
| Metals | Yes | Yes | Yes | Yes |
| Energies | Yes | Yes | No | No |
| Agricultural | Yes | Yes | No | No |
| Indiced & Stock CFDs | | | | |
| Stocks Offered | 0 | 1000 | 0 | 0 |
| UK Shares | Yes | Yes | Yes | No |
| US Shares | No | Yes | Yes | No |
| German Shares | No | Yes | Yes | No |
| Japanese Shares | No | Yes | Yes | No |
Conclusion: FreshForex Review
FreshForex has been gathering customers since 2005, and its user base is now over 100k; its primary audience comes from Asia and Africa, but its latest expansion moves have brought various European nations on board. We analyzed the broker in multiple dimensions and uncovered various positives and negatives about their services and brands.
FreshForex is famous for its offerings; they have a diverse range of asset classes that helps you diversify your portfolio and minimize risks. Similarly, they are also regarded for their easy account set-up and transfer methods.
We couldn't locate any significant problems in both transfers, which were seamless. Customer support is helpful in any queries regarding the trading platform, account, or system.
However, FreshForex does have some negatives, starting from its high costs for forex trading- the spreads are higher compared to other industry-leading brokers.
Similarly, the broker doesn't offer any investment program to assist traders with automated trading; the expert advisors are usually busy, and the waiting time can be several days.
FreshForex has its pros and cons like every other forex broker; if you're looking to sign up with them, you must start by ensuring your nation's eligibility and other legal requirements that may cause problems later on. We hope and wish you a safe trading journey.
FreshForex Review FAQs
Is FreshForex a trusted broker?
FreshForex has mixed opinions about its trustability. They operate with an FSA SVG license and have affiliations with licensed banks and intermediaries.
Most customers have positive reviews reading seamless transfers and trading servers, but some recent reports go in an unwanted direction. The reviews suggest that customer reps asked investors to pay equivalent amounts to receive their withdrawals; otherwise, their accounts would be deactivated.
Is FreshForex an ECN Broker?
FreshForex offers ECN accounts for expert traders looking to maximize their returns through global market trades.
The ECN account doesn't incur any spread differences; however, a commission of 0.003% is charged per trade. The leverage ratio is 1:1000, which helps you make more profits- poor trading conditions with leverage come with a huge risk of losing money rapidly.
How long does it take to withdraw from FreshForex?
The time for withdrawal depends on your preferred type; the withdrawal process is completely autonomous, so the process is quicker than other brokers.
Usually, the transfer for e-wallet and banks can take up to 48 hours after the application is sent forward. The time for a crypto wallet is generally shorter based on the crypto network.