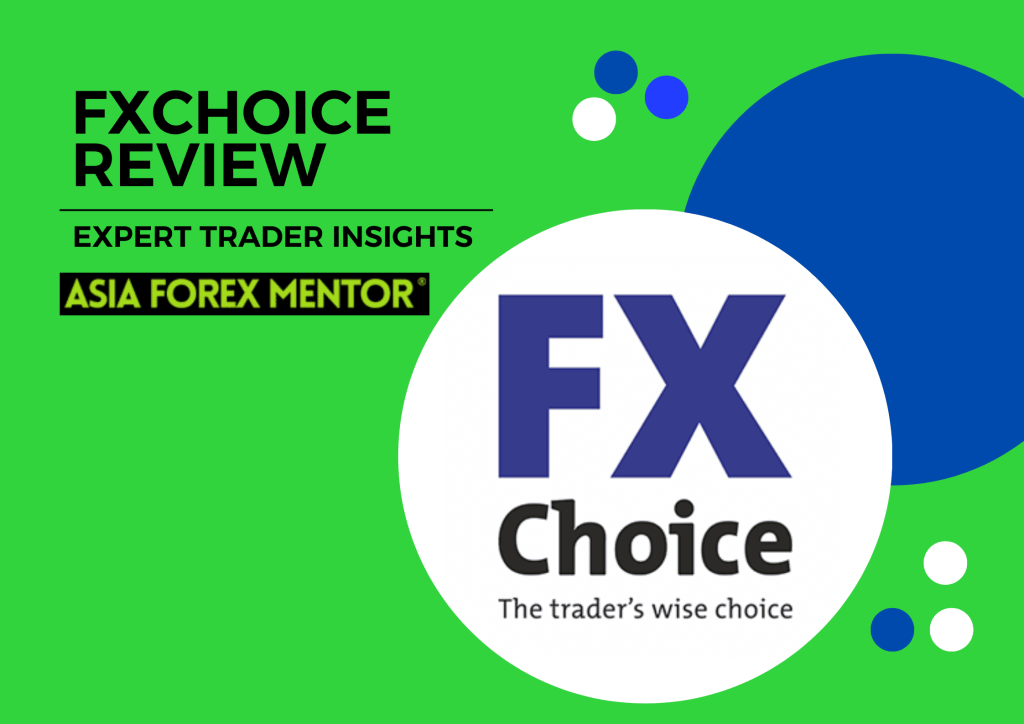 FXChoice Review
Are you a retail investor looking for the perfect brokerage to trade CFDs? Well, there are many options out there, each with a unique trading platform and some interesting retail investor accounts. However, FXChoice is among the few brokers that actually offer exactly what they promise.
Being a trader is hard enough. The last thing you want is to struggle with a terrible broker. Well, FXChoice will be the focus of this review. We will look at what exactly the platform is, how it works, the trading platforms, and whether indeed it's a decent choice for CFD trading.
We will also see how the brokerage compares with other platforms and wrap up the post with some interesting FAQs. Ultimately, this information-dense FXchoice review will help you decide if the broker is for you or not. Let's dive in!
Asia Forex Mentor Evaluation Criteria
Our in-depth reviews of forex brokers are based on several key metrics. For starters, the team analyzes the brokerage fees charged across various trading accounts. Additionally, the nature of trading platforms, including the type of technology and ease of use are factored in.
The team also sieves through the customer feedback of each broker to see if there are any serious complaints. This is done to gauge the overall user experience. There is also a lot of focus on customer support. After all, firms that are often quick to respond to customer concerns will always deliver a much better user experience.
The team also looks at trader education, ease of opening an account, regulation in higher-tier jurisdictions, and safety and security as well. With all said and done, our time has reviewed FX Choice based on the criteria above and concluded that the firm meets, to a large extent, our expectations and the expectations of clients.
What is FXChoice?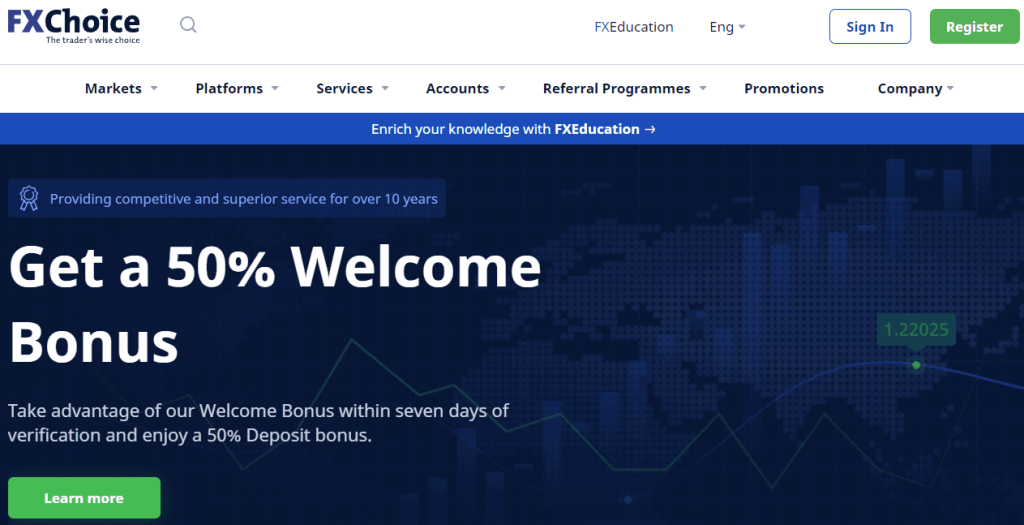 FXChoice is an online based brokerage firm that gives you access to the global financial markets. Whether you are looking to engage in CFD trading, forex trading, or even trades on commodity CFDs and indices, this is the brokerage firm to try out.
Now, FXChoice started working back in 2010 in Belize. It has since managed to spread its wings thanks to a variety of state-of-the-art trading platforms, excellent customer support, and a huge range of securities to buy and sell.
As with other CFD trading platforms or brokers, FX Choice also offers incredible leverage of up to 1:200. This allows you to maximize your positions, increasing the potential for better profit.
FXChoice also offers three types of accounts. The first one, which is perfect for beginners trading CFDs, is called the classic account. The trading account offers tighter spreads, no account minimum deposit, and 24/5 customer support. You also get to use the meta trader 4, one of the most advanced forex and CFD trading platforms in the world.
Secondly, there are the Pro accounts that would be suited for large institutional investors. The minimum deposit here is $100 but you get access to a huge range of trading instruments. Besides, you also get to choose between meta trader 4 and meta trader 5.
Finally, you could also try out the free demo account. Trading CFDs is not easy even for experienced traders. If you need some demo trading accounts to hone your skills, FXChoice has everything you need. It is basically a versatile broker that offers flexible services for all folks. Besides, the broker is regulated by the international financial services commission.
Advantages and Disadvantages of Trading with FXChoice?
There are plenty of reasons to trade with FXChoice and like any other broker, FXChoice has a few disadvantages that traders should be aware of:
  Advantages
  Disadvantages

Offers advanced and powerful Meta trader 4 and Meta Trader 5 platforms
You get a superb variety of trading instruments for your trading account
Three different account types suited for both retail investor accounts and institutional investors
State-of-the-art customer support with reps standing by 24/5 to help you with anything
Regulated broker with decent experience in the market and superb technology for trading online

The currency conversion fees can be high for international traders
The leverage offered of 1:200 is way less compared to other brokers in the market
There is a minimum deposit requirement of $100 for corporate accounts which may be a bit off-putting for some people
Benefits of Trading with FXChoice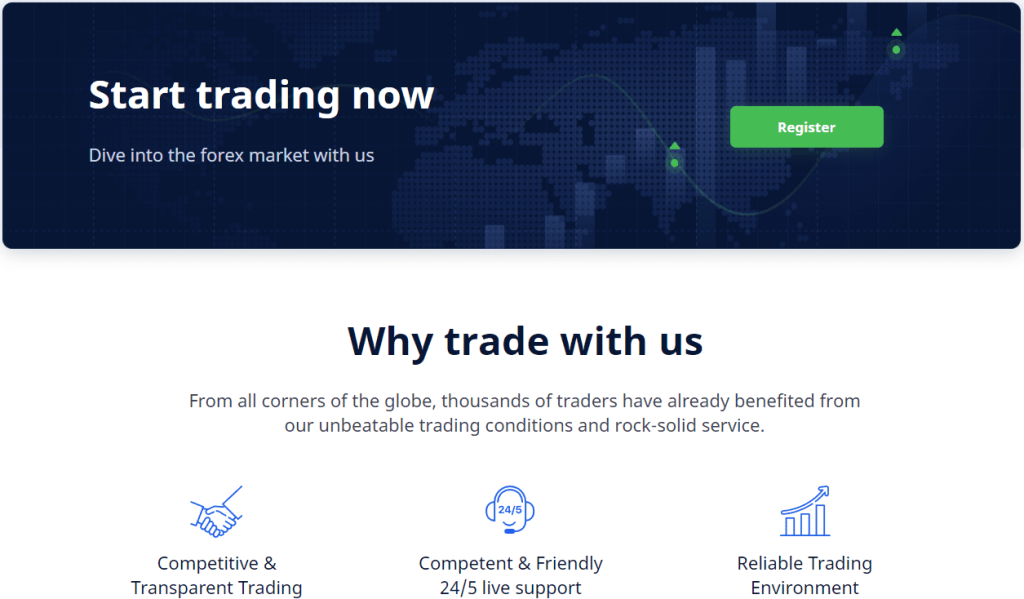 Now, before we get to the overall benefits of FXChoice and what it has to offer, it's important to put a disclaimer out there. Please note that a significant majority of retail investor accounts lose money when trading CFDs. The risk of losing money rapidly due to leverage is also very high. Please make sure you understand how CFDs work before you get in.
As for the benefits, first of all, FXChoice is designed to deliver superior trading technology. From automated trading systems, trading platforms for advanced traders, and several research and trading tools, FXChoice offers you several unique ways to maximize the power of tech to make money in the forex market.
FXChoice has also placed greater emphasis on security. First, all accounts are secured using modern cybersecurity techniques. There are even regular security audits to ensure that everything is in order.
Also, client funds are kept in segregated bank accounts to ensure that the offshore forex broker gives you safety and security. Thirdly, you will be happy to know that there are no restrictions for people who want to trade here.
No matter where you are on the planet, you can head to this online broker, look through the account types, open the account you want, and start trading even without a money manager. FXChoice also offers tight spreads, a reliable trading environment, and additional perks.
FXChoice Pros and Cons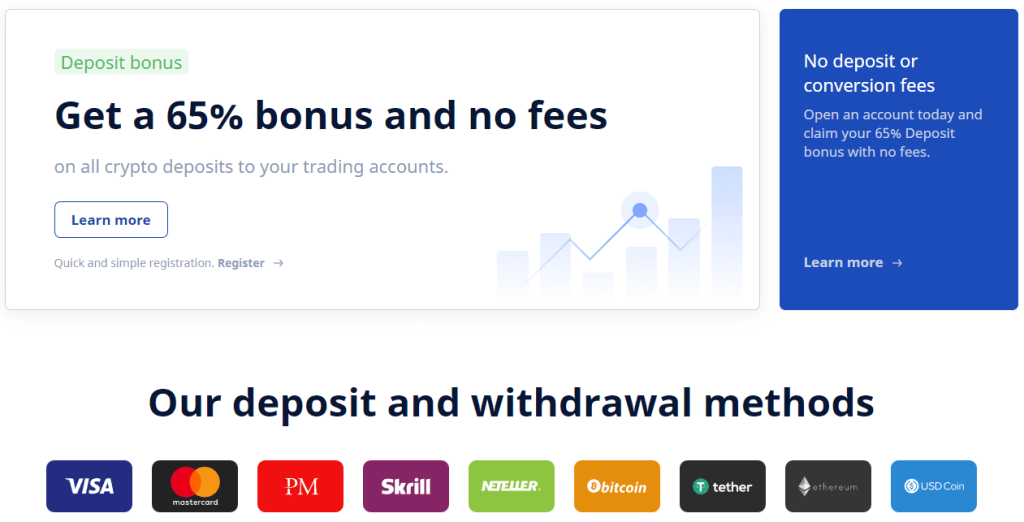 As one of the leading FX brokers in the world, FXChoice has so many pros. But there are also a few areas the mam account brokerage could do better. Here is a breakdown of both starting with the pros.
Pros
A wide variety of trading platforms, including the powerful Meta trader 4 and 5
You get a superb variety of currency pairs and other financial assets to trade.
One of the most experienced regulated brokers in the world
Superb customer support with quick response times and comprehensive customer experience
Excellent security features, including segregated accounts for client funds.
Cons
The payment method options are a bit limited for people in certain countries.
Takes a lot of time to get used to the trading platform and other features.
Not regulated in some of the top-tier jurisdictions in the world.
The pro account for professional traders needs to have better features.
Analysis of the Main Features of the Forex Broker
4.0 Investment Instruments
3.5 Variety of Instruments
FXChoice Customer Reviews
Overall, the user experience at FXChoice is quite good. Most customers who have worked with the firm appear to be completely satisfied with what they have experienced. The reviews show that FX choice excels quite well when it comes to customer support and the superiority of its trading platforms. Users also seem to appreciate the fast withdrawal methods, easy account opening, and hands-on customer support.
FXChoice Spreads, Fees, and Commissions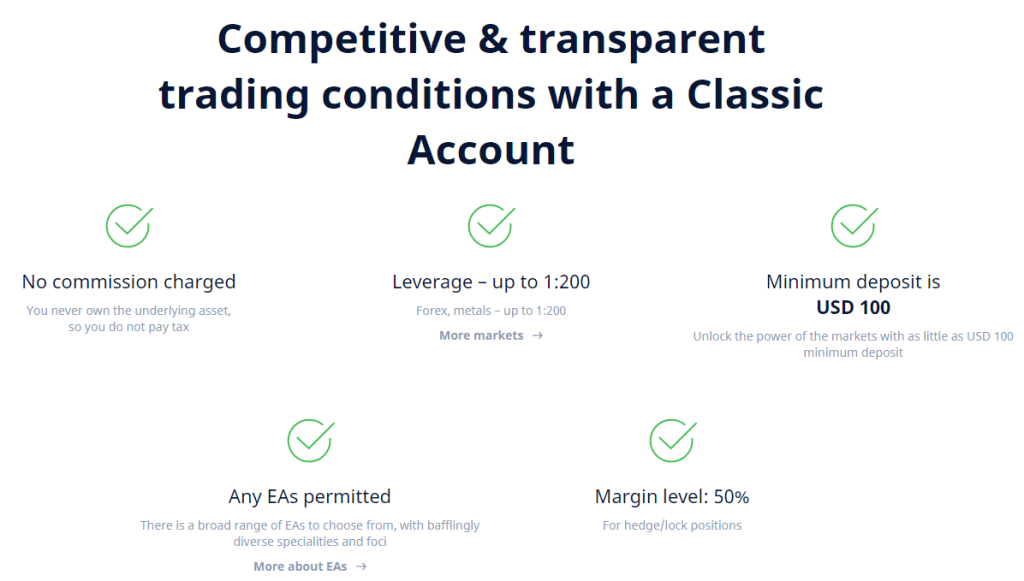 FXChoice charges both spread-based fees and also fixed fees for trading in the pro account. Like many other online brokers, the client transactions and trading costs are based on the spread. So, what is a spread anyway? You see, every financial instrument has an asking price and a bidding price.
It doesn't matter whether we are talking about precious metals, currency pairs, or any other asset, there will always be a bid-and-ask price. The bid price is, in essence, the highest amount of money a person is willing to pay for a given asset. The asking price, on the other hand, is the lowest amount of money the holder of that given asset is willing to accept to sell it.
The difference between these two prices is the spread which will determine how much fees you pay. So, as a rule of thumb, you may want to choose brokers that offer the tightest spreads possible. This will allow you to pay relatively less in fees. Well, FX choice charges spreads starting from 0.0 pips on the Pro Account and 0.5 pips on the Classic account.
FXChoice also gives you more ways to save money on trading costs. For example, you can join the Pips loyalty program where dedicated customers are rewarded with lower fees. Please also note that FXChoice does not charge any deposit fees or withdrawal fees. But there will be currency conversion fees for trading services. A fixed $3.5 fee per transaction will also be charged to the pro accounts.
How FXChoice Fees Compare to other Brokers
| Broker | | | | |
| --- | --- | --- | --- | --- |
| Min Deposit | 10 | 100 | 1 | 1 |
| Withdrawal Fees | Varies | No | Yes | Yes |
| Inactivity Fees | Yes | No | No | No |
| Deposit Fees | No | No | No | Yes |
| CFD Commission Fees | No | No | No | No |
| | | | | |
Account Types
FXChoice offers three main account types. All the accounts are ideal if you want to trade forex in your economic calendar. Here is a breakdown of these accounts.
Classic account
The classic accounts are the most basic in the FXChoice account category. This one is designed for the average retail trader with minimal trading operations. It does not have an internal risk management team or an interbank liquidity offer. But for a simple trader with an average trading strategy, you will enjoy using it. No minimum deposit is needed plus you get very tight spreads too.
Pro Account
You can also open a pro account as part of the FXChoice account offer. This is a corporate-level account that you can use to trade stocks. You also get negative balance protection and the broker's minimum deposit is $100. The Pro account also allows you to trade using two of the most advanced trading platforms. This includes the Meta trader 4 and the Meta trader 5.
You can automate trading here, explore various trading strategies, and get way more than you do from the average classic account. Please also note that in addition to the spread-based fee, you will be charged $3.5 per trade as well. The minimum lot size is around 0.01 in any currency pair.
Demo Account
The third and final account on offer at FXChoice is the demo account. Almost all decent brokers out there have a demo and it's not hard to see why. People don't often have confidence when they start trading. They need to train their trading skills on the MT4 and MT5 before they start trading complex instruments with real money.
Besides, when you use a demo account you don't have to deal with swap fees since everything is virtual. Now, contrary to popular belief, demo accounts are not just for beginners. You can also use demos as an advanced trader to test out various strategies.
How to Open your Account?
FXChoice offers a three-step process for people who want to open an account. First, head over to the main FX website. On the top left corner of your screen, you will see a huge register button. Just hit it. The website will redirect you to a registration page. Fill in your personal details, including your name and email.
The second step is the confirmation phase. The broker simply asks you to verify your phone and a few other details. As long as you have all the required documents, this process will take you less than 24 hours. The final step is to get ready to trade.
There is a dedicated tab on the site for FX education. Try and go through it before you start trading. Once you are sure you understand the trading platform and how everything works, you can deposit some money, choose a financial instrument, and invest right away. Do not also forget you can withdraw money anytime you are ready.
What Can You Trade on FXChoice
One of the things that make FXChoice an incredible online broker is the huge range of financial assets that you can buy and sell here. There are five asset classes to consider. It doesn't matter if you are one of the most experienced traders or someone trading with investment advice, there is no reason why you can't trade these assets.
They include Forex where you can buy and sell over 100 currency pairs. The second class is crypto. From Bitcoin, Ethereum, Solana, and a variety of other major crypto assets, FX Choice will give you exposure to the cryptocurrency markets with your normal trading account.
The third group of asset classes are indicies. These are basically collections of stocks put in one basket. There are many indices in the world. However, FXChoice allows you to access top indices in the US and other major markets.
Fourthly, FXChoice also offers an array of commodities away from forex trading. From gold, oil, silver, and others, you are free to trade them with this forex broker anytime. Finally, you will be able to trade individual stocks. Stocks are perfect for people who want simple assets.
You can use automated trading too for all these five asset classes. Please also note that each asset has its risks. Do not also forget that a huge percentage of retail investor accounts lose money when trading CFDs. Take your time and understand the nature of each asset before you start trading.
FXChoice Customer Support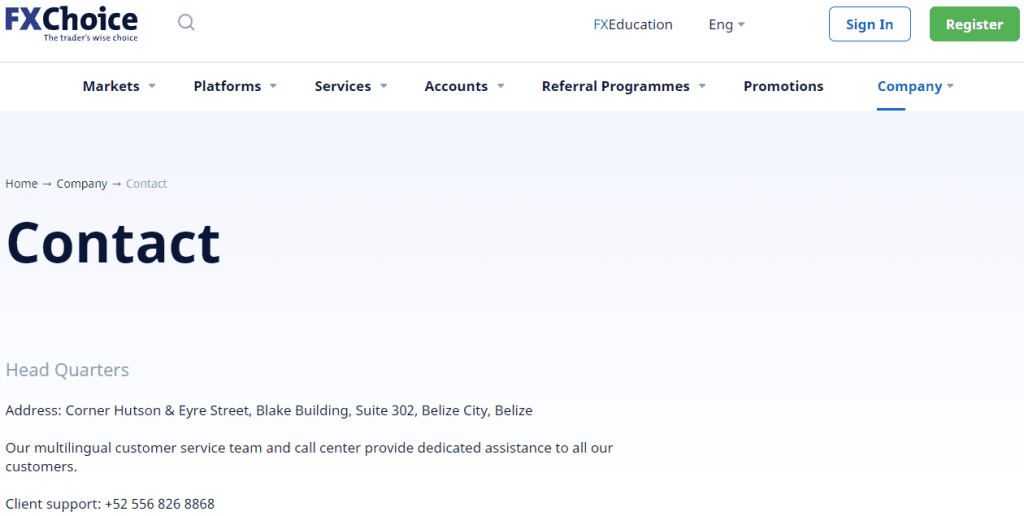 FXChoice has invested heavily in creating a superb customer support experience for all its users. The broker offers several ways to reach its team. The first one is through a live chat feature on its website. This one is often ideal for folks who have an urgent matter that needs to be addressed as soon as possible; You will be able to get in touch with someone in less than a minute or so.
On the other hand, if you don't have an urgent matter that can be addressed later, then you should consider booking a callback. You will only need to leave your name and phone number and in 24 hours, someone from the customer support team will get back to you. It doesn't matter what kind of issue you have.
Whether it's a problem with your FXChoice account or something else, the team will reach out in time with the most appropriate solution. The third way to reach the support reps at the broker is through email. In most cases, email queries will be addressed in less than 48 hours.
Finally, you are also free to use the phone support option. In fact, phone support is the most recommended option since you get to talk directly to someone. The good news is that FX choice offers multilingual customer support. You can get help from some of the most widely spoken languages in the world, giving you the chance to get help in a way or language that you understand.
FXChoice Customer Support Advantages and Disadvantages
The customer support team at FXChoice is great but it's not perfect. There are still a few areas it could improve in the future. Here are some of the advantages and disadvantages of the support team:
  Advantages

  Disadvantage

The response times are just incredible. You should be able to get help in less than 36 hours
Offers a wide range of support tools including a live chat feature for urgent matters
There are several languages on offer too so it's easier to get help in a language that you understand
Friendly customer support reps with a very good understanding of how the company works

The live chat feature sometimes has issues connecting
You will need to clarify your issues quite well to get a quick response
Your account type may affect how fast or effective your support experience is
FXChoice Contacts Table
Contacts
Foundation Date

2010

Registration Address

Corner Hutson & Eyre Street, Blake Building, Suite 302, Belize City

Regulation
FSC License number: 000067/96
Contacts
Email: backoffice@myfxchoice.com
Phone:

+52 558 526 8032, +501 227 2732
Security for Investors
Security is one of the most important things to consider when you are choosing a broker. FXChoice has put in place several measures to ensure that you get all the security you need. Here are some advantages:
  Advantages
  Disadvantages

First, all client funds are stored in segregated accounts to ensure your money is safe
Security is regularly audited and updated to stay ahead of the changing threat levels
All personal information is not shared by any third parties as well
FX choice also uses state-of-the-art trading platforms with added security features as well

The broker is not regulated in tier 1 jurisdiction which can be an issue for some people
There is no info on the website about additional security measures
Withdrawal Options and Fees
Withdrawing profit after making a few successful trades is the most important thing for any trader. In fact, you are always advised to keep your returns safe and avoid overtrading. The great news is that with FXChoice, there are numerous withdrawal options.
From bank transfers to credit cards, you get nearly 20 ways withdrawal methods to choose from. Besides, you don't have to pay anything to withdraw your funds. And to make things even more interesting, for certain types of deposits, you get a superb welcome bonus.
For example, all bitcoin deposits on the trading platform attract a 65% bonus that you can use to trade. Of course, you won't be able to withdraw the bonus. But it gives you much more flexibility in trading and a whole lot of ways to cover margins when you take riskier bets.
Also, you are free to withdraw your money whenever you want. Additionally, the withdrawal process is secured through state-of-the-art encryption software to ensure that your sensitive financial data is not shared or compromised in any way.
FXChoice vs Other Brokers
FXChoice has been offering forex and CFD trading for the best part of a decade now. The platform however faces competition from several key players in the market, including some that have market-maker services. We thought it would be great to see how the brokerage compares with these competitors here below.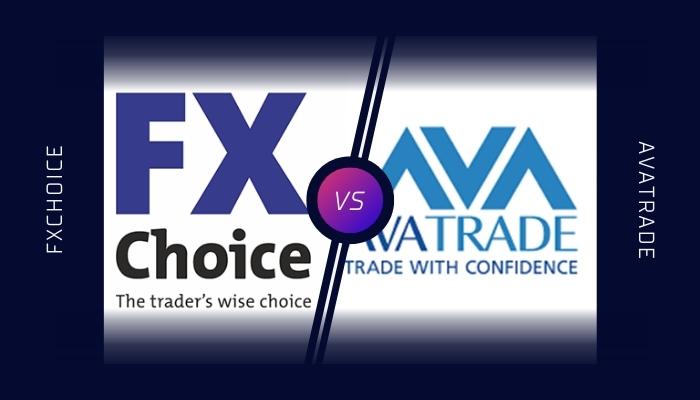 AvaTrade and FXChoice have so many areas of convergence and of course areas where they are totally different. For starters, both these brokers offer some of the best trading platforms in the world. The MT4 and MT5 are two of the best platforms out there and you can get them both in FXChoice and AvaTrade.
The only difference however is that AvaTrade has its own proprietary trading software so you get an extra option there as well. In addition to this, both these brokerages have done quite well to keep spreads very low. This means that as a retail investor accounts holder, you will be able to save a ton of money in fees.
Also, both have some decent customer support reps and robust ways to reach them. However, there are some areas where AvaTrade excels much more. For example, the investor education offered there is much better compared to what we saw on FXChoice. AvaTrade is also regulated in more tier-1 jurisdictions as well.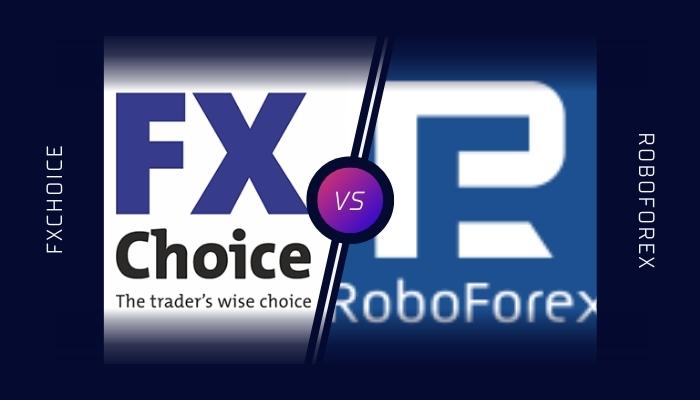 Roboforex and FXChoice are perhaps two of the most similar brokerages out there. So many aspects of these two firms look the same. For example, both are based in the Americas but they have managed to reach a global audience too. They offer meta trader 4 and 5 too but Roboforex has its own trading software as well.
FXChoice does a bit better when it comes to fees and their spreads are much tighter. Also, the Beliz-based broker has several account options for both retail and institutional investors. However, when it comes to automated trading, there won't be a better option out there than Roboforex.
If you love high-tech sophisticated trading with some of the best bots in the world, Roboforex is a great option. Nonetheless, both brokerages are regulated and offer a safe and effective way for clients to trade the financial markets.
Unlike Roboforex which shares several similar features with FXChoice, Alpari is quite different. First, the broker offers copy trading. This is actually a very important feature because it gives beginner traders the chance to directly copy what other experienced traders are doing.
Social trading can help enhance confidence and Alpari offers that in plenty. You will also notice that the broker has a massive global reach. In fact, it has 8 physical locations across three continents.
To this date, Alpari has managed to get over 2 million traders with over 20 years of experience. FXChoice on the other hand has ten years. With everything said and done, both these firms also offer tight spreads, lower fees, and some incredible automated trading features.
How FXChoice Trading Options Compare against other Brokers
| Broker | | | | |
| --- | --- | --- | --- | --- |
| Instruments Available | 117 | 1250 | 100 | 50 |
| Platforms | MT4, MT5 | Web Trader, MT4, MT5, AvatradeGo, AvaOptions, DupliTrade, ZuluTrade, Mobile Apps, ZuluTrade, DupliTrade, MQL5 | MT4, MT5, Mac, Web Trader, cTrader, Tablet & Mobile Apps | MT4, MT5, Web Trader, Binary, Tablet & Mobile Apps |
| FX / Currencies | | | | |
| Forex pairs offered | 50 | 61 | 35 | 57 |
| Major Forex pairs | Yes | Yes | Yes | Yes |
| Minor Forex pairs | No | Yes | Yes | Yes |
| Exotic Forex pairs | No | Yes | Yes | Yes |
| Cryptocurrencies (availability subject to regulation) | Yes | No | Yes | Yes |
| Commodity CFDs | | | | |
| Commodities Offered | 0 | 17 | 21 | 3 |
| Metals | No | Yes | Yes | Yes |
| Energies | No | Yes | No | No |
| Agricultural | No | Yes | No | No |
| Indiced & Stock CFDs | | | | |
| Stocks Offered | No | 1000 | 0 | 0 |
| UK Shares | No | Yes | Yes | No |
| US Shares | No | Yes | Yes | No |
| German Shares | No | Yes | Yes | No |
| Japanese Shares | No | Yes | Yes | No |
Conclusion: FXChoice Review
Trading has become one of the most common ways for folks to make a side income. In fact, there are people these days who focus fully on day trading. However, while there are many things needed to successfully make money through trading, getting a top-notch broker is number one.
Well, FXChoice gives you the confidence you need to step into the market. The platform has so much to offer including some of the lowest fees in the world and a state-of-the-art trading platform. As a matter of fact, FXChoice offers you the option of using a meta trader 4 or 5.
But that's not all. The firm has also invested heavily in building a modern customer support team that offers help in several global languages. You also get to trade in 5 asset classes including crypto. Despite these benefits, FXChoice also falls short in certain areas.
For example, while the firm has tried to offer robust FX education for new users, the content needs to be updated and expanded further. Also, you will be required to pay a fee of $3.5 per transaction in case you are using an institutional account.
It would also have been better if the broker was regulated in some of the main tier 1 jurisdictions. However, despite these shortcomings, FXChoice has demonstrated over the last decade or so that it's a reliable broker and you can trust it.
FXChoice Review FAQs
Is FXChoice safe and legit?
Yes, FXChoice is a legit brokerage. The firm is regulated in Belize and other jurisdictions. Besides, the broker has also put in place several key security measures, including segregating client funds from its main accounts. Also, FXChoice has a superb track record in the FX trading market. The reviews we saw online look quite positive so it should be safe to use their services.
Is FXChoice reliable?
Yes, FXChoice is also a superbly reliable brokerage that has really stepped up with customer support and trading technology. With Meta trader 5 and 4 available for you, executing trades within the shortest time possible will be quite easy. Also, you will get daily trading hints and signals to help you make the best investments you can.
Is FXChoice regulated in South Africa?
FXChoice is regulated by the international financial services commission under license number IFSC/60/191/TS/19. This means that it has jurisdiction to operate in South Africa without any legal problems. Please also note that the broker is regulated in Belize and a few other countries as well.