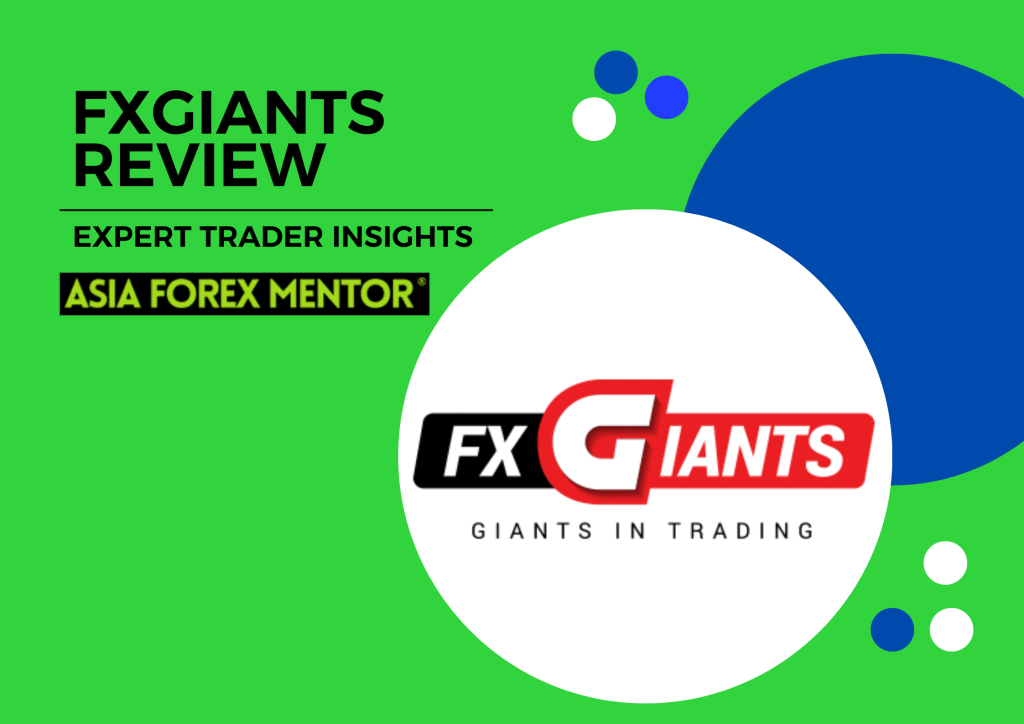 FXGiants Review
FXGaints is an online forex and CFD trading platform that offers users a wide range of features, including advanced charting tools, automated trading capabilities, and more. With the availability of 200 trading instruments and competitive spreads, FXGiants is a great choice for those who want to start trading in the financial markets. Whether you are an institutional investor or a retail investor, FXGiants can meet your trading needs.
FXGaints is an online broker offering around 200 trading instruments, including everything between Forex, stocks, shares, metals, and cryptocurrencies. This broker is known for being transparent, with the latest technologies to ensure quick execution speeds and tight spreads starting at zero pips. They also offer a high leverage of 1:1000 and up to 80%/20% of a margin call.
Additionally, FXGaints traders can avail of different trading strategies on both fixed and variable spread accounts. This platform provides a comprehensive education center for beginners with training videos, online webinars, trading tutorials, and more. In addition, the platform offers powerful charting tools for advanced users that enable technical analysis and automated trading options.
Let's review FXGaint's features, pros and cons, customer support, account types, and other important aspects to understand better whether this online broker suits you.
So, let's get started!
Asia Forex Mentor Evaluation Criteria
At Asia forex mentor, we provide rigorous evaluation criteria to ensure you get the best online forex trading experience. Our experts have extensively evaluated FXGiants on the following criteria:
Regulations & Licenses: What is the regulatory status of FXGiants, and does it have valid licenses?
Platforms & Tools: What platforms can traders use to access their accounts at FXGiants? What trading tools are available?
Safety of Funds: Is FXGiants a safe broker for traders to deposit funds?
Trading Conditions: What are the spreads, leverage, and commissions offered?
Customer Support: Does FXGiants provide effective customer support services?
Account Types: What type of trader accounts can be opened?
Fee and Commissions: What fee and commissions do FXGiants charge for trading?
FXGaints has been carefully evaluated on all of these criteria, and we will look at each in more detail.
What is FXGiants?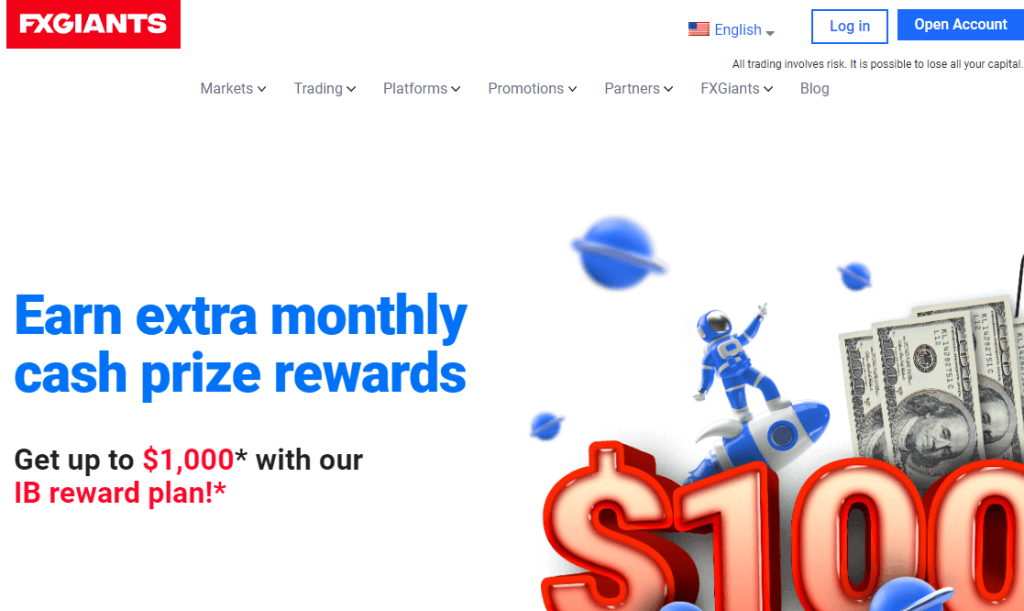 FXGiants is the brand name of Notesco UK Limited, which adheres to Financial Conduct Authority (FCA) regulations and has its registered office in London. It is also a trading name of Notesco Pty Limited, licensed by the Australian Securities and Investment Commission (ASIC). The company offers its services to traders in over 150 countries, including Portugal and Indonesia.
FXGiants is an excellent choice for international CFD and forex brokers. The company offers many benefits to its clients, such as zero spreads, welcome bonuses, trading deposit bonuses, and a free VPS service. In addition, with the FCA and ASIC regulating this broker, many traders will feel confident when expanding their portfolio with FXGiants.
The company has many years of experience in the forex and CFD market, having been established in 2008. It was designed for traders of all levels and offers to trade on the well-known MetaTrader 4 platform. Moreover, traders can use several flexible trading platforms, including Mac, Windows, and mobile apps (iOS and Android). With just one trading account, traders can access all these web-based trading platforms.
Furthermore, FXGiants provides its clients with a wide range of financial instruments, including several currency pairs and precious metals such as Gold, commodities, stocks, and indices. Traders can also access fast execution speeds and tight spreads starting from 0 pips.
Advantages and Disadvantages of Trading with FXGiants
  Advantages
  Disadvantages

Hundreds of financial instruments to trade globally
Easy to use platform and MetaTrader 4 for desktop and mobile apps
Tight spreads starting from 0 pips
Free of cost availability go VPS for eligible clients
Managed accounts for investors

No PAMM-accounts
A minimum deposit of $100 is required
No MetaTrader 5 (MT5) platforms
High trading charges
Benefits of Trading with FXGiants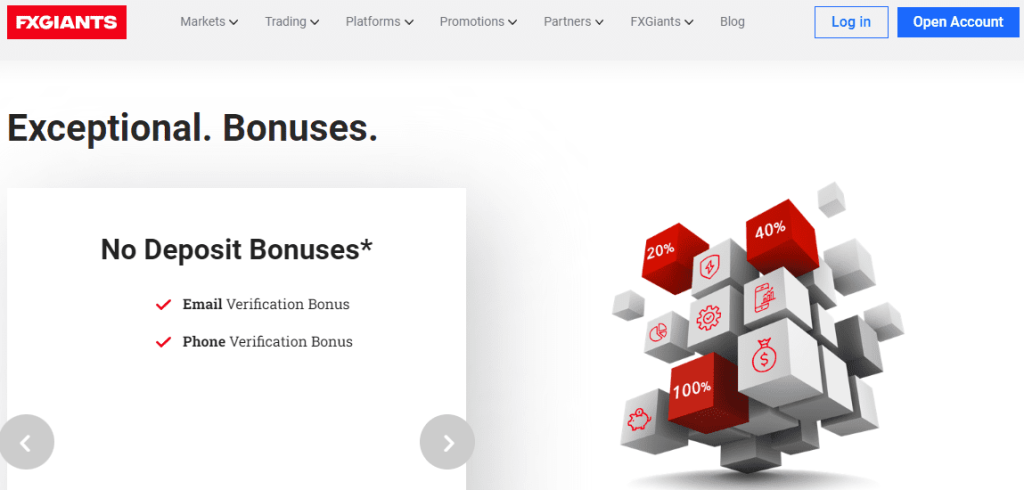 FXGaints is a platform suitable for traders of all levels, from novice to experienced. It offers several advantages compared to other brokers in the industry. Traders can benefit from the high-speed execution rates, as 99.62% of trades are executed in milliseconds. Furthermore, FXGiants provides a no-slippage policy as well as the opportunity to receive price improvements on pending orders with its no re-quote policy.
Another distinguishing characteristic of FXGiants is their Virtual Private Server (VPS) which can be accessed for a $1,000 minimum deposit. In addition, the VPS has an optical fiber connection, so traders can enjoy a better experience with improved security and performance. This is especially beneficial for traders because it prevents issues from having a slow or unreliable internet connection, which can disrupt trades.
On FXGiants, it's a breeze to make withdrawals and deposits. In addition, this platform accepts many payment platforms and types to simplify traders' lives. Their customer support team is available 24/7 and includes several languages: English, German, Italian, Spanish and Portuguese.
With over 200 financial instruments available for investing and competitive spreads, FXGiants outshines similar companies. However, although FXGiants offers an educational section, it is less expansive and detailed than many competitors. Therefore, beginners who want to learn about trading and improve their skills might look for another option.
FXGiants Pros and Cons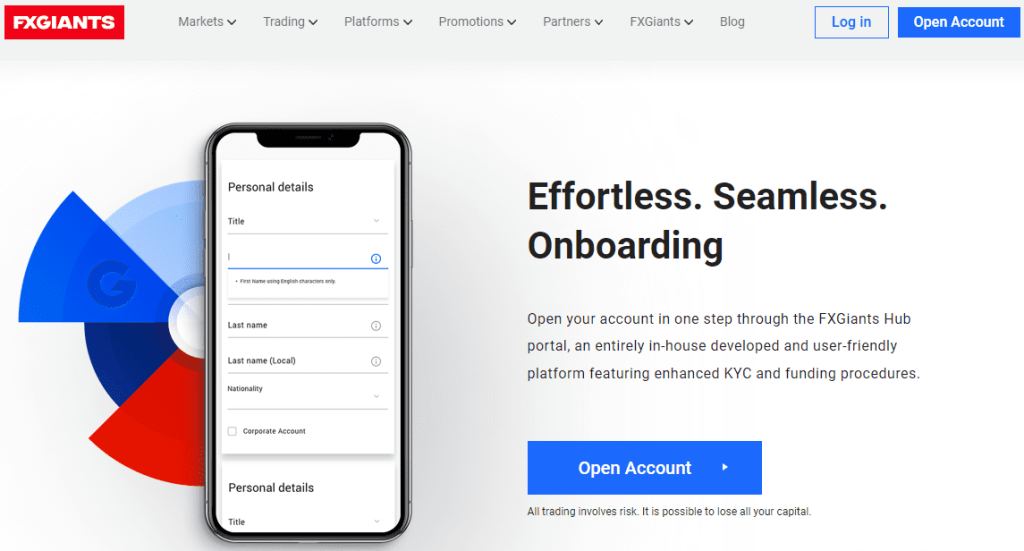 FXGiants come with their own set of pros and cons depending on the type of trader you are:
Pros
Trusted broker that is regulated by multiple financial authorities
Zero spreads on certain accounts
Autotrading opportunities
VPS access for eligible accounts
No re-quotes and slippage
Cons
High trading charges
Inadequate customer support and service
Elongated withdrawal process
Securities are not publicly traded
Limited additional trading tools
Analysis of the Main Features of FXGiants
2.8 Investment Instruments
2.6 Variety of Instruments
FXGiants Customer Reviews
We have collected some customer reviews of FXGiants to understand better what traders think about this platform.
Overall, most customers have had a good experience with this broker. They praise the customer service team, range of financial instruments, and order execution speeds as some of their strongest points. In addition, traders can check the activities of other traders, their profiles, as well as the ratings of each, which is an added benefit.
However, some customers have complained about the withdrawal process taking longer than expected. Others have experienced delays with order executions, which can be costly and irritating for traders who rely on accurate timing when trading.
FXGiants Spreads, Fees, and Commissions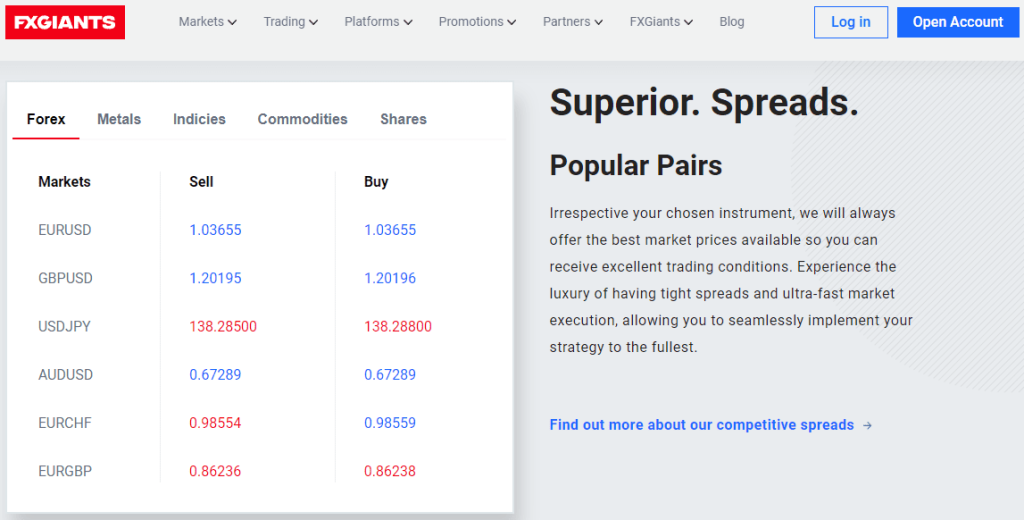 Let's review the FXGiants Spreads, Fees, and Commissions:
FXGiants Spreads
The trading costs of FXGiants are high, and the spread can be as much as 5 to 10 pips for some assets. The final price depends on the type of account opened by the broker, and what types of securities are being traded.
For instance, the average spread for EUR/USD is as below:
Live Fixed Spread: 1.31
Live Zero Fixed Spread: 0
Live Floating Spread: 1.07
STP/ECN Absolute Zero: 0.24
STP/ECN Zero Spread: 0.04
STP/ECN No Commissions: 1.74
The Live Zero Fixed Spread account has a commission of $9 per lot for each side, and the STP/ECN type charges a spread fee of $3.75. For positions held open overnight, FXGiants also charges a swap fee and an annual charge of $50 on inactive accounts.
In addition, FXGaints offers fast and tight spreads, and traders can completely control their trades no matter what trading instrument they choose. Check the spread details for different instruments here.
FXGiants Fees
FXGiants Minimum Deposit Fee
The minimum deposit amount is different for all the account types on FXGiants. Below are the details of the minimum deposit for each account type:
Live Fixed Spread Account: $1000
Live Floating Spread Account: $100
Live Zero Fixed Spread Account: $1000
STP ECN No Commission Account: $200
STP ECN Zero Spread Account: $500
STP ECN Absolute Zero Account: Need to contact the broker to open this account
FXGiants Withdrawal and Inactivity Fee
FXGiant doesn't charge any withdrawal fee, no matter what payment method you use for withdrawal. However, it charges an inactivity fee of $50 per annum if there are no trading activities on your account for 12 months or more.
FXGiants Additional Trading Fees
Traders can trade forex or other financial instruments and anticipate being charged an overnight or swap fee when they keep positions open for more than one trading day. Besides that, FXGiants provides an Islamic Account for Muslim traders who follow Sharia Law and, as a result, cannot earn or pay interest on open positions.
Moreover, the FXGiants support team can be contacted to inquire about spread betting policies and potential fees.
FXGiants Commissions
The commission on some account types is a high 5 dollars per lot, which can be expensive for traders because it is charged every time a trade is made
FXGiants Leverage
Traders can take advantage of high leverage from FXGiants, depending on the type of account they open, and access the leverage to increase their position size:
Australia: For Live accounts is up to 1:500, and 1:200 for other accounts
UK: Up to 1:30 for all account types
Global: Live Zero Fixed Spread up to 1:500 | Live Floating Spread and Live Fixed Spread up to 1:1000 | All STP/ECN accounts up to 1:200
How FXGiants Fees Compare to other Brokers
| Broker | | | | |
| --- | --- | --- | --- | --- |
| Min Deposit | 50 | 100 | 1 | 1 |
| Withdrawal Fees | Varies | No | Yes | Yes |
| Inactivity Fees | Yes | No | No | No |
| Deposit Fees | Yes | No | No | Yes |
| CFD Commission Fees | Yes | No | No | Yes |
| | | | | |
Account Types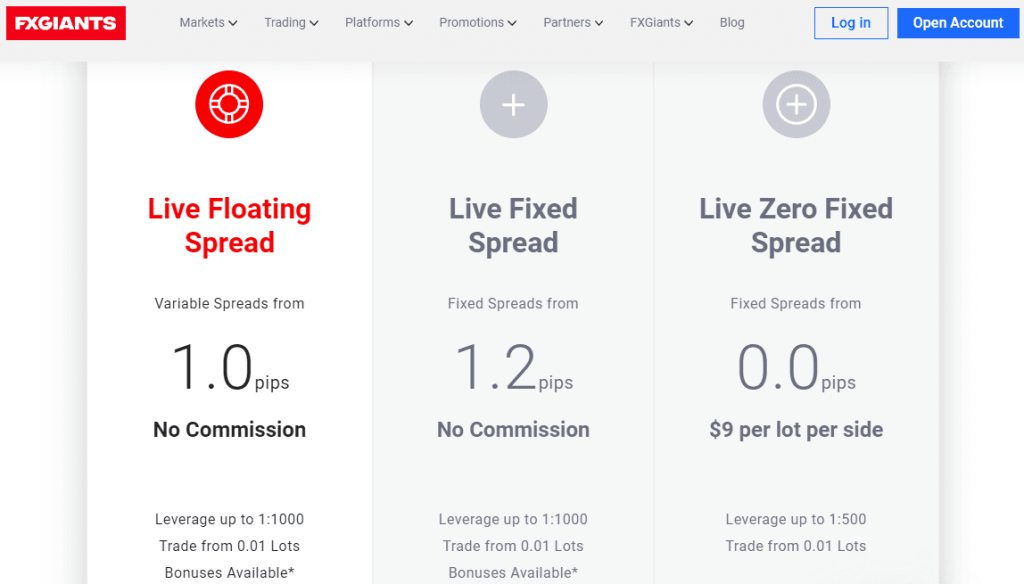 This forex broker offers several types of accounts depending on the trader's experience and needs. These accounts are suitable for different types of traders, from small depositors to large investors.
Below is the different type of account types offered by FXGiants:
Live Trading Accounts
1- Live Floating Spread
The live floating account has variable spreads from 1.0 pips. No commission is charged, but a minimum deposit of $100 is required. In addition, traders can trade from 0.01 lots and offer leverage up to 1:1000.
2- Live Fixed Spread
The live fixed spread account offers fixed spreads from 1.3 pips, and no commission is charged. A minimum deposit of $1000 is required to start trading, so this account is more suitable for experienced traders. Leverage up to 1:1000 is also available with this account.
3- Live Zero Fixed Spread
This type of account offers zero fixed spreads from 0 pip, but there is a commission of $9 per lot for each side. A minimum deposit of $1000 is necessary to start trading, and leverage up to 1:500 is available.
STP ECN Accounts
1- STP ECN No Commission Account
The STP/ECN No Commission account requires a minimum deposit of $200 with no commission charged and variable spreads. The minimum lot size is 0.01.
2- STP/ECN Zero Spread
The STP/ECN Zero Spread account offers spreads starting from 0 pips, with a commission that depends on the size of the account and the instrument traded. The minimum deposit required is $500, and the minimum lot size is an extremely low 0.01. Fees start at $7.5 per lot.
3- STP/ECN Absolute Zero
The Absolute Zero STP/ECN account offers variable spreads starting from 0 pips with no commission charged. You will need to contact your account manager to apply for this account type.
Demo Account
Traders can trade without risk by using a demo account with virtual funds already loaded. This is an excellent opportunity to try out the broker and sharpen trading strategies on the different platforms. After practicing with the demo account, traders can open a real trading account and start trading with real money.
How To Open Your Account?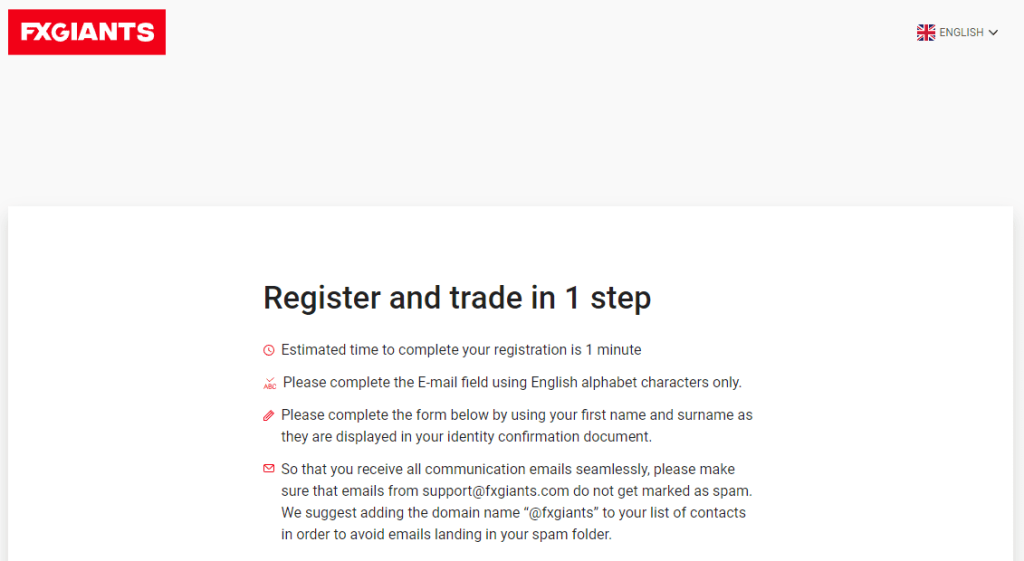 Below are the steps you need to follow to open an account on FXGiants:
Go to the FXGiants website and click on 'Open Account' from the homepage.
In the next screen, add all your personal details, including your email, nationality, phone number, and password.
Next, select MetaTrader 4 and choose the type of account you want to open.
Next, select your base currency, leverage, and deposit bonus you want to add to your account.
In the next step, add your first and second name along with your date of birth.
Next, add your address for tax purposes and choose whether you are a US citizen.
Finally, click on Open Account, and you're all done.
Before you can begin trading with FXGiants, a few compliance checks must be passed. Regulations set by the FCA require this of all new clients to ensure they understand the risks associated with trading. When opening an account, you'll likely need the following items handy:
Scanned copy of the driving license, national ID, and passport
The expiration date of proof of documents
Bank statement or utility bill for the past three months
What Can You Trade on FXGiants?
FXGiants offers a wide range of assets, including Forex, Commodities, Indices, Shares, and Cryptocurrencies. Here is an overview of the markets available on FXGiants:
Forex
The broker offers a variety of forex currency pairs, such as the EURUSD, GBPUSD, and USDJPY, including many more options for major, minor and exotic currencies. Every day, all around the world, forex transactions totaling trillions of dollars take place between banks, dealers, and brokers. Since there is no centralized marketplace for forex trading, it can be done whenever the markets are open. This offers traders a lot of flexibility to buy and sell currencies according to their schedules.
Metals
The broker offers CFD trading on metals (gold, silver, platinum, palladium) with competitive spreads and execution speeds. There is no centralized marketplace for metals trading, and thus metals trading is accessible for 23 hours on just weekdays.
Indices & Commodities Trading
With FXGiants, you can invest in various markets and indices worldwide with tight spreads and low-margin requirements. Index trading is simply buying or selling a group of stocks that comprise an index. An index is a number that stock market analysts use to measure the relative value of a particular group of stocks or sectors. Traders can find indices for different areas, including Nasdaq100, Germany 30 (DAX), Dow Jones 30, and FTSE 100.
CFD Trading
Traders can trade CFDs on shares of well-known companies, including Amazon, Google, Apple, Microsoft, Facebook, and eBay. Many people worldwide trade shares, which are very popular financial instruments. A contract for differences (CFD) lets traders take long and short positions on a particular stock without owning the asset itself.
Futures
Futures contracts are frequently lauded as some of the most liquid instruments since they have high volumes traded daily. They can assist in portfolio diversification and offer futures trading on indices like US500 E-mini S&P 500, UK100 FTSE 100 Index Future, and AUS200 ASX SPI 200 Index, among others.
Cryptocurrency
Cryptocurrencies are digital online currencies that aren't governed by central banks or orders. You can trade cryptos with some of the most popular digital currencies, such as Bitcoin and Ethereum.
FXGiants Customer Support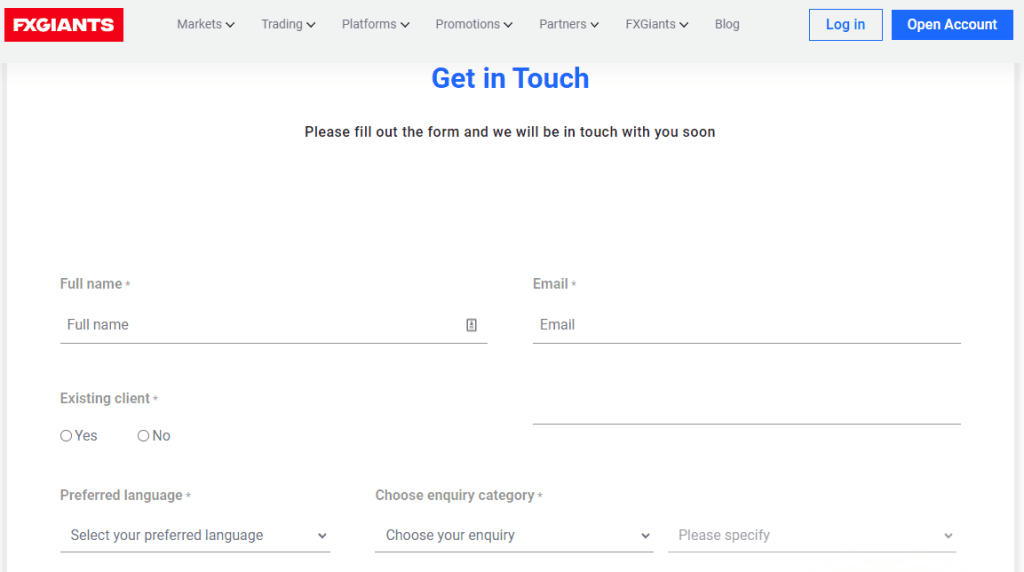 FXGiants offer multilingual support for Chinese, Russian, Arabic, and Thai traders. The support team is knowledgeable and friendly and can help solve any issue that might arise during trading. The support team is available 24/5, no matter if the traders want to contact you via live chat, email, or phone.
However, according to several traders, the online chat feature is only sometimes available, and sometimes the customer service team needs to respond faster. It may take some time to receive an answer from their support staff via email or live chat.
Advantages and Disadvantages of FXGiants Customer Support
  Advantages

  Disadvantage

Well-trained customer care support
Multilingual support
System search on frequently asked questions

No weekend support
Slow response times via email or live chat
Contacts Table
Contacts
Foundation Date

2008

Registration Address

65 Court Street, 6th Floor, Hamilton HM 12, Bermuda

Contacts
Email: support@fxgiants.com
Phone: +44(0) 207 523 5394
Security for Investors
  Advantages
  Disadvantages

The FXGiants-the brokerage company has segregated the banks into top-tier banks
With Tier 1 banks, the funds are secured and safe even if the broker runs out of business
As mentioned above, they are regulated by FCA, and depositors are certified by the British Government
The AES algorithm protects the client's bank transactions for an extra layer of protection

Individual financial assets can go in vain and result in losing money rapidly when trading with any class
Most of the time, your capital is at risk, so research the market
Withdrawal Options and Fees
To withdraw funds from FXGiants, traders can use Bank Transfers, Skrill, Neteller, Debit/Credit Cards, BitCoin, and UnionPay. In addition, the available currencies for visa and MasterCard are USD, GBP, CHF, EUR, and JPY, and traders can enjoy the instant and secure withdrawal of their funds.
Deposits and withdrawals are processed immediately, except for bank wire transfers. Those usually take 2-5 business days to show up in your account. However, the withdrawal fee depends on the payment mode the trader uses.
For example, To use Neteller, $0.29 is charged per transaction with a two percent surcharge that is capped at $30.00. The minimum size for transactions on Neteller is $1, while the maximum amount allowed per transaction is $5,000.
For FasaPay's withdrawal, the fee of 0.5% per transaction is charged with a maximum of $5.00. Traders are allowed to withdraw up to $5,000 per transaction.
Skrill withdrawals come with a one percent fee on the transaction, which is capped at $10.00. The maximum amount per transaction is $5,000. There is a CNY 20.00 fee per transaction for China Union transactions, with a maximum of CNY 360,000 per transaction.
FXGiants Vs Other Brokers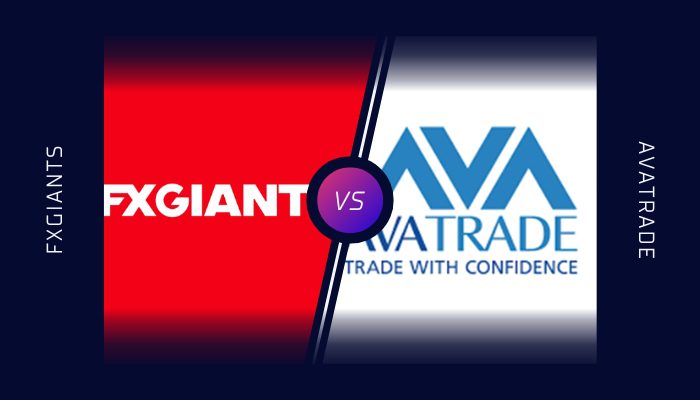 FXGiants is an online trading platform to access more than 122 financial instruments. Almost 10,000 customers have availed of the advantages of this platform under the regulation of the Financial Conduct Authority. However, Avatrade comes with better customer support and services when compared.
Avatrade is a popular financial trading brokerage providing support to more than 300,000 customers. However, it never discloses the yearly broker report on the website, like the public trading company FX Giants. Another potential advantage of using Avatrade is it offers social trading to its customers. 
Despite the minimum deposit of 50, FXGiant has a limited portfolio and less probability of profit generation. On the other hand, Avatrade traders can access 1250 different pairs through its diversified portfolio with a 100 minimum deposit. Moreover, 1000 stocks of Avatrade are listed in the stock market, where there are no stocks in FXGiant.
Make sure to check withdrawal fees and commissions before choosing the one trading platform. It's impossible to remain active on your trading account throughout the year. If you cannot remain active, avoid FXGiants trading, as it charges an inactivity fee. There is no inactivity fee for trading on Avatrade.
Another important factor that makes your trading convenient and flexible is its accessibility with a single click. Go for the portfolio with unlimited trading options and notify about the deadline.
Avatrade comes with some reliable mobile trading apps that you can use to check the movement of the stock market. All these things show that the Avatrade platform is more convenient, supportive, and suitable for you to trade in comparison to FXGiants because of the more commodities, assets, and diverse portfolio of Avatrade.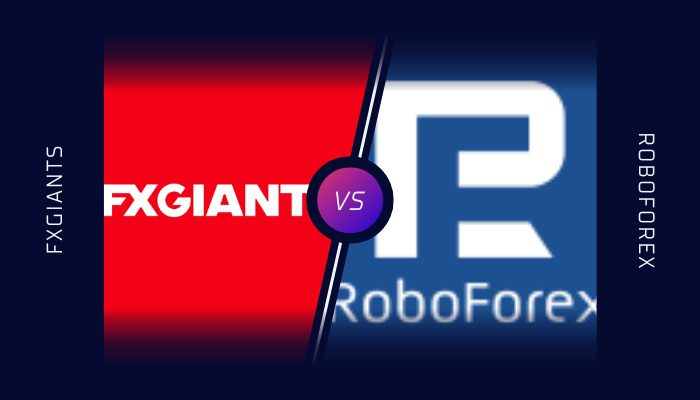 Roboforex is a well-known financial trading brokerage serving customers across the globe under the Cyprus Securities and Exchange Commission (CySEC) regulations. It offers accessibility to around 100 financial instruments, while FXGiants brings accessibility to 122 financial instruments.
Under the regulation of the Financial Conduct Authority, FXGiants is also an online trading platform with a minimum deposit fee of 50. Compared with FXGiants, Roboforex proved to be a better option because of a small minimum deposit of 1. As a result, you can trade on potentially more rewarding instruments with minimum investments and risks.
Another thing impacting your potential profit is commissions and trading fees. If we compare Roboforex with FXGiants, the former puts less pressure on trading because of no inactivity fee. A withdrawal fee is the only commission you have to pay while trading on Roberforex.
The trading platform covering stocks and business aspects of every area is proved to be more durable and beneficial. Moreover, Roboforex offers more commodities than FXGiants. Besides this, you do not have limited stocks to trade in the local area only when trading on Roboforex, as it supports UK, US, German, and Japanese stocks.
Choosing a broker to facilitate trading decisions through a single click is also essential. Roboforex is found to be more supportive because it offers MT4, MT5, and cTrader opportunities. Moreover, having compatibility of your trading platform with mobile is another amazing benefit you can enjoy for mobile trading.
Both FXGiants and Robertrade offer reliable services as online brokerage. However, Roboforex has a slight priority over FXGiants because of the number of assets it offers. It means Roboforex is the right choice if you are looking for a trading platform with multiple assets.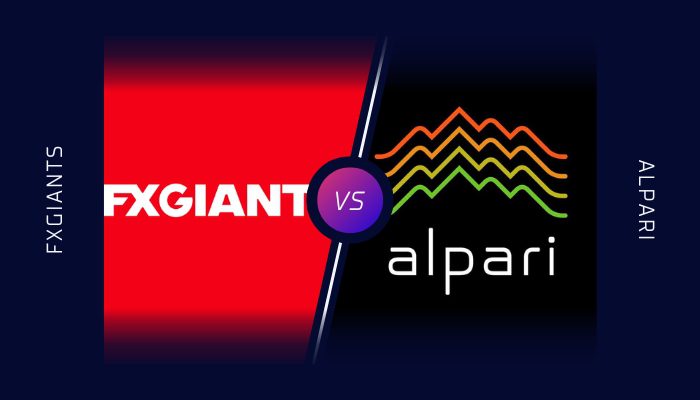 Alpari is a great trading platform due to its easy-to-use interface, low commission rates, and high-security protocols. Through this platform, you can access various trading instruments. FXGiants is also a well-known trading platform but offers limited options.  
In comparison, both brokers offer different types of trading instruments while working on MT4 and MT5. Alpari brings the convenience of foreign exchange and multi-asset trading through different forums. Due to having operational services of Alpari in more than 50 countries, it also serves as a platform for online partnerships.
Alpari provides trading options on forex, CFD, and binary forums across the global network with accounts of multiple types. Another factor that gives leverage to Alpari is high bonus than FXGiants. Moreover, you can start trading on Alpari with a minimal deposit of 5.
The lesser the deposit amount is, the larger the chances of a trading platform generating revenue and profit. For example, while using FXGiants, traders make stock exchanges via auto trading. On the other hand, trading on Alpari can be done with the help of copy trading choices. Because of the vast CFD market, Alpari needs proper regulatory certification from the best jurisdictions to compete with other brokers.
FXGiants provides the convenience of foreign trading through emerging minor and major Forex pairs. Alpari offers forex exchange through exotic pairs and major and minor. All the pairs of Alpari are highly competitive in giving potential leverages to the customers in the market. Both trading platforms are reliable for foreign exchange in the market, but Alpari provides extensive trading market range and commodities for online trading in the market.
How FXGiants Trading Options Compare against other Brokers
| Broker | | | | |
| --- | --- | --- | --- | --- |
| Instruments Available | 122 | 1250 | 100 | 50 |
| Platforms | MT4 | Web Trader, MT4, MT5, AvatradeGo, AvaOptions, DupliTrade, ZuluTrade, Mobile Apps, ZuluTrade, DupliTrade, MQL5 | MT4, MT5, Mac, Web Trader, cTrader, Tablet & Mobile Apps | MT4, MT5, Web Trader, Binary, Tablet & Mobile Apps |
| FX / Currencies | | | | |
| Forex pairs offered | Yes | 61 | 35 | 50 |
| Major Forex pairs | Yes | Yes | Yes | Yes |
| Minor Forex pairs | No | Yes | Yes | Yes |
| Exotic Forex pairs | Yes | Yes | Yes | Yes |
| Cryptocurrencies (availability subject to regulation) | No | No | Yes | Yes |
| Commodity CFDs | | | | |
| Commodities Offered | 0 | 17 | 21 | 3 |
| Metals | Yes | Yes | Yes | Yes |
| Energies | Yes | Yes | No | No |
| Agricultural | Yes | Yes | No | No |
| Indiced & Stock CFDs | | | | |
| Stocks Offered | 0 | 1000 | 0 | 0 |
| UK Shares | Yes | Yes | Yes | No |
| US Shares | No | Yes | Yes | No |
| German Shares | No | Yes | Yes | No |
| Japanese Shares | No | Yes | Yes | No |
Conclusion: FXGiants Review
FXGiants is a great online trading platform for novice traders and experienced investors alike. The broker provides access to numerous markets and instruments, including the global foreign exchange market, CFDs, and cryptocurrencies. The trading tools, free VPS, and implementation of MyFXbooks are also worth mentioning.
Some of the standout features at this broker include flexible account types, high leverage (up to 1:1000 for qualifying traders), and commission-free account options. In addition, trading conditions are generally excellent, with low spreads starting from just 0.0 pips, good execution speed, and great liquidity.
More than the educational material this broker offers is needed for beginner traders to start trading confidently. Moreover, the broker is also missing the MetaTrader 5 platform and a few additional payment options. Therefore, as a trader, you must consider all of these factors before starting trading with FXGiants. Or better yet, switch to the more trusted platforms like AvaTrade, Alpari, Roboforex, etc.
FXGiants Review FAQs
Is FXGiants a trusted broker?
FXGiants is a trusted broker with a good reputation in the industry. The broker has been operational in the market for many years and provides a secure trading environment regulated by FCA and ASIC. Moreover, the company is also registered in Bermuda. The broker also uses advanced technology and encryption to protect users' funds.
However, before you start trading, it is important to take a comprehensive look at FXGiants and understand the various features and services offered by the broker. You should also read the terms and conditions carefully before engaging in any trading activities.
How reliable is FXGiants?
FXGiants is highly reliable because of the steps taken by the company to ensure the safety of traders' funds. The broker is a regulated entity, and all their operations adhere to the regulations set by FCA and ASIC in the UK and Australia, respectively. Moreover, the company has also taken several measures to ensure the protection of users' funds from any external threats.
Do reviews by traders influence the FXGiants rating?
Yes, reviews by traders influence the FXGiants rating. Traders can leave a review after trading with the broker, and this helps other potential traders to understand the various services offered by FXGiants. Reviews also act as a guide for traders to determine if FXGiants is the right trading platform for them or not. Therefore, it is important to read reviews carefully before engaging in any trading activities with the broker.