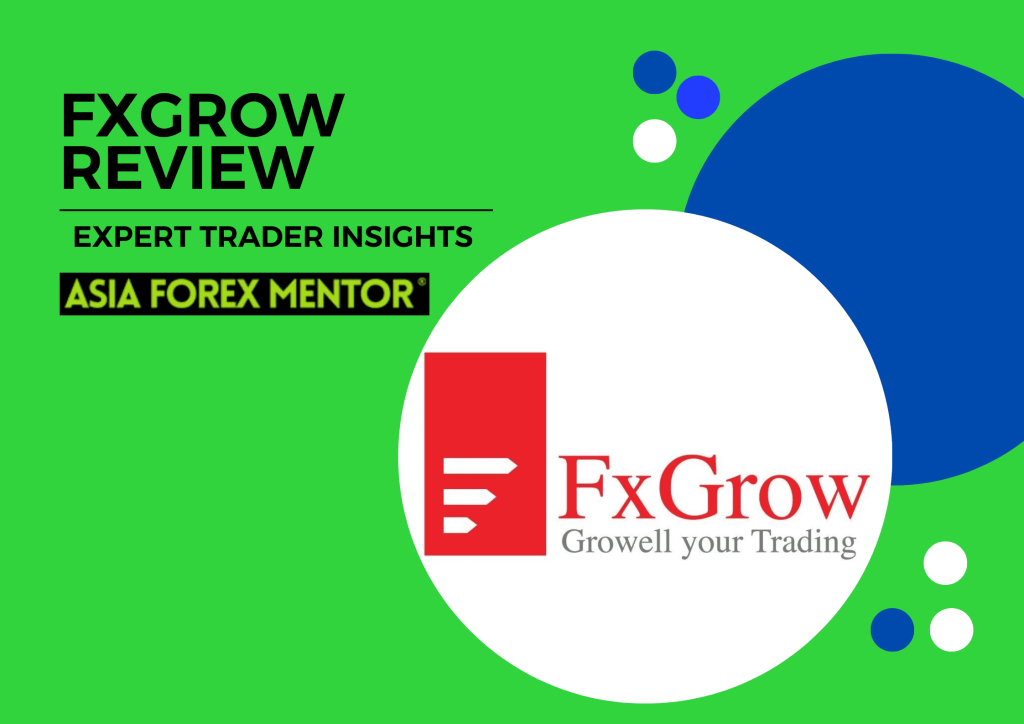 FXGrow Review
Founded in 2008, FxGrow is one of the oldest players in the forex trading industry. For traders looking for a regulated ECN broker, FxGrow is a great choice. They offer competitive spreads, fast execution speeds, and tight security measures to ensure your funds are safe.
FxGrow accepts traders from around the world, including those in the US. They offer over 500+ assets and digital coins to trade on MetaTrader 5 and WebTrader platforms. With state-of-art risk management tools and social trading platform, FxGrow offers a great trading experience for retail and institutional traders.
In this review, we'll look at FxGrow and see if investing your time and money is worth investing. We'll cover account types, leverage, spreads & commissions, customer service, and more! So without further ado, let's jump into the review.
Asia Forex Mentor Evaluation Criteria
Choosing the best broker is one of the most important decisions a trader can make. To analyze several brokers, traders need to gauge a broker's performance through different lenses. And assessing brokers is crucial since it safeguards new traders from making wrong decisions and keeps them from paying too much for unnecessary services.
At Asia Forex Mentor, our team of review experts follows effective evaluation criteria to analyze brokers. We meticulously evaluate multiple brokers through more than 70 criteria to establish their capability of assuring trader success. From registering up to withdrawing the profits,  we investigate every step.
Our set of evaluation criteria includes the following parameters:
Affordability:  Reviewing and comparing commission fees, spreads, and additional/hidden charges.
Broker Efficiency: Evaluating the order execution, transaction cost, and the available trading assets and markets.
Security: Analyzing the security measures to protect traders' funds from cyber fraud and malicious intrusions.
Technical Performance: Evaluating the broker's technical platform, including the efficiency of trading tools and services.
User Interface: Assessing how user-friendly the broker's platform is and how easily it can be navigated.
Therefore, before giving the green light to FxGrow, our experts thoroughly evaluated it based on four main areas: Efficiency, COmpetency, Credibility, and Customer Reviews. After thoroughly evaluating FxGrow, we can confirm that it is a reliable broker with different features for traders of all levels. With more than 500 assets, extensive trading platforms, and risk management tools, FxGrow is an ideal choice for traders.
What is FxGrow?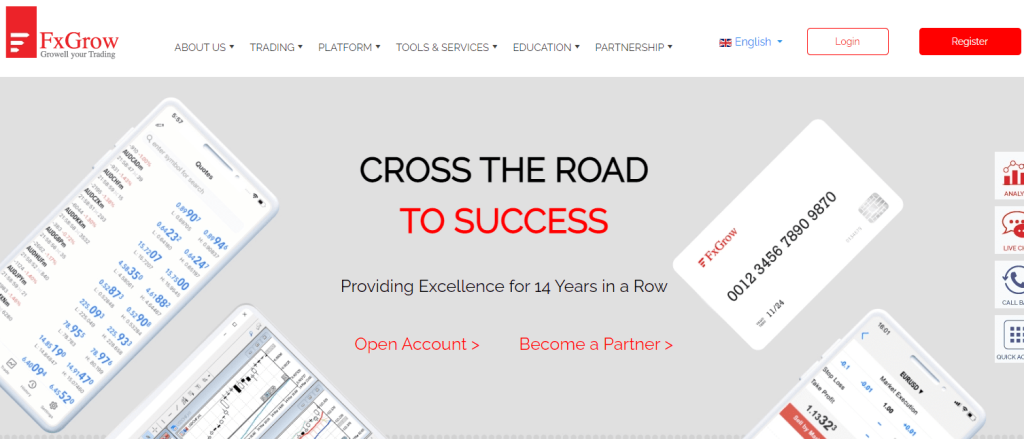 Established in 2008, FxGrow has experienced remarkable growth and now provides retail and institutional customers worldwide with its services from offices in Cyprus. In 2012, FxGrow Ltd., a subsidiary of Growell Capital Limited respectively, became authorized by CYSEC under MiFID regulations through CIF license number 214/13.
FxGrow operates across multiple regulated markets, including the United Kingdom and European Union, with plans to expand into other markets. FxGrow brokerage firm provides traders access to over 500+ assets, including forex, CFDs, crypto, stocks, and more.
In addition, FxGrow offers three different account types, and traders can choose between ECN, ECN-Plus, and ECN-Elite accounts. With fast execution speed, automated trading, advanced trading platforms, a forex calculator, and a wide range of assets, FxGrow provides the ideal trading environment for traders of all levels.
Advantages and Disadvantages of Trading with FxGrow
  Advantages
  Disadvantages

A minimum deposit of $100 is required to start  trading
Low commissions on trades and access to trading central
Multi-account manager and social trading
Competitive spreads across all account types
Regulated by the Cyprus Securities Exchange Commission (CYSEC)
Various payment methods, including credit/debit cards, e-Wallets, and bank transfers

Avergare custoemr support
Order execution speed is slow
Not enough educational resources and tools are available for traders to use
Benefits of Trading with FxGrow

FxGrow claims to offer the best-aggregated prices and lowest market spreads and commissions. This ECN broker has access to deep liquidity sources and provides traders with the best market prices. In addition, traders can get technical insights like market volume, price charts, and news feeds.
The broker also promises fast order execution that is less than 10 ms. Furthermore, FxGrow is known for its wide range of trading assets, including gold, crude oil, cryptocurrencies, and much more. However, multi-account managers and social trading options help traders manage their accounts easily.
FxGrow offers a variety of payment methods, including credit/debit cards, e-Wallets, and bank transfers, for a hassle-free trading experience. Traders can make a minimum deposit of $100 to start trading. However, for ECN-Plus and ECN-ELITE, a minimum deposit of $1,000 and $100,000 is required. Finally, traders can enjoy MT5 (Desktop and Mobile) and MT5 (WebTrader) trading platforms for an efficient trading experience.
FxGrow Pros and Cons

Below are the pros and cons of FxGrow:
Pros
Hedging, EAs, and Scalping allowed
Offers the lowest spreads
Switching accounts between A-Book and B-book is allowed
Traders can manage several accounts
Instant internal transfers for more flexible money management
Cons
No demo account
Lacks educational tools for beginners
FxGrow Customer Reviews
Our experts have come through several customer reviews for FxGrow and found out that many traders are not much happy with the trading conditions of FxGrow. Most customers have reported slow order execution speed, high slippage, and higher spreads than most other brokers. Moreover, the customer support team of FxGrow is also reported to need to be faster in responding to queries and complaints. So, be sure to evaluate all the pros and cons before making a trading decision.
FxGrow Spreads, Fees, and Commissions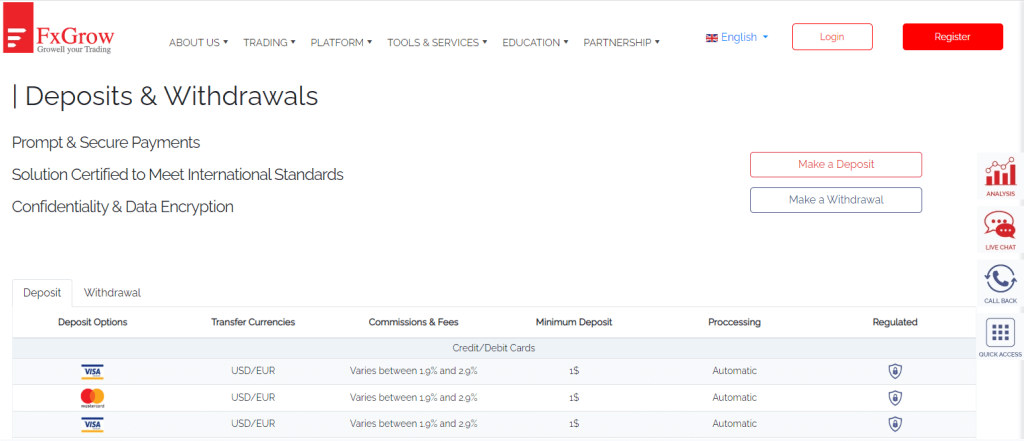 FxGrow Spreads
FxGrow doesn't offer tight spreads, and below are variable spreads FxGrow offers on different account types:
ECN account: Variable from 1.10000
ECN-Plus: Variable from 0.200000
ECN-Elite: Variable from 0.20000
FxGrow Fees
Below are the different fees charged by FxGrow:
Inactivity Fee
FxGrow doesn't charge any inactivity or withdrawal/deposit fee.
Minimum Deposit Fee
The min deposit fee of each account varies, and traders can choose from the ECN accounts:
ECN Account: $100
ECN-Plus Account: $1,000
ECN Elite Account: $100,000
FxGrow VPS Hosting Fee
For all account types, traders must pay a $15 fee for VPS hosting.
FxGrow Commissions
The commission on FxGrow accounts varies according to the account type. For example, for the ECN account, there is no commission. However, for ECN Plus and ECN Elite, the charged commission is $8 and $6 per lot.
Leverage
FxGrow abides by the EU's flexible leverage restrictions and offers a retail ratio of 1:30 for Foreign Exchange majors and 1:20 for minors, golds, and indices; while going as far as to provide only a maximum ratio of 1:10 on silver commodities and energies.
Professional traders can apply for higher ratios up to an extraordinary degree of leverage at 1:100 while margin rates start from 3.33%, specifically on FX majors.
IMPORTANT!
For high net worth investors seeking to make investments over $10,000, we invite you to reach out to us at Vip-invest@asiaforexmentor.com. Our team of seasoned professionals is well-equipped to provide comprehensive guidance on the intricacies of the investment process, including steps ranging from initial sign-up to successful profit withdrawal.
Account Types

FxGrow offers 3 different types of trading accounts, and traders can choose between ECN, ECN-Plus, and ECN-Elite accounts. Below are the in-depth details about all three account types:
#1. ECN Account
First comes the ECN trading account, which is most suitable for small investors who want to trade with low risks and variable spreads. This account type has a minimum deposit of $100 to start trading.
Minimum Deposit: $100
Spread: Variable from 1.10000
Commissions: $0
MT5 VPS HOSTING: 15/month
Base Currency: USD, EUR, PLN
#2. ECN-Plus Account
The ECN-Plus account offers a competitive spread and is suitable for medium to large investors who want to take advantage of the low commissions, faster order execution, and many more features.
Minimum Deposit: $1000
Spread: Variable from 0.200000
Commissions: $8
MT5 VPS HOSTING: 15/month
Base Currency: USD, EUR, PLN
#3. ECN-Elite Account
The ECN-Elite account is specially designed for experienced traders and investors who want to get the most out of their trading experience. It offers variable spreads, fast execution speeds, and more. Moreover, professional traders can get leverage of up to 1:100 and negative balance protection.
Minimum Deposit: $100,000
Spread: Variable from 0.20000
Commissions: $6
MT5 VPS HOSTING: 15/month
Base Currency: USD, EUR, PLN
How To Open Your Account?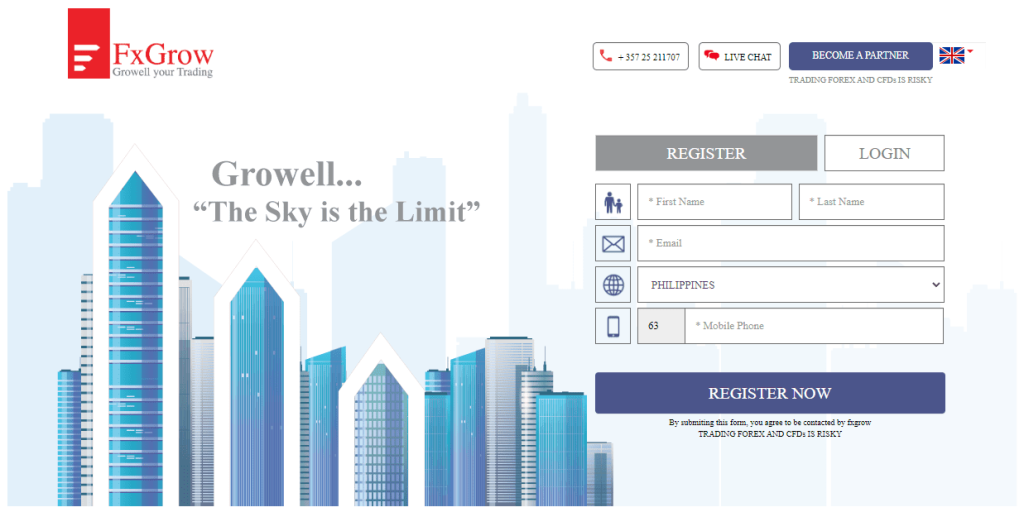 Below is the step-by-step guide to opening an account on FxGrow:
Step 1: Go to their official website and click 'Register.'
Step 2: In the next screen, fill in details like name, email, country, and phone number, and click 'Register Now.'
Step 3: Verify your email and set your password to get started with the next process.
Step 4: After email verification, add your personal details, including full name, ID number, DOB, and Address, and click on 'Store.'
Step 5: Click on the documents section now and upload your documents to complete the verification process. You must provide proof of identity and address to get your account approved.
Step 6: Once done, you will receive a notification in your email that your account has been activated and is ready to start trading.
Step 7: Make your first deposit and start trading.
What Can You Trade on FxGrow
FxGrow offers traders a wide selection of tradable assets across various markets that includes:
#1. Forex Currency Pairs
FxGrow provides traders with over 60 Forex currency pairs, including majors like EUR/USD, GBP/USD, USD/JPY, USD/CAD, and much more. Moreover, all currency pairs offer different spreads depending on the account type.
#2. Bullion
Besides Forex, traders can trade bullion on FxGrow. The broker, including gold, silver, platinum, Gold EURO, Silver EURO, Palladium, and more, offers different types of Bullion.
#3. Indices
FxGrow also offers a wide selection of Indices to traders, such as DOW JONES, DXY, NASDAQ, S&P 500, EURO STOXX 50, UK 100 Index, etc.
#4. Cash Energies
Traders can access the markets with Cash Energies such as UKOIL and USOIL.
#5. Commodities
Commodity traders can trade popular commodities like natural gas, copper, cotton, cocoa, and Brent futures.
#6. Cryptocurrencies
FxGrow also allows traders to trade cryptocurrencies like Bitcoin Cash, Bitcoin, Ethereum, and Litecoin.
FxGrow Customer Support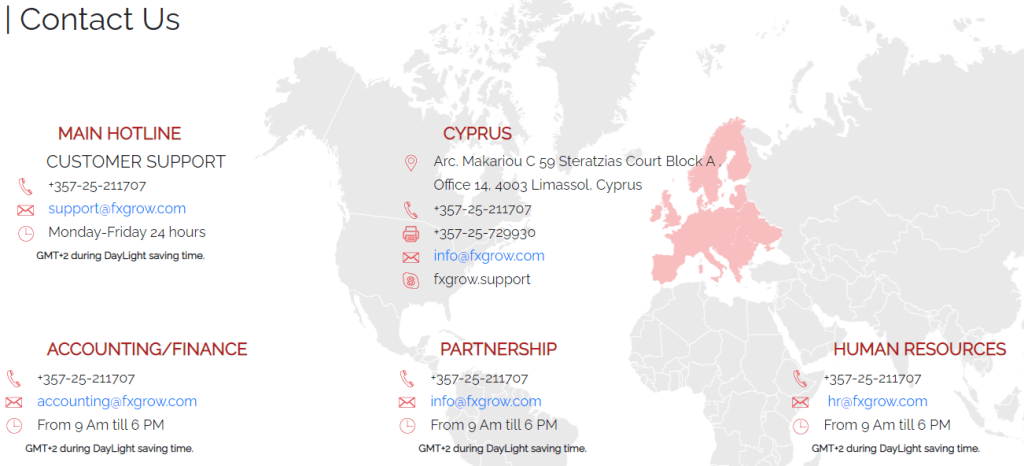 FxGrow provides average customer support to its clients. They have a team of professionals available 24/5 via live chat, email, and phone. You can call their customer support at +357-25-211707 or email their team at support@fxgrow.com for any questions or queries.
Moreover, they also offer live chat support; however, that's not helpful as the response time could be faster. A call-back function is also available on their website, which can be used to get a call from the customer support team. Moreover, they have social media accounts on Facebook and Twitter, which you can use to contact their customer support team.
Contact Details
Email: support@fxgrow.com
Phone: +357-25-211707
Address: Arc. Makariou C 59 Steratzias Court Block A, Office 14, 4003 Limassol, Cyprus
Advantages and Disadvantages of FxGrow Customer Support
  Advantages

  Disadvantage

Call back function
24/5 customer service is available
Social media presence

Slow response time on live chat
No weekend support
Security for Investors
FxGrow is a reliable broker as it is regulated by CySEC, one of the top regulators in the market. This means that investor funds are held in segregated accounts, which are safe from any third party. Moreover, the broker also follows all applicable industry regulations, such as AML and KYC standards. This ensures that all customers' personal information is kept secure and used only for identification purposes.
Moreover, all accounts have negative balance protection, meaning traders cannot lose more money than they have funded. This is a great feature that keeps traders safe from any unexpected losses.
Withdrawal Options and Fees
FxGrow supports a wide range of withdrawal options, including bank wire transfers, credit/debit cards, and e-wallets such as Skrill and Neteller. The withdrawal fees depend on your chosen payment method and the amount you wish to withdraw. However, FxGrow doesn't charge any processing fees for withdrawals.
The commission fee on different payment methods varies:
Neteller – 3.9% commission
Skrill – 2.9% + 0.28 commission
Bank wire – depends on the bank.
Debit/credit card – 2 EUR commission
The minimum amount for all payment methods is $10, which can be withdrawn, and the maximum for bank wire is $100. Moreover, bank wire transfers can take up to 2 to 5 days, depending on your bank.
FxGrow Vs. Other Brokers
Below is the in-depth comparison of FXGrow with other well-known brokers: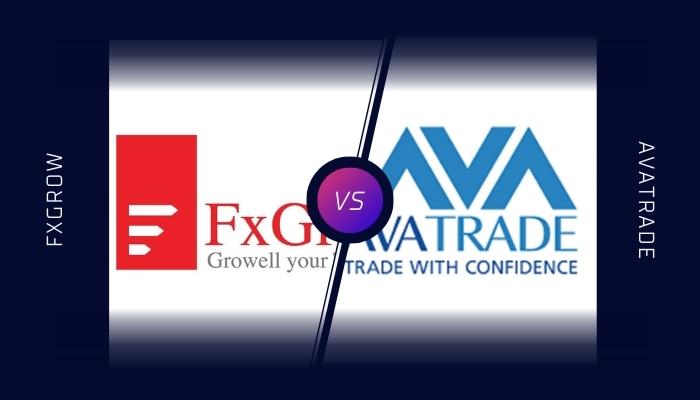 AvaTrade stands out from the crowd with its impressive selection of assets, analysis tools that enable automated trading, plus unrivaled low spreads and commissions. Plus, it offers fast order executions – as proved by over a hundred satisfied customers. In addition, DupilTrade enables traders to access various platforms and services within one broker.
Trading is a breeze with AvaTrade and its suite of incredible features. Offering multiple payment solutions, top-notch customer service, and the most advanced tools to help you make smart decisions. On top of that, automated systems give you maximum flexibility so you can take control without limits. Moreover, with leverage of 1:30 to 1:400, AvaTrade ensures the best trading experience for all types of traders.
On the other hand, FxGrow is also very reliable and regulated by CySEC. From MetaTrader 5 to account protection, FxGrow offers a wide range of features and tools that rival those of AvaTrade. With segregated accounts for funds, negative balance protection, and 24/5 customer service, FxGrow guarantees maximum security for its customers. However, the online reputation of FxGrow could be better, with some customers reporting slow response times on the live chat.
So, when it comes to the choose the best broker between AvaTrade and FxGrow, it really depends on what you're looking for. AvaTrade offers more trading options, flexibility with automated systems, and unrivaled low spreads and commissions. Moreover, it excels in automated trading and offers several indicators and analysis tools to give you maximum control in your trading. Also, the credibility and customer service of AvaTrade has been proven by its long history in the industry.
Roboforex is a well-known and reliable broker with over 14 years of experience in the industry. The company offers trading instruments like stocks, forex, indices, and cryptocurrency CFDs. Moreover, Roboforex also offers automated trading through its MetaTrader 4 and 5 platforms.
Roboforex has a great online reputation, with its customers praising it for its prompt customer service, low spreads, and commissions, plus a wide selection of trading tools. This includes MetaTrader 4 and 5 with no additional fees, social trading, copy trading, and automated trading systems. Plus, the minimum deposit is just $10, which makes it great for beginner traders who don't have much capital.
FxGrow also has its selection of trading tools, including MetaTrader 4 and 5, plus automated trading systems and the ability to copy and follow other traders. However, the minimum deposit of FxGrow is much higher than RoboForex, which is $100. Plus, the spreads and commissions can be quite high depending on your chosen account type.
The online reputation of FxGrow is not as good when compared to Roboforex. Therefore, if you're looking for a reliable broker with low spreads and commissions, RoboForex is the better choice because of the low minimum deposit, a wide selection of trading instruments, and great customer service. It also offers automated trading systems, which can help you make more efficient trades.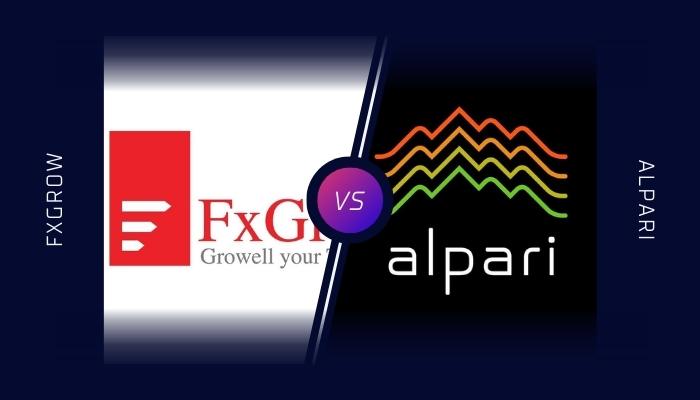 Alpari is a well-established broker with over 20 years of experience in the industry. It offers multiple trading platforms, including MetaTrader 4 and 5, plus the ability to trade cryptocurrencies and binary options. Alpari's trading conditions include low spreads, no commissions on some accounts, and a minimum deposit of just $1.
In addition, the Alpari offers leverage of up to 1:3000 and spreads from 0.2 pips on major currency pairs. It also has strong customer service with 24/5 support, and it offers a wide range of educational materials for those new to trading, including webinars and market analysis.
FxGrow offers various trading options and platforms, including MetaTrader 4 and 5. In addition, FxGrow offers various account protection measures, such as segregated accounts for funds and negative balance protection. However, the minimum deposit for FxGrow is $100, and spreads can be quite high depending on your account type.
The best thing about Alpari is that it monitors the manager's rating, allowing investors to assess their performance before investing. Plus, it has strong customer service with 24/5 support and an extensive library of educational resources for new traders. Moreover, there is a wide range of accounts to choose from, and the minimum deposit is just $1, which makes it ideal for beginner traders.
Conclusion: FxGrow Review
FxGrow is a great broker for traders looking to trade in the forex and CFD markets. It offers a wide range of financial instruments, competitive spreads, and a reliable trading platform. In addition, the broker is regulated by the CySEC, which ensures that all customers' funds are safe and secure.
Moreover, they provide good customer service with an average response time. The broker also supports various payment options, including bank wire transfers, debit/credit cards, and e-wallets such as Skrill and Neteller. Overall, FxGrow is a great option for ECN traders, providing a safe, reliable, and secure trading environment.
However, the reviews about FxGrow are mixed, as some users have had a good experience with the broker, while others have faced issues with customer service and withdrawal times. So, it is important to do your due diligence when selecting a broker. We advise traders to research thoroughly and compare different brokers before choosing.
FxGrow Review FAQs
Is FxGrow regulated?
Yes, FxGrow is regulated by Cyprus Securities and Exchange Commission (CySEC) with license number 214/13.
What is the FxGrow minimum deposit?
The minimum deposit for FxGrow depends on the account you choose. For the ECN account, it is $100; for the ECN plus account, it is $1000, and for the ECN Elite, it is $100,000.
Does FxGrow charge withdrawal fees?
FxGrow does not charge any withdrawal fees. However, the payment processor may charge processing fees depending on your chosen payment method.