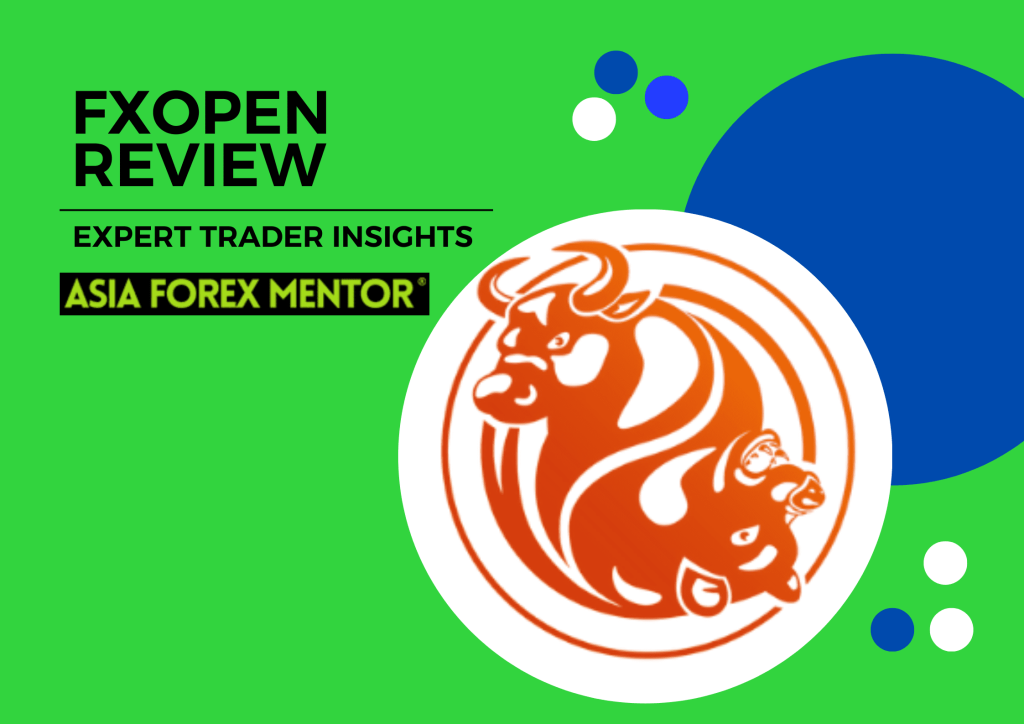 FXOpen Review
As more and more people are taking an interest in investments in the financial markets, the demand for an efficient online brokerage service is ever-increasing. To keep up with these demands more and more platforms are coming forward and the competition between the companies to attract clients is gruesome. Hence, all brokerage platforms are putting their best services for the clients, including FXOpen.
FXOpen is one platform that provides the best overall trading experience to its customers. All the features of a competent broker are present in this brokerage platform. From novice traders to experienced investors and major financial institutions are making significant capital returns from this platform and the new investors can also earn considerable profits by associating with FXOpen.
Thus this FXOpen review intends to give a complete insight to the traders and investors regarding the brokerage services provided by this company. Moreover, the review will also focus on the benefits and flaws of FXOpen for the customers so that it is easier for them to evaluate FXOpen in accordance with their trading needs.
Asia Forex Mentor Evaluation Criteria
Here at Asia Forex Mentor (AFM) Evaluation, we aim to provide the most detailed, relevant, and informative review of various online brokers in the financial market. These reviews are not just based on surface-level examination of a brokerage platform. Hence, AFM evaluation provides an in-depth analysis based on intense research to put forward the most effective review of the brokerage services provided by the firm.
Since the intention of AFM is to put across well-grounded information about the brokerage platforms, therefore the evaluation criteria of AFM are highly systematized. As a result of this, the specific criteria that are followed to evaluate the brokerage service are mentioned below:
Affordability: by comparing commission fees, spreads, and other additional/hidden charges.
Broker's efficiency by verifying the tools, customer services, trading instruments, and other platforms.
Security by analyzing the fund regulation, account types, background checks, leverage, and minimum deposit to open an account.
Success rate by testing and reviewing the success rate, platforms, signal services, and other resources.
User Interface by checking if the broker offers mobile trading, MetaTrader 4/5, and other advanced features.
After a strict evaluation based on the above-mentioned criteria, AFM can sum up that FXOpen is a competent, reliable, and credible online brokerage company providing the best services to its customers. Similarly, it was also observed that FXOpen is not only a reputable forex broker but also enables its customers to trade successfully in many other underlying assets in the financial market.
There were many benefits of opening a trading account with FXOpen including the low minimum deposit requirements, security of funds from a regulated broker, trading options in numerous asset classes, and most importantly availability of multiple account types. Hence, FXOpen consists of all the features that are needed by any trader or investor for a profitable trading experience.
For all the above reasons, it is highly suggested based on the AFM evaluation criteria to invest with FXOpen without worrying about research, background check, or the reliability of this broker.
What is FXOpen?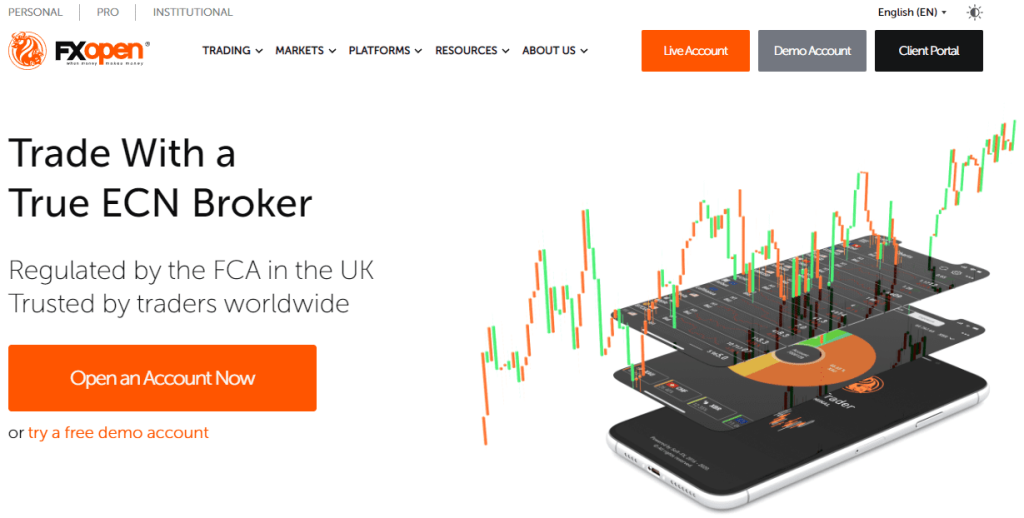 FXOpen is an online brokerage platform that has been consistently providing top-notch trading services to more than 1 million customers worldwide, FXOpen is not just another online forex broker that is available in the market with average services but a competent and professional service provider facilitating all the trading needs of their clients.
The best part about the FXOpen platform is that it ensures all the services, tools, and features that a trader would require in their trading journey. From customized account types, minimal initial deposits, low commissions, and provision of dynamic asset classes, latest the technological trading platforms FXOpen has got it all covered for you.
Along with the above-mentioned benefits, a major plus of FXOpen is that it is a regulated and legitimate company that is regulated by multiple authorized financial commissions. This feature of regulation provides a sense of security and protection to the traders and investors as the biggest obstacle to selecting a broker is finding a credible and legit brokerage platform.
Regardless of all the Pros of FXOpen, there are also some downsides of this broker that needs to be mentioned to give an unbiased review. Firstly, customer support is not available on weekends and the spreads are not fixed but floating in the Micro account. Hence, these flaws can also be a deal-breaker for some traders and investors.
Advantages and Disadvantages of Trading with FXOpen
  Advantages
  Disadvantages

Minimum deposit of $ 1
Regularized broker
Multiple account types
Diverse asset classes

Customer support only 5 days a week
Lack of educational resources
Benefits of Trading with FXOpen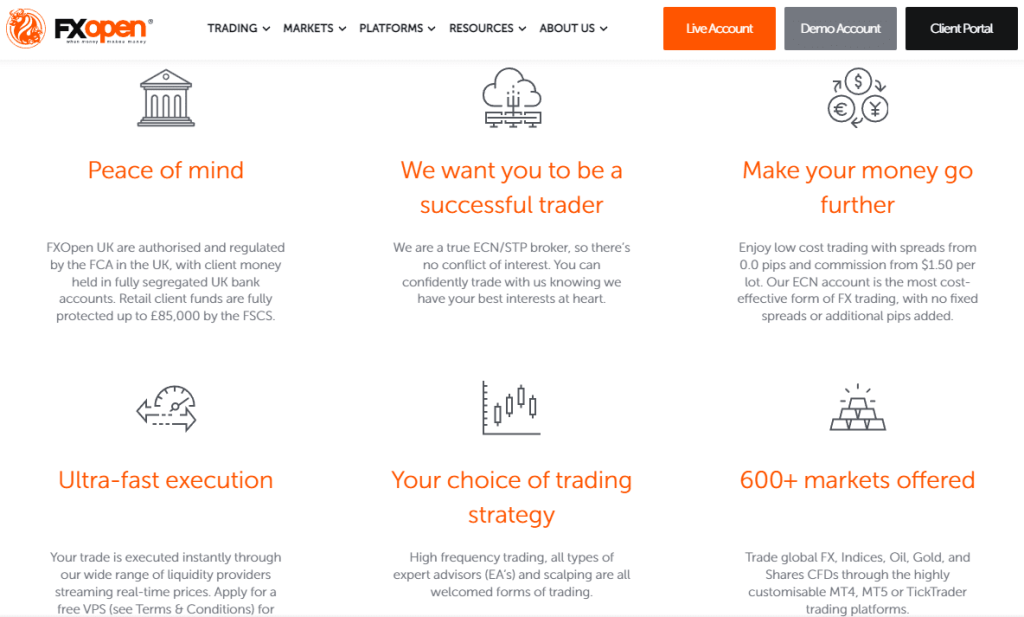 Commonly there are many benefits of trading with any genuine brokerage platform. The services provided by a reputable broker go a long way toward the trading success of an individual. However, it is often observed that not every broker has all the benefits together. For instance, sometimes a broker offers low commission but the spreads are not tight and at times the broker has both options but they are limited in their available options for trading instruments.
As far as the FXOpen platform is concerned, this is one broker that fulfills all the requirements of a trader and investor from a brokerage firm. Firstly, inexperienced and newly-entered traders in the financial markets, look for a broker that provides cost-efficient services with low commissions, minimal deposit, and no additional charges. These ideal conditions are actualized by the trading accounts of FXOpen.
Secondly, long-term investors and seasoned traders mostly rely on brokers that offer tight spreads, fast market execution, and high leverage to attain maximum profits. All these advantages are given to the FXOpen account holders. Therefore, FXOpen's ECN and STP accounts are the ultimate options for professional traders, investors, and institutions.
Other than these perks there are also many additional facilities provided by the FXOpen platform including a responsive and prompt customer support service, security of funds through affiliation with regulated commissions, demo accounts for trial trading, and multiple account types for different trading needs.
All in all, we can say that FXOpen has checked all the right boxes of an all-inclusive brokerage service provider and caters to the trading style of any kind of trader or investor proficiently.
FXOpen Pros and Cons
PROS
High leverage
ECN forex broker
Low commission
Advanced trading platforms MT4 & MT5
CONS
Floating spreads
No demo for the Micro accounts
Analysis of the Main Features of FXopen
2.8 Investment Instruments
2.7 Variety of Instruments
FXOpen Customer Reviews
In order to evaluate FXOpen from all perspectives we have also analyzed the reviews of traders and investors who have been affiliated with this platform. After going through all the feedback, comments, and reviews there were many similarities among most of them.
The first similarity is that all customer reviews appreciate tight spreads given on the FXOpen platform. Since cryptocurrencies are the most popular and in-demand trading assets currently, many traders who opted for ECN trading accounts benefitted from the raw spreads offered by the FXOpen services.
Most of the clients in their reviews asserted that they found the narrowest spreads with this broker because they had raw spreads that reduced the difference between the ask and bid prices during stable market conditions. With this feature of tight spreads, there were more opportunities for the trader to earn greater profits than before.
Along with the tight spreads, there is also the option of fast order executions on the FXOpen brokerage platform. As ECN trading requires not just tight spreads but instant order executions to get the most out of the trading transactions, this is an ideal combination for any ECN broker which is provided by the FXOpen service.
Even when FXOpen is quite popular among ECN traders there was also feedback from traders who had other types of trading accounts and seemed satisfied with the broker's services. Many customers mentioned that the FXOpen platform is a genuine and regulated broker that also provides speedy withdrawal of funds.
FXOpen Spreads, Fees, and Commissions
The highlight of FXOpen as a unique online broker is that it has a different approach toward the provision of spreads to its customers. For this reason, the pattern of spreads is customized according to each account type.
Therefore, A Micro account that is targeted at new traders with minimal deposit and low commission offers floating spreads to the traders so that they can have the tightest spreads during the stable market and price movement. This feature of floating spreads is ideal for traders using Micro accounts as they can earn maximum profits with minimum investments.
In the same way for ECN accounts, the spreads are raw whereas STP and Crypto accounts have tight spreads. Hence, The facility of spreads is not fixed which can be very rigid for some traders but it is a well-thought-out trading strategy for the traders to reach their financial goal.
As far as the fees are concerned, FXOpen charges a minimal withdrawal fee on non-commissioned trading transactions. Other than this no additional fees or swap fees are applied.
Overall FXOpen's rating shows that it has an average rate of commission. Compared to other brokers the commission charges are neither too high nor too low. The fee on commissioned trading is between 0% to 2.5% depending on the asset class. However, additional withdrawal charges are not included when traders are paying a commission on trade per low.
How FXOpen Fees Compare to other Brokers
| Broker | | | | |
| --- | --- | --- | --- | --- |
| Min Deposit | 1 | 100 | 1 | 1 |
| Withdrawal Fees | Yes | No | Yes | Yes |
| Inactivity Fees | Yes | No | No | No |
| Deposit Fees | Yes | No | No | Yes |
| CFD Commission Fees | Yes | No | No | Yes |
| | | | | |
Account Types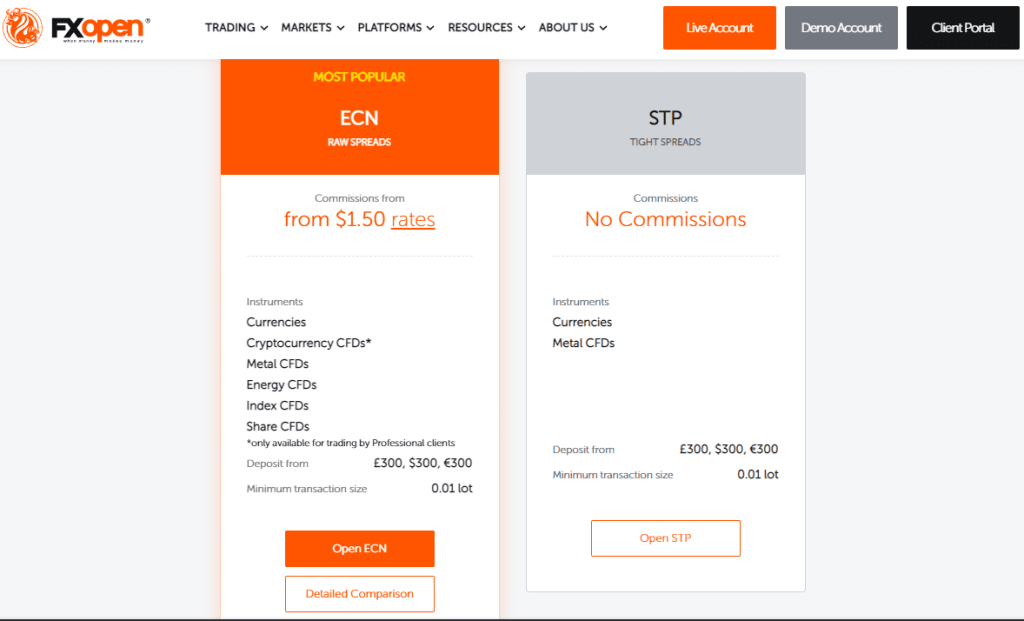 FXOpen offers a wide range of trading account types for its customers. From inexperienced new traders to seasoned investors and large investment firms there is an account type to cater to different trading styles. Along with this each account type also has an option of a demo account for traders to try and choose the best option for them.
The basic account type available on the FXOpen platform is the Micro account. Keeping in mind the needs of a fresh trader who is usually reluctant to invest in the first go, the Micro account is the most affordable account type. The minimum deposit requirement in this account is $ 1. Along with this, there is no trading commission for this account. Additionally, to make it even more cost-efficient, tight spreads are offered to traders to get significant returns from minimum investments.
Next is the STP (Straight through processing) account type and FXOpen provides the best features for this account type. The STP account usually requires fast market executions between the trader and the liquidity provider without a third party involved. However, FXOpen not only makes instant order executions possible through the STP accounts but also gives tight spreads, zero commission, scalping options, and trading in more than 50 currency pairs.
The ECN account type is most popular in forex trading and the auto trading system is mostly preferred while trading forex. The main highlight of this trading account other than the automated trading is the provision of raw spreads. As for anyone who is trading forex the ideal situation would be to find forex brokers providing the lowest markup rates specifically in suitable market conditions. Hence, traders who want to trade forex are recommended to open an ECN account with FXOpen.
The last but certainly not the least account type is the Crypto account. Commonly trading platforms do not provide a separate account type specifically for cryptocurrency trading, however, this account type is also a distinctive feature of FXOpen. With the opening, the Crypto account traders can deal in 43 cryptocurrency pairs with a minimal commission of 0.5% on a $ 10 initial deposit requirement.
In addition to these account types, there is also accessibility to a swap-free Islamic account. Traders who open an Islamic account do not have to pay any additional fees and can get access to the same features as the other account types.
How To Open Your Account?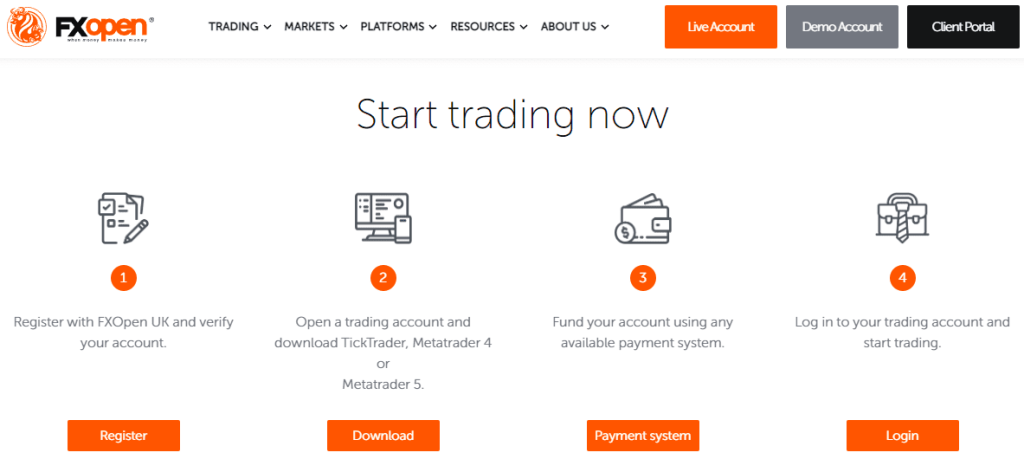 Opening any trading account of your choice is as easy as it gets on the FXOpen trading platform. After reading this review and making an informed decision to trade with FXOpen all one needs to do is to go on the official website of FXOpen.
Traders can either browse through the website to get all the required information or can open a demo account to try trading with FXOpen firsthand.
To open a live account to start trading immediately one can click on the "Open an account now" tab. However, users can click on "Try a free demo account" to open a demo account first.
After clicking either of the two tabs the registration page will open for the customers. This page requires the users to first provide information regarding the nationality of the customers. After selecting the correct country click on the "Begin application tab" to enter the second part of the registration process.
The next page will ask for all the correct personal information including email, phone number, and a chosen password. After reading and selecting the "agree to terms and conditions option the user will review a confirmation code via email or phone.
On entering the correct code the user's application process will be completed and after entering the right username and password the user will be able to log in to the FXOpen platform. Here the customer can either discover and practice trading through the demo account or can also pay the initial deposit amount and start live trading immediately.
The demo account has all the same features as the live account however, the user will only be able to trade in the financial market when the first deposit of funds is paid.
What Can You Trade on FXOpen
With FXOpen one can trade in forex, indices, commodities, shares, and Cryptocurrencies. All these asset classes have multiple options of currency pairs, metals, major global indices, Cryptocurrency pairs, CFD markets, and shares of the leading companies across the globe.
When dealing with forex trading, FXOpen as a proficient ECN broker provides access to all major, minor, and emerging currency pairs in the financial markets. Along with this, the traders are also not limited to a selective market but have 24/7 access to more than 50 global markets and liquidity providers across the world.
In Indices, traders and investors can deal in major indices of stocks, derivatives, securities, and many other instruments to keep up with their performances. Since FXOpen enables traders to trade in global indices through the ECN accounts with tight spreads and low commissions, it usually turns out to be a profitable asset for FXOpen customers.
In commodities, traders can choose between energy and metal markets to get the maximum returns from a low-investment trading opportunity. With high leverage and zero commissions on the ECN account, FXOpen provides the best trading conditions for investors and traders to invest in commodities.
The most admired and appreciated trading account on the FXOpen is the Crypto account which is also the main featured account type on this platform. Customers who are already registered and trading through the Crypto account prefer FXOpen among any other trading platforms. With accessibility to more than 40 Cryptocurrency pairs, tight spreads, and advanced trading platforms of MT4 and MT5 to offer, FXOpen is the ultimate destination for all cryptocurrency traders in the financial markets.
FXOpen Customer Support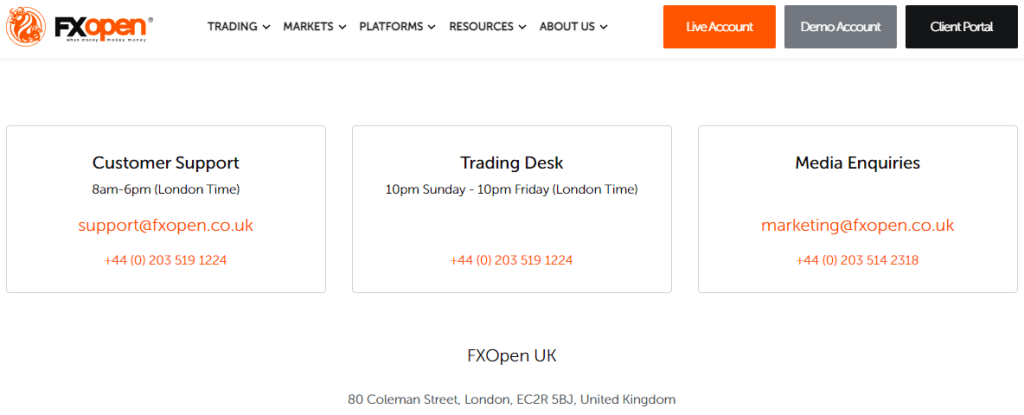 Having an up-to-date customer support service is vital for any brokerage firm. As with any issues, problems, or technical glitches on a platform can lose customers for the company. In any case, when the broker is not available it is the responsibility of the customer support team to solve the issues of the client. Therefore, it is very important to have a competent and reliable customer support system for any online broker.
After the FXOpen analysis, it is clear that this online broker has a good customer support team. Firstly, the service providers are multi-lingual at FXOpen and can speak English, Spanish, and other major world languages to resolve the issues of the customers. Along with this all of the communication methods available on this platform includes phone, email, and social media platforms
Nevertheless, despite all the positive aspects of FXOpen customer support, there have been some flaws that need to be acknowledged. At first, the technical staff of the support team is unavailable on the weekends. This drawback may seem unimportant to some, however, it is critical for any ECN brokers as the forex market is open 24/7 and one can need the support staff at any time during their stay.
To sum up we can say that the customer service of FXOpen is above average providing the best support services to its customers. In addition to this, there are also some loopholes in the support team that needs to be addressed. This includes a lack of availability of technical support staff on weekends. and no callback option for unanswered calls.
FXOpen Customer Support Advantages and Disadvantages
  Advantages

  Disadvantage

24/7 accessibility
Multilingual services
Prompt response
Multiple communication sources

Expert assistance unavailable on weekends
Lack of resources for technical support
Contacts Table
Contacts
Foundation Date

2005

Registration Address

80 Coleman Street, London, EC2R 5BJ, United Kingdom

Contacts
Email: sales@fxopen.com
Phone:+49 693 329 6294, +64 9 801 0123
Security for Investors
  Advantages
  Disadvantages

Regulated by the Financial conduct authority (FCA)
Member of The Financial Commission
Provides compensation of funds
Operate under a regulated authority

Compensation of funds is bound to terms and conditions
Offshore broker
Withdrawal Options and Fees
Generally, clients of any brokerage company are firstly concerned about the withdrawal of funds. Sometimes the process is long and requires a lot of patience while others complain about the additional withdrawal charges and fees applied by the broker. In any case, the withdrawal process either improves the reputation of a broker or degrades it.
With FXOpen the reviews and feedback of customers support the fact that FXOpen provides fast and easy access to funds. not one but many customers have vouched for fast withdrawals. Moreover, FXOpen also provides multiple methods of withdrawals which makes it even more convenient for users.
The withdrawal methods of FXOpen include credit and debit cards, e-wallets, a range of online payment platforms, and most importantly standard bank transfers. In all these methods, the withdrawal time for e-wallets and online payments is instant whereas credit and debit card transactions can take 2 -3 hours. However, bank transfers are the slowest withdrawal method compared to others and may take 3-4 business days for standard transactions.
FXOpen does not charge any additional or hidden withdrawal charges from its customers. However, the standard charges applied by the local bank transfers will be applied according to the terms and conditions of the customer's bank.
One drawback of the withdrawal process at FXOpen is that there is 2 tier verification process for funds withdrawal. During the time of the registration process of account opening a verification pin code is given to the user and this code is then used while withdrawing funds. Nonetheless, this could also be seen as an added security measure for the safety of the client's funds.
FXOpen Vs Other Brokers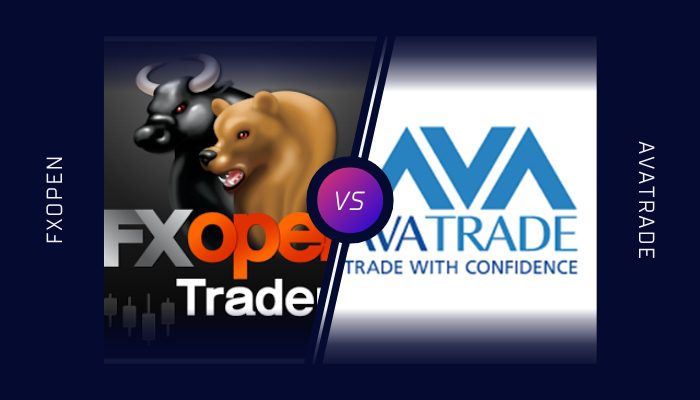 Avatrade is a reputable and popular brokerage service provider across the world. Regulated with financial commissions in 5 continents, Avatrade is trusted by millions of customers worldwide. With all the features of a competent online broker, Avatrade is a tough competitor for all other brokerage platforms.
If we make comparisons between Avatrade and FXOpen we can observe that both these platforms are offering the same services. From the financial instruments, account types, initial deposit requirements, responsive customer service, and easy withdrawals, to low commissions, high leverage, and advanced trading platform of MT4 and MT5, all these features are available at Avatrade and FXOpen platforms for the customers.
The only minor difference that can be seen between both these brokers is that Avatrade is regulated in more regions under multiple commissions whereas FXopen is regulated under Australian Securities and Investments. Since obtaining a license under various regulatory authorities require transparent trading conditions, this reflects that Avatrade provides more security and trust to its customers.
However, as far as affordability is concerned, there is a minor difference in commission charges between both brokerage companies. Avatrade charges a minimum $ 4 commission fee per trade lot whereas FXOpen charges only $ 1. This may seem to be a small difference however in situations of heavy investments and significant trading transactions the overall commission difference would be a lot more.
Overall we can say both FXOpen and Avatrade are leading online brokers in the financial market with the best forex trading opportunities for their customers through their segregated ECN accounts. Similarly, both these brokers are also pioneers of Crypto accounts which are offered specifically for traders who want to trade in digital currencies.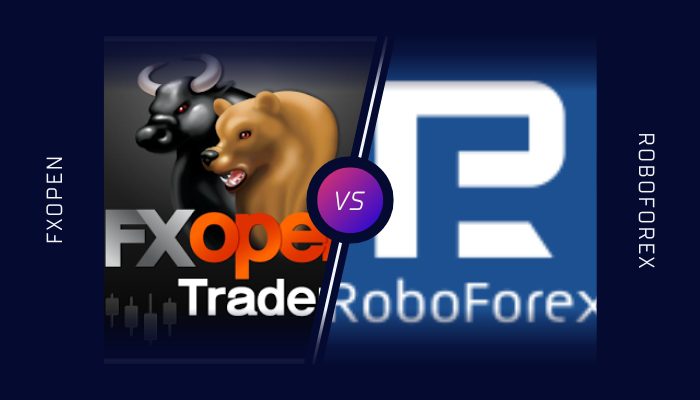 When it comes to the comparison between FXOpen and Roboforex, there are many differences between the two brokers. In many ways, FXOpen is a more sophisticated brokerage platform offering superior features to its clients.
Moreover, FXOpen excels in its ECN accounts and auto trading more than any other broker. Additionally, the option of a Crypto account is also a distinctive feature of FXOpen that is not available on many trading platforms including Roboforex.
We cannot downrightly overlook the potential of Roboforex when compare to FXOpen. In many ways, there are common elements between the two platforms, including a wide range of account types, trading options in numerous financial instruments, the latest technology, user-friendly trading platforms like MT4 and MT5, and most importantly provision of ECN accounts for profitable forex trading.
If we examine closely one might even be able to find the advantages of dealing with Roboforex compares to FXOpen. For instance, the Copy FX feature offered by Roboforex involves passive income for investors, another initiative taken by Roboforex is the Pro cent account which specifically targets small-scale traders with very low investment options. Along with this various tools, trading strategies and other educational resources available at the Roboforex website is not accessible through FXOpen.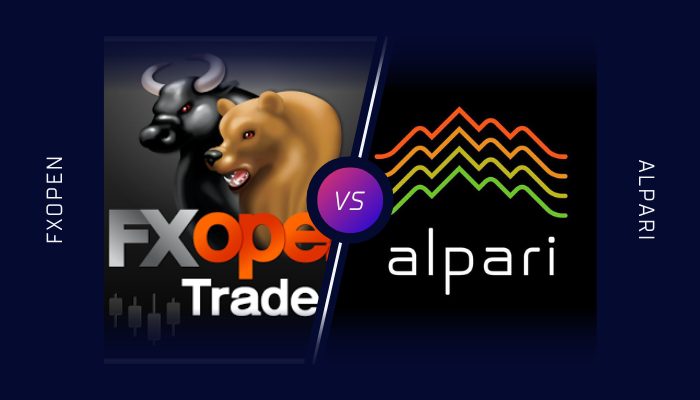 Alpari is a well-known brokerage company that offers distinguished services in copy trading for its customers. Along with this Alpari is also known for being one of the very first brokers that adopted the most advanced technology of MT 4 and MT5 on their platforms.
Regardless of these pros, Alpari has always faced criticism for providing bonuses and benefits to customers who trade with massive investments. However, FXOpen is a platform that provides services to all kinds of traders and the micro account has similar features as the other account with low commission and minimum deposits.
Therefore, new traders and clients with minimal investment do not prefer Alpari as a trading partner. However, FXOpen is growing as a company by catering to diverse traders and investors and providing the best brokerage services. Nevertheless, Alpari has still managed to make its name in the financial market as a big number of long-term investors and Forex traders are associated with Alpari for its auto trading and fast order executions.
How FXOpen Trading Options Compare against other Brokers
| Broker | | | | |
| --- | --- | --- | --- | --- |
| Instruments Available | 100 | 1250 | 100 | 50 |
| Platforms | MT4, MT5 | Web Trader, MT4, MT5, AvatradeGo, AvaOptions, DupliTrade, ZuluTrade, Mobile Apps, ZuluTrade, DupliTrade, MQL5 | MT4, MT5, Mac, Web Trader, cTrader, Tablet & Mobile Apps | MT4, MT5, Web Trader, Binary, Tablet & Mobile Apps |
| FX / Currencies | | | | |
| Forex pairs offered | 50 | 61 | 35 | 50 |
| Major Forex pairs | Yes | Yes | Yes | Yes |
| Minor Forex pairs | Yes | Yes | Yes | Yes |
| Exotic Forex pairs | Yes | Yes | Yes | Yes |
| Cryptocurrencies (availability subject to regulation) | Yes | No | Yes | Yes |
| Commodity CFDs | | | | |
| Commodities Offered | 0 | 17 | 21 | 3 |
| Metals | Yes | Yes | Yes | Yes |
| Energies | Yes | Yes | No | No |
| Agricultural | No | Yes | No | No |
| Indiced & Stock CFDs | | | | |
| Stocks Offered | 0 | 1000 | 0 | 0 |
| UK Shares | No | Yes | Yes | No |
| US Shares | No | Yes | Yes | No |
| German Shares | No | Yes | Yes | No |
| Japanese Shares | No | Yes | Yes | No |
Conclusion: FXOpen Review
With the ever-growing forex and other financial markets, more and more brokerage companies are emerging and the existing ones are improving to provide the best services to their clients. Each broker tries to offer all the elements of a successful trading experience for their customers. However, every broker has one dominant feature for which it is known among traders and investors.
FXOpen is also a brokerage platform that provides all the features and services that are required by traders and investors for successful trading transactions. However, its strength lies in the ECN accounts with raw spreads, high leverage, and fast order executions.
Moreover, FXOpen is also included among those few online brokers who have the facility of a Crypto account specifically customized for its customers. This customized account enables traders to trade in digital currencies with a complete backup from a competent trader.
However, there should be no shadow of a doubt that FXOpen is a trading platform, especially for big investors of professional forex traders. In fact, FXOpen has amenities for all kinds of traders be it novice trader that lacks experience or low-budget trader with minimal investments.
FXOpen provides trading opportunities for everyone in various instruments including forex, indices, stocks, commodities, and Cryptocurrencies. With low commissions, a $ 1 initial deposit, tight spreads, high leverage, and a user-friendly interface, FXOpen has everything for everyone.
FXOpen Review FAQs
How reliable is FXOpen?
FXOpen is a completely reliable company that is regulated by the Australian Securities and Investments Commission. In addition to this, this broker is also a member of The Financial Commission UK. Being associated with such regulatory authorities shows that the broker is legit and has no reliability issues.
Even when FXOpen is considered to be an offshore regulated company, however, the license and registrations under the international commission ensure that the broker is under surveillance and being monitored for its trading transactions. Moreover, brokers who are regulated by financial commissions also provide compensation of funds to some extent.
What is the minimum deposit in FXOpen?
FXOpen has the lowest minimum deposit requirement possible of $ 1 only for its Micro account. The initial deposit for STP and Crypto accounts also has a comparatively low rate of $ 10. The ECN account on the other hand required a minimum deposit of $100 to start trading.
It should be noted by potential clients that FXOpen offers demo accounts for each account type. So customers who are reluctant to even pay these low initial deposits also have the opportunity to explore the platform with a demo account and then make the minimum deposit to convert the demo account into a live trading account.
Is FXOpen a true ECN broker?
Yes, FXOpen is considered to be a true and efficient ECN broker because it provides all the essential needs of Electronic connection network (ECN) trading through auto trading. As a competent ECN broker, FXOpen provides tight spreads, high leverage, and fast order execution so that the customers can reach the liquidity providers instantly to get the maximum profit out of their trading transactions.
FXOpen offers raw spreads in their ECN account which means that the difference between the ask and bid price is almost the same and this makes trading forex very profitable for the traders.