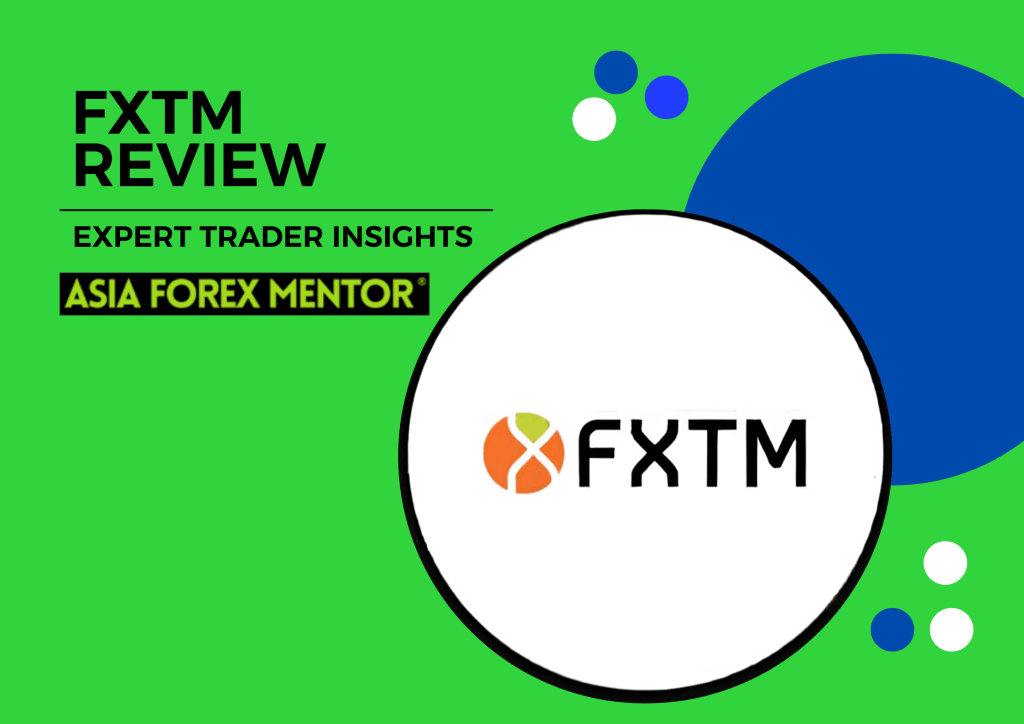 FXTM Review
Online brokerage firms have transformed the trading system across the world. With the evolution of technology trading has become fast, consistent, convenient, and most importantly quite profitable. However, with the constant flow of online brokers available in the market it is difficult to identify the genuine ones from the scammers. In such a scenario, Forex Time FXTM is one such online broker which is reliable for every kind of trader and investor.
Our analysis of financial experts has given a green sign to FXTM, as it poses to be a regulated and legit broker among many others. FXTM can be categorized as a full-fledged online platform for traders and investors offering multiple tools, educational resources, market analysis, and financial instruments. Additionally, the commission and fees of FXTM services are also economical for their clients compared to many other brokerage firms.
This FXTM review aims to provide a clear picture of FXTM services for traders and investors who are planning to invest with this firm. Moreover, it is also a guide for all individuals who are looking for a reliable online trading platform for their trading needs. The ultimate goal of this review is to objectively put across all the advantages and flaws of FXTM so that traders can make an informed decision.
Asia Forex Mentor Evaluation Criteria
Asia Forex Mentor Evaluation Criteria make a trader's job easy. With tons of brokers around, we help users to select the best and most competitive online brokerage platform. Our evaluation is based on research and analysis where our financial experts assess a brokerage firm inside out before coming to any conclusion. Any brokerage firm has to pass the following criteria to pass the Asia Forex Mentor Evaluation Criteria:
Reliability by doing a background check on regulation, legitimacy, and licensing
Cost efficiency by comparing the spreads, commission fees, and additional and hidden charges.
Competency by verification of the platform interface, features, tools, and customer services
Profitability by observing the minimal investment prerequisites.
After reviewing FXTM from all the above aspects, we can say that it is a trustworthy online broker for any kind of trader or investor. Firstly, the firm is regulated by the Cyprus securities and exchange commission and the Financial sector conduct authority FSCA which makes it a legitimate broker. Secondly, the platform has all the features of a user-friendly interface with the most advanced technology, tools, resources, and analysis.
Thirdly, compared to many other platforms. the FXTM offers its services with a minimal commission making the overall trading experience cost-effective for its customers. Another highlight of this firm is its cent account which is similar to a demo account and this helps traders to familiarize themselves with the FXTM platform.
Lastly, a minimum account deposit of $ 10 FXTM ensures that mediocre traders also get the opportunity to invest and earn profit through this platform. Moreover, it enables a cost-friendly trading method where all kinds of traders and investors do not have to worry about losing money rapidly.
What is FXTM?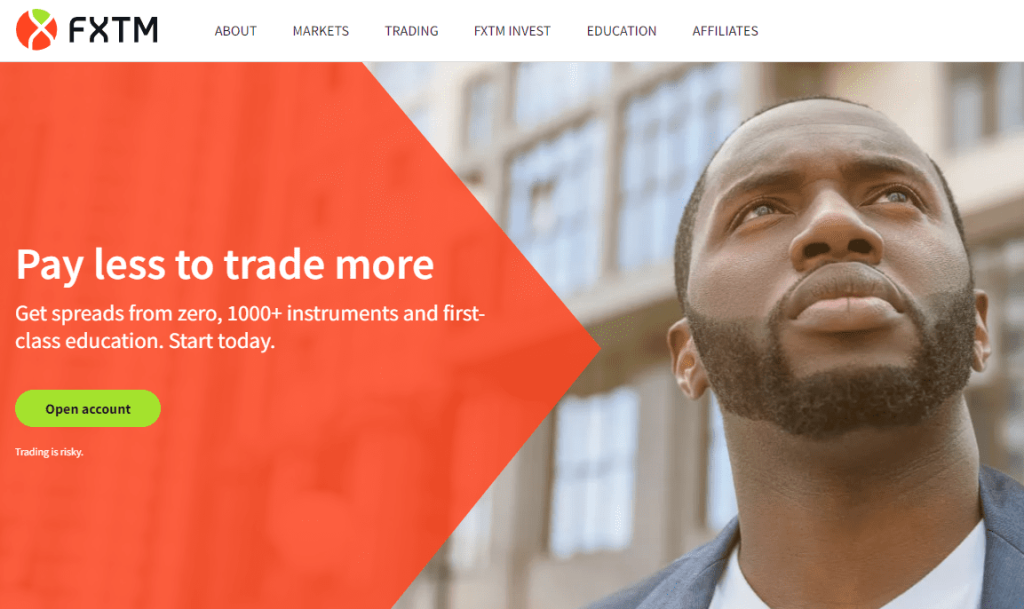 FXTM is the short form of Forex Time which is an online trading company offering its services to customers worldwide. FXTM is not like just any other online broker offering retail investor accounts but has made its name in the financial market as a reputable company. Moreover, FXTM has been awarded numerous international financial awards as a recognition of its performance.
FXTM is a legitimate firm that is officially regulated by the Cyprus securities and exchange commission with an authentic license. In addition, it is also licensed by the Financial Sector Conduct Authority (FSCA). Hence, working under these financial services commission ensures that FXTM is regulated by authorities and this broker is safe and secured for funds and investments. Hence, there is hardly any chance of losing money rapidly.
FXTM deals in multiple financial instruments including forex, commodities, shares, stocks CFDs, and indices in the financial market helping traders to diversify their portfolios. Moreover, FXTM also offers three account types keeping in mind the needs of each client. Therefore, since the company was launched in 2011, millions of traders and investors have been affiliated with FXTM across the globe.
Along with all the checks in the favor of FXTM, there are also minor flaws that need to be mentioned to provide an unbias approach towards this company. For instance, slow customer services, lack of popular financial instruments such as Cryptocurrencies, and unavailability of customer services on weekends are some of the downsides of trading with FXTM.
Advantages of Trading with FXTM?
There are a lot of reasons to trade with FXTM and like any other broker, FXTM has a few disadvantages that traders be aware of:
  Advantages
  Disadvantages

Provision of automated trading
Regulated under financial commissions
Latest technological Interfaces MT4 and MT5
Low commission and tight spreads

Unavailable Customer Support on weekends
Excludes Crypto and EFTs
Unauthorized by the Central exchange
Charges withdrawal fees
Benefits of Trading with FXTM

The very first threat that comes to a trader's mind while opting for an online broker is a scam. Therefore, choosing a legitimate trading platform is crucial for traders while searching for a broker. In this regard, the biggest advantage of FXTM is that it is a regulated platform by several financial authorities globally including the Cyprus Securities and Exchange Commission, the Financial Sector Conduct Authority of South Africa FSCA, and the UK Financial Conduct Authority FCA.
Another benefit of FXTM is that it offers multiple trading instruments to traders such as commodities, indices, forex, stocks CFDs, and shares. All these asset classes are reliable and profitable trading instruments and are mostly preferred by the majority of traders and investors. The firm also ensures that its clients get the best trading experience dealing with these assets and gain maximum capital returns.
To make this possible, the company applies low commissions, transparent transactions, and non-trading fees policy. Along with this, numerous trading strategies, trading signals, tools, and resources are available on the FXTM platform to provide maximum advantage to the customers.
Apart from these perks, FXTM also provides a well-equipped web and mobile trading platform which includes Meta trader 4 and Meta Trader 5. Moreover, FXTM also operates its own web trading platform known as the FXTM trader. Through these platforms, their clients can have access to a speedy and user-friendly interface that comprises all the fundamental trading tools.
Furthermore, the FXTM trading services are not just a support system for experienced investors with massive budget but is a helping hand for novice traders as well. Therefore, inexperienced traders who are not familiar with the trading strategies or gimmicks find FXTM as the best trading partner. Hence, FXTM is a support system for those looking for educational resources and a boosting entry into the financial market.
FXTM Pros and Cons
PROS
User-friendly Interface
Educational Resources
Effective trading tools
Multiple trading accounts
CONS
Unavailability of Market Forecast
Not accessible to restricted regions
Analysis of the Main Features of the Forex Broker
4.0 Investment Instruments
3.8 Variety of Instruments
FXTM Customer Reviews
To put forward an unbiased FXTM review, it was also important to evaluate the customer's opinions regarding the platform. In this regard, we look up reviews of FXTM users from numerous portals and examined their comments and suggestions regarding FXTM as a reputed online broker.
Most of the reviews from the FXTM clients suggest that overall they are satisfied with their trading experience with this broker. The services provided by FXTM are satisfactory and many clients have claimed to be affiliated with this company for many years without many issues. Moreover, there were also those who considered FXTM among the best online brokers available in the financial markets.
Some praised the fast execution of orders while others applauded for the tight spreads. FXTM low commission policy is also appreciated by the users. Moreover, we also observed many talking about the easy-to-use interface and helpful trading tools. Overall, it reflected from the customer's FXTM review that it caters to all the basic trading needs of the users.
However, there is no such thing as perfection within any company. There were some complaints and accusations from the customers which suggested that they experienced delayed withdrawals or technical glitches. However, this should be taken into consideration that being a virtual platform some loopholes are bound to happen and should be expected from any trading platform.
All in all, the impression we get after assessing the FXTM review is that this is a genuine platform that provides a positive, comfortable, and profitable trading experience to its customers. Therefore, anyone who is looking to invest for profitable trading conditions can opt for FXTM trading services.
FXTM Spreads, Fees, and Commissions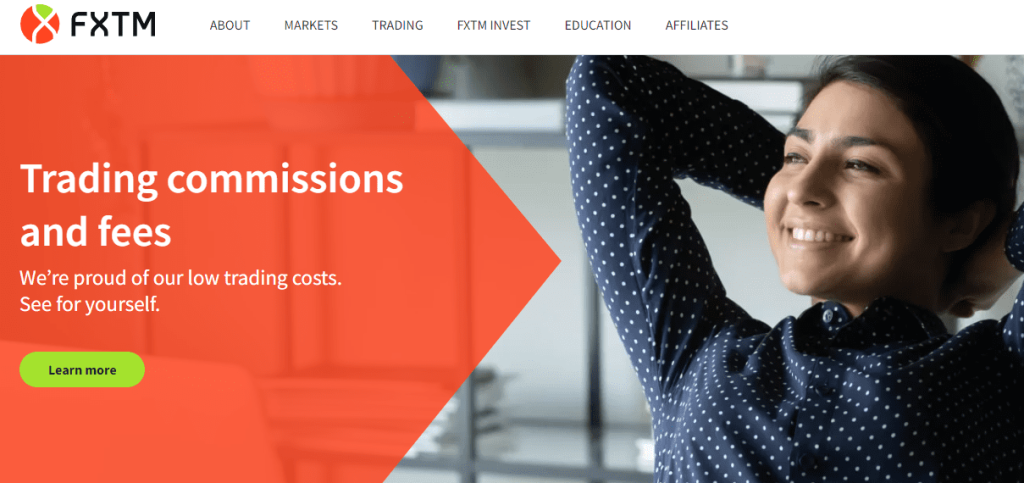 Tight spreads are ideal for any trader as it provides more opportunities to earn maximum profits. For this reason, FXTM is considered an effective broker as it provides tighter spreads of as low as 0.0 pips per trade. However, the exact value of spreads varies from financial instrument to account type. Regardless of this, FXTM offers the best spreads per trade among its competitors.
FXTM is also among those online brokers who have the lowest commission rates. The basic advantage accounts are the best option in terms of the lowest commission with zero commission on some assets. Whereas in the advantage MT5 accounts, the commission rates are fixed at $ 4 per trade regardless of the trading market and volume. In contrast, the MT4 accounts have a policy of floating commission which depends on the trading quantity and financial market.
In terms of fees, FXTM offers a transparent system where customers are informed regarding the withdrawal fees beforehand. There are no hidden fees or charges which is a positive aspect of FXTM. The withdrawal fees depend upon the transaction system being used for instance for credit cards the minimum withdrawal fee is $ 3 whereas for bank transfers the charges vary from $ 20 to $ 25.
Similarly, for many withdrawal methods, there are no fees or charges such as Neteller, Skrill, Fast ay, Google Pay and many online banking options. The detail information regarding charges on any particular withdrawal method can be found on the firm's official website.
How FXTM Fees Compare to other Brokers
| Broker | | | | |
| --- | --- | --- | --- | --- |
| Min Deposit | 10 | 100 | 1 | 1 |
| Withdrawal Fees | Varies | No | Yes | Yes |
| Inactivity Fees | No | No | No | No |
| Deposit Fees | No | No | No | Yes |
| CFD Commission Fees | Yes | No | No | No |
| | | | | |
Account Types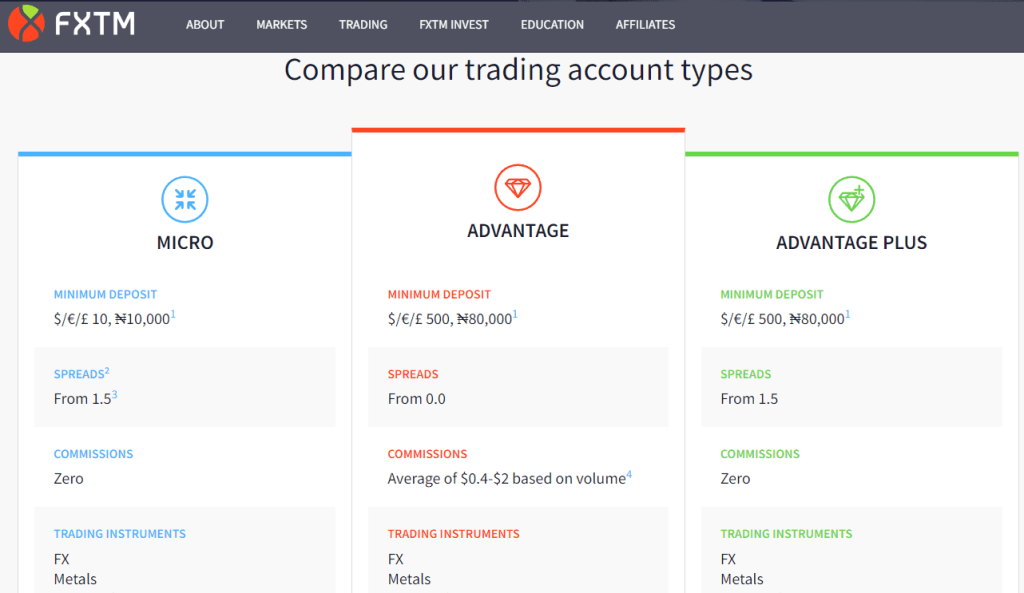 A major setback for any online brokerage platform could be providing access to limited retail investor accounts type. As this would restrict individuals to not using the platform according to their trading needs. As far as FXTM is concerned, their customers are satisfied with the FXTM account as they have the choice to select from multiple trading account types that are tailor-made for different trading strategies.
There are three FXTM account types for traders and investors along with a cent account for stock trading, forex, and CFD trading. All three accounts differ in their trading conditions and have varied strategy managers in the financial markets.
Micro Account
The first FXTM account type is the Micro account which is essentially aimed at novice traders or those who are just beginning their trading journey with a minimal investment. Therefore, the minimum deposit for this account is as low as $ 10. Regardless, of being a basic account type, traders will have access to a demo account, MT 4 platform, tight spreads, and zero-commission services which make it an ideal approach for inexperienced traders who are reluctant to a high risk of losing.
Advantage Account
The second and most popular trading account type on the FXTM platform is the Advantage account. This account is a favorite among FXTM users as it offers maximum tight spreads of 0.0 pips along with a minimal commission range of $ 0.4 -$ 2. and a minimum deposit of $ 500.
Moreover, the traders not only have the access to MT4 but also the MT5 trading platforms through the advantage account. Similarly, traders also have multiple options for trading instruments to have a diversified portfolio and can first try out a demo account before any investment.
Advantage Plus Account
Advantage Plus account is mostly preferred by experienced traders or long-term investors for forex trading or trading CFDs. This account type is very much similar to the advantage account as it also offers a demo account, Metatrader trading platforms 4 and 5, and a minimum deposit of $ 500. However, the major difference between the two accounts is that advantage offers ultra-tight spreads of 0.0 pips whereas advantage plus starts from 1.5 pips.
The only reason one would choose an advantage plus account is that it does not charge any commission per trading transaction. For this reason, big investors with high trading volume prefer this account type to save the maximum on the commission fees.
How to Open your Account?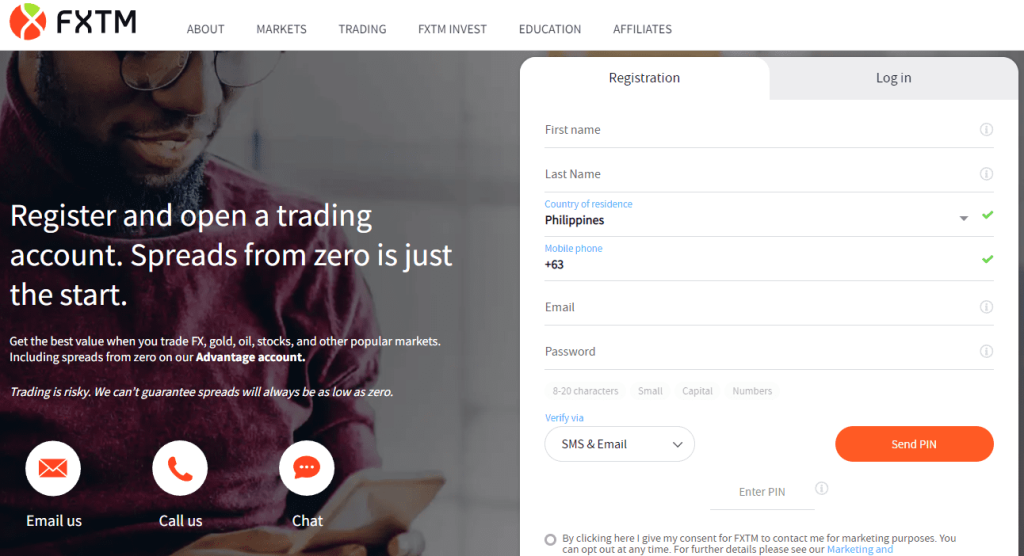 Opening any FXTM trading account is quite an easy job. It is just like opening an account on any social media platform. The first step is to go to the official website of the FXTM online brokerage platform and go through the information related to the company. Moreover, it is also recommended to read all the rules and procedures carefully before taking any investment decisions. Similarly, to get familiar with the platform one can also skim through the entire website.
After skimming through the information regarding the fees, withdrawals, and account types one can select the account type and register themselves to open that particular account.
The tab to "open an account" is present on the landing page of the web. After clicking on the tab the next page will ask to "sign up" to FXTM. Signing up consists of a form that can be filled with basic personal information. Then select a password for the account and click on the "sign up" button.
The portal will verify the given information by sending a verification code to the email address or phone number and after entering the correct code the registration process will be completed. It is important to provide the correct information in order to complete the registration.
After the registration process, the user can access the demo account or ECN accounts and customize it according to their trading needs. The demo or cent accounts provides a great opportunity for first-time users to evaluate the entire platform before making any investment and creating a ECN account.
The demo account will shift to a trading account only when initial minimum deposits are made.
What Can You Trade on FXTM
The fundamental question before any trading process initiates is to determine the financial instruments. Every financial expert would advise individuals to have a diversified portfolio to reduce the high risk of losing money when trading. In this regard, traders are always looking for such brokerage platforms that offer trading opportunities in maximum assets.
In the case of FXTM, we can say that it is definitely not the best platform when it comes to providing access to a wide range of assets. For instance, FXTM does not provide trading services in complex instruments Cryptocurrencies, or EFTs which are quite popular among modern traders these days.
Nevertheless, a wide range of the most commonly traded financial instruments is offered by FXTM including forex, stocks, metals, indices, and commodities. FXTM provides the best trading services with ECN accounts for forex trading, currency trading, and trading CFDs.in these asset classes.
Forex trading is considered to be the most liquid trading instrument therefore Forex provides multiple opportunities for customers to earn massive profits. Similarly, metals are also a preferred trading asset among traders as it consists of minimal risk during market volatility. Moreover, other asset classes that FXTM offers include stocks that are popular among traders as they can invest in the biggest and most profitable companies for considerable returns.
Apart from these major asset classes, there are also options for commodities, and market indices such as CFDs and forex indices. Investment in these instruments may not result in massive profits however, it provides a chance for the traders to diversify their portfolios so that the high risk of losing money can be avoided.
FXTM Customer Support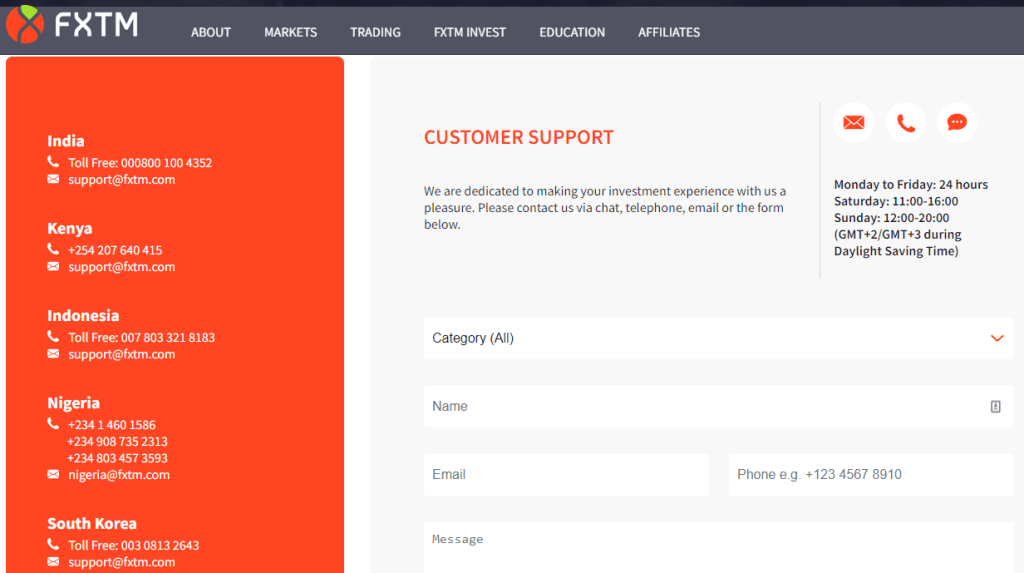 One may not consider the customer support team of a company as vital however, they can prove to be the backbone of a brokerage firm. The fundamental task of an online broker is to convince the customers to trust their company and make the required efforts to assist in resolving their issues. Once a relationship of trust is maintained between the broker and its customers then any broker can go a long way in this business.
For this reason, the FXTM review tells us that it is a firm that provides the necessary customer support services to its users. FXTM has provided various means for their clients to contact them in their need of assistance. These sources of communication include phone, email, fax, online chat, and even social media forums.
Traders who are already a part of the FXTM trading community can use this customer service along with individuals who are willing to invest in FXTM but are hesitant or have any queries. Another bonus of FXTM customer support is that it is available in multiple languages for the convenience of its users. Since traders from across the globe are a part of the FXTM global network support in a native language is much needed.
In contrast, the close inspection of FXTM review also suggests that there are some flaws in their customer support system such as its unavailability over the weekends. Moreover, some reviews also point out slow responses, however, this could also be individual scenarios that cannot be mistaken for the flaw of the entire customer support system.
FXTM Customer Support Advantages and Disadvantages
  Advantages

  Disadvantage

Multi-lingual service
variety of communication medium
Option of direct calls
24 hours service

Operational 5 days a week
Slow or delayed responses at times
Contacts Table
Contacts
Foundation Date

2011

Registration Address

FXTM Tower, 35 Lamprou Konstantara, Kato Polemidia, 4156, Limassol, Cyprus

Regulation
FCA, CySEC, FSCA, FSC License number: 185/12, 46614, 600475
Contacts
Email: info@forextime.com, info@forextime.co.uk, support@fxtm.com
Phone:

+44 20 3734 2255, +357 25 55 8 777, +44 20 3514 1251, +44 203734 1025
Security for Investors
  Advantages
  Disadvantages

Regulated by multiple Financial commissions
Holding a license in more than one region
Recognized by international financial institutions
Provision of compensation funds

The retail loss rate is not very low
Regulatory authority is limited
Withdrawal Options and Fees
FXTM offers almost all kinds of withdrawal options. From credit and debit cards to bank transfers, e-wallets, and digital payment platforms there are numerous available methods to withdraw money when trading with FXTM. Moreover, customers have access to popular mobile payment systems like Google Pay and Fast Pay are also an option to withdraw money.
Mostly, all the above-mentioned withdrawal options provide instant transactions across the globe however, some options may take 24 hours. The only option which takes more time is a bank wire transfer which requires the standard bank procedures and takes 2 -5 business depending on the bank services and the geographical location. However, all withdrawals are only made after data verifications.
All e-wallets and online payment platforms do not have any withdrawal charges such as Neteller, Skrill, Web money, etc. Moreover, credit and debit cards also have no additional withdrawal charges. However, bank transfers require withdrawal fees depending on the amount of the transaction and bank prerequisites.
FXTM Vs Other Brokers
FXTM is among the trading platforms that provide the best trading conditions to anyone who wants to enter the financial markets. We cannot claim that FXTM is the only web trading platform that provides the ultimate trading solutions as many other online brokerage companies have similar standards as FXTM. For this reason, an unbiased FXTM review is only possible when we make comparisons of FXTM with other brokerage services.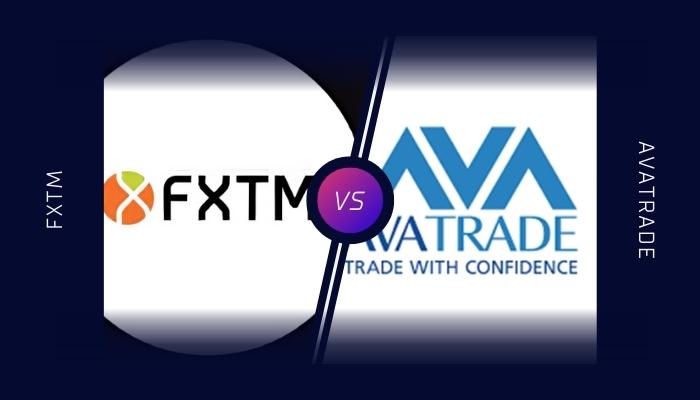 Avatrade is among the leading online brokerage services for traders and investors in the financial markets. However, to choose between FXTM and Avatrade it is important to analyze each aspect of both these platforms. There are many common elements between Avatrade and FXTM but it is the differences that need to be focused on to make comparisons.
If we start with the similarities we can observe that both FXTM and Avatrade give access to ECN accounts on their web trading platform. Secondly, their clients have the benefit of using automated trading systems and use high-performance Metatrader platforms on their websites.
When we talk about the differences between the two platforms there are quite a few. Even though FXTM offers a wide range of financial instruments for trading, it does not deal in some assets like Cryptocurrencies and EFTs. Whereas Avatrade is one broker that enables investors and traders to invest in all kinds of asset classes including Cryptocurrencies and EFTs.
In addition to this, FXTM deducts withdrawal charges from its customers however, Avatrade does not charge any withdrawal fees which makes it a more cost-effective broker than FXTM. In terms of commission, Avatrade has a higher commission compared to FXTM. So all in all we can say that both these online brokers are equally balanced as FXTM has low commission but withdrawal charges whereas Avatrade has high commission and no withdrawal fees.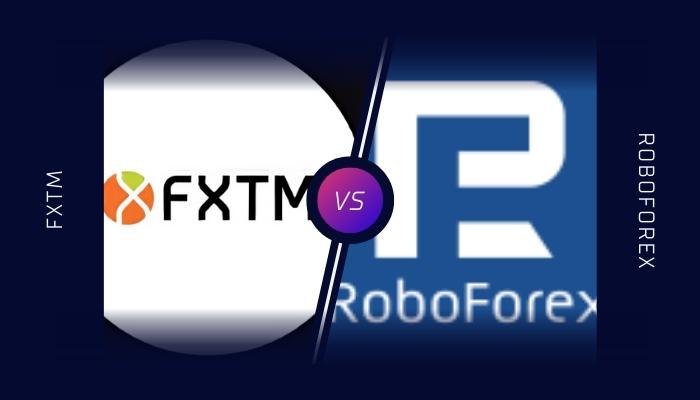 FXTM and Roboforex are offering exactly the same brokerage services and stand in an equal position when compared to the other trading platforms. Both these brokers are regulated by the common regulation authority and support buying and selling of the same asset classes.
FXTM and Roboforex stepped into the financial industry at the same time and have the same amount of experience in the field. Along with this, all trading features, tools, and resources offered on these platforms are alike. All in all, we can say that traders can choose either of the two as there is hardly any difference.
However, traders who are interested in investing in EFTs and Cryptocurrencies would have to choose Roboforex as FXTM does not offer EFTs or Cryptocurrencies. Likewise, Roboforex also has the option of Islamic swap-free accounts which are unavailable on the FXTM platform. Nonetheless, these are very minute differences and can only matter in specific cases. Overall, we can say that both these brokers are indistinguishable from each other.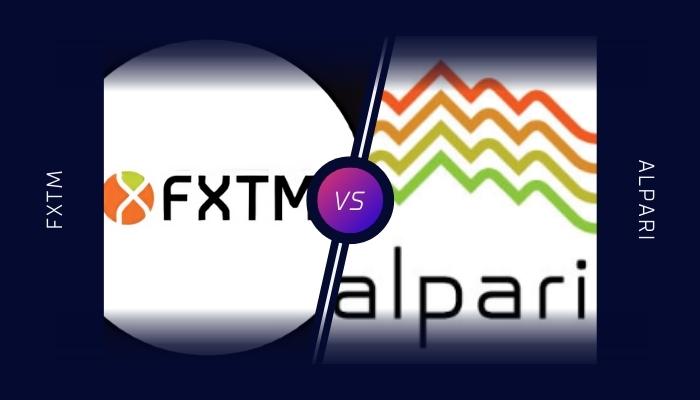 Alpari is also a popular online broker who has made its place in the trading avenue. Alpari provides brokerage services to thousands of investors and traders. It is known for its regulated transactions and legitimacy among other brokerage services. Moreover, Alpari has been operating for more than a decade and with time the company has improved its services.
While making comparisons between Alpari and FXTM we can observe many similarities between the two platforms. Both offer the same financial instruments, trading tools, and modern trading platforms such as the Meta trader 4 and 5. Moreover, the account opening options are also more or less similar between both brokers.
One criticism regarding Alpari is that it has a weak customer support system. Reviews suggest that customers had complaints regarding slow responses and lack of technical support from the broker. As we deem customer support of utmost importance for the success of any online broker, this shortfall can give FXTM an edge over Alpari.
How FXChoice Trading Options Compare against other Brokers
| Broker | | | | |
| --- | --- | --- | --- | --- |
| Instruments Available | 350 | 1250 | 100 | 50 |
| Platforms | MT4, MT5, Desktop Platform, Web Platform, Tablet & Mobile apps | Web Trader, MT4, MT5, AvatradeGo, AvaOptions, DupliTrade, ZuluTrade, Mobile Apps, ZuluTrade, DupliTrade, MQL5 | MT4, MT5, Mac, Web Trader, cTrader, Tablet & Mobile Apps | MT4, MT5, Web Trader, Binary, Tablet & Mobile Apps |
| FX / Currencies | | | | |
| Forex pairs offered | 40 | 61 | 35 | 57 |
| Major Forex pairs | Yes | Yes | Yes | Yes |
| Minor Forex pairs | Yes | Yes | Yes | Yes |
| Exotic Forex pairs | Yes | Yes | Yes | Yes |
| Cryptocurrencies (availability subject to regulation) | No | No | Yes | Yes |
| Commodity CFDs | | | | |
| Commodities Offered | 0 | 17 | 21 | 3 |
| Metals | Yes | Yes | Yes | Yes |
| Energies | Yes | Yes | No | No |
| Agricultural | Yes | Yes | No | No |
| Indiced & Stock CFDs | | | | |
| Stocks Offered | 180 | 1000 | 0 | 0 |
| UK Shares | No | Yes | Yes | No |
| US Shares | Yes | Yes | Yes | No |
| German Shares | No | Yes | Yes | No |
| Japanese Shares | No | Yes | Yes | No |
Conclusion: FXTM Review
As the financial markets have become accessible to everyone around the world through the advent of technology, trading demands are rising day by day. To keep up with the market needs, regularly a new online brokerage platform emerges to make the most of the situation by increasing their clientage. However, not all of these online trading platforms are authentic or regulated by any financial regulatory body. Hence, traders need to be cautious of possible scams.
Nonetheless, there are also genuine brokerage firms that make sure to provide the best trading services and strategy managers. These brokers aim to help their customers earn profits in common and even complex instruments. For this reason, they offer the most convenient ECN accounts, lowest trading fees, minimum deposit, easy bank transfer and procedure to withdraw money, simple account opening process, and overall smooth trading transactions.
In this group of reliable and competent brokerage platforms, FXTM can also be included as it provides all the relevant trading services to its customers. We can grade FXTM as an investment-worthy platform as it enables all kinds of traders whether new or experienced, to do successful trading. All the prerequisites of any trader such as analytical tools, major asset classes, automated trading systems, efficient user interface, fast trading transactions, and easy-to-access customer care.
In addition to this, after a thorough comparison with other reliable and competent brokers, it is evident that FXTM is by no means a mediocre company. In fact, it has a standard of services just like any other renowned brokerage firm.
This FXTM review also indicates that even an inexperienced individual can invest in the financial markets with the support of this broker. As all the needs of a beginner in the trading world can be provided to the FXTM trader. Specifically, the Metatrader trading platform available on FXTM is definitely the simplest version of the user interface on any trading platform.
Similarly, as novice traders are concerned regarding the legitimacy of a broker, FXTM is one online broker that can be relied upon without any doubt as it is a Licensed company that is regulated by the Cyprus security commission.
On the other side of the discussion, it cannot be denied that like every other company, there are some shortcomings in FXTM services. For instance, those customers who are enthusiastic about investing in Cryptocurrencies and EFTs would not be able to choose the FXTM brand as it does not deal in these assets. Secondly, the FXTM trading platform is unavailable for many sanctioned regions including the USA.
All in all, a complete FXTM review tells us that any type of trader or investor may find the FXTM platform a reliable trading partner that provides the best trading services.
FXTM Review FAQs
Is FXTM safe and legit?
Yes, FXTM is a safe and legitimate company that is regulated by not just one but multiple regulatory authorities. Firstly, it is regulated by the Cyprus Securities and Exchange Commission (CySEC) which is the country of the firm's origin. Moreover, FXTM is also regulated under many other countries' financial authorities where it is operated. These commissions include the South African FSCA (Financial Sector Supervision Authority), UK FCA (Financial Conduct Authority), and FSC (Mauritius Financial Supervisory Commission)
Along with this FXTM's legitimacy can also be assessed by the international recognition that the firm has received in the form of multiple awards such as "Best Trading Conditions" (2018, 2019) and "Most Innovative Broker" (2018).
Does FXTM have a minimum deposit?
FXTM has a minimum deposit of $10 in its Micro account. This amount is very low compared to the minimum deposit criteria among other brokers. Moreover, when opening the premium accounts such as the advantage and advantage plus accounts the minimum deposit amount is $ 500.
When compared with other online brokers providing similar services to its customers, we have observed that FXTM offers a very low minimum deposit requirement for account opening.
How long does it take to withdraw money from FXTM?
FXTM provides multiple withdrawal methods to its customers for fast and convenient transactions. The most common withdrawal methods such as credit and debit cards, e-wallets, and electronic transfers such as Google Pay, Skrill, Neteller, etc provide instant withdrawal transactions. Whereas bank account transfers may take 2 to 3 business days for transactions depending on the regional services of the banks.